"As a family, we've always been drawn towards rescue cats with disabilities. We love our three kitties and their adorable quirks – we couldn't imagine them any other way. We adopted our first disabled kitten, Paisley, in 2015. My daughter found her on Petfinder and fell in love. Little did we know, adopting her would change our lives. She has Cerebellar Hypoplasia (CH), a condition some cats are born with where they have trouble maintaining proper coordination and balance. They are also known as 'wobbly cats' (cats are categorized as mild, moderate, or severe CH). The cerebellum does not form properly in utero due to several possible conditions, illnesses, and other potential factors in the pregnant mother cat. They are not in any pain, and they do not realize they are any different. Soon, the whole family was in love with her. We all fell head over heels for her wobbly walk and goofy personality, and we knew we were meant to be a disabled kitty family.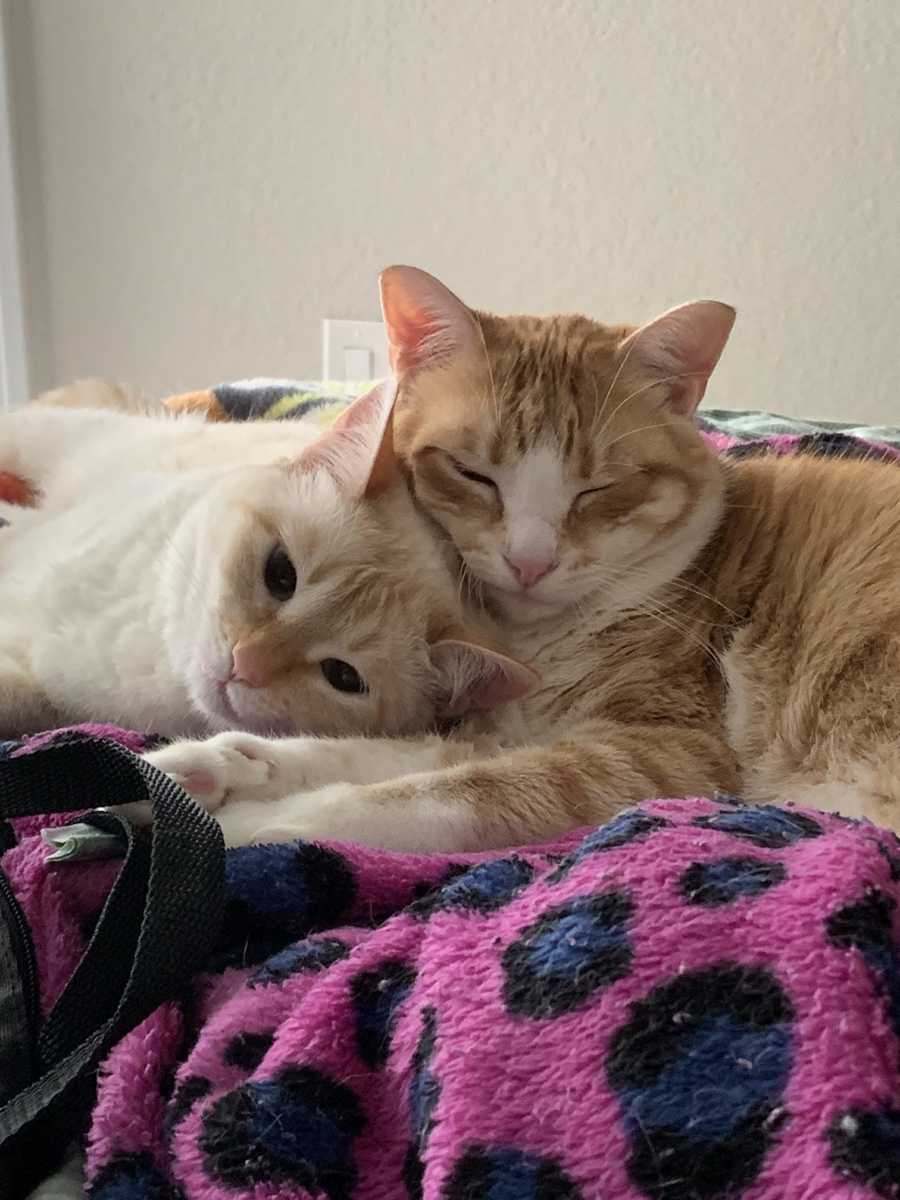 We had to take a brief hiatus from fostering when our home flooded during Hurricane Harvey in August of 2017. In August of 2018, we adopted our second kitten, who we named Penny (because her eyes are the color of a penny). She came from a feral mom and has a very mild form of Cerebellar Hypoplasia (hers manifests itself in the form of tremors). Penny is the sweetest kitten around; she's extremely shy and scared of her own shadow, but she makes up for it with her gentle personality.
In June of 2019, a central Texas shelter was in the midst of a Panleukopenia outbreak. There were three new little five-week-old kittens who had been kenneled next to some kittens who had just started developing symptoms of the virus. An amazing animal activist/supporter, Lillie Raybon, recognized one of the kittens looked like he may have Hydrocephalus and was high risk/special needs. She contacted Super Hero Zeke and Olaf's World who put her in touch with the wonderful Tiffany Maki from Texas Special Needs Pets.
Just as this trio was in the process of being rescued from the shelter outbreak, we saw their post on the Texas Special Needs Pets Facebook page. It said 'We are looking for a foster home for this absolutely adorable and quirky little five-week-old kitten family.' We read their story, found out one was special needs, and said, 'We have to take care of them!' We contacted Tiffany to let her know, 'We would be thrilled to be the foster family for these three sweet kittens!' Tiffany drove four hours to the shelter to rescue Sheldon and his siblings, had them in quarantine for two weeks, and miraculously, they didn't come down with the virus. Sadly, the cages of many other kittens all around them at the shelter came down with Panleukopenia, but for some miraculous reason, they were spared. Tiffany brought the three kittens to our home, we looked into Sheldon's eyes, and we were immediately smitten. It was love at first sight for all of us. We just knew he was meant to be a part of our family.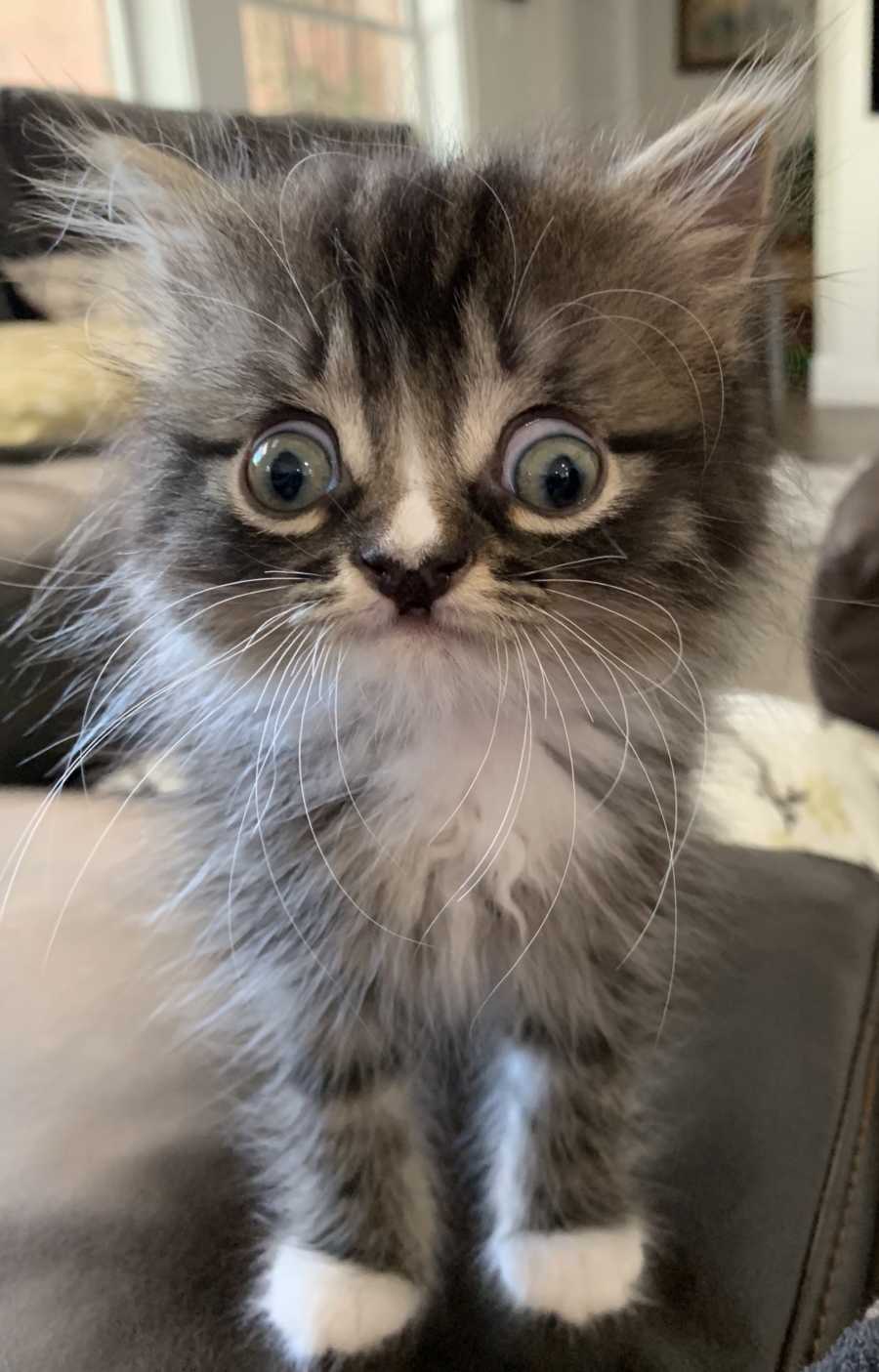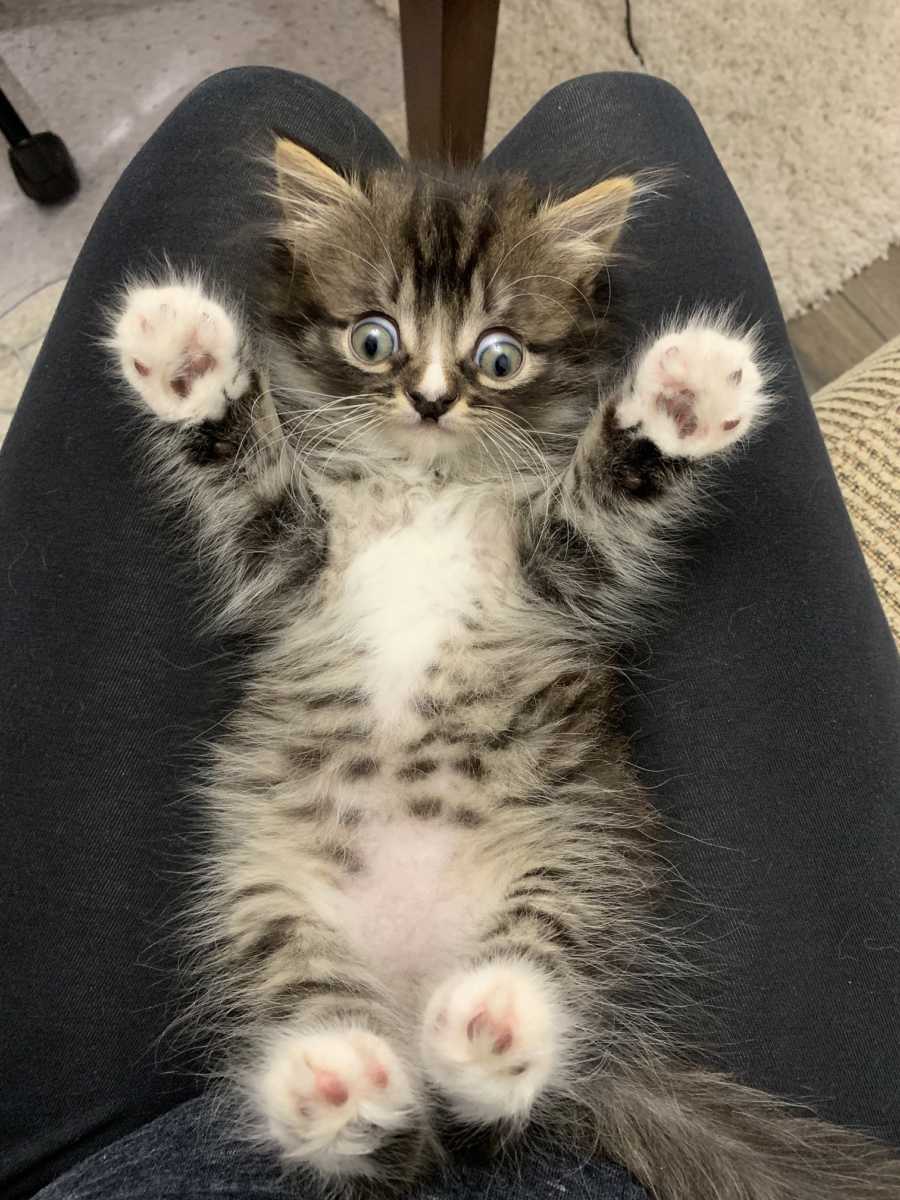 Sheldon came with his two amazing siblings (who we called Daphne Willow – the silver female, and Finnegan Dash – the charcoal male). Sheldon's name was originally just Thunderpaws. We think there was a rescue group who was also involved in saving him named Thundering Paws, but we have also heard his name may be related to his slightly funny walk he had when he was a kitten. But my daughter immediately thought he also looked like a Sheldon, after the seahorse from Pixar's Finding Nemo. So he was officially named Sheldon Thunderpaws. A big name for a big personality! Coincidentally, two of our cats ended up having names from the show The Big Bang Theory – which we LOVE!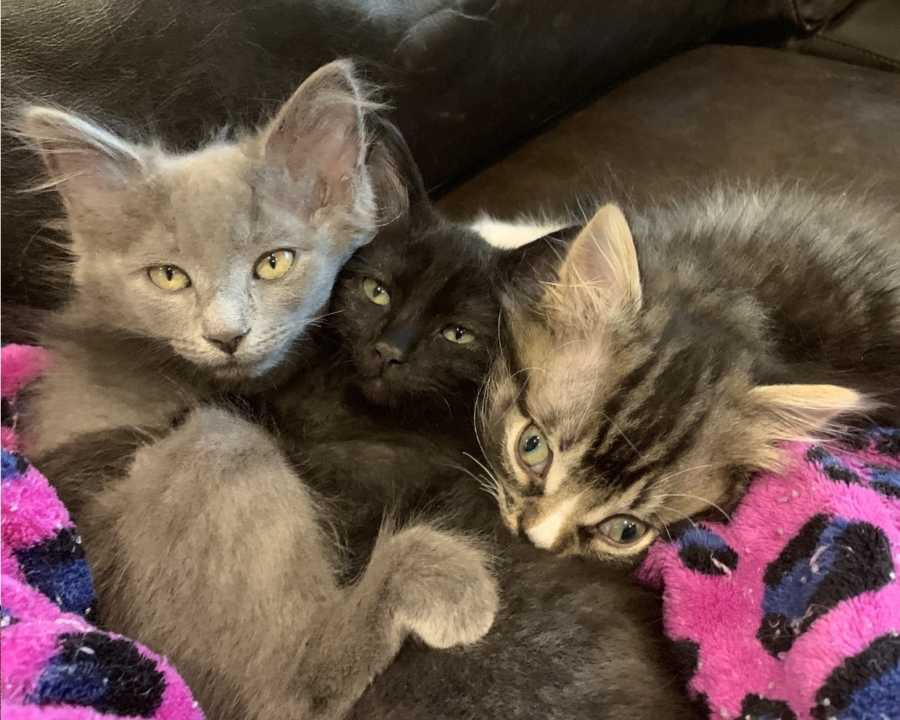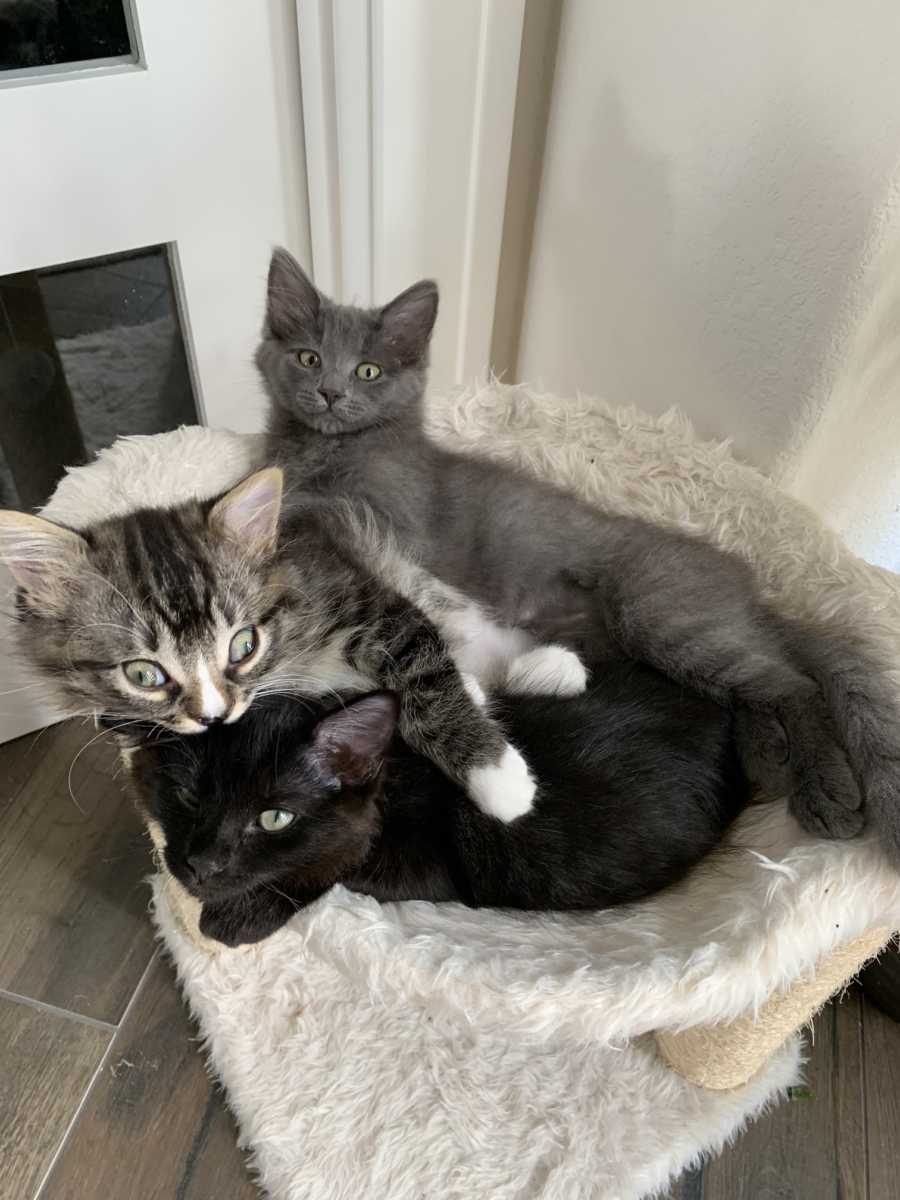 Sheldon gets his handsome and unique look from his cleft nose/lip and Hydrocephalus – which causes a bit of a bulge to his eyes. His pupils often point in different directions, and it has given him an oddly shaped and very large head. Because of his disabilities, the rescue referred him to Gulf Coast Veterinary Specialists. It was at this appointment we took the video where we called him Mr. Handsome, and the nickname has appropriately stuck with him. He was also diagnosed with a minor heart murmur (grade one to two which thankfully seems to be slowly resolving as he gets bigger), mild Cerebellar Hypoplasia, and potentially a chromosomal abnormality. Gulf Coast Vets, as well as his other vets, have prescribed Prednisolone and Omeprazole to control/treat his Hydrocephalus. He is a very healthy cat despite his disabilities.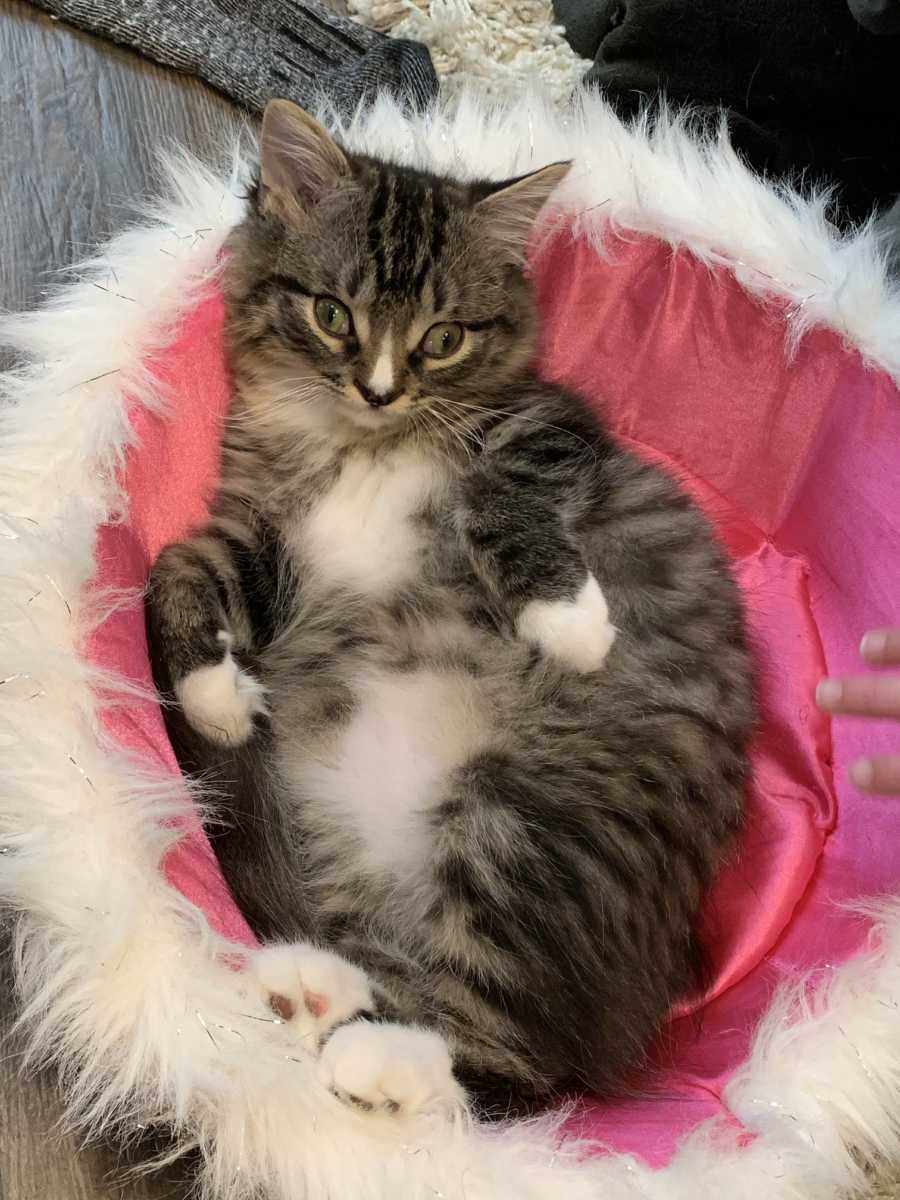 Sheldon and his siblings were an absolute joy to us in the summer of 2019, and we loved every minute we spent with the three of them. They all had their own silly individual quirks. For example, Finn loved to climb up our legs and was very confident, Daphne was a total rag doll and would cuddle all day long, and Sheldon would follow us around and then get some intense zoomies! When Daphne (now known as Willow) and Finn (now known as Xander) got adopted, our family was sad to see them go, but excited to see them start their new lives. They were adopted into an absolutely incredible family, and we are looking forward to visiting them in the future. Thankfully, their new family sends us lots of pictures and updates.
We knew almost immediately Sheldon fit perfectly into our family (we already had two special needs cats, Paisley and Penny, who love and play with Sheldon at a gentler level). Sheldon had bonded with us and we had bonded with him. He had us wrapped around his little paw, and he is never more than a few feet away from us. Thankfully we work out of the house and he is pretty much never alone.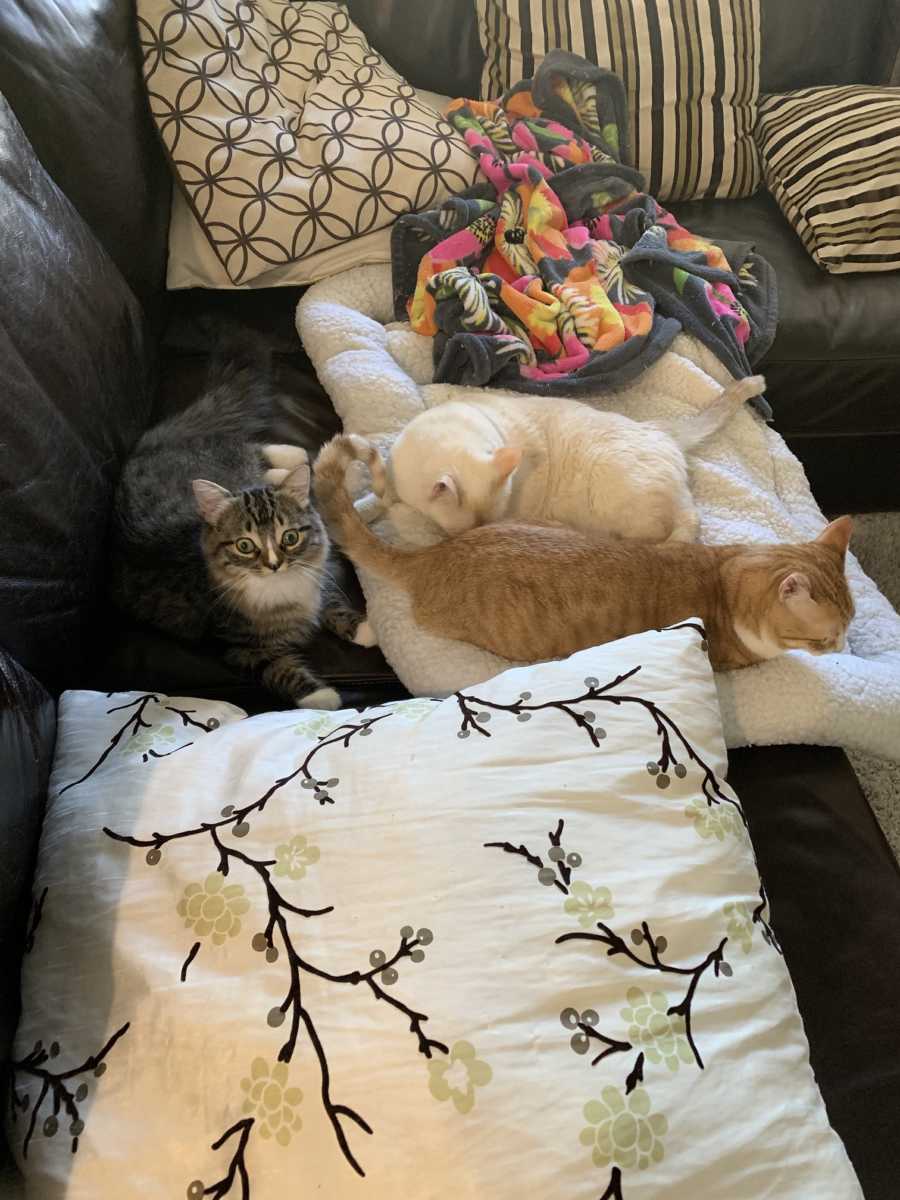 Sheldon's personality is one in a million. He is an incredibly sweet kitty and is always a delight. He is so sweet, fun, entertaining, chatty, and has so many quirks we can't even remember all of them. He walks around the house – usually following us – and makes a loud chirpy squeaky sound. It's stronger and louder when he wants to play, is bored, needs attention, or has to poop. One of our favorite little movements he does is when we bend down to pet him, he stands carefully on his back legs and meets us halfway up with his head. He will also move just his head back and forth like an owl when he is focusing in on something. We will often just sit and watch him, it's like watching a live interactive stuffed animal, playing.
His favorite toy is anything crinkly and/or plastic. He will chase it nonstop. He LOVES to play and his disabilities do not seem to hold him back at all. He is OBSESSED with food and is particular to anything with meat, chicken being his absolute favorite. He always needs to be near us, if we are in a room then so is he, including the bathroom!! But the kitchen is by far his favorite room in the house. If we are there, he is there circling us like a shark and it does not matter how hard we attempt to be quiet and tiptoe around. He hears us from anywhere in the house and comes trotting into the kitchen. He knows his name and loves it when we chat with him. He is super goofy, fairly clumsy, and can barely jump. He loves his people so much and he is always next to or on us. He makes a million silly faces a day and we are always trying to get them on camera.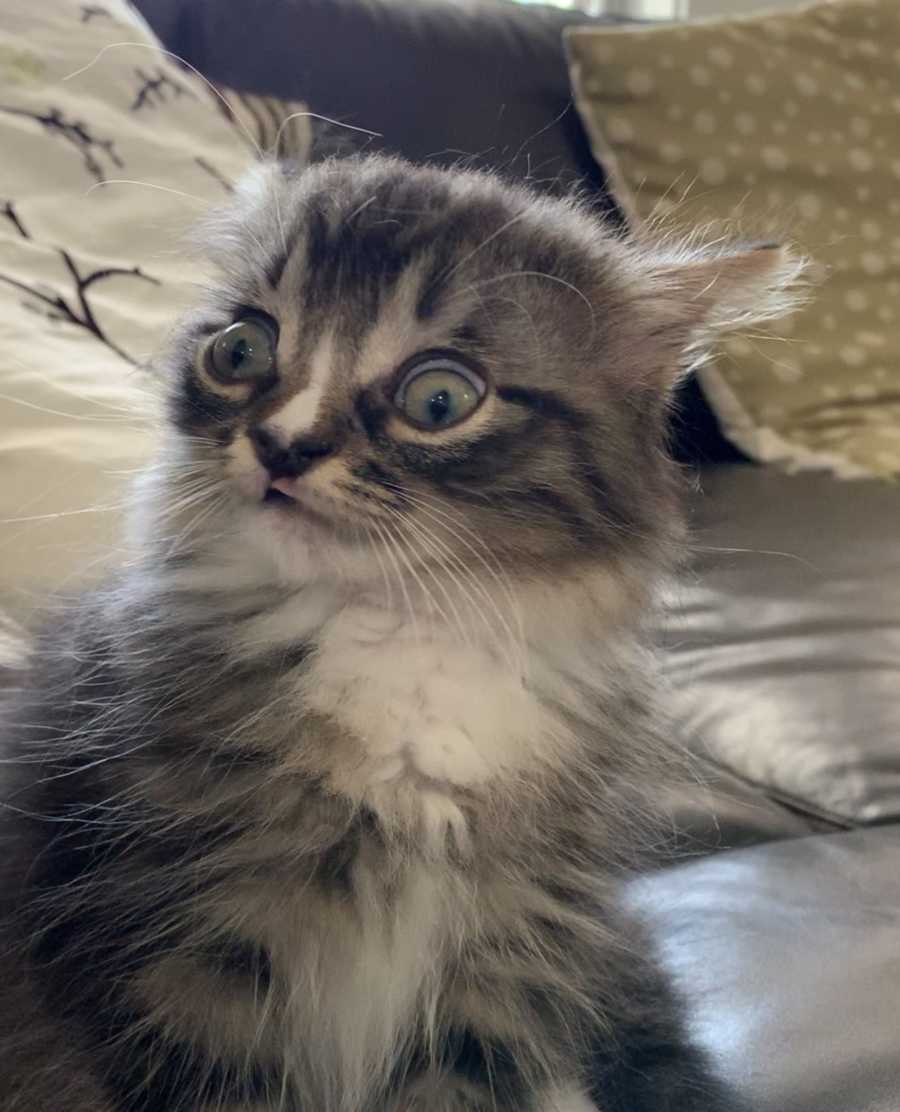 He doesn't ever run or gallop, he just scoots/taps quickly on his tiptoes. When he is chasing after something it's always a fast trot, like a raccoon. He also 'race trots' toward us when we walk into the house after we have been away for a little while. He is always soooo excited to see us when we get home. You can't look at him and not be happy and smile. He squints his huge eyes and gives you his 'I love you so much' squint. He often uses his third eyelid, which is always entertaining! We are thankful every day he is a part of our family, and we absolutely love, love, love how he brightens everybody's day!
He's completely thriving despite all of his disabilities. He gets along amazingly with our other kitties; he was the last kitten we needed to make our kitty family complete. We continue to foster momma cats and their kittens and we enjoy knowing these sweet families will live beautiful and happy lives. A few weeks with us, and so many of these little, innocent lives can be saved.
Our goal with Sheldon is to spread sunshine, happiness, love, hope, and acceptance for those who are different. Being different can be great and we should all celebrate what makes us unique and quirky! We want people to smile and have a better day after seeing a few heartwarming pictures and videos of Sheldon. We also want to spread awareness for the need for fosters and adoption for homeless pets, so get the word out about how special needs pets are amazing, and bring critical awareness to cat and dog population control (spaying and neutering). Again, and always, we want to thank everyone for all the amazing, wonderful, humorous, and beyond heartwarming comments we see and hear every day from all of you. We wish we could meet everyone and everyone could meet Sheldon as we are all in this journey together!"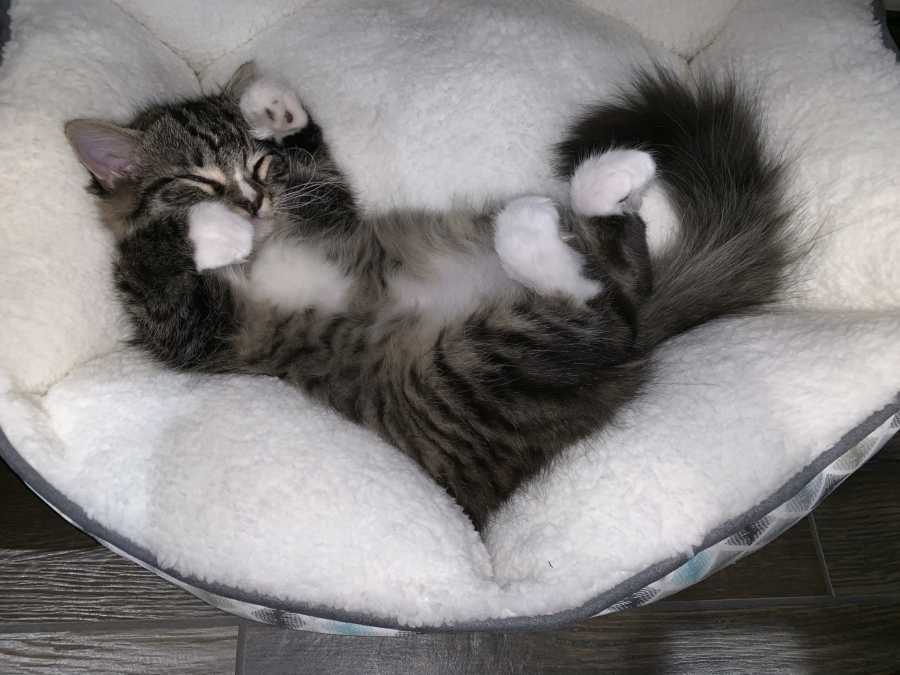 This story was submitted to Love What Matters by Heather Tooker-Blue. Follow Sheldon's journey on Instagram. Submit your own story here, and subscribe to our best stories in our free newsletter here.
Read more heart-warming stories about animals here:
'Aww, You're such a freak of nature!' I stood there, with my own obvious difference, unsure of what to say. Because I've been there. 'Two-face.' 'Ugly.' 'Freak.'
Cancer-ridden dog lives long enough to see bride walk down the aisle after supporting her through her OWN cancer
SHARE this story on Facebook or Twitter to show how much of an impact animals have in our lives.