"My 13-year-son was helping me install a bathroom sink when he asked me a question I wasn't sure how to answer. 'Did your dad make you do stuff like this?' 
'No,' I said. 'He didn't.' 
'Then why are you making me do it?' He said. 
Not to state the obvious, but he wasn't thrilled to be helping me. However, it was a pedestal sink, and I needed someone to hold it. 
Naturally, he gave me the look all 13 year olds get when they think they caught their dad in some logical trap and that I would now admit making him help me install a sink was some criminal use of child labor. 
'When I was your age, my dad was in jail.' I said, 'That's why.' 
I had both my hands under the sink, trying to attach the drain. I was grunting, but Tristan was quiet. It seemed clear that this conversation wasn't going the way he intended. 
'Then how did you learn to put in a sink?' He asked. 
I laughed. 'I taught myself. I watched a lot of YouTube videos. I asked friends. I had to do the same thing with learning to tie a tie and shaving my face. Basically, all the stuff I'm planning to teach you.' 
Sure, he knew Grandpa Kent was my stepdad. And yes, he knew my real father had a drug addiction. But I don't think he'd ever added it all up and realized that by his age, I didn't have a dad in my life and that meant not having someone to teach me. 
'Listen,' I said. 'I didn't have a great relationship with my dad. It's funny. I'm sure if he'd asked me to help put in a sink when I was your age, I'd have been pretty bugged by it too. But now, looking back, I really wish we'd have had more moments like the one we are having now. I probably would have learned a lot and wouldn't have had to learn so much on my own. I might not have made so many mistakes. So, I guess what I'm saying is I love you enough to be here and show you how to do the things my father never taught me.' 
Tristan had both hands on the sink still. He thought about what I had to say, and then he asked me another question I didn't expect. 
'What's that thing there?' 
'It's a caulk gun. I'll use it in a moment.' 
'Will you show me how to use it?' He said. In so many ways what he was really saying was, 'I appreciate you being here for me.' 
'Sure bud. I'll show you,' I said. But what I was really saying was, 'I love you.'"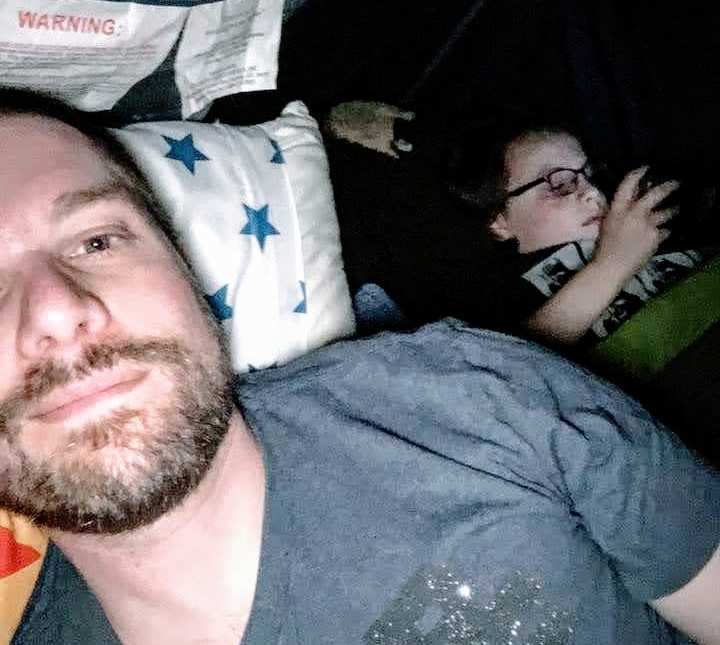 This story was submitted to Love What Matters by Clint Edwards of No Idea What I'm Doing: A Daddy Blog. Find his hilarious new book "Father-ish: Laugh-Out-Loud Tales From a Dad Trying Not to Ruin His Kids' Lives" here. Follow Clint on Instagram.  Submit your own story here. Be sure to subscribe to our free email newsletter for our best stories, and YouTube for our best videos.
Read more from Clint here:
'I sit with one eye answering emails, the other on my son who stares at schoolwork like it's a hate crime.': Dad says 'don't feel bad, we're all struggling'
'Next time just shut up and listen.' I'd been married 13 years. I'll be honest, his advice pissed me off.': Husband shocked random advice was actually correct, 'You don't need to fix her problems. Just listen to her'
Provide strength for others. SHARE this story on Facebook and Instagram with your friends and family.