"A little over a week ago mom saw a red solar lamp hanging on my patio at my bakery. She LOVED it. She wanted to go get one right away. I told her I would get her one and hang it next to her bird feeder outside their kitchen window so she could see it (although they are usually in bed by the time it's dark outside). Anyway, I gave her one of her own the other day and she hugged it, looked at it and then told me she was so happy she was going to cry. Well look at that – so was I!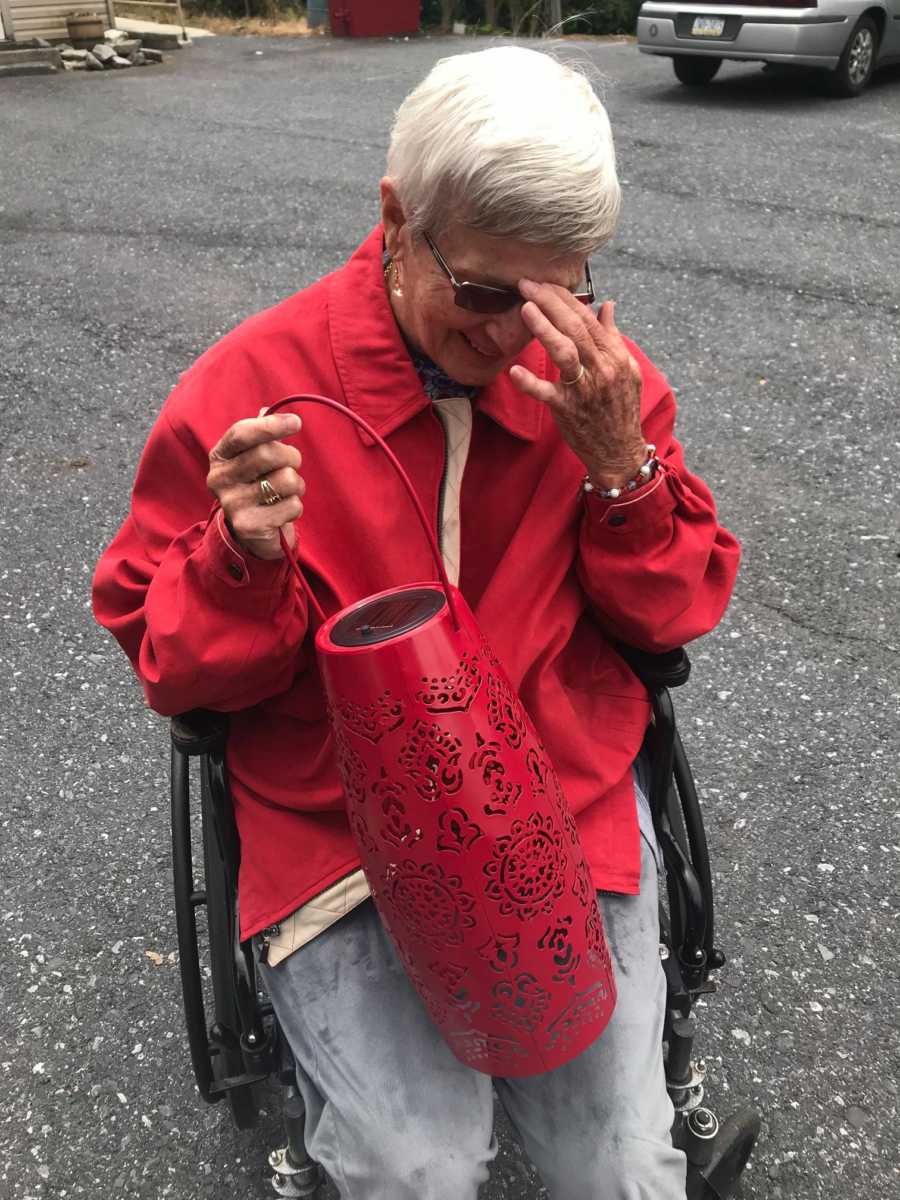 Next was a Sunday morning breakfast. Mom orders her normal pancakes which she has changed her ritual of eating weekly. For a while they were served with bacon on top. Then came punching fork holes all over them – I mean ALL over them. Then covering them with syrup until they were swimming. Most recently she likes them with blueberries and she no longer cuts them herself – my sister Mary Ann usually jumps up to do it for her. Life really does come full circle doesn't it?!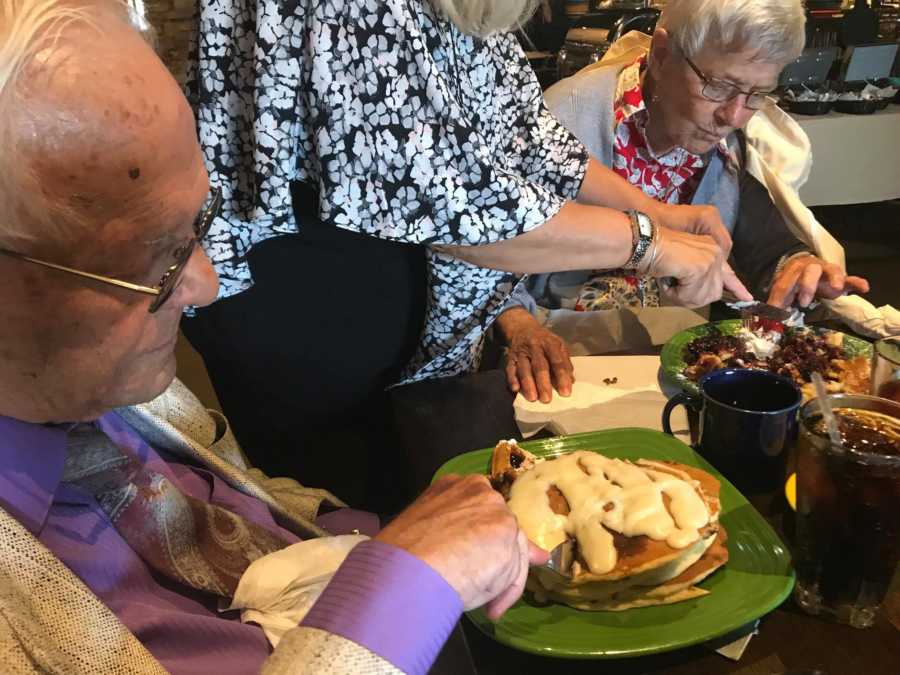 We had a bit of a scare with dad. There was a 2 hour window between one caregiver and the arrival of another and mom wanted to go out in the yard. Dad followed behind with his walker (which he uses occasionally). It is a walker with a built in seat. Mary Ann was eating with a friend at the restaurant next to their house and saw them walking down their ramp. At the bottom of the ramp she saw dad's arms go up in the air and said to her friend, "I think my dad just fell." She runs out and there is already a man, who also saw him fall, with him. His walker was on a bit of a slant and when he sat down he fell backwards. His elbow was bleeding and he hit his head on the cement. Mary Ann called me and I ran over from our office. He had ice on his elbow and head. He was talking and said he was fine. We took him to the Emergency Room to make sure it wasn't worse than it appeared. Thankfully (and amazingly) he was OK. He got one stitch in his elbow and his head was fine. We were incredibly relieved, and he had a new story to tell.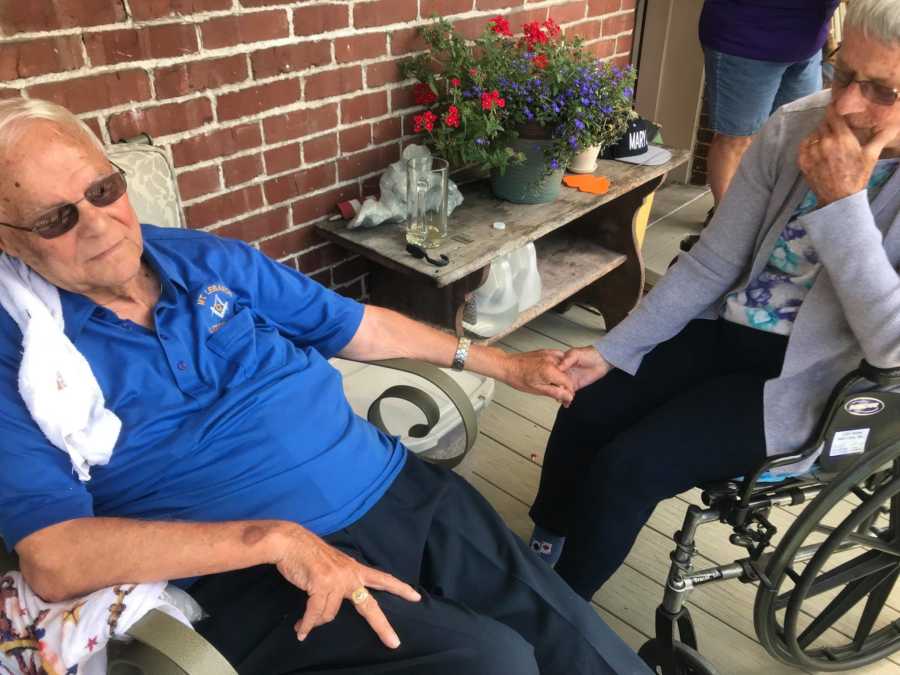 Mom's newest project is to rearrange, empty, and clean her porch closet. It was a place to house her extra things for planting, their bird food for their feeder and odds and ends. Her goal is to have an empty closet. The bird food is now in the back of my car and most of the other things are gone (we put them in the trash but don't tell her). It is actually nice when she has a project otherwise she spends a lot of time looking for one.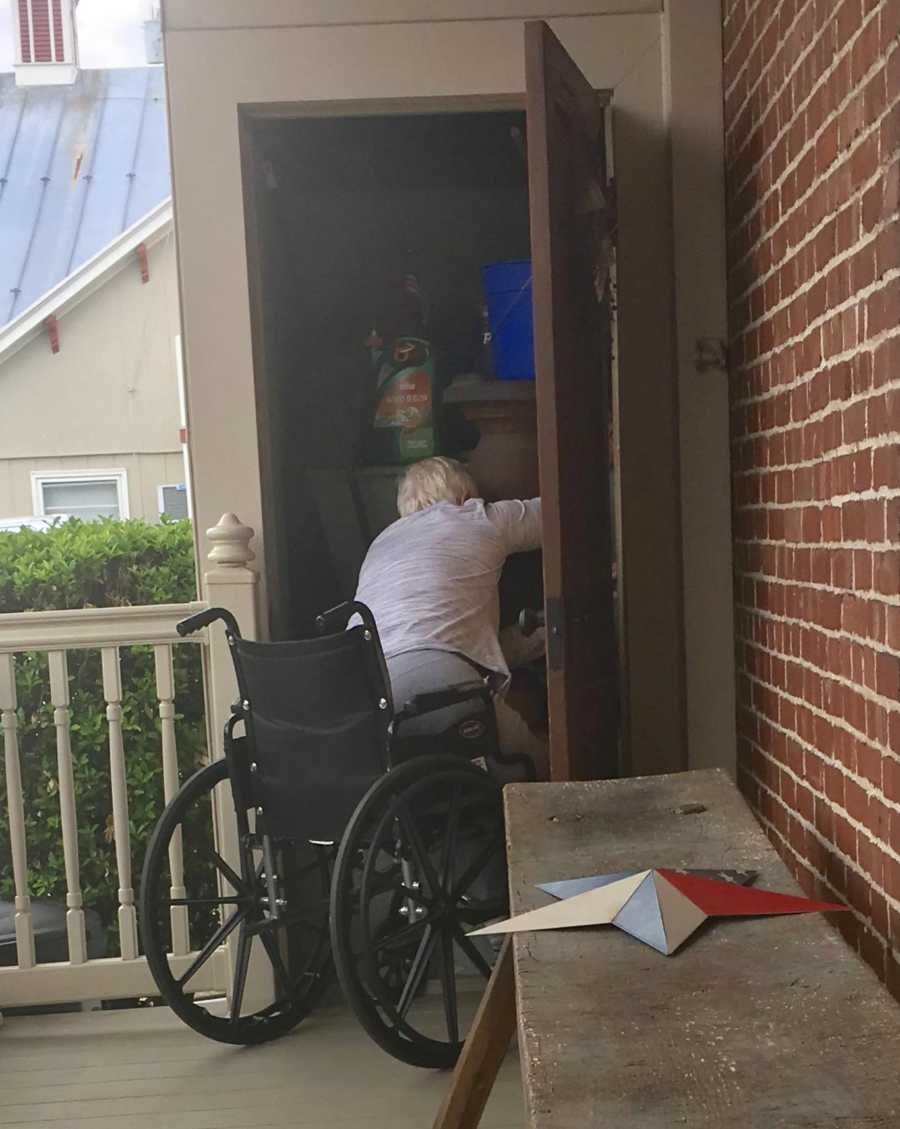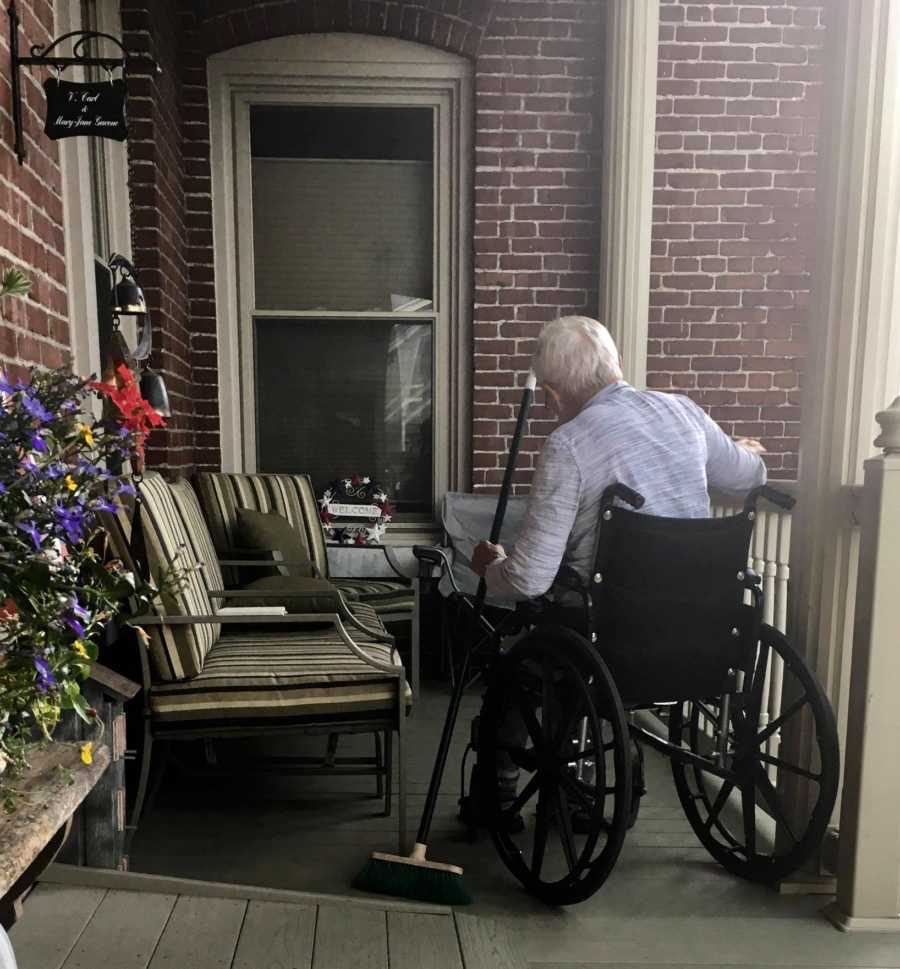 This past Sunday we celebrated their 68th wedding anniversary. There is a photo of a lot of us at breakfast and then a photo of dad once we got home…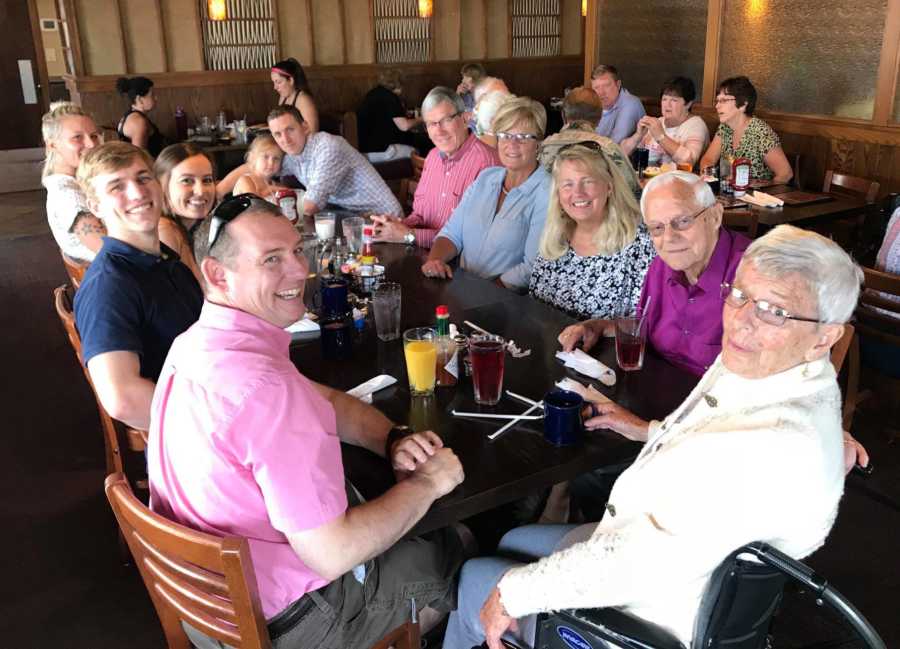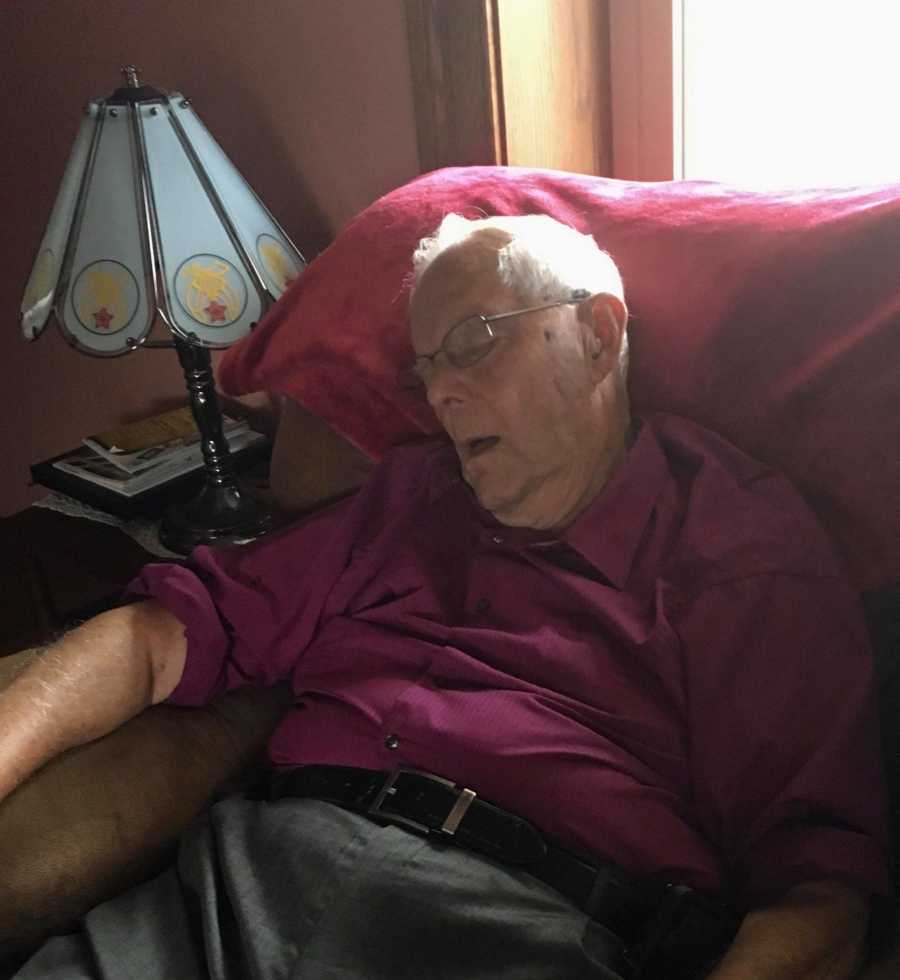 I took them dinner that evening – spaghetti. Mom ate it and in between each bite said she doesn't really like it. She said it after every bite until it was gone. Sometimes it's best to say nothing to her comments.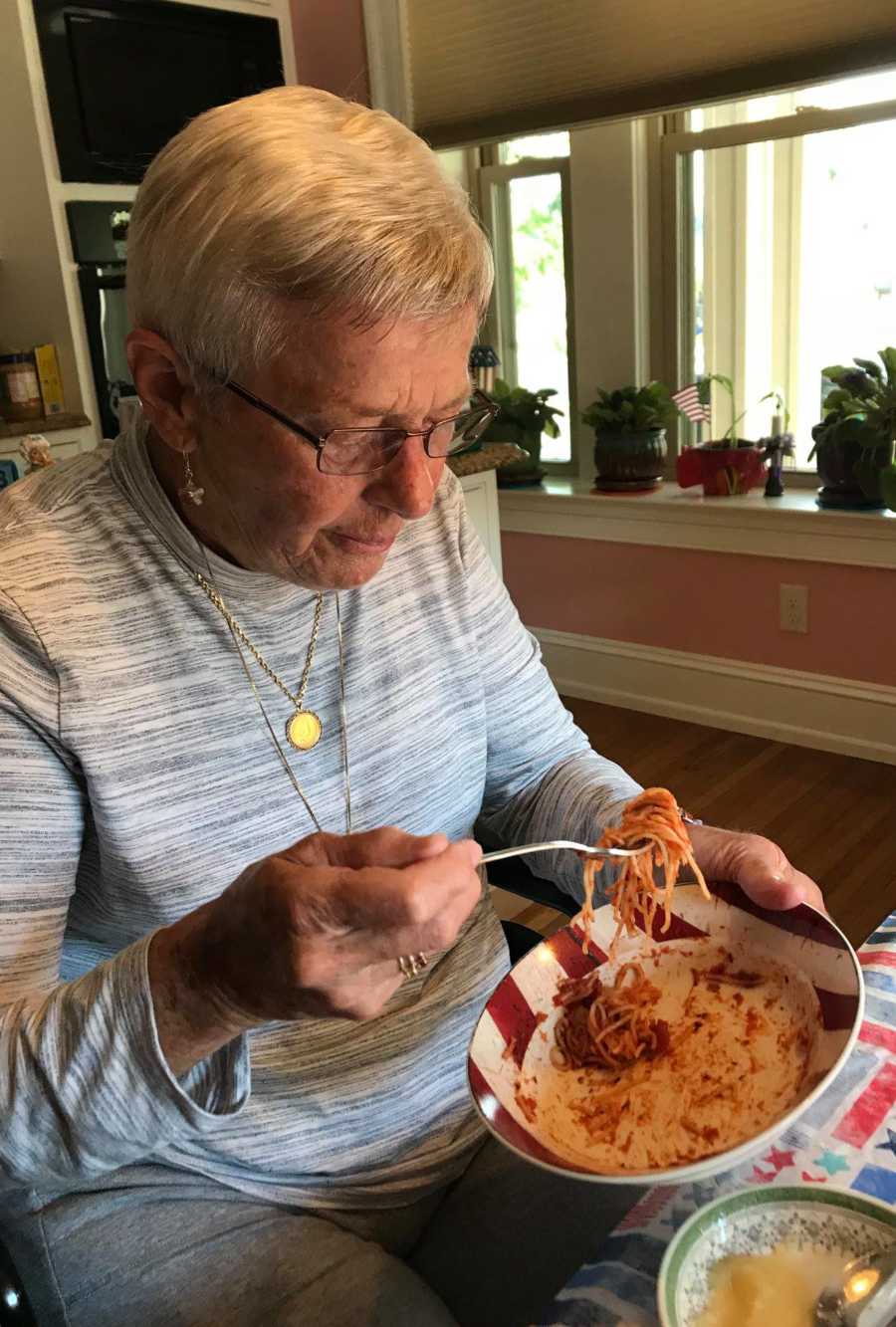 I'm not sure if I mentioned that my dad is a talker. For those of you that know him personally, you know this already. So after dinner dad started talking. He was talking about helping others and how easy it really is if everyone works together. This discussion went on for approximately 15 minutes with my mom looking at dad and appearing to be listening attentively – the entire time. About 10 minutes into him talking he took a breath, and without missing a beat she says, "You are kidding me?" It was perfectly timed. The question fit what he was talking about. I just looked at her and smiled as she continued to "listen." I think it helps when she does this – it gives him a sliver of hope that she is still there, and I think that is all he needs to get him through each new day.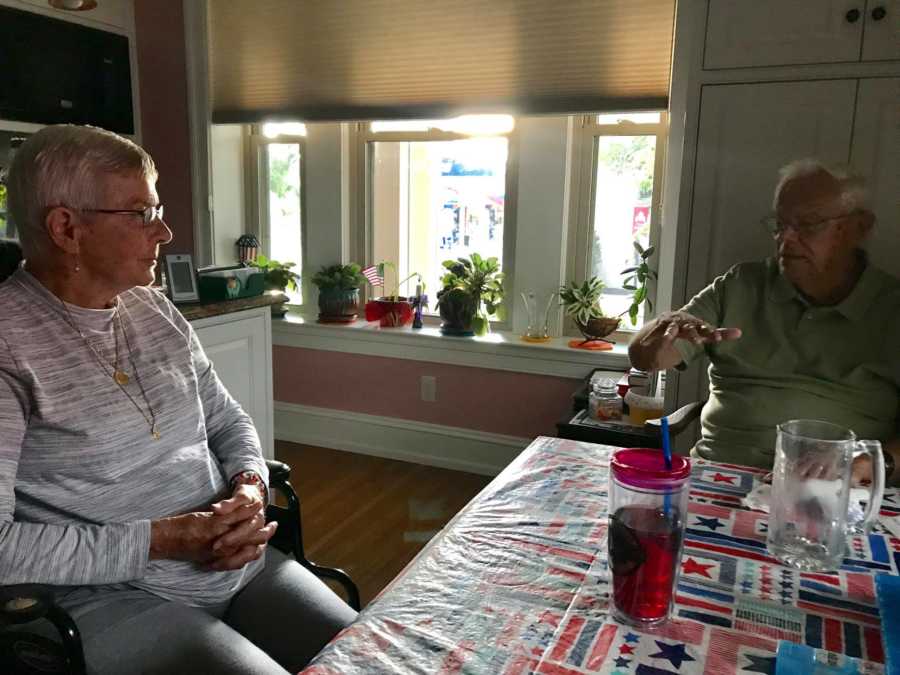 This story was submitted to Love What Matters by Becky Gacono of Annville, Pennsylvania. She is chronicling her mother's dementia journey on their Facebook page and in a series of posts for Love What Matters:
Family combats mom's painful dementia journey with humor
'His love for her is palpable': Doting husband's explicit instructions for wife with dementia's morning routine
'I never thought I'd get to kiss an angel': Daughter overhears midnight whispers between mom with dementia and dad
'I'll get to her outfit later': Daughter's humorous attempt getting her mom with dementia to the doctor
'I think about the vows they took 68 years ago, and how they have lived up to all of them.' Lovebirds never 'dreamed' of dementia, but still believe they hit the marriage 'jackpot'
Submit your own story here, and be sure to subscribe to our best love stories in our free newsletter here.
Do you know someone who could benefit from this story? SHARE on Facebook to let them know a community of support is available.