The News That Changed It All
"My life changed completely in March 2019 when I got diagnosed with stage 3C womb cancer at 42 years old.
Most cancer patients and survivors remember the exact date they got the news. I don't. I have narrowed it down to two ‌dates, Wednesday the 20th or Thursday the 21st of March, but I cannot remember for sure.
Some people might think it strange that I can't remember. To me, it's not. The date, at the time, was insignificant. It didn't matter. What mattered was that I had cancer. I could die.
It was only later, months later, when I reflected on everything, that I realized I couldn't remember the day I learned I had cancer.
But it doesn't matter. What matters is that I'm still here and have been cancer-free for three years.
When I first got diagnosed, I only shared the news with my family and close friends. My work colleagues knew because I had to tell them. After all, I was going to be absent from work for a while. For seven months, as it turned out.
Why did I keep it quiet at first? Because I felt it was my fault. I blamed myself for not going to my doctor sooner and letting the cancer develop and spread from the womb to the lymph nodes. But gradually, I realized I wasn't to blame. I also realized that, had I known the symptoms of womb cancer, I would have seen my doctor sooner. A lot sooner.
I realized I wasn't the only one ignorant of the symptoms and it was that realization that led me to share my journey through my blog and on social media. I wanted to use my experience to educate people on womb cancer so they would recognize the symptoms and get diagnosed earlier when the survival percentage is higher, 95% for stage 1.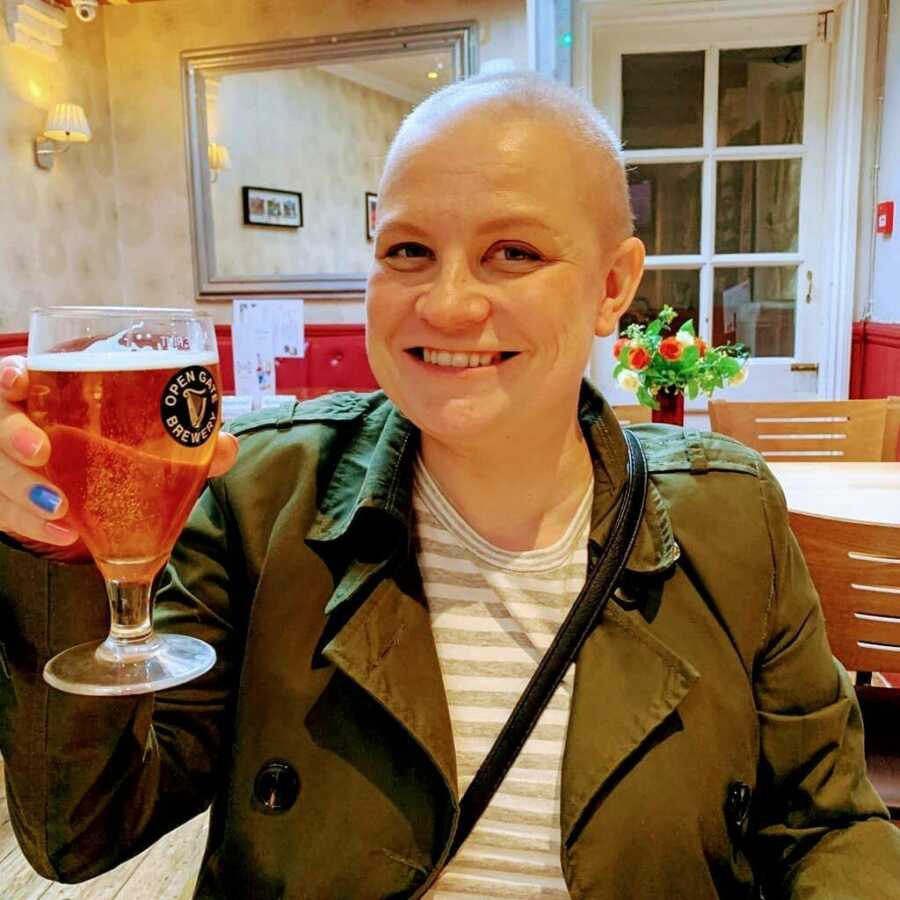 Symptoms
One sign that something is not right is changes to your periods. It doesn't mean that you have womb cancer or another type of gynecological cancer, but it's something that must be checked out. I didn't know that.
I first noticed changes in my periods a few years before I finally went to the doctor. At first, those changes were hardly noticeable. I didn't worry about it at all. I simply thought it was because I was getting older and my body was changing.
It was in the autumn of 2018 when I went to see a doctor. It must have been a sixth sense that made me pick a doctor specializing in gynecological issues. She listened to my symptoms and sent me for further check-ups.
I'm so glad I chose her. Since then, I have heard way too many times that women's, especially younger women's, concerns were dismissed and not addressed properly until the cancer had spread. That's why we need to be our own advocates. We know when something is not right. So if your doctor doesn't act as mine did, push to see a gynecologist.
At first, things moved slowly. I had to wait three months until an appointment with a gynecologist. By that time, my periods were almost continuous, and I was popping painkillers every few hours to get through the day.
After I had seen the gynecologist, things moved up a gear. The speed it all happened at was astonishing. The sample the gynecologist took confirmed I had cancer, and he referred me to a specialist.
The two thoughts I had when I was told I had cancer were that I could die and that I had to tell my family about it.
I faced the most difficult phone calls of my life. How do you break the news that you have cancer? And what made it even harder was that they live in Finland and I lived in London. I am blessed that I have a wonderful partner, Justin, but I could really have done with a hug from my parents, too.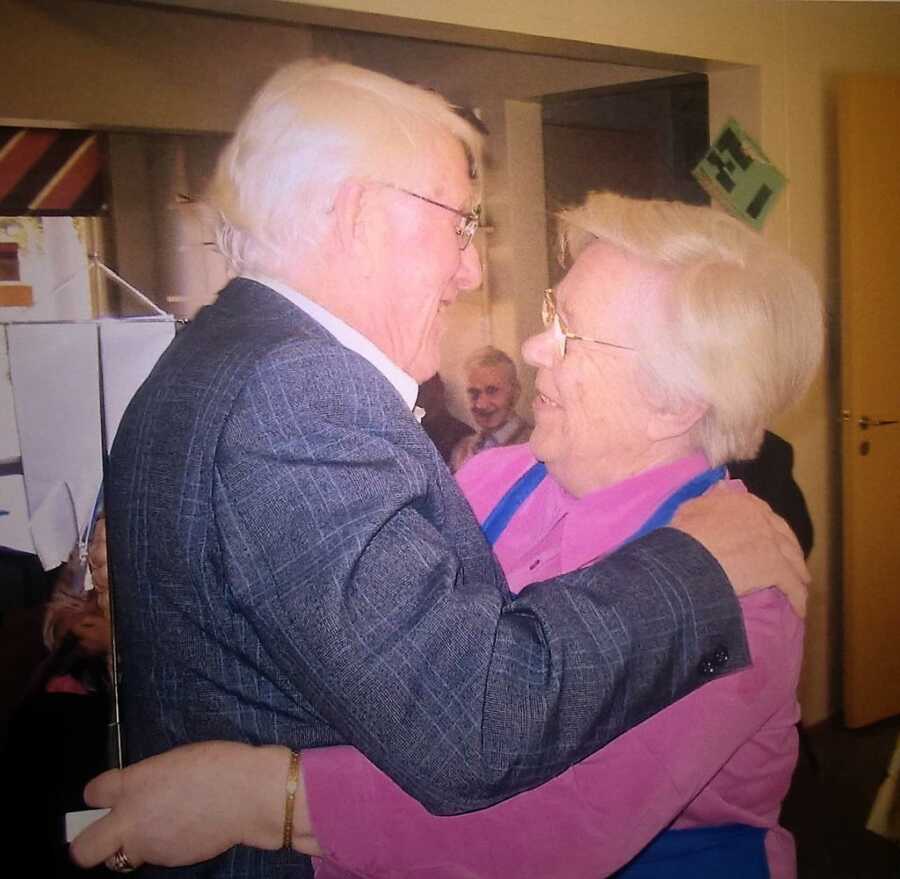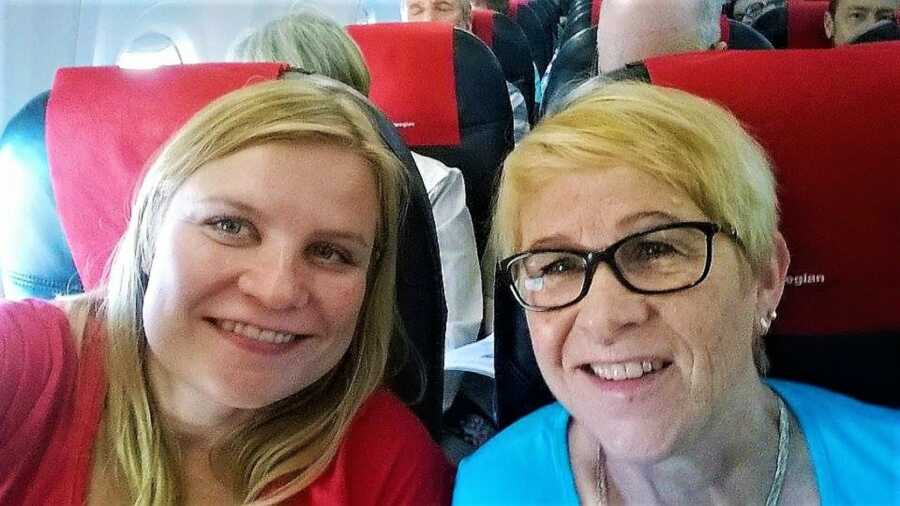 My thoughts were already circling around death, and meeting with my specialist didn't improve matters. I called him Dr. Gloom. (Behind his back, of course.) He is an amazing doctor and a surgeon, but his bedside manner lacks empathy.
At my meeting with him, he told me to clear my calendar for the following Friday for the surgery. When I asked him what my prognosis was, he said, 'I cannot tell you whether you will be in the one-in-ten group who make it.'
It took me a while to digest that. Basically, I had a one in ten chance of making it through this. I started planning my funeral and writing heartfelt goodbyes to all my loved ones. At least, I thought, I could say goodbye to everyone at once, rather than having to say many goodbyes when you lose loved ones one by one. I guess you could call that a silver lining of sorts.
Treatment
I am eternally grateful to Dr. Gloom and his skills, but luckily I had a different specialist for my follow-up treatments. She explained to me they had removed all the cancerous growths in the surgery, but I needed chemotherapy followed by radiotherapy to ensure any possible microscopic remains would be nuked. Not her words. She was a lot more professional.
It was also after talking to her that I stopped planning my funeral. I realized I could make it. I had the best doctors and nurses and I was a patient at one of the leading cancer hospitals in the world, Royal Marsden.
I had to have six chemo sessions at three-week intervals. When my chemo started, I was prepared for the hair loss, but it still surprised me how rapidly it fell off and that literally all my hair fell off. Including nasal hair. I didn't expect that.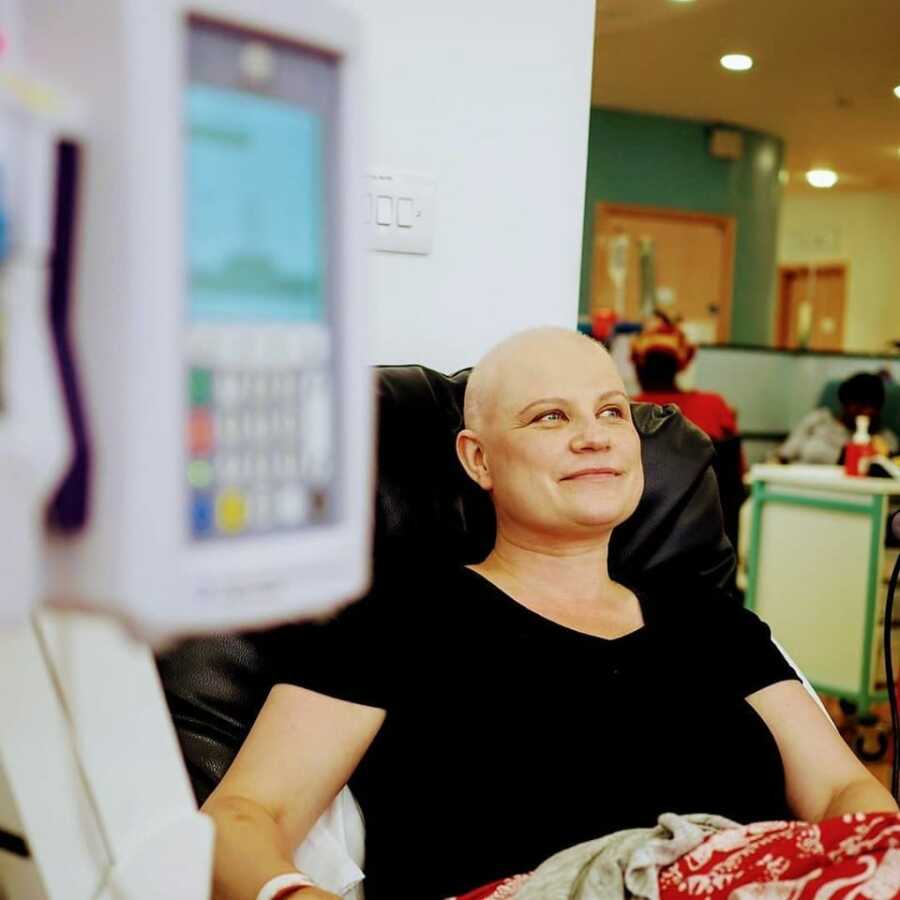 Neither did I expect the plethora of spots that covered my head when I shaved my hair off. My hair began to fall out just before my second chemo, and Justin shaved it off for me.
I was prepared to rock the bald look, but then the spots arrived. There were black heads, yellow heads, white heads, you name it. I don't know if it was the sudden exposure to fresh air or the chemo drugs or a combination, but eventually, they cleared up.
Other than the hair loss, a weird sensation in my legs, which I can only describe as a constant restlessness and feeling like someone was pinching me from under the skin, and some trouble with low platelets which delayed my chemo sessions twice, chemo wasn't too bad for me. Radiotherapy hit me harder.
With chemo done, it was time for radiotherapy. I had 25 external sessions, Monday to Friday, followed by two internal sessions called brachytherapy. I was lucky to live only a 15-minute bus ride away from the hospital; those days were tiring enough without long to travel on top.
Radiotherapy knocked me out. The first week was fine, but then it hit me. My sessions were usually around nine in the morning and afterward, when I got home, I had to have a two/three hour nap.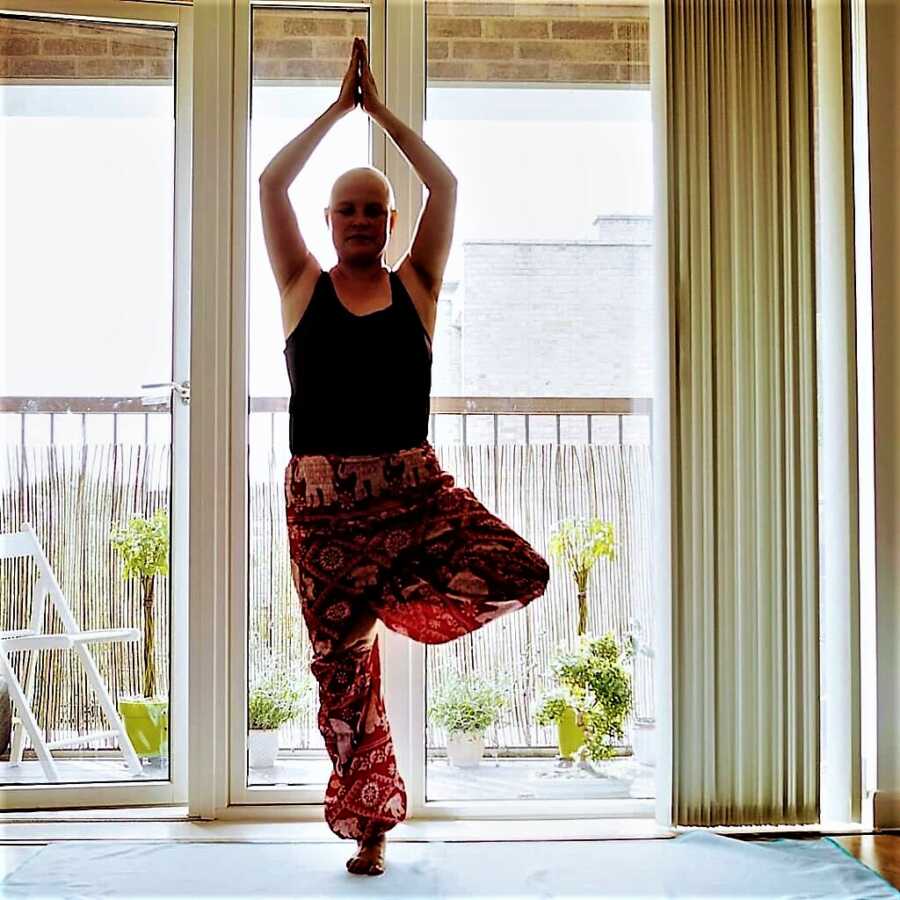 Lynch Syndrome
Because of my age, my doctors checked me for Lynch Syndrome. It is an inherited genetic condition that increases the risk of certain cancers, including womb cancer, colorectal cancer, and ovarian cancer.
Looking at my family history, the genetics doctor didn't think it was likely I had Lynch. Turns out, she was wrong.
I have Lynch and I have inherited it from my mother, and so has my sister. Which of her parents my mother got it from, we will never know. They both lived into their 90's and died of non-cancerous reasons. This is something that always gives me hope when I think of cancer and my increased risk of getting another one.
Having Lynch doesn't mean you will get cancer. Yes, we Lynchies are at a higher risk, but we also have regular screenings to detect cancer at early stages. And with early diagnosis comes a better chance of survival.
My treatments finished in October 2019 and the scans showed no evidence of disease. I was looking forward to resuming a more normal life in 2020, but we all know what happened then. COVID arrived and this time everyone's life was turned upside down.
But I don't think Justin and I would have gotten the idea to cycle across Europe, had it not been for COVID.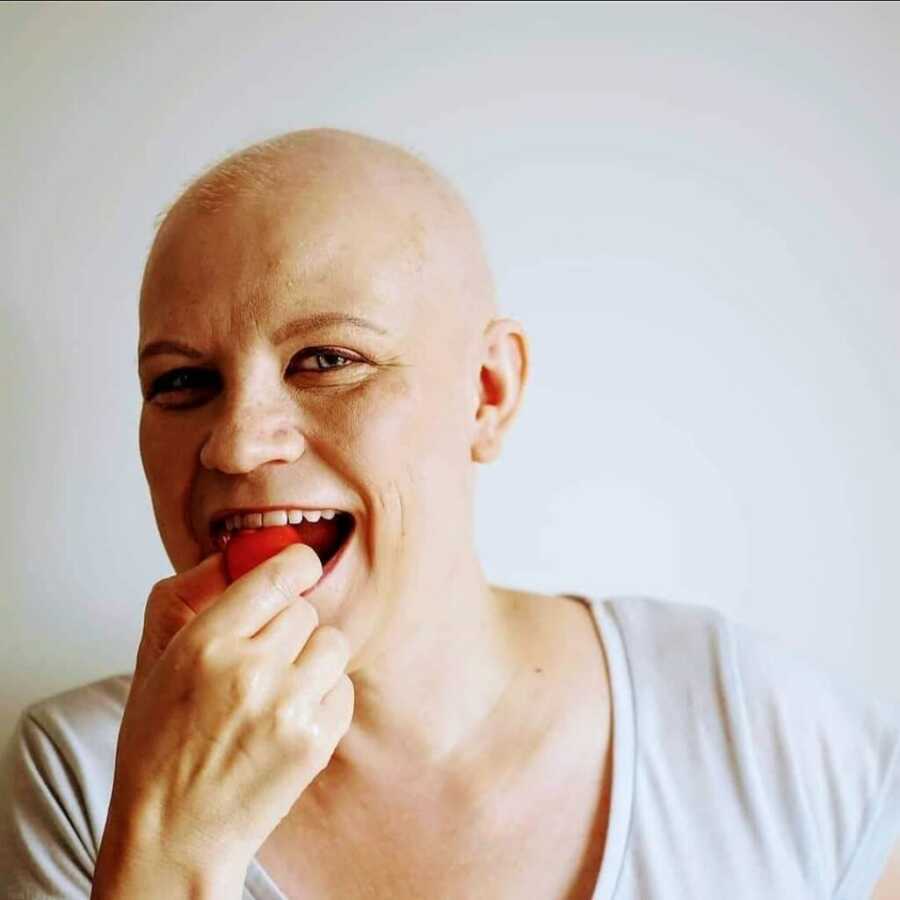 Cycling For Change
The idea was born one night when we sat on our balcony and dreamt about traveling again. Combine that wish with my desire to raise awareness of womb cancer and Lynch Syndrome and money for the Royal Marsden Cancer Charity, and you get a charity bicycle ride across Europe.
We might have been a little drunk when the idea was ‌conceived, but it stuck and on the 8th of August 2021, when COVID allowed it, we began our journey from Nuorgam on the Finnish-Norwegian border. 72 days and 5518 km later, we finished our ride in Torrevieja, Spain.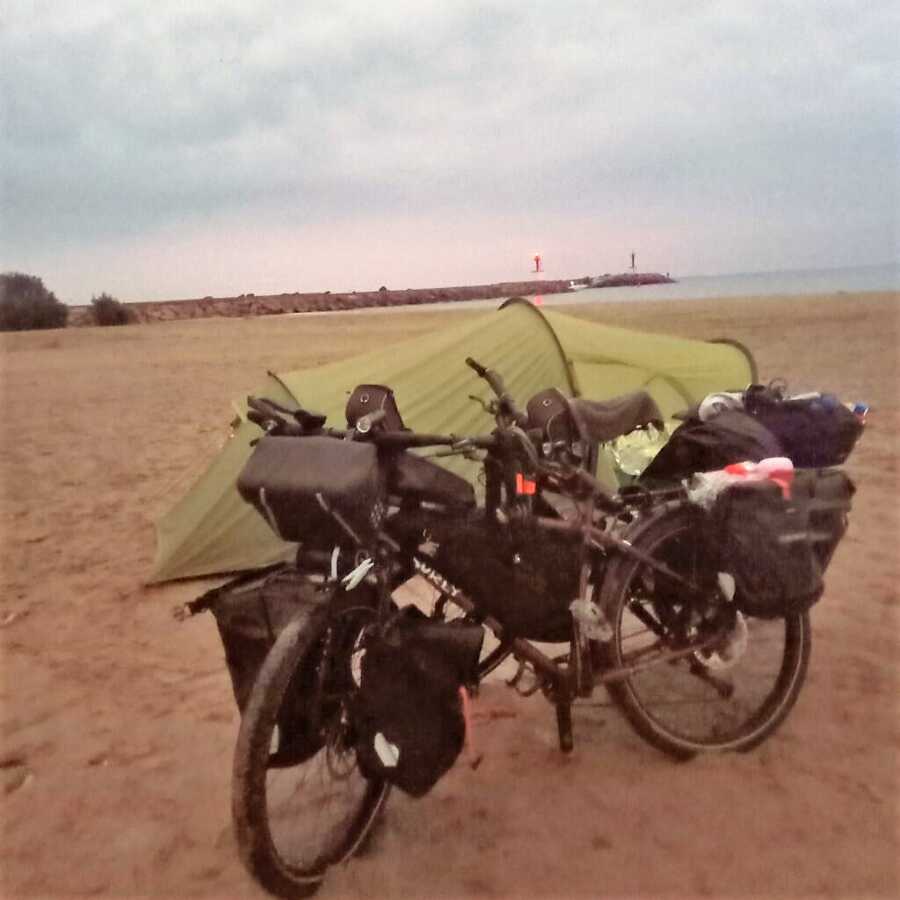 There were so many highlights and some low moments during the journey. But it is funny how those low moments have turned into highlights as time has passed. Though we certainly weren't laughing at the time, those moments now make the best stories.
Like when we ended up sleeping next to a church and a graveyard in a suburb of Frankfurt. Because of a series of delays, it was late when we were looking for a place to camp, and already dark. We tried a large public park first, but the grass was too long and the ground was uneven.
From the map, we could tell there was a small green area nearby. It turned out to be a church and a graveyard. But desperate to get to sleep, we put our tent up next to a service building. Our sleep was cut short when shortly after sunrise, we heard deep voices from outside saying, 'Hallo, hallo.'
I have never seen Justin move so fast. He was out of the tent before I had even gotten out of my sleeping bag. Outside, he faced three burly German gardeners. Though not unfriendly, they told us in no uncertain terms that camping there was 'verboten' – forbidden. We packed everything up in record time. We have laughed at that many times since and have a feeling that the gardeners laughed at it, too.
Then there was the time when we had to sleep under a large bus shelter. We were cycling along a beautiful riverside route in France when we stopped to use a toilet. Before we could continue, it started pouring down. We dashed with our bikes to shelter at the bus stop not expecting to spend the night there.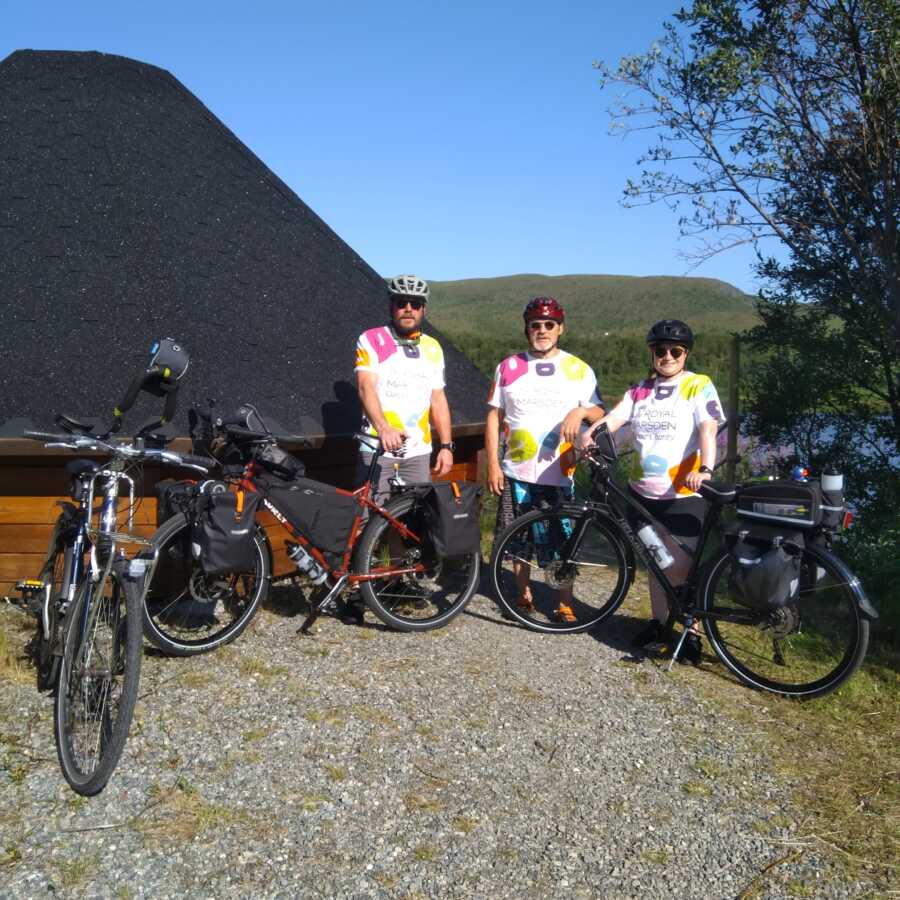 As the rain showed no sign of easing, we wondered if we'd be able to continue our journey that night. When the thunder and lightning started, we knew we were not going anywhere. As the thunder shook the nearby mountains, we were so glad for our shelter and that the rain arrived just when we had stopped for the toilets. Otherwise, we would have been caught in the storm in the middle of nowhere. Sleeping on the bus shelter benches wrapped up in our sleeping bags was definitely the preferred option.
But what we will cherish the most are the amazing people we met on the journey. Like in Finland, when we missed a turning and ended off the planned route. But then we wouldn't have met a wonderful couple who had just opened a campsite in the small town of Kyyjärvi.
We turned up at their campsite cold and wet, and they put us up in a cozy cabin. We offered to pay, but they wouldn't hear of it when they learned we were raising money for a cancer charity.  Not only that, but we could have a sauna and get properly clean and warm. We spent the evening chatting and sharing a few beers and thanked our lucky stars when we retired to our warm, comfortable bed.
A similar thing happened when we were in Bagnols-sur-Cèze, in France, except that this time the campsite was closed for the winter. But it hadn't said so on the website. Once again, it was a wet day, and we had gotten soaked through. Thinking back now, I realize that whenever we were feeling the most miserable, something miraculous happened to lift our spirits.
This campsite meant a detour, but we deemed it worth it, as we wanted hot showers to warm up a little before getting to bed. Our hearts sank when we arrived and realized the campsite was closed.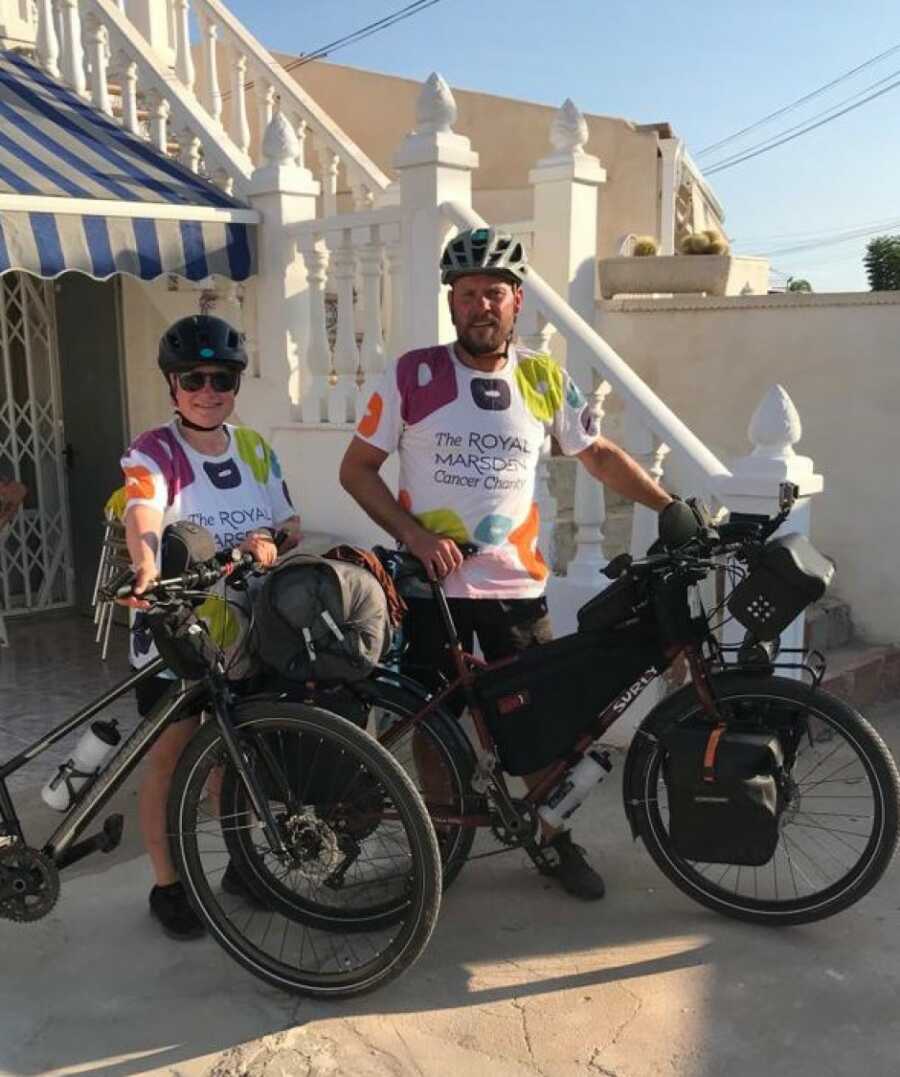 Luckily, the owner of the campsite saw us and took pity on us. She didn't just let us put our tent up and use the showers. She opened one of the little cabins for us and, best of all, cranked up the heating to the max. We had shelter from the rain, a shower, and warm beds, and she wouldn't accept any money from us. I cried a few happy tears that night.
And it wasn't the only time I cried. Sometimes they were tears of exhaustion, but most often I cried because I was so grateful. Barely two years had passed since my less than hopeful diagnosis and here I was cycling across Europe, climbing mountains, seeing amazing scenery, and meeting wonderful people.
I also cried on the first day of the ride, because despite COVID, we could do our charity ride. I often cried when I made it to the top of a long, hard climb. There were tears when I got my first sighting of the Mediterranean Sea, and there were tears when we made it to Torrevieja. But those were all definitely happy tears.
Holding Onto Hope
Looking back, I cannot help but be grateful for everything that has happened. Cancer changes everything, and for me, it changed my life for the better. I now look after myself and live my life with more purpose and more enjoyment. Cancer taught me to focus on what is important and not to sweat the little things. It also led, with a little help from COVID, to an amazing cycling experience, the first of many.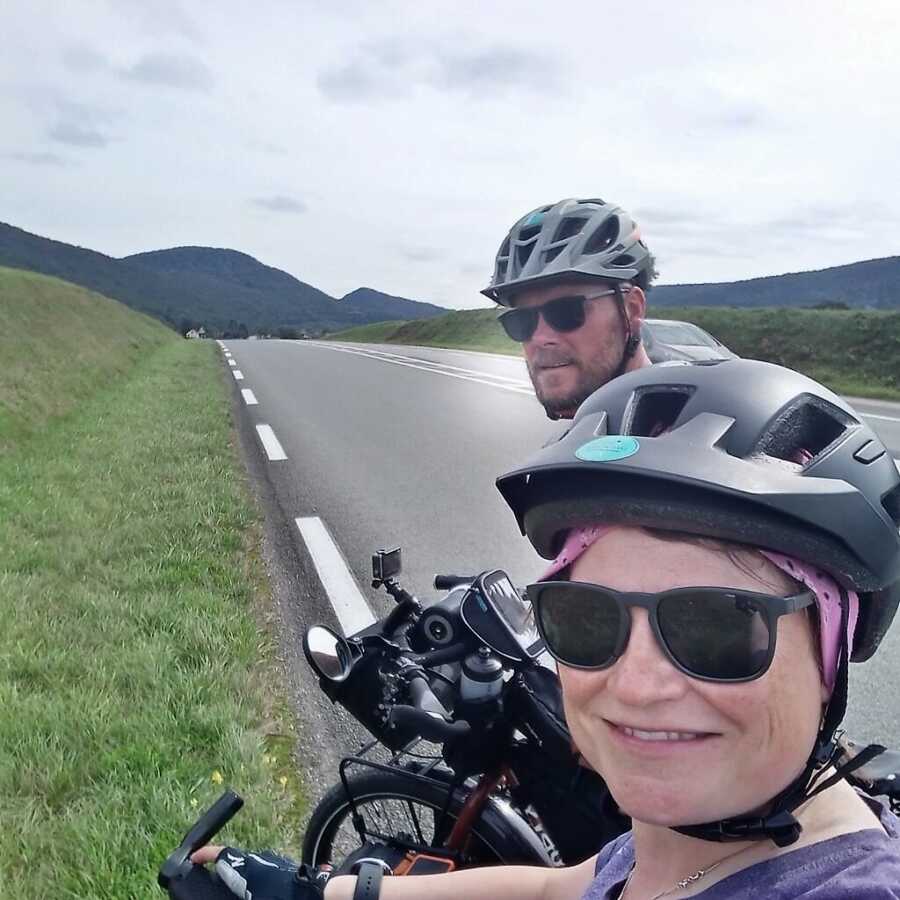 I want to keep telling people about the symptoms of womb cancer and raise awareness for Lynch Syndrome. At first, I thought having Lynch is rare. But it isn't. Doctors estimate that 1,300 have it, maybe even more. The trouble is that 95% of Lynch carriers don't know they have it. For this reason, it is important to raise awareness so that people with a family history of certain cancers will know to ask for genetic tests.
I also want to show everyone newly diagnosed with cancer and going through that rollercoaster, that there is life after cancer. That it is possible to survive regardless of a poor prognosis. I want to encourage them to hold on to hope, believe in miracles, and look for things in life that make you happy."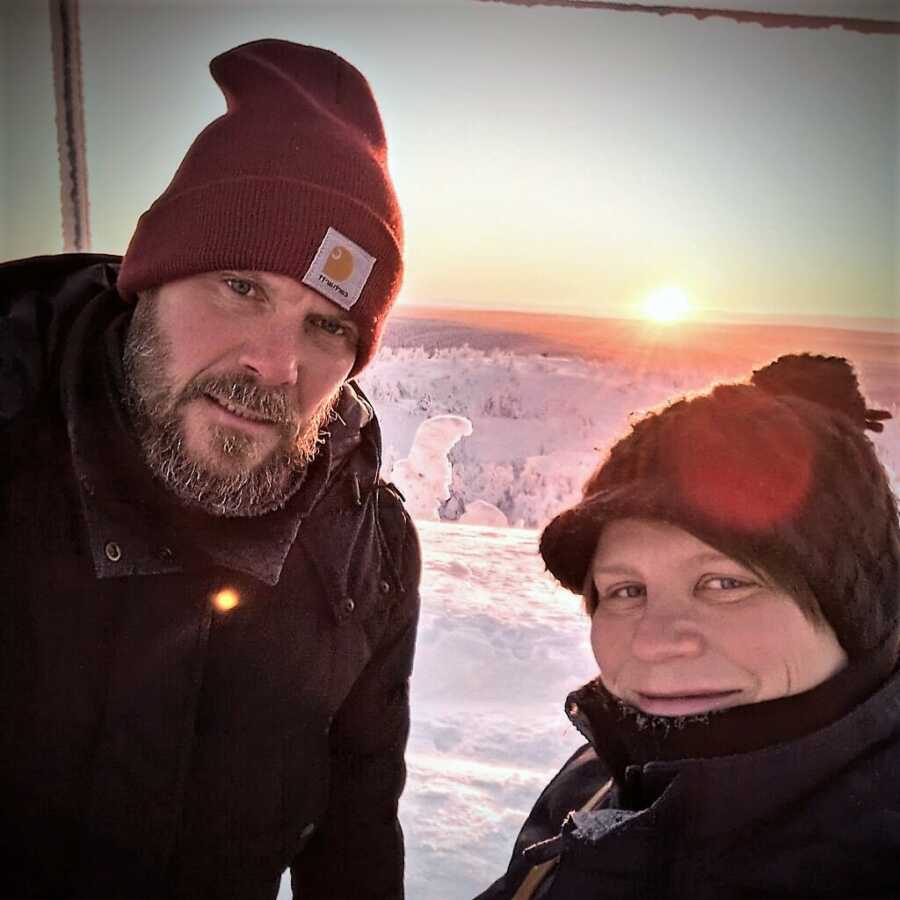 This story was submitted to Love What Matters by Reija from Kuusamo, Finland. You can follow her journey on Instagram and her website. Submit your own story here, and be sure to subscribe to our free email newsletter for our best stories, and YouTube for our best videos.
Read more stories like this:
'We thought she'd be saved once again. But this time, they had nothing left to offer.': 8-year-old girl dies of cancer after 4-year battle, 4th relapse
'My friend thinks you're cute.' A co-worker handed me a napkin with a phone number on it. 'My family doesn't know I'm gay.': Woman loses partner to stage 4 lung cancer
'But my daughter needs me!' I clung to walls and couldn't focus my vision. 'Something is VERY wrong.': Brain cancer survivor discovers purpose, 'I was fueled by my daughter's love''
'Go home. You're cured.' The same day there was an urgent message on my phone. I didn't want to spoil Christmas.': Woman diagnosed with Stage 4 breast, lung, liver cancer, 'I decided to take back control'
Do you know someone who could benefit from this story?  SHARE  this story on Facebook to let others know a community of support is available.