"Daniela Marie Conte was born in Manhasset, Long Island on July 24th, 2011 at 5:55 pm, weighing 6 lbs 3 ozs and 19 ½ inches long, to first time parents Anthony and Katia Conte. Daniela came into this world like a ray of sunshine. As an infant, she was an extremely happy baby. She had these big brown eyes, an incredibly sweet smile, and an adorable giggle that would make you melt. So, it didn't take long before she had us wrapped around her little finger.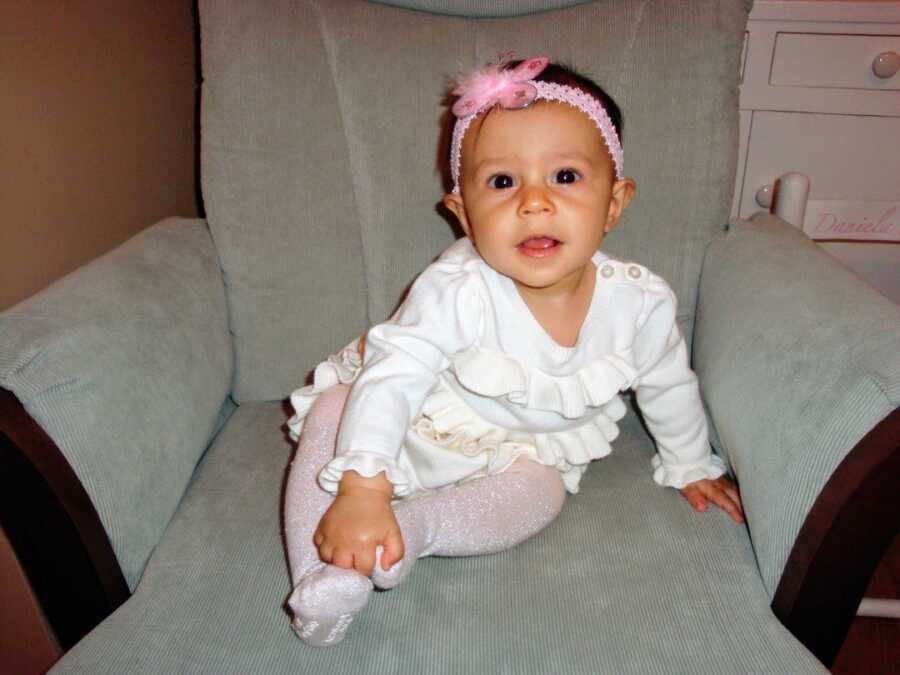 As a toddler, Daniela put a remarkable amount of enthusiasm into everything she did. At the same time, she managed to bring the good out in everything and everyone. She was extremely affectionate and gave endless amounts of love to those closest to her. Daniela also gave the most amazing hugs. When her dad would come home from work, she would scream 'DADDY' at the top of her lungs, run at him full speed, leap into the air, and with all her strength, give her dad the biggest hug in the world. In a split second, her hugs could turn a bad day into a spectacular one.
​
As a young girl, Daniela was very active and loved dancing and gymnastics. Her passion for life was contagious, and captivated all of those around her. But as animated as she was, Daniela was not interested in being the center of attention. She wanted to share her joy with everyone around her. Daniela simply loved life itself.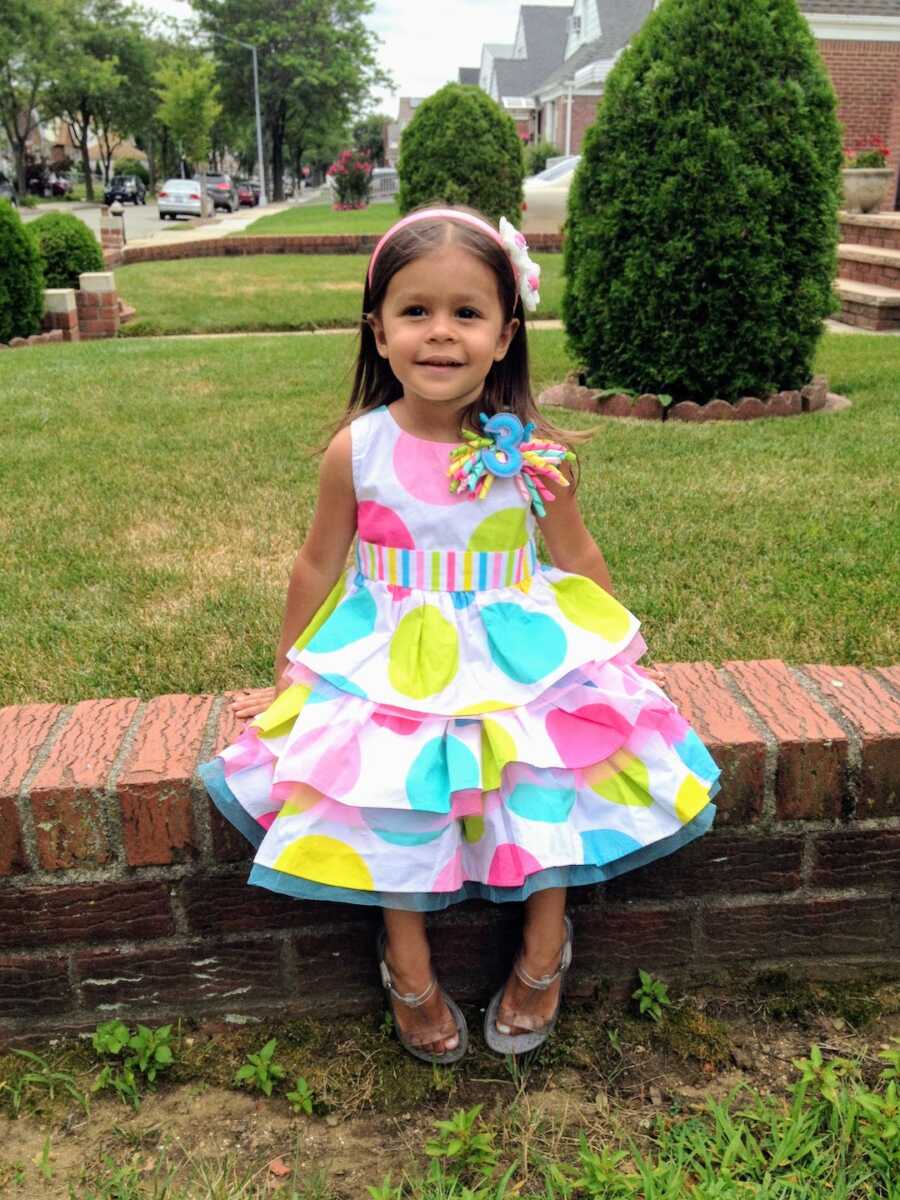 Daniela also enjoyed spending time with her siblings. After school and on the weekends, she loved playing with her little sister. The two of them were like two peas in a pod. They did everything together. And when her twin brothers were born, Daniela couldn't be more ecstatic. She took great care of her baby brothers.
In the fall of 2016, Daniela was excited to start kindergarten. Daniela loved school and adored her classmates, and she was popular among them. But she was always drawn to the children who seemed to need a friend. She was enthusiastic about learning and especially enjoyed after school activities.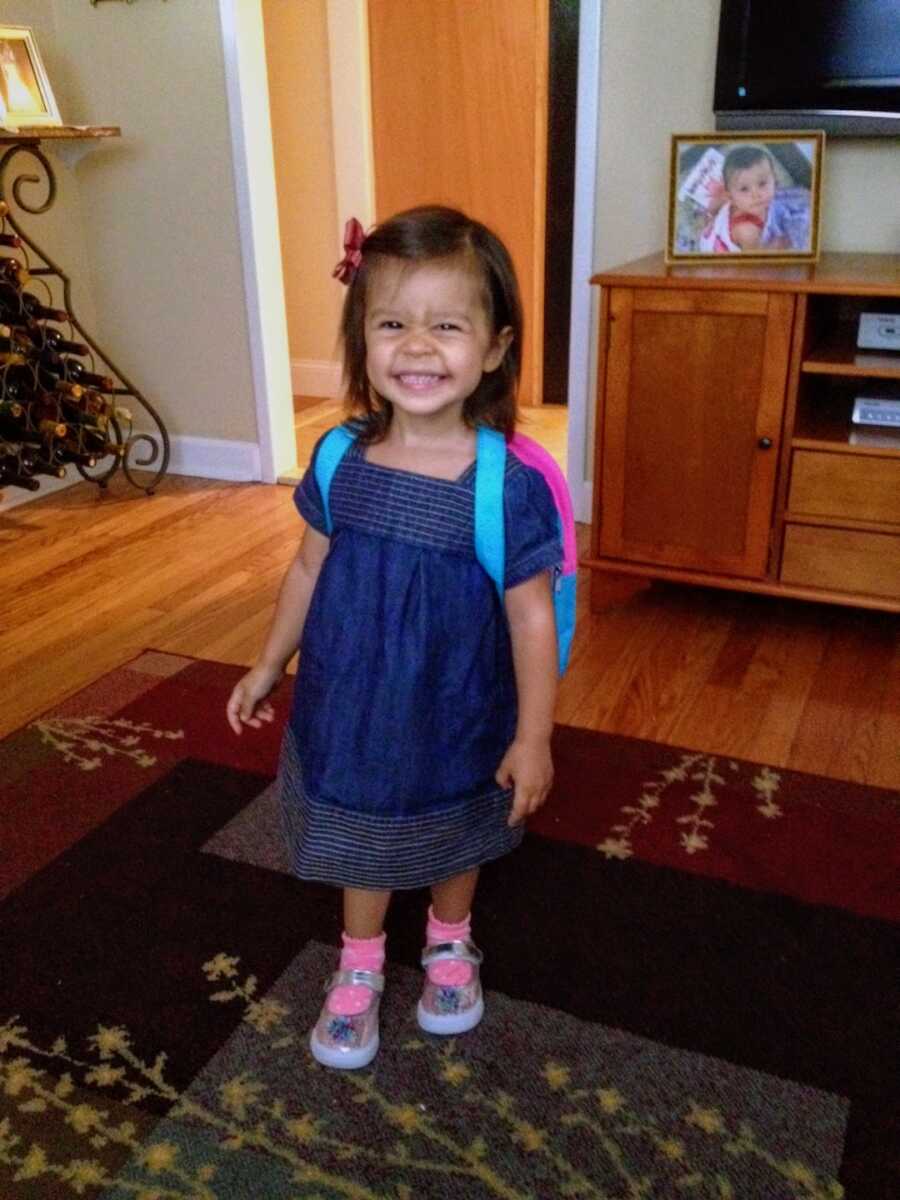 On October 1st, 2016, Daniela started to complain of a severe stomach ache. That evening she was rushed to St. Catherine's of Sienna Hospital in Smithtown, NY. After a long night of MRIs and scans, Daniela was rushed to Stony Brook Children's Hospital because doctors had discovered her liver was enlarged with unknown masses. During her stay at Stony Brook Children's Hospital, doctors ran multiple tests and performed a biopsy.
On October 5th, 2016, our world came crashing down when Daniela's doctors delivered the most devastating news of our lives. We were pulled into a room and were told our daughter had cancer. A type of cancer called 'Embryonal Rhabdomyosarcoma.' A cancer we had never heard of before in our entire lives. The tumors they found were in her hepatic portal vein and had metastasized into her liver.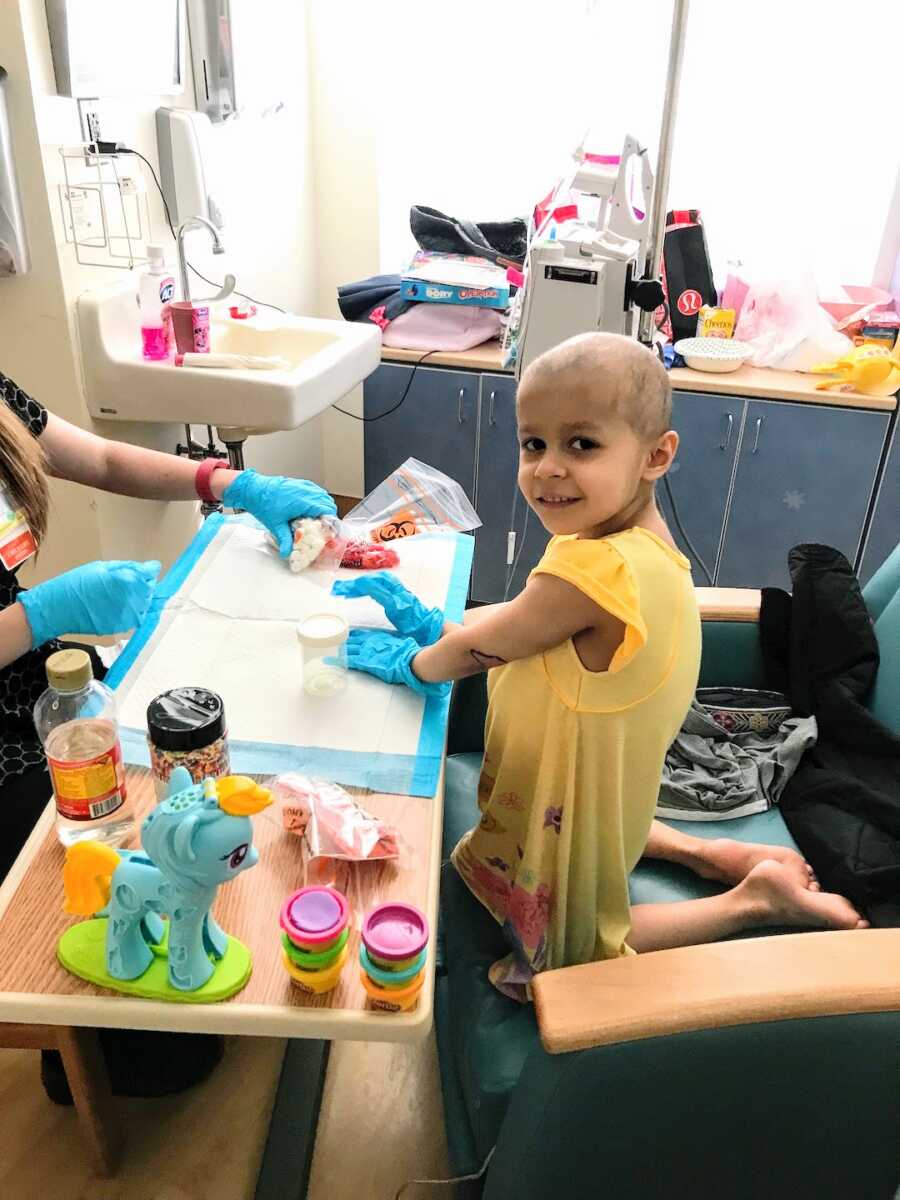 The type of treatment Daniela would have to go through was 54 grueling weeks of chemotherapy and a Y-90 procedure. The doctors also talked to us about Daniela having to put a medi-port in right away to start treatment.  They started chemo immediately and Daniela was in the hospital for 6 weeks, not knowing at this point if chemo was working or not. But eventually, MRIs and PET scans showed the treatment was working and the tumors were shrinking.
On November 9th, 2016, Daniela finally came home from the hospital. By then she had already lost 10 pounds from the chemo. She wasn't able to return back to school and had to be home schooled. After finishing 54 weeks of chemo as an outpatient, in June of 2017, we were told from the MRIs and PET scans that Daniela's cancer was gone. We were jumping for joy and thrilled Daniela for sure had beaten this monster.
During the summer of 2017, Daniela was enjoying life again and was able to enjoy camp with her siblings. She was also excited to begin first grade. In October of 2017, after a repeat PET and MRI, we were told Daniela's cancer had returned and the disease was worse than it was when she was first diagnosed. Doctors had decided to change her chemo, and the new chemo treatments were making Daniela so sick it caused her to have fevers all the time which kept Daniela in the hospital for long stretches. Her oncology doctors had decided to switch to radiation therapy instead. In June of 2018, Daniela endured 15 days of radiation treatment.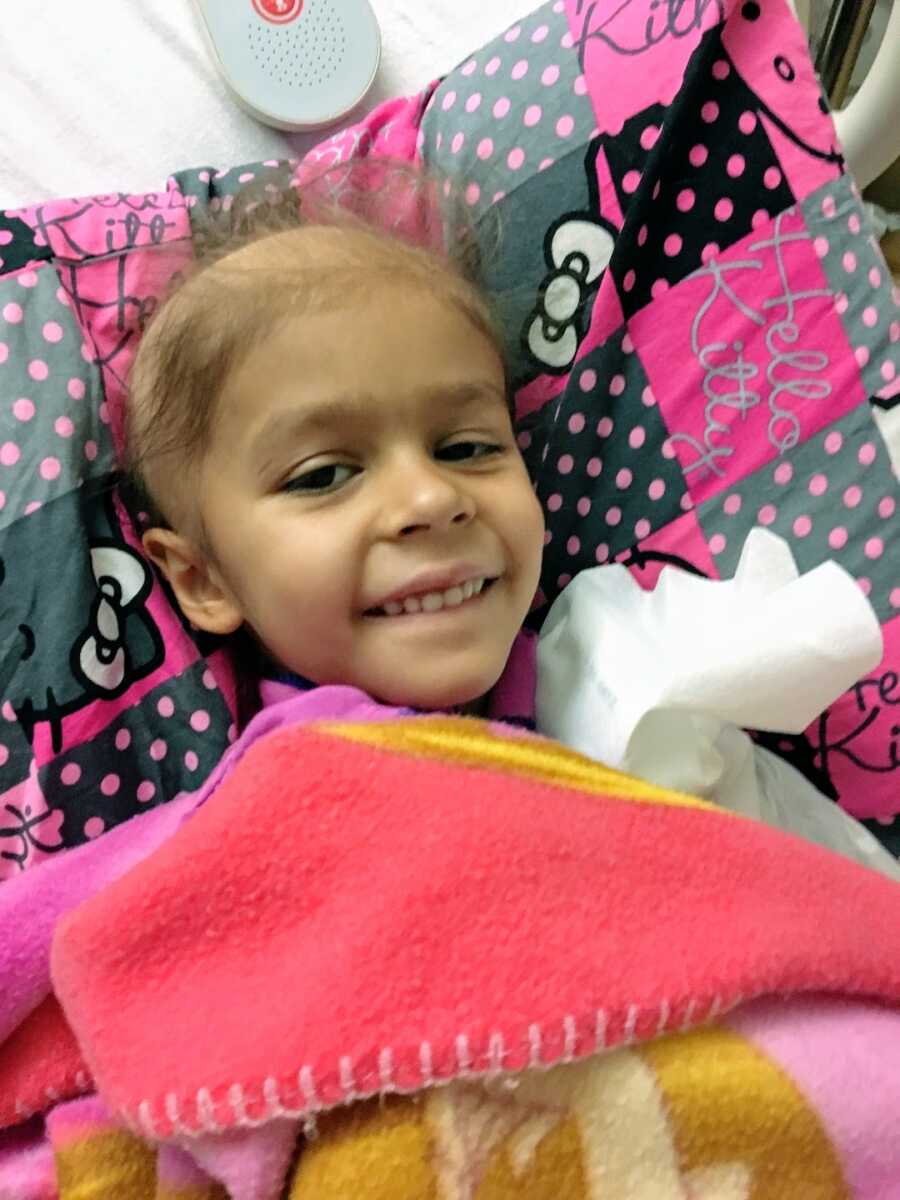 In August of 2018, her oncology doctors decided on a new approach, that was more of different chemo drugs for relapse of Rhabdomyosarcoma. This time she would be treated at Stony Brook as an inpatient for an entire year. The year 2018 was the hardest year for Daniela and our family. In August of 2018, Daniela began intense chemo. She would go into the hospital for chemo a few days and then would come home a few days after.
Once her blood cell counts would drop from the chemo, she would end up back in the hospital. The first round of chemo was so intense it hospitalized her for a month. Daniela, without complaint, was in and out of the hospital for an entire year. Because of this, she missed an entire year of second grade and had to be home schooled once again. After her last treatment of this particular chemo, which lasted until June of 2019, she was due for a repeat PET scan and MRI.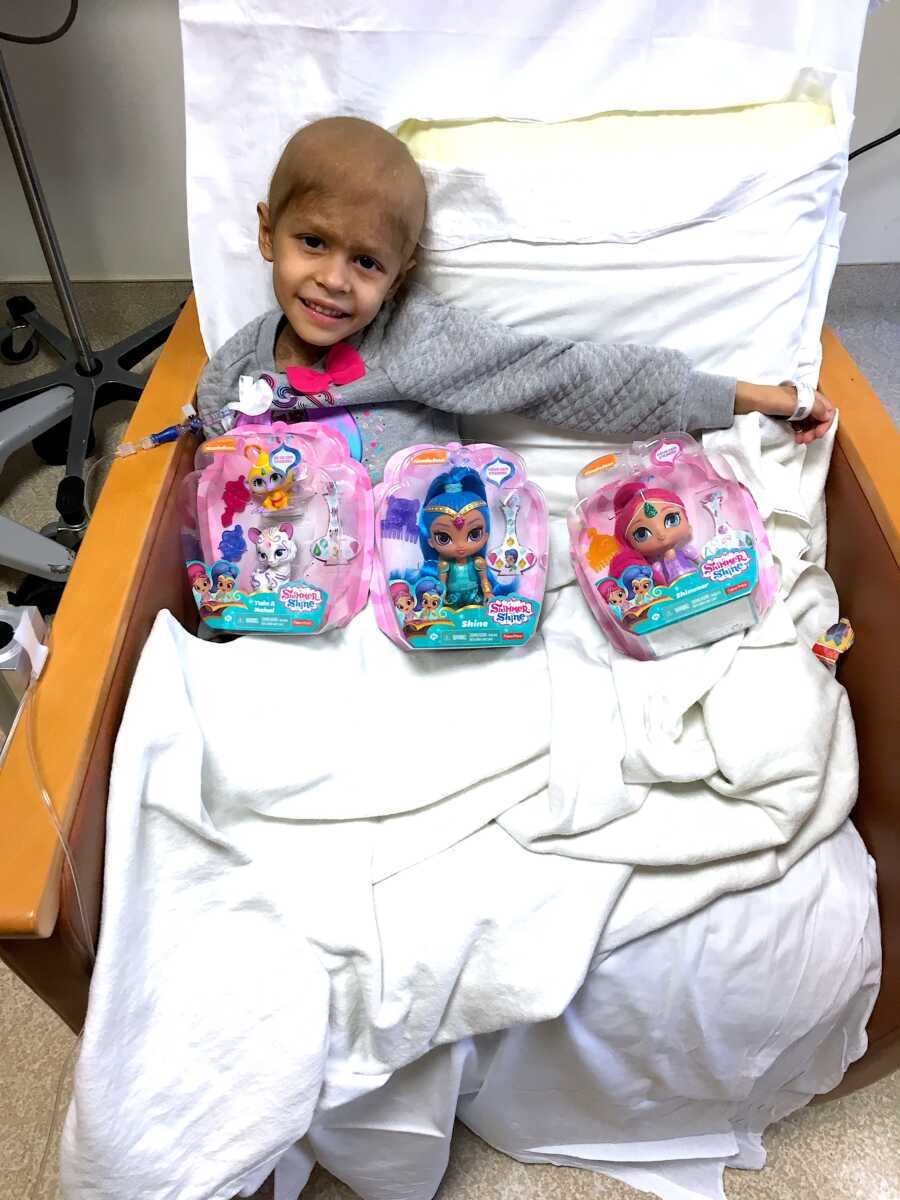 On June 5th, 2019, we received a phone call from her oncologist that there was no sign of Daniela's disease. I remember running and screaming for joy. I screamed Daniela's name and hugged her so tightly, telling her Mom and Dad were so proud of her and she had beaten this monster once and for all. We told Daniela it was time for a celebration.
August came around and we finally decided to take Daniela to Disney World, which was her wish from The Make A Wish Foundation. We took our family to Disney World where we celebrated as a family and made Daniela's wish come true. Daniela and her siblings had the time of their lives. When we returned from Disney, Daniela enjoyed the rest of her summer with her siblings and was getting excited to start third grade in September.
Daniela had another MRI and PET scan that September. Once again, we got word her cancer had returned for a third time. This time it wasn't all over but in three different areas. At this point, her oncology doctors had exhausted all chemo and had another plan. The plan was to do surgery and remove one of the tumors and radiate the other two.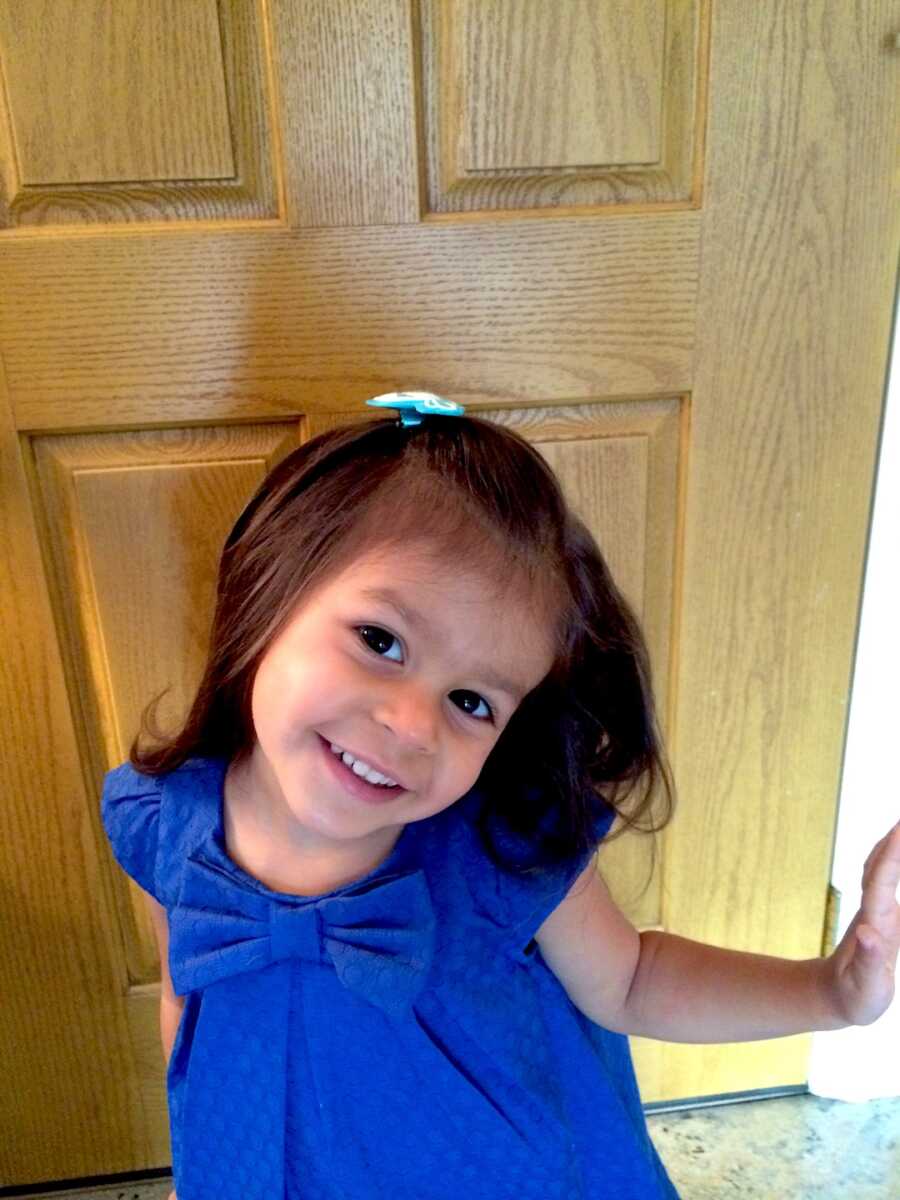 In October of 2019 we meet with a surgeon to go over the details of Daniela's surgery. The plan was to remove a section of her liver where one of the tumors was resting. At this point, Daniela didn't want to have surgery because she was scared and had been through a lot with all the chemo and radiation. We didn't blame her for feeling this way.
The day of the surgery came and we were told from the surgeon and her oncology doctor that her surgery couldn't be performed because her platelet counts were too low. The doctors had mentioned that if they were to perform surgery on Daniela, she would have to run the risk of bleeding to death. The doctors decided to do a liver ablation procedure instead. It was much less invasive than surgery, and the healing process takes less time. During the liver ablation procedure, Daniela did amazing. The surgeon was able to kill the tumor.
During the liver ablation, we had asked the surgeon if he would get a few tissue samples to send to a lab for genetic sequencing. This would help look for a potential match for an immune-therapy drug. We were told this process would take a few weeks.
Once Daniela recovered from her liver ablation procedure, the next step was to perform radiation on the other two tumors that remained. During the month of November 2019, Daniela's radiologist performed five days of radiation. Once her radiation was done, Daniela was able to recover at home and we were able to celebrate Thanksgiving as a family.
During the month of December 2019, Daniela was due for another MRI and PET scan. After three MRI's and PET scans, we were told Daniela's cancer had returned for the fourth time. We were beside ourselves and told ourselves this couldn't be happening again to our Daniela. This time the tumors were pressing down on her bile ducts and Daniela was in so much pain. The oncology doctors, radiologists, and GI team decided to perform a procedure where they would insert a plastic stent to open up her bile ducts.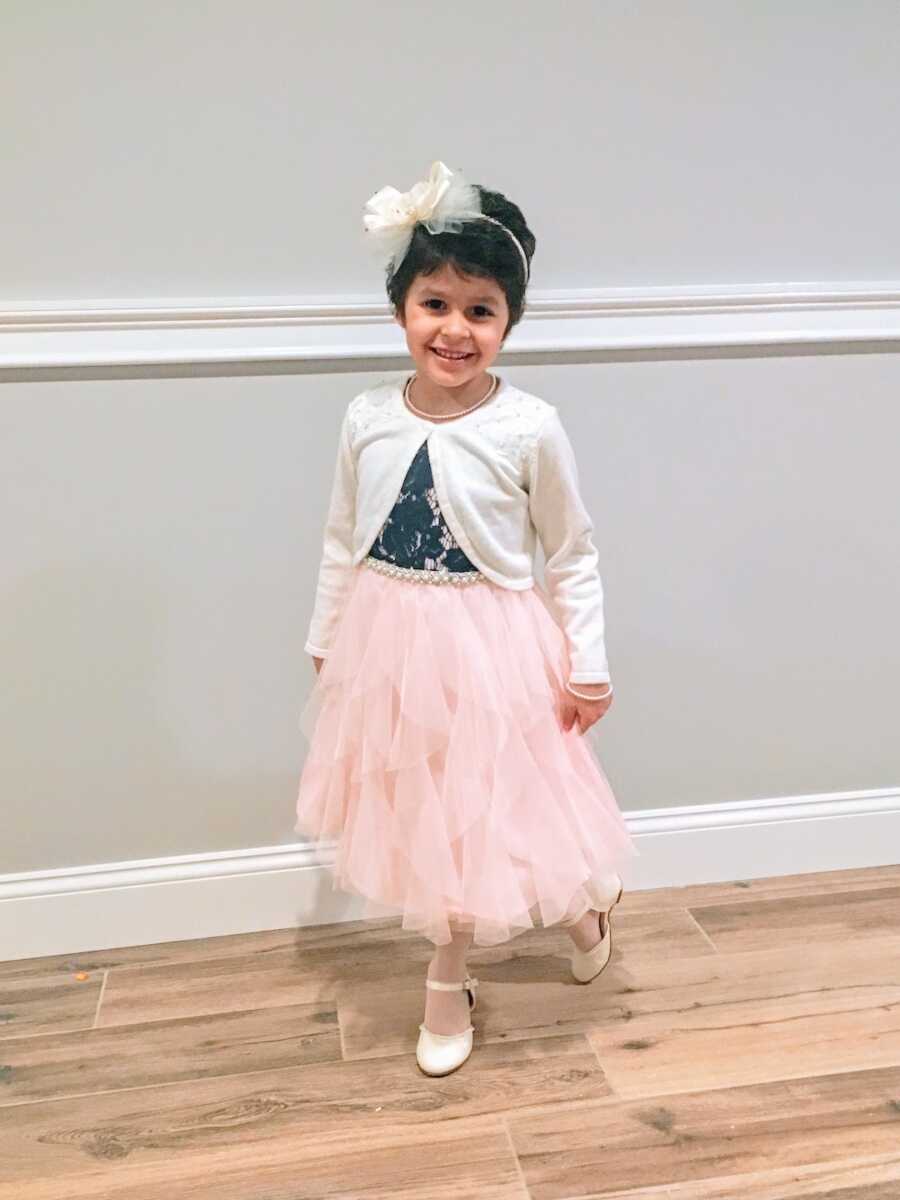 On January 22nd, 2020, Daniela had her procedure to have her bile ducts opened. The procedure went well and Daniela was back at home after two days. During the beginning of February, Daniela started to feel ill again. She started to have fevers and constant pain in her belly. She had a routine follow-up appointment with her oncology doctor when she developed a fever. Her doctor was concerned about the fever.
Due to her fever being high, her doctor admitted her for an overnight stay at the hospital and were worried about a possible infection related to the stent procedure. They also noticed her belly getting a little big due to fluid retention. During her stay at the hospital, they took all sorts of blood work to see if she had any infections. The next day, once all her blood work came back from the lab, we were told Daniela didn't have any infection and was able to come home.
In February of 2020, Daniela began to feel not herself again. She would sleep a lot and wouldn't eat much. She continued her routine check-ups at the clinic for blood work. Her belly was starting to fill up with fluid. Her oncology doctor prescribed Lasix to see if it would remove some of the fluid from her belly.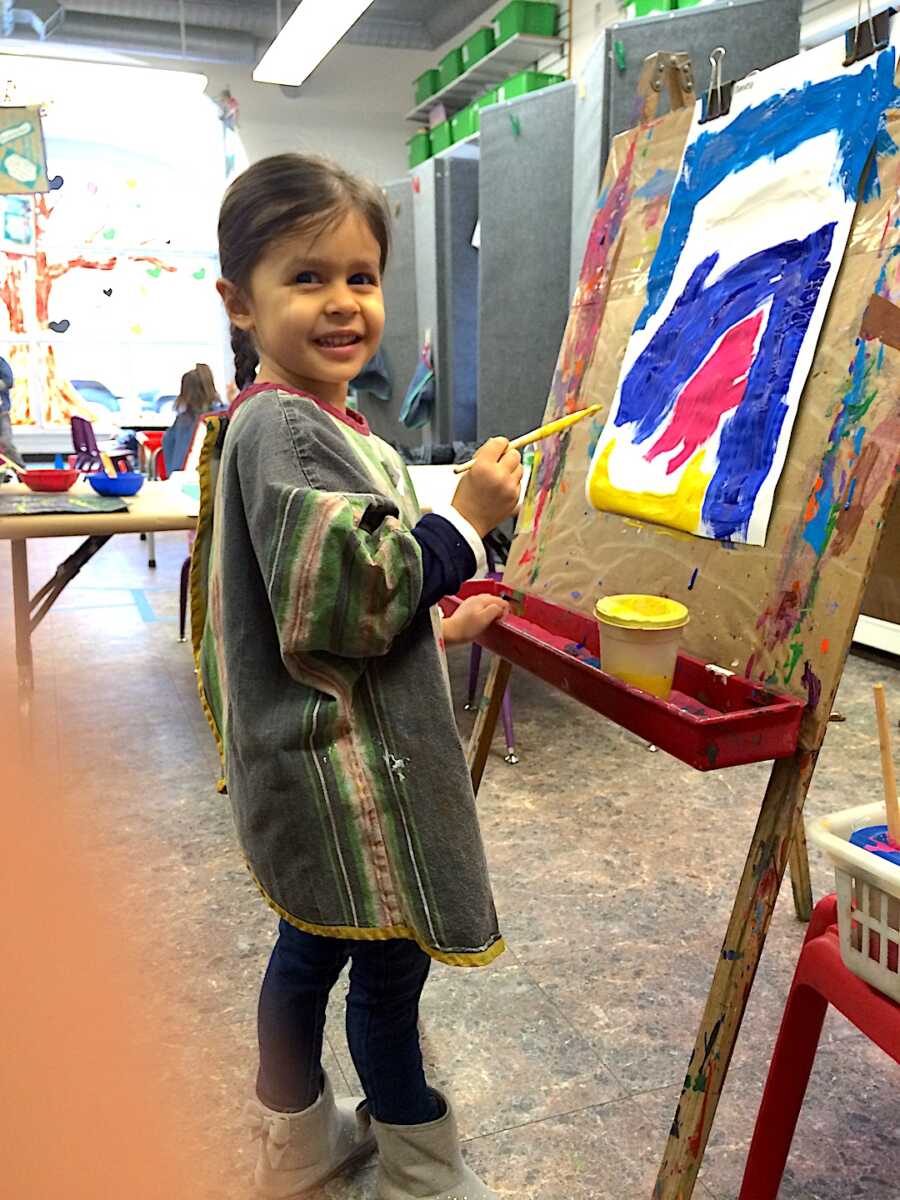 The morning of February 18th, 2020 Daniela had her routine check-up at the clinic for blood work. That morning Daniela was in so much pain she couldn't get out of bed because her stomach was so distended. We drove to the clinic immediately. She was seen by a nurse and they ran blood work to see what was going on. It turned out Daniela's blood pressure and heart rate were through the roof. Her oncology doctor immediately sent her to the ICU.
At this point, Daniela was severely dehydrated. Her nurses administrated fluids through her medi-port and Daniela began to be more responsive. While Daniela was in ICU, her oncology doctors received her blood work and things weren't looking good. Her white and red blood cell count were not normal. Daniela's stomach had retained so much fluid it was to the point where she was having difficulty breathing. The GI team had warned us Daniela had an infection which was impossible to control. A surgeon who performed Daniela's Y-90 procedure back in 2016 was able to remove 4.2 liters of fluid from her belly. Daniela came through like a champ.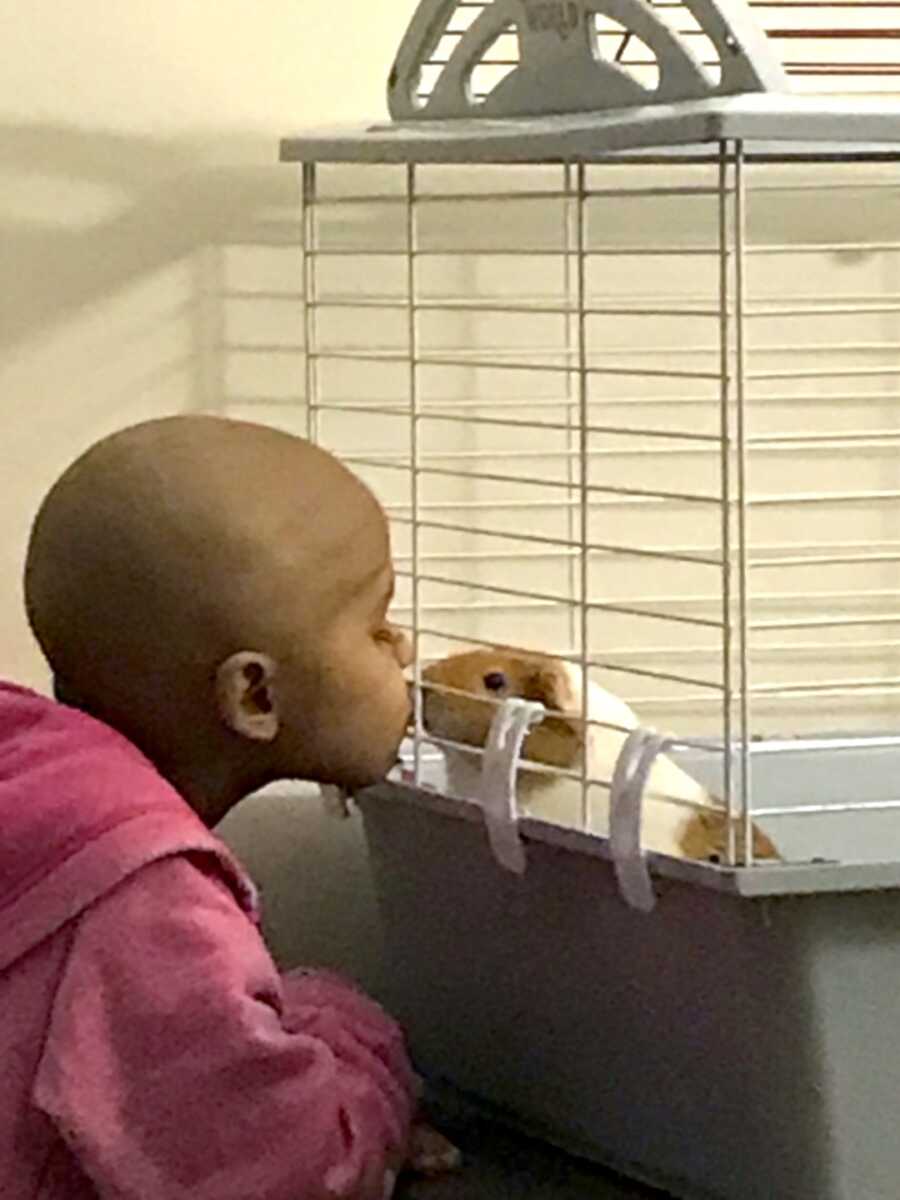 The doctor was also able to place a catheter in Daniela's belly so if the fluid ever came back, they would just remove it from this catheter. At this point, we thought Daniela was saved once again. But the night after Daniela's procedure, her oncology team sat us down in a conference room. Her doctors were explaining to us that the cancer might be spreading and they had nothing left to offer.
They called everyone but there was NOTHING. Yet right to the end, our compassionate, kind, and selfless daughter was protecting us. We never thought she was going to die; we thought she would be saved once again. As her condition precipitously declined in the ICU, Daniela's medical team went out of their way to ensure our daughter was comfortable. She was treated with the utmost dignity and respect. On March 2nd, 2020 at 2:05 p.m., Daniela passed away peacefully in her father's arms.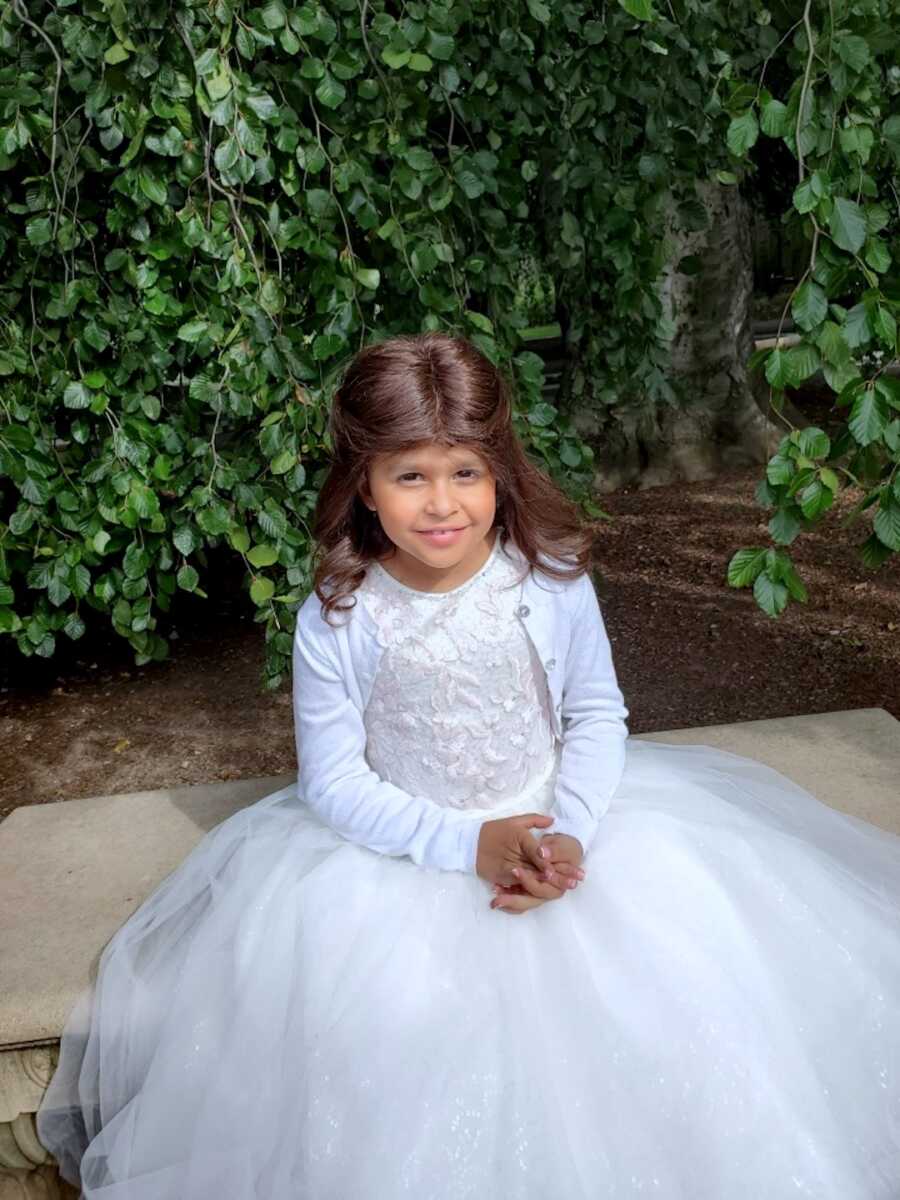 Our beautiful Daniela fought the good fight, never letting it bring her down or take away her smile. She brought such a light into this world and everyone who knew her felt it. She had a larger than life personality and was kind to all. Daniela also was an excellent student. She loved going to school every day. She had such an incredible yearning to learn and it showed. She will always be remembered as a fun-loving, kind-hearted girl and will be missed forever. She got the ultimate gift, to be cancer free living in Heaven. We miss our girl more than words could ever explain, but we get by knowing she isn't suffering any longer.
In Daniela's eight short years of life, she managed to change the lives of thousands of people. Daniela taught us what life is really about. She taught us about love, courage, strength, bravery, and to appreciate the little things. We are truly honored and humbled to have been chosen as her parents. Because of Daniela we will continue to fight for other children, while continuing to spread her love around the world!
We realized Daniela wasn't going to survive when she was admitted to the ICU in February of 2020. During her first three years of being diagnosed, she was never admitted to the ICU. But when she had her fourth relapse, I knew things had turned for the worse. Her loss affected me in a very BIG way since I was her caregiver for four years. When she passed away, a part of me died too.
When Daniela passed away, our family was torn and distraught. Daniela was our oldest of four, so we had three little ones we had to explain this loss to — their older sister was gone and not coming back. Many parents might want to battle on their child's behalf in private, but we felt compelled to share our daughter's fight, both the good days and bad, on social media. There will always be a hole in our hearts for her and we're so grateful to have known her love.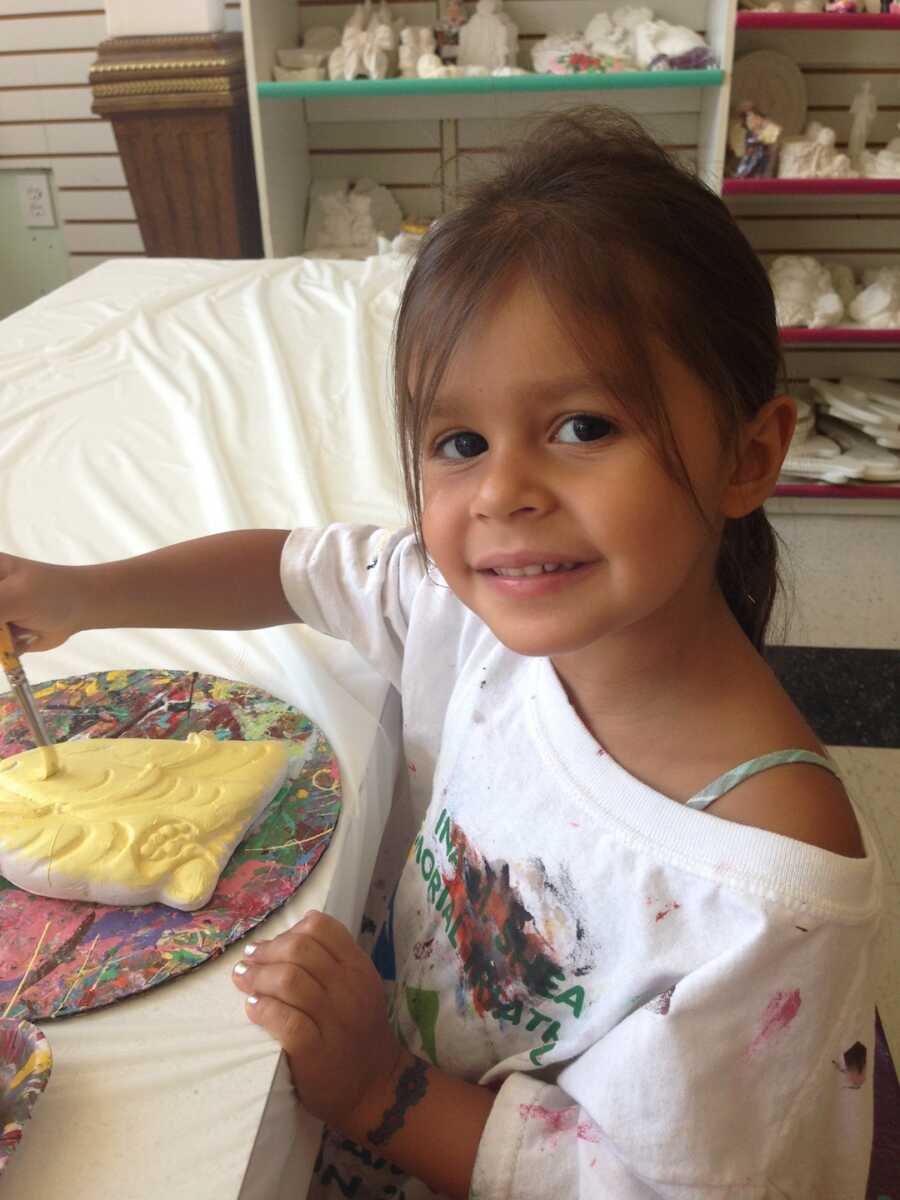 Four months after her passing, we decided to start a foundation in her honor because we thought we would help share her story and save another child who is going or will be going through the same disease. We wanted to keep her memory alive and share her story about the lack of treatment options she had. We also wanted to start a foundation in her honor to bring much needed awareness to childhood cancer and the fact only 4% percent of all cancer research funding goes toward childhood cancer. Major studies, clinical trials, and drug development almost always go toward adult cancer, leaving little room for progress when it comes to suffering children. Our daughter would still be alive today if she received better treatment options. It has become our lives mission to fund research for her type of cancer.
The process of grief is expressed different by all. It comes in waves, especially when it's their birthdays, holidays, and anniversaries. My husband and I are committed to the cause and I'm more of the public face than he is, and have given speeches at our annual events. But for both of us, doing stuff has been helpful in dealing with the grief. But there isn't one path for everyone.
Some people get super involved in the cancer world, and others say I lived there and I don't want to go back there. The way the outside world interacts with those grappling with loss can make things difficult. When Daniela was in the hospital, I couldn't even look at a photo of her before the illness, because I would just cry, mourning the life we had lost. But now I can look back on her whole life in such a different way.
I can think of those great four years God had given us with her, and the joy we had. Even though that's a world we will never be in again, I can now look at that and smile."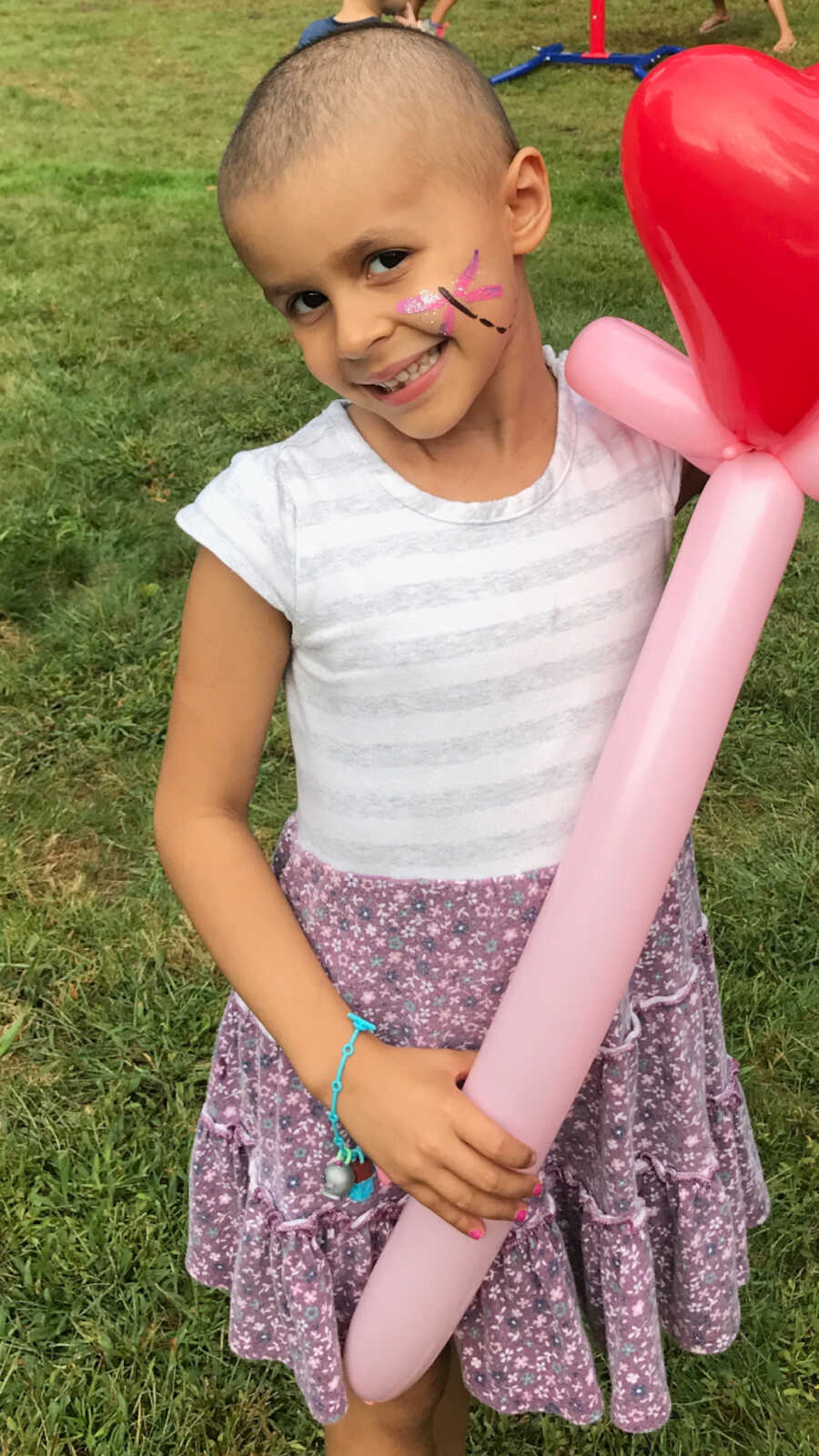 This story was submitted to Love What Matters by Katia Conte (Daniela's mom) of New York. You can follow the Daniela Conte Foundation on Instagram, Facebook, and Twitter. Do you have a similar experience? We'd like to hear your important journey. Submit your own story here. Be sure to subscribe to our free email newsletter for our best stories, and YouTube for our best videos.
Read more stories like this: 
'My son, this chubby baby, is currently on chemo. He has cancer. He can't be in this waiting room.': Mom has 'immense guilt' for every mother experiencing loss, childhood cancer treatments now that son is healthier
'He held up his sign: 'Cancer is hard. Being black is hard… I want to survive both.' Just then, a police officer turned back around.': Police officers touched by childhood cancer fighter
'She knew something was wrong with her best friend. Her brother was now a quiet, sick little boy. He never wanted to play.': Sister dotes on her once 'lively, energetic' little brother now suffering from childhood cancer
'At 30 weeks pregnant, he put down the wand, took me into his office, and began to talk about a recurrence.': Three-time cancer survivor delivers miracle baby during chemo
Do you know someone who could benefit from this story? Please SHARE to let them know a community of support is available.