"Beth and I met at work nine years ago. Beth was a registered nurse. I was a supervisor in corrections working side by side with the medical staff. Beth was always professional and the goal was to help others. We became friends and always spoke to each other, sharing laughs and stories. Groups of workers would go to lunch together and in that group would be the two of us. Seeing as how we would always be together, people would ask if we were a couple. But both of us were in other relationships.
However as time went on, we became closer, and knew what we felt inside. We made attempts to stay away from each other, not talking, not texting or if one was at lunch, the other went the other way. During these times, we were miserable trying to hide our feelings. Regardless of what we did, nothing could keep us apart. We were inseparable. We both took a leap of faith on how we felt, and moved in together because we knew we loved each other. The next hurdle was explaining it to our families, and introducing me to her children. All this tested our love and the road was not easy.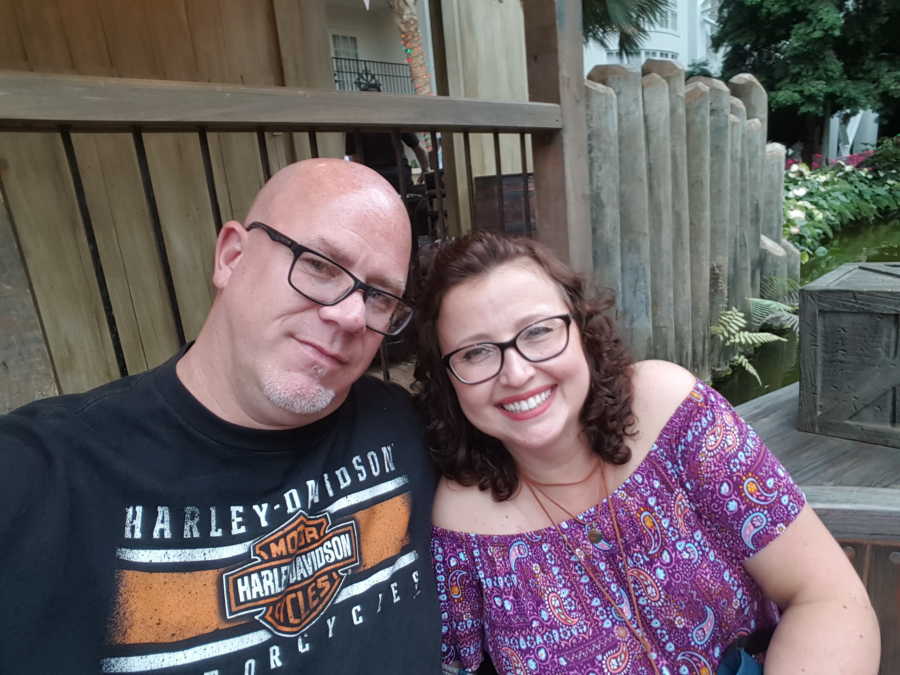 Throughout the next year we dealt with divorce, ex issues, and struggling to start our life together. We conquered many issues, but we definitely worked through everything. We moved again as she purchased a house to be closer to the kid's school and make it easier for them. We started enjoying ourselves, traveling even if it was a one tank trip in Ohio for the weekend. We traveled to other states and took kids on family vacations. Everything was perfect and our love grew more and more, then our next hurdle arrived.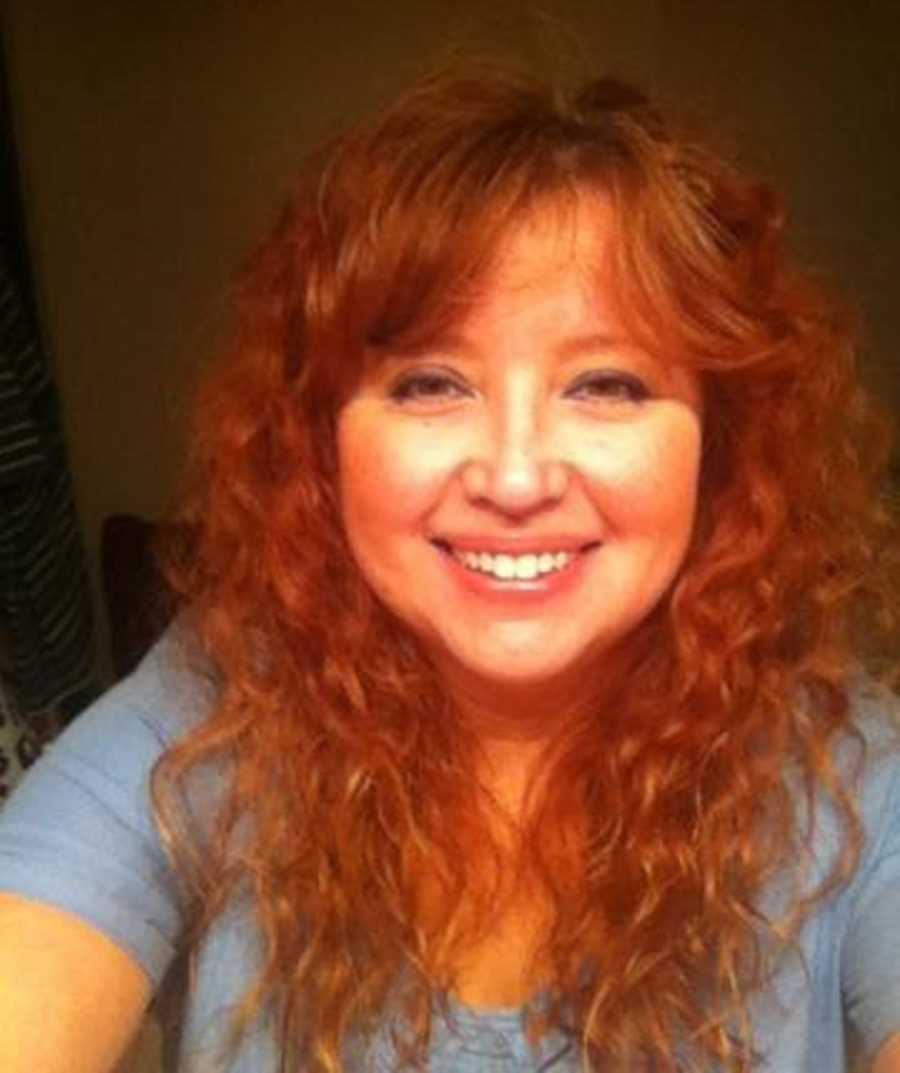 September of 2014, Beth was diagnosed with breast cancer. There was a golf ball-sized tumor in her left breast. Doctors diagnosed her with Stage 2 and began explaining the next road we would need to take. They scheduled her for chemotherapy, and I made sure I was there for every visit on Friday. Then by Sunday she was ill, and I took care of her. After chemotherapy, it was time for surgery. After our discussions, the decision was made to have both breasts removed. Once the surgery was over, the doctor came out. She told me Beth was doing fine, and she knew Beth had a good support group. She also made the comment that, 'Usually at this point, most men have left the woman who are diagnosed.' The doctor also said she would live for 20 years! I took Beth home, cared for her, giving her the medication as needed every 4 hours and milking her drains every day.
We returned for checkups, adjusting her medication for the depression that had set in. When some issues arose, Beth was diagnosed again with cancer on her sternum – it was considered Stage 4, terminal. This time there was no surgery. They pretty much gave her medication and hoped it helped. I remember asking, 'Can we just cut her sternum out and replace it? Give her a platinum sternum or cadaver instead?' But they don't do that. That doctor said she would live to be 50 years old. Beth wanted to see her son graduate in 2019.
Approximately a year later, Beth had pain in her hip. When we went back to the doctor, of course her cancer had spread more – this time to her hip, pelvis, and spine. They did radiation on her hip which helped. The side effect was that it also messed up her intestines. But through all this, we still traveled and enjoyed our lives as everything was great. She always told me to leave, that I didn't sign up for this. That I was still young and can enjoy my life. I told her she was my life, and I am not going anywhere. She tried to be mean to me so I would leave her. It never worked though. She used to tell me she was my 'lemon girlfriend,' and apologized for messing our life up. I would tell her God put us together for a reason, and I'm here to take care of her.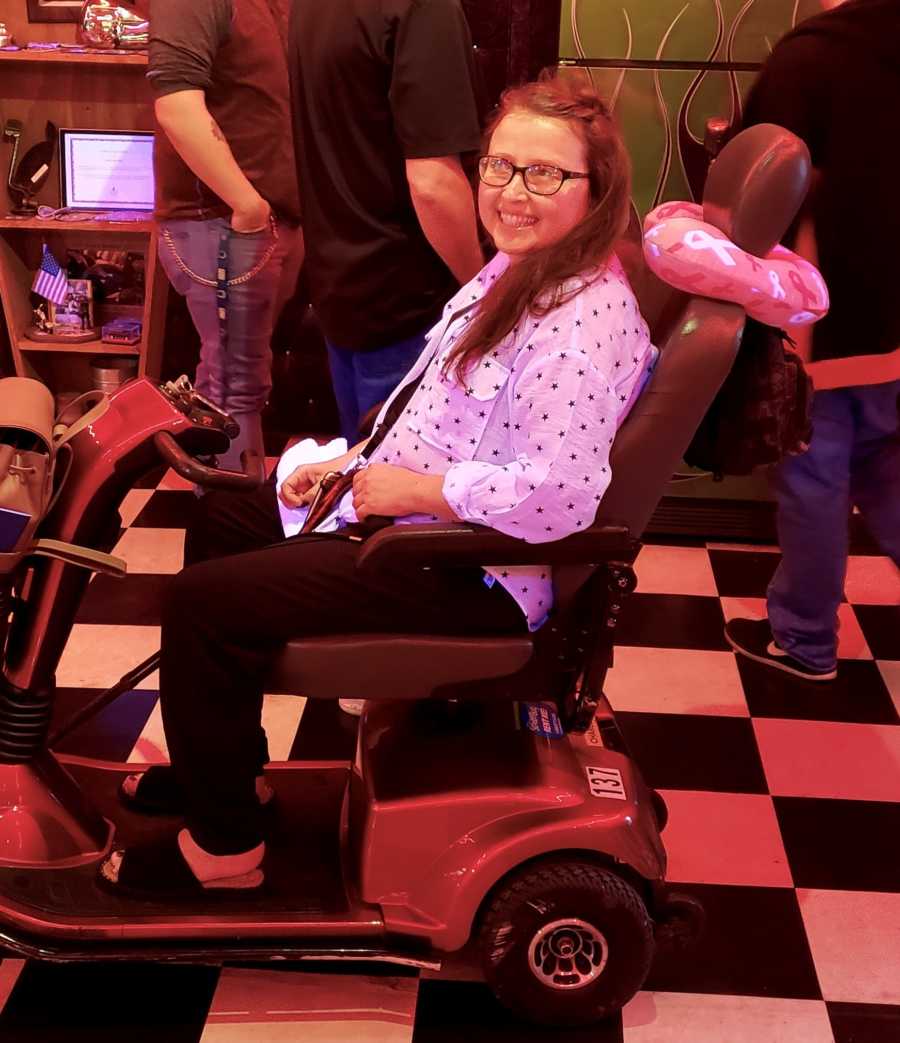 December of 2018, of course the cancer spread again. This time to her brain. The doctor actually told me first on the phone. When it came time to tell her, I broke down in tears and cried so hard. When I mumbled it out, she knew something was wrong. We talked to the radiation doctor and he said it wouldn't prolong her life, so she refused treatment because she wanted people to remember her as she always was. Our last Christmas, she bought her children as much as she could. I ran to the local jewelry store for a ring. I wanted to give her everything she wanted, but most of all, she wanted to be Mrs. Beth Brewer. I filed for a marriage license but when I went to pick it up, we both needed to be there. I even had a letter from her doctor that medically she couldn't. They gave me their letter to get filled out and notarized. The license expired before I could finish.
We took our last trip to Las Vegas and I had a motorized scooter for her there. We enjoyed our last memories together. When we came back, her health decreased dramatically and she was put on hospice. I filed for our marriage license again and called off from work to get it. I came home and showed her – she smiled from ear to ear. I told her two things: 1. 'You can't leave me unless I'm home with you.' And 2. 'You can't leave me until we are married.' She understood and agreed. I called a member of our motorcycle club to get a chaplain. When I spoke to the chaplain, he advised me his schedule was open until the 16th. My response was, 'I was thinking tonight at 7:30.' He hesitated, but said he could be here. I called her family and both of our best friends – and told them be here, now.
February 6th at 7:30 p.m. we got married in our family room. As Beth smiled and a gave thumbs up from her hospital bed, everyone was overjoyed to see her so happy and glowing. I had finally married the woman of my dreams, after her 4-year fight. It was so amazing to see everyone smiling and there in support. I know she wanted all of us happy. She always worried about others before herself. After our wedding ceremony, I looked at her and said, 'Babe we finally did it!' Her joyful smile was the ribbon on this beautiful gift. She passed away 19 hours later.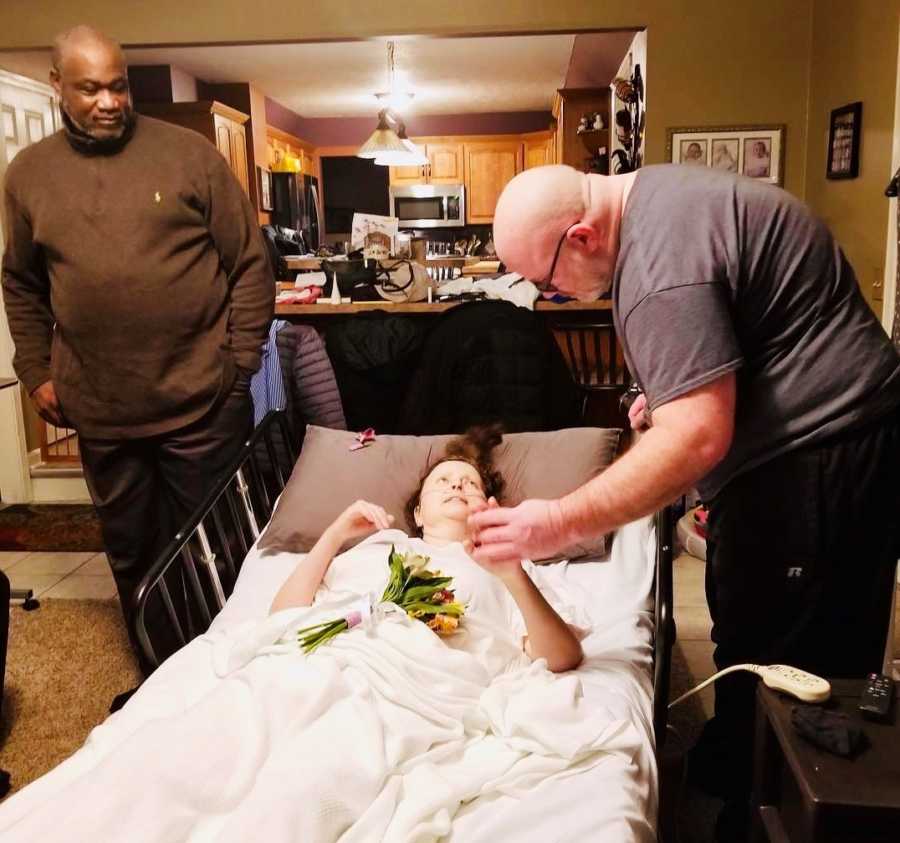 That next morning we cared for her. Her mom and niece were at the house but left near noon. At 2 p.m. it was just Beth and me, when she decided it was time to go. She waited for us to be married and I was by her side. As her husband and best friend, I did not want her to go. But I also knew it was time and did not want her to suffer anymore. On February 7th, 2019, at 2:10 p.m., my world stopped."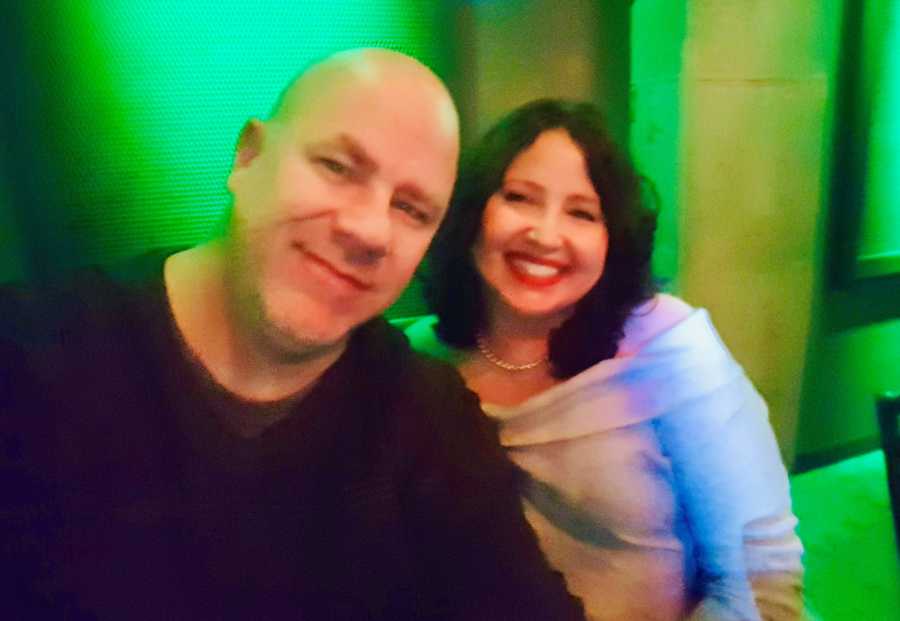 This story was submitted to Love What Matters by Bill Brewer of Parma, Ohio, in remembrance of his beloved Beth. Do you have a similar experience? We'd like to hear your important journey. Submit your own story here, and subscribe to our best stories in our free newsletter here.
Read more touching love stories in their final moments:
'I fell to the floor and screamed': Daughter rushes to marry in dad's hospital room 'while he was still with us' after brain stroke
'We decided if Dad couldn't be at the wedding, we'd take the wedding to Dad. The moment he saw me, I will never forget. There were A LOT of tears.'
SHARE this story on Facebook to encourage others to cherish every moment and love what matters most.