"Last night I watched athletes.
I had the extreme pleasure of observing talented, hardworking, motivated, dedicated, poised, and breathtakingly beautiful girls, ages 5 – 18, make a basketball court their stage and both nail and own every single physically demanding yet graceful move they exuberantly made on that stage. You say 'Dance Mom' like it's a bad thing, but I say it with pride.
By choice, my daughter has been dancing since she was about 3.5 years old.
What started with a trial class has turned into an undeniable passion for dance and a pulling toward the arts and to both feel and express emotion through music.
In the four years my daughter has been on the dance team she has grown not only in her dancing abilities and stage presence but as a person and in her compassion for others, her understanding of empathy and how to relay it, her role as a team player, her confidence as an independent, her aptitude for accepting and heeding direction and her willingness to trust that her body can and will support her if her head and heart are in the right place.
You say 'Dance Mom' like it's a bad thing, but I say it with honor – and do you know who I can thank for that?
My daughter's dance studio and its amazing owner, the teachers and staff she employs and the amazing families that attend the programs.
While I'm sure the same cannot be said for all dance studios, my family is grateful to be members of one whose priority mission is to engage, inspire, and support any child that steps one foot inside that all-welcoming studio door.
With a primary focus on helping young and older dancers recognize and hone their inner grace, the studio then moves their emphasis to build their students' confidence and self-esteem as artists and performers, but also as individual people and collectively as good humans.
Our dance studio also does a tremendous job at celebrating their dancers beyond their accomplishments in the studio and on the stage at a competition. They are regularly praised for their effort and improvement both in and outside of class, at school and in their communities. They are often applauded for their kindness towards their friends and recognized for their jovial and inclusive attitudes.
The 'arts' are about so much more than a single creation one can flaunt at a competition and the post-performance trophy or medal it earned.
The arts are about ensuring children and youth know and wholeheartedly believe that, as Roy Adzak (a British painter) put it, 'Good art is not what it looks like, but what it does to us.'
I couldn't feel more grateful for what the art of dance has done for my daughter.
You say 'Dance Mom' like it's a bad thing, but I say it with delight and immense thanks to my daughter's unparalleled instructors who are shaping her far beyond her abilities as a dancer."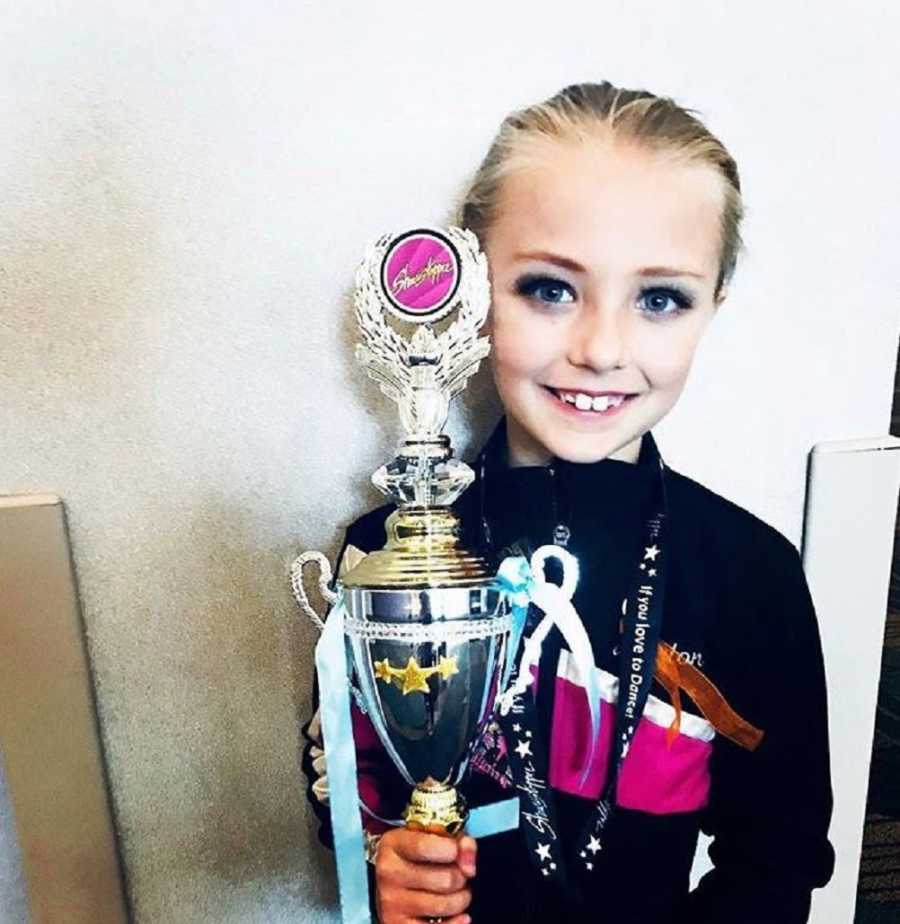 This story was submitted to Love What Matters by Nicole Merritt of Jthreenme, where the post originally appeared. You can follow her on Facebook, her website or podcast. 
Read more from Nicole:
'To all the men with daughters, you need to love your WIFE as you want your DAUGHTER to be loved.'
'My daughter is my best friend, and I'm not ashamed to admit it.'
Provide beauty and strength for other dance moms and daughters. SHARE on Facebook with your friends and family.