If you're an expecting mother or know someone who is, this baby registry perk from Target is a must. As if we needed another reason to love Tar-Jay!
Expecting mom Kendall Rucker posted some very exciting news to her Facebook page educating her fellow moms-to-be on some very important information — FREE GOODIES AT TARGET. What parents couldn't use a few extra supplies to welcome their bundle of joy? 
Check out her post below which is lighting the Internet on fire:
"For the soon to be Momma:
If you have created a baby registry at Target, go to guest services, tell them  you made a registry online and would like to pick up your baby bag. You get 2 bottles (1 Avent & 1 Dr. Brown), a pacifier (Nuk), Aveeno and Dove baby samples, as well as diapers (Up & Up Brand, Pampers, AND even Honest Company) for FREE. The goodie bag also has more samples for both Momma and baby. There's even a 50% off coupon for Starbucks inside! I will make this public in case you would like to share with other expecting Mommas.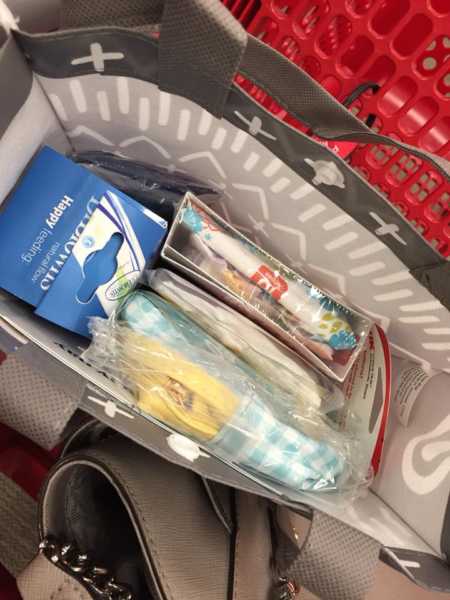 Update: This is absolutely incredible and I truly did not imagine that this post would be shared so many times and reach so many people. Truly a humbling thing to see. As an expecting Momma-to-be myself, this was a sweet and generous gift to receive. Just wanted to clear the air with a few things. First off, a huge thank you and shout out to Target, I wouldn't want to register for my baby anywhere else! I have also received tons of messages in regards to the registry process and how to receive a gift bag. I am not an employee of Target myself, so I would encourage you to visit your local store if you have any questions.
In addition, y'all are too sweet, however, unless you're Ellen DeGeneres, I will not be accepting friend requests. Keep on sharing for those Mommas to be! 
💙
💕"
SHARE this helpful tip with other parents to spread the joys of motherhood!