"Behind every successful woman is a past. Most likely a difficult past she had to walk through and trudge through and claw through inch by inch and ugly day by ugly day. A past that knocked her down but didn't keep her down. A past that broke her down, but also allowed her to break though. A past that caused her tears but didn't tear her apart.
Behind every successful woman is a list of failures. Probably a fairly long list of moments she fell flat on her face and had to face the music that she had come up short.
Behind every successful woman is a voice. A series of voices from her past, from her present, and from her own mind telling her she's not the one and she probably shouldn't even bother. She'll never make it. She'll never be enough.
Behind every successful woman are eyes. Eyes watching her every move, to see if she makes it to the top, or hits every rock as she falls and flails and flops on her way down to the dirt at the very bottom. Eyes set on copying her and criticizing her and bringing her down to their level.
Behind every successful woman is the woman she used to be. The one who was scared, and worried. The one who cared what everyone thought and tried over and over again to please the masses. The one who cried alone in the dark. The one who wanted to bury her head in the sand.
Behind every successful woman is a fire. And a dream. And determination. And passion. And a will. And the desire to see this thing through until the very end. Giving up may cross her mind, but she will not let it take up residence in her heart.
Behind every successful woman is a tribe. A tribe of other women who support her and love her and push her to be her absolute best but stick by her even when she's at her absolute worst. A tribe of other women who could choose to compete, but take the higher, better road of collaboration instead. A tribe of other women who don't just fix her crown, but also bend down to pick it up and dust it off when it's fallen off. A tribe of other women who refuse to get jealous. Who refuse to compare. Who refuse to belittle or go low. Who refuse to gossip, or leave out, or hurt just to watch her crumble under the pressure.
A tribe of women who tell the truth. When it's hard. When it's easy. When it's uncomfortable. When a lie would be the simpler road to travel.
A tribe of women who pick her up and put her back on her feet when she's gone off-course. A tribe of women who have the courage to encourage her. A tribe of women who have the strength to strengthen her.
A tribe of other women who have her back, and her front, and her side, and her soul, and her spirit, and her heart, and her best interest in mind. Always.
Behind every successful woman is a God who knows the plans He has had for her from the very beginning. A God who holds her in His own hand and cheers her on from Heaven. A God who loved her before she was even born and had dreams for her before she even took her first breath. She mattered to Him before the womb. She mattered to Him in the womb. And she sure matters to Him now.
Here's to the past that made you who you are.
Here's to the list of failures that taught you to do it better.
Here's to the voices you learned to quiet.
Here's to the eyes you learned to shrug off.
Here's to the woman you used to be. She brought you to the this very place.
Here's to the fire that won't let you quit.
Here's to the tribe who builds you up in big and small ways every single day.
Here's to the God who tells the stars where to shine and still loves you even more.
Here's to you, successful woman. Keep burning bright. The world needs who you are, what you have, and what you're doing to make this place a little lighter."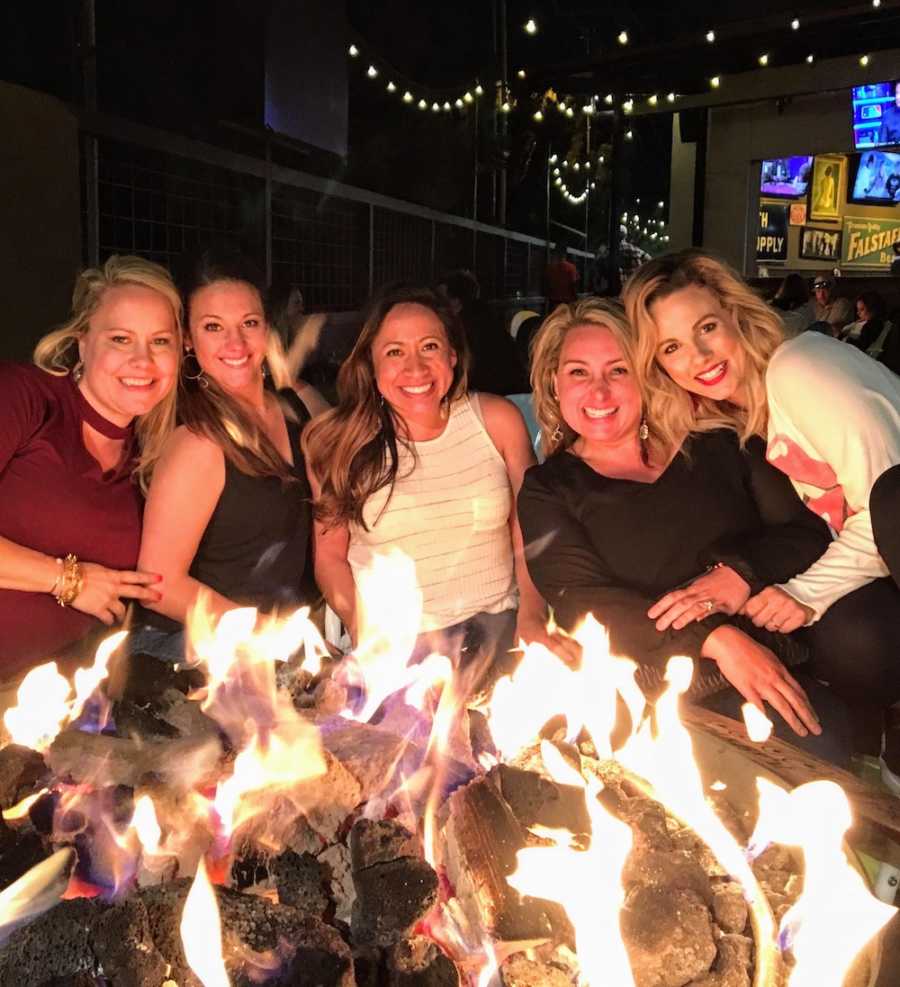 This story was submitted to Love What Matters by Amy Weatherly. The article originally appeared here. Follow Amy on Instagram here and Twitter here. Do you have a similar experience? We'd like to hear your important journey. Submit your own story here. Be sure to subscribe to our free email newsletter for our best stories, and YouTube for our best videos.
Read more stories like this: 
'No one is cleaning their house every day. No one is having sex every day. We are ALL losing our crap.': Mom insists 'you're amazing' at motherhood even when it doesn't feel like it, 'To them, you are everything'
Read more stories from Amy here: 
'I don't fit in. They don't really want me there. I wonder why I wasn't invited. I walk up to a circle of people and don't know whether to force my way in, or hang on the outside, twiddling my thumbs.'
'I ran across an old boyfriend's picture today. Not just any ole boyfriend, but the one who broke my heart, who shattered it into a million pieces, the one I was certain was 'the one."
'Hang on one second.' She paused, closed her eyes, and bowed her head. Confused, I asked if everything was okay. If she needed to leave.': Woman vows to 'do the right thing' after witnessing friend's act of kindness
Provide beauty and strength for others. SHARE this story on Facebook with your friends and family.