Honoring A Hero
"When my husband died, he was hailed a hero. Besides the fact that he was a police officer, he was an amazing, honorable, courageous man. He worked hard. He sacrificed everything for his family. He taught us the value of hard work, integrity, strength and what it means to look fear right in the eye and power through it. He was the epitome of all things good. He was brave, solid, loyal, and somebody we all looked up to.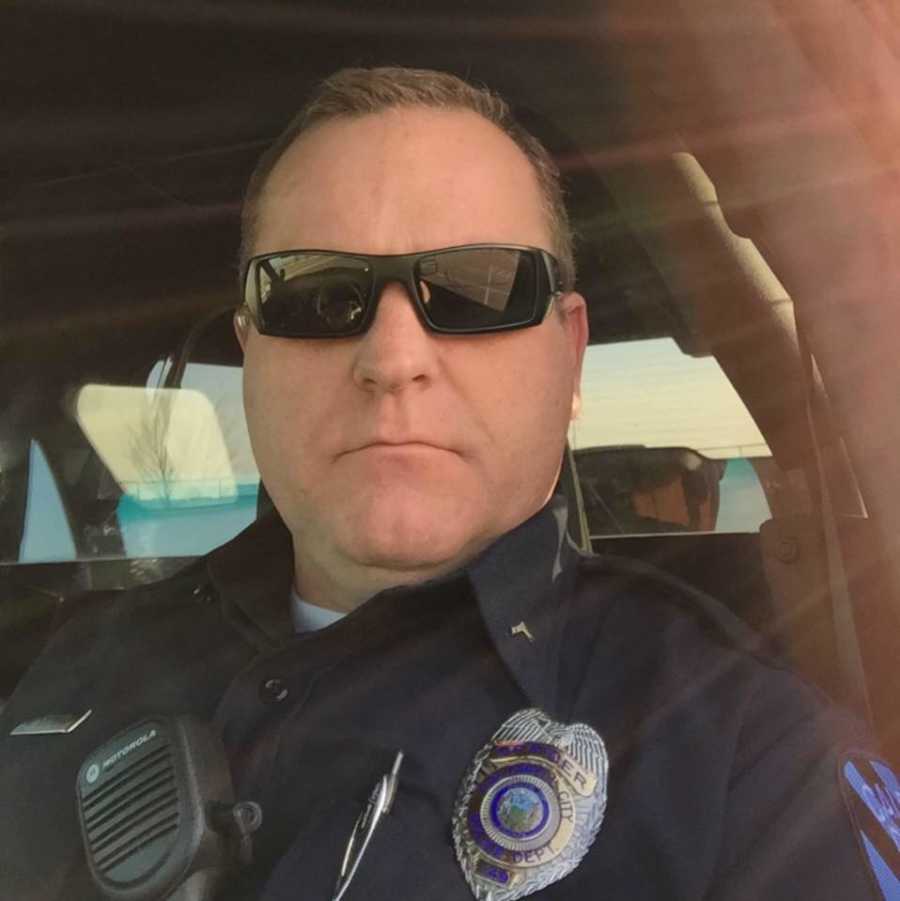 His funeral was breathtaking. He was not killed in the line of duty, but he might as well have been. I say that because, as you know if you've been reading my articles, he continued to honor his commitment to his job, his partners, his community and to us up until three weeks before he died. With tumors ravishing his body, he still managed to get up every day, put on his uniform and protect and serve. He was able to push through his pain for the betterment of all the people he swore to protect and hold the line between good and evil. This article is not about 'police week,' and while we are finishing up police week this week, I pause to honor not just him, but all the men and women who do the same thing he did, every day. They put aside their own crisis' every day to help you with yours and that should be commended.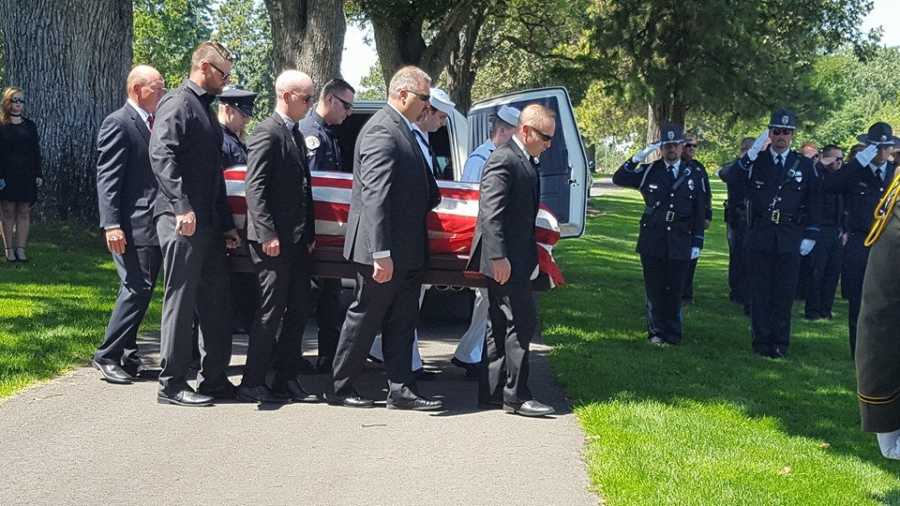 Community Of Support
When we were planning the funeral, I was in a fog. I had certain things I wanted done, but, thankfully, there was a community of people who helped me and planned certain things that I had no idea would happen until that day. I was not just shocked at the amount of people who showed up to honor him but was literally taken aback by the way his community came out in droves to wish farewell to a man they didn't really even know.
Flags were at half-mast. People lined the streets saluting him. Children made signs with his badge number on them (149) and held them as we drove past.  His doctor's office stood on the corner and the nurses cried. The entire city shut down and as we were driving up the main road, I cried when I saw the fire trucks that had hung the American Flag across the road in his honor. The procession was magnificent. I remember somebody telling me that when the first car pulled into the cemetery, the last car was leaving the church. They're ten miles apart. That's ten miles of police cars, family, friends and people lined on the streets to pay their respects. Ten miles of pure beauty.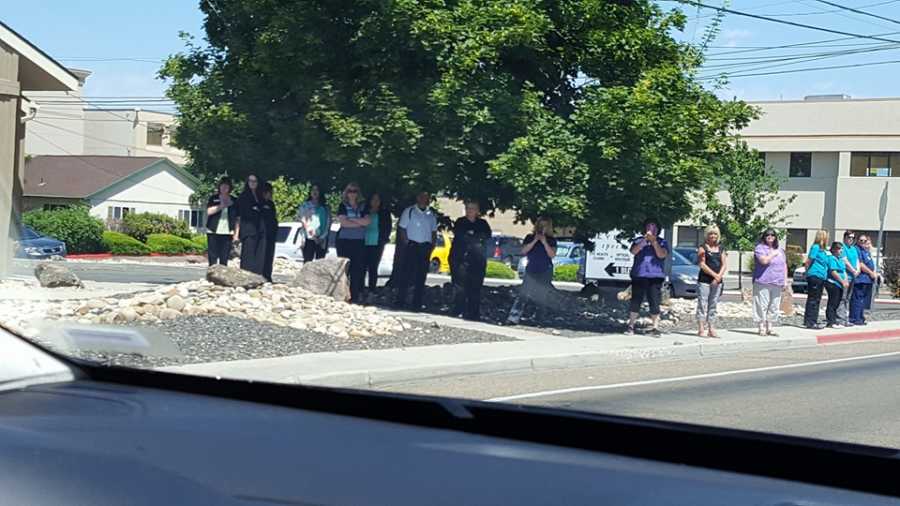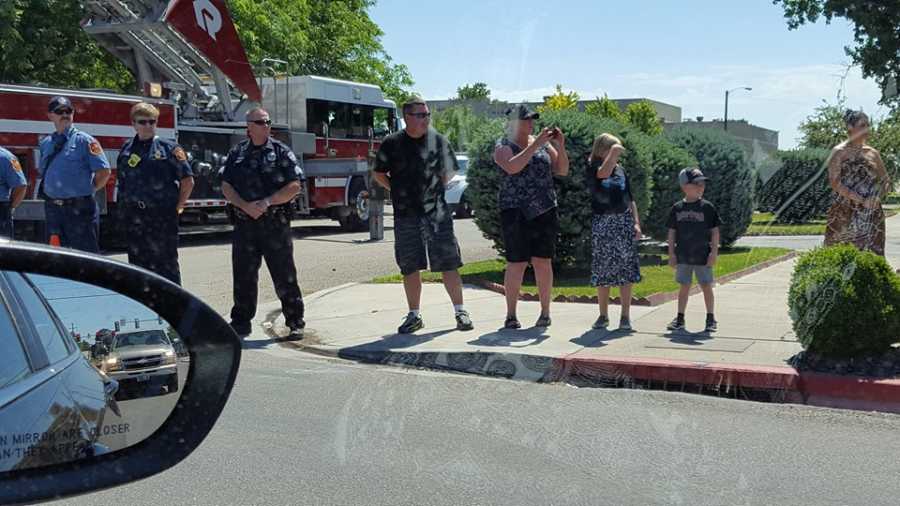 Everyone Is Grieving
I'll be honest, I had to sit back and ask myself why. Why would all these people come out to stand in the hot sun and hold signs and cry for a man that they never had dinner with, never had a beer with, never even had a conversation with. Why would they do that?
Because everybody is grieving. That's why. Everybody is hurting in some way, and it's an opportunity to set aside that lonely feeling that you're all by yourself and join a community of people who feel the same way you do, even if it's just for a moment. Honoring him, is honoring your own person. Your own grief. Your own sadness.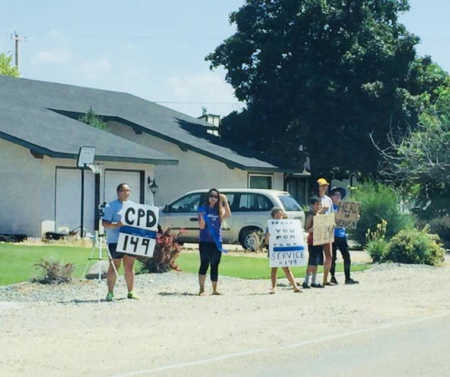 A few weeks ago, I got a message from one of my daughter's old grade school teachers. They were working on an art assignment. Her message said that she walked by a little girl's desk who was drawing her art and noticed its meaning and wanted to share it with me. She sent me this picture.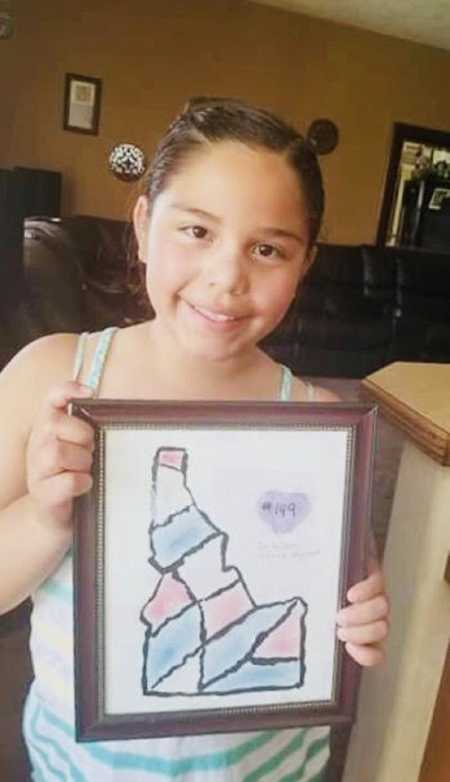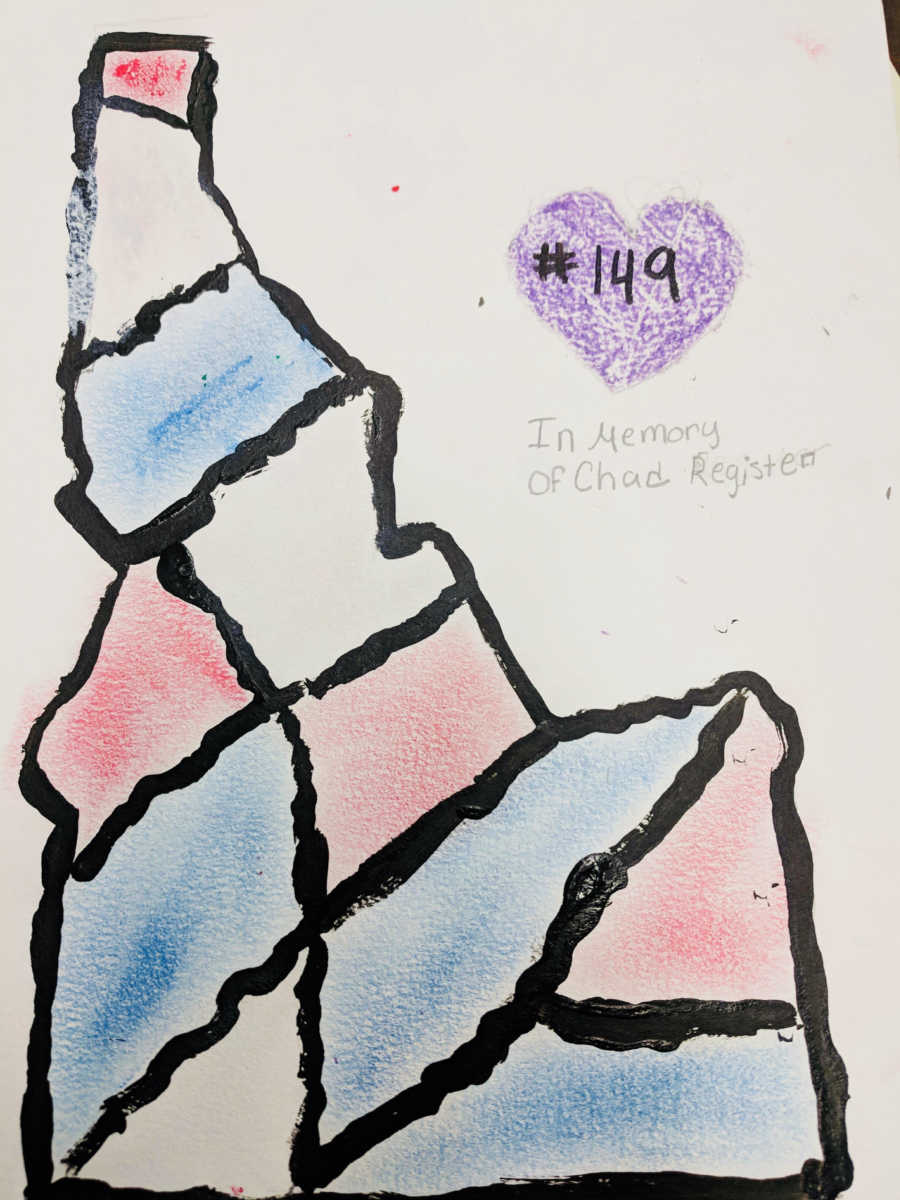 At first, I didn't know what to say. Tears welled up, I had a knot in my throat, and the emotions overtook me. The girl who drew it, Olivia, is the daughter of a friend of mine who did not know Chad. But, she was also one of the kids on the day of the funeral who stood outside holding a sign to honor him as we drove by. For some reason, his death impacted her. For some reason, it meant something. For some reason, it affected her in such a way that two years later, she drew a picture in his honor.
And, it got me thinking. I have always known that those people who have died still have influence on those of us who are living, but I'm not sure I knew the degree of it until now.
Leaving A Legacy
The life we live is worthy. The life we live means something. And when we die, we leave a legacy. Hopefully, it's a legacy of good things, precious moments and heartfelt lessons, but it goes beyond that. I said before that my husband taught us things. Those things that he taught us, the morals he had, the values he lived by – they're still here. They are still here and embedded into us. As I teach those things to my children, and they teach them to their children and their children and so on, he lives on. It's not just about his good deeds. It's about the character by which he lived his life that will impact a generation somewhere forever. It's like DNA, I guess. We take certain DNA from our parents and pass that on. And all our kids who have blue eyes and pointy ears 'get it' from an ancestor. It's the same thing with this. In seven generations from now, some child is going to have amazing work ethic and it's going to be because Chad Register did and that was handed down to them from him. In a hundred years, some great great, great, great grandchild of his is going to struggle as an adult and they're not going to give up, because Chad didn't, and that's what we are teaching them.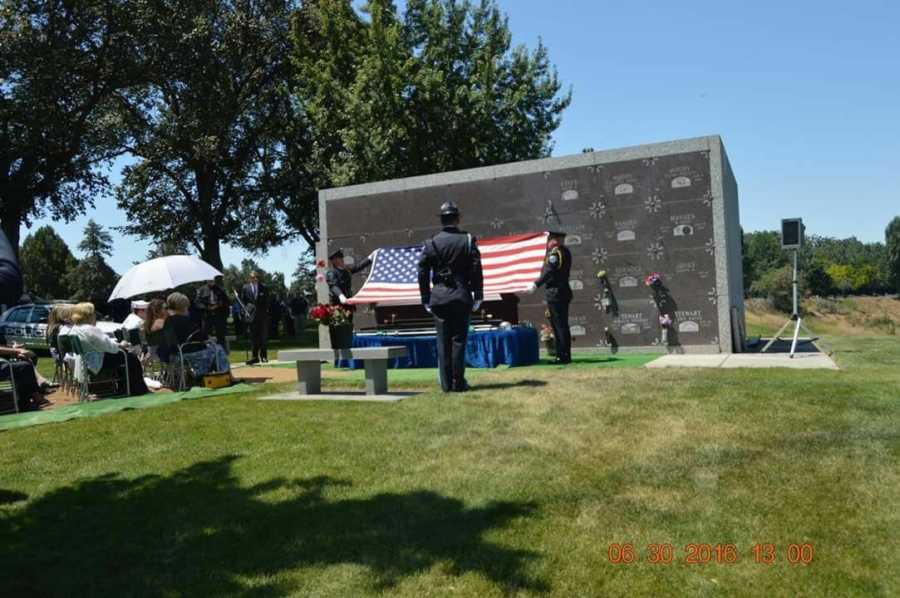 And the children in our community now are going to draw pictures and do assignments on heroes and choose him because that's what we have taught them he is. At the beginning of the school year, my daughter's other friend was doing an assignment on heroes and chose him and sent me this. His life, and subsequent death has resonated with her in such a way that she chooses not to forget him.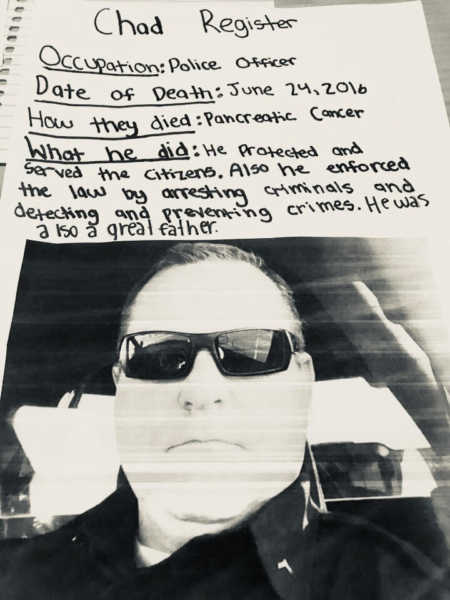 I choose not to forget him. I choose to write about him, and honor him and do everything I can to help people. That's what he did, and what he would have wanted.
I am still going through all the material things he left behind. I am still trying to spread his message of generosity through the #iam149 Foundation. But living a life every, single day the way he did, full of intent, purpose, compassion and integrity is what I really want to do.
You have lost somebody, or you probably wouldn't still be reading. You are hurting. You are missing them. You feel like they're gone forever. The world was cheated by not knowing them. Your children or your grandchildren are losing because this person isn't physically in their life.  I get it. They're not. But, their legacy is. That will never go away. Who they are and what they meant to the world will never go away.
I hope you get a drawing one day that reminds you of that. I hope you get a message or a letter from somebody who reminds you of that. I hope you get a glimpse of their character in then generations to come as you look into their big, brown eyes and think, 'You got those from your grandpa.' That you remember that it's not just about the DNA. It's bigger than that.
People say those who have died are always with us. I believe that. And I see it. I see it in big things, little things and in the memory of small children.
Look for it.  You won't be disappointed."
This story was submitted to Love What Matters by Diana Register of Meridian, Idaho. Be sure to subscribe to our free email newsletter for our best stories.
Read more from Diana here:
'With his body full of tumors, he kept working': Wife's tremendous grief after husband's cancer diagnosis
'I could barely speak': Grieving woman struck by coffee barista's 'simple act of kindness'
SHARE this story on Facebook if you believe grief is easier when people are kind to each other.