"Another Mother's Day approaches and I am running away from home. Every once in awhile when my life becomes overwhelming I pack a bag and head somewhere – anywhere. It is guaranteed to happen in May because there are a lot of commitments I have with lots of deadlines every May.
This May, my sister Mary Ann and I decided to celebrate Mother's Day a bit early because it seems to affect Mom when her routine changes – her routine of seeing us. We decided we were going to celebrate Mother's Day today. We bought a few outfits for her, a patriotic tablecloth, a beautiful pot of flowers for her porch, and a funny card. We headed to their house after we left the office (Mary Ann and I work together) and marched in, excited to show her her gifts.
She was resting next to dad with their caretaker close by. She loved the potted flowers, the clothing, the table cloth and then she read the card. We waited for her to laugh. She held it for awhile and opened it and held it a bit longer. We said, 'What do you think mom, isn't that funny?' and she says, 'It's beautiful.' OK, that works too. She handed it to dad and he starts laughing. She wanted it back. Once again she says, 'It's beautiful.' We are glad she likes her card and her gifts. We visit for awhile, give our kisses and hugs and head out.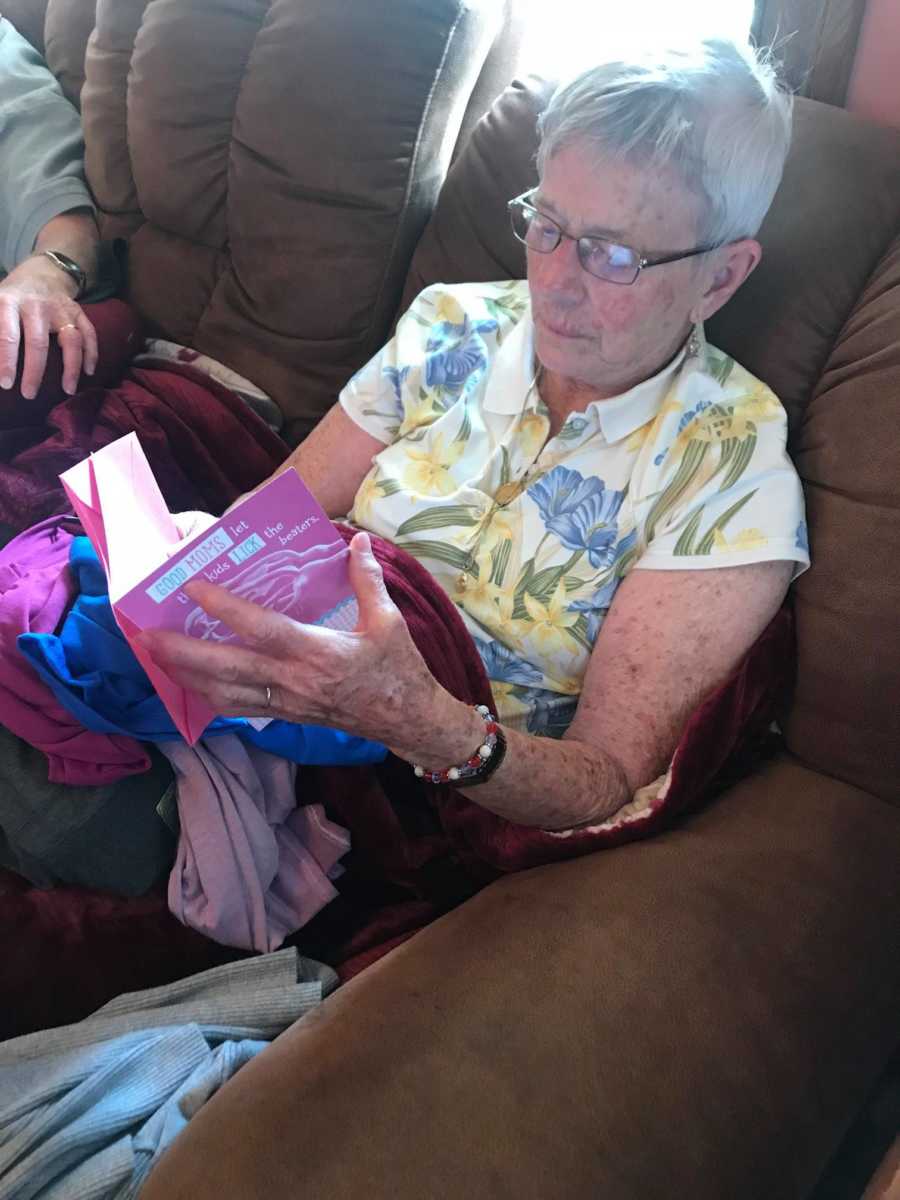 I head back to my bakery (I own a bakery too). It is my happy place. I turn the music on and turn it up! I never liked the quiet. As I'm making a recipe I start thinking about my mom. I remember sitting on the counter in the kitchen when I was little and licking the beaters. I remember the wonderful food she made. I remember her patience, her strength, her love for all of us. I am so thankful she instilled a love of baking deep inside me. Baking became my refuge. My sanctuary. My one day dream that a year ago became a reality. She not only shared her love of baking with me but she also taught me to dream, to never think anything is outside my reach if you are willing to work hard.
I think about her outfits, flowers, tablecloth and card and they seem so insignificant as a thank you for being our mom. What I wish I could give her this Mother's Day are the memories that are in my head and heart. The gift of so many memories she made for me. The memories that formed me into who I am today. The memories that created dreams for me to strive for.
So this year for Mother's Day I will celebrate these gifts of memories for her. In my memories, she is laughing with me. She says my name. She walks to me. She laughs at her Mother's Day card. And to celebrate my mom I will make some amazing icing and lick the beaters. This Mother's Day I will close my eyes and she will be whole. Happy Mother's Day Mom!"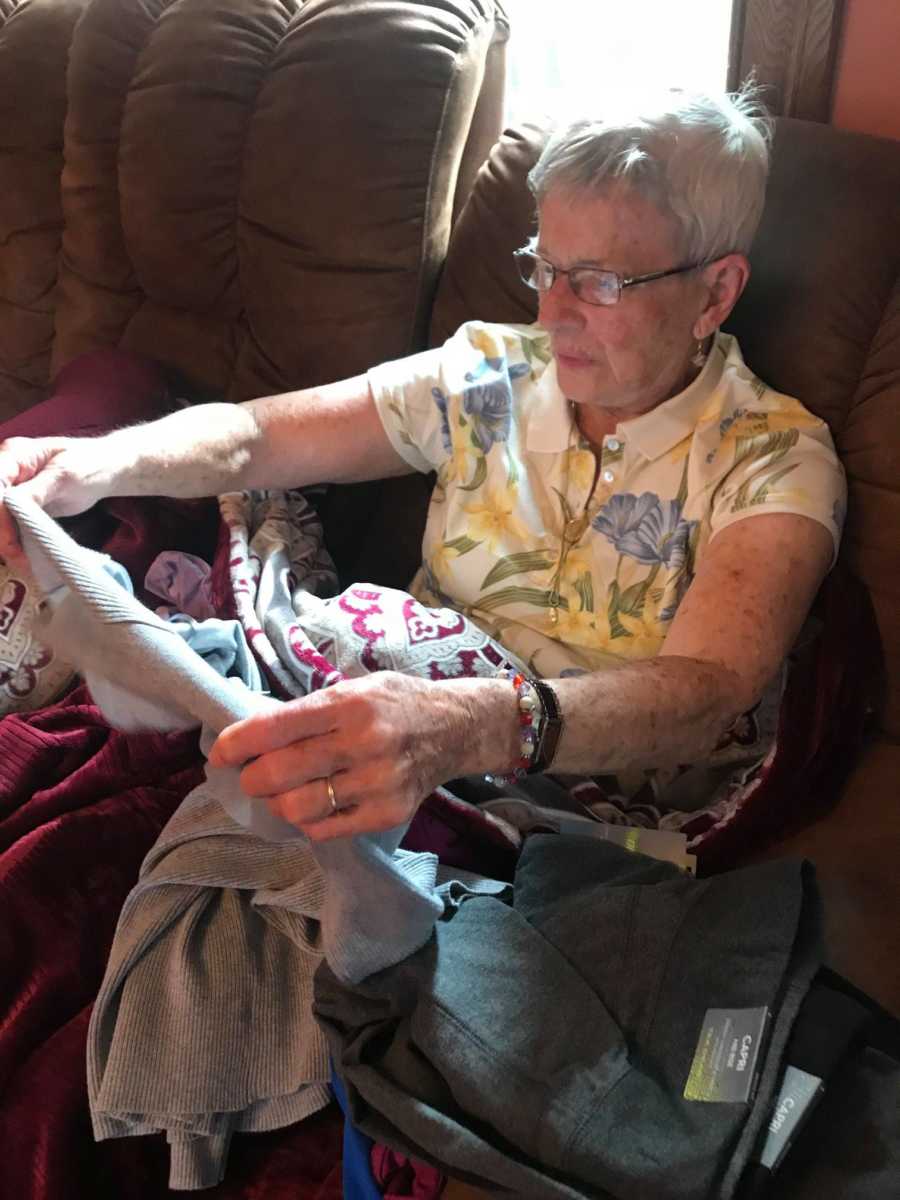 This story was submitted to Love What Matters by Becky Gacono of Annville, Pennsylvania. She is chronicling her mother's dementia journey on their Facebook page and in a series of posts for Love What Matters:
Family combats mom's painful dementia journey with humor
'They are two that have become one': A day in the life of my mom's dementia journey
'It was my birthday when she no longer knew my name or who I was.'
'His love for her is palpable': Doting husband's explicit instructions for wife with dementia's morning routine
'We finally get to the kitchen table and their sandwiches are out and ready to eat. Then this happened.'
'I never thought I'd get to kiss an angel': Daughter overhears midnight whispers between mom with dementia and dad
'I realize love is the most powerful, the most exhausting, the most incredible way to live your life'
'I tell her I have her ring and she starts crying': Daughter recounts mom with dementia's anguish over beloved 'missing' ring
'She used to do puzzles, she can't do them anymore': Daughter's tearful realization about her mother's dementia 
'I'll get to her outfit later': Daughter's humorous attempt getting her mom with dementia to the doctor
Submit your own story here, and be sure to subscribe to our best love stories in our free newsletter here.
Do you know someone who could benefit from this story? SHARE on Facebook to let them know a community of support is available.