"'SURPRISE!' I quickly jumped back and almost ran out the door when everyone started shouting at me. I couldn't figure out what was going on. To be perfectly honest, the yelling was starting to bug me.
'Happy birthday to youuuuuuuuuuuu! Happy birthday to youuuuuuuuuu!'
Once the singing started, I ducked my head, because let's be honest, they can't really sing very well. None of them could carry a tune in a bucket if their life depended on it. That doesn't stop them from singing some more. 'Happy birthday to youuuuuuuuuuuu!'
Wait…
They were all looking at me while they were attempting to sing. I looked behind me to see if anyone was standing there. Nope, I was by myself.
Wait a minute… Is it MY birthday? No, it can't be my birthday. Wouldn't I have known it was coming up?
I stood there looking at everyone, trying to smile at them while at the same time, I was doing the math in my head. Carry the 4, drop the 17… What am I trying to do? I don't know this common core math stuff!
And then it hit me. All the weird things that have been going on all day seemed to suddenly make sense.
My mom had made me a really nice breakfast: scrambled eggs with some chicken thrown in them. (My all-time favorite food, of course.)
My dad brought me home a cheeseburger for lunch. I didn't have to share. He let me eat it all myself without trying to steal any of it. (That's a big deal here. Daddy always tries to steal some of your good food.)
Then I got steak for dinner. I never get steak for dinner! (It was also awesome, in case you're wondering.)
I was still standing there while everyone was looking at me, and then I realized it more than likely was my birthday. I figured there was no problem in celebrating it because even if they were wrong, who would argue with a free party?
Wait… are those gifts?
I mean, come on, you have to be crazy to say, 'Oh no thanks, I'm not in the mood to party tonight.' My mama didn't raise an idiot. Well, she did but she's in Alaska! (Oh yeah, I totally said that.)
I was trying to remember the last birthday party I had and to be honest, I couldn't. I don't think I've ever had a birthday before. I mean, I know logically I should have because I was born, but I've never had a party before.
Before you get all huffy at my mom and dad, you should know I was adopted. This is, I guess, my first birthday with them. My old mom and dad weren't super nice to me, even though I tried my best to make them happy with me. It seemed like nothing I could ever do was good enough. They would yell and scream at me and would even ground me without my supper.
I didn't realize how mean they were until after my new mom and dad adopted me. How nice it was to have a real bed to sleep in, not just sleeping on the floor, to have so much food that I would never go hungry again. There were times when we had to go shopping because I was eating so much. (Hey, curves are awesome! I don't care what anyone says, everyone wants curves!)
After I moved in with my new family, I realized how lucky I was to be there. All the love and food I could ever want–all within my reach. Things were finally looking up for me. Oh, and did I mention I get to take hot baths now? Hot baths are HEAVEN! Seriously, you should try one sometime!
'Ummmmm, why are you all looking at me like that?' I asked. That's when I realized everyone was standing there looking at me like I had lost my mind.
'Whatcha doing?' asked my brother. (I now have three brothers and five sisters! I know, it's awesome!) 'Why aren't you going to get your cake?'
'What cake? What are you talking about?'
That's when Dad looked at me and with a sad look on his face, he said, 'I don't think he knows what to do. I don't think he's ever had a birthday party before.'
Wait a minute… I'm supposed to do something? Wait, what am I supposed to do? I'm so confused!
I didn't have any time to really focus on one thought before Dad picked me up and carried me into the kitchen. There on the counter was a huge birthday cake that had writing on it.
I tilted my head to the side trying to understand the strange squiggles that were on top of it. To be honest, I was more excited about the cake than anything.
Out of the corner of my eye, I caught a bright flash and that's when I realized Mom was taking a picture of me and my daddy. Of course, I put on a huge cheesy grin and tilted my head to the side so she could get my good side.
Dad poked me in the side, and when I looked at him, he pointed at the cake. 'Look at what it says.'
I tried my best to understand what he was talking about, but I just couldn't. I looked at him trying to figure out what he wanted me to know, but I couldn't read his mind. I didn't know what to do!
'It says Happy Birthday, Issac.'"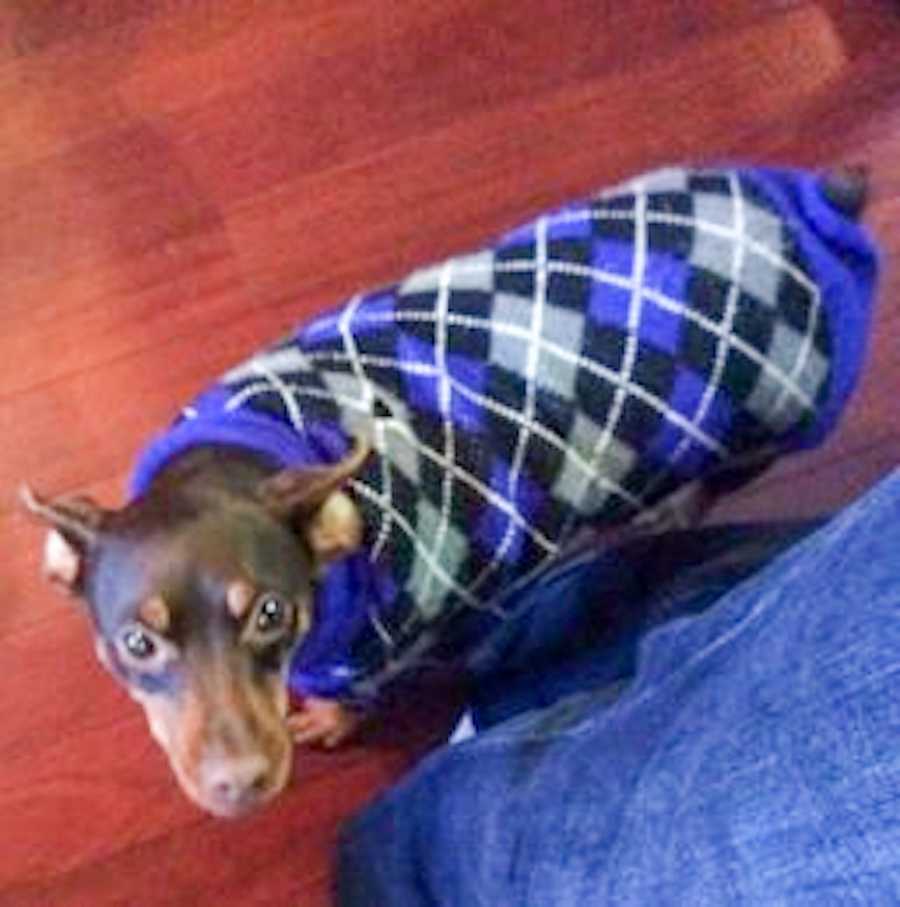 Issac is a dog my parents and I adopted/rescued. In turn, he ended up adopting us. When we first got him, it was really touch-and-go for a while because his previous owners had beaten and abused him. Since we have been adopted by him, he is a completely different dog than when we first got him. He has never yet met a stranger and is constantly ready for cuddles on the couch and of course, naptime.
This story was submitted to Love What Matters by Crystal Marie. Do you have a similar experience? We'd like to hear your important journey. Submit your own story here. Be sure to subscribe to our free email newsletter for our best stories, and YouTube for our best videos.
Read more stories like this:
'He kicked through the glass, unlocked the bolt. He cornered us. Too beaten to fight, I went cold and numb.': Dog rescues 2 women from domestic abuser, 'Dogs aren't just man's best friend, they're our heroes'
'A 3-legged dog and a one-armed wife? We even each other out!' Sandy was always meant to be mine.': Woman with anxiety disorder, limb difference finds 'angel' therapy dog

Do you know someone who could benefit from reading this? SHARE this story on Facebook with family and friends.