What It Means To Be A Public Servant
"Public Servant. Sounds intriguing, doesn't it? But what does it actually mean? As a firefighter, this is a term directly used in my job description. Many think its running into burning buildings, saving the cat out of the tree, pulling a person out of a wrecked car. It is those things… but also something else.
It's helping the little old lady out of bed to the bathroom in the middle of the night. It's coming to the local elementary school and talking about fire safety. It's holding the hand of the husband who just lost his wife. It's showing up, off-duty, at a local children's hospital to provide a distraction and fuel some smiles and laughter.
Several years ago, a friend and co-worker of mine, Captain Carlos Carrillo, started something pretty amazing. He would get a group of firefighters together and visit the kids at Inova Fairfax Children's Hospital. Not only would they visit, but dress up as well (usually as superheroes, but sometimes other costumes were also thrown in). Captain Carrillo made this a regular thing and always brought joy and fun to the kids and their families.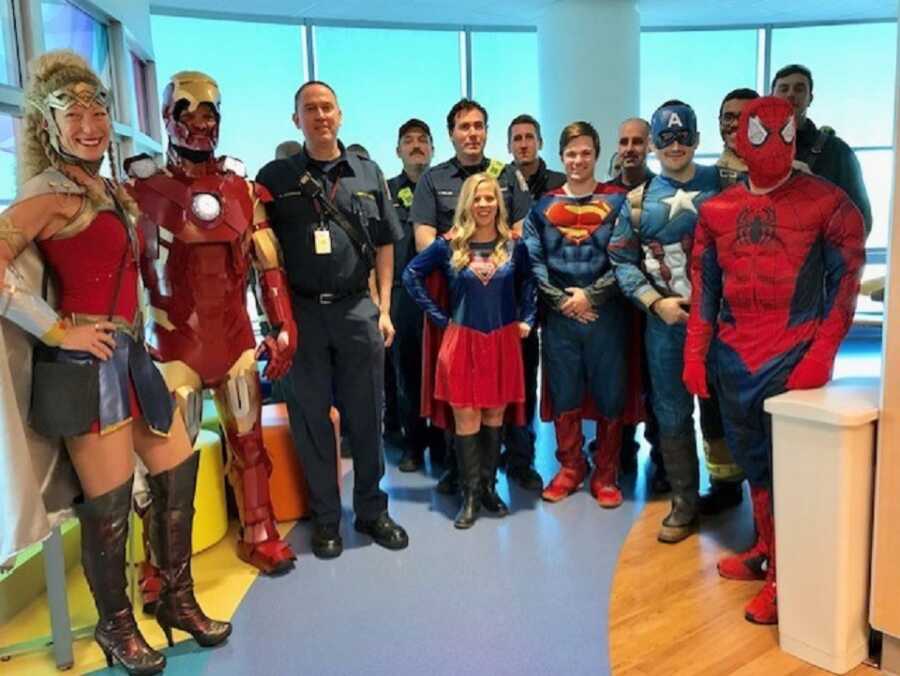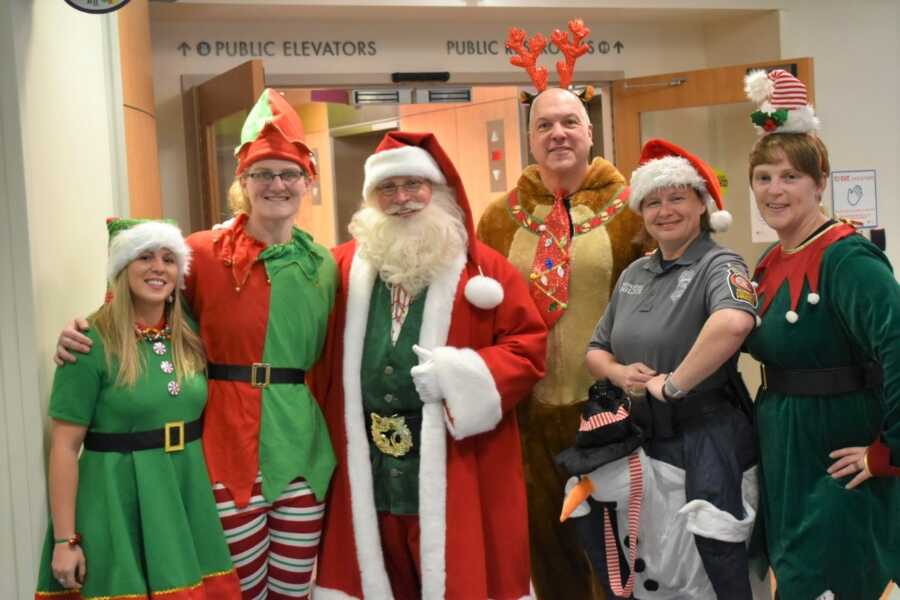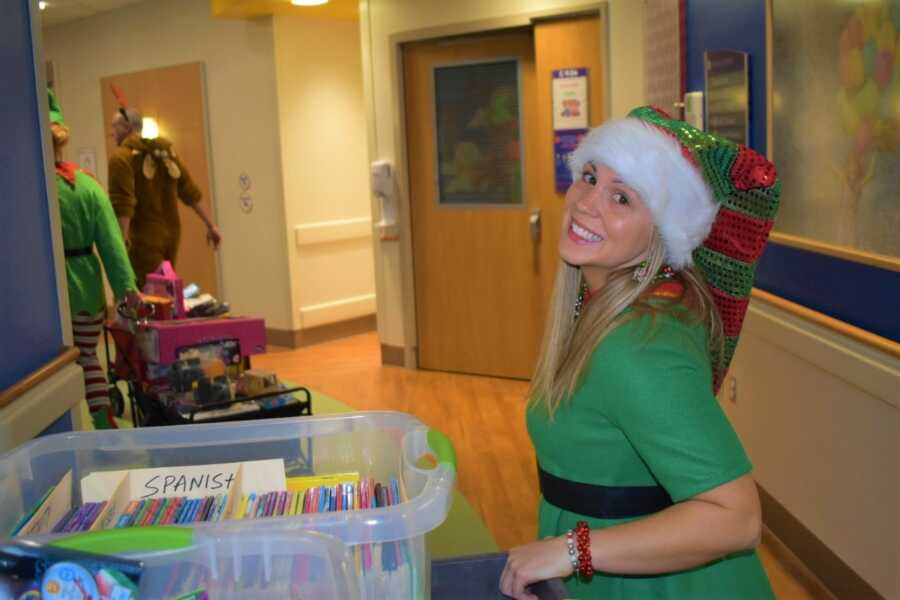 Captain Carrillo went as far as making his very own interactive Iron Man costume. This costume came with all the bells and whistles. Being hospitalized is hard at any age, but especially as a child. You are missing holidays, sports, school, and many 'firsts' that should be experienced outside the hospital. These children can be hospitalized long-term and isolated for their stays. Sometimes these visits would be the most interaction and joy they would experience for weeks, or months. In some cases, it could be their last experience.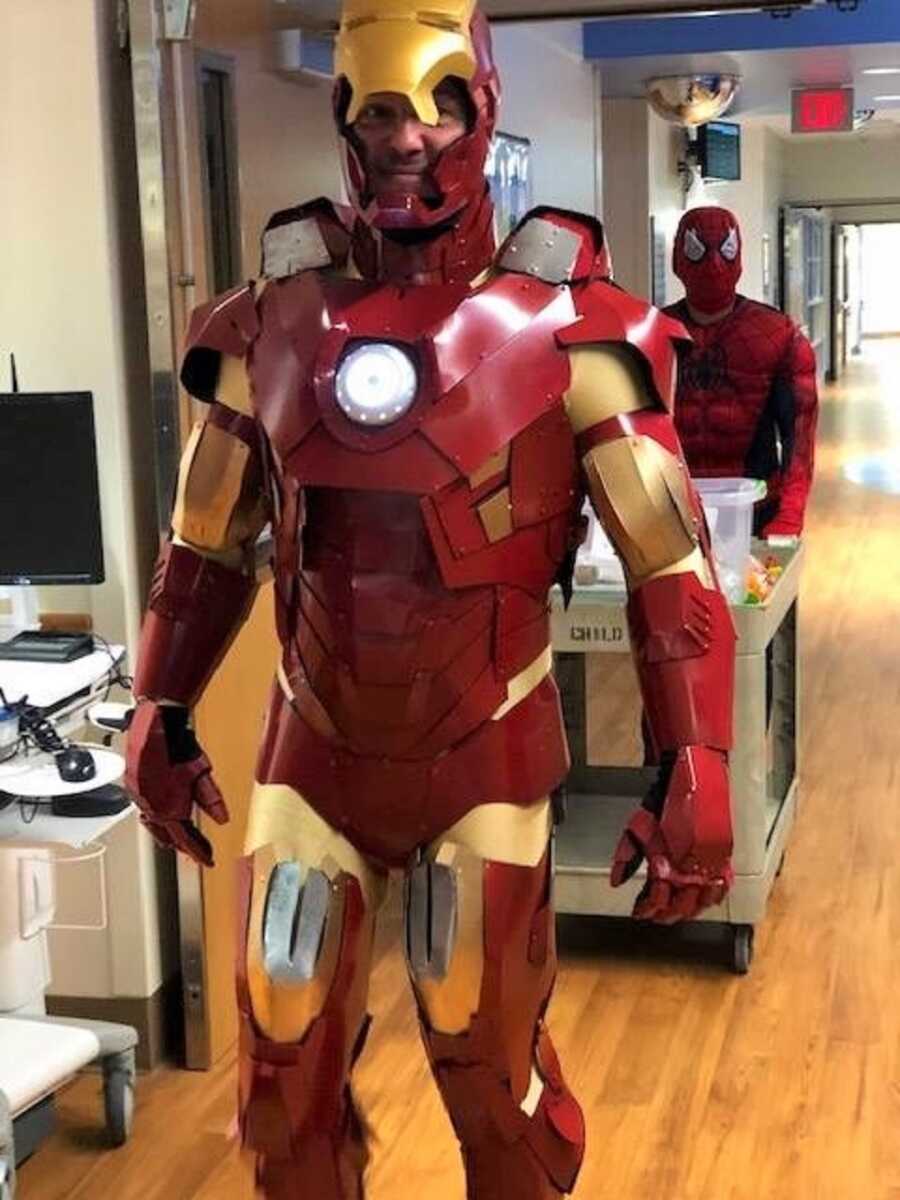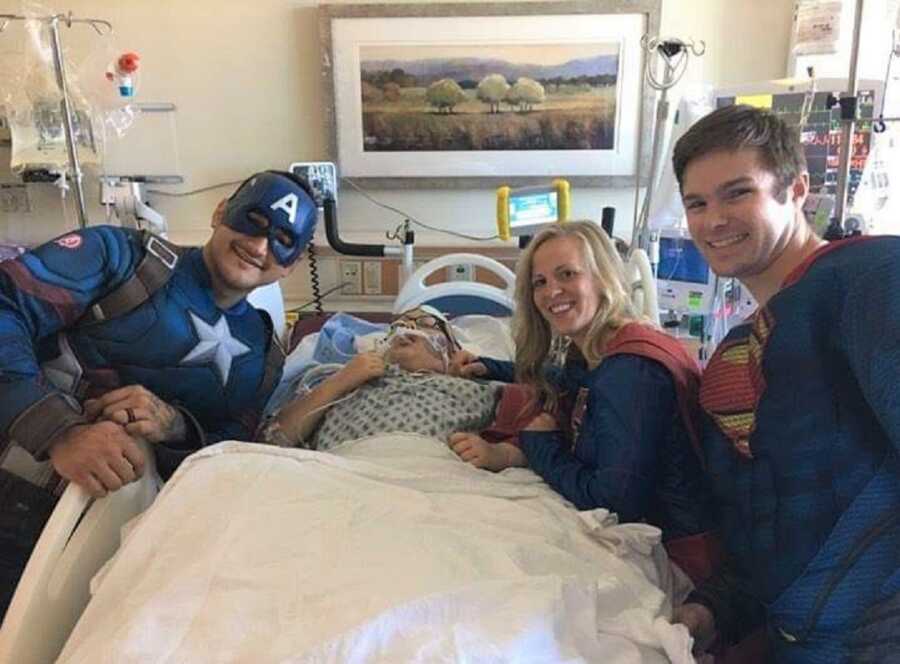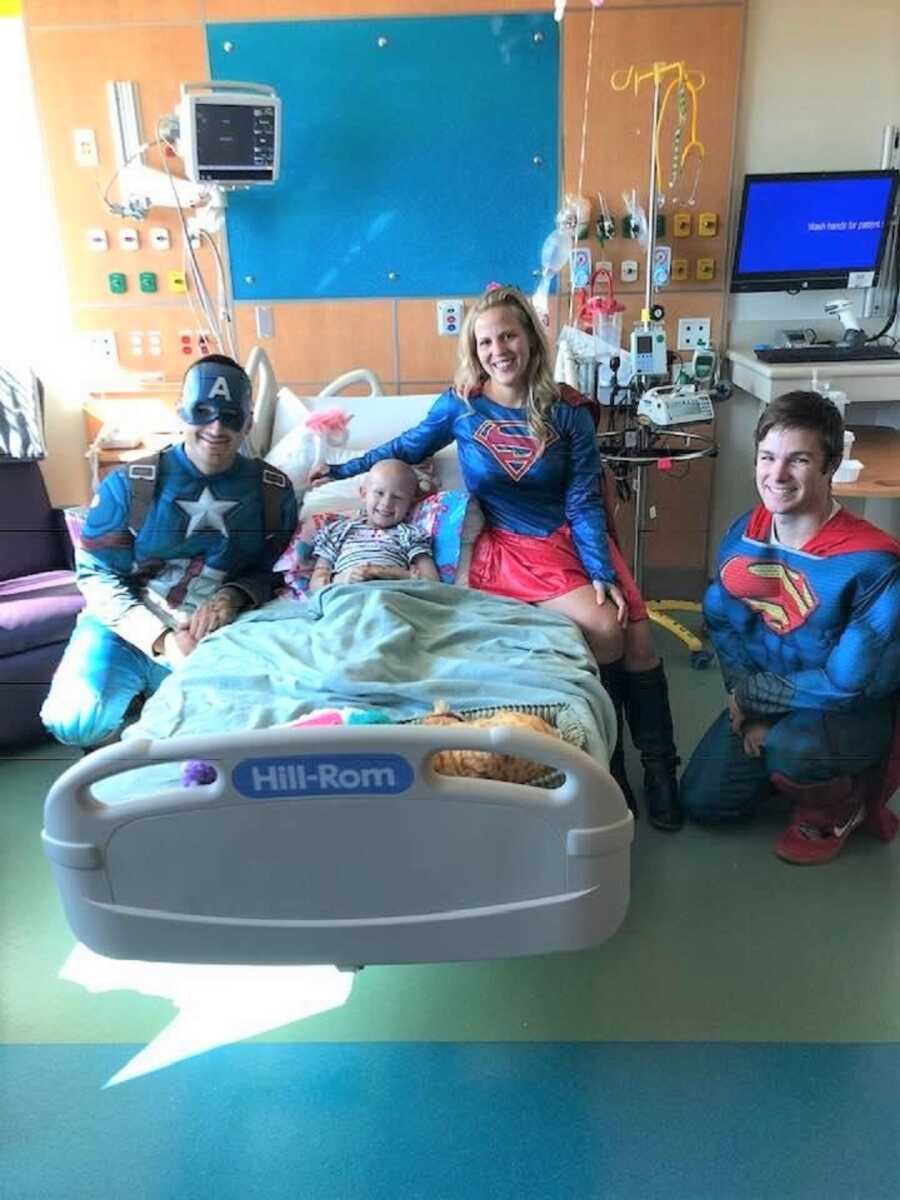 After many years of successful trips, Captain Carrillo wanted to do more. He started bringing coloring books and other activities for the children and their siblings, eventually naming his efforts 'Color Me Brave.' His ambition didn't stop there. He wanted to do even more. Something to really wow the kids!
Adapting To The Pandemic
Captain Carrillo wanted to bring superheroes on ropes outsides the windows of the hospital. It had been an idea he had been thinking about for a while. Then, the Covid-19 pandemic hit. We were no longer able to do in-person visits with the children. This idea and mission became even more important.
In August of 2020, we made our first attempt at this idea and were very successful. The kids loved it! We just had our second attempt in September 2021 and it went very well. We had Superman, Spiderman, Supergirl, and Captain America. The team went on rope over the building and stopped at patient windows. We were greeted with smiles and laughter. We showed off some dance moves, played games of tic-tac-toe, and enjoyed touching hands on the glass.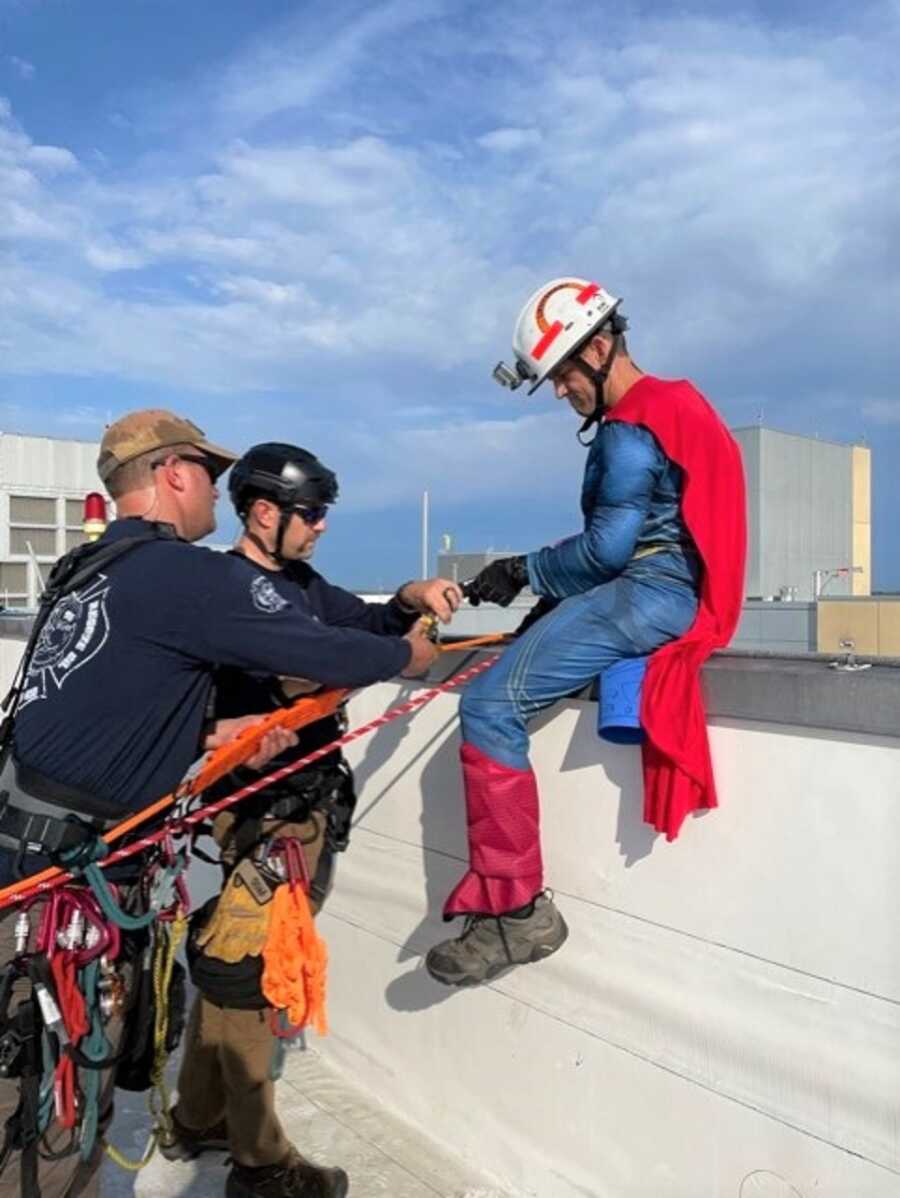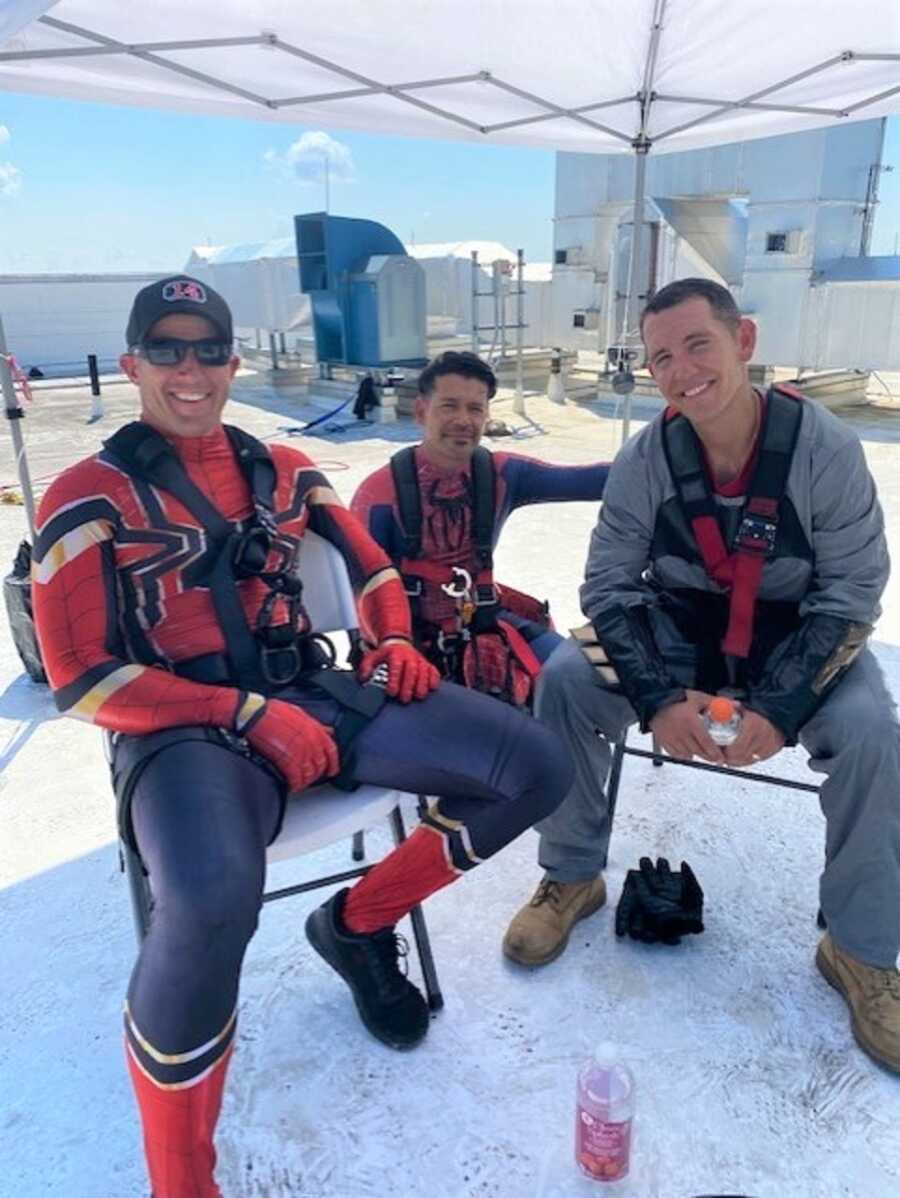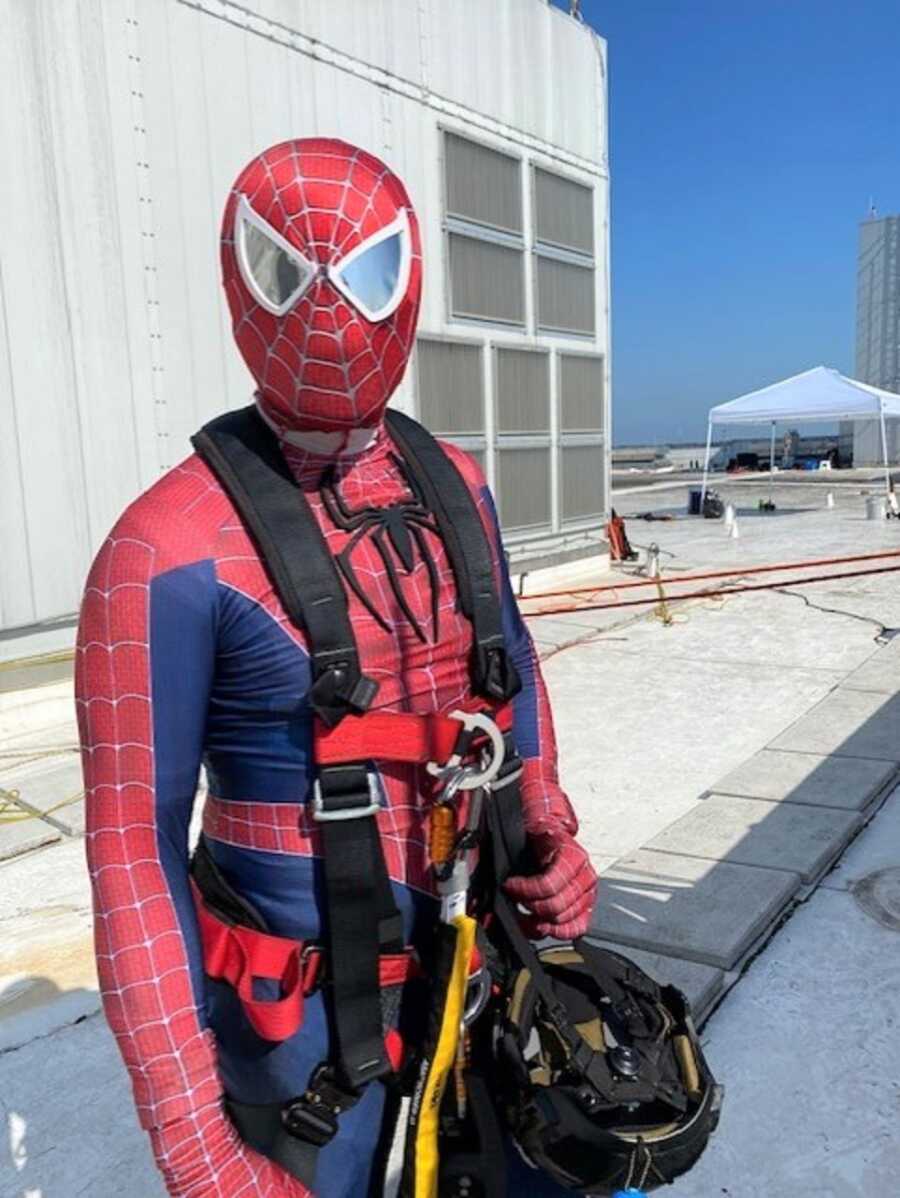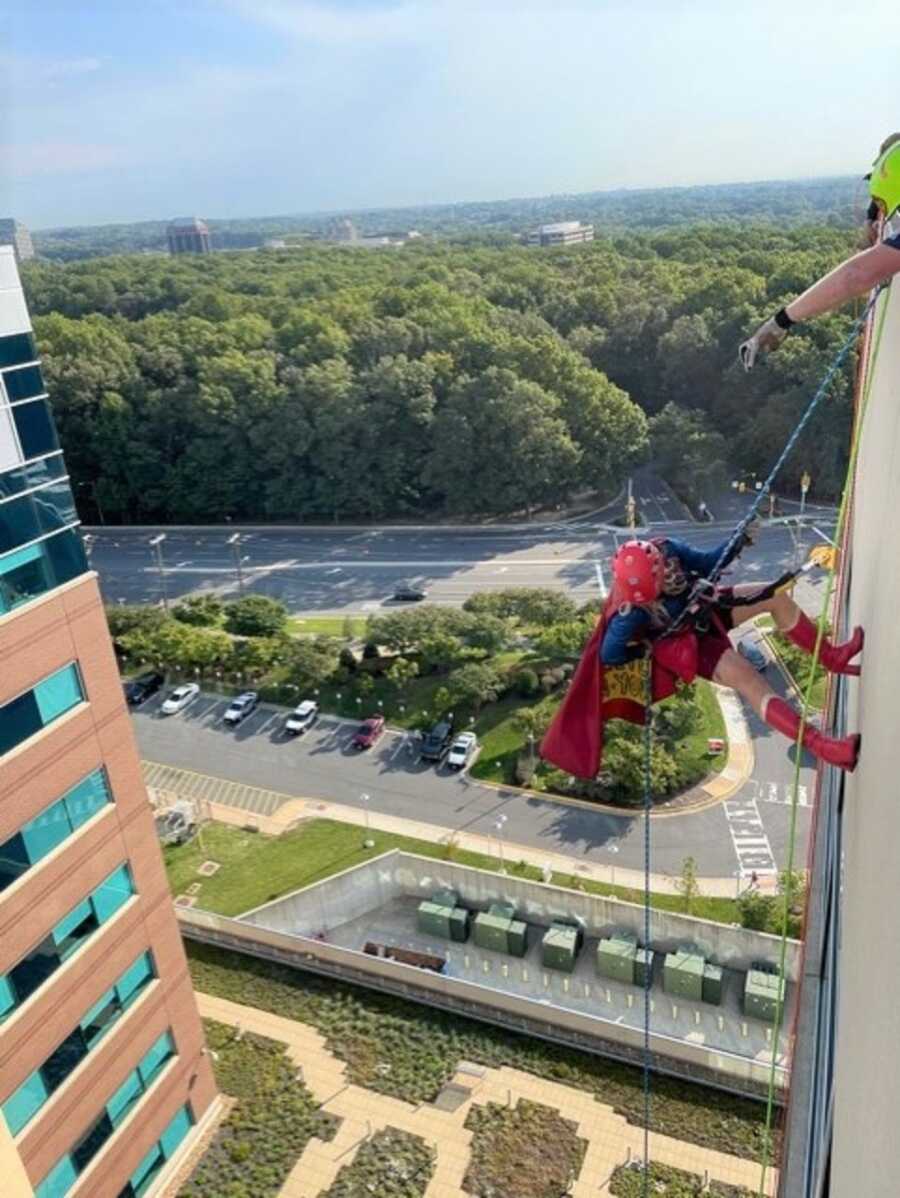 I had one child drawing hearts on their side of the glass with an expo marker. We even got nurses and hospital staff smiling and laughing. It was incredible. To be able to lift even one person's spirit for a few minutes made it all worth it. One grateful aunt said, 'My nephew has been in the hospital for almost two weeks now. He absolutely loved the visit from the superheroes. Spiderman in his favorite! From the bottom of my heart, thank you for what you do and for cheering up my nephew.' We hope to make this a more regular thing and do it a few times a year.
Childhood Illness
A few years ago, Captain Carrillo had sent out an email to fire department personnel looking for an extra set of hands with his program as he was closing in on retirement. I jumped at the opportunity, especially with my history. When I was 14 years old, I was diagnosed with a rare form of bone cancer, Ewing's Sarcoma, located in my right hip. I didn't even know kids could get cancer at that age. The odds were not in my favor and the long road of the unknown had begun.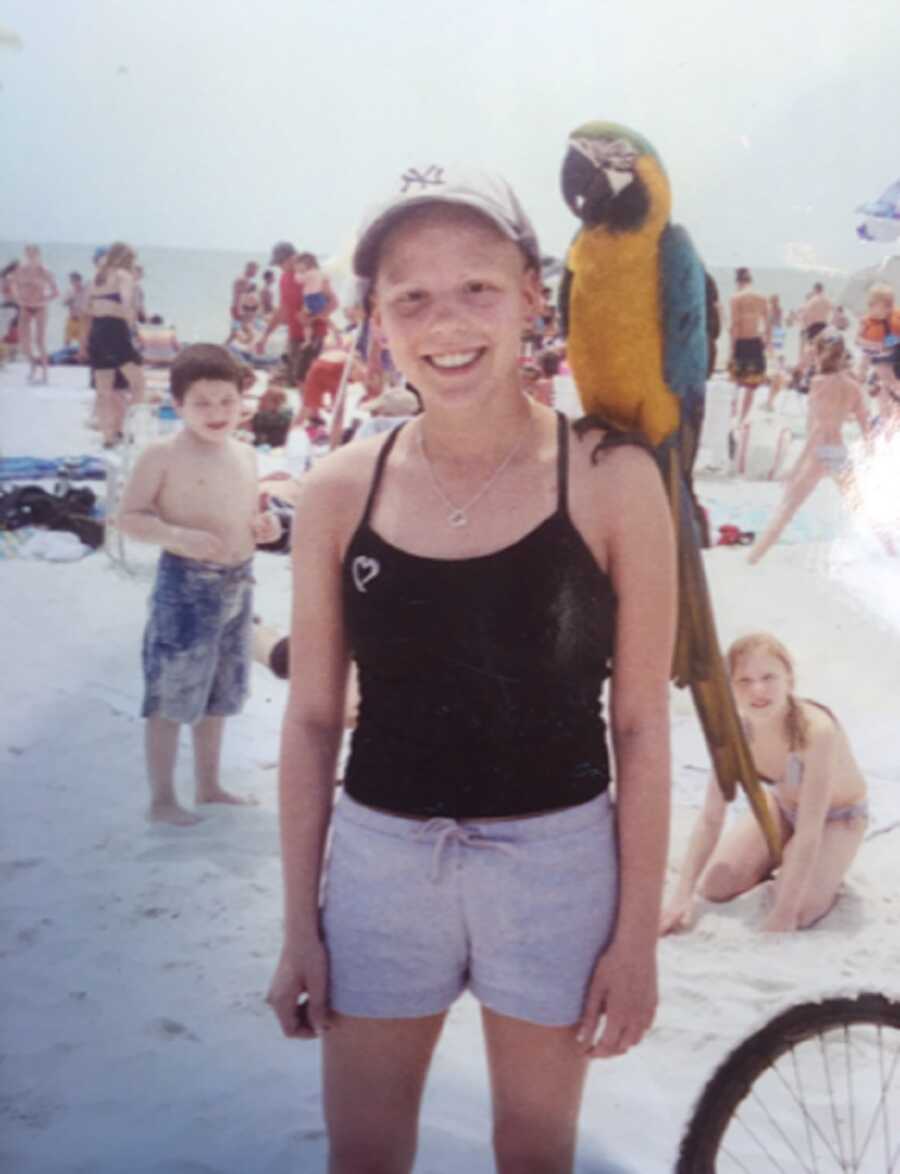 Upon diagnosis, I was immediately admitted to Inova Fairfax Hospital. I would spend days, sometimes weeks there, at a time. Being in the hospital like that was isolating and lonely. At first, lots of people came to visit and show me their support. As the months went on, only a few came, if any at all. When I hear a common term used these days, 'ghosting,' I think of that. I had been ghosted. Everyone was moving on with their lives and I was stuck there to fight for mine. I'm sure it wasn't necessarily on purpose; I like to think it was just a matter of not knowing better. But it's a key reason I am so active in pursuing ways to engage with the kiddos and their families at the hospital.
It's almost liked being confined in a snow globe. Sure, you can see outside, and sometimes people will walk by and pick you up, give you a little shake. But most of the time, you're just there sitting on an old shelf, watching the world pass you by. I spent many days, weekends, and holidays confined to a hospital bed. Getting poison pumped through my veins, just making me feel sicker and smaller. Constant nausea, constipation, mouth sores, pain, weakness, vomiting, exhaustion, just to name a few of the constant horrors I felt while in the hospital.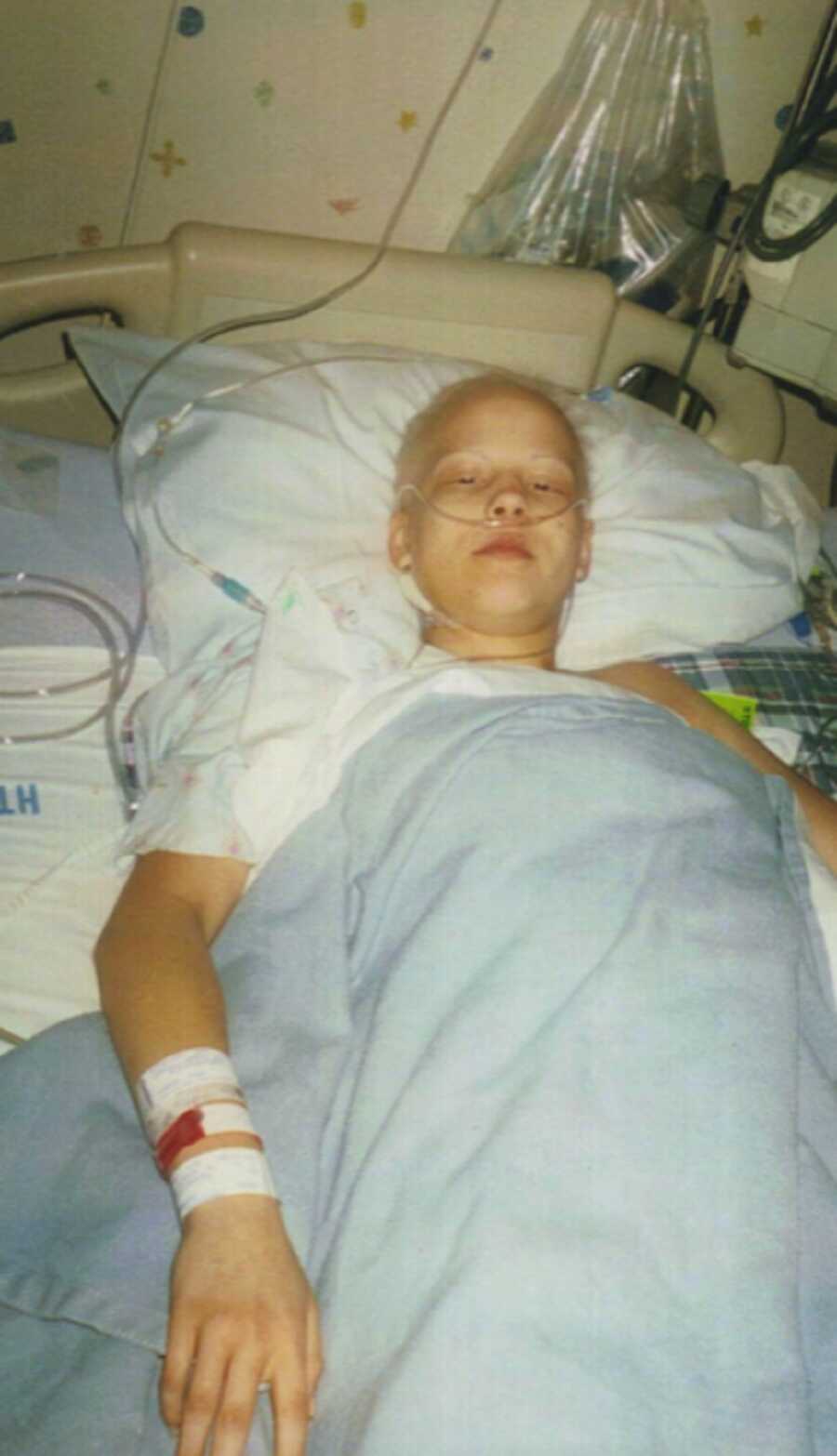 Something I remember quite well were the nurses and their engagement with me. They were the only ones who could pull me out of the dark abyss of a hole at times — just by showing up and joking with me or having a platonic conversation. It made me feel somewhat close to 'normal,' which is something we all chase in the cancer/sickness world.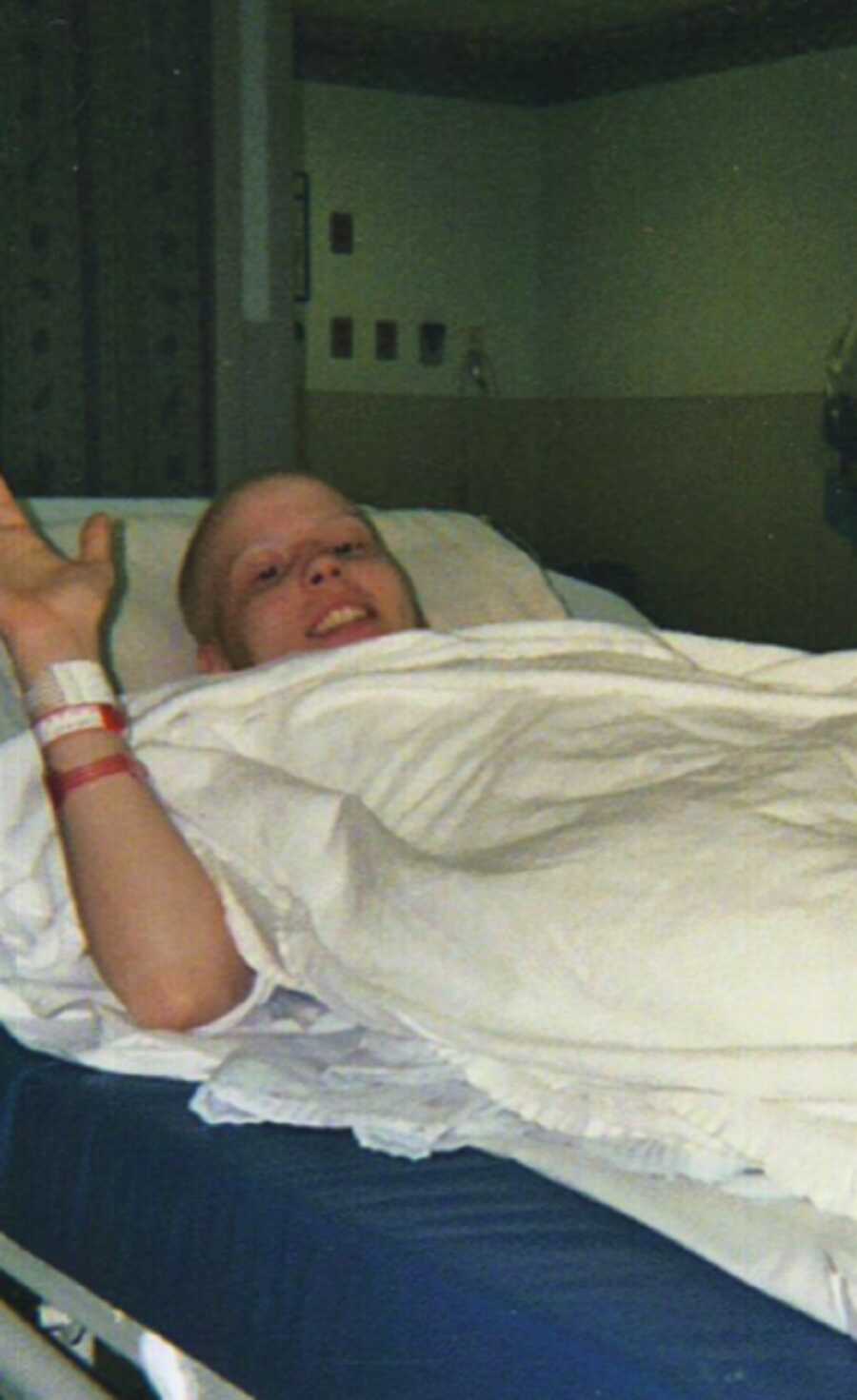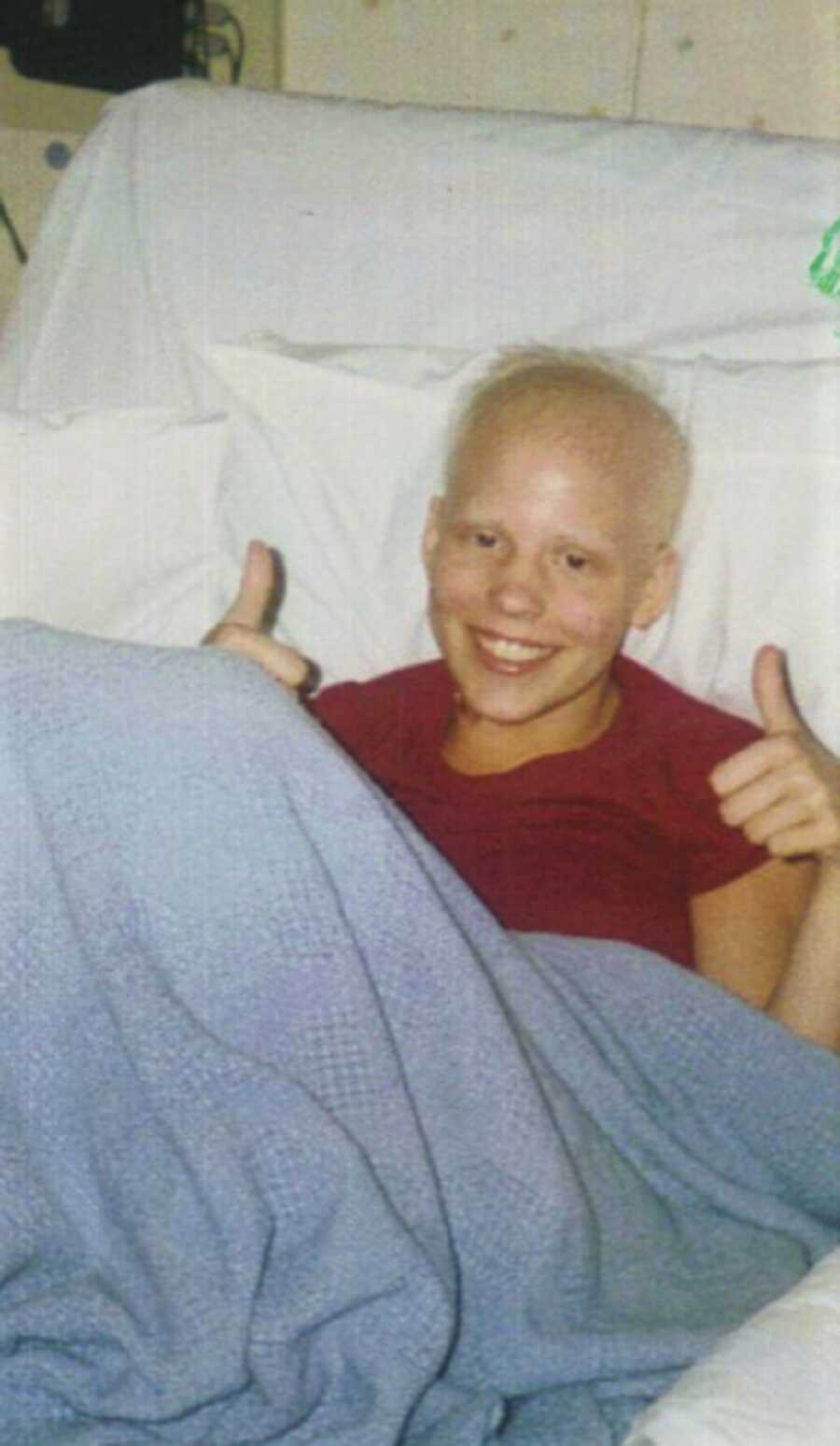 Giving Back
As I got older, I knew I wanted to do something to give back. I wanted to help others, just like others had helped me. I wanted to be there for someone on their worst day to try and make it better. So, I became a firefighter — the best job in the world. Getting to visit the kids at a hospital I fought for my very own life at is everything. The ultimate act of giving back. I personally understand and get how lonely, scary, exhausting, and isolating it can be to be hospitalized at a young age.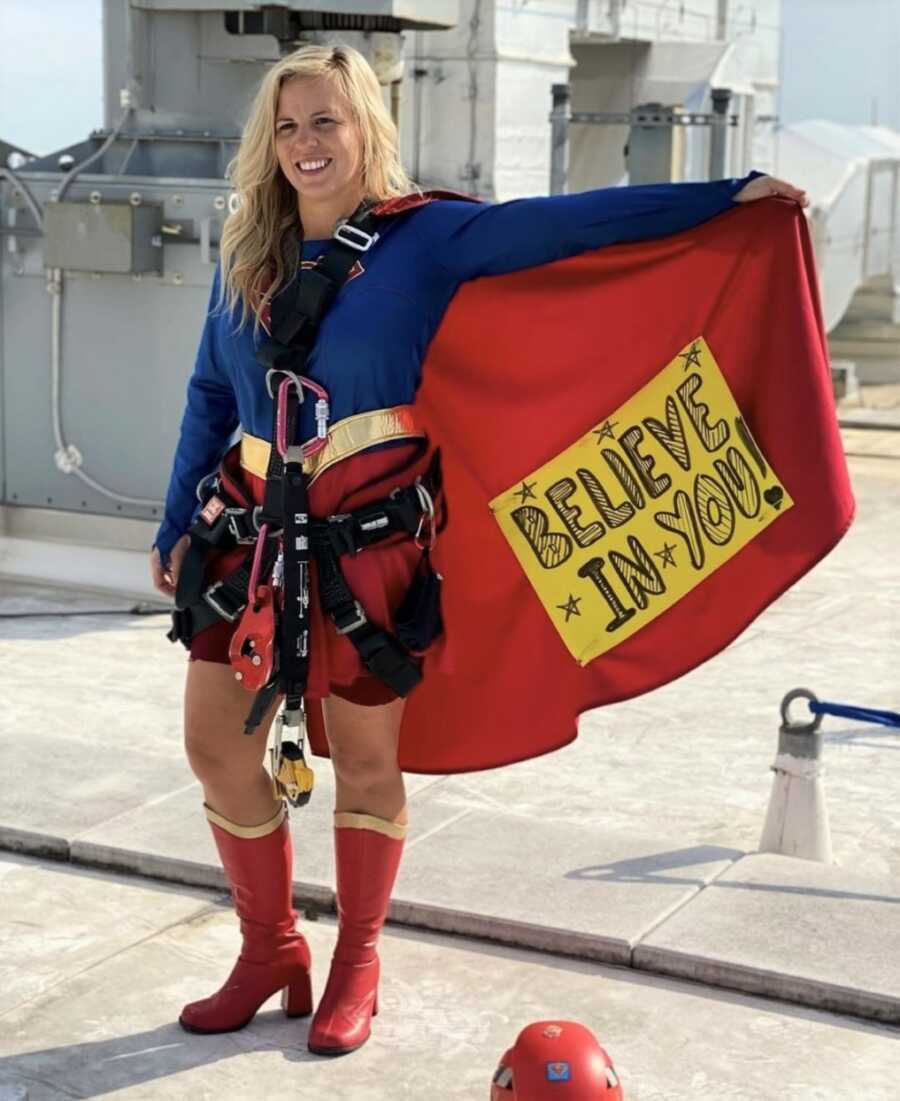 I chose to go as Supergirl when visiting the kids because I like to share my story with other kids and show them they can overcome hard things too. They can be great too. They don't have to just survive; they can thrive. Rappelling off the side of a hospital I fought the hardest battle I have ever fought felt surreal. Being on the other side of the glass, it was emotional.
As a teen in the hospital, it can be especially challenging because there aren't as many resources to keep your mind distracted. Art crafts, magic shows, and clowns get old real fast. It's another reason I love bringing superheroes on ropes to the hospital; it's something everyone can engage in no matter what age you are. I got the opportunity to rappel and engage with other kids at the same exact location I was told I may not live. The same place I had to relearn how to walk. The same place I had my miracle baby years later, the one they told me I would never have. While the road wasn't easy or known, I could have never imagined I would be here. All to say, don't let others set limits for you or put labels on what you are capable of. Set a goal, manifest your dream, and go from there. You can and will overcome hard things.
As firefighters, we take an oath to serve. This oath goes much deeper than one may think. Most of us always want to do more. We enjoy helping others. We want to make things better. An opportunity like this has felt like a gift to us. A good reminder to everyone that kindness is indeed free, and actually can change the world, even if… no especially if, it's a child's."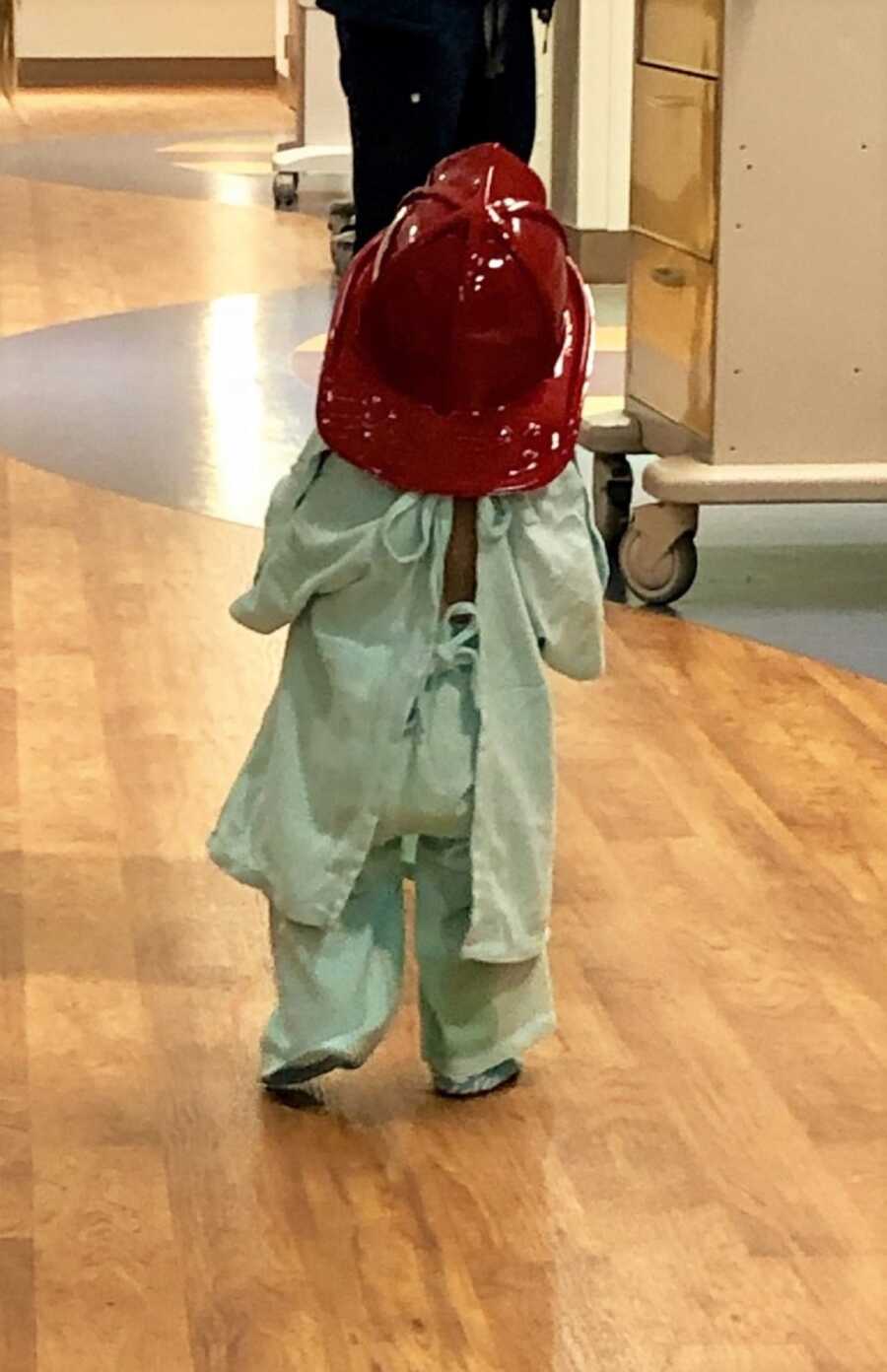 This story was submitted to Love What Matters  by Loren Jewell of Warrenton, VA. You can follow Loren's journey on Instagram. Be sure to subscribe to our free email newsletter for our best stories.
Read more stories like this:
Firefighters Go Above And Beyond To Rescue Deaf Dog Trapped In Storm Drain
'There was one problem our firefighters noticed. She lives alone and receives meals from the Meals on Wheels program, many of them frozen. That problem? Her microwave doesn't work.'
SHARE this story on Facebook to remind others compassion is contagious.