"I have learned to love roller coasters. What I love most is that for those two minutes, Sadie is not the only one flapping and waving her hands in the air. For some reason, on roller coasters, everyone is allowed to stim.
Stimming is a common characteristic of autism. Usually, it's the most obvious. It refers to the repetitive actions, sounds and reoccurring movements of an object performed by a person. Often this person has autism. Rocking back and forth, jumping up and down, flicking hands in front of eyes, sniffing others, licking objects, and flapping arms – those are all stims. Sometimes people stim when they are deregulated. But often Sadie's stims when she is over excited and happy. She jumps up and down and flaps her arms like the happiest chick. It's almost like she is expelling all the extra joy from her body. Look around…she is not the only one. Lots of hands are in the air.
Sadie loves roller coasters, too. She could stay on all day. But when the train stops, we go to wait in line for the Carousel. I restrain Sadie from running off or grabbing the Goldfish crackers from the toddler in front of us. She grows frustrated and so the stimming returns. This time she stims to regulate herself. This time its not adorable jumping — it's licking. She methodically mouths the line dividers and starts touching the concrete with her hands. I'm holding her tightly and need that third arm again to Lysol wipe our track behind us, but I just can't, so I say sorry to as many people as I can. She makes a strange noise that peeks and valleys in volume. We no longer blend in.
Now this is why, we try to get an accessibility pass. Perhaps you have heard of them. It's a card that drastically reduces the wait time for a person with disabilities. For the first 2 years, we forwent this 'privilege.' It's hard to cut a line when you have a perfectly normal looking child. You hear what everyone is thinking: 'You cut.' 'What makes you so special?' 'Cheater.' But it has gotten to the point where it's not only about improving Sadie's experience, it's about preserving the other guests' experience. Waiting requires standing still as you patiently pause for others to enjoy the ride until it's your turn. You talk to your family and recoup some energy. But Sadie does not have this skill set. She doesn't comprehend what we are waiting for, she can't communicate with us, and she has enough energy in her compact body to power all the iPhones in the state of Pennsylvania. Recouping is just not in her repertoire. Instead, she is bouncing in a tight space, spinning her body and bumping into people. And we are apologizing and trying to make things right. Last time, when we were at a park, Sadie grabbed a preschooler's ice cream right off the cone while waiting for the swings. It was so embarrassing. We offered to buy the little girl another treat but I think the damage was done. I am pretty sure that child had a scarring day.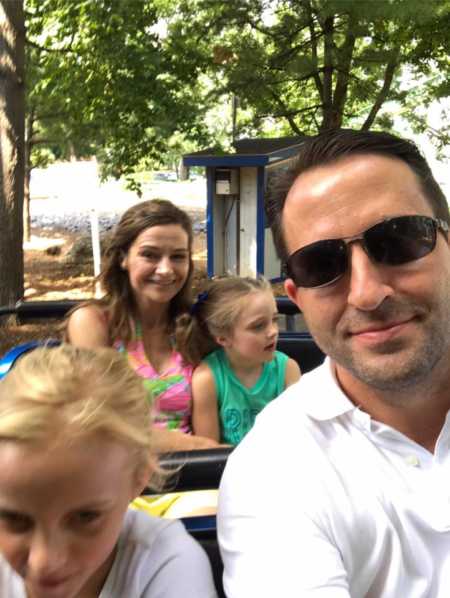 It's tempting to avoid situations like this and stay home but parks are one of the few places where we can all enjoy things together. Rides provide Sadie with a great sensory experience. She loves the speed and the falls of a coaster, or the spinning of a circular ride. The repetitive feeling is just what she needs. It doesn't get any better for her and so she smiles and laughs. We need this as a family. Four simultaneous smiles! So we employ our strategies. The best rides for us have completely separate entrances. There is a place to stand or bounce, your choice. My husband Brewer, our eldest daughter Celia and I choose to stand while Sadie, well you know Sadie… Our whole family tries out that 'recouping thing' for ourselves. We appreciate the employees who make this accommodation possible and we try to express our gratitude. We also take breaks to hopefully have Sadie come down from the highs of the day. Brewer and Celia enjoy a twisty coaster that requires more height than Sadie currently has while my buddy and I watch a Barney clip on a bench near by. Finally, We keep it short. We stay for a couple of hours, get our ice cream and call it a day– A good day for our family of four! As we walk to the car, despite the apologizing and the extra work it takes to keep Sadie safe in a large crowded place, I reflect how it was worth it. I am glad we came. Thank you for sharing the park with us."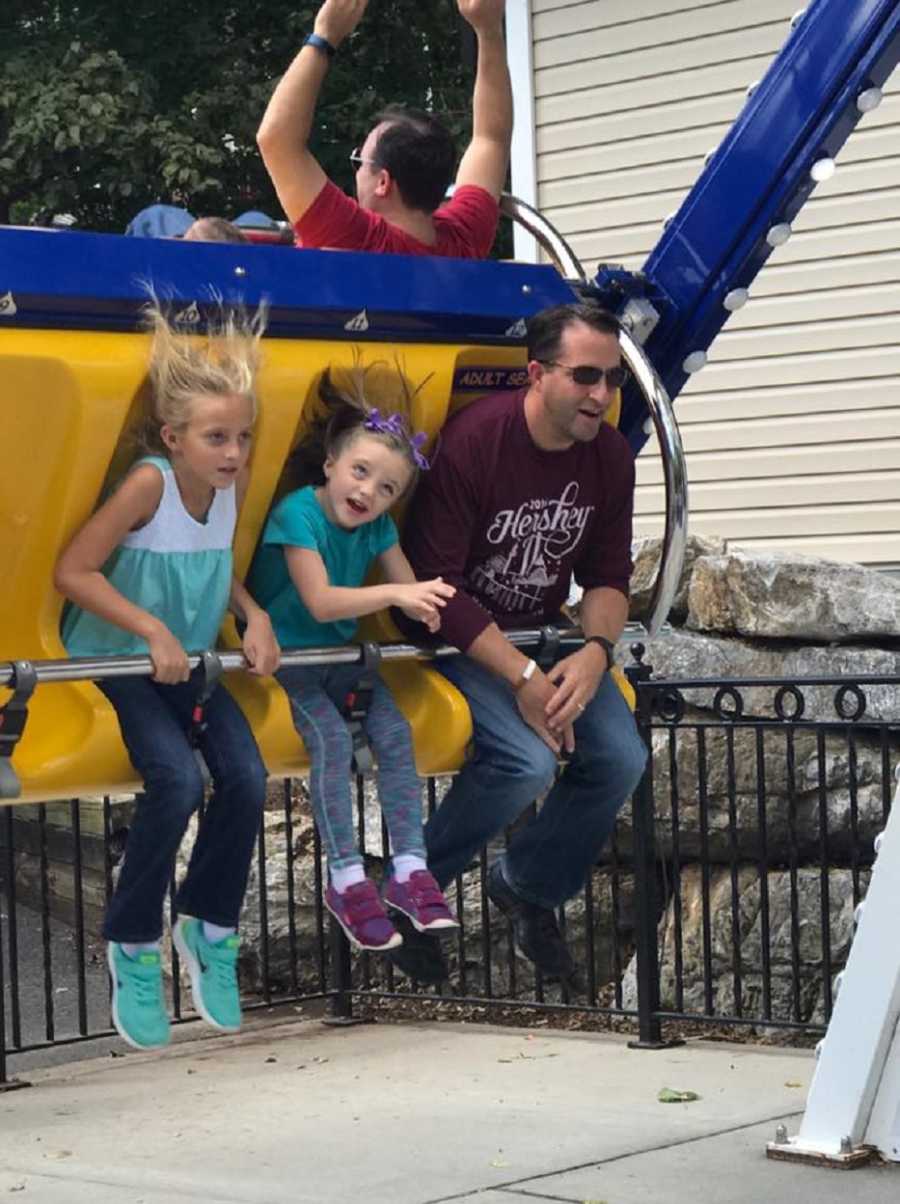 This story was submitted to Love What Matters by Regan MacKay Lister of Hummelstown, Pennsylvania. Her 7-year-old daughter, Sadie, has severe autism. Lister shares stories on her This is Autism Facebook page. Read some of her posts below:
'People often ask me what is the hardest part of having a child with autism. The irony is, it's not the child with autism. It's my other child.'
Her 'disability is invisible': Mom painstakingly navigates outings with daughter who has severe autism
'It's stressful to throw money at something that has almost invisible results': Having a child with severe autism affects your marriage
Mom lays out clear cut ways to help maintain a sense of 'community' for severely autistic daughter
'Autism is sad. But I am not.'
'I never signed up for this': Mom of severely autistic daughter thanks the 'difference-makers' who 'deliberately' step into the world of autism
Do you know someone who could benefit from this story? Please SHARE on Facebook to make them aware there is a community of support available.