"Kendall and I met in college and started dating on July 16, 2013. He was the sweetest, most loving, funniest man I have ever met. He had later proposed to me on July 26, 2016, on the Notre Dame football field on the 50-yard line. We are both BIG Notre Dame football fans. We later decided to set our date to become husband and wife on September 29, 2018. Kendall and I had dated 4.5 years. He was my world and we both couldn't wait to begin our lives together.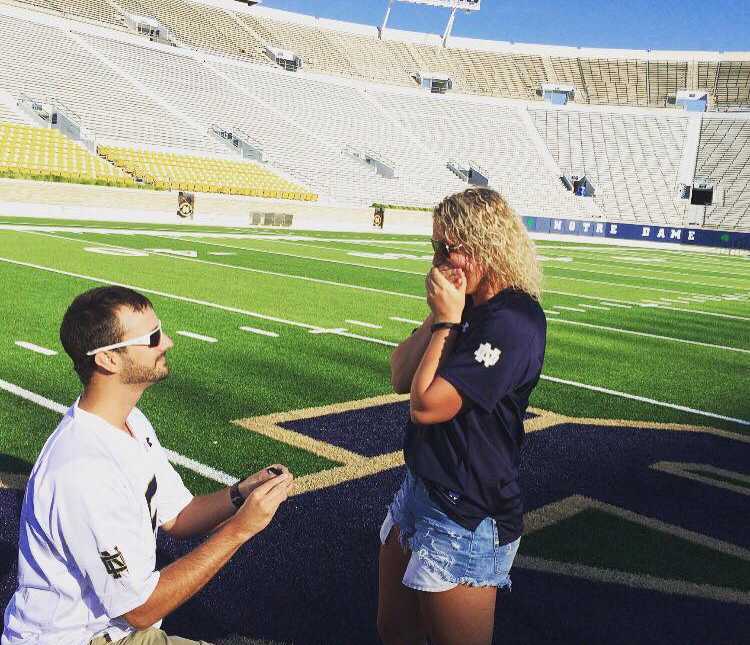 On November 10, 2017, we had our night planned to meet up with our wedding DJ as well as work on other wedding plans, but instead decided to make supper together and stay in and watch movies. I told him I needed to leave early that night from his house to go home to make a dessert for my family's Thanksgiving celebration. Kendall and I ALWAYS told one another when we had made it home safely. We live approximately 15 minutes apart from each other. I texted him that I had made it home safely, and he responded back asking how the dessert was coming along. I waited 10 minutes to reply back to him, but never received an answer back.
I just thought typical Kendall fell asleep and that's why he didn't respond back. I decided to head to bed at 10:05 p.m. and that's when I heard our home phone ring. I remember hearing my dad's voice saying 'He didn't make it!' and hearing my mom bawling in the background. I was so confused and instantly thought my sister and her husband were in a terrible car accident. My sister was pregnant at the time and was due at any time. Luckily the bad news wasn't my sister, but it was the news you never want to hear. My parents came into my room and told me the worst news – that the love of my life had died. I instantly fell to the floor and was numb from head to toe. We then went to Kendall's parent's house and were told how Kendall had passed.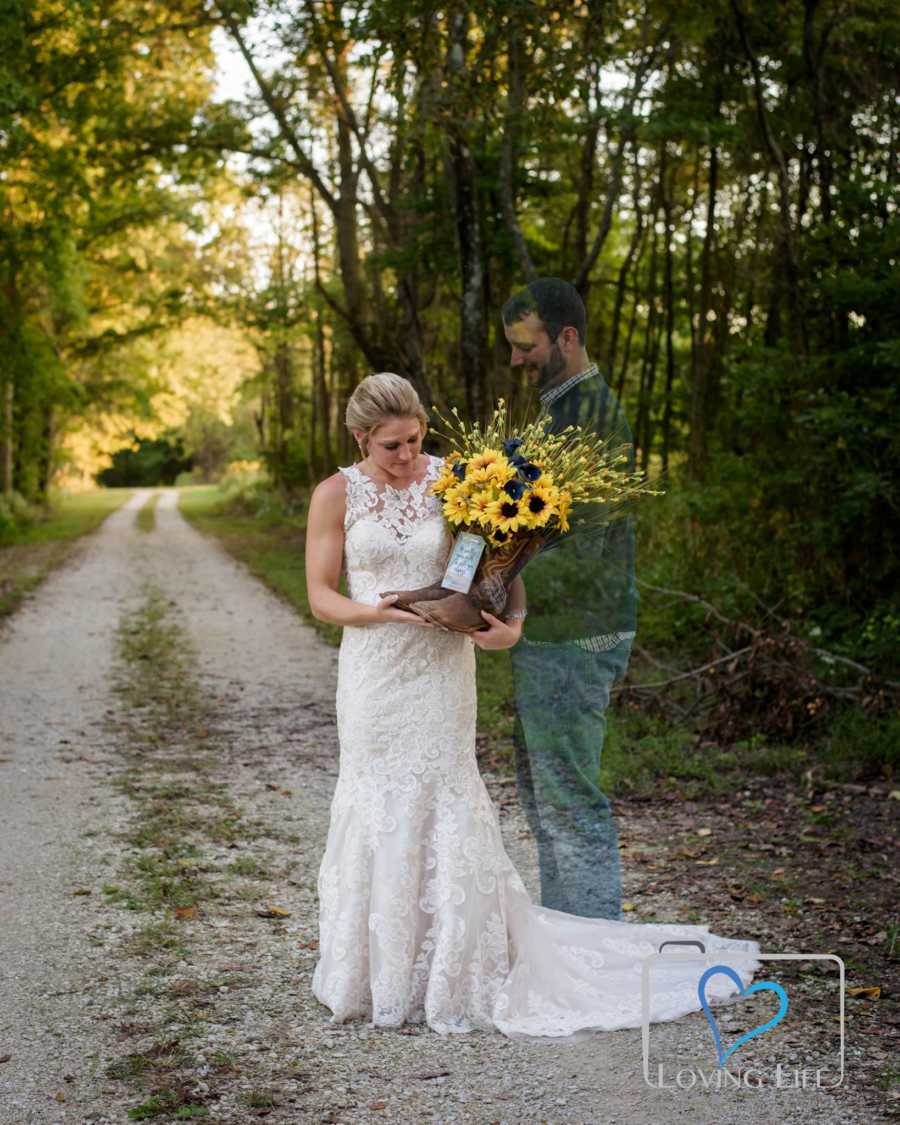 Kendall was a volunteer firefighter. He had received a call after I left his house about an accident about a mile from his house. Since he was just watching television after I left, he decided to go because that's just the person he is. Kendall had gone to the scene, which was a drunk driver who had driven into a ditch. Kendall parked his vehicle on the opposite side of the scene and got out to get his gear from the backseat. That was when he was hit by another alleged drunk driver, who was also a volunteer firefighter arriving to the scene. Kendall was immediately killed on November 10th, 2017, at 10:00 p.m.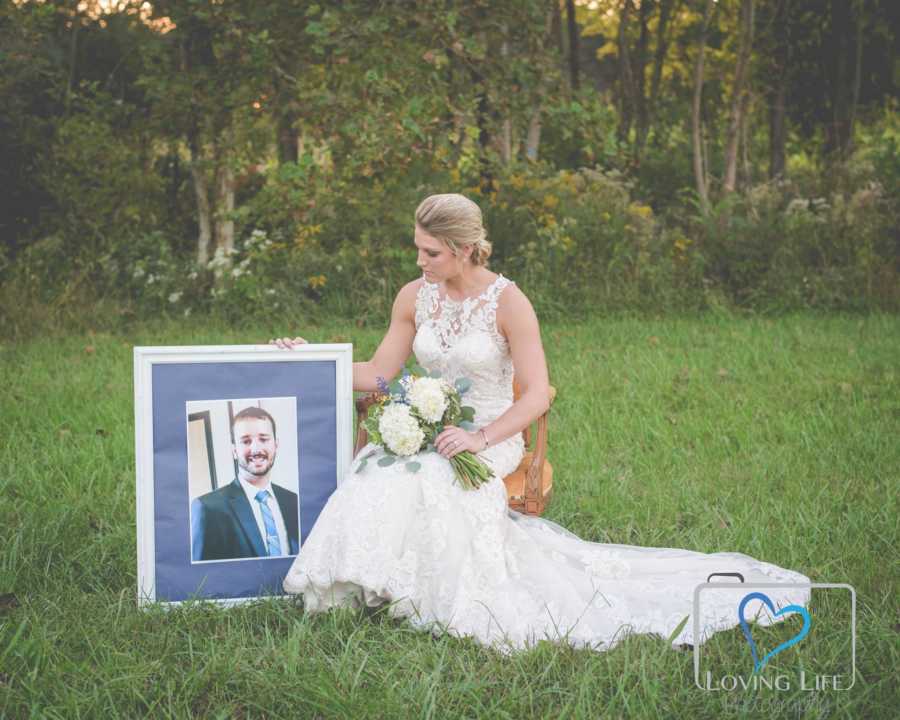 Kendall was the absolute love of my life, my soulmate, my best friend. He didn't know a stranger. He would do everything to help someone else before himself, that's just Kendall. On September 29th, 2018, what was supposed to be our wedding day, I wanted to do something special. Something that would help myself, as well as others, in our grieving process. I decided to get pictures taken in my wedding dress that I was going to wear that day. It was a very emotional day, but with the support from all my family and friends, it made my day that much more special and comforting.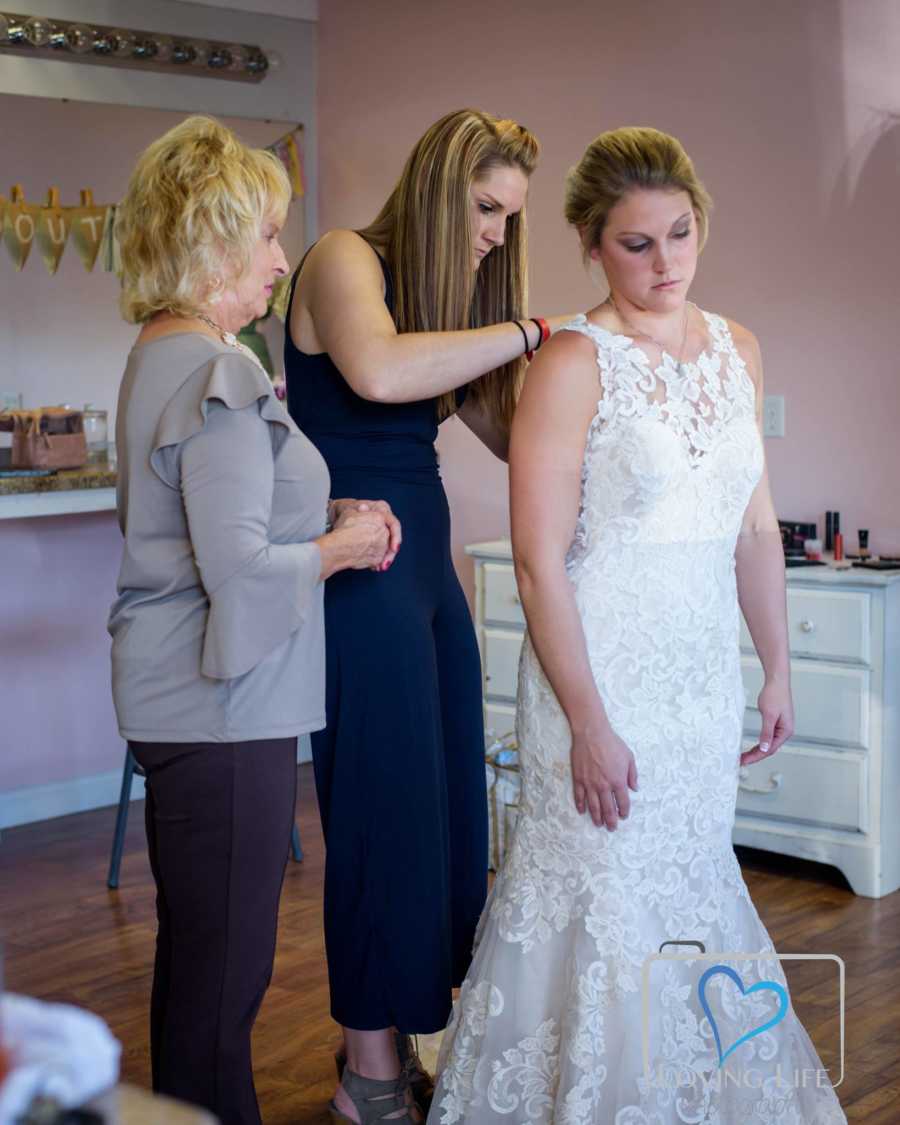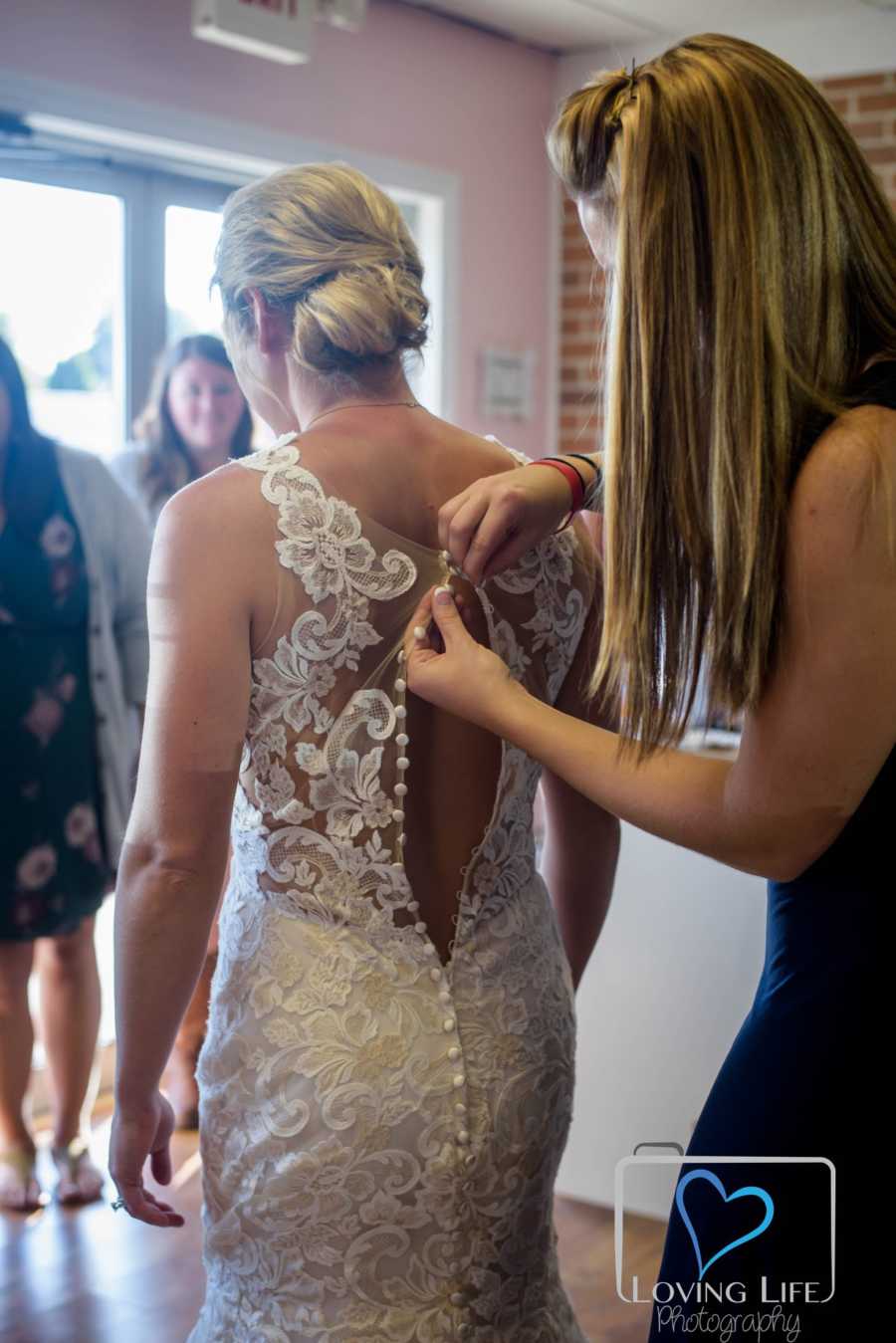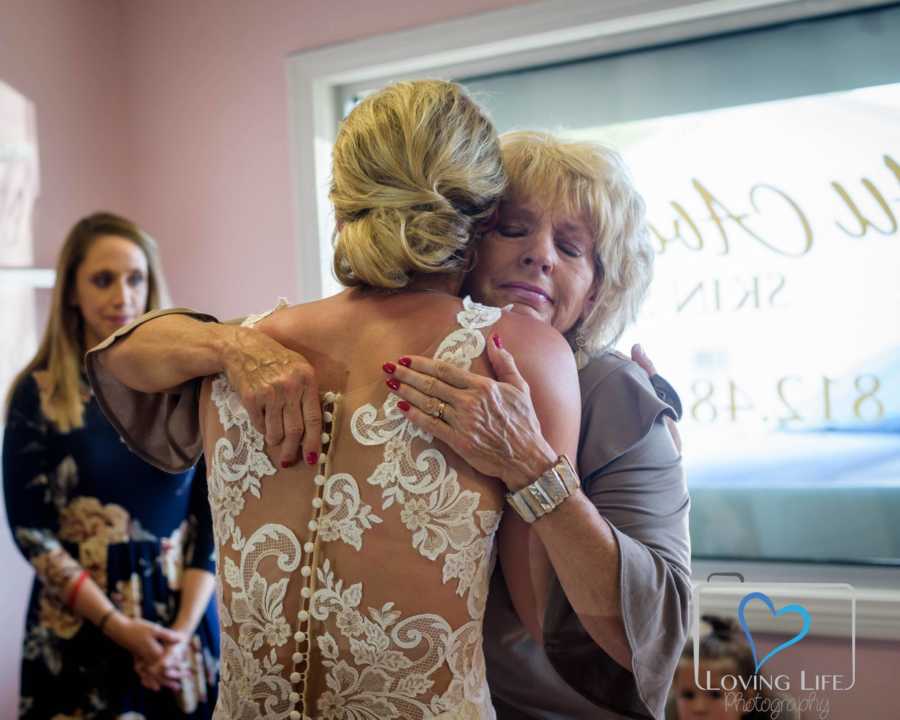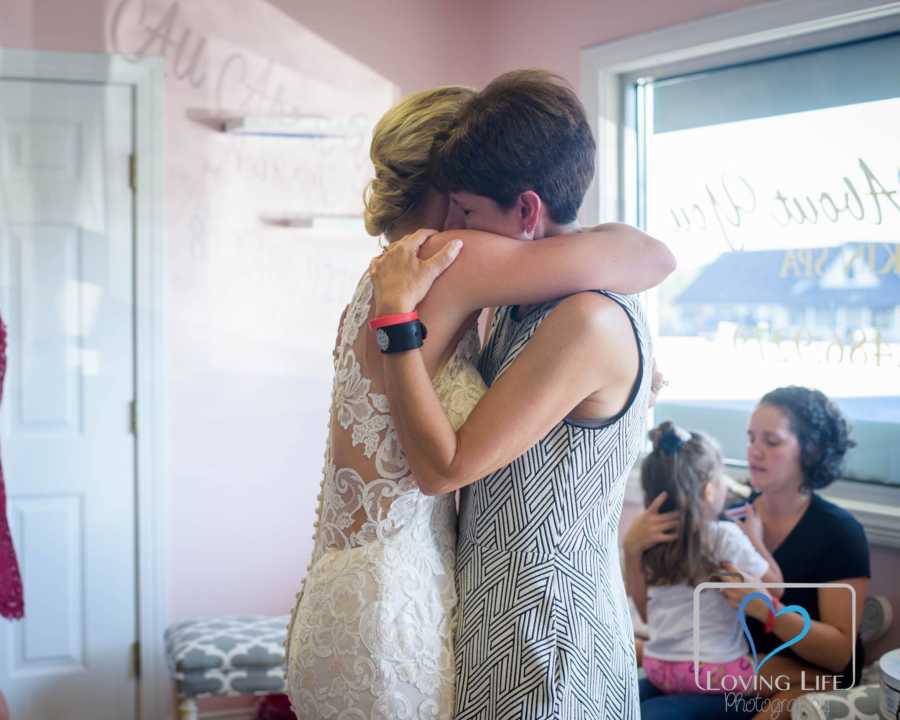 I had my photographer, Mandi Knepp of Loving Life Photography, take images of special moments that I wanted to remember Kendall by. Special moments such as taking images with Kendall's fire gear, an image of Kendall beside me, his boots that he wore EVERY DAY, as well as his precious dog taken by Kendall's tombstone.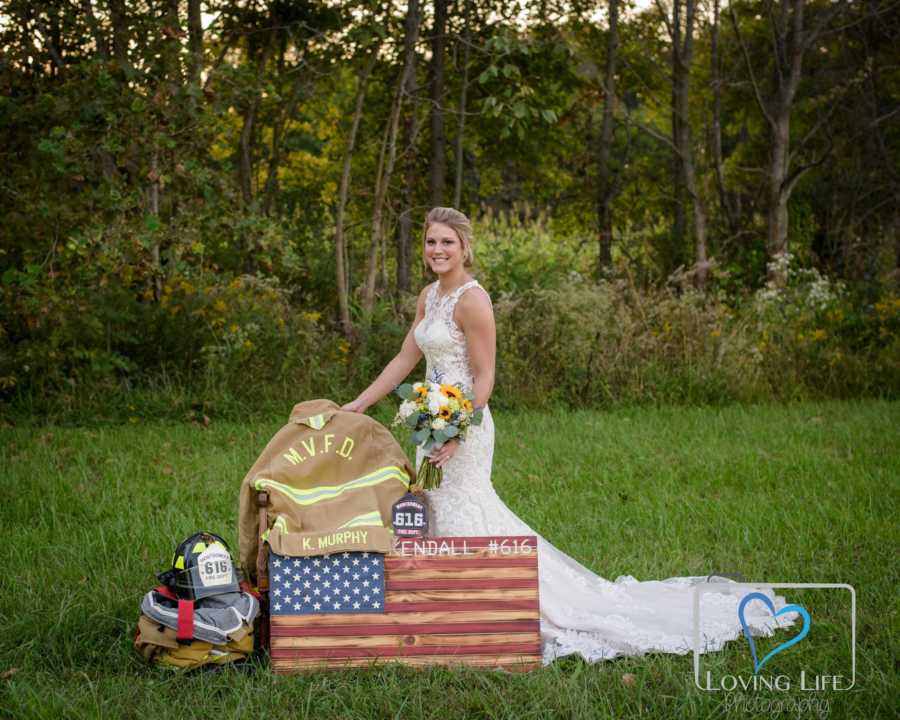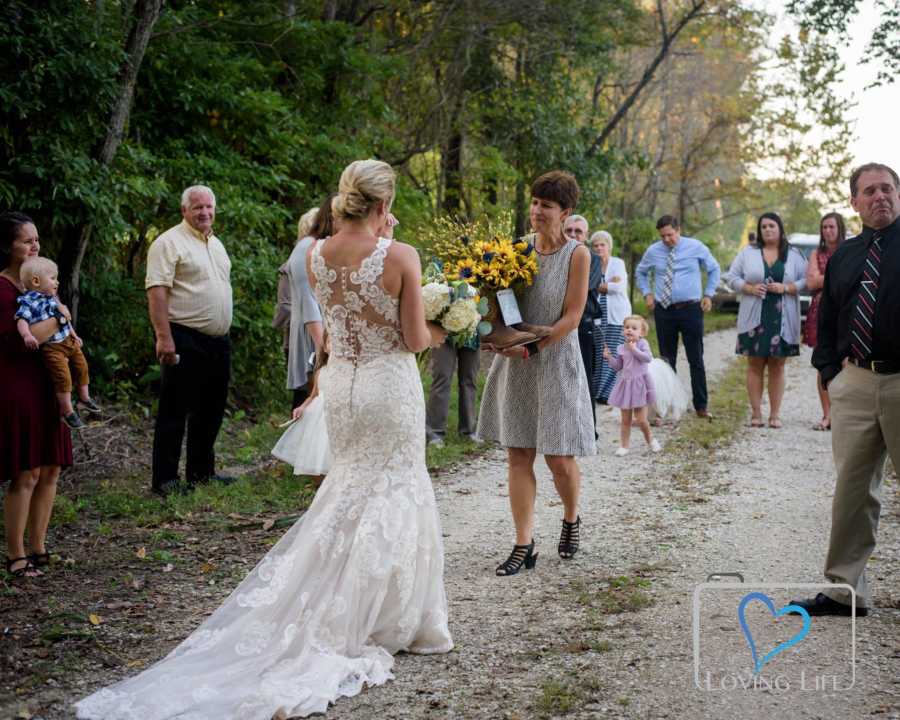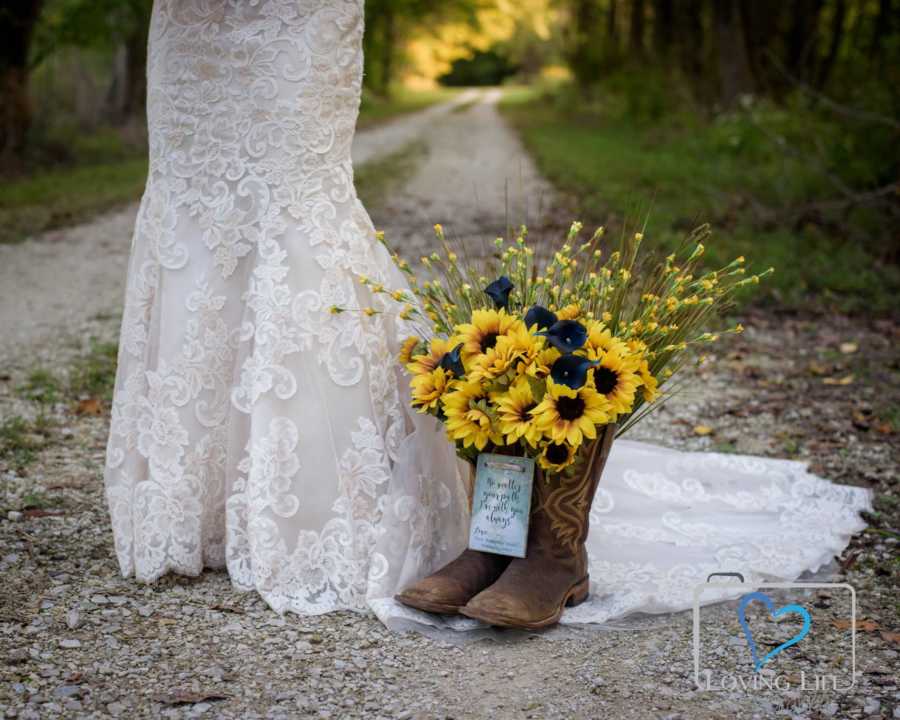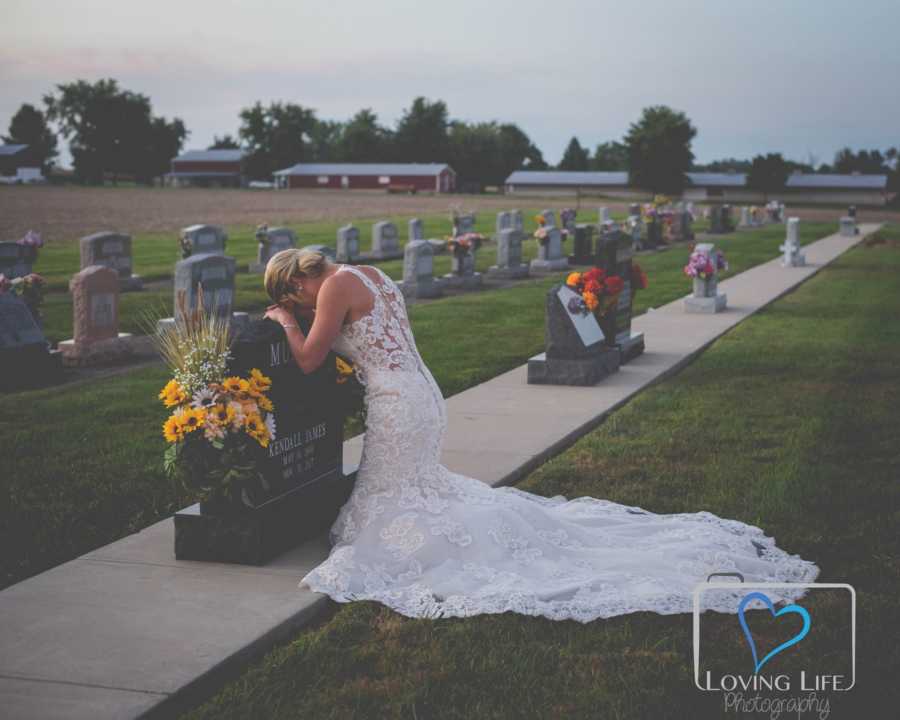 I had my family, Kendall's family, as well as the groomsmen and bridesmaids attend the photography session. Having all my loving family and friends there to support and comfort me at this tragic time of my life means more than they will ever know. It was the worst day of my life, but they made my day very special.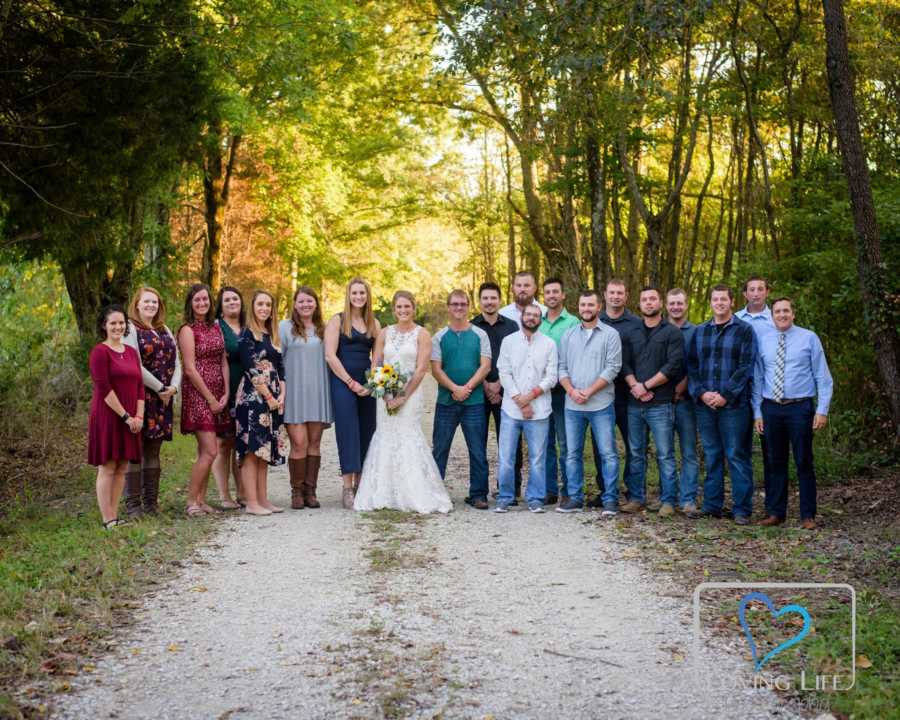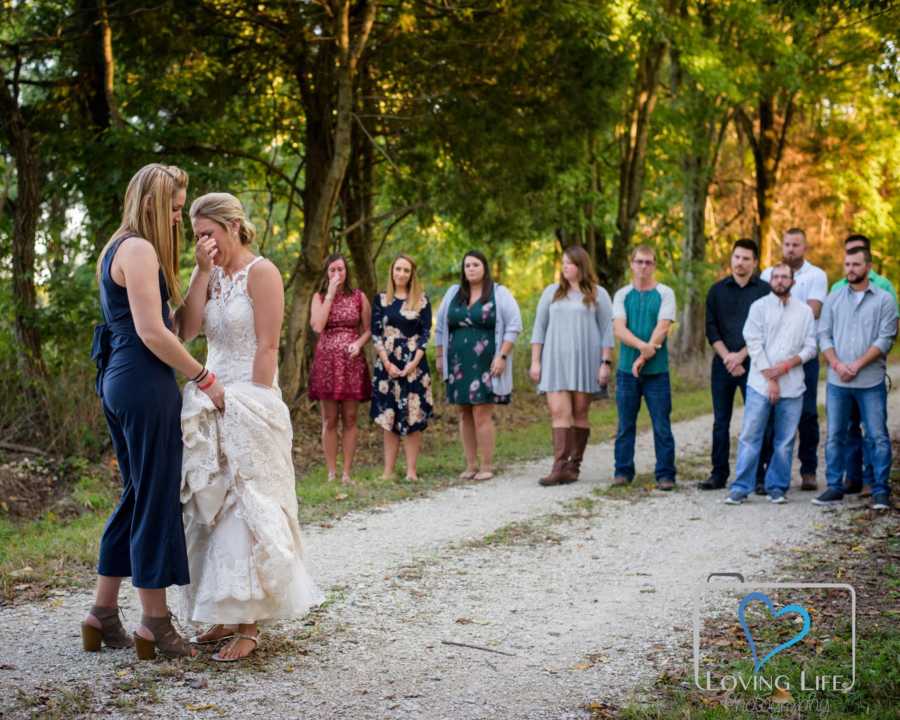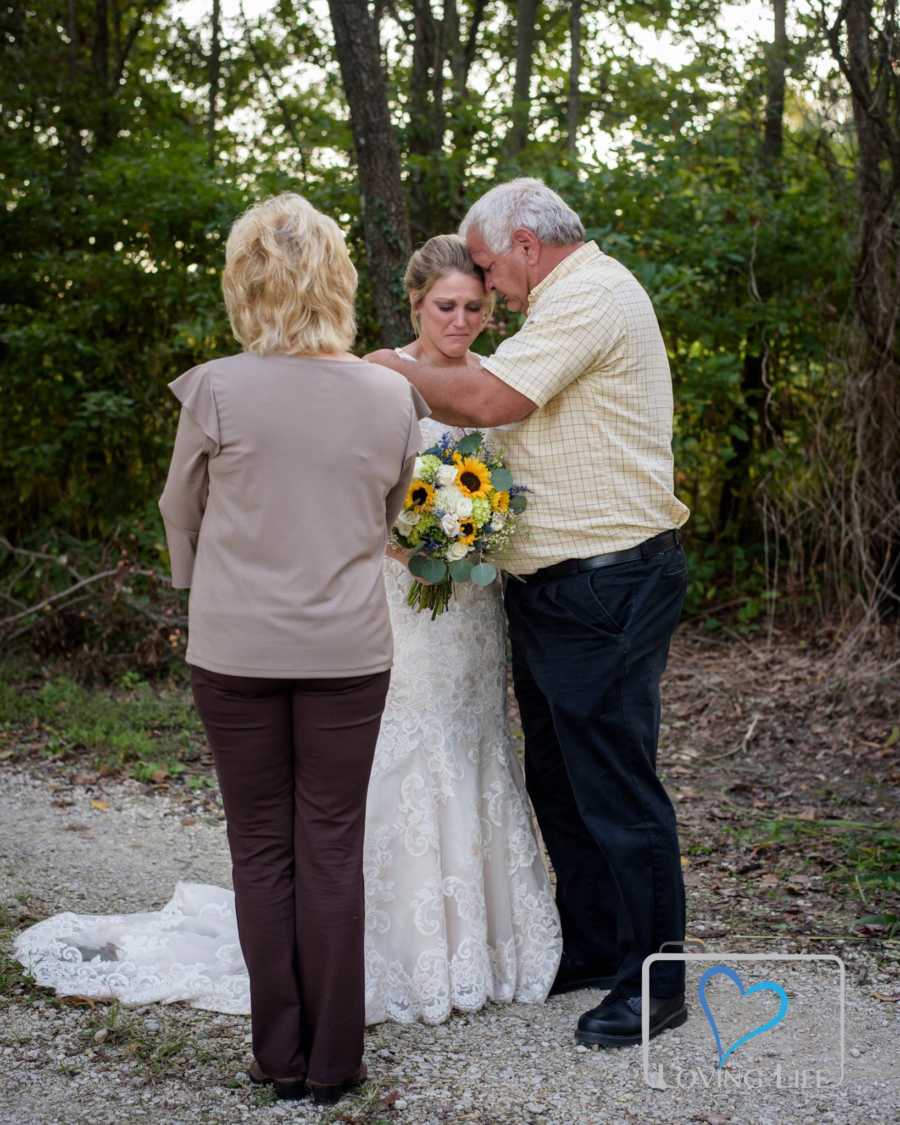 A month after Kendall passed last year, my friend, Chelsea Miller and I were on our way to run a 5k. Jokingly she stated, 'Let's do a 5k in memory of Kendall.' I instantly said, 'Yes, we're doing it!' We began the process of beginning the 5k/10k and had the race on June 9, 2018, and raised over $20,000. Half of the contributions went to the Montgomery Volunteer Fire Department as well as the Kendall Murphy 529 Scholarship Fund. This scholarship is under Kendall's name which will give every incoming kindergartner at Barr Reece school $100 to begin their college fund. Kendall's niece Emma Miller was presented with the first $100.
Kendall was a very active man. He was a volunteer firefighter for the Montgomery Volunteer Fire Department. His grandfather and his father are firefighters as well. He coached the high school basketball boy's freshman team for 4 years where he graduated high school from, Barr-Reeve in Montgomery, Indiana. He took a position at the German American Bank as an insurance agent and was no longer able to coach high school so he decided to coach the 5th grade boys with coach Josh Swartzentruber. Kendall always came home with a smile on his face after a game or a practice because he just loved the game as well as the kids so much. He had a heart that no one could ever replace. He was a true inspiration to all and especially to the boys.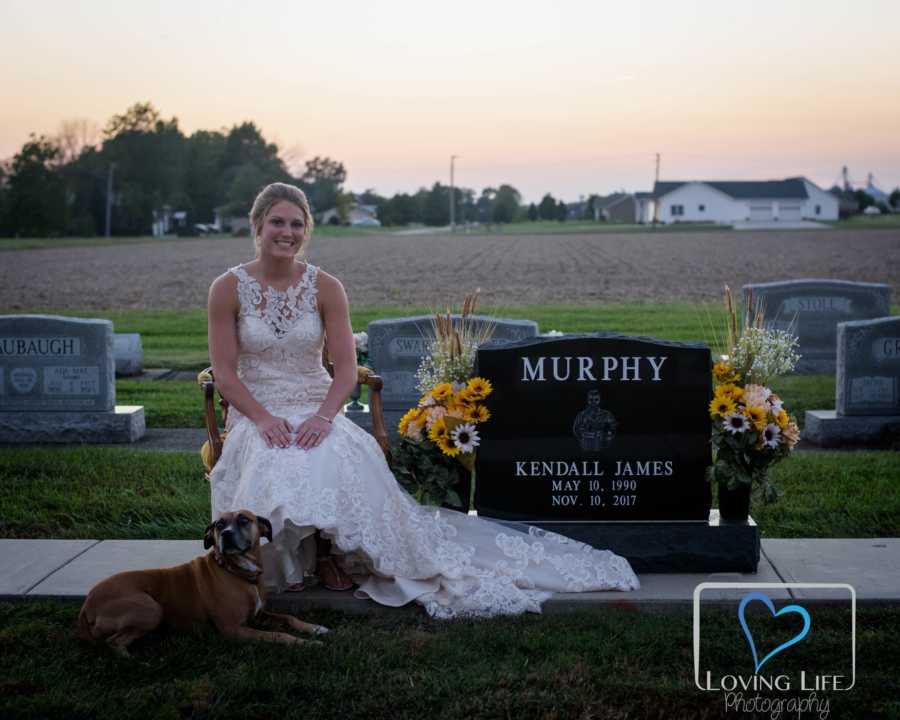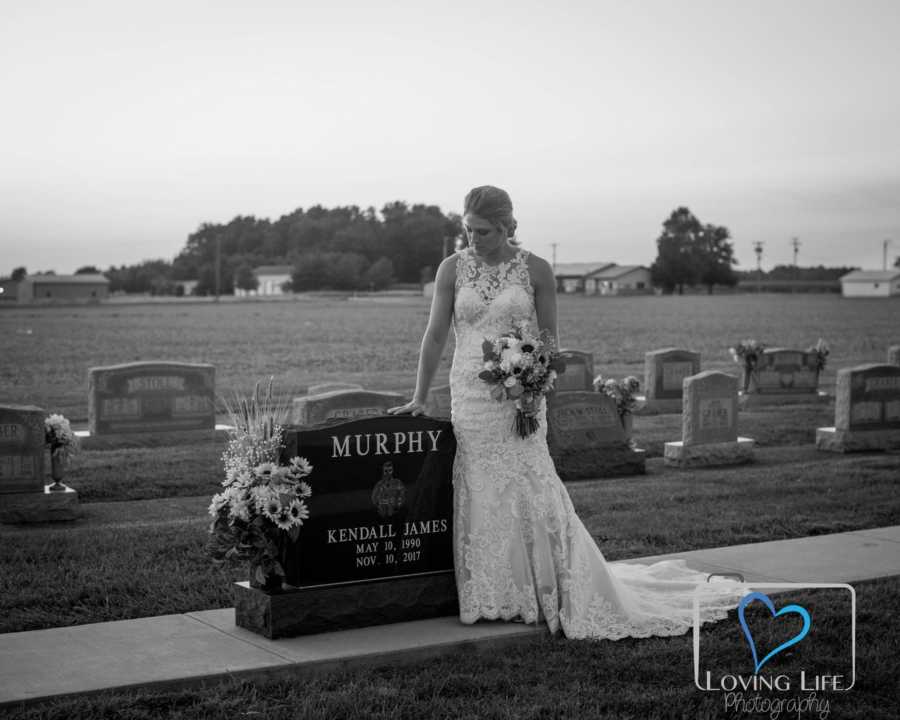 Kendall was a big family man. He was very close to his father, Dwayne Murphy, but he and his mother Katrina Murphy had a bond that no one could ever have. He was a jokester and always played tricks on her. Kendall had a sister, Kelsie, two nieces Emma and Halie, and a nephew whom he never met, Micah Kendall Miller, and brother-in-law, Eric. We spent many of our days of the week with his family which I enjoyed every second of. I'm blessed to call his family my family! Not a day goes by I don't think of Kendall. He will forever be in my heart! I love and miss you."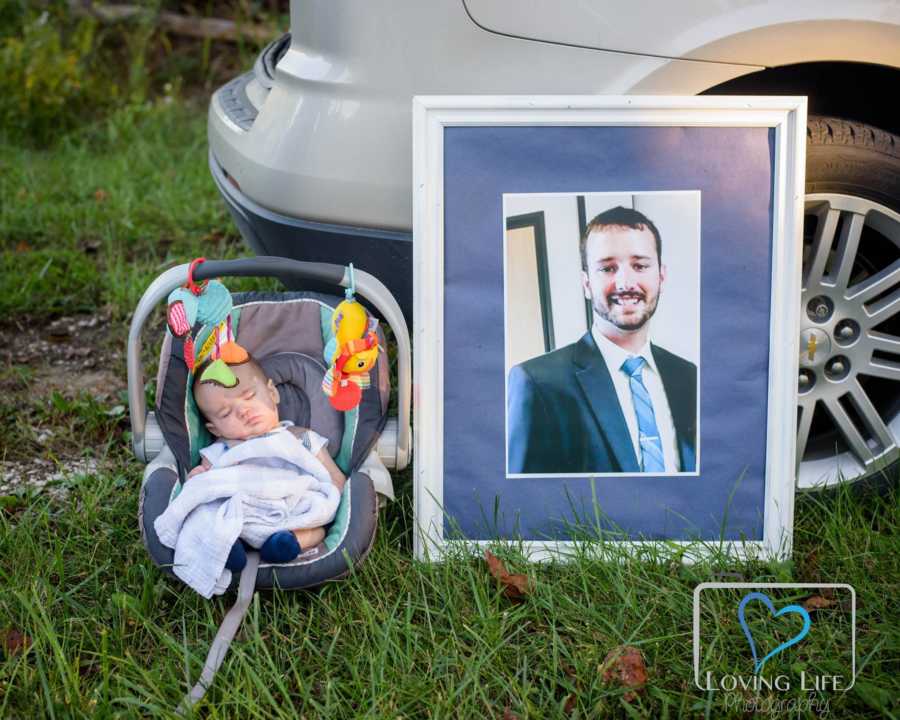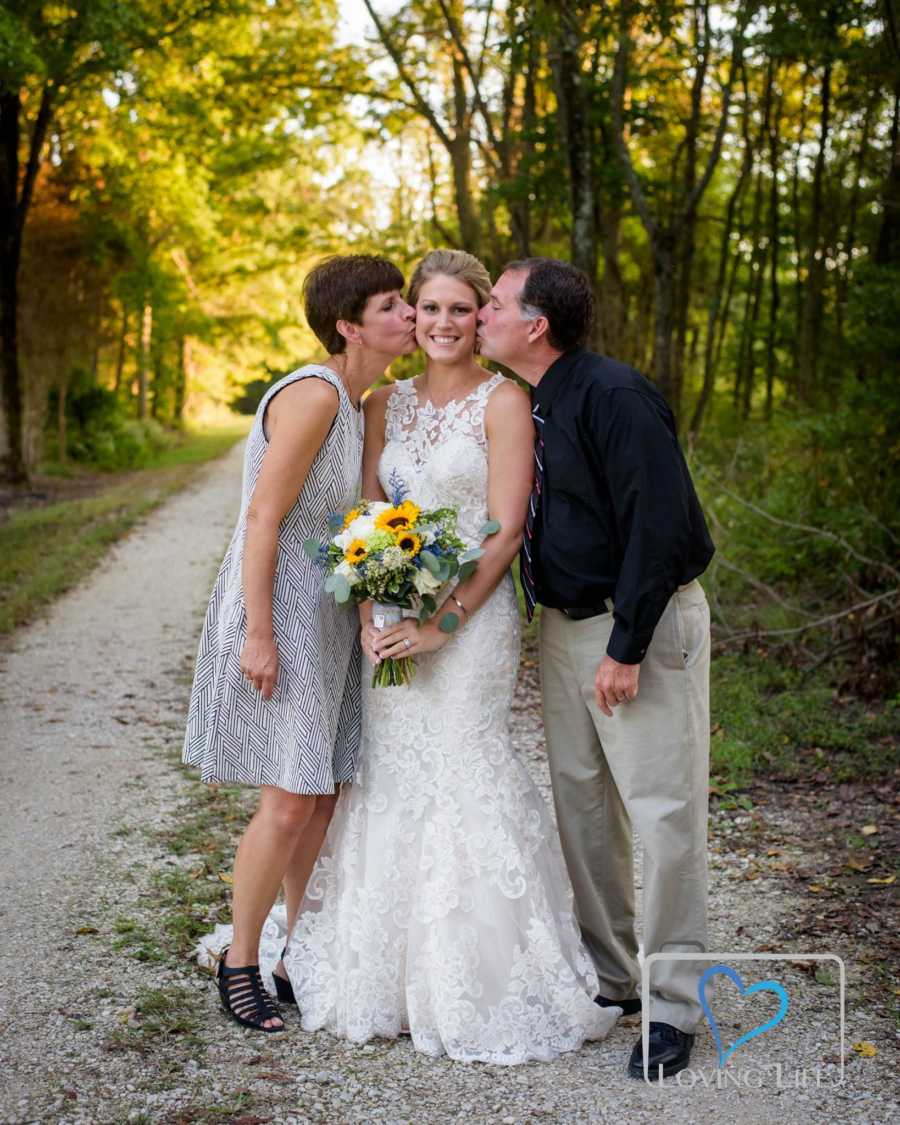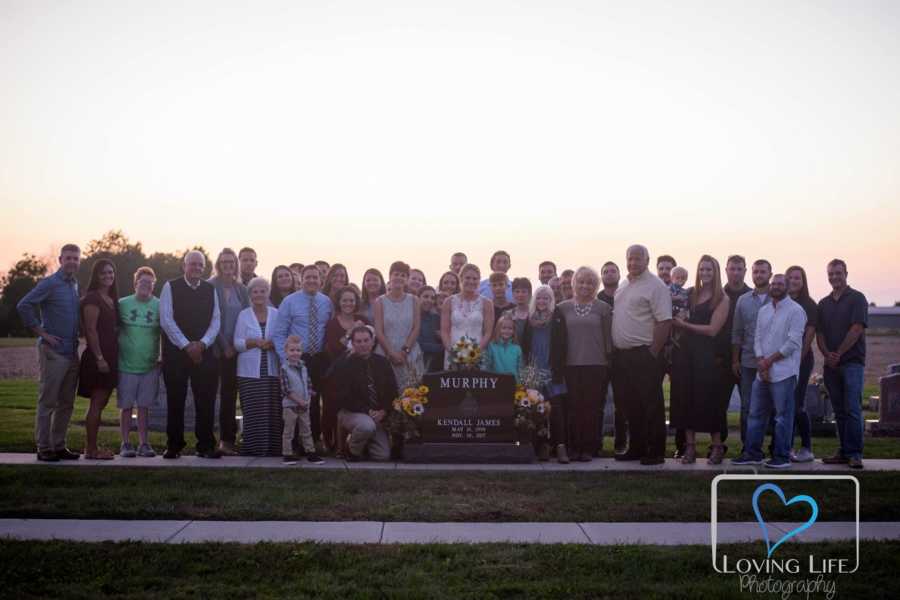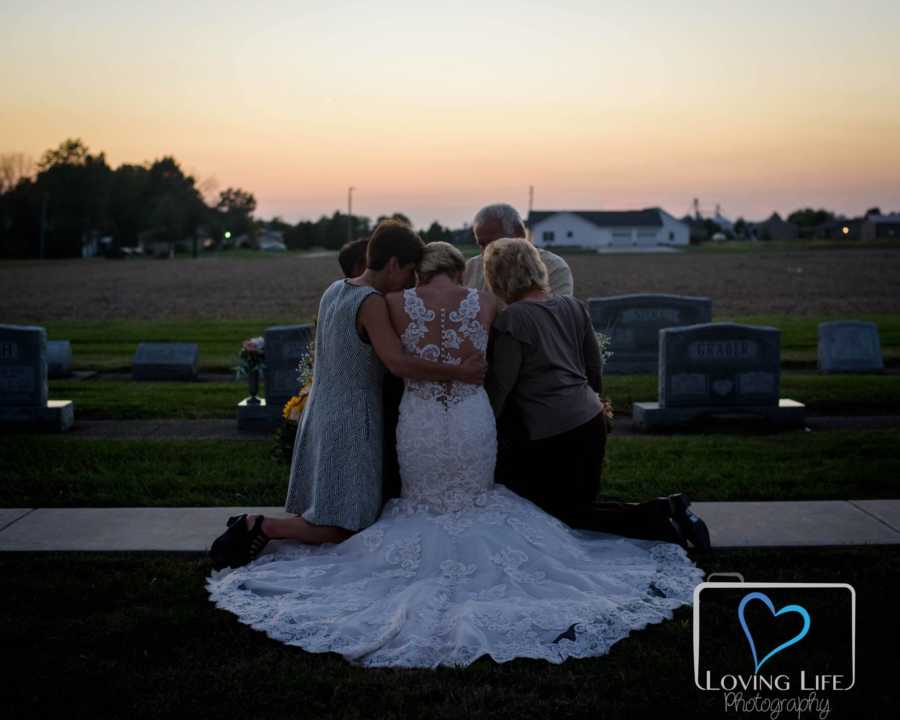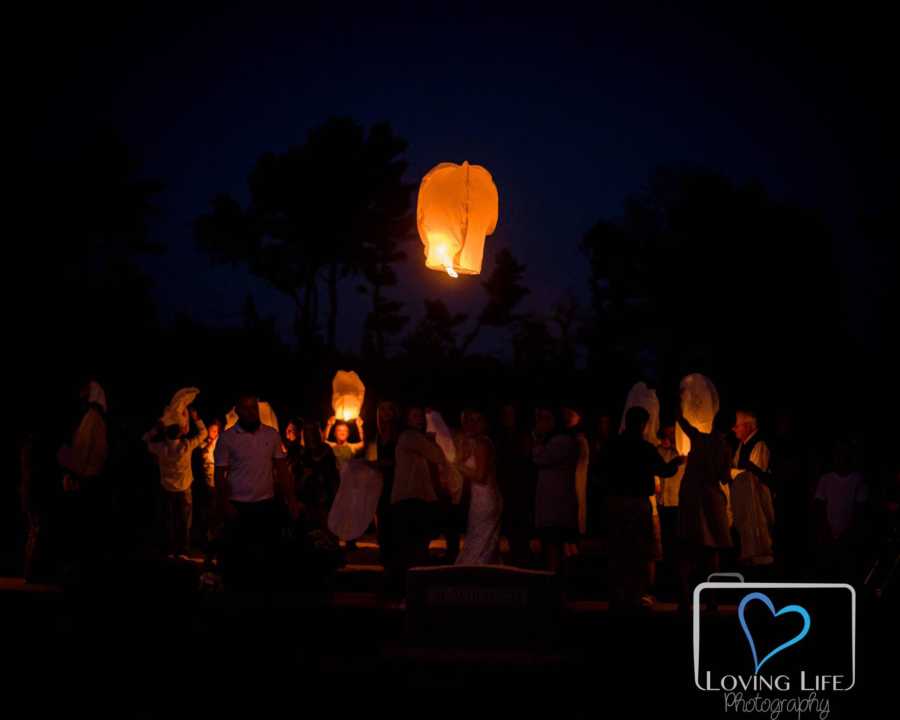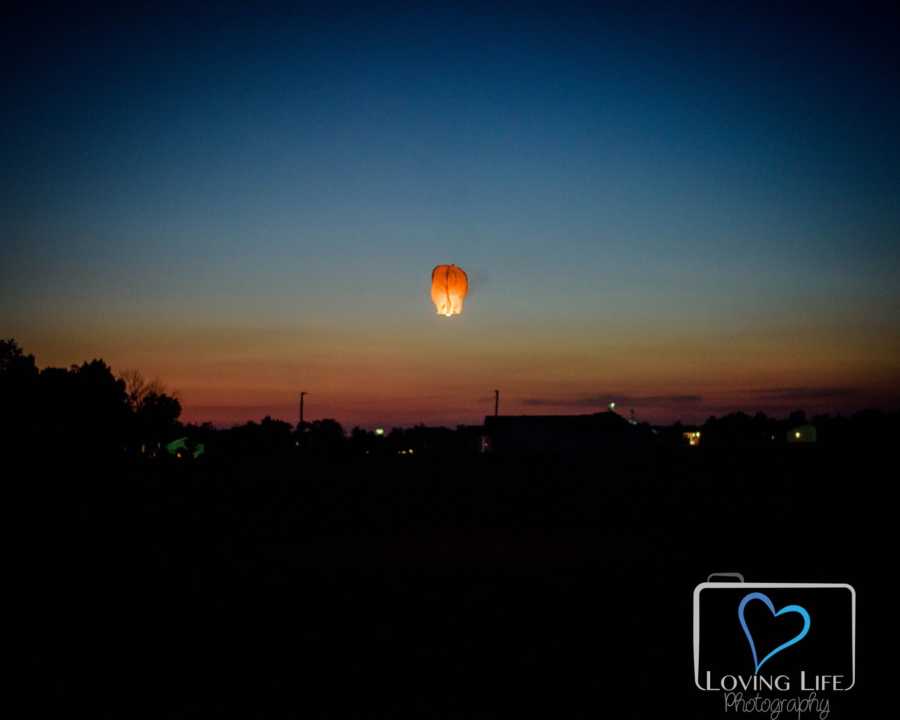 This story was submitted to Love What Matters by Jessica Padgett, 25, of Loogootee, Indiana. Submit your own story here, and subscribe to our best stories in our free newsletter here.
Read more touching tributes here:
'I know for sure that life is fleeting. It's short but always beautiful.': Widow reminds others that 'love doesn't end when a loved one dies' in wake of Kobe Bryant's death
'I normally would hear from him by noon each day, so when I had not gotten a call or text I started to wonder why. I sent a text asking how his day was. No answer. I called, no answer.'
Please SHARE this story on Facebook to encourage others to cherish every moment and love what matters most.