"I had a pretty average childhood for the most part. I grew up playing sports, had siblings, went to friends' houses on the weekends — pretty typical things that most children do. I had a small group of friends through high school and once we graduated, we mostly spread out across the country to attend different universities. I attended school in Utah after joining the Church of Jesus Christ of Latter-Day Saints shortly after turning 18. It's pretty custom for people in Utah to get married and have kids young. I came from divorced parents and never really dated anyone in high school, so the idea of getting married anytime soon was way off my radar.
About six months of living in Utah, I moved to a new apartment complex, and that week, I laid eyes on my now-husband (Derek) and thought, 'That's the man I'm going to marry!' He was pretty uninterested at first, and I was quickly friend-zoned for a long seven months. We both spent that time casually dating other people when one day Derek decided about pray who he should date more seriously and got an answer. I was that person!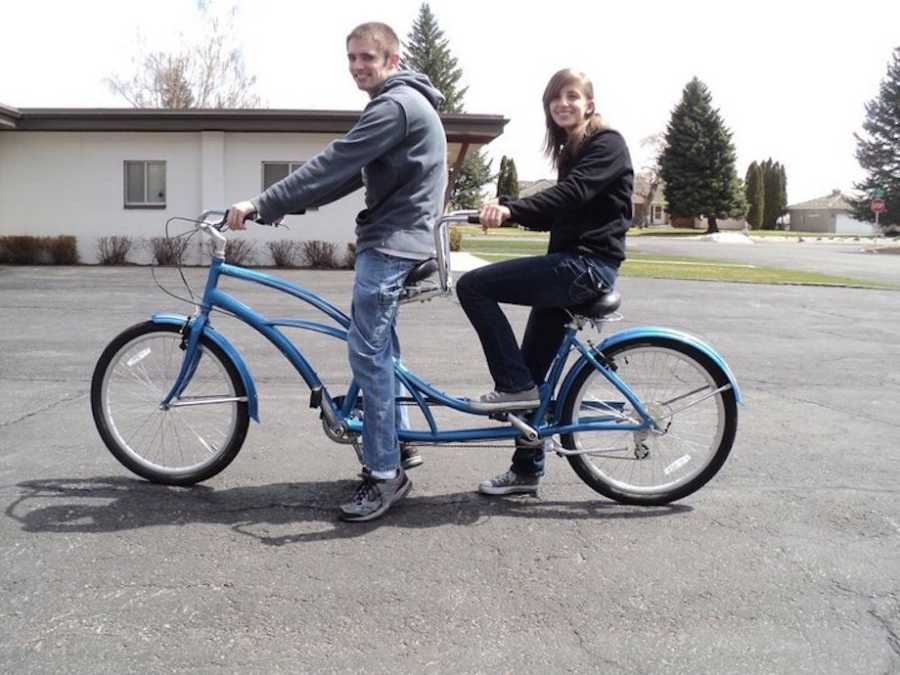 We started dating in February 2011, were engaged in April, and married just a few months later in July5j. At the time, I was a month shy of 20 and Derek was 22. Even though we were married young, I was definitely not planning on having kids anytime soon… until we had been married for two months and then all of a sudden it seemed like a great idea. I had only finished about a year of college at this point, and my husband was basically just starting his first year of school since he served a two-year mission for our church right out of high school and then spent a year working in Utah to get in-state tuition. We were flat broke, in love, and basically didn't care about anything outside of that.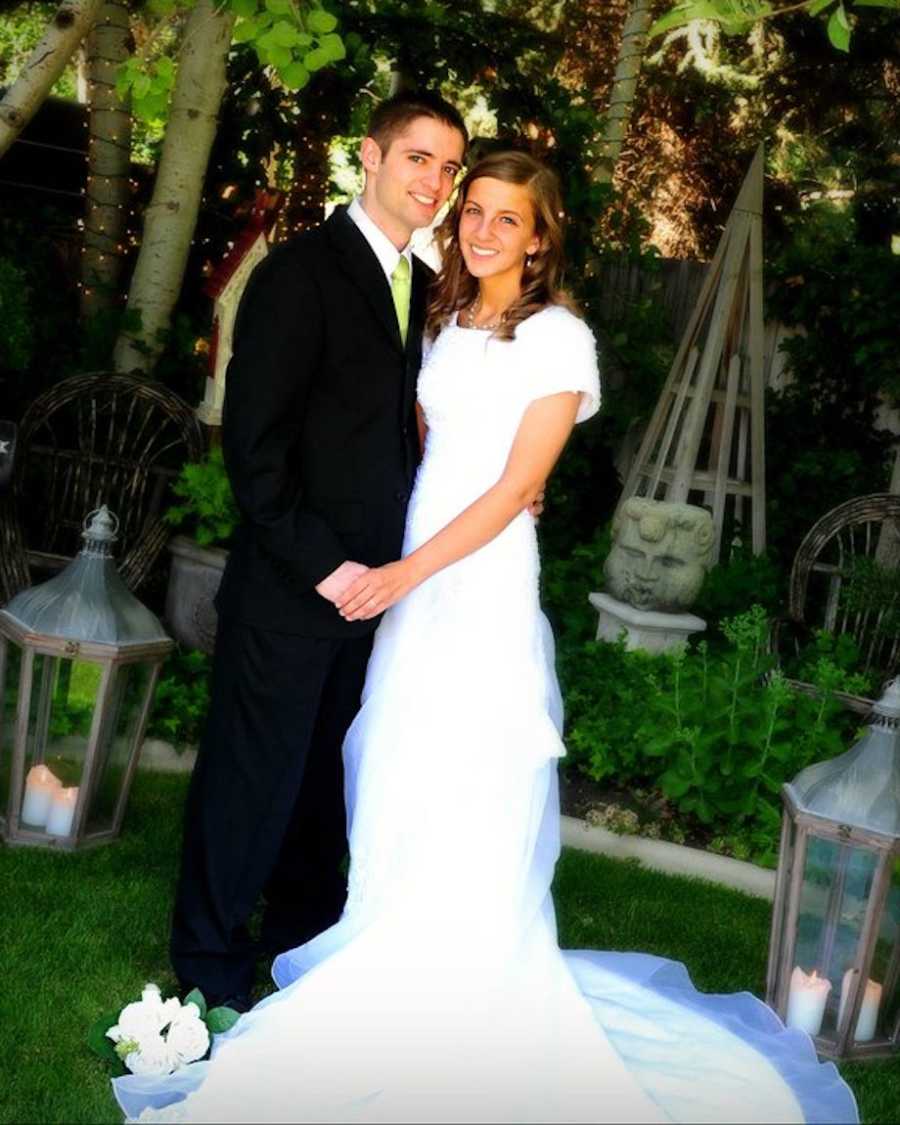 Four months into our marriage, I became pregnant with our now 8-year-old, Kyle. Aside from miscarrying a twin around 10 weeks, my pregnancy with him was really easy and he was born in August of 2012. Kyle was the world's easiest baby. He slept through the night at 6 weeks old, learned to walk before his first birthday, and always had a pretty calm demeanor and followed directions. My husband and I thought we were literally the world's gift to parenting. I remember thinking, 'Why does everyone say this is so hard?' I quickly learned we just got super lucky with our first, and his temperament was way more to do with his own personality than anything my husband and I were or were not doing.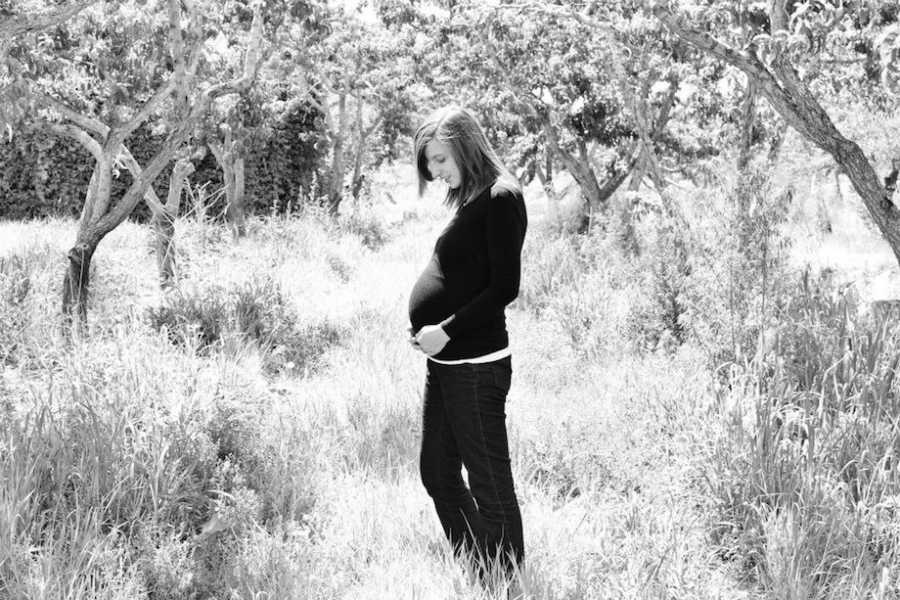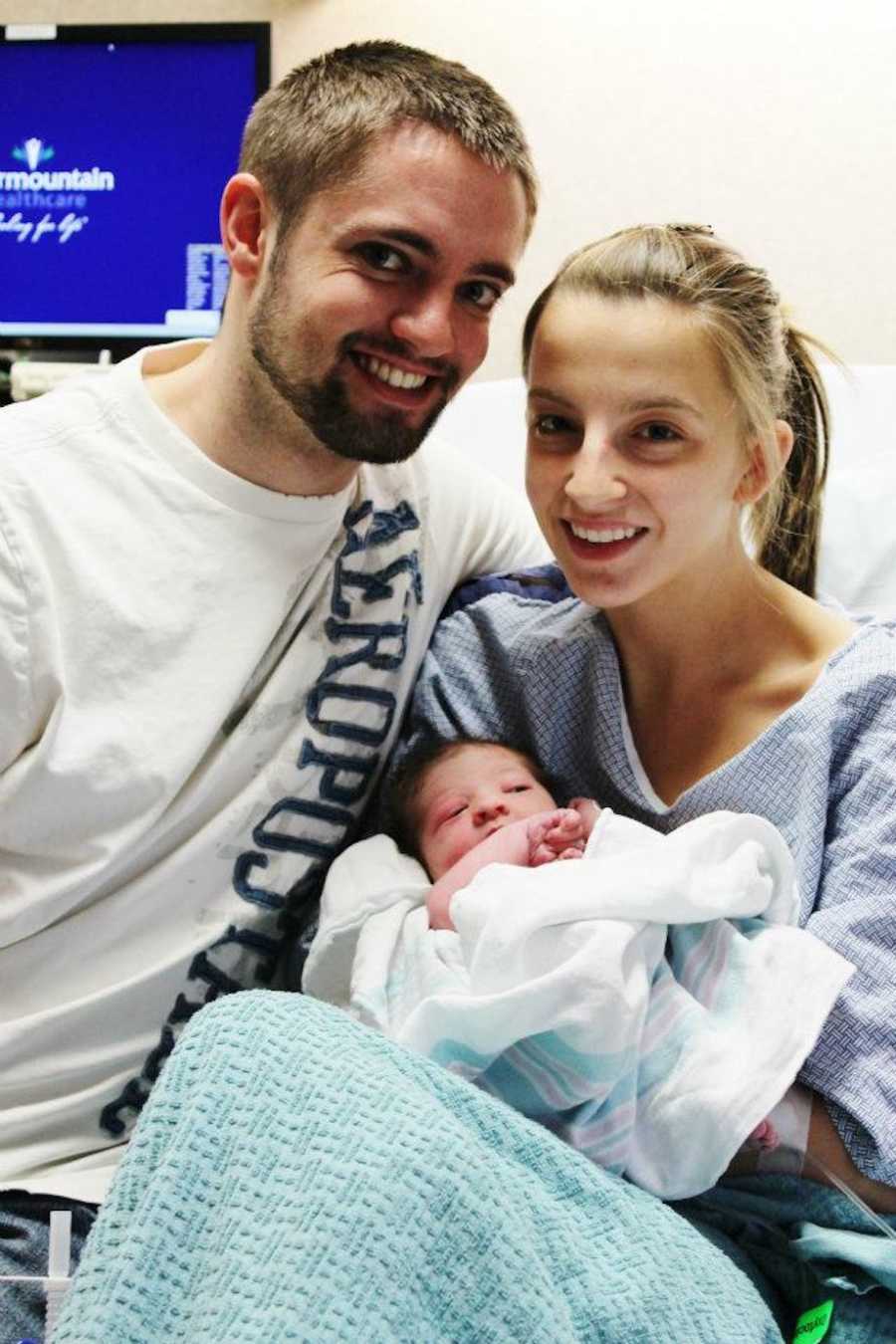 When our son was just over a year old (around September 2013) and because he was such an easy baby, we decided to try to bring another baby into our home. We originally agreed we'd start trying in October 2013, but when that time came, we got cold feet and decided to push off trying until around March 2014. Little did we know when we were having that conversation, I was already pregnant with our second child, a little girl! Her due date was mid-August, and she and her brother would be exactly two years apart.
My pregnancy was pretty easy with no major complications on my end. Our OBGYN was super kind and did a gender check for us early at 16 weeks, which is when we found out we were having a little girl! We thought, 'A boy and a girl! How perfect!'
A month later though, when we went in for our 20-week ultrasound, the doctor saw a spot on our baby's brain that didn't look quite right. He said it looked like 'mild ventriculomegaly,' which essentially means that the ventricles in the brain are slightly enlarged and holding a bit more fluid than they should be. He said wasn't 100% positive, but wanted us to follow up with a specialist to get a second opinion.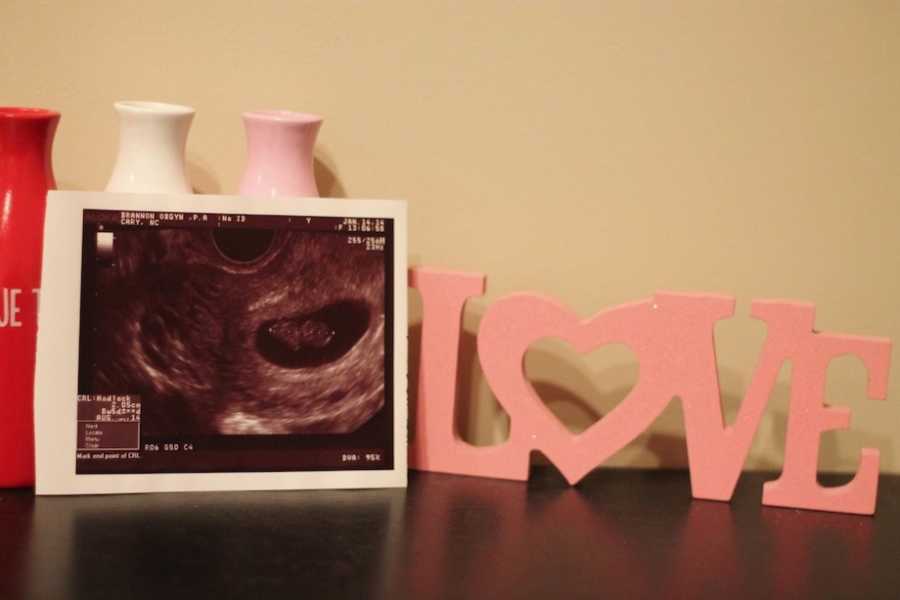 We had to wait two days for that follow-up ultrasound and I remember thinking it was the longest two days of my life. When we finally got to the doctor, he confirmed what our first doctor saw and said our baby would likely need brain surgery after birth to place a shunt that would drain the excess fluid. There was still a really great chance our child would have normal cognitive and physical development. He wanted us to come back every 2 to 3 weeks to have follow-up ultrasounds to make sure the condition didn't worsen over time.
This was obviously disheartening and very stressful but from what we could read online, it seemed like most children with the condition eventually caught up to 'typical development.' While it wasn't ideal, we knew it could always be worse and tried to have the most positive outlook on the situation as we could.
A few weeks later, we had a follow-up ultrasound and quickly learned the odds were no longer in our favor. Our doctor told us now the baby's brain was a bit larger, he could see things more clearly, and what he could see was our baby's brain had not completely divided into two complete hemispheres. She had a condition called 'semilobar holoprosencephaly.' We were told this condition was not compatible with life, and there was a 1/10,000 chance she would be born alive, and a 1% chance she would live to six months, should she survive birth. At this point, we were offered several different opportunities to terminate my pregnancy and each time we declined, wanting to give our child the best shot at life we could.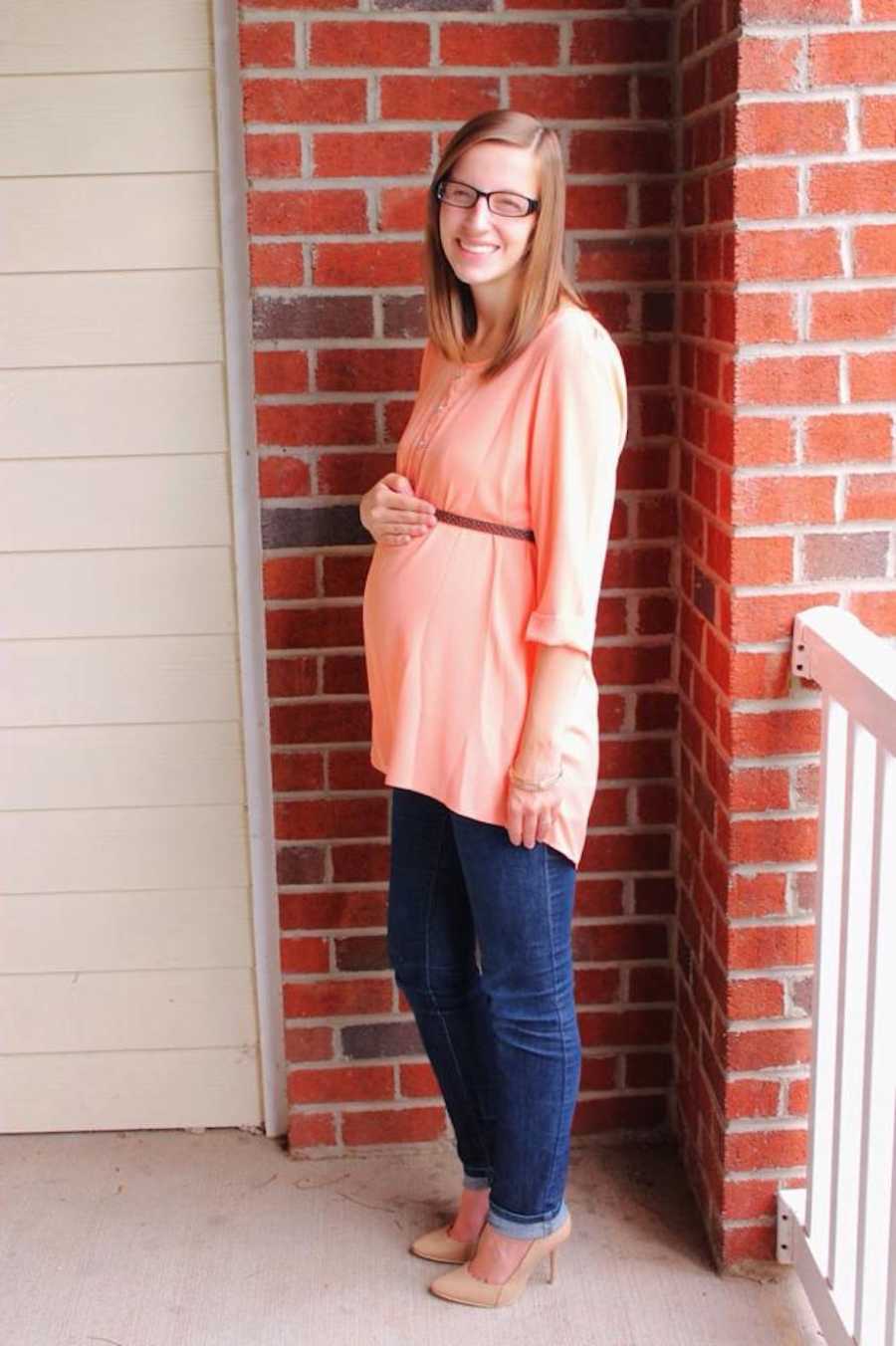 My husband and I were gutted. We went from planning on welcoming a little girl into our family to all of a sudden having almost no hope of that happening and simultaneously planning a funeral. Every moment for the rest of that pregnancy was stressful. Could I feel my baby kicking? When was the last time she kicked? I haven't felt her for an hour now, should we go to the hospital? These thoughts ran through my mind several times a day.
As my due date approached, we had a planning meeting with the doctors who would induce me at 38 weeks. In my delivery room, there would be the OBGYN, a neurologist, a cardiologist, and a bunch of other doctors who could be all hands on deck to help our little girl the second she came into this world.
On the night of August 17, 2014, I went into the hospital to begin my induction. I didn't get into my room and hooked up with Pitocin until almost 11 p.m. Once everything was settled, we all just rested and took it easy until contractions started at around 3 a.m. By 4, the contractions were pretty intense and by 5, I was ready for an epidural. I was told three other women were in the OR getting c-sections and I was going to have to wait. By 5:45 a.m., my daughter had other plans and came unexpectedly fast. The doctors all flew into the room to greet this little girl who came into the world screaming with a full head of hair. Kinsley came into our lives ready to party from day one.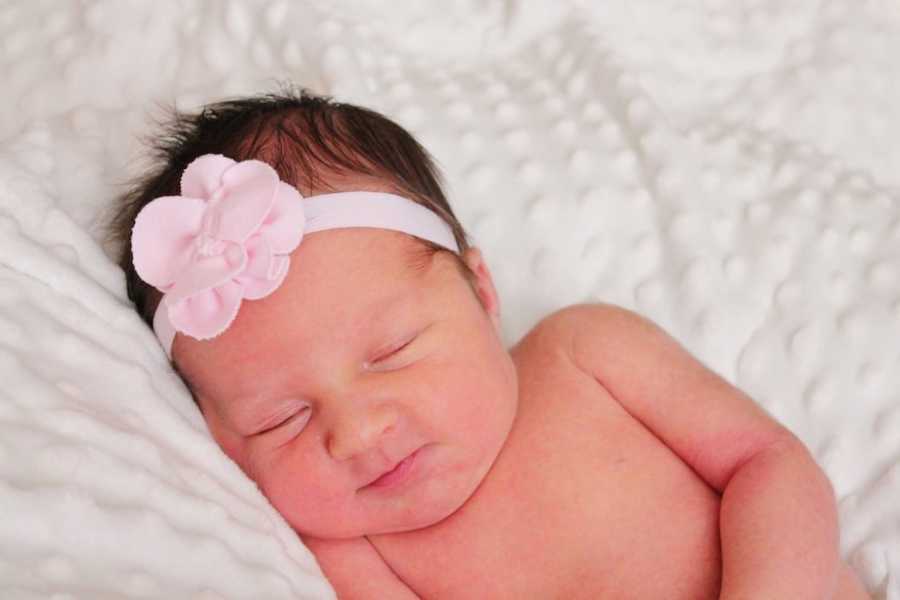 Kinsley's vital signs all looked good. She nursed immediately, and then they whisked her off to the NICU for further testing. They did an ultrasound on her brain but quickly told us, 'While her brain doesn't look normal, she's doing everything all the healthy babies are doing, so you can take her home!' We were in total shock. This baby no one gave a chance in the world for survival was coming home with us just 32 hours after being born.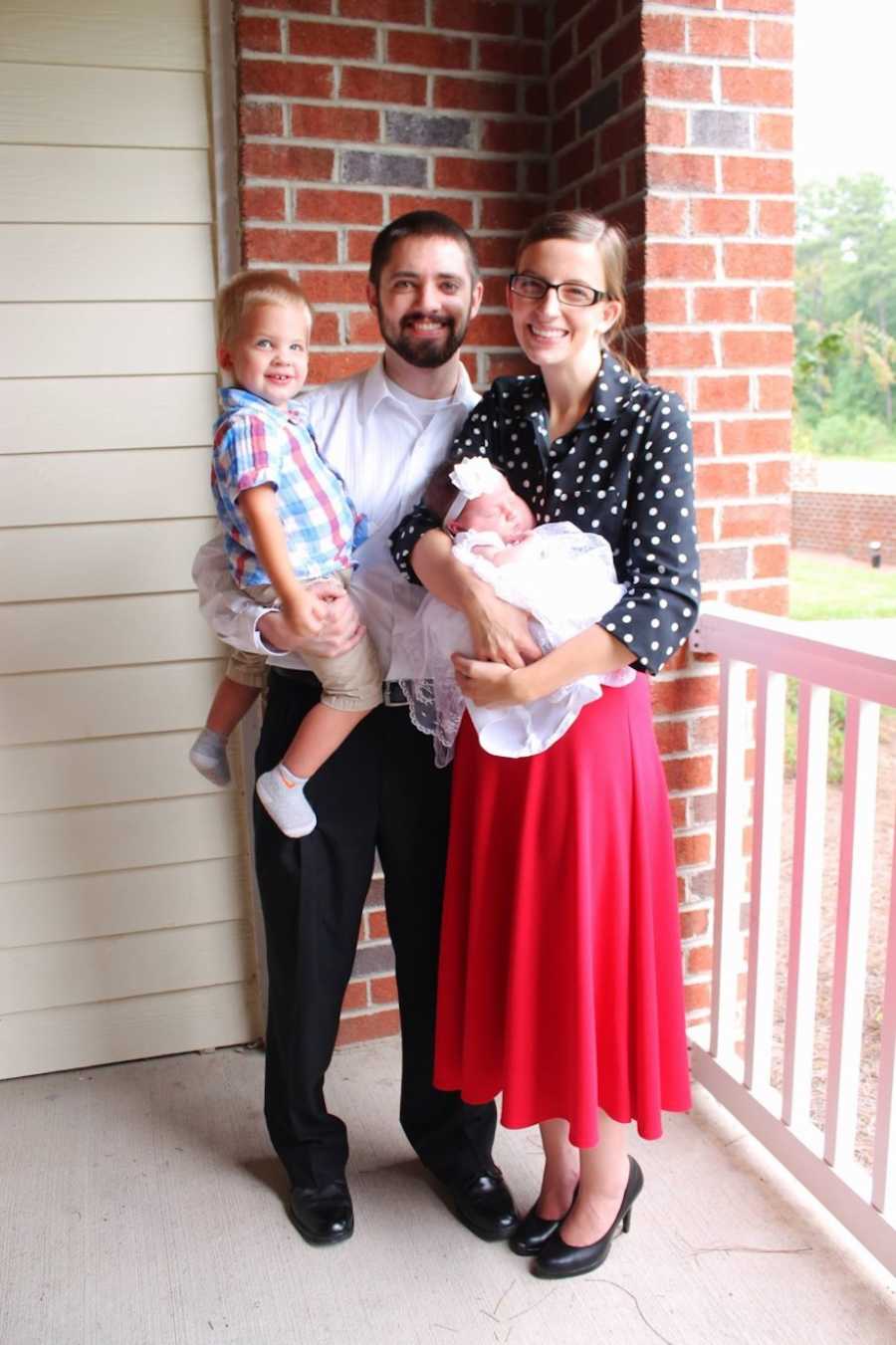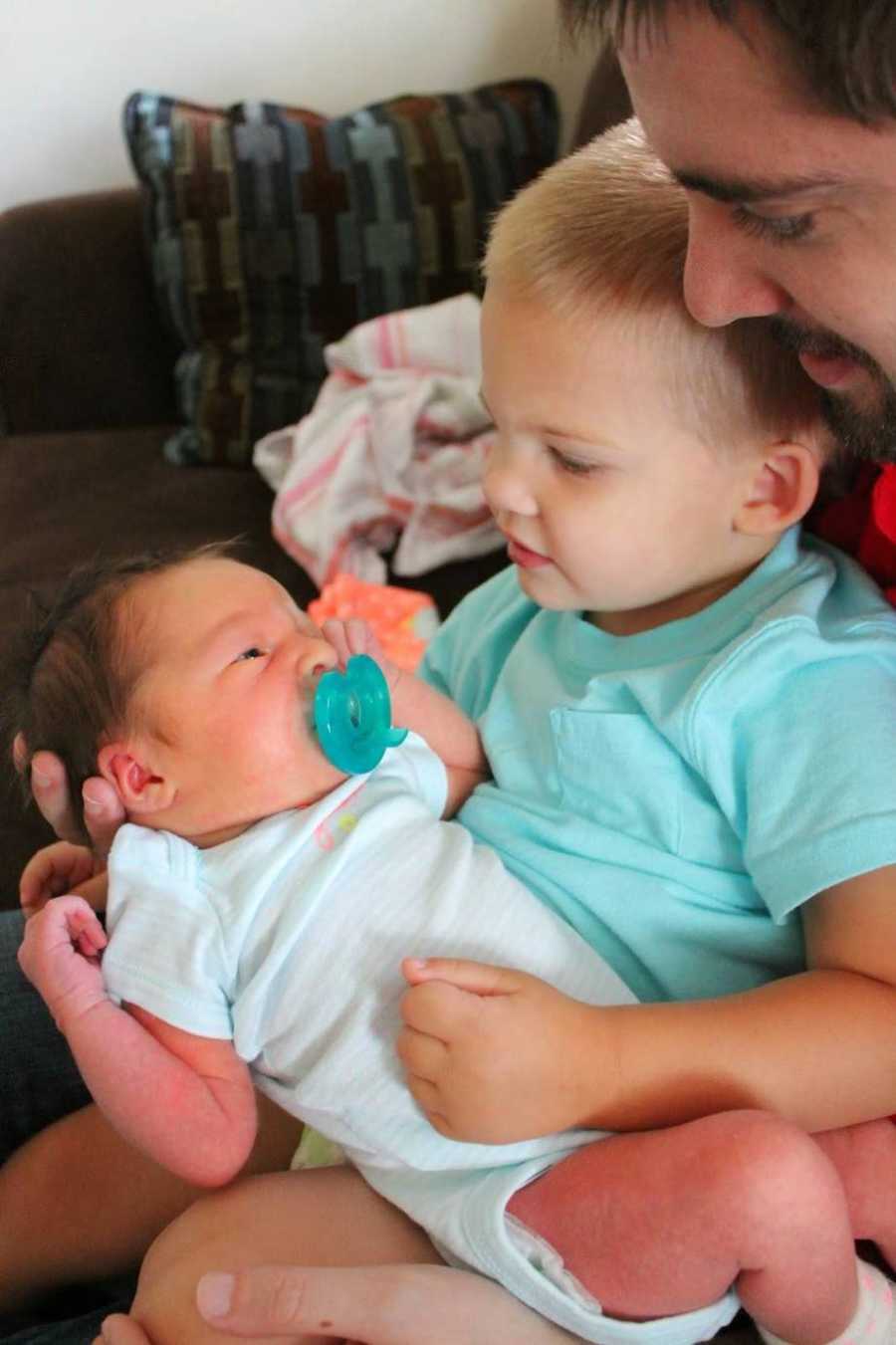 The first six months were pure bliss. She ate, she slept pretty well (although not as well as her brother), she rolled over and hit her early milestones. But around nine months, we really started to see some major differences. Her progression had come to a halt. She couldn't eat solid foods without choking, and her sleep became touch and go, never sleeping more than a couple of hours at a time.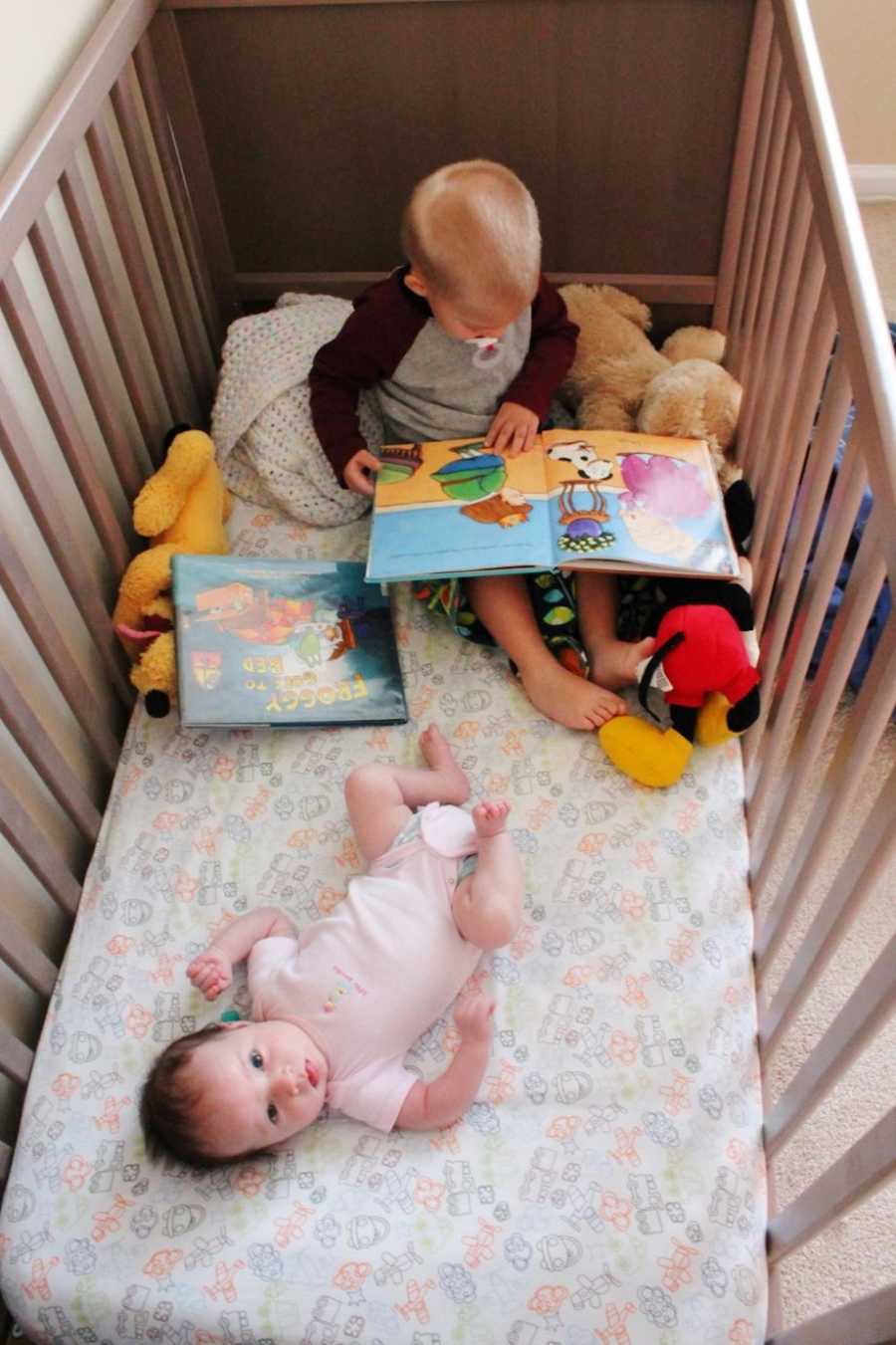 At this point, we knew for sure we were entering the world of 'special needs parenting' and our lives were about to look different from whatever we'd previously imagined. Our world now revolved around physical therapy, doctor appointments, milestones, developmental delays, and adapting everything to meet her needs. From that moment at nine months, we dedicated our lives to making her world as adaptive as possible, while also walking the balance of making sure our son's needs were being met in an appropriate way and he never felt sidelined to our daughter. It's a daily balancing act and something we're still trying to manage.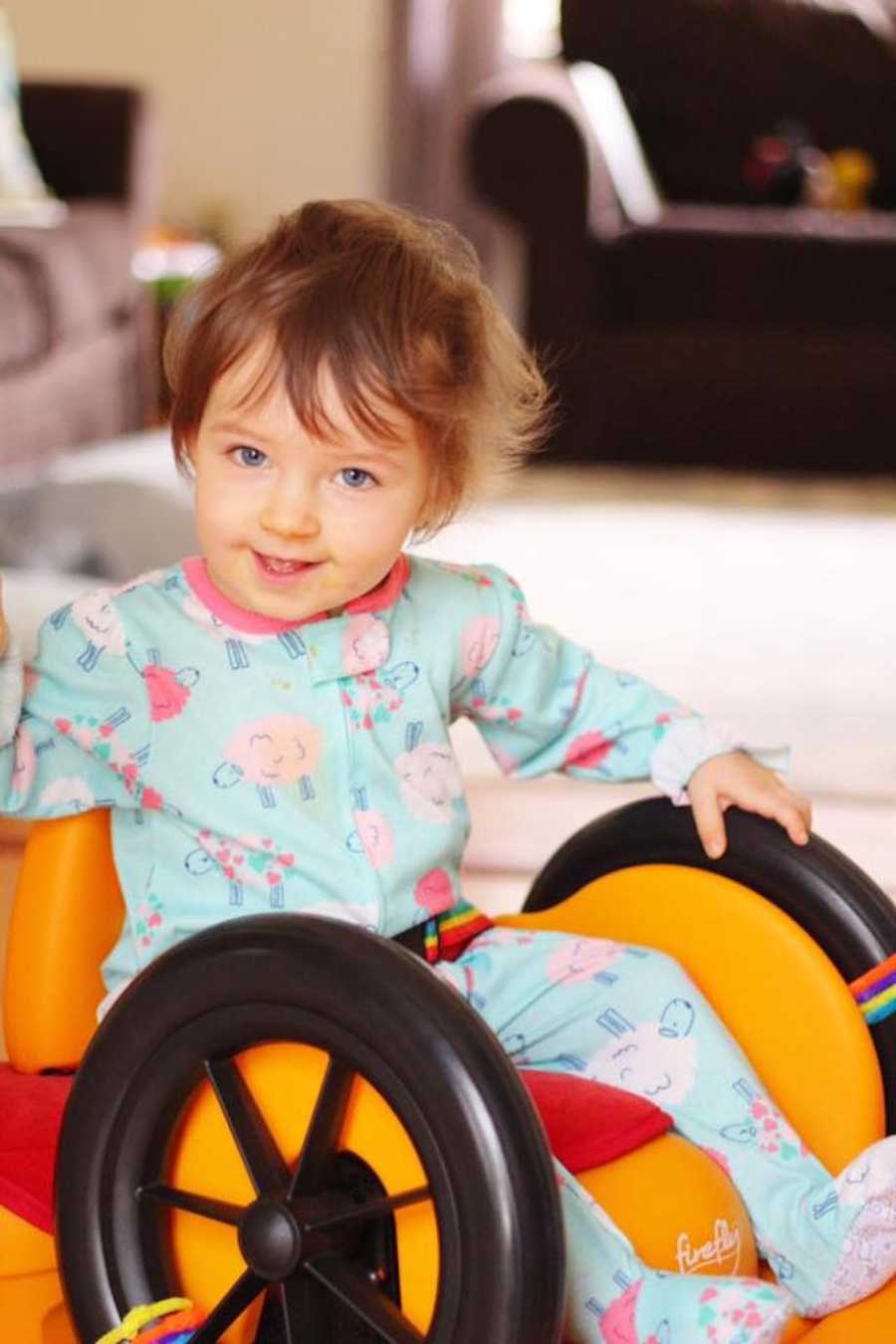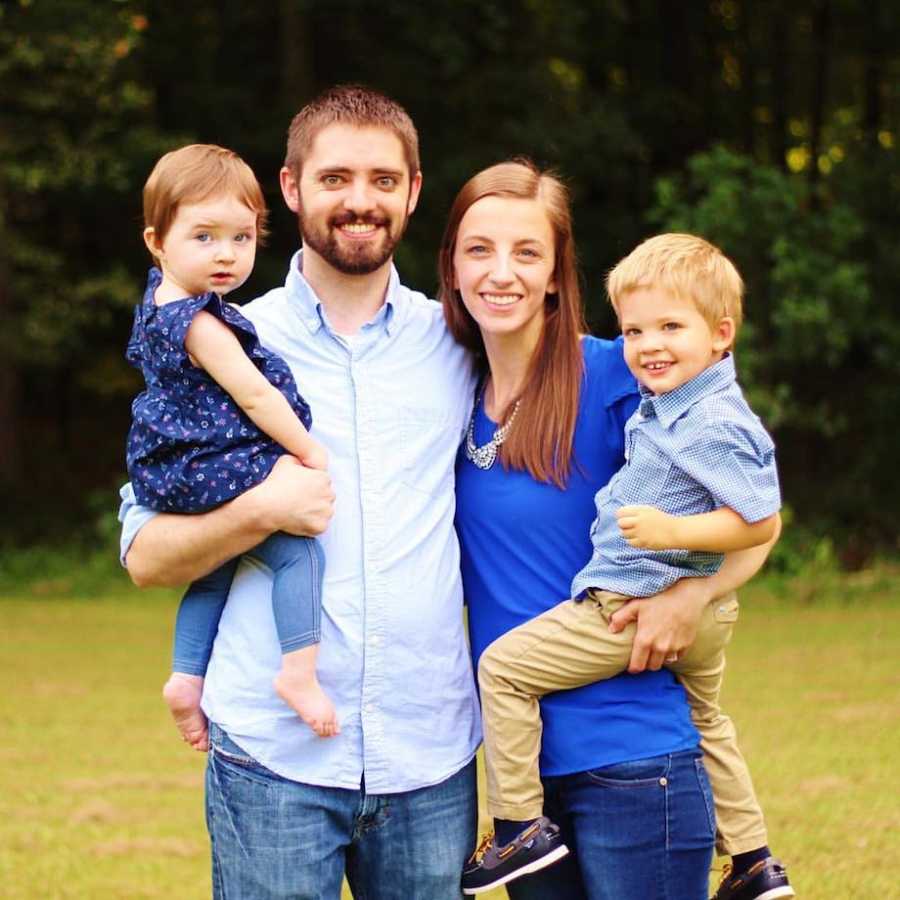 It was important to us we always monopolized on whatever our daughter's current skills were to get her to be as independent as possible. When it was her first birthday and all her peers were taking their first steps, she was learning to push around her first wheelchair, which she successfully mastered by 16 months. When was just shy of three years old, she learned to sit unsupported, and just shortly after her third birthday, she was crawling all over our home. When she was 3 1/2, she learned to walk in a walker, and now at age six, we have our sights set on surgery for next year that could potentially help her to walk independently.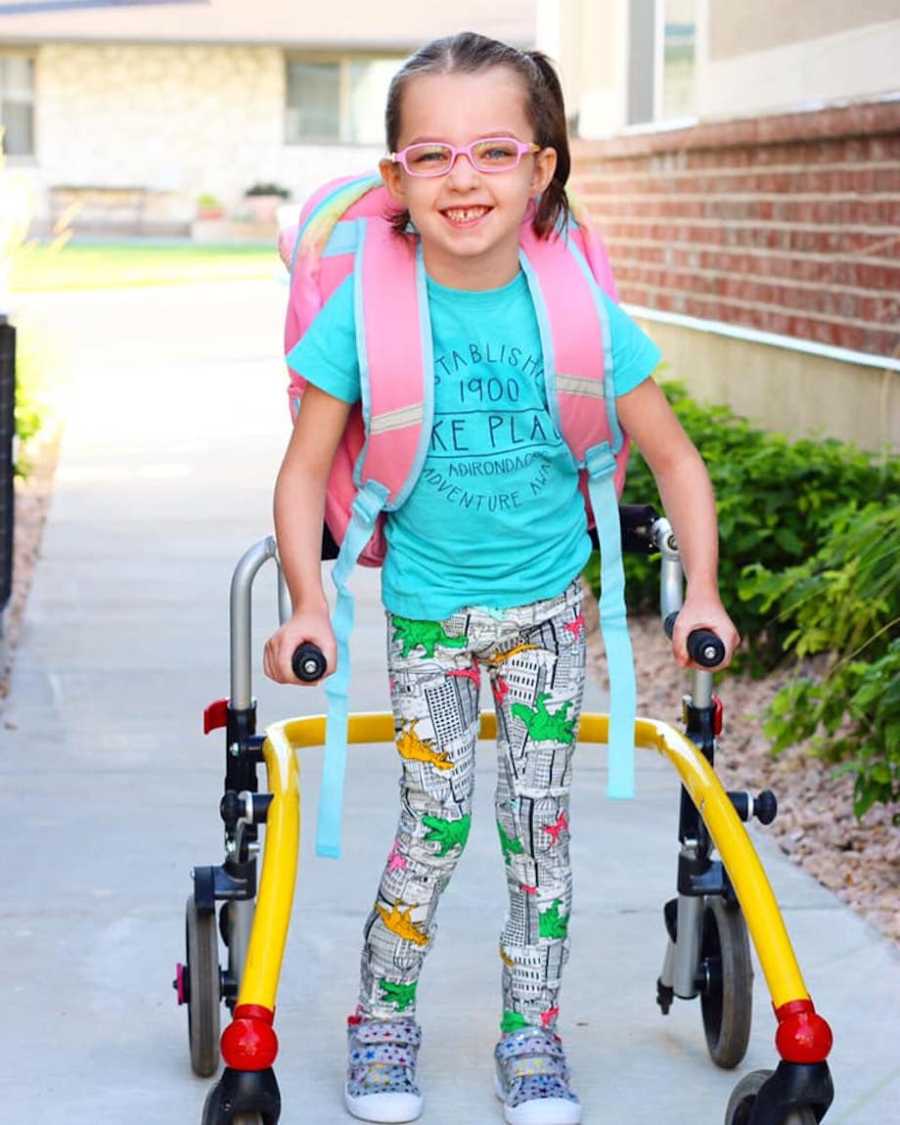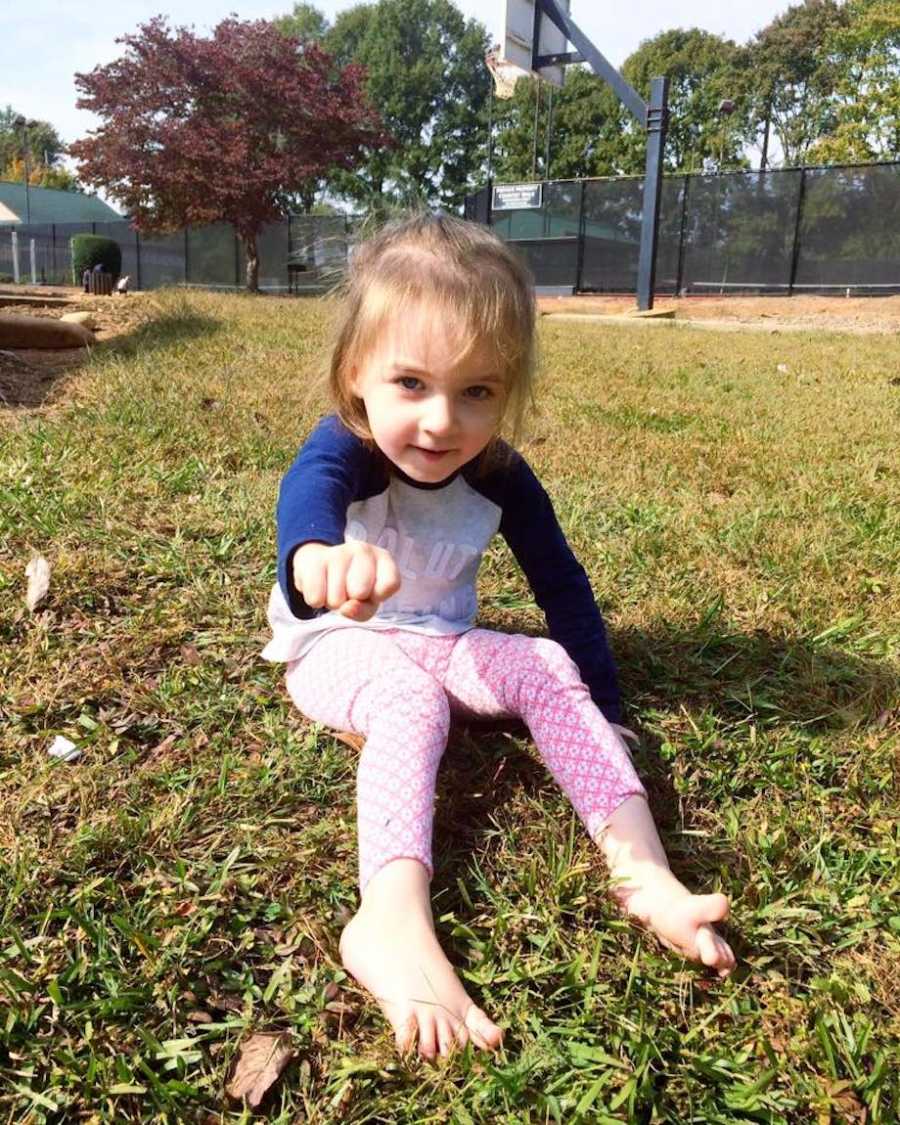 What's more amazing to me though is her mind. While she is in a special education classroom and has developmental delays, the things she's been able to learn truly blow me away. Hearing her point out letters, numbers, shapes, colors — none of it ever gets old to me. I love how sassy and fiery she is. She is the most determined soul I've ever met, and I've never known anyone who works harder to overcome their challenges than she does. This girl who was predicted wouldn't survive birth not only survived, but she is thriving. She has friends, she loves and is loved, she has the sweetest spirit, and I'm convinced her smile is the answer to world peace. We have come to know the miraculous nature of God and His grace and mercy through her.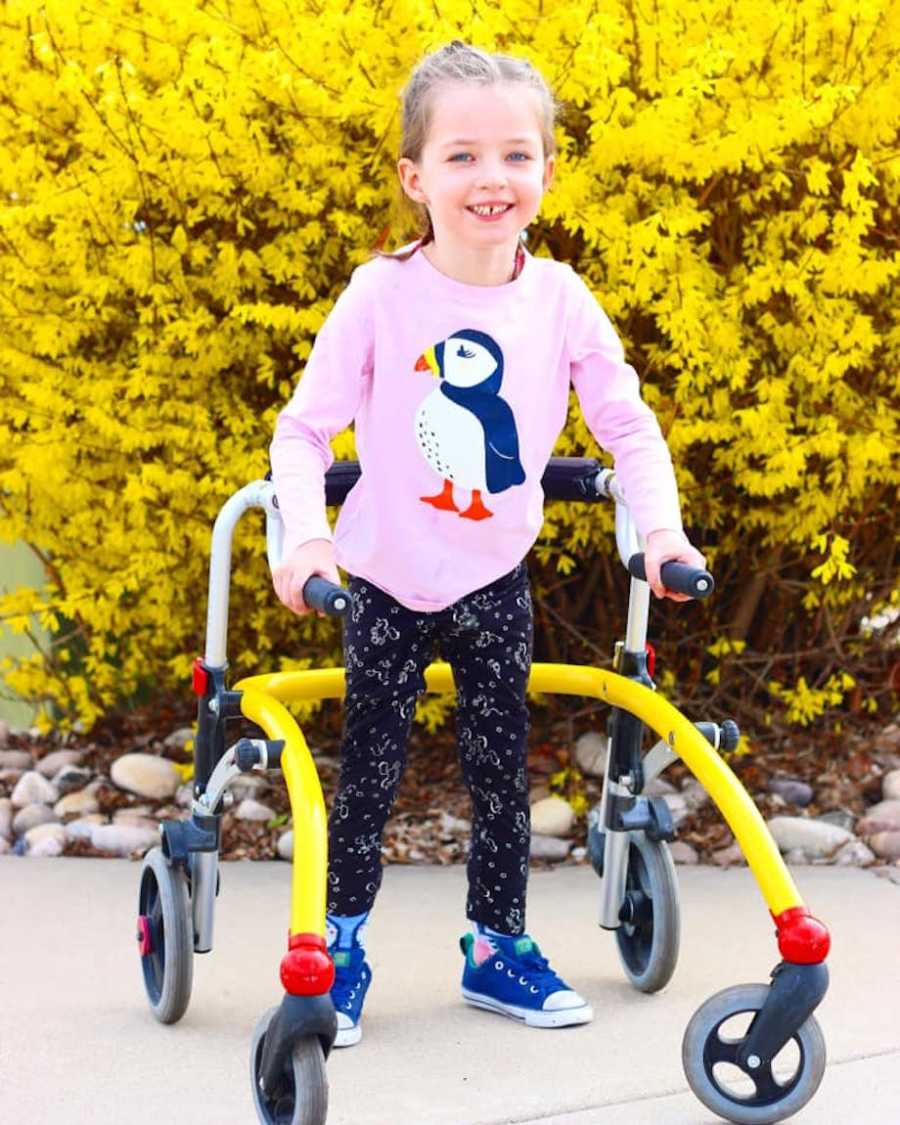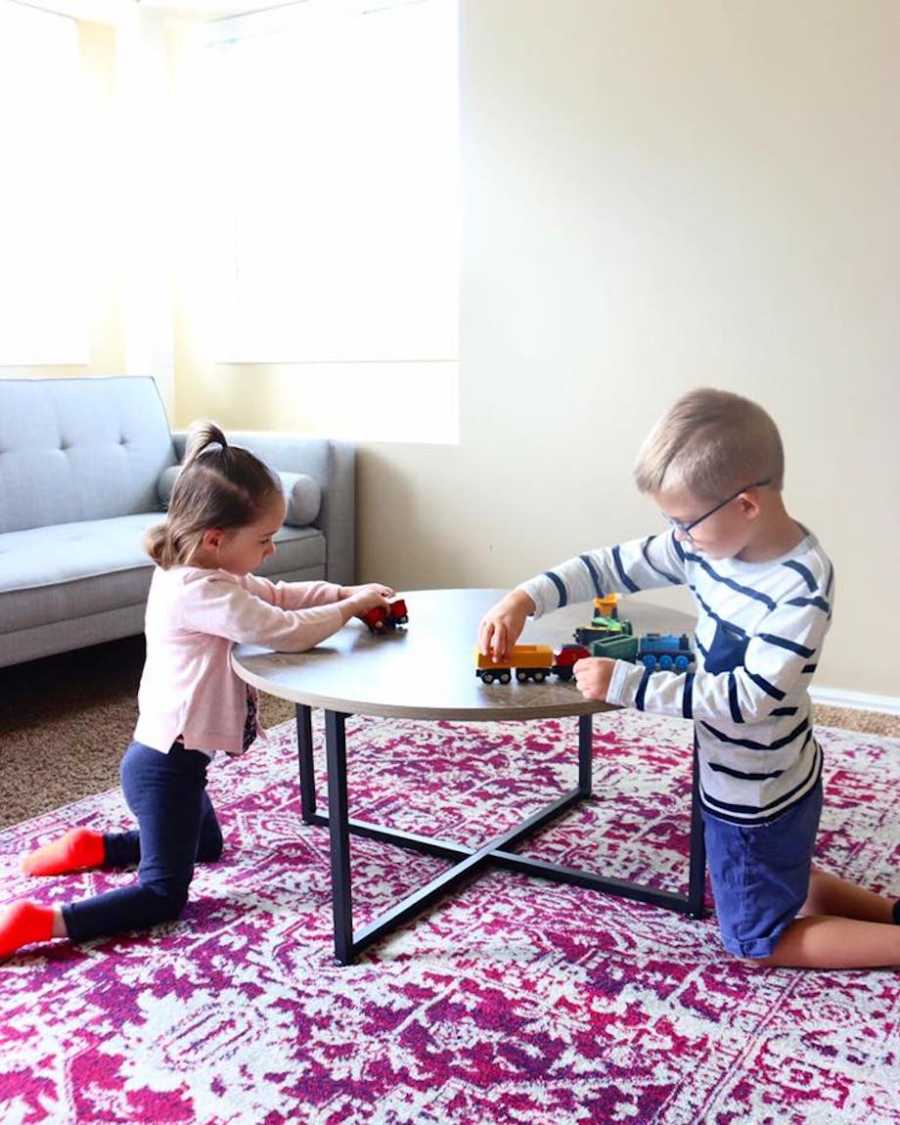 I often tell people I never would have handpicked this life for myself, but now I have it and it's right in front of me, I would never want to simply wish it all away. Everything we've been through the last six years has been hard, challenging, and downright faith provoking, but we're better, more edified people because of it. Our daughter is exactly who she is meant to be. While our life is hard and challenging, I would do it all over again the same exact way."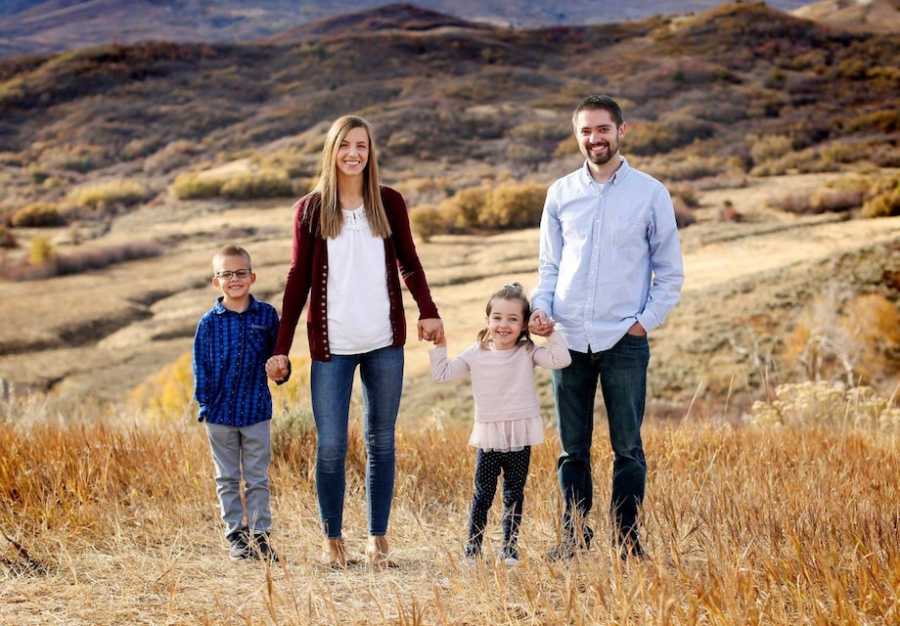 This story was submitted to Love What Matters by Paige Flamm. You can follow their journey on Instagram and their blog. Do you have a similar experience? We'd like to hear your important journey. Submit your own story here. Be sure to subscribe to our free email newsletter for our best stories, and YouTube for our best videos.
Read more touching stories about special needs parenting:
'My husband divorced me after my baby was born. At 28, I had to move back in with my parents as a single, special needs mom.': Mom to daughter with Cerebral Palsy finds new perspective on 'true happiness'
'I was divorced, he was divorced. There wasn't a light at the end of the tunnel. It was there, in each other.': Mom re-marries after 'emotionally abusive' relationship, now 'beautifully blended family'
'All done?' she whispered in my ear. 'No, sweet baby. This is just the beginning.': Mom of 8 learns of daughter's cancer diagnosis day after adoption finalized, husband leaves, 'How was this my life?!'
Do you know someone who could benefit from reading this? SHARE this story on Facebook with family and friends.