"Brandon and I met in 2015 at the gym where he worked. We weren't looking for anything serious since I had just separated from my husband a year prior. I never thought Brandon would be anything serious, much less ever meet my daughter Raina who was 18 months old at the time.
At the start of our relationship, I explained all the things I was going through; finalizing a divorce after a year of separation, raising a toddler on my own, staying with my parents while I got my life back on track. He didn't seem to mind, I think because we didn't really expect our relationship to get so invested. But the first time Brandon met Raina, my heart melted. He sat and played with her for hours. The toys varied, but the enthusiasm did not. He complied to every request with a smile, with no hesitation whatsoever; dolls, kitchen, the Nabi. Little did I know that this was going to spark the relationship that they have today.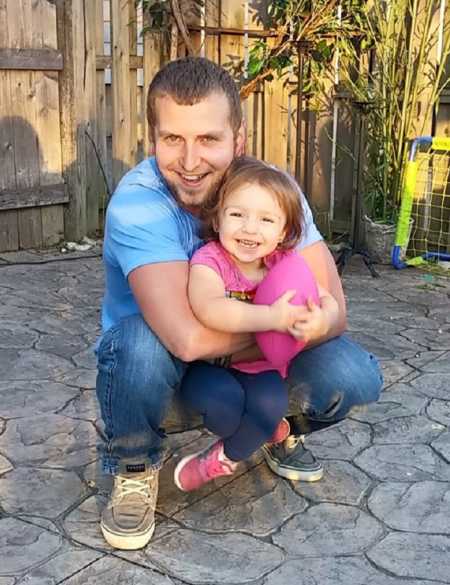 The visits and playdates with Raina quickly became weekly, and then daily. He would come over and make a big deal out of her and anything she did. He ate the fake food, danced to music, pushed her in the Little Tykes car, played store over and over. She began asking for 'Bennin' daily and he would deliver every chance he could get. That year he helped me put together the most amazing SpongeBob birthday party for her turning two. I was so stressed out, he was the only one who took pictures to remember the day and the decorations. He comforted me when I found out 2 hours before the party that my ex-husband told his entire family not to come.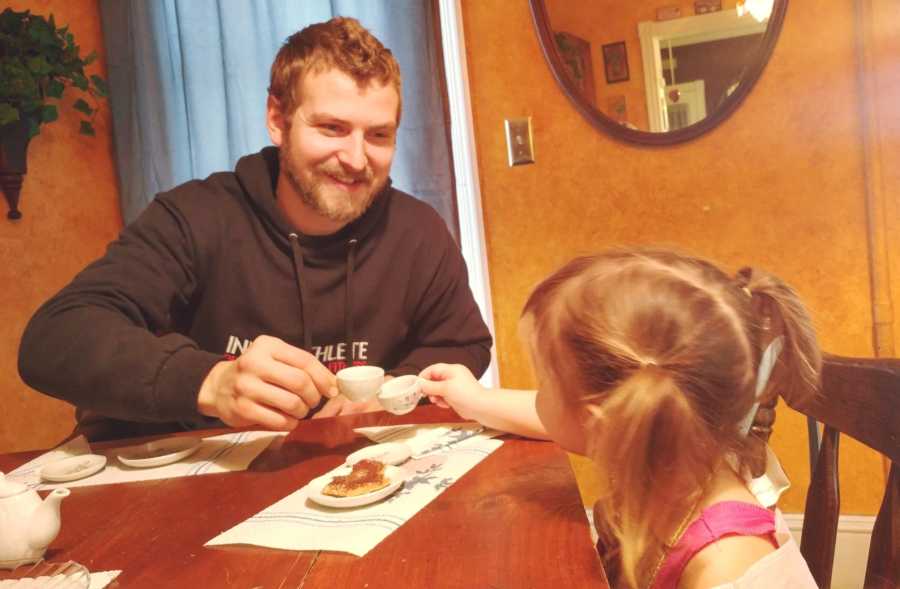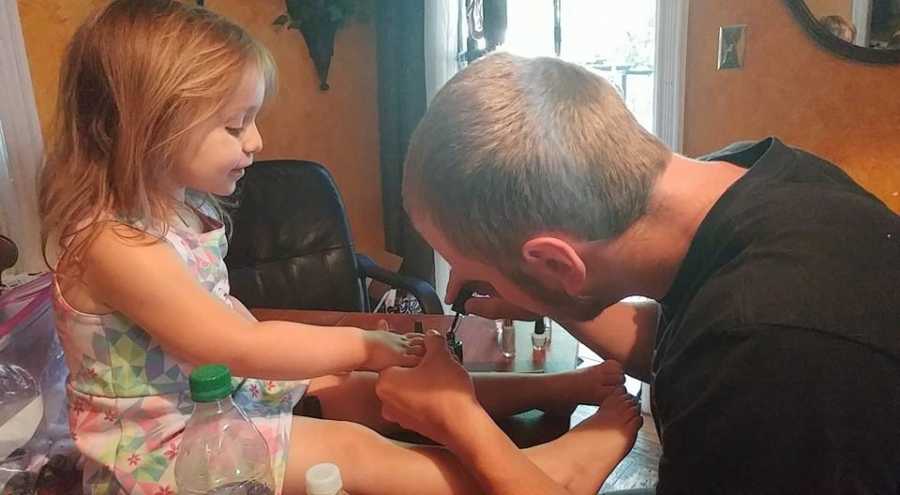 When Brandon looked at Raina, you could see the love he had for her. By 2 years old, he was teaching her to play soccer, love and cheer for the Eagles, count numbers, and more. Their relationship grew into one like that of best friends. They were together all the time, Brandon would spend the night and Raina would be happy to wake up to him being there.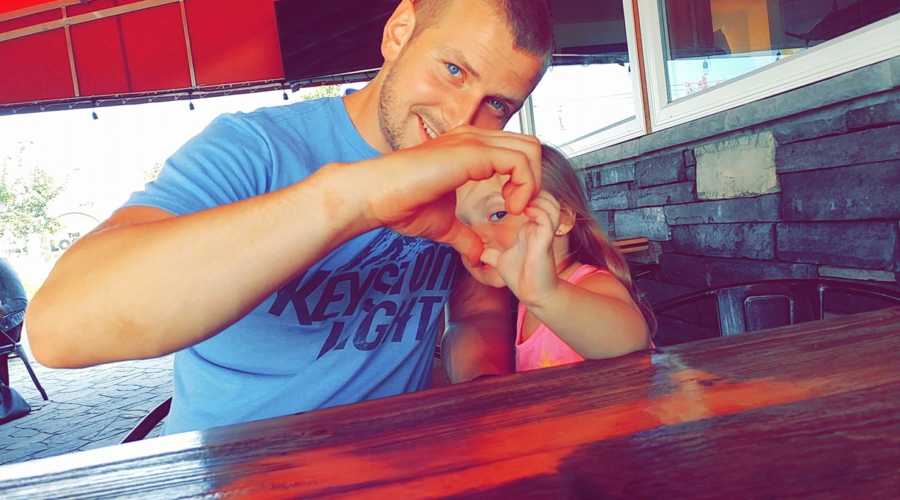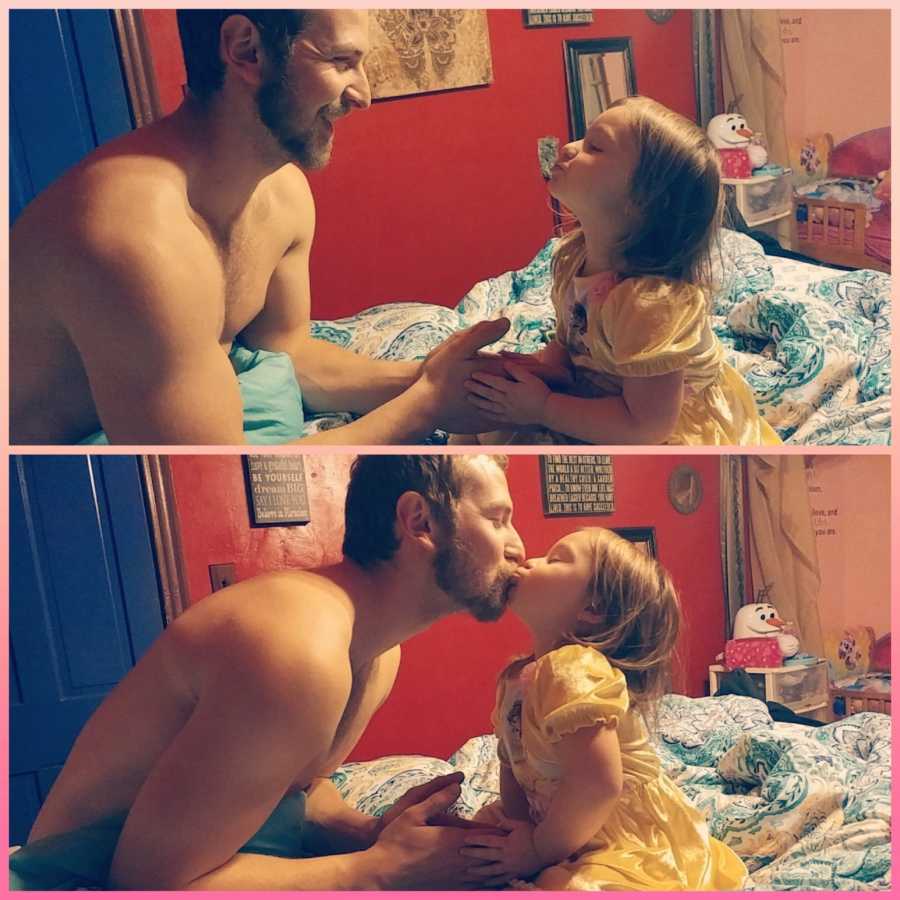 He took her to doctors' appointments, soccer practices, the park, on walks. It has never been a boring moment in our house since Brandon came along. He aspired to be a father figure to Raina and wanted to be there for her, to give her the best life possible.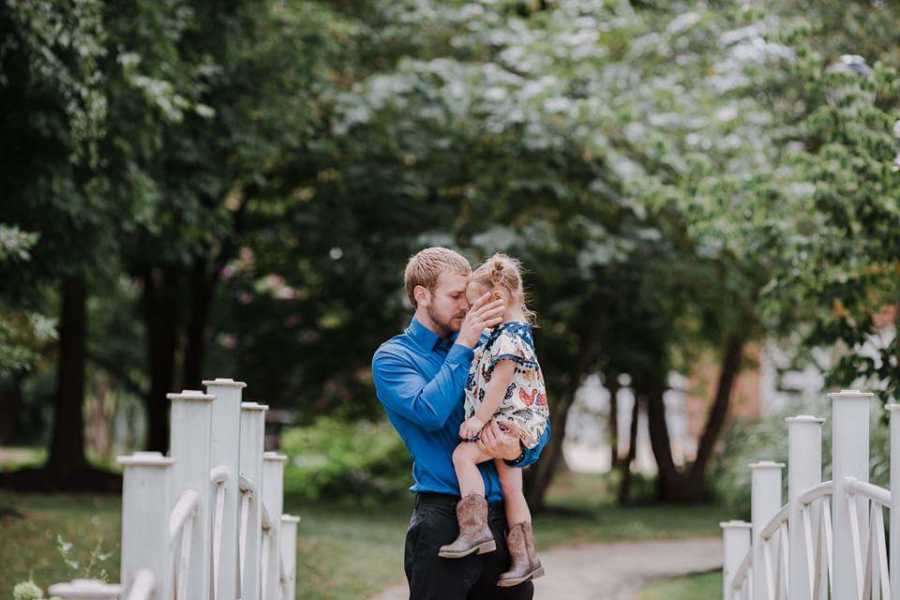 Yes, Raina's dad is/was still in the picture, but in the beginning, not as much as he is now. He was only there periodically in the beginning and really had to make changes in his life in order to have Raina. He definitely wasn't happy when he learned about Brandon and all the time Raina was spending with him. Since, we have come to a mutual understanding that a stepparent is going to be something that is common in Raina's life and that we need to be accepting of such things.
Brandon has been there to love and support the two of us for 3 years. He has walked into court with me, stood by me as my last attempt for a relationship with my biological father deteriorated, held my hand through the stress of my previous relationship and the anxiety it caused. He celebrated the little things with me — my Associate's degree, my first 5k, my new job, our birthdays. He has made a big deal over everything Raina has done and accomplished. Her first year of preschool, her first 100m dash, her birthdays, her first base hit in t-ball, her ABC's, her 123's. He has kissed her booboos, rocked her to sleep, cleaned up throw up that went all down his shirt. He has been her constant.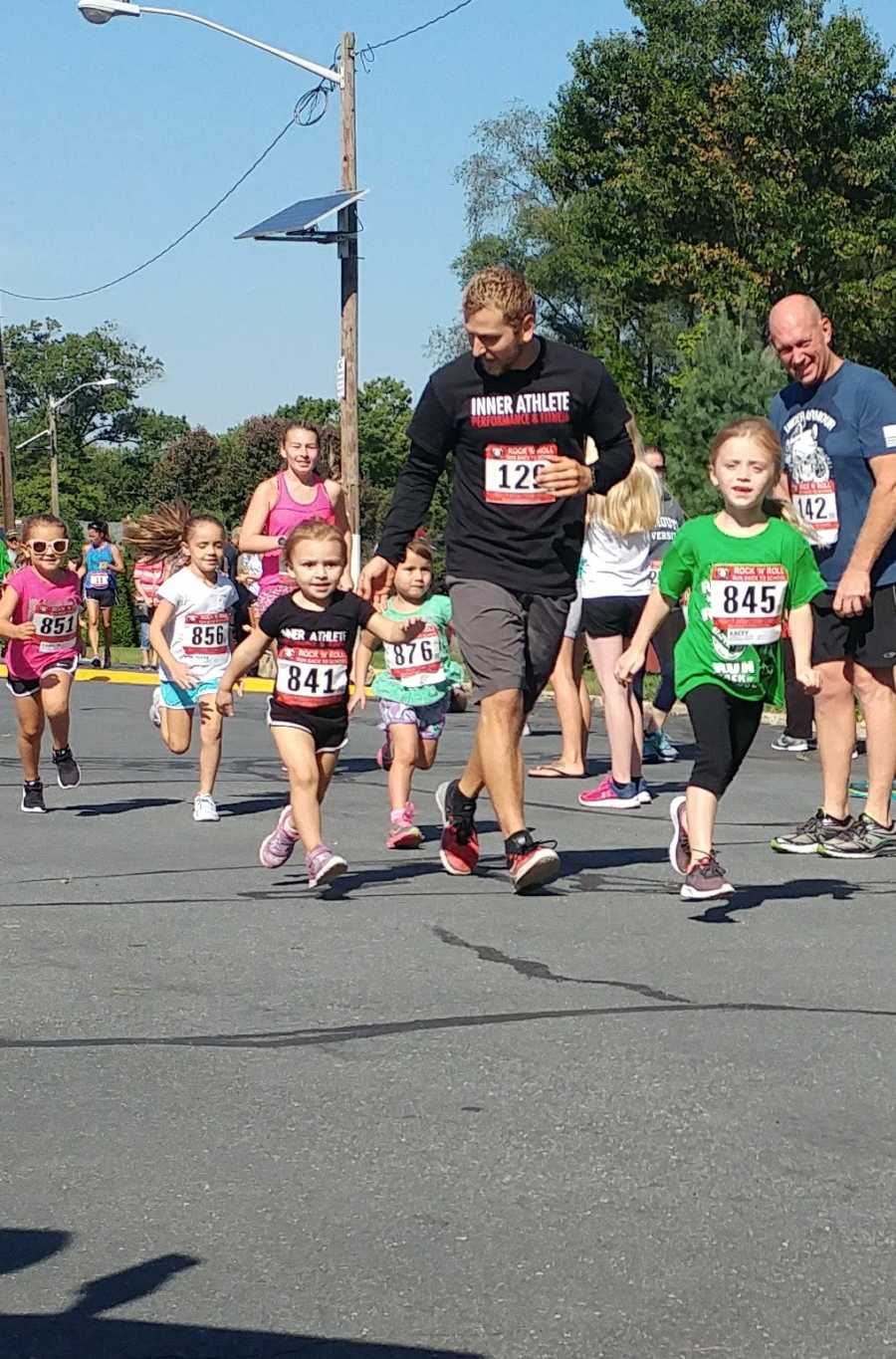 He once told me he thought he may have been taking on too much responsibility, coming into a relationship, needing to be a father figure at such a young age. But, that quickly went away and those questioning thoughts turned into, 'I couldn't live without you guys.'
We've had many a conversation about his love and devotion to Raina. I have seen the tears fall as he talks about wishing she was his biologically. We talked about how if we never wound up having kids of our own, he would be satisfied knowing that he had Raina to love and cherish every day for the rest of his life.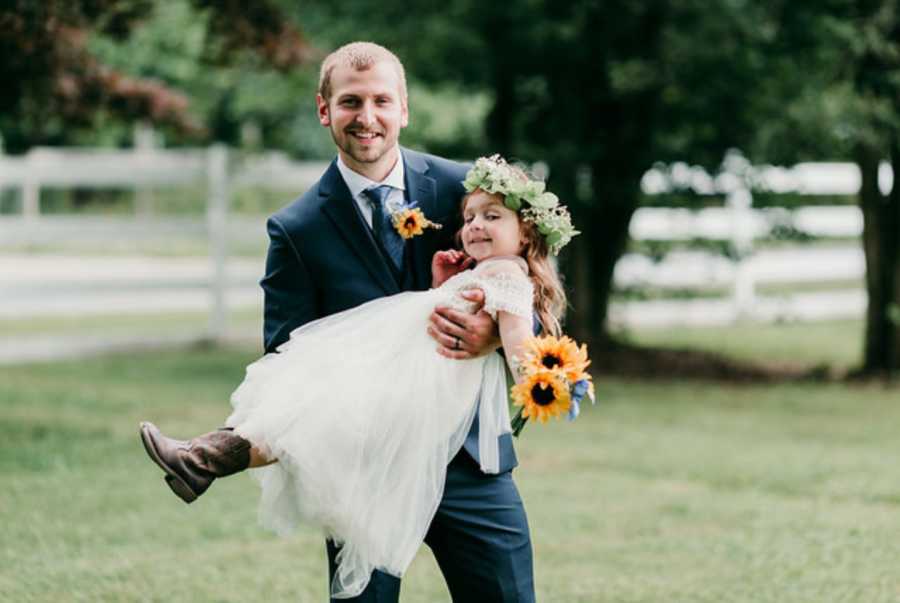 Their relationship actually amazes me. Sometimes I really feel as though I am their third wheel. They are always doing fun things together, and they are always so simple but mean the world to Raina. They have a bond of which I really struggle to find the words to explain. They truly are best friends. She looks for him out the window when he leaves, looks for him when she wakes up, calls him on the phone when he's at work, and runs to him with a big hug when he returns.
Brandon has always been there. Always. For her, for me, for us.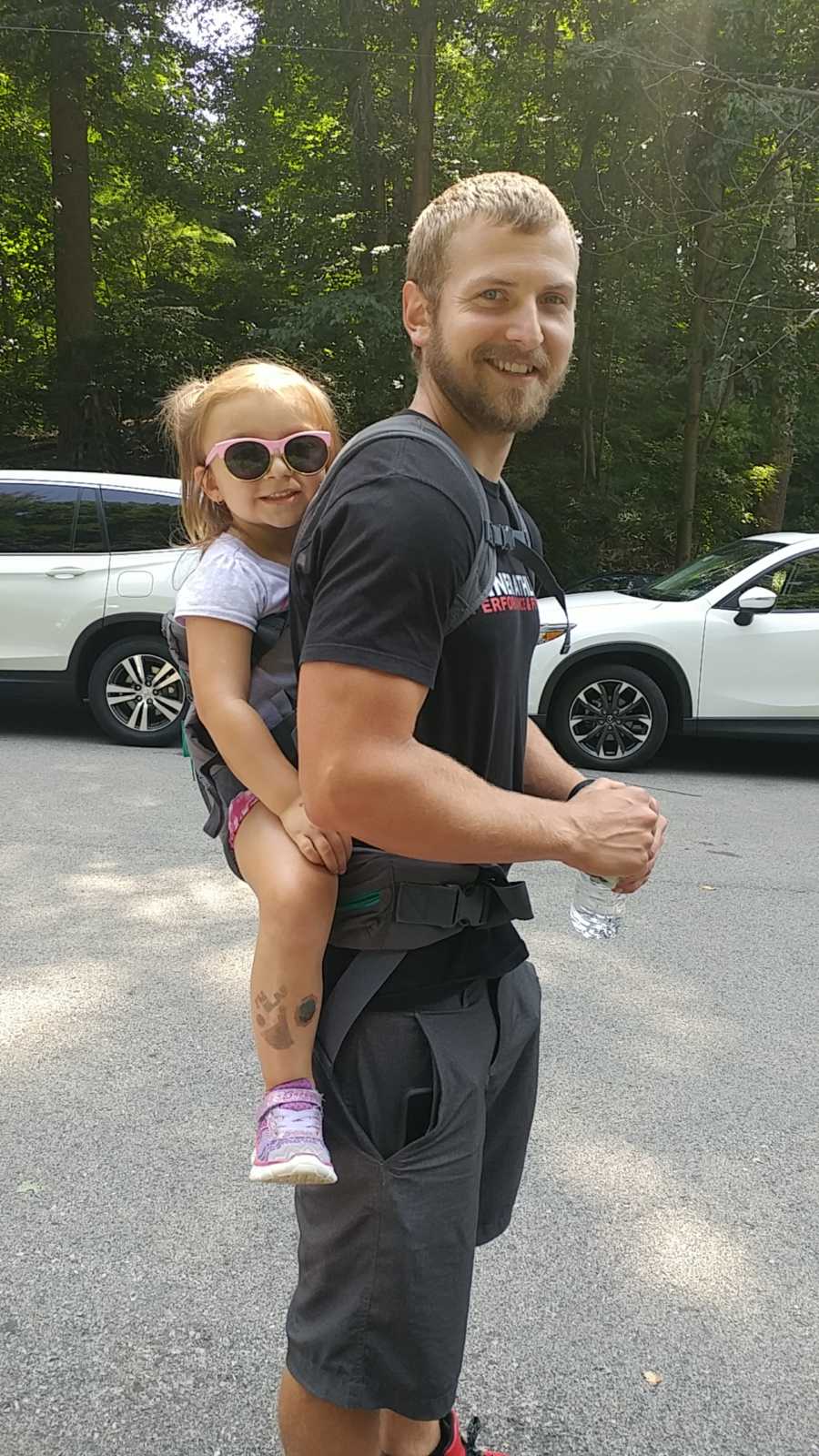 On July 4th, 2017, when Brandon chose to propose to me at the fireworks down in Long Beach Island, he actually proposed to Raina as well. He felt it was important to include her in the proposal because he would be promising her forever, too. He got down on one knee and asked her if he could marry her and be her dad. He picked out a beautiful diamond necklace, and after she nodded yes, he put it around her neck. Her response was, 'but, where is my ring?' because she really thought she was getting married herself.
We planned our wedding for June 9, 2018, at a friend's farm. Through all the planning I made sure I kept Raina involved. After all, she thought this was her wedding. As it got closer, she would look at the decorations I was putting together and respond, 'is this for my wedding to Brandon?' or 'when I marry Brandon…'
The day of the wedding, nobody had any idea what Brandon had planned for her. She was so excited to get ready. We hadn't seen Brandon since the day before the wedding, keeping tradition. She was missing him terribly. She stood peering out the window and asked, 'mommy, where is our boy?' and 'is it time for me to marry Brandon yet?' She got her hair and makeup done, she stepped into her own pretty white dress. She wore the necklace Brandon 'proposed' to her with. She got her own bouquet and special baby's breath crown to wear down the aisle.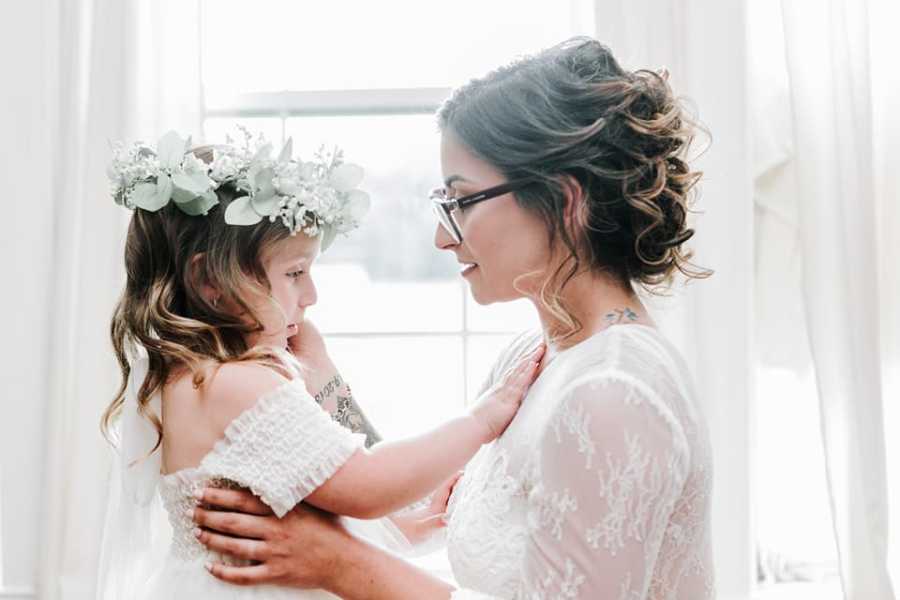 We said our vows and then our officiant announced he had something special for Raina. He got down on a knee at her level and presented her with a ring. He put together his own vows for her.
'Raina, it has been an honor to call myself your dad. I have watched you grow up and get bigger and bigger every day. You grow more beautiful every day. For the rest of my life, I will always be here for you, to be your friend and your dad. Will you call me your dad?'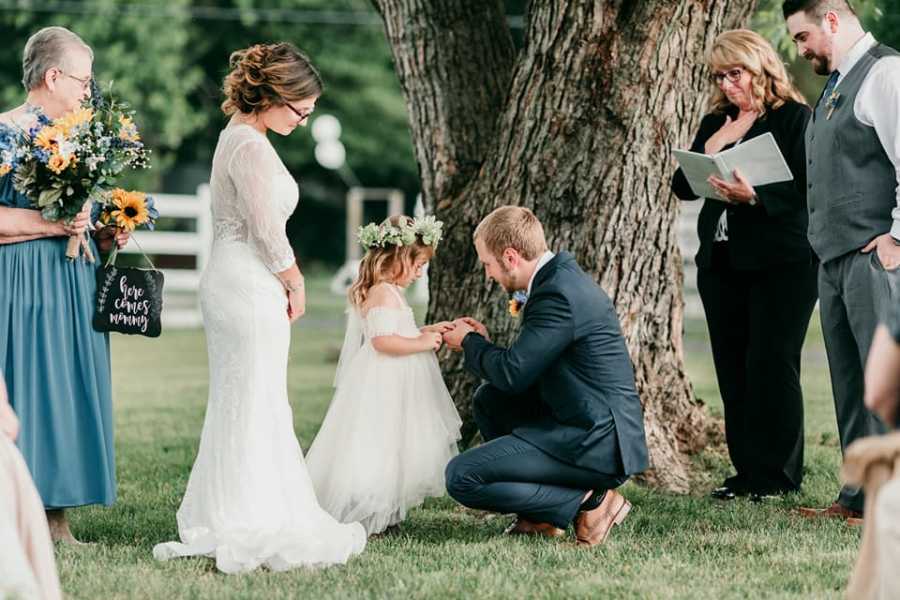 She shook her head yes and he put the ring on her finger, and when he leaned in to give her a kiss and a hug, she started crying. You could truly see that it was an extremely emotional moment between the two of them. Raina is a very emotional girl and has a very emotional attachment to Brandon, but I did not expect her to cry at the words he was going to say to her. 'Hold me, Dada' were her words after bursting into tears.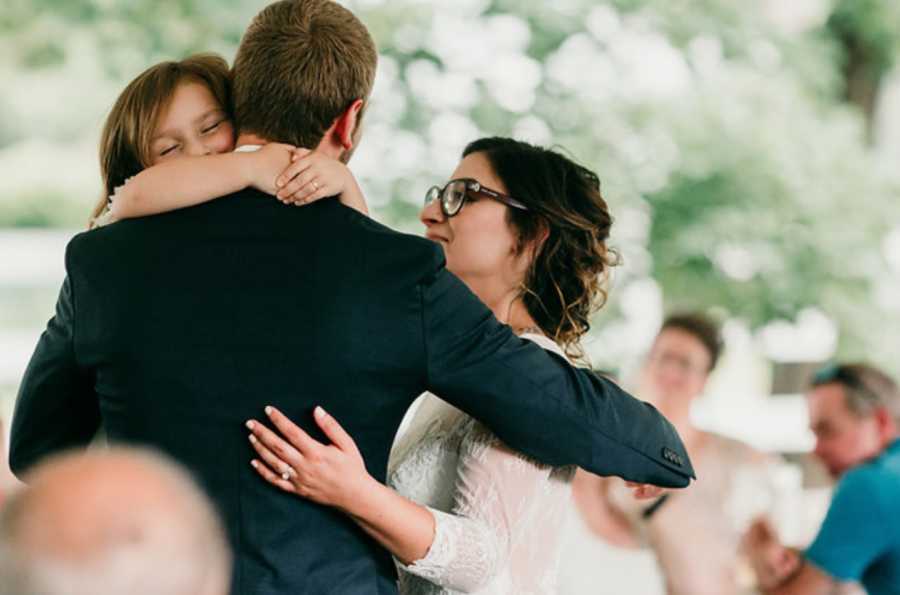 This was my favorite part of the ceremony. I love that he thought to include her and make something special for her. I felt nothing but true happiness in that moment. Knowing that we had now become a family was everything to me. The fact that he took the time to make her feel included on our wedding day just reminded me how I was truly lucky to have a man like him in my life. There was not a dry eye in the crowd. He did not rehearse it, it came solely from his heart and in that moment.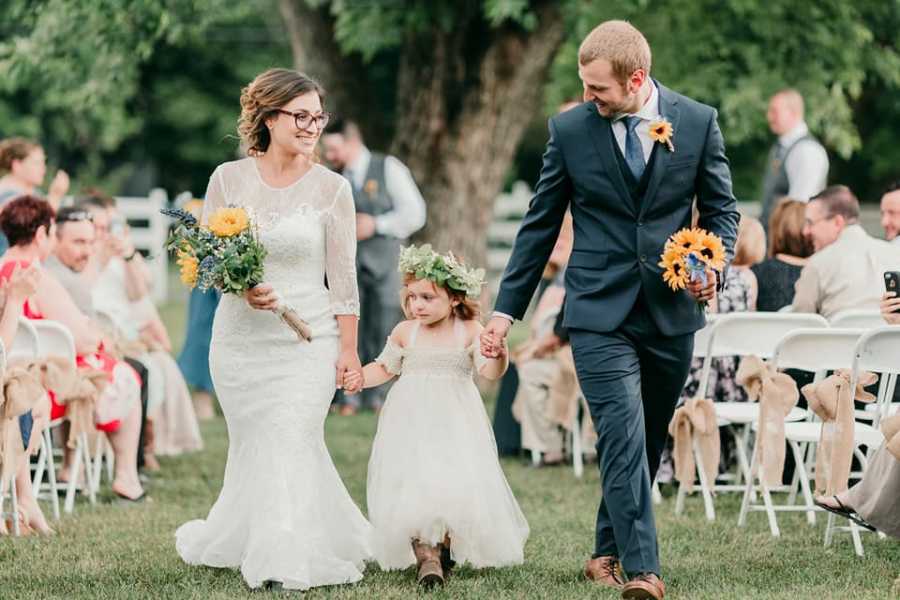 Later when people would approach her about the wedding and ask her how she was, her response was, 'I'm great, I just got married!'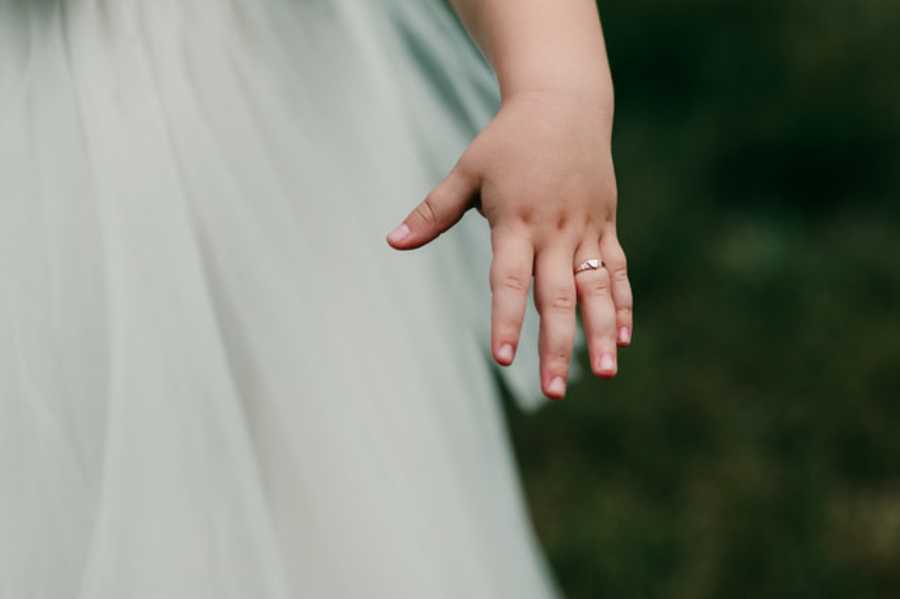 The relationship the two of them have is absolutely amazing. It is the most special thing I have ever seen. Brandon has stepped up and helped raise Raina with no questions asked. He has helped bring her stability, resilience, and most of all, love. He has taught me that true and pure love is possible, and that a real relationship bears no sadness, ill will toward one another, or anger. He has really taught me that our family is the best. Our story shows our struggles and our flaws, but it is wrapped in love and acceptance. That is all I could ever ask for in a husband and father.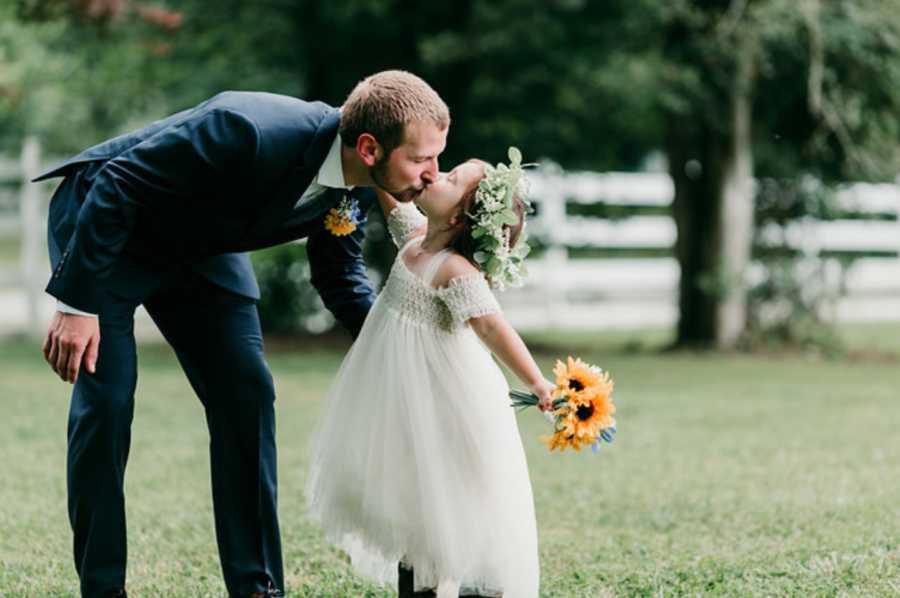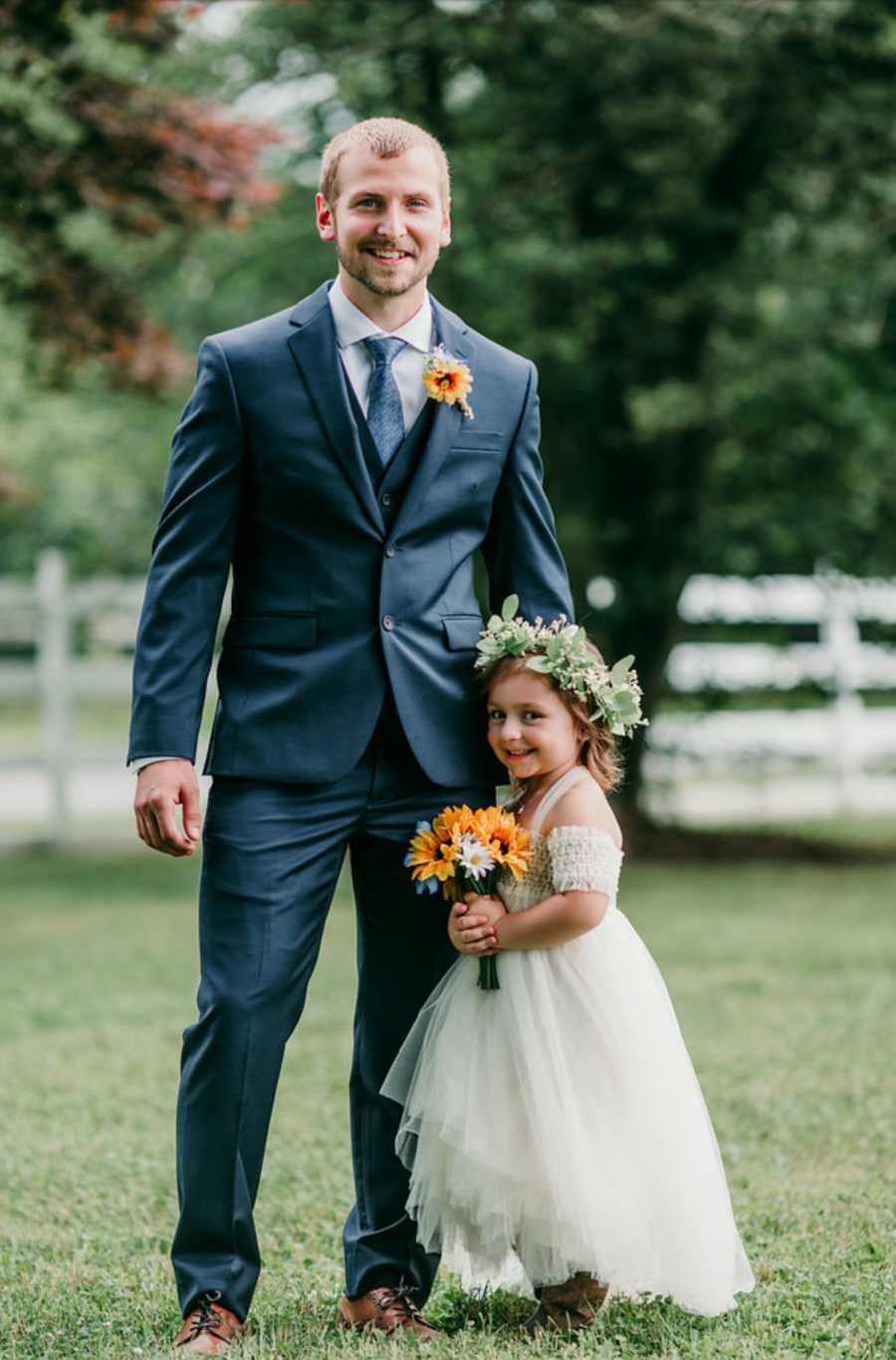 This story was submitted to Love What Matters by Anastasia Lindenman, 27, of Riverside, New Jersey. Submit your own story here, and subscribe to our best stories in our free newsletter here.
Read more stories like this here:
'My ex-husband married my best friend,' she tells everyone. We've given 'Sister Wives' a whole new meaning.': Wife and ex-wife become best friends after years of fighting, successfully co-parent blended family
'She's just my stepmom.' I wasn't on the daycare list. To this day, I'm left off emails because I'm not a 'primary' parent.': Woman navigates blended family life, 'I'm more than JUST a stepmom'
'Are they ALL yours?' What do I say? 'Yes, these 4 are mine, but those 3 aren't.' Being a step-parent is THE thankless job.': Mom discusses ups and downs of being a blended family
Help us show it doesn't take blood to be family — It just takes love. SHARE this beautiful story on Facebook.