How can you be mad at someone who's dying of cancer? It helps if you don't yet know she's dying, if you think the doctors are just trying one more thing. It helps if she is your mother and if she's just driven you crazy your whole life, but insists on a kind of love that leaves you unable to breathe and sick to your stomach from her phone calls or from the mere thought of her visiting you or you visiting her. It helps if she is obsessed with you, her only child, because she believes God sent you to her teenage self to love her since no one else did. It helps if she pours her whole life into you, but you never asked her to, and you would have rather she not, just so you could breathe and dress conservatively and keep the pasta separate from the sauce and breastfeed your baby and buy organic, without her judging you from the valley of her insecurities.
All of that helps you to get mad at someone who is dying of cancer, especially when she doesn't seem to be doing everything she possibly can to keep herself alive.
"The church was selling fish dinners today."
"You shouldn't be eating fried foods."
"Oh, girl. I pulled the fried part off."
But what about fruits and vegetables? Whole grains? But I know the answer to that. Cancer is no match for five decades of emotional and cultural eating. So I shut my mouth because the last time I tried to talk about what was broken in me-her-us, she accused me of always using "big words and psychological terms," when in fact I had used no words larger than, "I can't do this with you anymore. I'm calling a cab, and I'm leaving." My college education and my intellect were apparently weapons I wielded to intimidate her. One day out of the blue when I was in my thirties, she said, "I finally found the word to describe the way you made me feel your whole life: intimidated."
I think the problem started when I was born. My mother said, "I thought you were going to be dark like me with narrow eyes and wavy hair. Like a doll." Alas, I was born medium-brown, bald, with huge eyes not. "Your eyes were so big that for the longest time, they would just roll around because you couldn't focus them," my mother said. "I burst into tears when I saw you. And your hands were so tiny. Until you got pregnant, I always thought that meant you wouldn't be able to have kids."
Please don't ask me to explain that last part. I have no idea what my hands and my fertility have to do with each other. I do know that I wasn't what my mom was expecting. She wanted a dark chocolate doll that would grow up to make the same choices she would have made if she'd had the dolls' options in life. A doll that liked all the same things she liked—bright-colored clothing, the right amount of condiments and paprika in her potato salad, makeup.
Oh, the makeup! So when I was in the eighth grade and about to turn thirteen, many of the girls in my grade wanted to wear makeup. About half their mothers allowed them to. The other half made up their faces in the bathroom at school in the morning and scrubbed it off at some point before getting on the bus at the end of the day. Lucky me, I had one of those makeup-permitting mothers. Unlucky for her, she had a daughter who couldn't give two cares about makeup. It just seemed to me like a lot of effort and for no good reason. But as my thirteenth birthday approached, my mom was stuck on the idea that a cute little pouch filled with my own cosmetics would make the perfect gift. Meanwhile, a stack of V. C. Andrews books was my idea of the perfect gift. But according to my mother, that wasn't a "real" gift. To hell with the fact that this was my birthday. She was determined to get me a real gift and it would be makeup.
"I don't want makeup. But thank you."
"Don't you remember how nice you looked at James' wedding when I let you wear makeup?" I had been eleven when my uncle, my mom's younger brother, got married, and while I hadn't been made up against my will, I hadn't asked for makeup.
"Yes, but I don't want to wear makeup. Thank you, though."
"But why not?"
"Because … just because I don't."
"Well, I wish my mama had let me wear makeup when I was your age."
But. I'm. Not. You.
"I don't want to wear makeup."
"No, really. You should," my mother said, fixing her eyes hard on me. "You should."
And it was that last "you should" that did it. I don't mean that I relented; I didn't start wearing makeup regularly until around eleventh grade. But that "you should" crushed me. It crushed the microscopic part of me that dared to think that my "big for her age" self was maybe kinda a little bit cute and sort of not too fat. "You should" meant that makeup would make me look better, more presentable, less homely, more like I belonged to my gorgeous mother.
My mother was one of the most beautiful women I've ever seen. I actually preferred her without makeup. Her beauty didn't need any help. She had a glorious 'fro when glorious 'fros were in, the first time around. And her smile … My Lord. The woman had perfect lips and perfect teeth, and together, they were brilliant. And until loneliness, depression, and her changing metabolism took its toll, my mother had what folks back then called a "brick house" figure, so named for the popular R&B song by The Commodores.
"You should" was my mother's go-to tactic for shaming me into liking what she liked, and caring about what she cared about. As in, I should care what people would think of me if I didn't dress or carry myself a certain way, i.e., like her. My mother cared a lot about appearances, literally. Overwhelmed by mother's obsession with how others might find me lacking, I became ten times more self-conscious than your typical self-conscious teen. It was debilitating, and I was damn-near thirty-five years old before I realized that most people didn't size me up critically the minute I entered a room; they were probably too busy trying to get free of their own mother-induced neuroses to care if my clothes were wrinkled or how my hair looked.
Twenty or so birthdays later, and a few years into my mother's cancer diagnosis, I finally got up the nerve to tell her how much that "you should" had hurt and how I had carried that hurt into adulthood and how her shaming me over the years had contributed to us not having the kind of relationship she said she wanted us to have.
Her response? "Huh. I don't remember that at all."
Which is why I shouldn't have been surprised by her reaction later to the whole stolen ring thing, which became Reason #14 Why You Might Be Mad at Someone With Cancer.
But before I get into that, this is the part where I pause to make sure you don't think my mother was a horrible person or a bad mother. She was neither of those things. This is important and needs to be said because we don't allow mothers to have done some crappy things in the course of their parenting career and still get credit for the good they did. In our cultural consciousness, either mothers are saints or we're driving our minivan full of kids into the river. And in the final tally of who I am because of my mother, I believe she did far more good than harm. She was a loving mother who sacrificed for me, and I always knew that my needs and many of my wants were her priority. If I am generous, hard-working, hospitable, responsible, and a person of integrity, I owe it in large part to my mother's example and guidance. Even in her flaws, she had raised me to do as she said, not as she did.
She also raised me, ironically enough, to speak up for myself. But I guess she just intended for me to do this at school and with other people besides her. At any rate, this knack for being my own advocate came in handy in sophomore year of high school when I got straight A's for the first three grading quarters, and then all A's and a B in gym class in the last quarter. I was livid. How dare the gym teacher, of all people, screw up my 4.0!
I went to see the girls' dean of students who had taken me under her wing, but she wasn't in her office that day. Another administrator was there and she did her best to calm me down. She listened as I rattled off all the reasons that this B was some bull. Ultimately, my grade didn't get changed, but what did happen is that this administrator remembered me and my righteous indignation. So a month or so later, when our local Congressman's office contacted her to recommend a rising junior who was mature and academically talented enough to spend the first half of the coming school year living and working on Capitol Hill as a page in the U.S. House of Representatives, this administrator recommended me.
The day I was due to arrive at the page dorm also happened to be my sixteenth birthday. My mother had been eager for this day for many years, because it would also be the day that she gave me one of her prized possessions: a gold ring shaped like a rose with a stone at the center of it that may or may not have been a diamond. When I was five, a guy she had dated had given her this ring. I knew from overhearing my mom's conversations with friends that this guy was a thief. And yet, for eleven years my mother had worn this ring and gushed to me about how when I turned sixteen, this stolen property would be mine, and then one day, I would give it to my daughter (if I had one … you know, with my small hands and all), and my daughter would give it to her daughter…
This was my mother's attempt to create a family heirloom. But the things that my mother gave me that I want to pass on to my daughters can't be placed in a ring box, or any box. They are things of spirit and heart. But my mother didn't treasure these gifts. When she was dying, I told her how much I treasured them, but that only added to her grief that she had, in her words, "wasted so much time on us, on things that didn't really matter."
But she didn't have that insight in 1987. So, as ceremoniously as you can be in the page dorm, my mother presented me with the ring. I acted excited because I knew that that was what she wanted, but all I kept thinking was, "This ring was stolen." And I wore the ring for exactly sixteen years and nine months.
The day I took the ring off and never wore it again, I was in Florida with my kids, visiting my mother. About four years earlier, she had been diagnosed with breast cancer. When she had called to tell me, I'd been a few months into a self-imposed hiatus from her. I'd finally decided that I couldn't take her guilt trips and criticisms of my life and choices anymore. I needed a break from her. I told her not to call or email me, and not to expect to hear from me. Indefinitely. I can't remember what the straw was that broke the camel's back, but I do remember that a year or so before the hiatus, she'd sent me a pair of burgundy jeans (she was always sending me clothes that I never wore) and got upset when I said that I hadn't worn them and had no intention of wearing them because I'd asked her countless times to stop sending me clothes 1) because I was an adult, and 2) because the clothes she sent weren't my style. "But your style is boring!" she'd said. And this was the argument in which she denied ever being critical of me.
So. Something else happened after that, and I decided to take a break from her. And then she got the cancer diagnosis, and damn. So I ended the hiatus and learned everything I could about cancer and how we could save her life. It didn't take long for me to realize that I couldn't save her life; I couldn't even get her to change her eating habits. So I began to mourn her while she was still alive.
June 7, 2005, was a ridiculously hot day in Jacksonville, Florida, which is saying a lot. But my mom wanted to take my daughters to the zoo during our week-long visit, and I agreed, even though I wasn't really up for it. My mother had told me that her doctors were going to try one more treatment, but they weren't sure if they could do anything else for her after that. My beloved grandmother, who had helped my mom raise me, had died from ovarian and colon cancer that January. I was in the middle of a separation, heading to divorce. And the last thing I wanted to do was spend the day out in the heat. Needless to say, I was miserable, but of course my mother wanted to invite a neighbor and her grandson to go with us to the zoo. In the monkey habitat, the neighbor kept screaming at the monkeys to shut up. I wanted to push her into the tiger pit.
On the ride home, my period started, just to cap off such a glorious day. I had to stop off at CVS. I left my mom and my kids in the air-conditioned rental SUV, so that I could at least be alone in the store. I picked up what I needed and stood in line. Someone behind me tapped me on the shoulder.
"Excuse me, but you just cut in front of me in the line."
"Oh, my god! I'm so sorry!" I said to the woman behind me. And when I said this, I grabbed the edge of the counter because I thought I would faint. How had I missed this entire line of people?
The woman looked down at my hand and said, "What a beautiful ring!"
It was the stolen rose ring my mother had given me. "Oh. Thank you," I said.
The woman continued. "You know, I had a ring just like that. Back in the '70s. I bought it with my very first paycheck, but …"
No. No. Nononononono.
"…somebody broke into my apartment and stole it."
"Oh. Well…My mother gave me this one…"
I wanted to go outside and drag my mother out of that SUV and… And what? She had cancer. How can you be mad with someone who has cancer?
I thought about giving the woman the ring. "Here's your ring, ma'am. My mother suffers from some kind of condition that made her think that not only accepting a stolen ring as a gift was a good idea, but that she should also give it to me to pass down through the generations of our family. Please understand."
But I couldn't risk getting arrested.
I felt like crap. I felt like crap and I hadn't done anything wrong.
Except accept stolen property.
From my mother.
But it was only because I didn't want her to feel bad.
The woman kept chatting about how she'd lived in Jacksonville until the early '80s but then moved to Dallas where she was a nurse (I think). She was home visiting her mother, who, as it turned out, had cancer. I told her that my mother also had cancer, and we gave each other that knowing "Screw cancer" look. And then she let me go ahead of her anyway in the check-out line and wished my mother well. I wished her mother well too and then headed back to the SUV.
"There was a woman in there in the check-out line who saw the ring you gave me, and it turns out your boyfriend stole it from her all those years ago. It was her ring!"
"Hmmm," my mother said. "Small world."
A little over two weeks later, I was back home in Pittsburgh when I got the call that my mother had been hospitalized. She was in so much pain that the doctors didn't expect her to survive the night. But she did, and when I arrived the next day, having caught the first flight I could after getting my kids situated with their dad, I went straight to the hospital. When I walked into her room, my mom's best friend was there, and my mom beamed at her and said, "Oh, look! Deesha came!"
As if there had been a question of whether I would or not, continuing the pity narrative that my mother had kept up amongst her friends that I was just too busy with my own life to be concerned about her. I found out later, after she'd died, that she had known her cancer was at stage 4 for several months before telling me. She had told everyone but me. But she didn't tell her friends that she hadn't told me. So when they asked why I hadn't come down to see her, she'd say, "Oh, you know … she's just so busy with her own life." So of course I looked like a jerk of a daughter, and everyone felt extra sorry for my mother because she had cancer and a jerk for a daughter.
In the two months I spent in Jacksonville when my mom was dying, I had to contend with people thinking I'd been a negligent daughter, while also tending to all of my mother's complicated affairs and trying to see my kids whenever their dad was able to fly them down to me. My kids were six-and-a-half and one-and-a-half at the time.
My ex had known me, and by extension, my mother, since I was eighteen years old. He knew better than anyone how much grief my relationship with my mother had caused me over the years. When she had contacted him behind my back during the hiatus, hoping to make a surprise visit for my birthday … during the freaking hiatus … my then-husband had gently explained why that would be a terrible idea. "It's like when you hold a bar of soap in the shower," he'd told her. "If you hold on too tightly, the soap will slip away."
And I had slipped away from my mother, long before she slipped away from me in death. But then I came back, in the ways that I could, in the time that she had left. On a yellow legal pad, I made long lists of things she wanted and things she wanted done after her death. How to distribute the vast contents of her costume jewelry collection, who to give the canned goods in her pantry. A big party at the hospice center for her and a hundred of her closest friends. Directions to pay her best friend's utility bills for a year. Permission to give her brothers absolutely nothing since, in her estimation, she had given them enough money already over the years because she'd felt guilty telling them "no."
"Don't let them or anyone make you feel guilty for doing what you want to do," my mother told me. "Live your life."
I had waited my whole life to hear those words from my mother. I ached that they came too late for us to both fully enjoy the aftermath together, but I'm so very glad they came. Her words freed me.
My mother was lucid for most of her time in hospice. And not just lucid, but often hilarious. There was that a-hundred-person party at the hospital adjacent to the hospice center. My mother insisted on doing her own make-up and having a decorative cover for her colostomy bag. Someone alerted the local news, and they sent a camera crew and a reporter who asked my mother, "How does this celebration make you feel?"
And my mother, her voice heavy with Dilaudid, said, "Popular."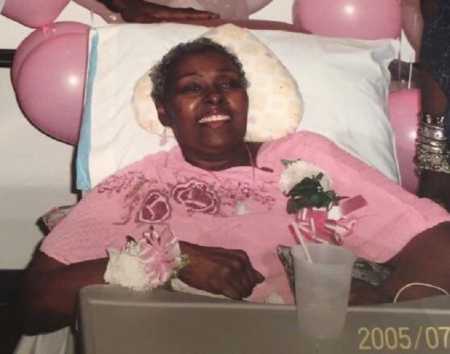 And there was that day a childhood friend stopped by. He told my mother that he'd always had a crush on her, growing up. She'd been skinny and asthmatic as a kid, but he thought she was beautiful. "And you still are beautiful," he told her.
After he left, my mom said to me, "Fine time for him to tell me alla that. But girl, look. I'm on my deathbed, and I still got it goin' on."
This is why I felt my mother would not mind how I dressed for her funeral. I had become obsessed with not sweating at the funeral, so I found this cocktail dress, above-the-knee, sleeveless, more "after 5" than "your mother's funeral." And I wore backless heels that were anything but conservative. And I think I strutted up to my mother's casket because you can't do anything but strut in heels like that.
And I'm pretty sure my critics among my mother's friends did not approve of my attire, but I didn't care. I didn't sweat and I didn't faint and I survived the day. And I've survived the many days since then, knowing that my mother died fully aware of how much I loved her, how much I had always loved her, despite all of the fights and frustration.
I wish that I hadn't needed my mother's permission to live my life. I wish that I had just been able to live it and ignore her criticisms, without having to hold her at arm's length. I wish I had been strong and confident enough in myself to do that while she was alive, instead of having that strength and confidence ushered in by her death.
My mother's death hasn't changed what I remember about my relationship with her, but it has caused me to filter the memories through a lens of understanding, gratitude, and humility. I have to show my mother this grace if for no other reason than I hope my own daughters will do the same for me. My mother's utter obliviousness to her parenting missteps forces me to recognize the likelihood of my own misinterpretation of my parenting actions and intentions. What I see as well-intentioned and helpful, my daughters could very well experience as overbearing and judgmental. What I offer as guidance might feel to them like pressure and shaming. I can't dictate their experience, and I won't tell them how to feel. I can only communicate my desire for them to be free to be who they are, even when I can't relate. And I can keep the lines of communication open so that they can tell me what they need from me in order to thrive, even when it's hard for me to hear. I can do the very best I can with what I know, which, I believe, is what my mother did.
This story was submitted to Love What Matters by Deesha Philyaw, writer of the blog Full Grown People where it originally appeared. You can also follow her work on Facebook. Submit your story here, and subscribe to our best love stories here.
Provide beauty and strength for others. SHARE this story on Facebook with your friends and family.