"You know how you feel when you are first dating someone and there's that halo of magic around your new relationship? Kind of like you stumbled into an Instagram posting where the photographer used that filter that puts a hazy, sunset glow on the photo like a sun-drenched happy afternoon in the 1960s?
That's how it was on our second date, when Triton and I decided to take a picnic to Coronado Beach. Sitting on that famed sand in front of the Hotel Del Coronado where Marilyn Monroe frolicked with cross-dressing Tony Curtis and Jack Lemmon in the classic flick 'Some Like It Hot,' we were surrounded by our own private glow of burgeoning love. We were having a nice conversation about life and we wanted from it, and who was the prettier drag queen in the movie, Jack or Tony (Tony, of course).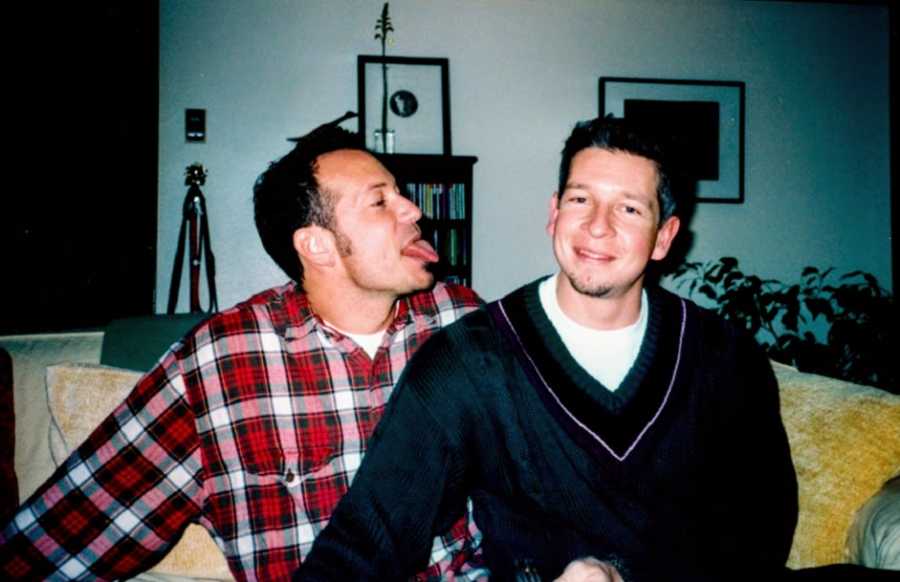 And then Triton coyly asked, 'How do you feel about having children?' staring out at the ocean waves and the families with young kids playing by the water.
The glow of the moment, the thrill of the romance with the man I knew was my one-and-forever, and that damn sunset-y Instagram filter all conspired for me to give my most honest answer: 'Yes, I love kids and have always wanted a family.' And we were off and running.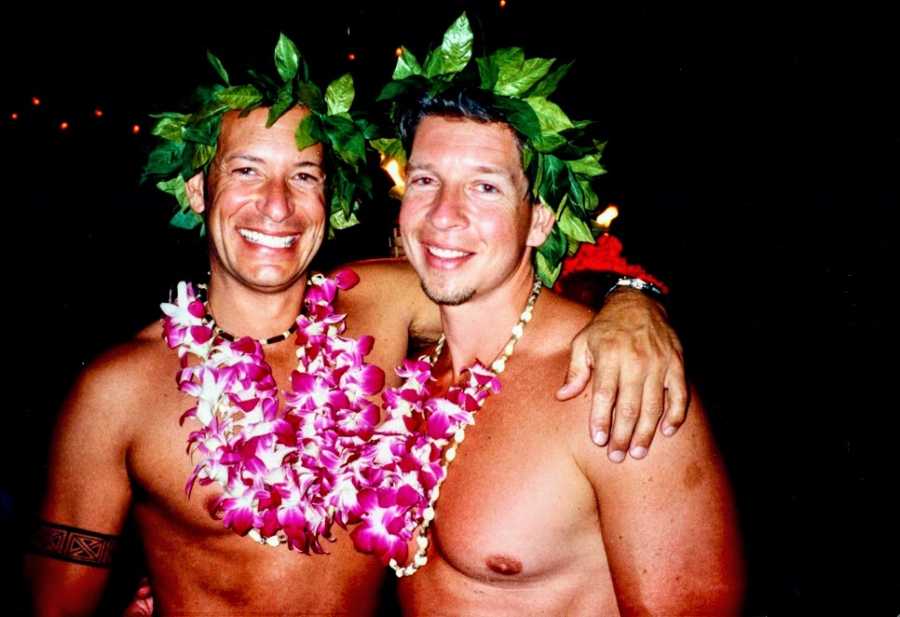 After a ton of research and talking with friends who had started families in a variety of ways, we chose to move forward with open adoption. There are pros and cons with open adoption, and any couple – straight or gay – can tell you it's a bit harrowing. In an open adoption, the 'open' part means you meet the birth mother in advance of the birth, and everything is out in the open.
Knowing this made us more inclined to choose the open adoption path because we knew our circumstances would be 'special' anyway. After all, there would be no mom, so therefore no secret as to whether our kids were adopted or not. Triton and I knew our kids would want information about their birth parents, and particularly their birth mother since they would not grow up with a mom present. Realizing we did not want this information to be kept secret from them or us, it felt right to choose open adoption to be handled by a fantastic attorney in LA.
Our attorney was very kind and supportive, telling us he had successfully matched other same-sex parents with birthmothers – it just might take a little longer. After all, this was 2001 – pre-gayby boom – when the idea of two dads was still relatively uncommon. 'How much longer?' we asked. 'Normally, I tell straight couples it may take 9-12 months for a match, and in your case, we should expect about 18-24 months,' he said.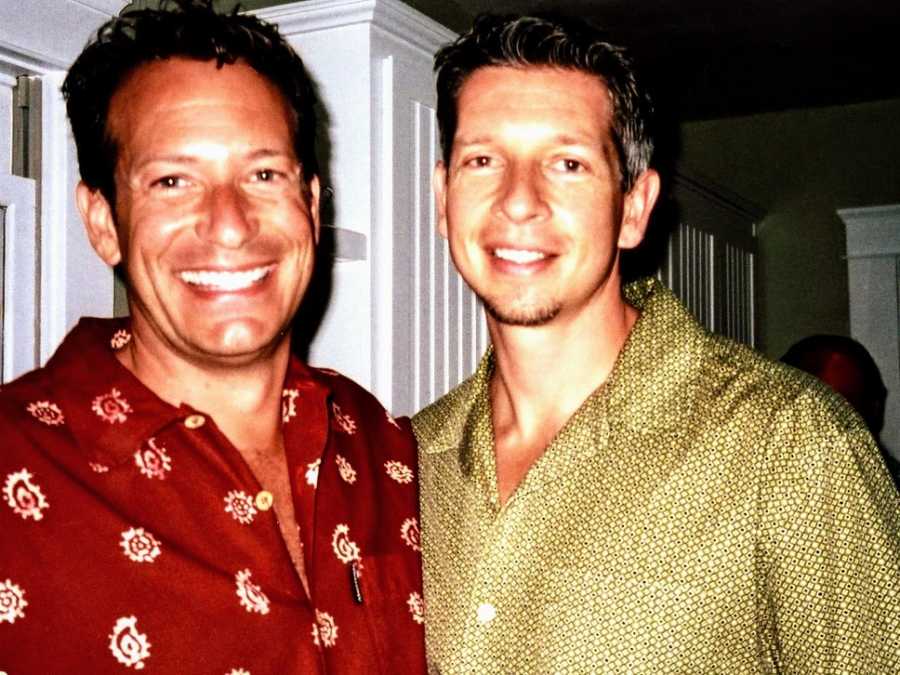 It only took 2 months. The call came while I was in Atlanta at a business conference, and on a break was visiting the museum at the childhood home of Martin Luther King. At this historic place, in the shadow of this great man, with his iconic words hanging over me, my cell phone rang with Triton calling to tell me we had been matched with a birth mother. A Latina birth mother and first-generation American, whose parents had fled the violence in El Salvador to raise their daughter in the United States. She was 17.
We met her at our attorney's office, and in some weird reverse-universe, she interviewed us to see if we were worthy of her soon-to-be-born baby girl. While we ate hamburgers at a nearby restaurant, we talked about Brittney Spears, 9/11, Disneyland, and being pregnant as a senior in high school. It was surreal, but I guess we passed the test because she agreed we were the ones.
It was a whirlwind from there, and just a few weeks later we got the call to meet at the hospital in South LA because Sophia was on the way! When the time came, we were all in the birthing room together, scared and excited while the doctor and nurses did their thing. Triton and I burst into tears at the words 'You have a healthy baby girl!' and the doctor handed Sophia to me as we watched her little soul come to life in our arms. It was the day that made us parents forever, and we will remember every tiny moment.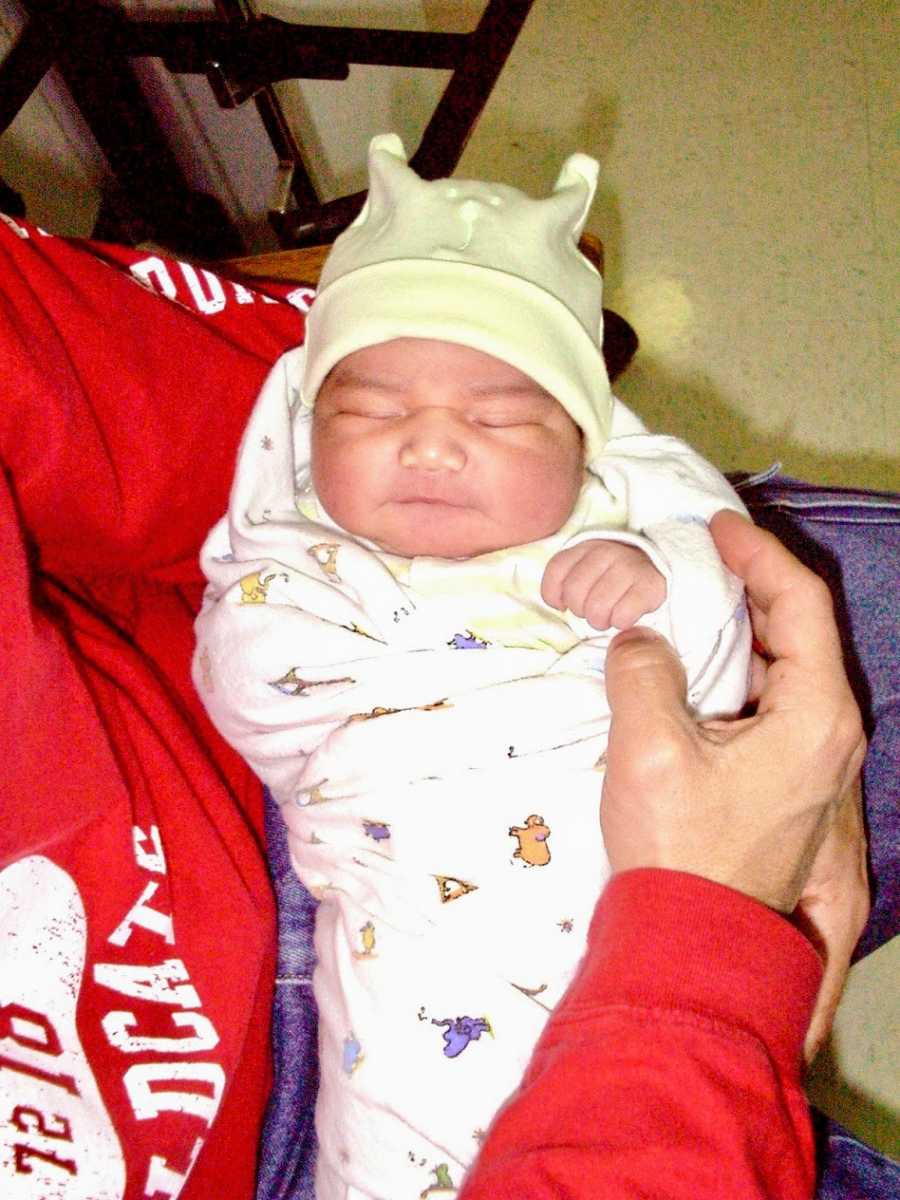 At that time in 2002, the State of California allowed 90 days for the birth mother to change her mind and take the baby back unless she signed a waiver of her rights. There were more than a few horror stories surrounding instances of changed minds. We insisted she sign the waiver, and she agreed. Sophia was irrevocably ours forever!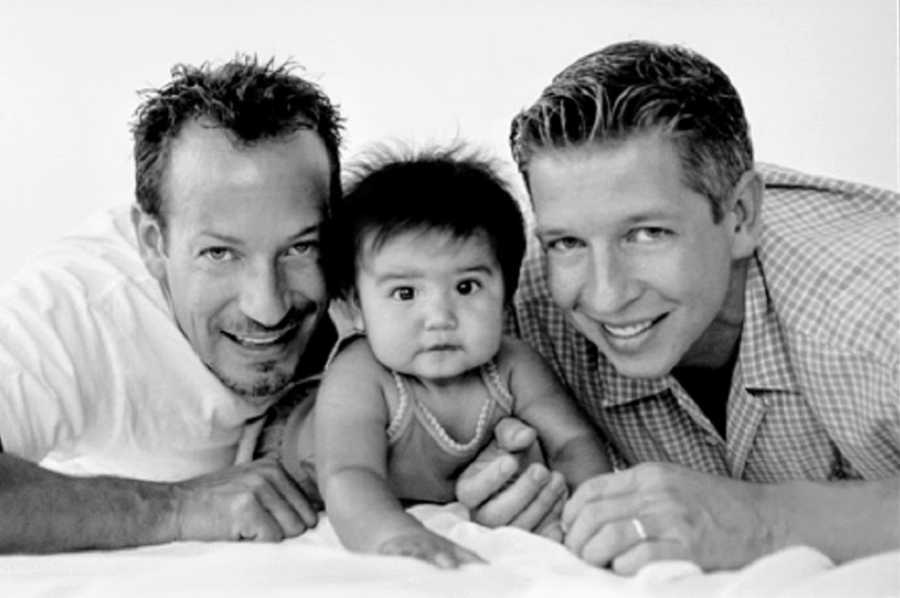 Fast forward to Sophia's toddlerhood, when we began planning for another baby. Since we had been lucky that our adoption happened quickly the first time, we felt we better give reasonable time for the second round. When Sophia was 15 months, we contacted our attorney and started the process for Baby #2, thinking the timing would work out for our kids to be about 2.5-3 years apart. Once again, fate moved more quickly than we imagined.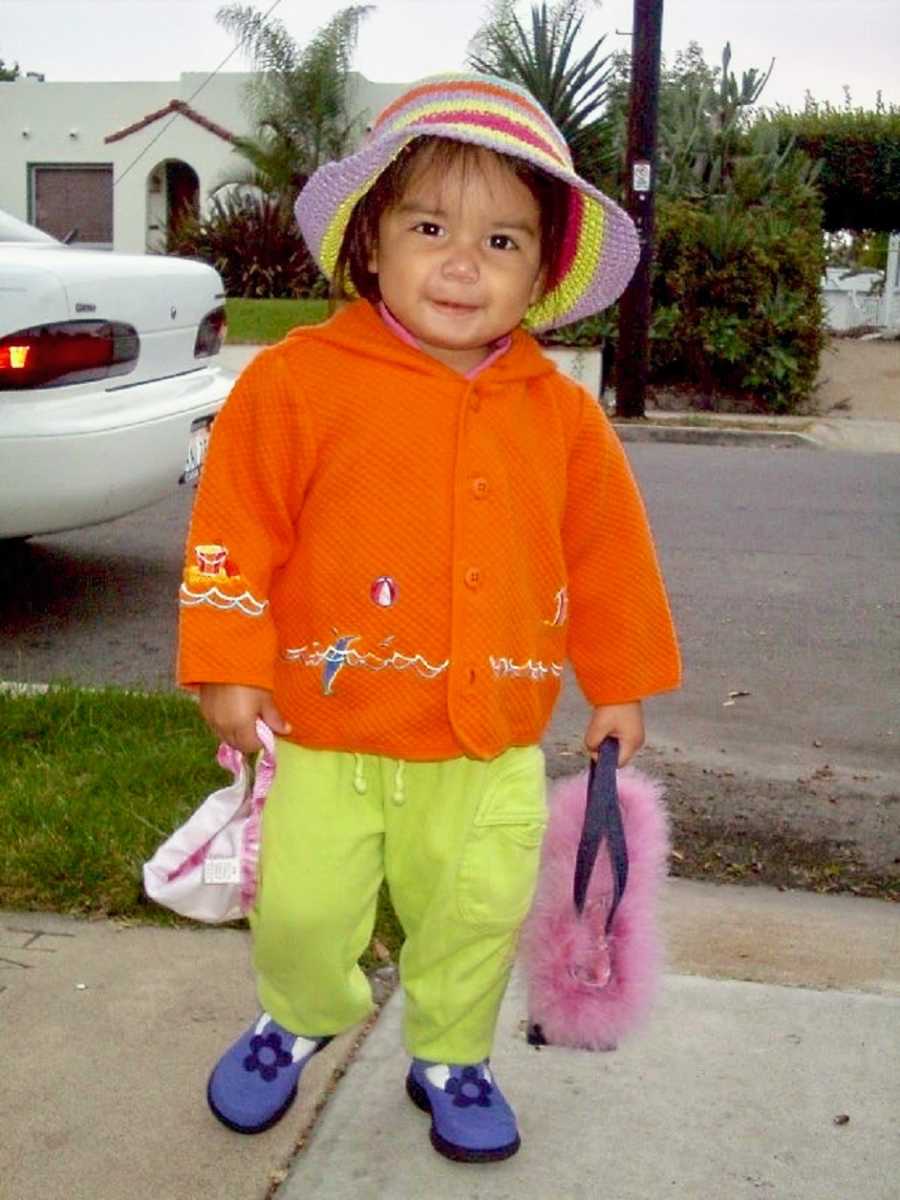 Ava's birth mom chose us just a couple of months later. She had flown in from Las Vegas to meet us in LA at the attorney's office once again, and we knew when we met her she had a kind heart and good intentions. A mother of two kids under 4, she could not handle another baby and wanted to find good parents. The birth father was from Mexico and had returned, not even knowing she was pregnant. We hit it off immediately (she had a gay brother), and the match was made.
Ava would be born via cesarean, so her arrival was scheduled on a November day in Las Vegas. Leaving Sophia at home with her aunt, Triton and I drove over from San Diego, nervous and excited to meet our new little girl. At the hospital, we waited outside of the operating room for her arrival and when they brought her out to us, they had already cleaned her up and stuck a little white bow to her bald little baby head. She was soooo adorable and had the thickest and most intense eyelashes we'd ever seen on a baby. (Maybelline would be envious!) We fell instantly in love.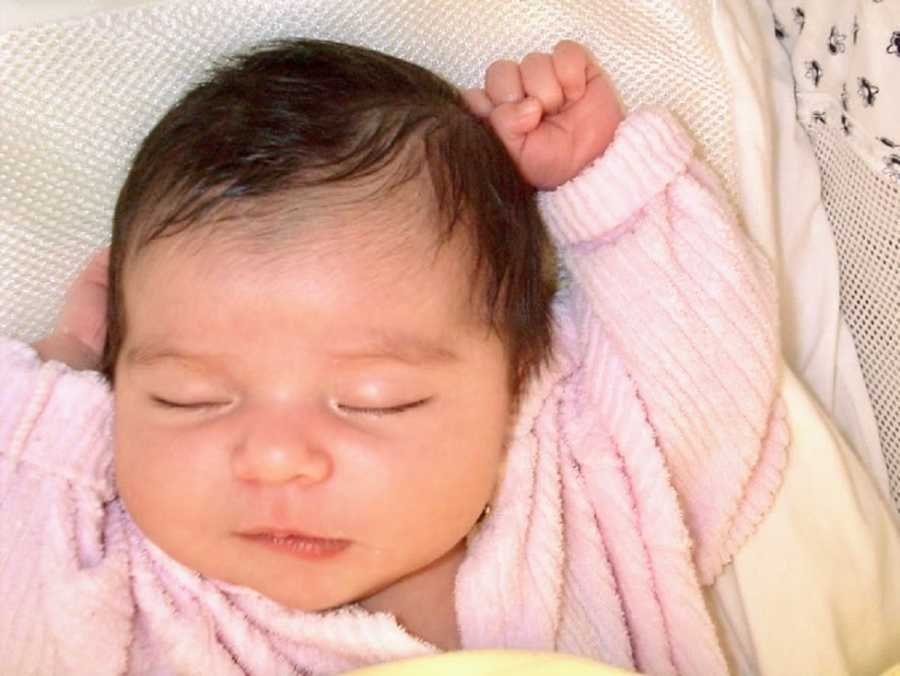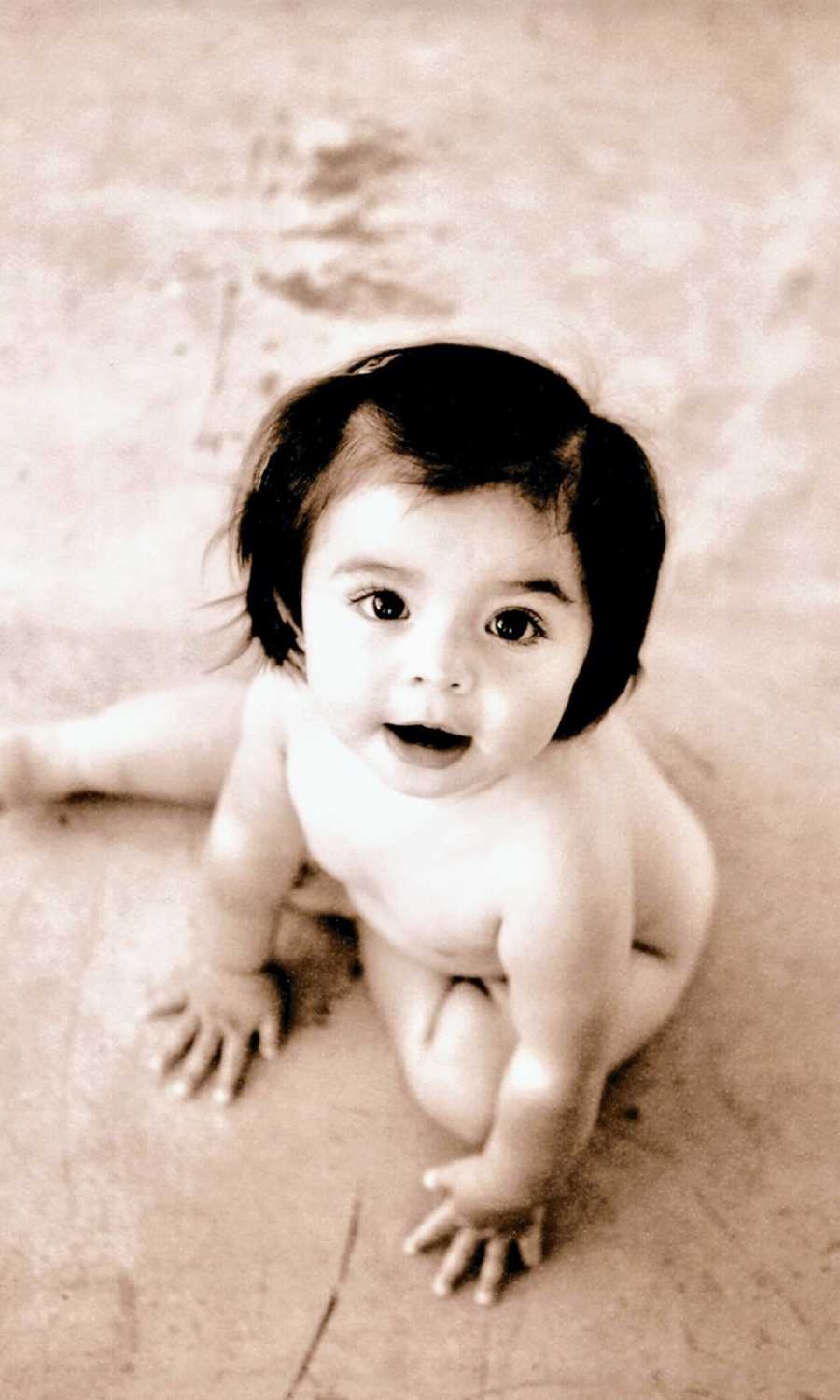 In the State of Nevada, the law in 2003 required the baby to stay with the birth mother in the hospital for 72 hours after birth to allow for her to change her mind about the adoption. In the same room! I remember being so nervous about her keeping the baby that we pretty much camped out in her hospital room for the entire three days, keeping a watch on her. She even breastfed! Of course, she always intended for us to be Ava's parents and there was never a question about changing her mind. We left the hospital with Ava in our arms, retreating to a full-service hotel to await the paperwork allowing us to leave the state and return home with our new daughter.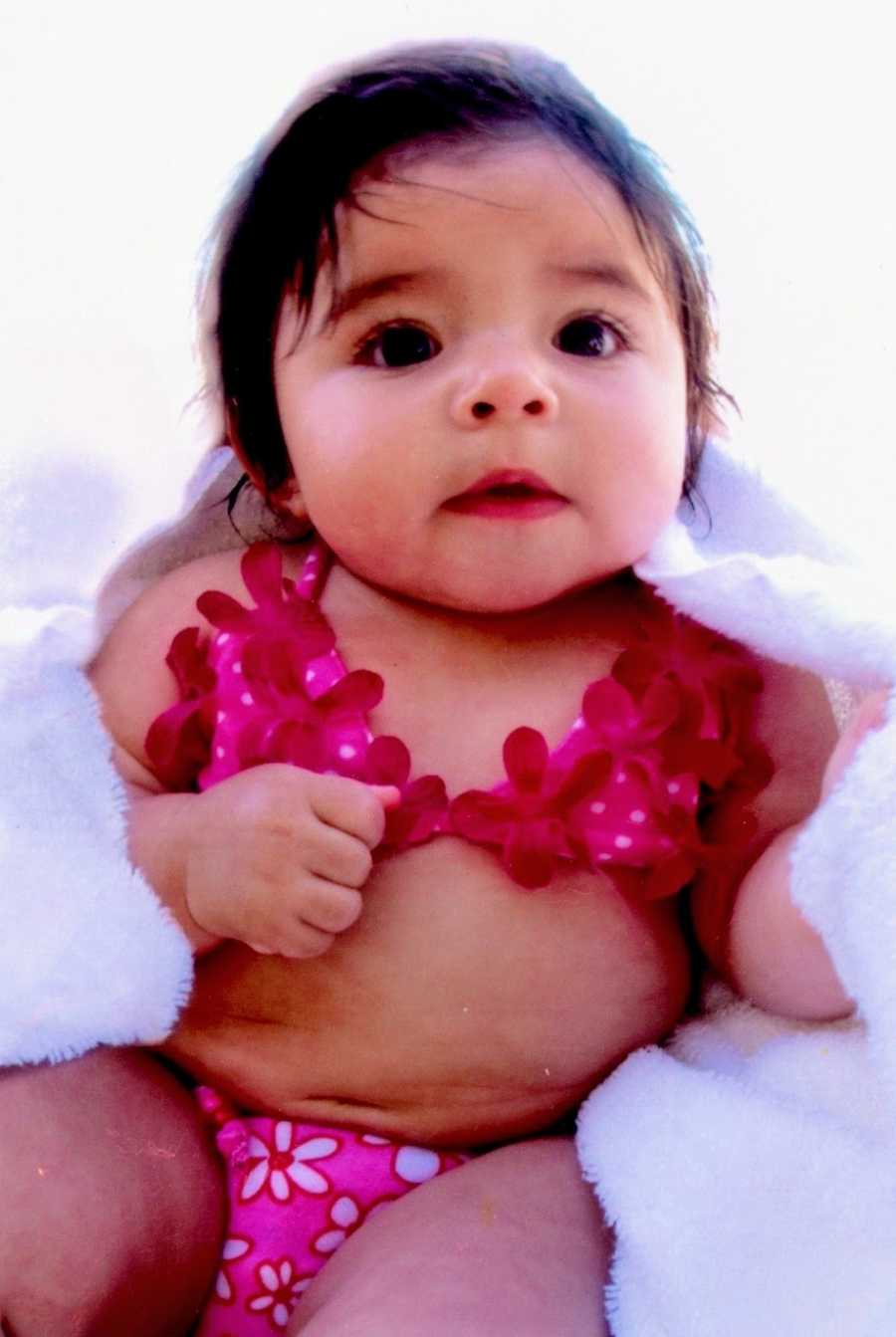 Las Vegas is an odd place with a newborn baby. All the many times we'd been to Vegas before, it had been about chic hotel rooms, playful casinos, fabulous dining, amazing shows, and late, late, late nights. None of that jives with a little baby wrapped in pink and drinking formula from a bottle. Instead, we found ourselves discovering a whole new interesting side of Las Vegas that happens off the famous Las Vegas Strip.
Finally, we were cleared to leave, and we drove all the way home to San Diego in the slow lane with the flashers on, protective of our precious cargo.
As the timing worked out, our girls were born 22 months apart – enough for them to be separated by two grades in school. We had an awesome time forming lasting friendships with other same-sex parents in our area through playgroups and organizations for families like ours. It was (and is) so great to have a support group of peers where we can help each other through some of the parenting issues unique to our community.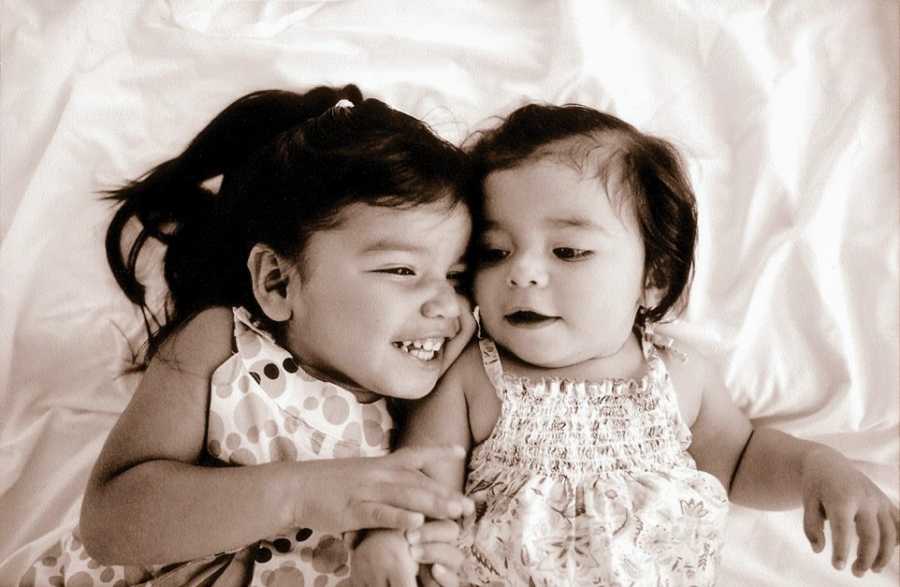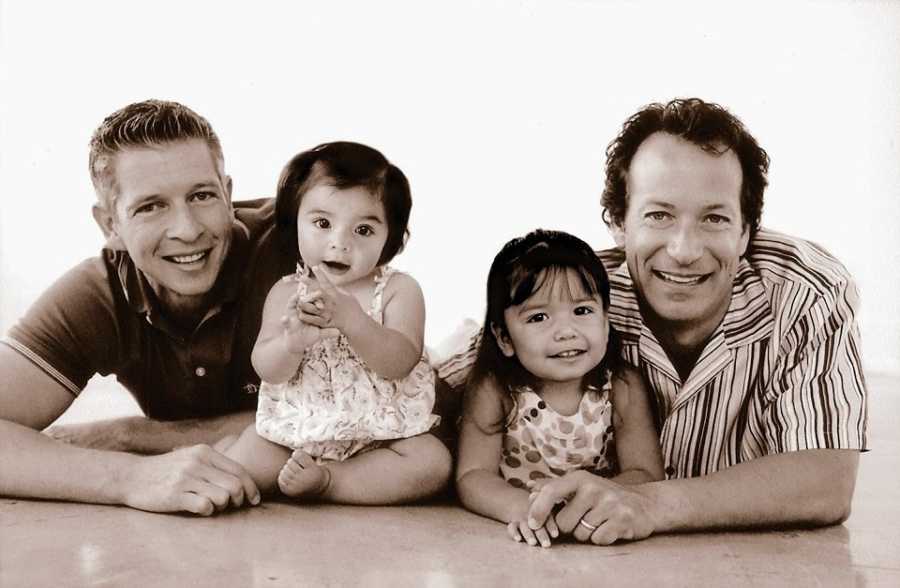 This and so many other wonderfully supportive family members, friends, teachers, and strangers have made raising our girls feel so inclusive and positive. Although it has not been without its bumps along the way. What none of us were prepared for was how mean other kids could be.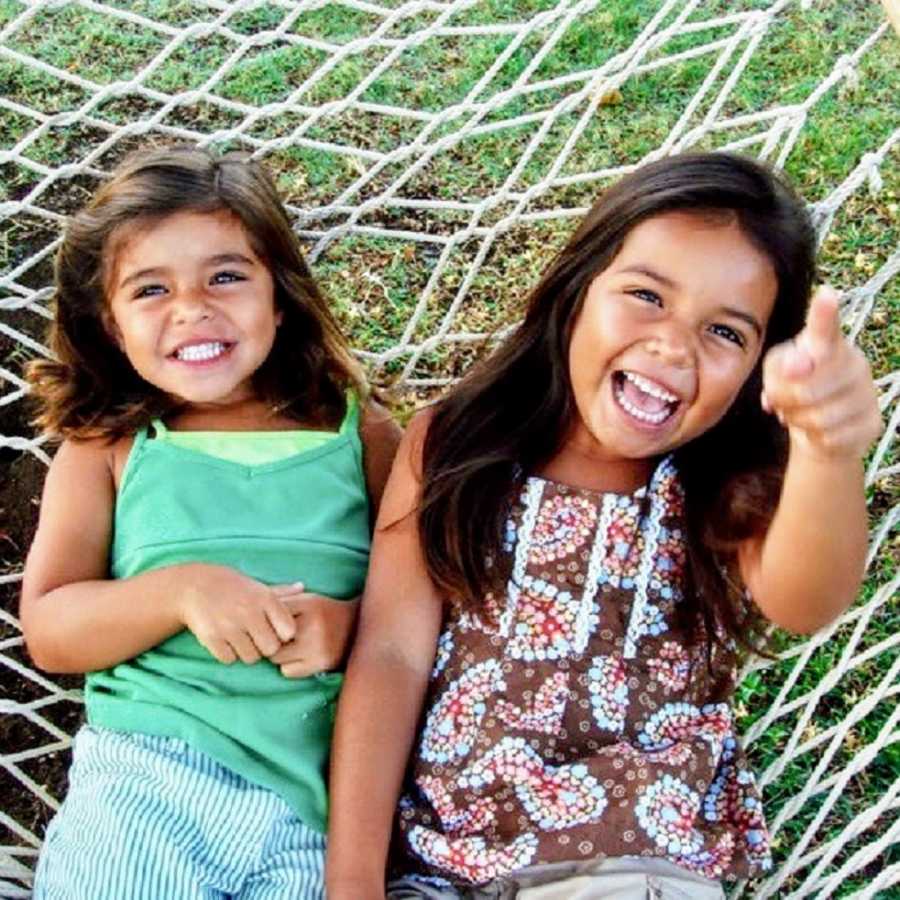 We anticipated this might happen, kids teasing our girls because they have two dads and no mom. What we didn't expect was the resilience of our daughters, hurt though they were. They were well aware our family was different – we talked about it openly from their earliest memories. No parent wants their child to be hurt, and it was hard for Triton and me to witness. However, these early experiences made our girls strong leaders and advocates for human rights, civil rights, and anyone who might be considered 'other.'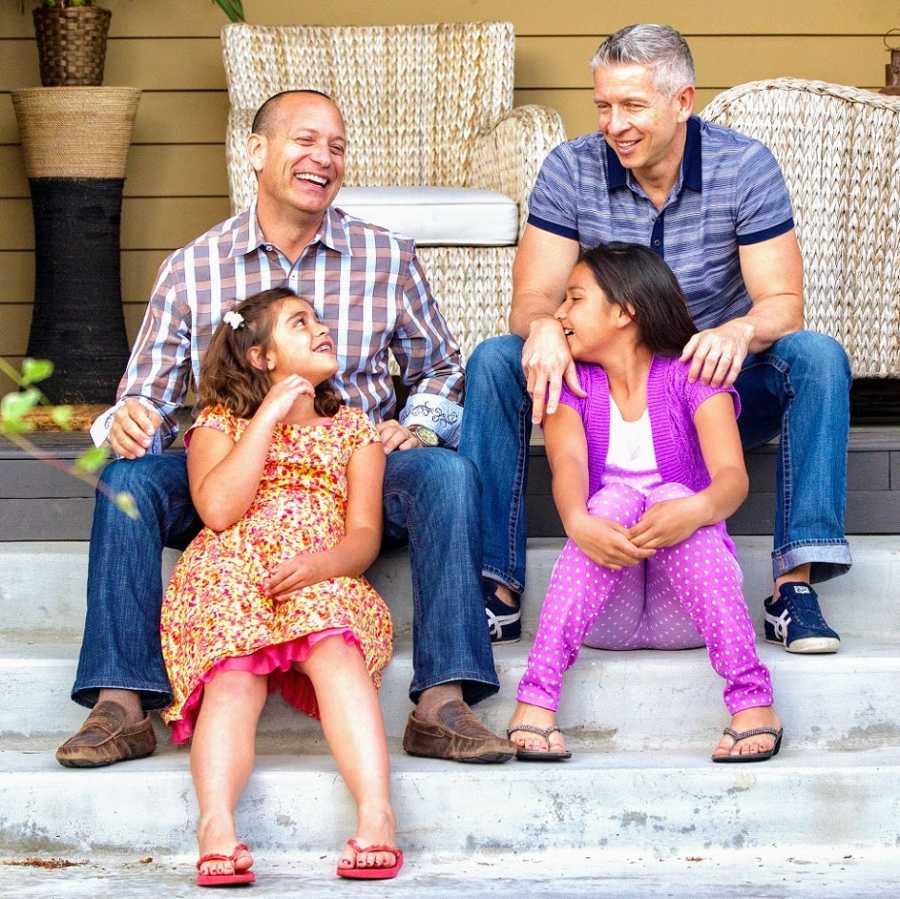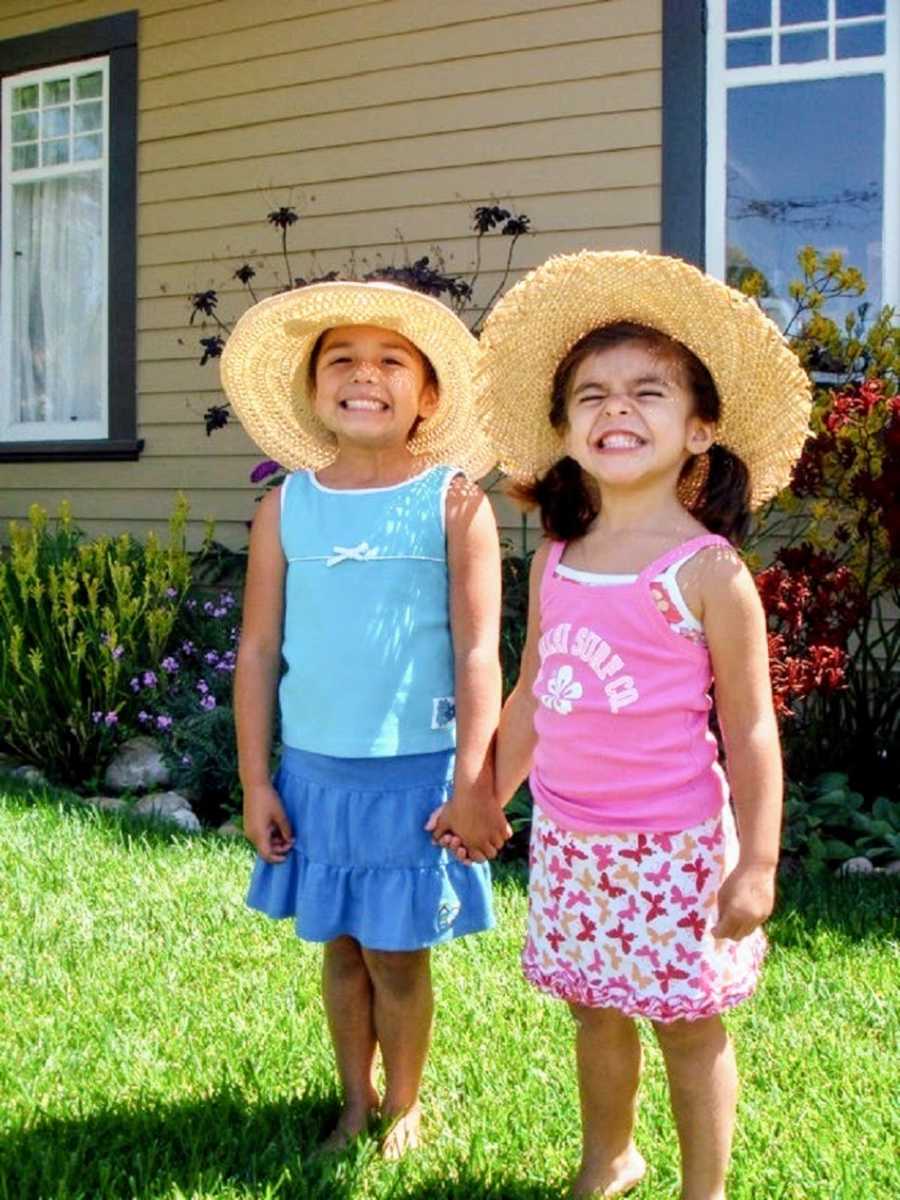 When President Obama was running for his second term of office and the subject of gay marriage in the US was headed towards a Supreme Court decision, Sophia was 10 and Ava was 8. Sophia came downstairs one day and announced she had written a letter to President Obama about having two dads, thanking him for supporting our loving family and asking him why kids could be so mean. And, as a great man like President Obama would, he wrote back to Sophia with wisdom and kindness.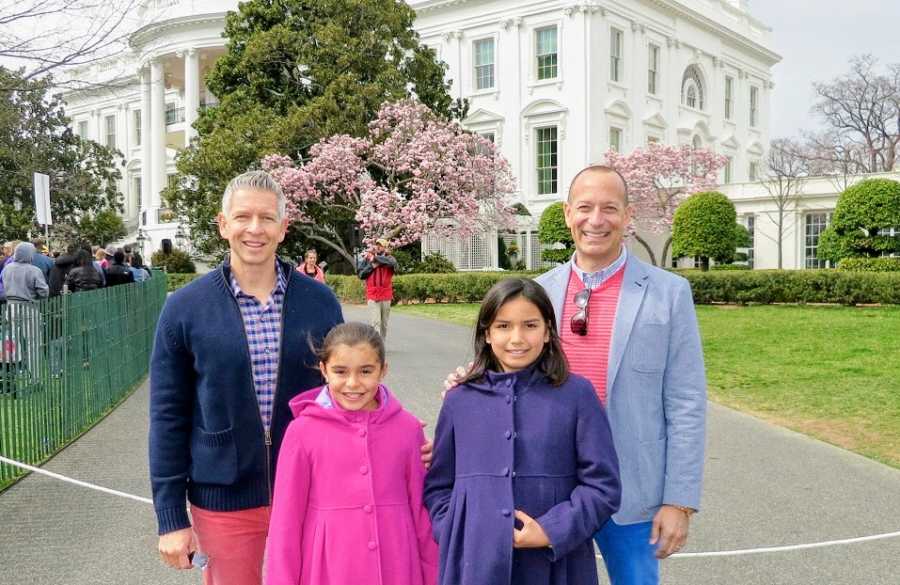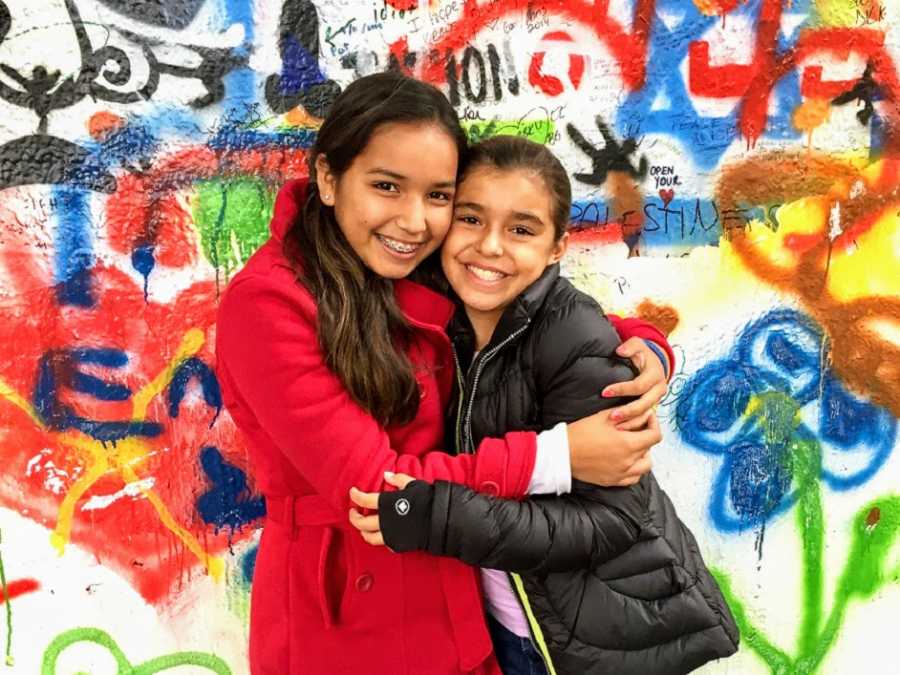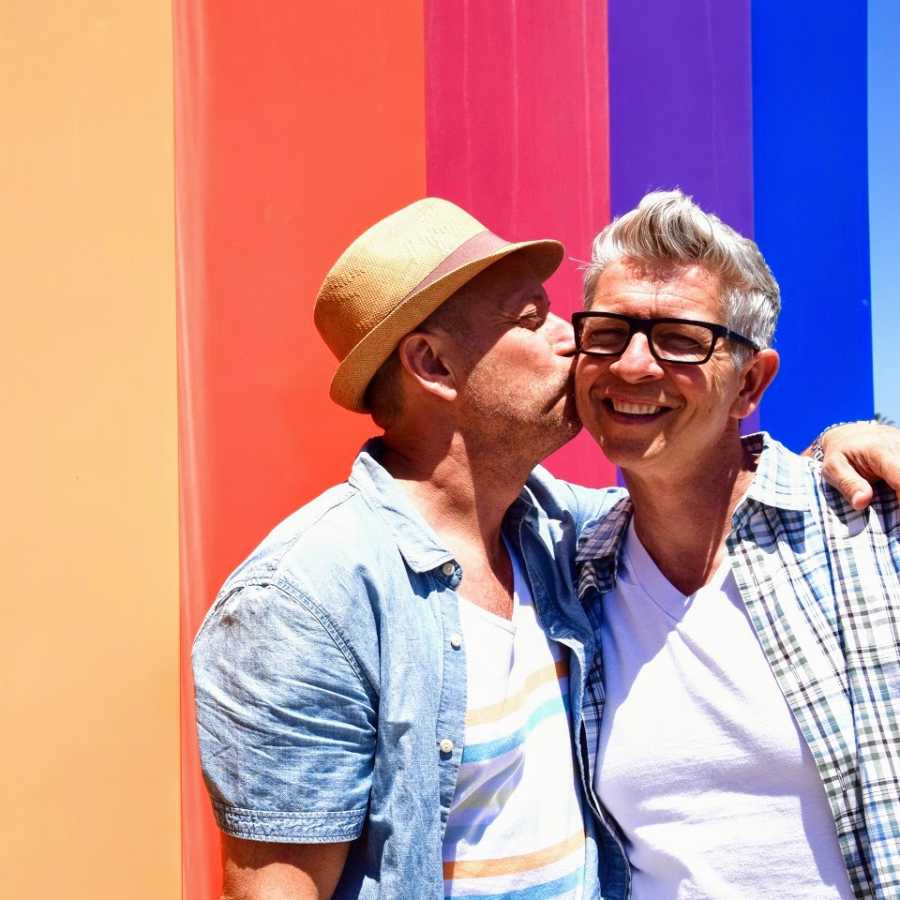 This exchange between a little girl and the President of the United States went viral around the world, with hundreds of supportive stories written in news outlets across many countries and languages. It seemed Sophia had hit upon a unifying message that people the world over understood and supported: love is love.
Much has come from this exchange between Sophia and President Obama – far too much to write about here. But most importantly, it has made us so very proud to be the parents of two such strong Latina women who recognize their power and stand up for their rights and those of others. Now 18 and 16, they've marched for Black Lives Matter. They've raised money to buy books for kids who cannot afford them. They've prepared meals to feed homeless families. They are not afraid to speak their minds.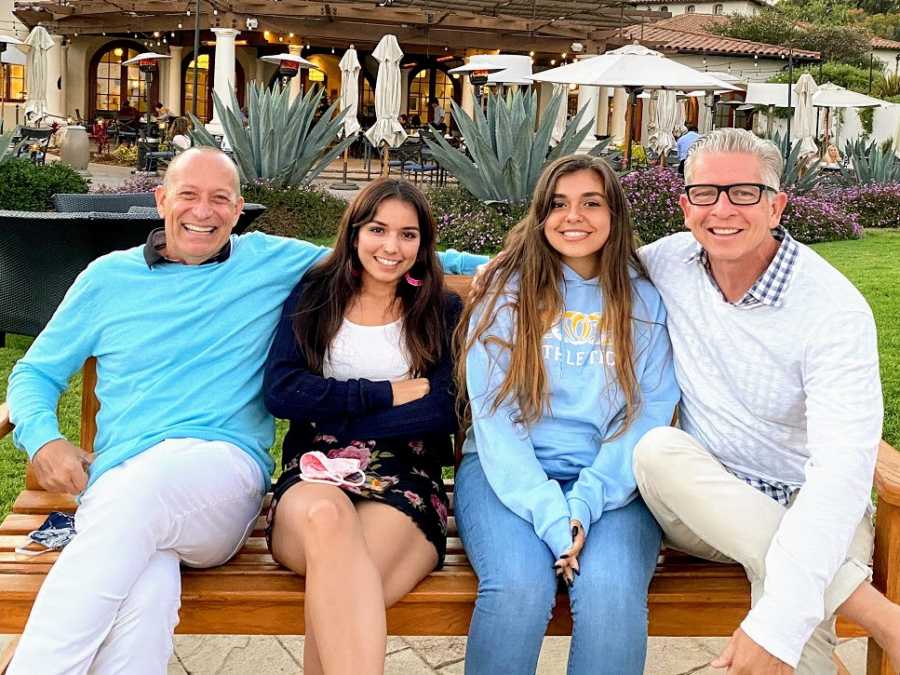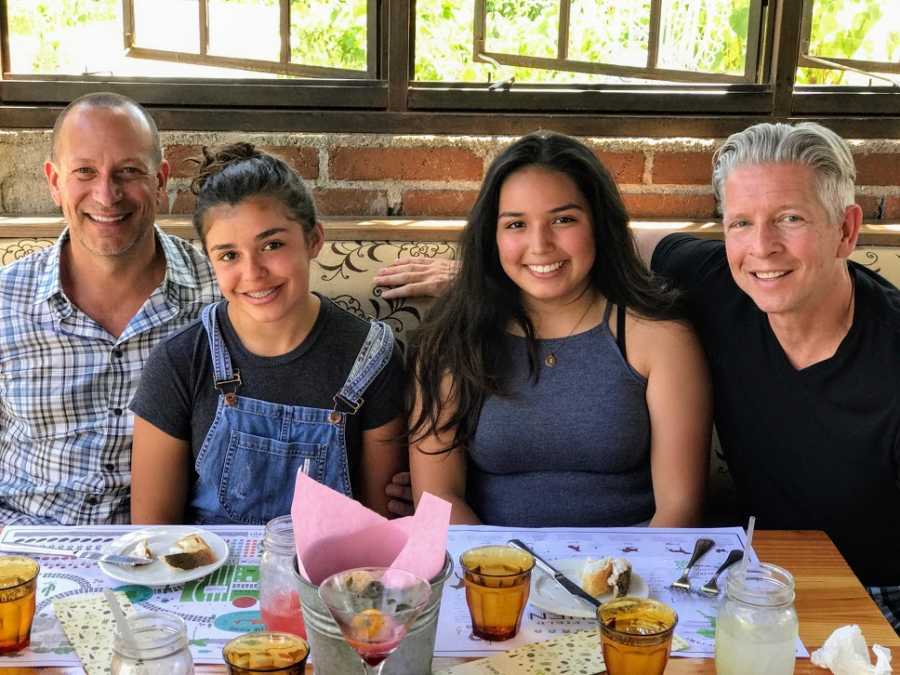 There are many things to be proud of as parents, and these things are the ones that choke us up every time. We wouldn't have it any other way, and we are eternally grateful to those loving birth moms who made the ultimate decision to allow us to be the parents of our beautiful daughters, Sophia and Ava. It's the gift of a lifetime."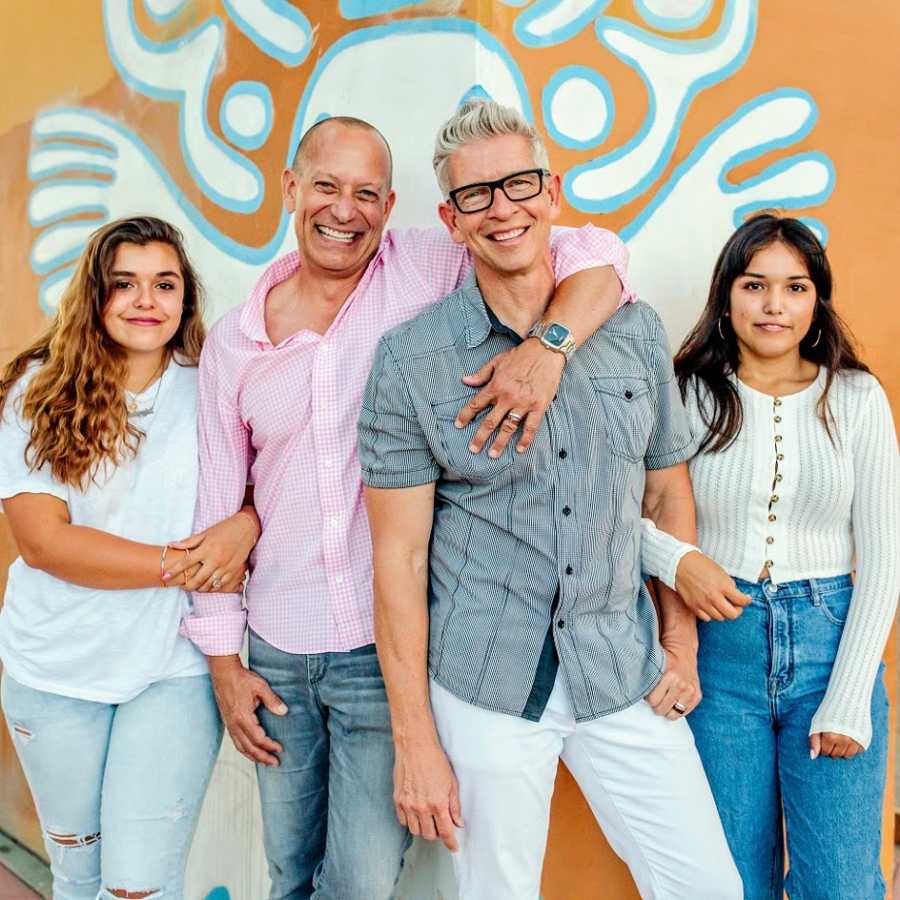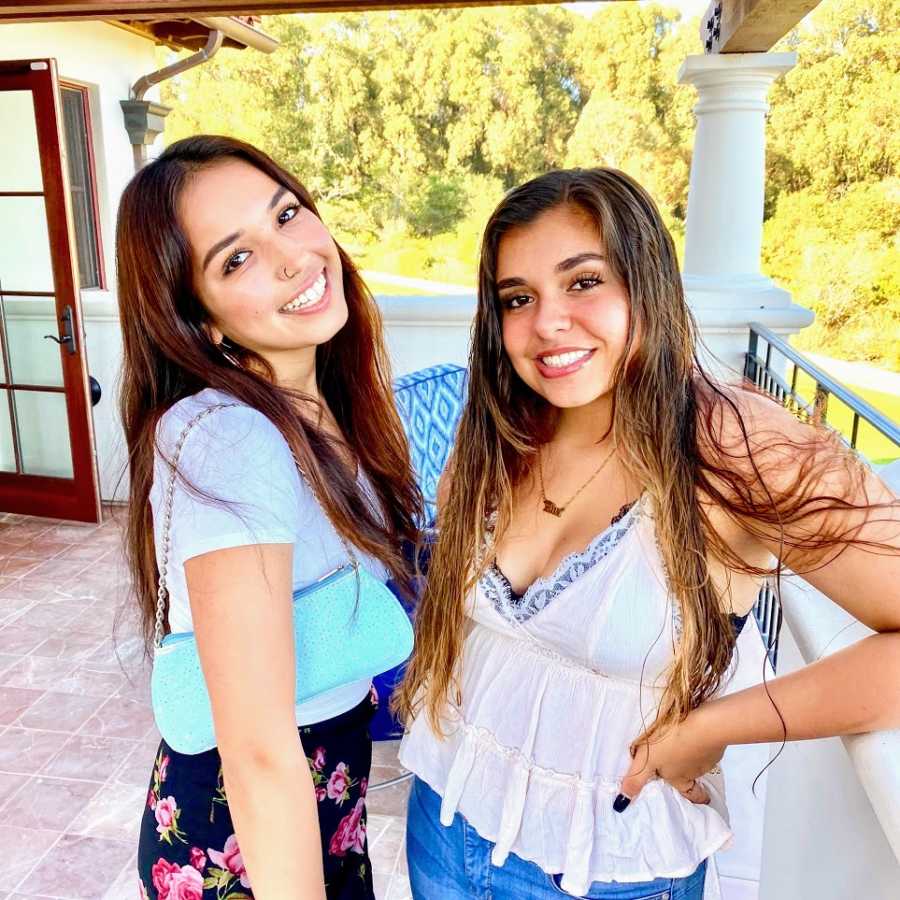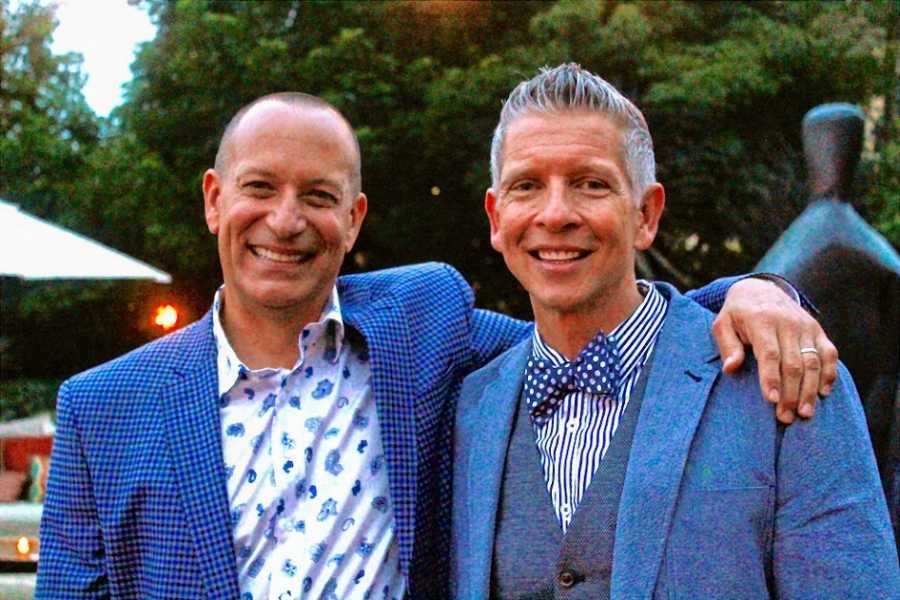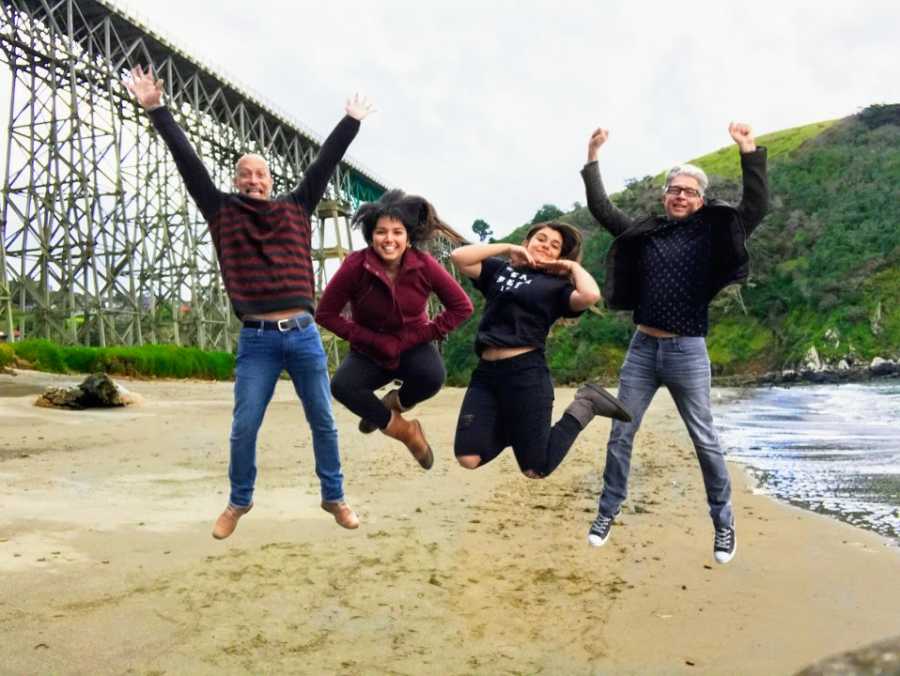 This story was submitted to Love What Matters by Jon Bailey and Triton Klugh of San Diego, CA. Follow their family, including their daughters Sophia (18) and Ava (16) on Instagram, Facebook, and their website. Do you have a similar experience? We'd like to hear your important journey. Submit your own story here, and subscribe to our best stories in our free newsletter here.
Read more stories like this:
'Nervously, we asked what was happening. 'Are you sitting down? The birth mother is having twins.' Our tears of joy were replaced with complete shock.': Gay dads welcome 'beautiful and healthy twins' after adoption journey
'This little girl needed parents who'd love her no, matter what. Our opportunity was staring us in the face.': Gay dads adopt 'tiny, 5-pound, perfect' baby girl after initial doubts of being 'enough' for her
'I was called 'gay' before I even knew what it meant. I have to be a strong papa to my girls. I can't let them see I'm hurting.' Gay father from deep south says he's just like 'any other family', finds confidence after years of bullying
Please SHARE this story on Facebook to encourage others to cherish every moment and love what matters most.