"I'm going to miss this.
Our youngest child is a challenge. Every day from start to finish and sometimes for hours in the middle of the night, she's a challenge.
She's our wild child. She is completely different from her three older siblings and we are often at a loss when it comes to how to parent her. She is 100% her own person and she makes no apologies for that. Ever. Not even for a second. And that's amazing.
For us, it is exhausting and endlessly frustrating. I can't count the number of times she has pushed me to tears with the many ways I feel I am failing as her mother. How do you raise a child like this? How do you let them be themselves in a world that will expect something so entirely different from that defiant being that's staring you down with her giant, cartoon baby animal eyes? How?
And yet, she's amazing. Because she will not and she cannot bend to our will. She refuses to be anything but herself. And that is the kind of strength that I only wish I could find within myself. She's amazing.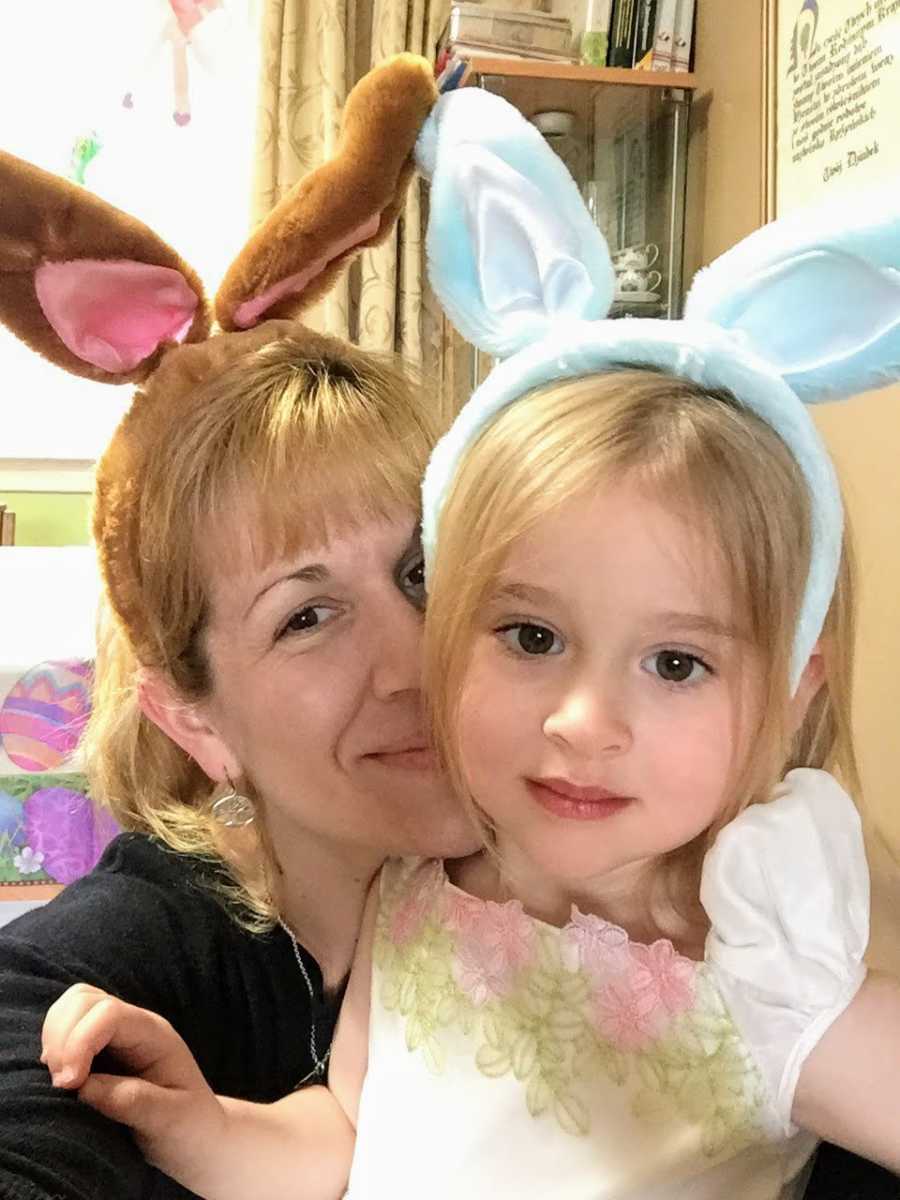 But the days are long and the nights are longer. And when the exhaustion is starting to break me down, I forget. I forget that she is amazing, and I start to wish the time away. I start to dream of a time when she will be mature enough to understand. A time when she will be more willing to discuss and to hear us. A time when she may not sleep at night, but she won't wake me because she will be old enough to read a book on her own. I wish the time away.
Today we were upgrading our phones and we were in our local Best Buy for awhile. I walked around with her, looking at the nature videos they had playing on the televisions and trying to keep her from running up and down the aisles. My husband needed to talk to me for a minute about my new phone so she was entertaining herself a few feet away with a display phone that had planets on it.
And when I turned around I caught a glimpse of her little legs under the table.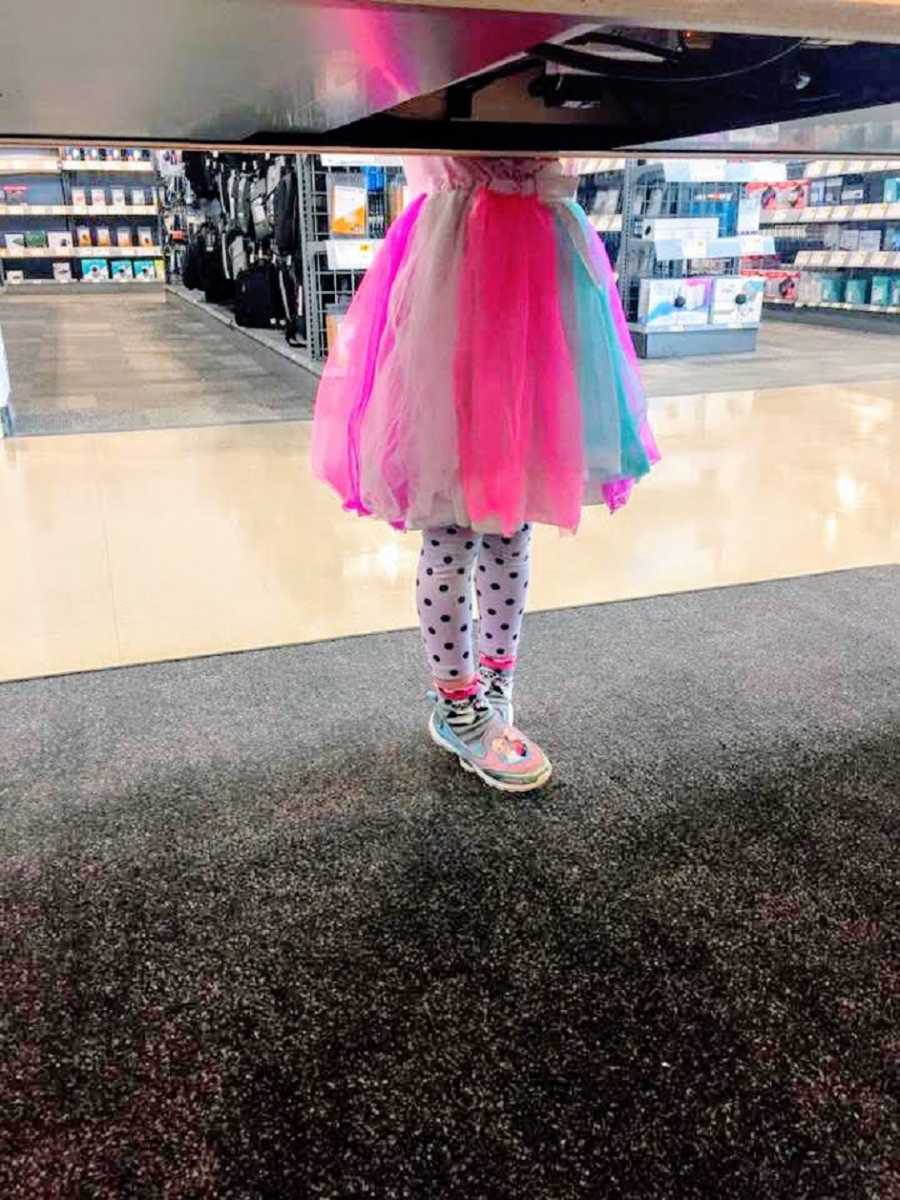 Sparkly shoes with crazy socks, polka dot leggings and a multicoloured tutu. It was her in a nutshell. She hates the attention she gets when we go out so I always cringe when she selects one of her wild outfits. People think it's adorable and a novelty, but she gets so angry because to her it's just who she is.
And tears came to my eyes looking at those polka dot covered legs, and like a punch to the gut I realized just how much I'm going to miss them one day. She won't always dress like a rainbow. She won't always scowl at people when they comment on her appearance. She won't always run up and down the aisles of a store, telling wildly imaginative stories for no one but herself, not caring for even a second what anyone thinks.
She won't always be unencumbered by the expectations of society and unburdened with the responsibilities that come with letting go of the multi coloured tutu. She won't always stomp those sparkly feet in defiance and stare me down with those ridiculously giant eyes. And she won't always call me in the night.
Suddenly, I didn't wish for any of it to end. I realized just how quickly it will pass me by.
I just stood there and committed the moment to memory. I soaked up every second of it.
For now, today, she is still my little wild child.
And that's amazing."
From podcasts to video shows, parenting resources to happy tears – join the Love What Matters community and subscribe on YouTube.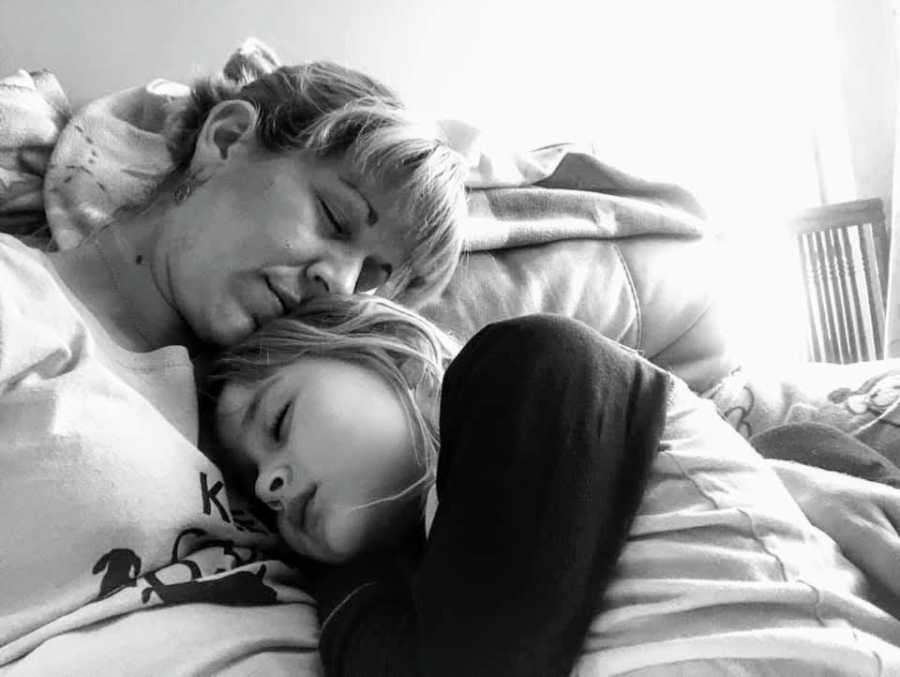 This story was submitted to Love What Matters by Jesica Ryzynski of Is That Chocolate Or Poop? and originally appeared here. Submit your own story here and be sure to subscribe to our free email newsletter for our best stories.
Read more stories like this:
'You hold on tight. Somehow 20 years isn't enough. When it's time for them to go, it all hits you like a ton of bricks.': Mom of teens urges us to 'soak it all in' during younger parenting years
'Well, the baby is your half-brother. Not your brother.' The pediatrician corrected my daughter. I was completely taken aback.': Woman reminds us 'love' is what makes family, 'there is nothing half about it!'
'I have the 'wild child.' The one that's loud. That NEVER listens to 'no.' I feel guilty. 'Was I too hard on him today?': Woman claims 'wild child' moms are 'trying harder than you know'
Do you know someone who could benefit from reading this? SHARE this story on Facebook with family and friends.