"It happened on the first of March.
My partner and I, as well as twenty-three members of my immediate family hit the road to begin our road trip to Kissimee, Florida. A couple hours away from our destination, all three of our family vehicles pulled over to grab some grub at Chick-Fil-A, one of my favorite restaurants. We ate, we laughed, and we took family photos on the patio. Everything seemed normal.
My sister Chaval had already agreed to documenting and photographing our trip. So, when we were about to get back into our vehicles after our meal, she asked, 'Can I film you guys?' I wasn't dolled up as normal. My hair was undone and not fully combed. There was not a spec of makeup or lip gloss on me. It wasn't the most glamorous of moments to document, but we agreed nonetheless. I didn't know what was going to happen next.
Not far behind me was my partner Gary, whom I slowed down for. He opened the SUV door (like he always does), only his time pink rose petals flew out into the wind. There was a beautiful bouquet of multi-colored roses set in between our seats and a banner that read, 'MARRY ME CASME' that greeted me like WHOA! I turned around and there Gary was with a gorgeous Emerald Cut Diamond Ring in hand!
Of course you know what happened next right?! To one knee he gracefully fell and requested my hand in marriage the good old traditional way. 'Casme, will you marry me?' And of course, I said, 'YES!' My mother, father, seven sisters, younger brother, nephews, nieces, and in-laws were all right there, cheering us on. It was a beautiful moment I'll cherish forever.
I knew I wanted my wedding day to be special. Who doesn't? For the past eight years, I had been saving cute wedding inspiration photos on Pinterest in case the day ever came. Gary and I referred back to that for inspiration. But I didn't exactly know my wedding would turn out the way it did.
You see, for the past eighteen years, I had been traveling the world as a singer-songwriter, designer, and entrepreneur among many other things. During my travels, and through participating in school, mentor programs, women's organizations, church, and business ventures, I met dozens of amazing and inspiring women who I have the pleasure of calling my great friends. When it came time to plan for the wedding, I literally just started calling and FaceTiming all of my best girlfriends, asking them to be a part of my big day. By the end of May, I had reached out to a list of about 50 lovely ladies. I didn't have this exact number in mind, but it just sort of happened. The more calls I made, the more I realized how special these women were to me.
As time passed, some were able to confirm their attendance while others unfortunately said they could not make it.
When my wedding day arrived, we had a beautiful ceremony on the beach. We wanted to marry at sunrise so we could feel as close to God as possible, especially because we felt he had honored our union. We married on the beach before the heavens and the earth, the clouds in the water. It was truly magical.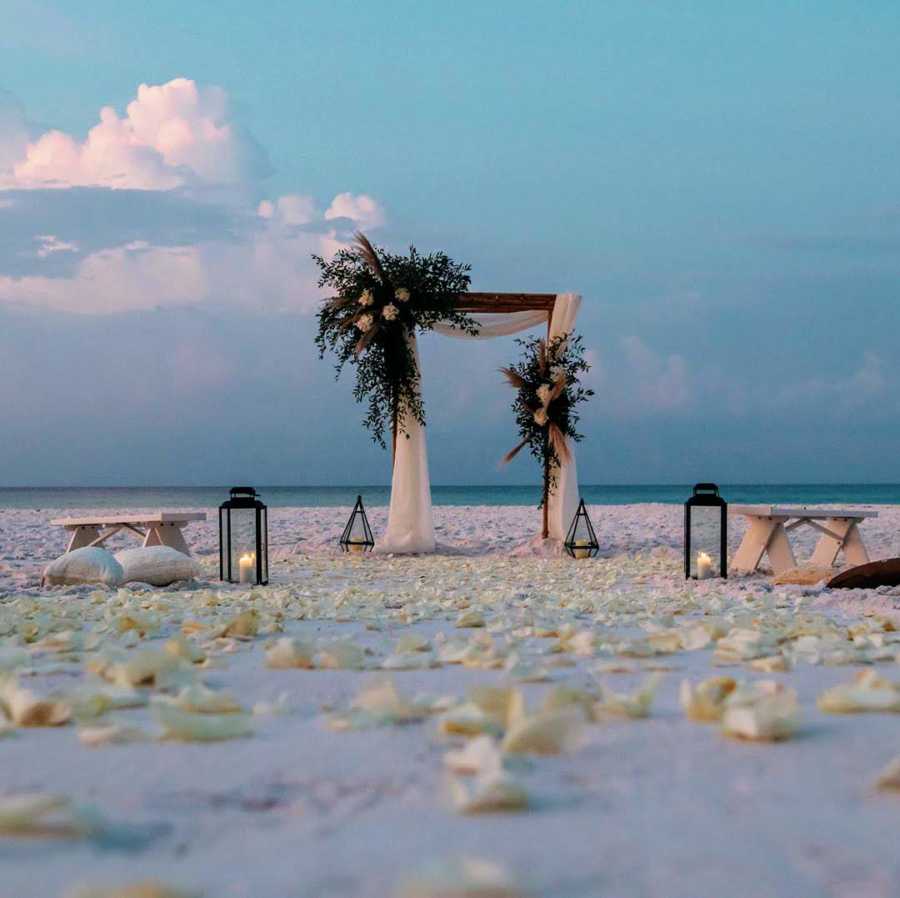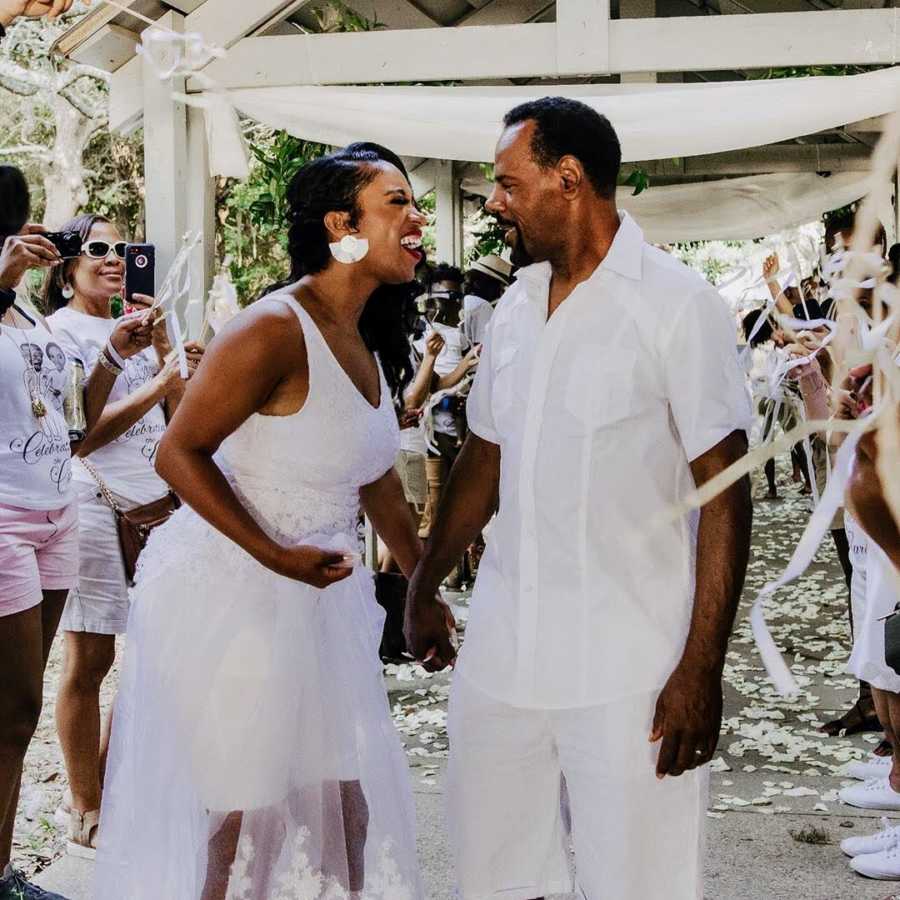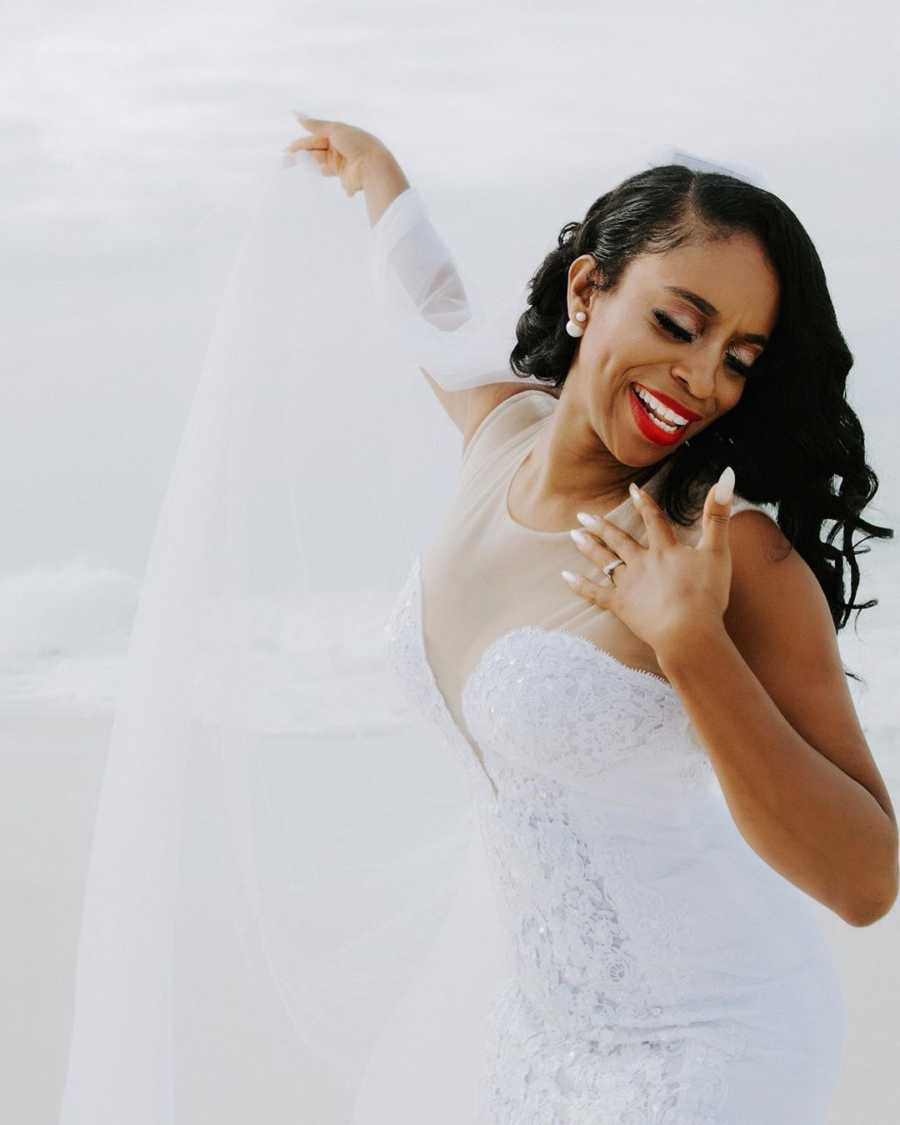 And, drumroll… I had 34 beautiful bridesmaids!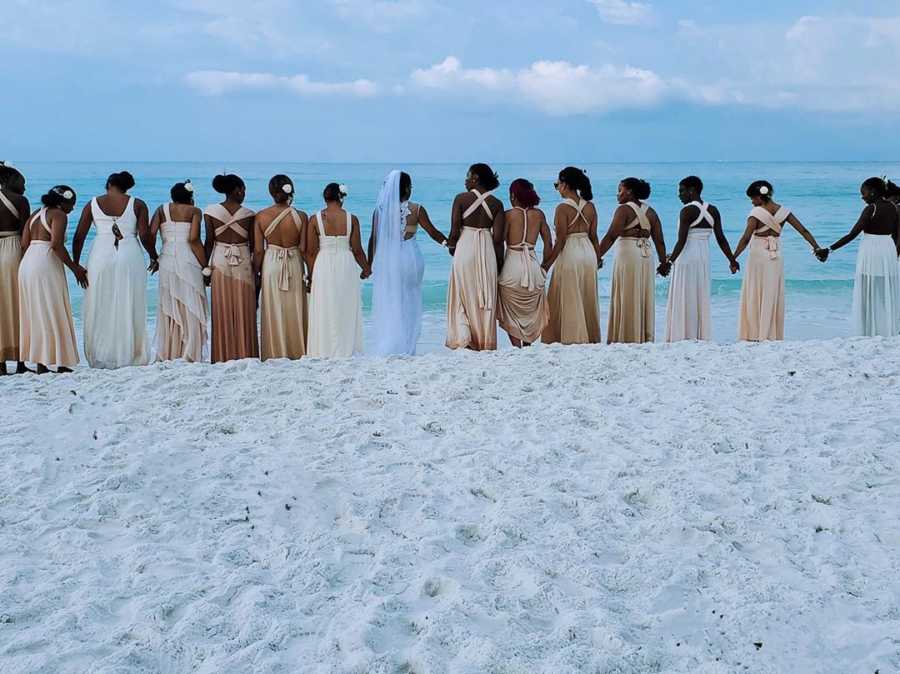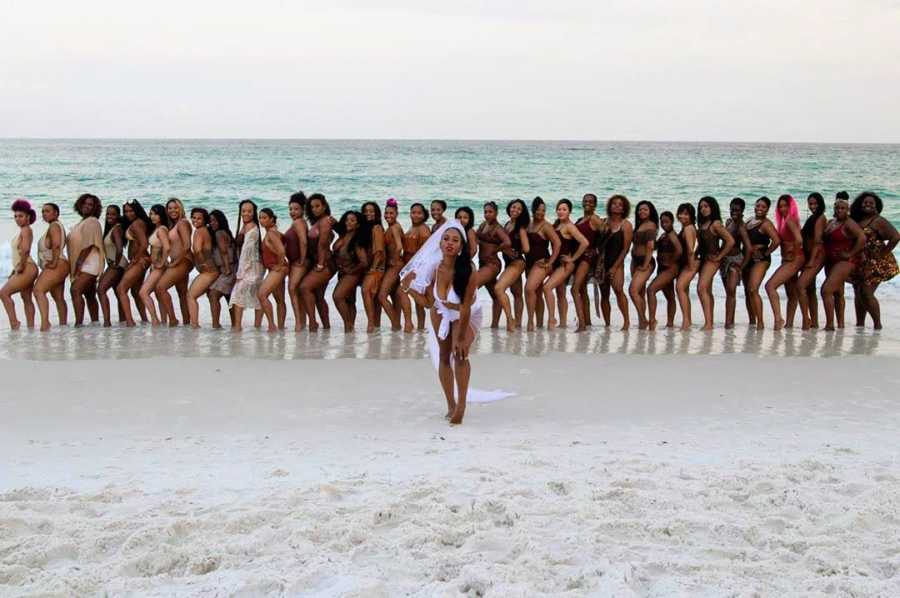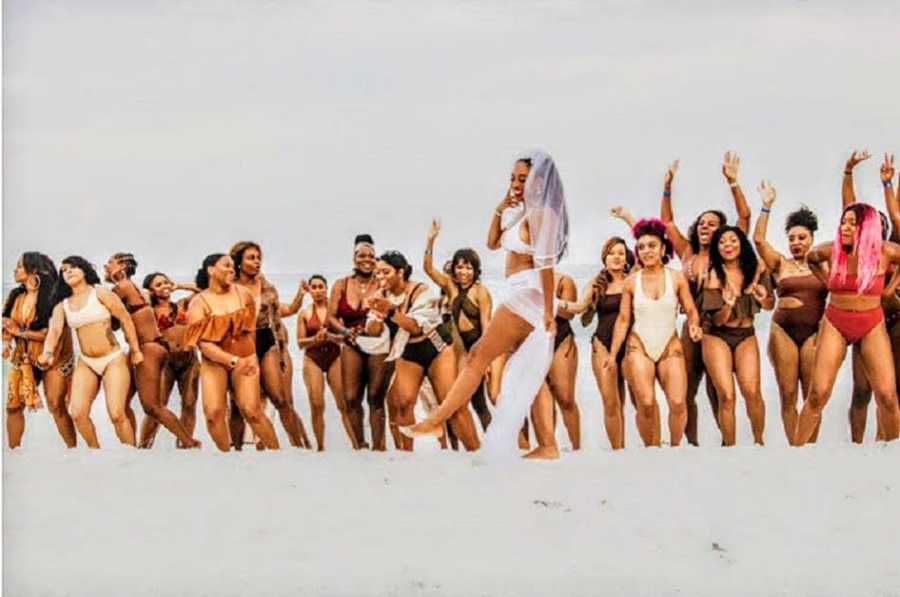 During my wedding reception, we did a flash mob and took turns calling each group of women from different states that I lived in. It truly touched my heart to know I had impacted so many women and they had impacted me, even in different parents of the world. I know my wedding wouldn't have been complete without sharing it with the fantastic women who have supported and lifted me up throughout the years.
The upside to a beach wedding? Obviously the cute wedding bathing suits pics!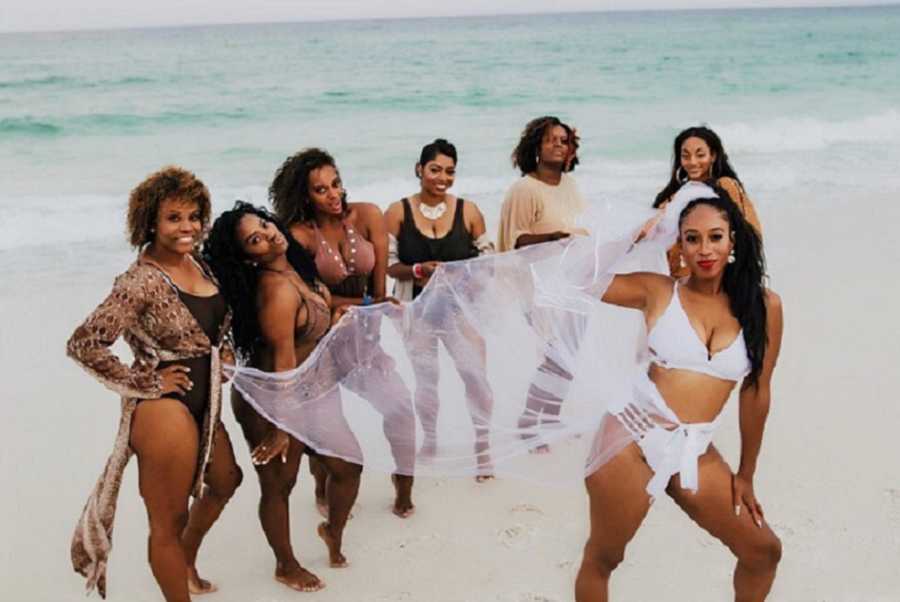 The downside to a beach wedding? I lost my wedding engagement ring in the vast ocean. It was a very emotional and devastating moment for me. But not to worry. I was surrounded by a circle of love and amazing women. And not to mention, an amazing man I now have the pleasure of calling my husband."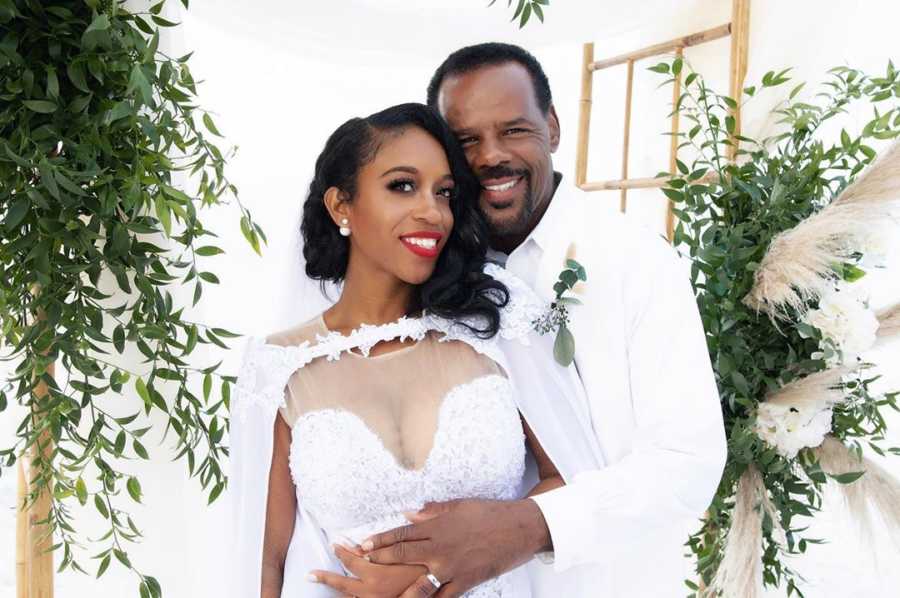 This story was submitted to Love What Matters by Casmè Carter of New Orleans, Louisiana. You can follow her journey on Instagram and Facebook. Submit your own story here and be sure to subscribe to our free email newsletter for our best stories.
Read more wedding tales:
'My mother-in-law wore a wedding dress to MY wedding. I didn't think to ask what she planned to wear. It ended without anyone being shoved into the champagne fountain.'
'I was left at the altar. Instead of 'I do' I got 5 gut-wrenching words. 'I just can't do it.' He didn't look me in the eye. I caught him in a half-run and collapsed to the ground, sobbing.'
'My mother didn't invite me to her wedding.'
Help us show that compassion is contagious.  SHARE this story on Facebook with family and friends.