"This is a story told from 3 people's points of view in a polyamorous relationship.
Cam's story:
I'm a 26-year-old from Lexington, South Carolina. I am the middle child of 4 with an older sister, a younger brother, and a younger sister. I had the most amazing childhood, raised by two loving parents. I also have an amazing stepdad. I grew up in a church-going family, always did well in school, and was involved in extracurricular activities. I ran track and cross country, played the viola in the orchestra, and was involved in other school clubs. I lived a pretty 'normal' life and always imagined myself to end up in a traditional type of relationship, mostly because I was conditioned to think that way. I dated boys growing up, but I was curious about what it would be like to be with a girl.  
I never explored my sexuality growing up because I was always in relationships and never got the opportunity to be single. Growing up, I felt like an outcast and felt like I was different from others. I got into some trouble, but was overall a great kid who always overachieved to make my parents proud. I was interested in math and science and decided to pursue my bachelor's and master's degrees in Mechanical Engineering. I am currently a Quality Engineer and a dedicated plant mom. I still enjoy running and playing the viola. I also enjoy cooking and consider myself a wino. I love to travel, try new foods, and shop.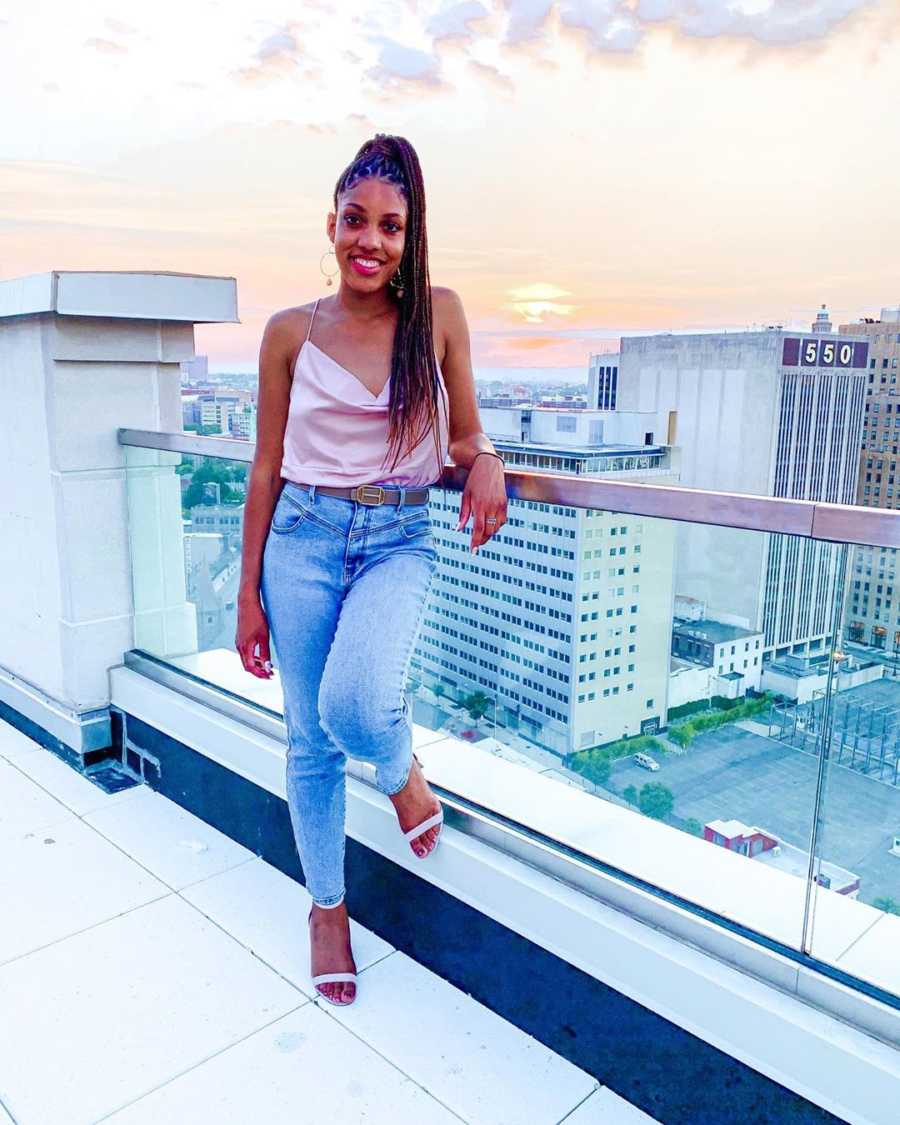 Kel's story:
I'm a free spirit with a wild heart. I am the oldest and only girl of four and the first grandchild on both sides. I grew up in the suburbs of Missouri City, Texas with my parents and three younger brothers. My childhood was innocent and full of adventures of the average suburban kid in the South. I grew up a Non-Denominational Christian where I was taught to focus more on relationships than religion. I always excelled in school and graduated with a double BFA in Dance and Communication from the University of Houston. Dance has always been a passion and gift since childhood, so after college, I moved to New York to train at Alvin Ailey School of Dance.  
I spent a few years professionally dancing for a company and currently serve as a marketing executive for a prominent dance retail company. I am the CEO of K. Jones, LLC brand–encompassing NICOLa DANCEWEAR. A developing design company and retail store producing essential performance-wear for all movers in various shades to support and promote authenticity and K. Jones Dance, a platform for movement art. I spend my free time researching, creating, and developing my artistic and entrepreneurial endeavors and enjoying life and making memories with the people I love.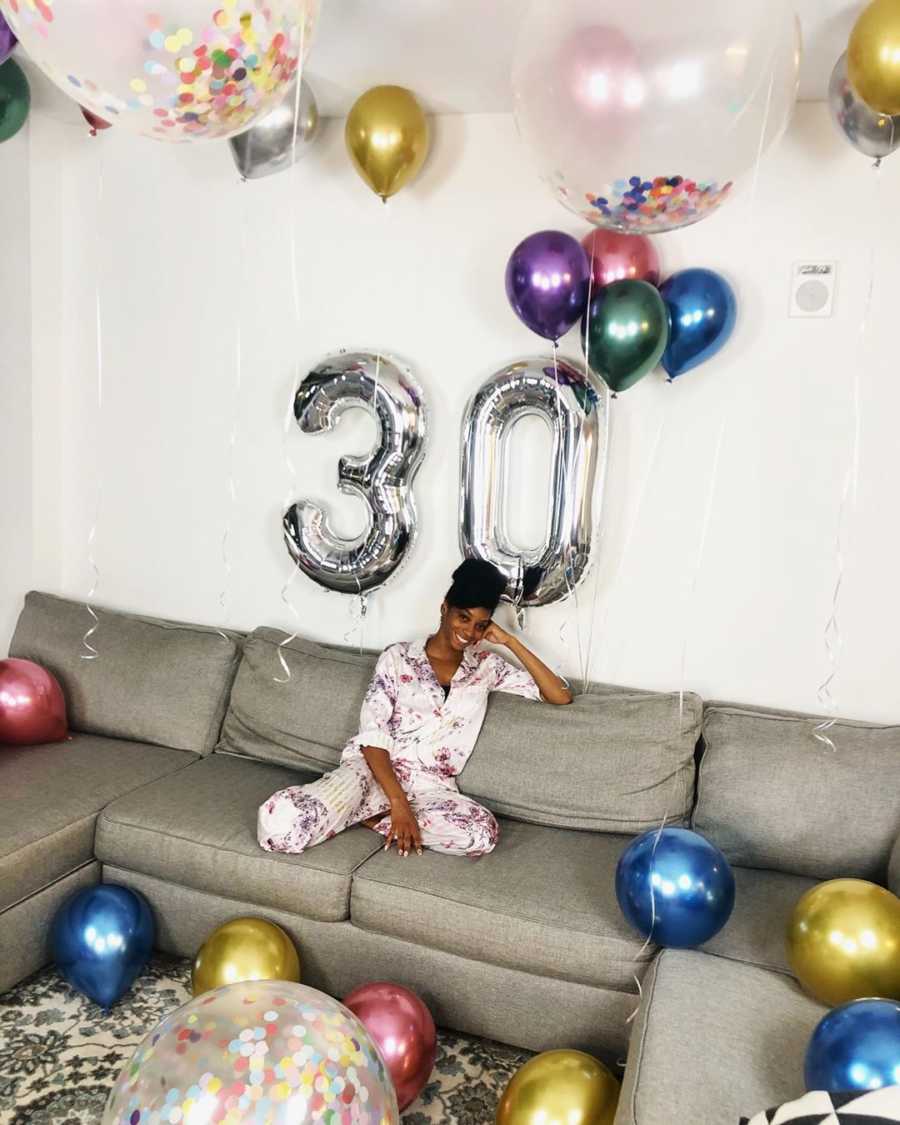 Tony's story:
I'm a 26-year-old software engineer originally from a small town outside Philadelphia, Pennsylvania. I am the youngest of three boys. I was raised in a loving two-parent household. Throughout my childhood, I was involved in sports; I played lacrosse for the majority of my upbringing. I attended North Carolina Agricultural and Technical State University to earn a degree in Applied Physics. I continued my education to earn a master's degree in Computational Science with a research focus in Aerospace Engineering from the Georgia Institute of Technology. I am interested in sports, video games, street fashion, and skeet shooting. On the weekends, I enjoy relaxing and cooking meat-centric meals.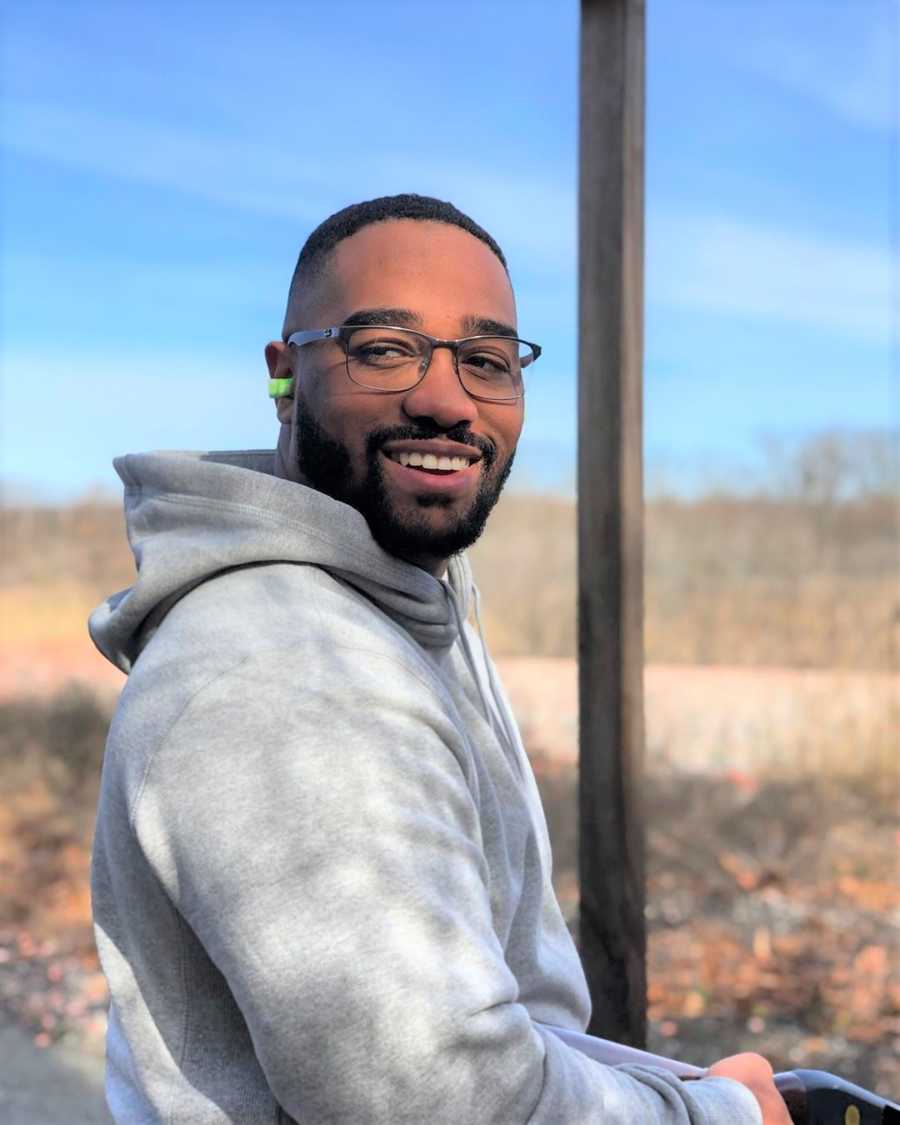 Cam
Tony and I met during the spring semester of our freshman year at North Carolina A&T State University in our English and physics classes. Before ending up in a triad, we were looking to make friends we could trust, hang out with, and possibly explore with. Neither of us identified as polyamorous, and I didn't fully identify as bisexual since I had never dated a woman before. Since I had never been with a woman, it terrified me, but I still desired it, so I knew I would need to develop a friendship first and become very close with whomever I decided to explore with. Since I was dating Anthony, the person we met had to be okay with him being around. We didn't necessarily want to be in a throuple initially. We searched online for about six months on and off, and we met Kel.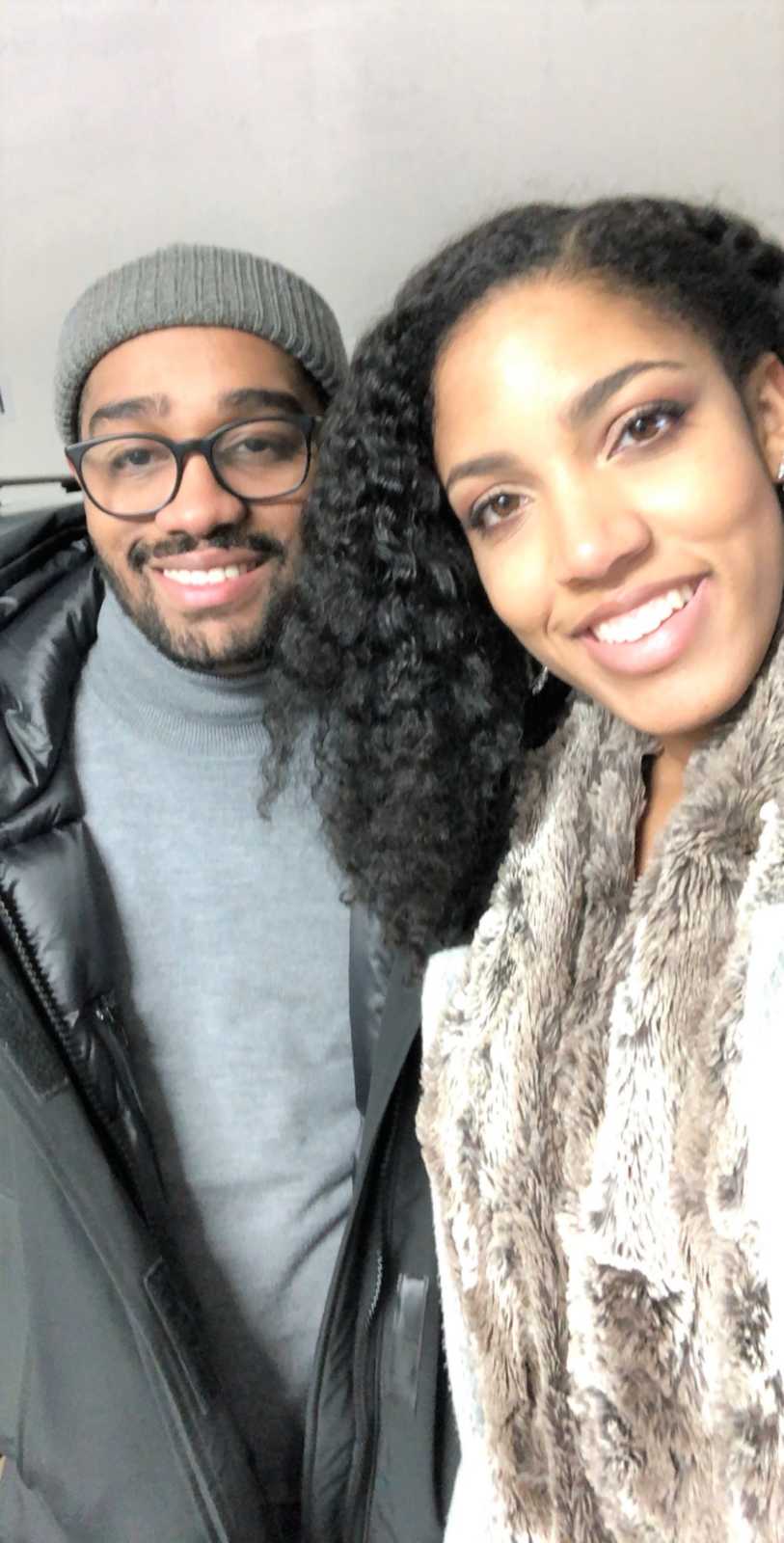 Kel 
I have been a serial monogamist and after ending a relationship, I decided to embark on exploring my sexuality with a woman. It was a way to get the break I needed from relationships and also learn a new side of myself. I was never looking for a couple or to be in a throuple, I just happened to meet Cam and Tony in my search for a girlfriend.  
Cam and I matched on bumble and talked via message for about a week before the three of us met for our first date at Mangoseed in Brooklyn, NY. We all enjoyed ourselves so much, we made plans to see each other just about every weekend following our initial date.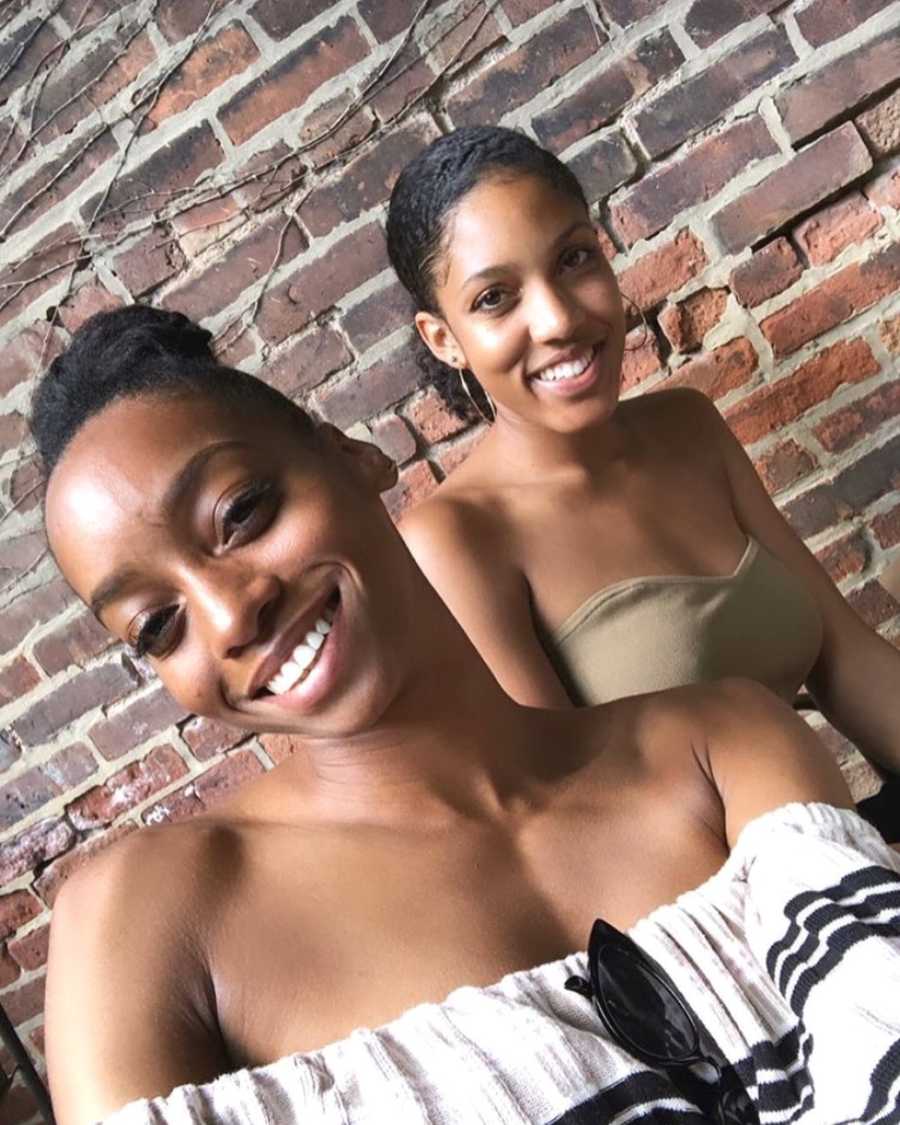 Cam 
At the beginning of the relationship, I think we were all just trying something new, not knowing where it would take us. Kel was fresh out of a relationship, not looking for anything serious. Tony and I were exploring together. After our first date, we just kept talking and hanging out pretty much every weekend following and ended up in a serious relationship between the three of us. There were many bumps in the road and serious conversations that had to take place as we were developing our nontraditional relationship. It took a lot of courage for the three of us to decide to commit to this relationship and the lifestyle and come out to our families.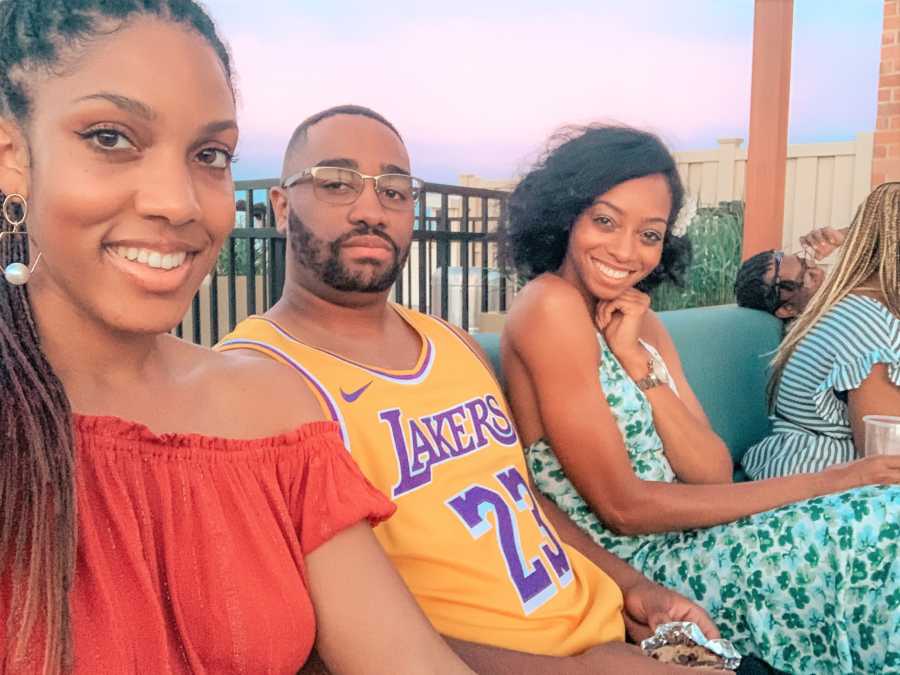 After spending time together, we learned it is possible to love more than one person romantically. No one in this relationship identified as polyamorous before entering this relationship. We were just three people who wanted to get to know one another and fell in love during the process. As we continued to date and hang out, the thought of Kel seeing someone else made us sad, and the thought of us seeing another woman made Kel sad, so we agreed on a closed, triad relationship. We had no idea what we were doing along the way. We did a lot of research to figure things out and what kind of relationship we were entering.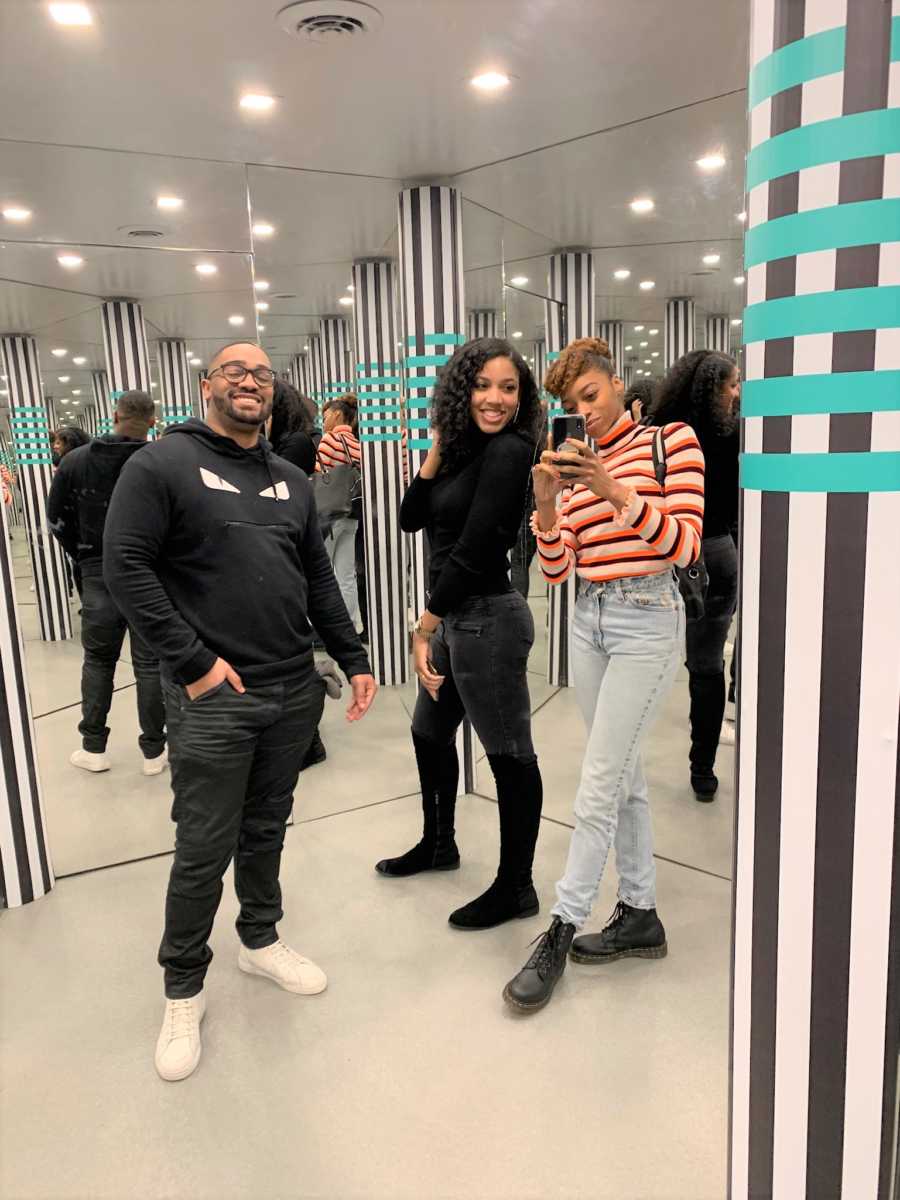 We celebrate our anniversary on February 4th, which is the day we went on our first date. We didn't become a throuple until about April when we decided to become closed and agreed not to see anyone outside of this relationship.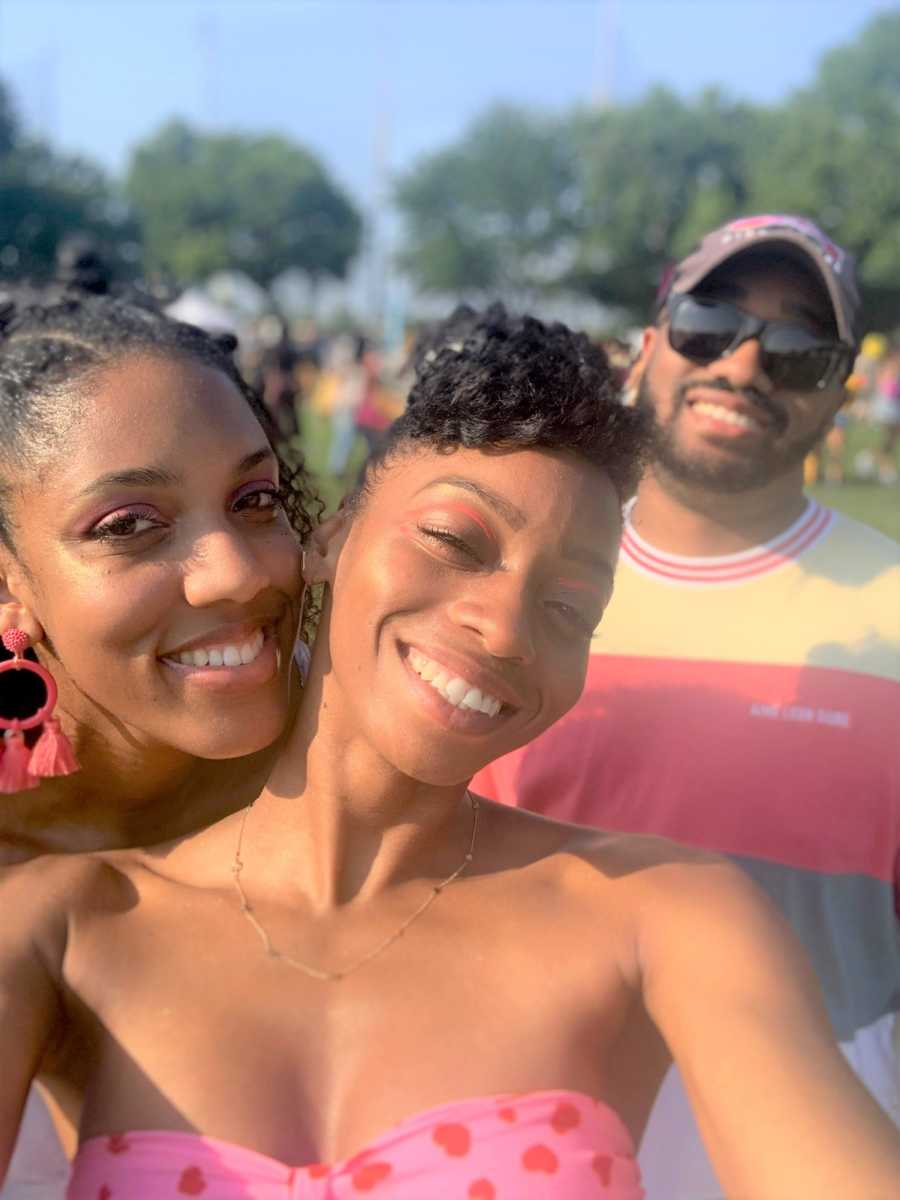 This relationship was shaky at the beginning because we had no idea what we were doing. We put in a lot of work and had open, honest communication with one another to decide what we wanted. Now, we are all living together and taking it one day at a time. Like any other relationship, we have our ups and downs, and things can get complicated. We have a strong foundation and a strong commitment to one another, which keeps us together.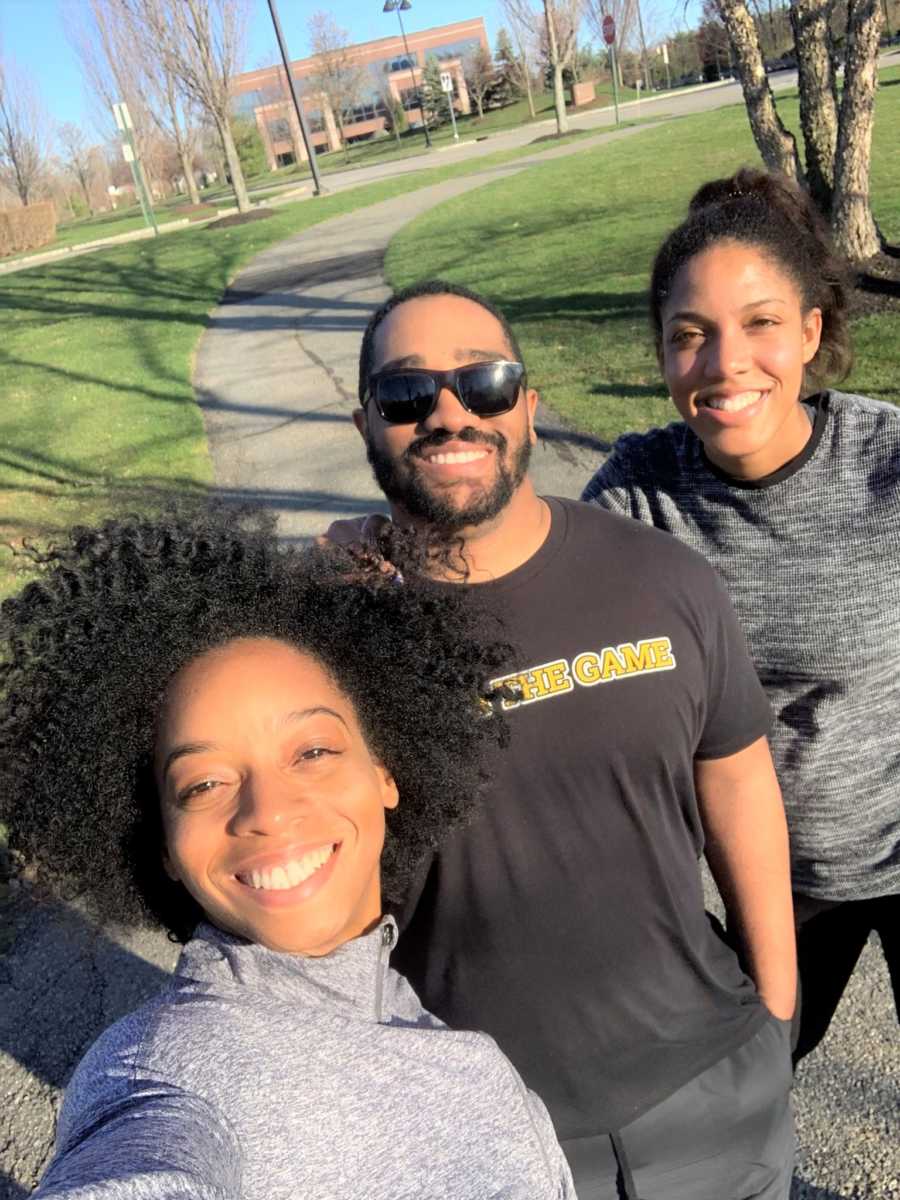 Being poly has only highlighted ways in which we all have room to grow and challenged us to do so. In most traditional relationships where the couple can agree to disagree, in a throuple, you may be forced to see your wrongs. On the other side is the gift of experiencing the fullness of love from both the masculine and the feminine.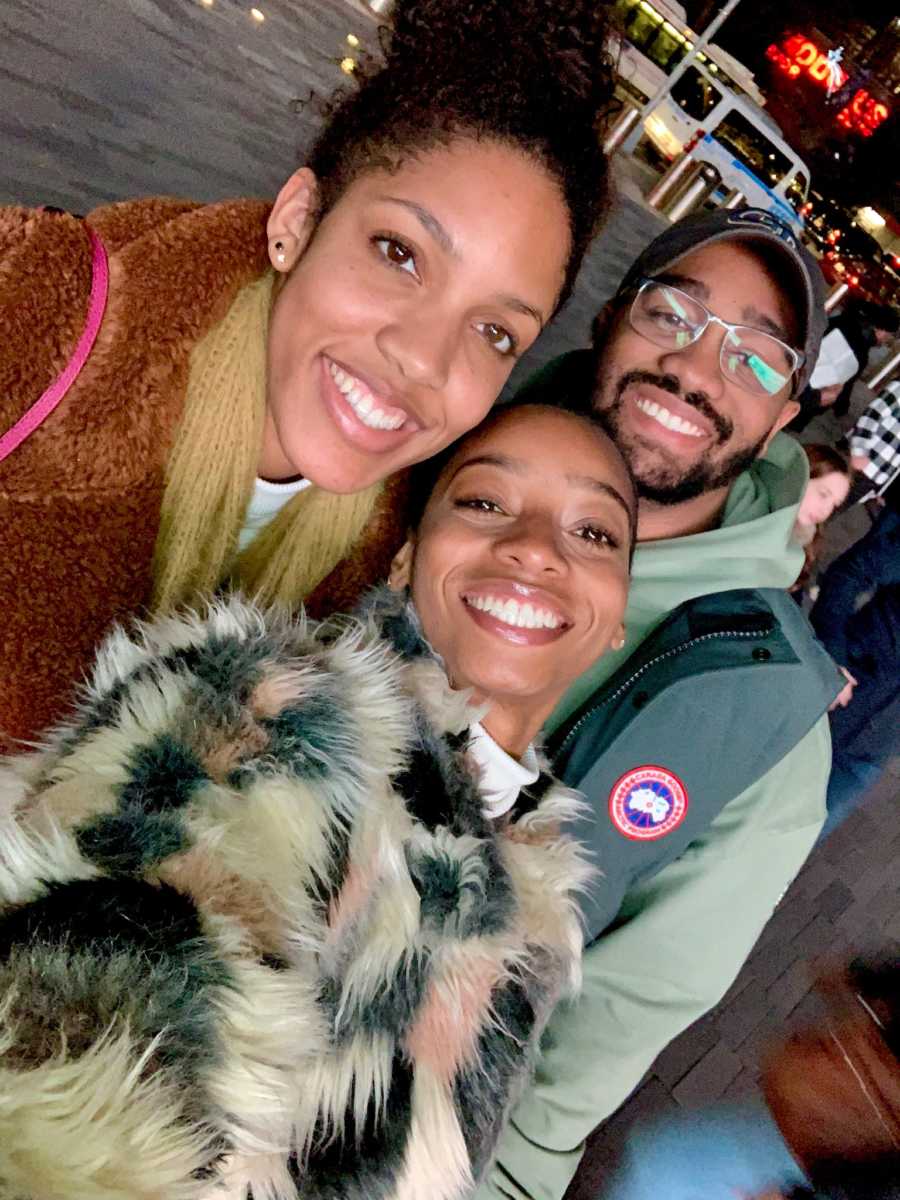 Another common misconception is the women are in this relationship to keep or please a man. This is not the case for us nor many other people we have met online in a similar dynamic. With Kel and I both being bisexual, this relationship fulfills our desires of being with both a man and a woman. There is no desire to 'add another man' because Tony is a great one!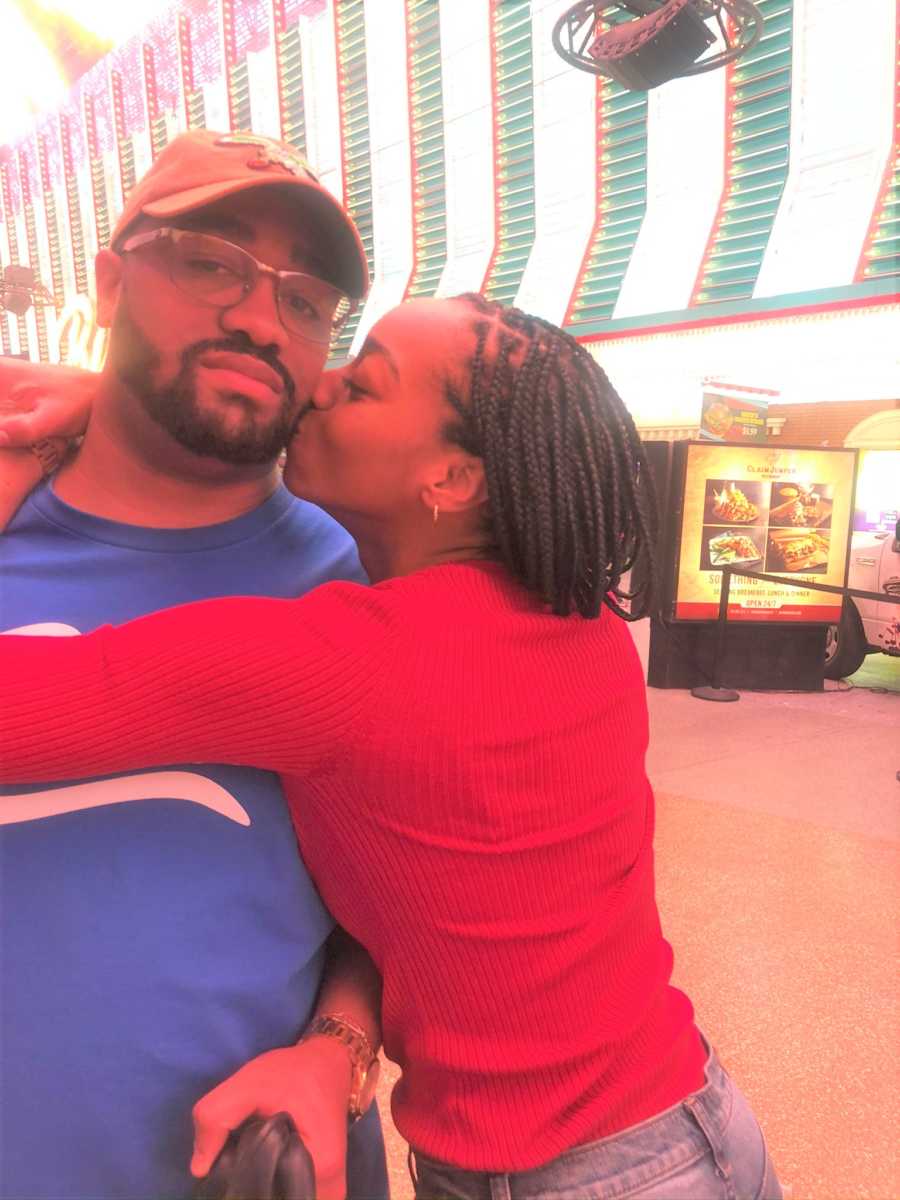 Each of us brings our strengths to this relationship, and that creates a solid foundation. With the solid foundation, we can withstand even the strongest of storms. Each of our relationships has developed at different paces and challenged in different ways. Despite the challenges, we all choose to be here and to do life with one another.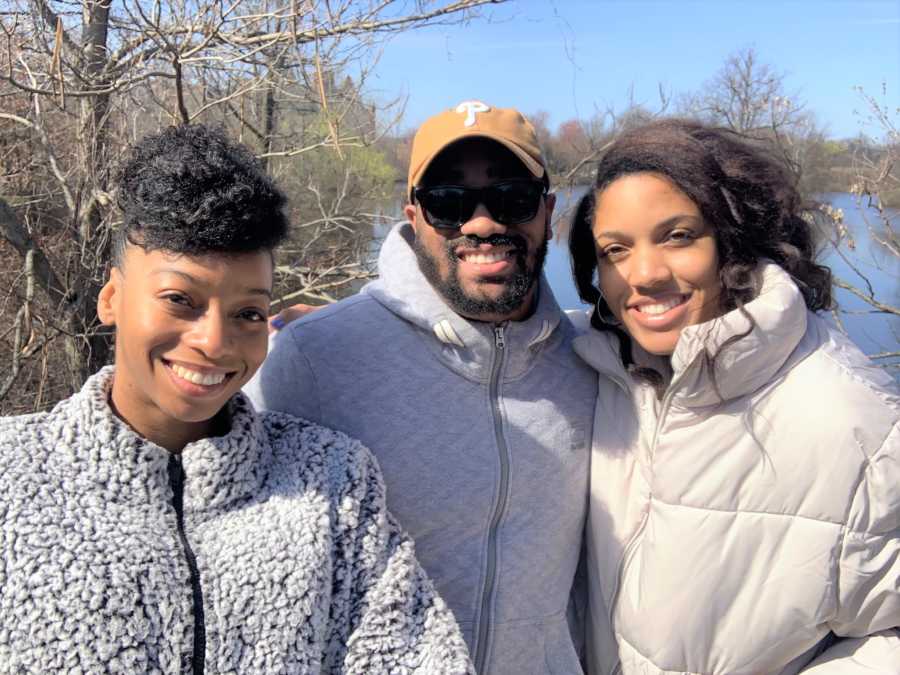 We have had to adjust and readjust in so many areas of our lives. Poly relationships intricately show you things about yourself. There have been exchanges that have changed us forever. There have been moments we've shared that are unforgettable, and we have had emotions that have stretched our capacity to love.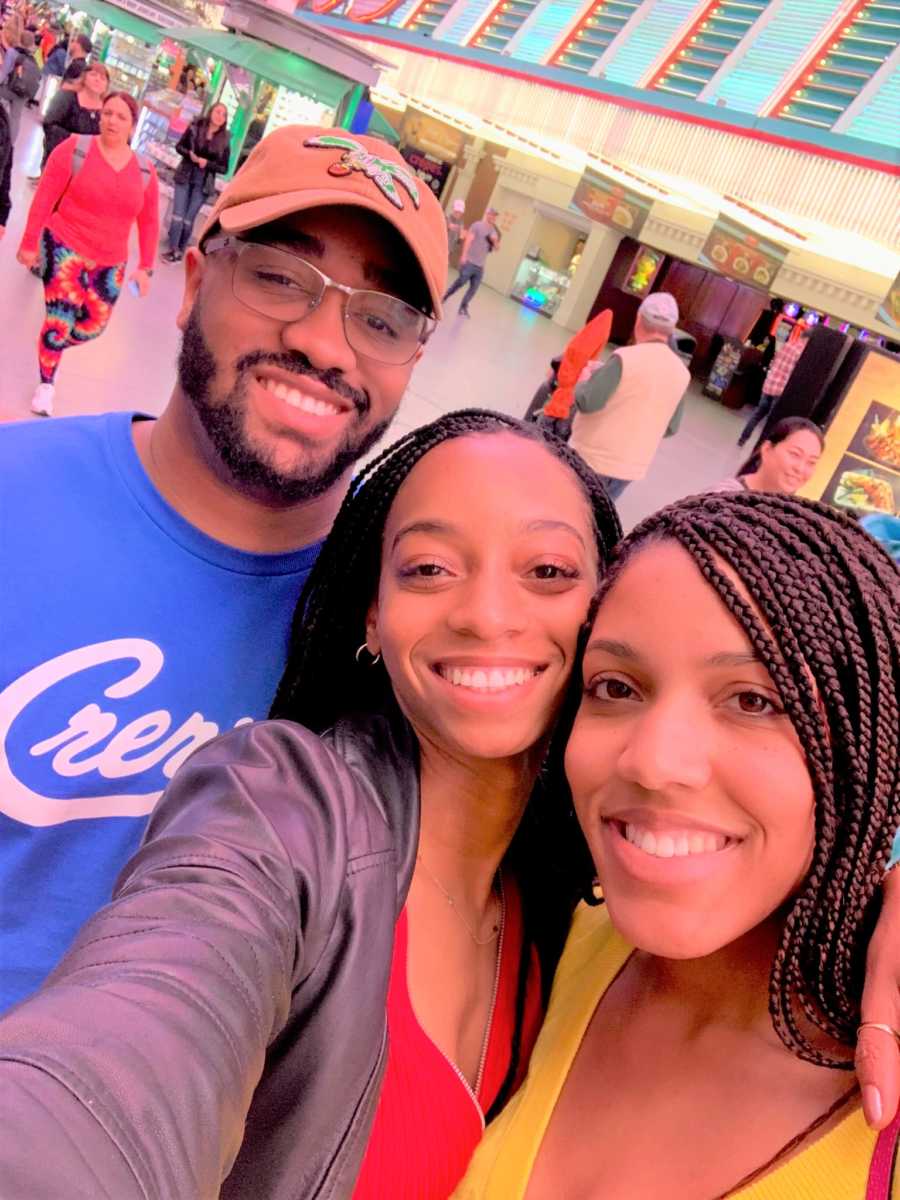 Doing life with three people has been a beautifully complex experience. By embarking on this dynamic in such a bold way, we have all grown individually. We are better listeners, better communicators, and better collaborators by the demands of experiences in this closed poly relationship."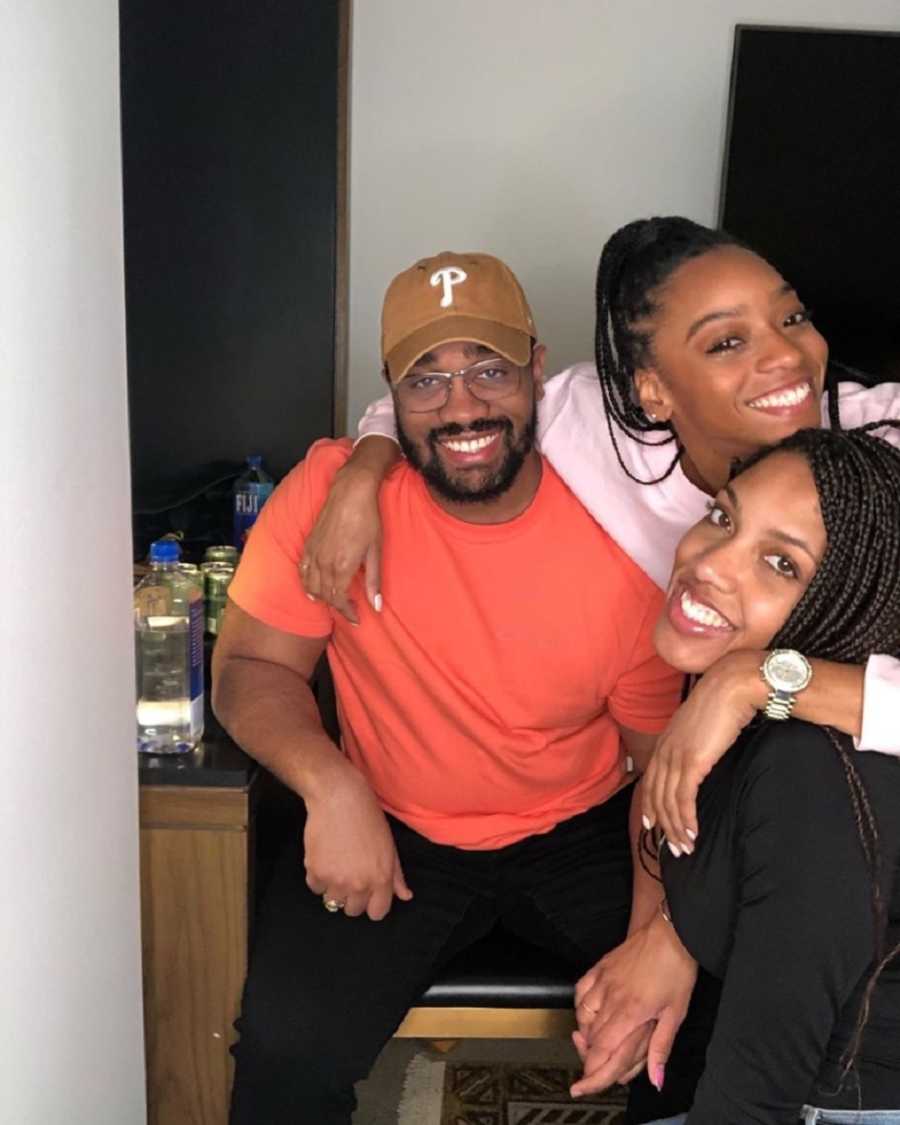 This story was submitted to Love What Matters by Cam, Kel, and Tony of Newark, New Jersey. You can follow their journey on Instagram and Youtube. Submit your own story here and be sure to subscribe to our free email newsletter for our best stories, and YouTube for our best videos.
Read more stories like this:
'My husband suggested a 'different' kind of marriage. I was so lost in my thoughts of her, wondering if we were flirting, or if she was gay.': Couple begins Polyamorous family
'Mom, dad. I'd like you to meet my boyfriend…and my girlfriend.' 'WHAT?' It took some getting used to.': Polyamorous woman admits to 'unconventional' lifestyle, 'we are happy and that is what matters'
'She was beautiful, hilarious, different from other women. What if he loves her more than me? Was this a mistake?': Couple unexpectedly forms polyamorous throuple relationship, 'There are no rules to love'
Do you know someone who could benefit from this story? SHARE this story on Facebook with family and friends.