"Okay, okay. You may not find 'the actual one' on a dating app. You might bump into them in the noodle aisle at the grocery store. Perhaps, you will make eye contact at a local coffee shop. WHO KNOWS how you will meet your person. However, I can show you how to find the good ones on dating apps and how to stop wasting your time.
I am going to be 100% real right now. Dating apps SUCK. Not only do they suck, but they are entirely superficial. I mean, come on. The first thing that you see is a person's best photo and then you pretty much swipe based off of that. Unless you want to read their entire life story (kidding), you NEED to read their bio at least. I never for one second in my life thought I would meet someone worthwhile on a dating app, but I heard so many people having success and thought why not?
Fast-forward 7 months later, I am engaged and even my kids are the happiest they have ever been. They love Scotty so much and I have Bumble to thank for that. However, I did do a few things to weed through and find him.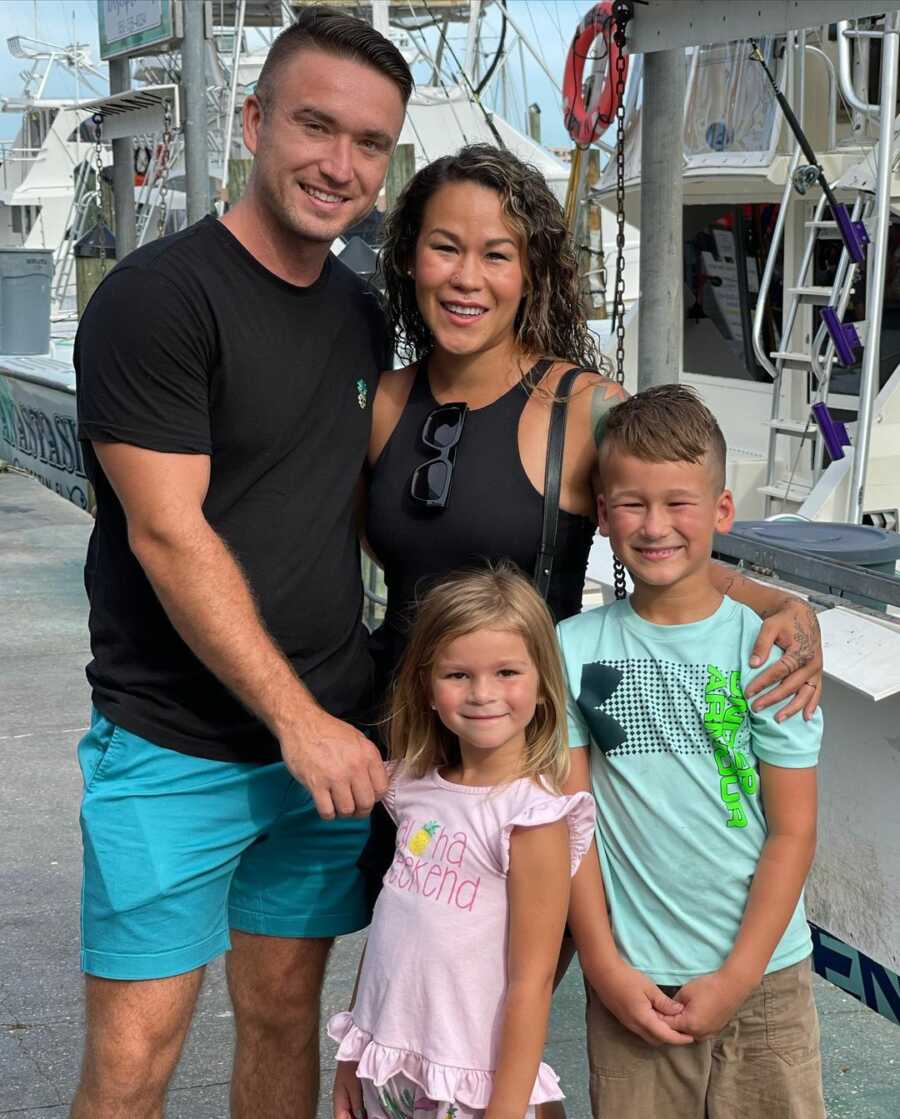 I met my fiancé on Bumble. Bumble is an app that gives the women 24 hours to make the first move, which I sort of liked and sort of hated. This was my favorite dating app for sure. But sometimes, I literally did not have anything to say since I am not THAT slick (thank god for the casual hand wave button). When I matched with Scotty, I saw he was deployed at the time so I pretty much said, 'Hey, how is deployment going?' The reason why Bumble does this is so that you can avoid all of those gross pickup lines and whatever annoying men tend to use these days. I found that most people on Bumble were actually looking for a partner. I also liked that it matched you with people with similar interests and highlighted those interests under their name. This was helpful! I did not pay for this app; it was free. But you can pay to extend a match that expired. Which happened all the time because I was lazy and never checked my matches.
I tried Tinder and hated it. It seemed like just an app for random hookups which was not what I was looking for. I found a lot of the same people on Bumble were on Tinder as well (I mean, so was I!). But something about Tinder bothered me. Mutual interests are important to me. And I didn't like that I couldn't see things such as religion, etc. right away. I eventually deleted this app and just stuck with Bumble. I did not pay for this app. Apparently you can pay to send 'super likes' if you really want to stand out to someone.
I tried the Hinge dating app and I was not a fan of the way it was set up. The men looked more attractive on this app, but you were very limited to how many profiles you could swipe on per day, unless you wanted to pay. I definitely did not want to pay since I had low hopes. I ultimately deleted this app (it was the first I let go of) after a week and just stuck to Bumble, Tinder, and Match.com.
Match.com has its own app now and so I actually paid for 6 months. I wanted something more mature and I did not really find much at allllllll. It was such a let down. It appeared that not many people use Match anymore and most of them were not attractive to me. I know that sounds bad and superficial, but hey, I promised you guys a real discussion on this.
Verdict: Bumble wins.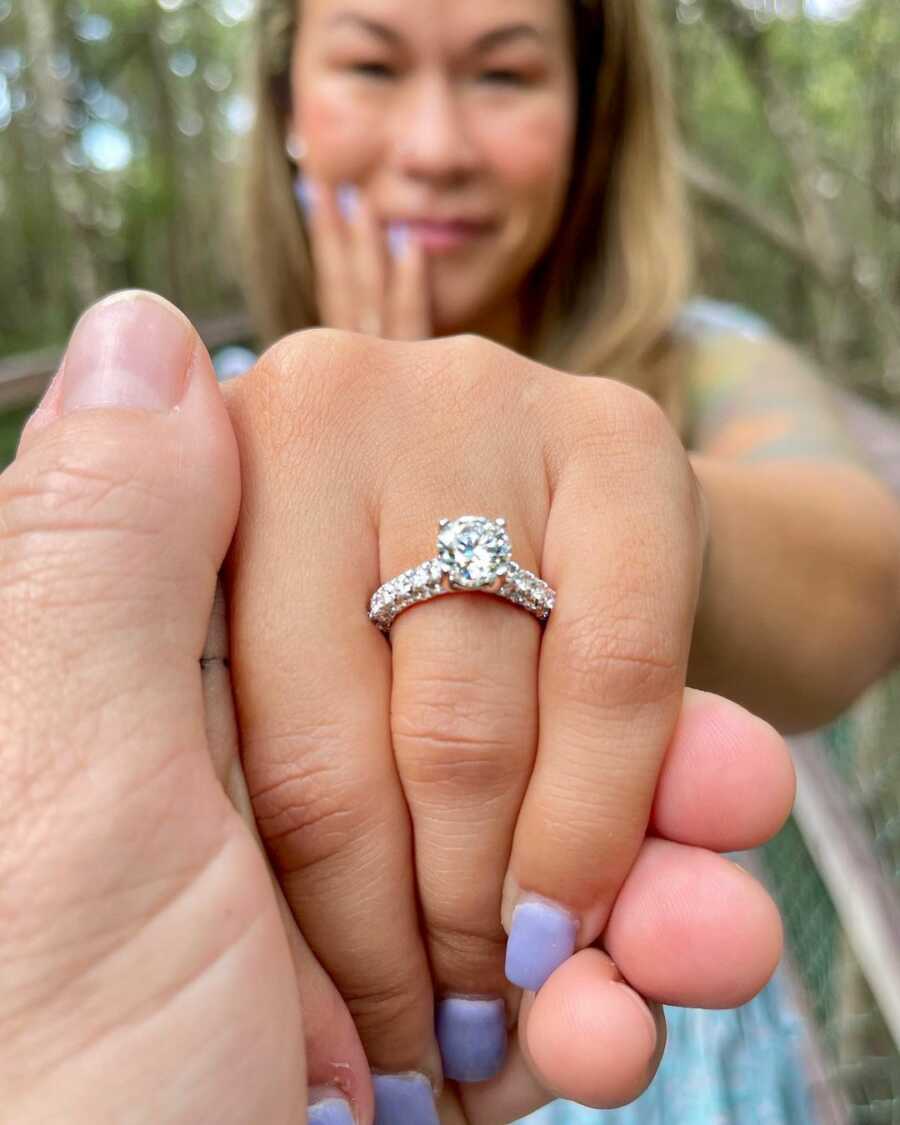 Okay, so now that we have my opinion of the best dating app out there, let's find prince charming. Just how hard is it to find someone decent when you are simply and honestly swiping faces? Here are my tips! Here is how to find the one (or a good one) on a dating app:
Know what you want and don't settle.
When I first downloaded dating apps, I knew what I wanted in a man. I even made a list on paper and manifested my perfect guy by writing down ALL the qualities that I wanted him to have and I still keep this list today as a gentle reminder that you can truly manifest anything you want in this life. On my list, I wrote that I wanted him to have a good family, good career, and be a Christian, just to name a few. I also knew that I did not want to date another father again for my own personal reasoning.
On my bio on the dating apps, I was very blunt to say the least. I said what I wanted and didn't want. It's important to be up front and to stick to your guns because most people on dating apps are good at putting on a show to lure you in. Be smart, keep your qualities list handy, and match it up. If it doesn't match, let him go.
Be open-minded to trying something new.
If you are a single mom who is used to dating other single parents, try a non-parent. Or if you won't date parents (single moms/single dads), try dating a parent for once. You never know who is going to be your perfect match. Flow naturally and date different people to get a grasp of something new or something that speaks to you. I tried dating a non-military guy and I hated it. Apparently, a man in uniform is something that I desire (clearly lol). However, I tried to even get away from that. At one point, I had, 'If you are military, don't swipe right!' But… clearly it is what I wanted and what I still want. You never know until you try a few different people and open your mind!
Look past the main photo (or even all the photos):
Pictures can only tell you so much about a person. Heck, I once matched with a dude who used countless filters on his face (I wish I were kidding!). Read their interests, read their bio, learn about them. Yeah yeah, I know the first impression is going to be their looks, but try to look deeper. I suggest trying to find their social media and see what they are really like elsewhere. Of course, dating apps are going to be filled with their highlight reels. I added my fiancé on Facebook after we started talking a little bit and it helped me to learn more about him. I saw he was a loving son and brother and was very family, friend, and pet-oriented, which made me smile.
Be yourself.
I think a lot of women get stuck on writing this fantastic bio that really has nothing to do with them. I also talk to women who are afraid to put their hobbies, interests, or desires on the app. How are you ever going to find the one if you are not being honest? On mine, I think that I had something about being a mom of 2, enjoying booking, and being a Netflix binger. That's really all! I didn't feel the need to make myself into something spectacular because I wanted Mr. Right to take me as I am.
Embrace yourself for who you are and have faith in the fact that the right person for you will like you for exactly that. Be enthusiastic about your hobbies, interests, passions, and goals, and remember that not everybody is going to like you or agree with you – and that's OK.
Stay cool. 
When you meet somebody who you really like and are getting on with well, it can be very tempting to get really excited about it. However, bear in mind that the very first person that you connect with online might not always be the best match for you; if you've met one person who you're attracted to and is attracted to you then it's very likely that there'll be others if this one doesn't work out.
Even though I knew I liked Scotty, I did not think about the possibility of him being the one until we officially met and hung out for a while. Sometimes, on the dating app, I would even forget to respond to him. I kept my cool and adopted the "go with the flow" mindset for the first time ever and it worked out. Just have fun!
Keep the convos going. 
When finding the one, conversation is going to be the real kicker. Does he ask you about your life or spends your convos only focusing on himself? If he is only into himself, that is a red flag. Also, don't be afraid to be bold and to ask things you want to know. Ask them to be clear about what they are looking for. If you can't keep the convo going for longer than 15 minutes, it may not be the right match.
Keep your options open.
Don't put all of your eggs into one basket! The ability to evaluate potential dates quickly is one of the most valuable benefits of online dating; you can chat with them online for a while to weigh them up and determine if it's worth taking further before arranging a phone call or even a meeting in person. Even after meeting Scotty, I kept my options open and dated other people until he got home. Although they did not workout and Scotty did, I got to experience different people to make sure of what I was wanting within an actual relationship.
Be patient.
I would suggest talking for at least one week minimum before going to meet someone in person. This is one of the reasons why I loved that my now fiancé was deployed 8,000 miles away when we met on Bumble. It literally forced us to remain patient because we couldn't actually go on a date yet. We did not go on a date or meet in person for 3 months, y'all. But during that waiting period of him coming home, I got to really know HIM. We focused on conversation, our likes, our dislikes, our family styles, our past marriages, etc. Give yourself a few weeks of talking and getting to know one another before your first date. If he cannot wait, he is not worth your time.
I hope these tips help you to at least find a good guy on those pesky dating apps. Trust me, at one point, I felt as if they were the bane of my existence. Now, I am engaged to a wonderful man whom I happened to meet on one. Good guys DO exist on dating apps. As my friend once told me, you just have to be patient and weed through the yucky ones.
Happy dating!"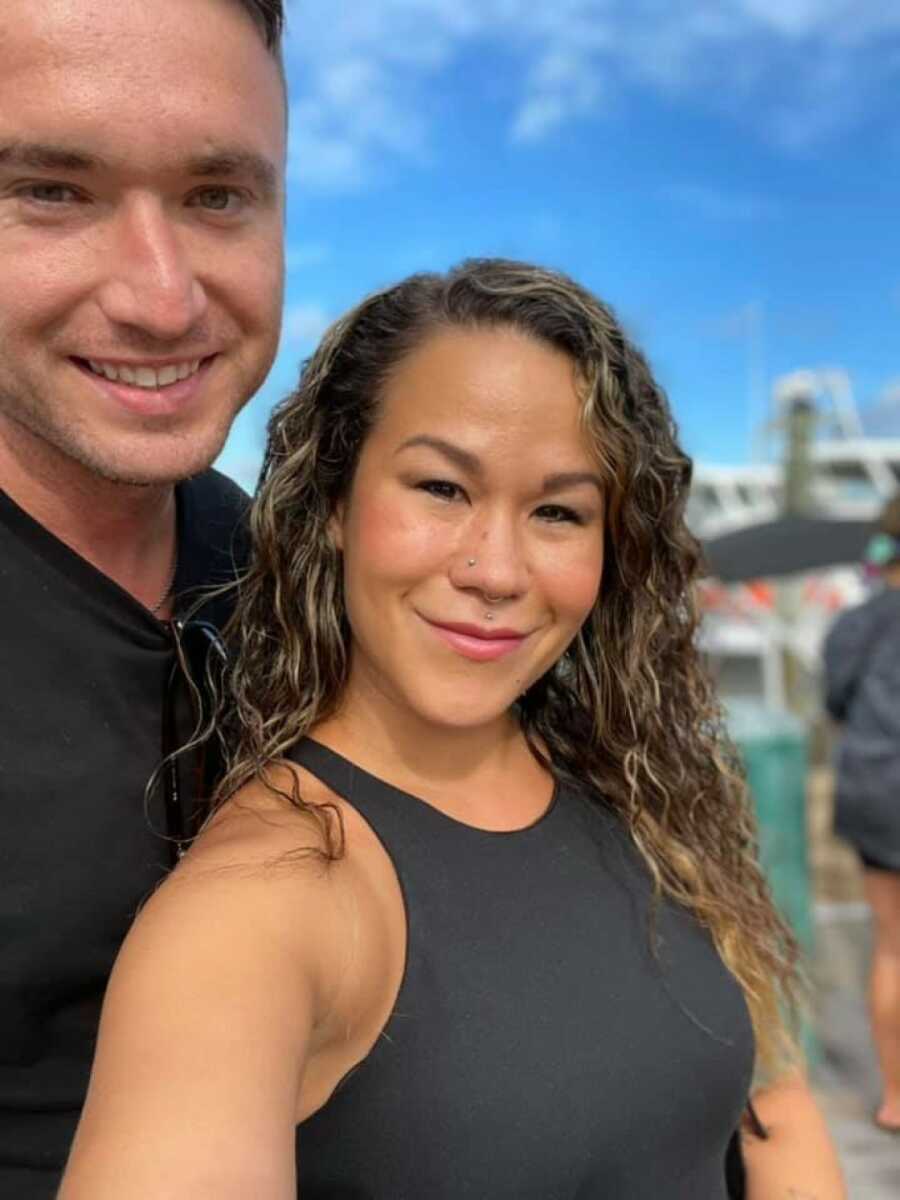 This story was submitted to Love What Matters by Sia Cooper of Diary of a Fit Mommy. You can follow her journey on Instagram and Facebook. Submit your own story here and be sure to subscribe to our free email newsletter for our best stories, and YouTube for our best videos.
Read more from Sia:
I Made Over 1 Million Dollars As An Influencer—Here's How I Did It
'I wasn't allowed to have male friends. I caught him messaging not one, but two escorts on a work trip using a fake name. In a year, we broke up 10 times.': Woman urges 'look for the red flags' after escaping narcissist
'It's a girl!' My heart sank. On the way home from my gender reveal, I cried. Hard. I was hoping it was some mistake.': Woman candidly shares reality of 'gender disappointment' after years of mother's abuse
'Don't show your butt like that. You're a mother.' I WANT my kids to see a body positive mom.': Woman mom-shamed after 'rocking' a bikini, 'every woman deserves to feel comfortable in her own skin'
Help us spread strength. SHARE this story on Facebook with family and friends.