"My Husband and I were blessed with our beautiful twins after two miscarriages and three years fighting infertility. Our twins came 6 weeks early and due to their underdeveloped lungs, they ended up with a short NICU and hospital stay. It was a scary time for us as first-time parents. Not only were we responsible for twins, but also dealing with their health issues as well caused some stress at the beginning. They are now five years old and thriving. We always wanted one more child and decided when the twins were four to start trying for number three. We visited our fertility doctors and started the beginning process.
Before we got too far along with the fertility visits, I found out I was expecting. This was a short-lived pregnancy because I was only aware of it a week before I started spotting. This miscarriage was really painful, so I was terrified of an ectopic pregnancy. The doctor confirmed that I had a 'Blighted Ovum' and nothing had formed past a ten-week sac. It was heartbreaking, but I was relieved that it wasn't anything major. Shortly after the miscarriage I developed bronchitis which turned into pneumonia. I was so sick that even thinking about conceiving was nowhere in my sights. I found out a few weeks later that I was pregnant again. Seven years off the pill, three miscarriages, fertility meds and I was pregnant on my own. We were in complete shock to be pregnant so soon after the miscarriage.
This pregnancy went along well and at 20 weeks we found out we were expecting a little girl that we decided to name Ellie. Our big kids were thrilled to have a baby sister and we couldn't have been more excited. I am a teacher and I was able to spend a good chunk of pregnancy during the summer months. It was nice to rest and spend time around the pool with my other two. School started back and everything was going well minus some pain and swelling. On September 7th I worked a full day and headed to my doctor appointment. My husband met me and took the older kids home. While at the doctor I began to feel really hot. However, it was September in South Carolina so it is typically very warm. They checked my blood pressure three times and I could tell something was up. My doctor told me to go upstairs and be monitored. I asked her when I could leave, and she said after the baby was born. I started crying because the baby was going to be six weeks early just like my other two. I had pre-eclampsia and the baby had to come via C-section that night. At 9:40 our beautiful Ellie was born weighing 5 pounds 6 ounces. She was absolutely perfect. Ellie stayed in the hospital for 13 days just getting bigger and maintaining weight/temperature. We brought her home and the big kids took to her immediately.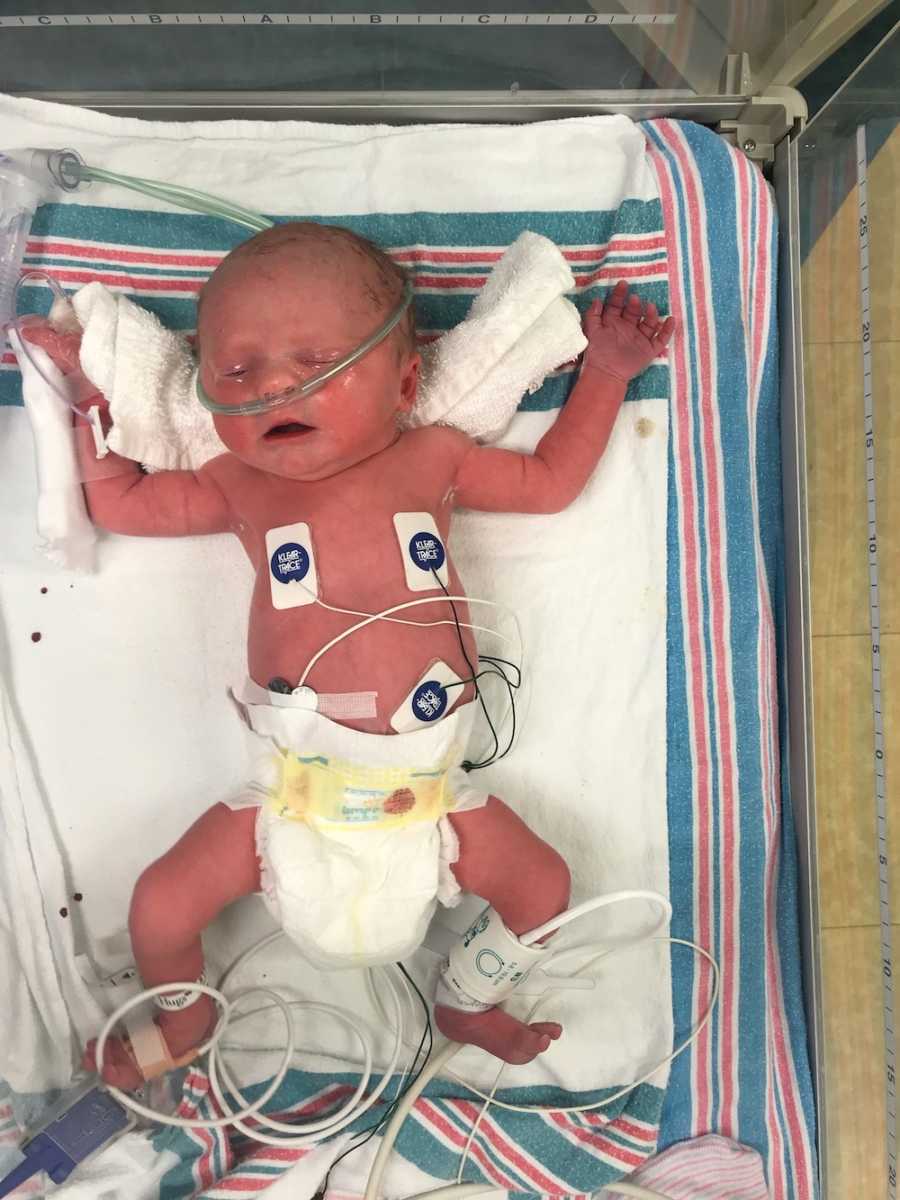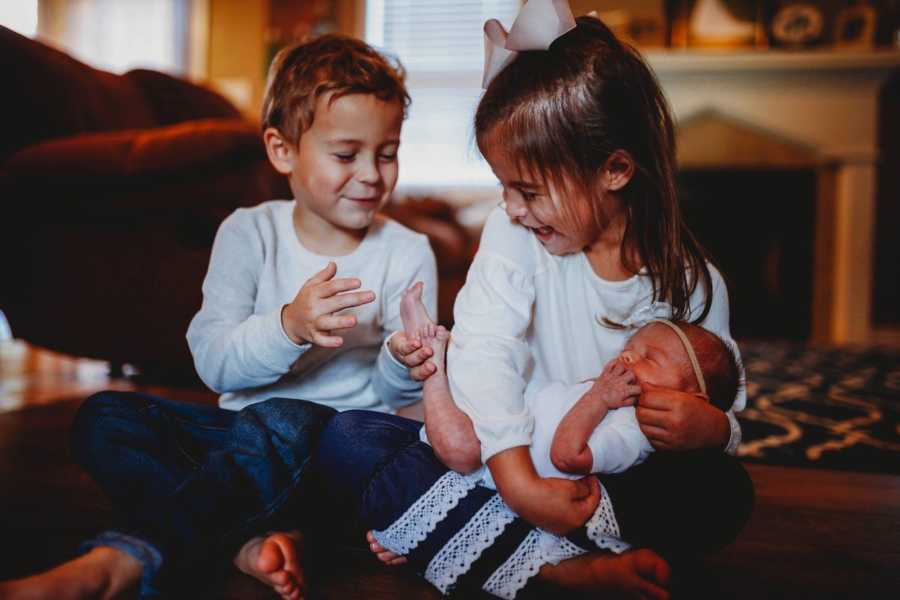 We had 5 ½ great weeks at home when I noticed Ellie had a cough. I immediately took her to our pediatrician, and he said she had bronchiolitis and most likely RSV. They told us it would get worse before it got better and to watch for fever. Ellie seemed okay until the next night when my husband noticed she was warm; we took her temp three times and it got higher each time. We gave her some Tylenol and the on-call nurse told us to take her to the emergency room. It was around 10 p.m. by the time we arrived. It was a long night of test and blood work when they confirmed RSV and transported her to the women and children's hospital down the street. Ellie was admitted for observation. She entered the hospital with the belief that she would be going home within a day or two. Our first night was uneventful we just tried get her to drink Pedialyte and rest as much as possible. The nurses showed us how to flush out her nose and overall, she was doing well. The next night my husband woke me up and asked me if I could try to feed her. He said she was grunting and fussy with her bottle. I tried and when her grunting started to sound worse, I called for the nurse. The nurse came in checked a few things and decided to put some low flow oxygen on her to help her relax. This did not help so they took Ellie to another room to put an IV in, so she be put on fluids to keep her from working so hard trying to drink. They brought her back into the room and at this point I decided to start pumping because I feared they were going to move us to a bigger hospital with a PICU. While I was pumping the nurse asked my husband about a twitch in Ellie's leg. He said he hadn't noticed her doing that before. They called the doctors in and started meds for a seizure. Shortly after this everything got scary really fast. I noticed them starting chest compressions and immediately I knew something was wrong. All the blood in my head rushed to my feet and I was in complete shock. They tried to intubate her but had no luck, so they started bagging her. Her heart rate was dropping quickly and they called for the anesthesiologist to come try. I stepped out of the room because I could not watch them work on my 8-pound baby anymore. I just knew she was going to die. I walked around the little kitchen area, sat a table with my head in my hands and just prayed 'GOD SAVE MY BABY' over and over. My husband stayed in the room and I would walk over to the door and look at him for reassurance. A crowd had gathered in and outside the room and they were all looking at me so hopeless. I went back in the room and they told me the anesthesiologist could not get the tube in either, so they were waiting on the transport team. They were safely able to use an LMA to help with the bagging and to keep her oxygen flowing. The other hospital team arrived and prepared her for transport. The paramedics said that one of us could ride in the ambulance, so I headed out with the team. Before we left our nurse prayed over Ellie and the transport. I didn't know this happened until much later.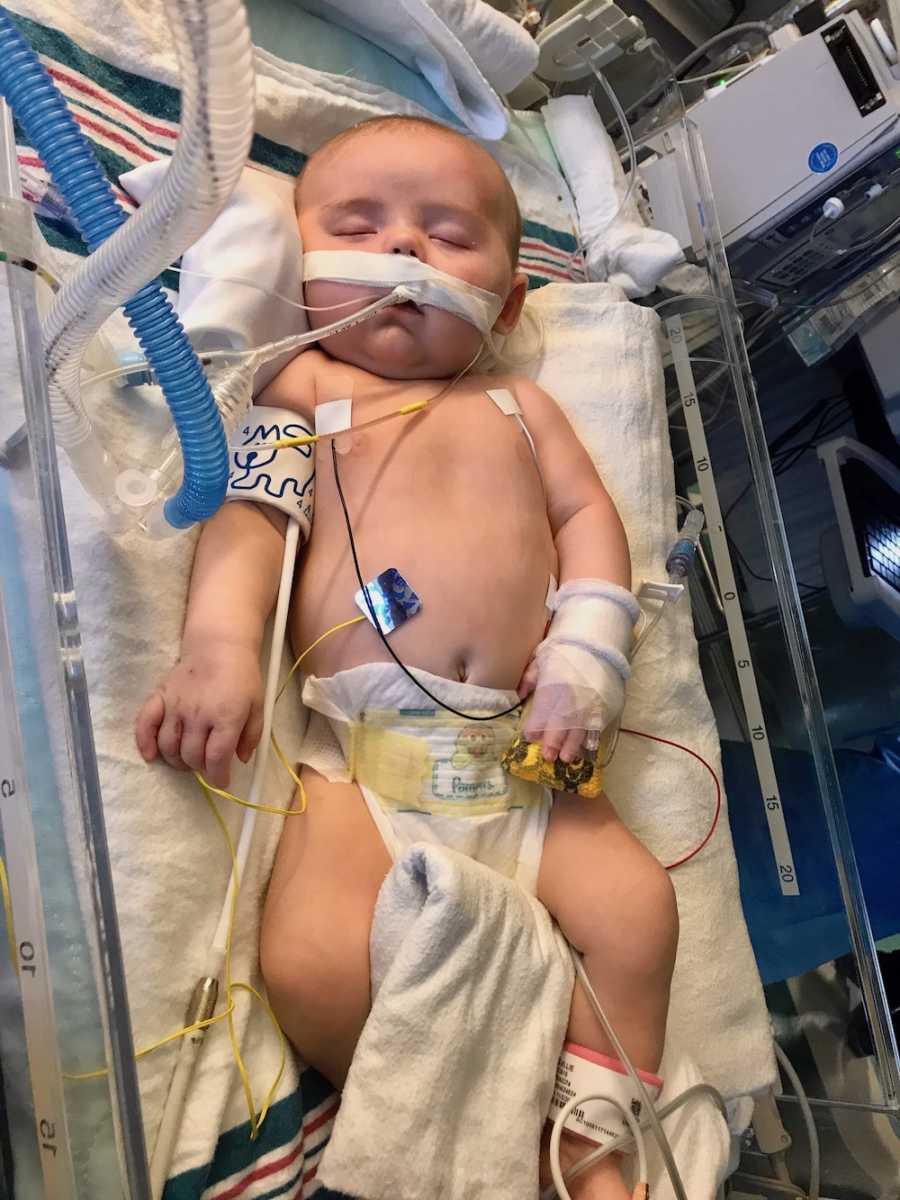 In my mind I felt like if we could just get to other hospital, she would be okay, but it seemed like we had so many obstacles. The first obstacle was the fact that she could not be intubated for the transport and required someone to bag and basically breathe for her, second the team was much later arriving than expected, third when we went to get on the elevator to load the ambulance we couldn't get the doors to open. I was having a nervous breakdown from within but had yet to cry. We finally get in the ambulance and they run lights and sirens, a code red. I came to find out much later they do not run code reds because of the potential of accidents during transport. Ellie's situation was only getting worse. While in the ambulance I watched through a window in the front and lot of activity happened all at once. She aspirated into the LMA which they had to remove to help her breathe even though this was what was helping her breathe. Her heart rate was dropping, they were doing chest compressions, and giving her medicine to help her heart. The driver was wonderful and spoke to me so calmly. He said, 'tell me what you see, and I'll explain what they are doing'. He explained to me what the different medicines were and what the numbers on the monitor were reading. I knew it was serious, so I finally broke down and called my mom who was out of town. I told her that I was in the ambulance and I didn't think Ellie would make it. She told me she woke up around 3:00 a.m. and started praying because she felt something was wrong (this was around the time we were first having issues). She told me they were leaving and would meet as the other hospital as soon as possible. I called my husband also and he stayed on the phone with me while they worked on Ellie. After what felt like forever but was only around three minutes the paramedic in the back turned around and gave me a thumbs up. They had finally gotten the breathing tube in and she was hooked up to a ventilator. I saw the nurse and the respiratory therapists faces and they looked relieved. I asked the driver how much longer and he said three minutes, but I still couldn't breathe. I think I was in so much shock I didn't realize I was having panic attack.
We arrived and I met the doctors who were taking over to work on Ellie. It was pure organized chaos when we made it in the PICU. They let my husband and I stand outside the door and watch. They had to remove the tube because it was not flowing air evenly into both lungs. These doctors also had a difficult time with her airway. The PICU doctor called the paramedic in to ask him how he did it, all the while words like pediatric ENT and operating room were being thrown around. After several minutes they got the tube in and took and x-ray to make sure they liked the position. They moved my husband and I to a waiting room while they got Ellie settled. They told us a doctor would be in to speak with us shortly. I was so on edge that after several minutes I went to look for the doctor and he followed me back to the waiting room. He explained to us that she had a bad case of RSV and a difficult airway. I asked him if I gave it to her because I had a bad cold and he said probably but also said that I have to be a mom. She had the perfect storm to contract the virus. She was premature and born in the fall, plus RSV hit a month earlier than normal. I have never felt more helpless than knowing I caused my child's illness and that she could have possibly died.
They were also concerned with her seizure. We asked a lot of questions and they told us she would be on the ventilator for a while and to expect a stay in the PICU for a couple weeks at least. That day and the next Ellie had x-rays, and EEG, EKG, Spinal Tap, CT scan, blood work and more than I can possibly remember. I did not sleep for the 3 days. I was worried about not only her lungs, but her heart and brain as well. The doctors comforted me as best as they could but couldn't say for sure what her prognosis would be. I was a literal walking zombie. The doctor came in the third day and told us that he thought she was going be okay and fully recover. I was able to rest a little after that news but had really bad dreams and still do at times. The nurse said I may have a little PTSD from witnessing the CPR in the ambulance amongst other things.
We had a wonderful experience in the PICU and made some wonderful connections to the people working on Ellie. The nurses spent time with us even watched Friends reruns with us nonstop. One nurse found the cutest slippers for Ellie and played dress up with her. I am so thankful for everyone who spent time with us. Our visitors were limited and because of the contagious nature of RSV we had to be quarantined. Any medical personnel had to gown up, glove up, and also wear a mask/shield. The tender care we received blessed my heart.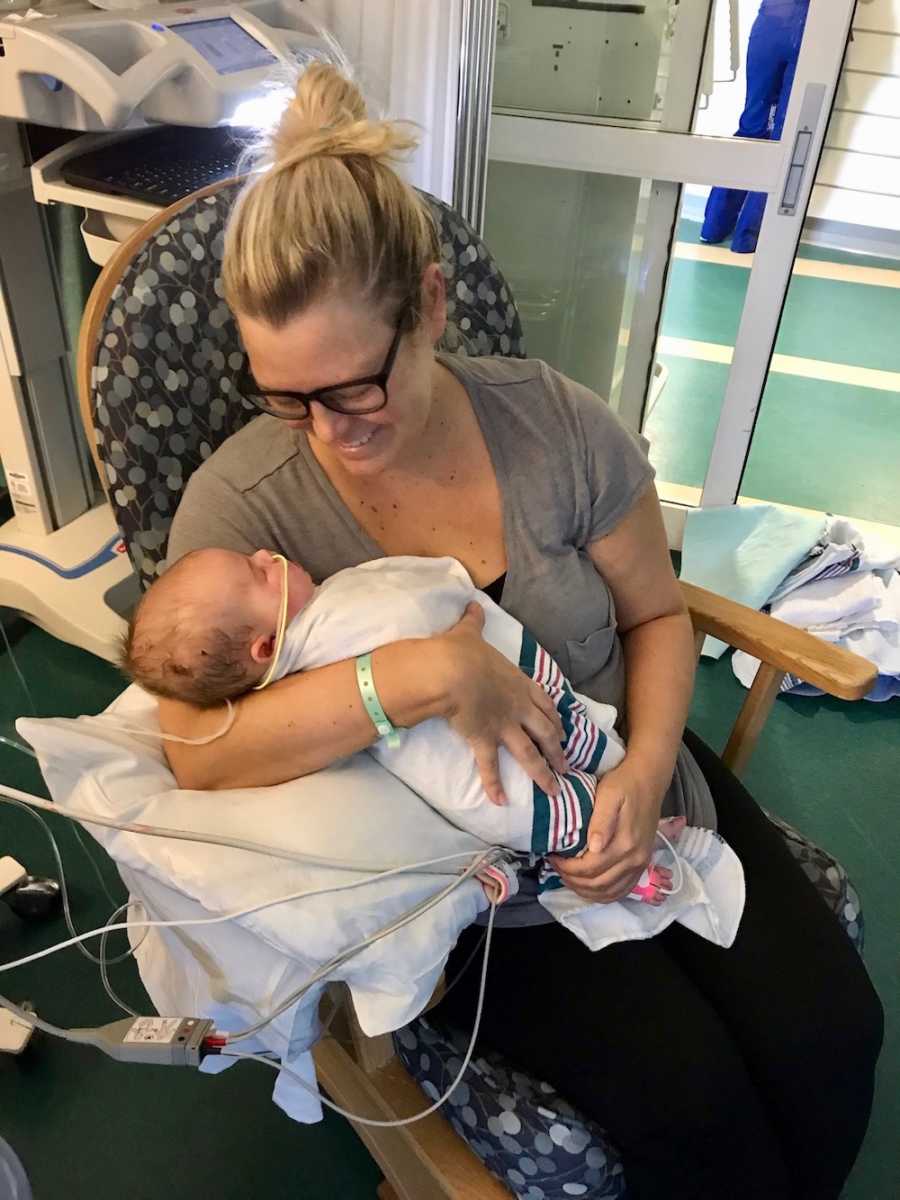 It was determined after many tests that the RSV caused the seizure and she had no other condition. The doctors also believe she had such severe swelling in her throat from the RSV that it caused her airway to basically be blocked. I'm thankful every day that we were at the hospital when this happened because she would not have survived without intervention. During this time, I left the hospital once. We showered, ate, slept, and lived in a tiny fishbowl room for over a week. I did not see my older children during this time and even missed their fifth birthday. My heart was so torn between my children but at this time I had to be with Ellie. The day they removed the breathing tube was the first time I cried. I was so relieved and thankful that my girl was going to be okay. Ellie had a difficult first night off the tube due to withdrawal from the medicine that was keeping her sedated, but she perked up quick. We were moved to a regular room with a door and our own bathroom. We spent two nights here before were discharged.
Ellie came home after 8 days in the PICU and 2 more days in the hospital when they first told us three weeks. Ellie is now six months old and completely healthy. Her heart, lungs and brain are perfect. She is gaining weight meeting her milestones like a champ. Her brother and sister love her, and it has been a pure joy watching the three of them together. We live every day with a sense gratitude and hope. We are grateful our child is here with us and growing so beautifully and very hopeful for the future. We all survived and are changed people because of our sweet Ellie. We want to thank every nurse, respiratory therapist, doctor who helped to make our Ellie better and keep two very upset parents calm. To every member of our family and friends who prayed for us and supported throughout this journey. I pray one day the nightmares will subside and the sinking feeling in my gut will go away when I think about November 5th. Thank you to our Lord and Savior who carried us when we were too weak and held our hand when it seemed all hope was lost. I hope Ellie's story can educate others the dangers of RSV as well as provide evidence of God's healing touch."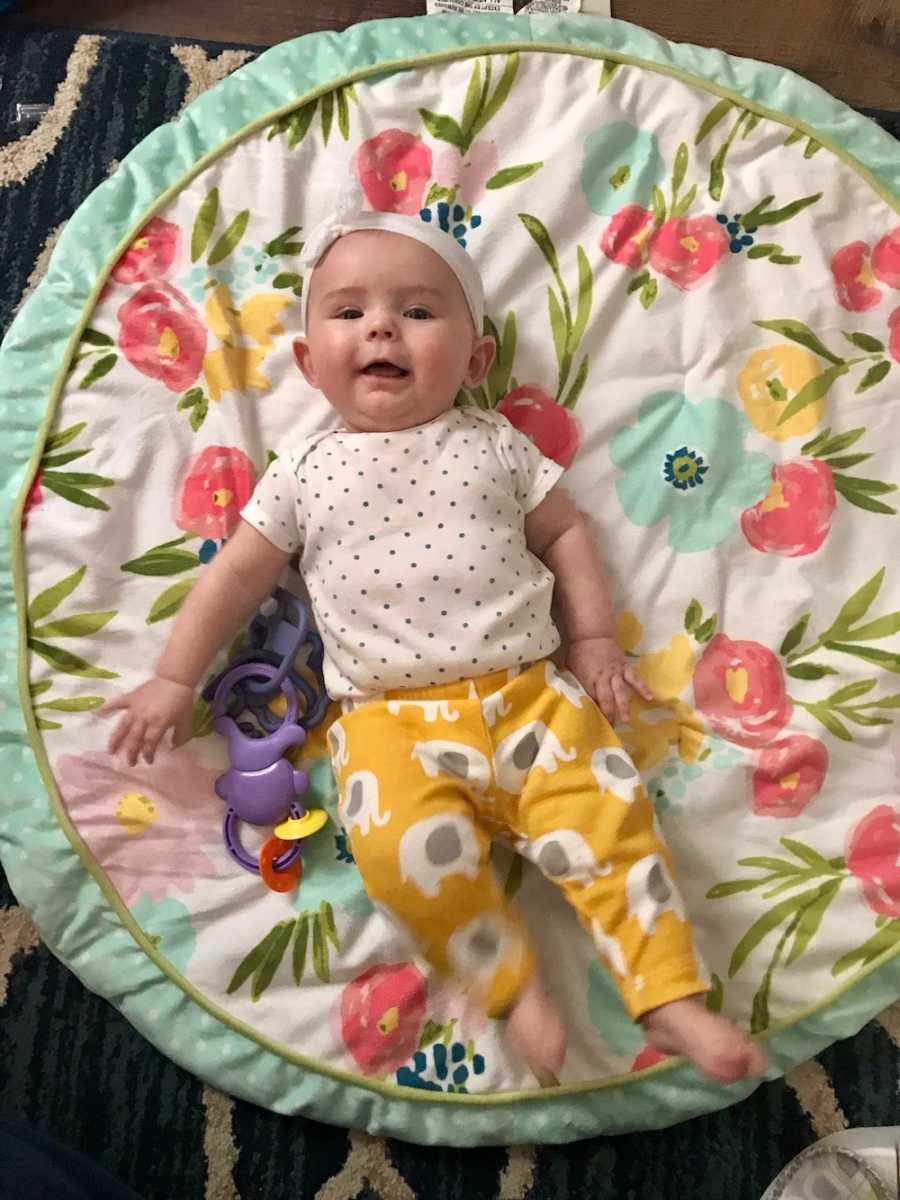 This story was submitted to Love What Matters by Hannah Lollis. Submit your own story here, and subscribe to our best stories in our free newsletter here.
Do you know someone who could benefit from this story? SHARE this story on Facebook with your friends and family.