"I walked out of my gym this morning deep in my own thoughts, earbuds in while I listened to an embarrassing Pop2K station. I was startled by the woman sitting in the car across from mine.
I was face to face with a mama sobbing in the driver's seat while her toddler sat behind her. She was crying the cry where your chest shakes, head in hands, and the big tears fall heavy out your eyes. 
I know this cry.
I paused because I didn't want to interrupt her intimate moment. Our eyes locked and she immediately looked panicked.
I looked at her and tried to say, 'It's okay! Cry it out! Let it go! I'll jump in my car and give you space!'
I could tell she was embarrassed. She quickly sat up straight, looked in her mirror, and wiped her eyes.
Then, she did the thing that so many women do each and every day… she just sucked it all back inside. All the pain or grief or worry she had at that moment she gasped right back inside her mind and inside her heart. 
She quickly backed out of her parking spot and went on her way.
I didn't know what else to do but say a prayer for her.
I wanted to say, 'God, please take this poor mama's pain away.'
But instead, I said, 'God, help her know it's okay to feel what she is feeling while she goes through this hard time.'
I changed my prayer because I know what it feels like to think that I can't or shouldn't show the hard times. I'm so tired of women always feeling like we need to quickly find a way out of the hard moments.
I'm tired of telling women: Suck it up. Deal with it. Figure it out. Make it work. Just do it. Get it together. Inhale it all back deep inside.
I'm tired of women thinking we have to stop FEELING our lives in the now and we must focus on just getting through it, looking ahead, and pushing forward. 
Instead, I've been trying to live in the present even in tough times. Even when it's hard. Even when it sucks. Even when I don't see the good in it. Because I know I can only learn from life when I allow myself to fully LIVE in it. 
To truly live in it, means to truly feel it. All of it. In the now. When it happens. To own all of my emotions at that very moment.
If I would have had more courage, I may have chased her down the parking lot to say, 'Breathe mama! Breathe and be. Be sad. Be overwhelmed. Be scared. Be tired. Be who you are RIGHT NOW because it's okay to not be okay. Cry. Bang. Sob. Scream. Feel it. Live it. This is life. This is all that comes with it, and it doesn't have to always look perfect.'
I wish I could have told her that.
I'm pretty sure God wanted to send me a reminder through this experience to be in the moment of right now. To stop chasing perfection and allow myself to feel courage in my vulnerability. Maybe someone else needs this reminder too.
To live the fullest life means to experience every emotion fully. Don't just suck it all back in. Breathe it in and breathe it out. Know it's inside you and let it go, let it out, let it be. 
Breathe and be. 
Breathe and be. 
Breathe and be."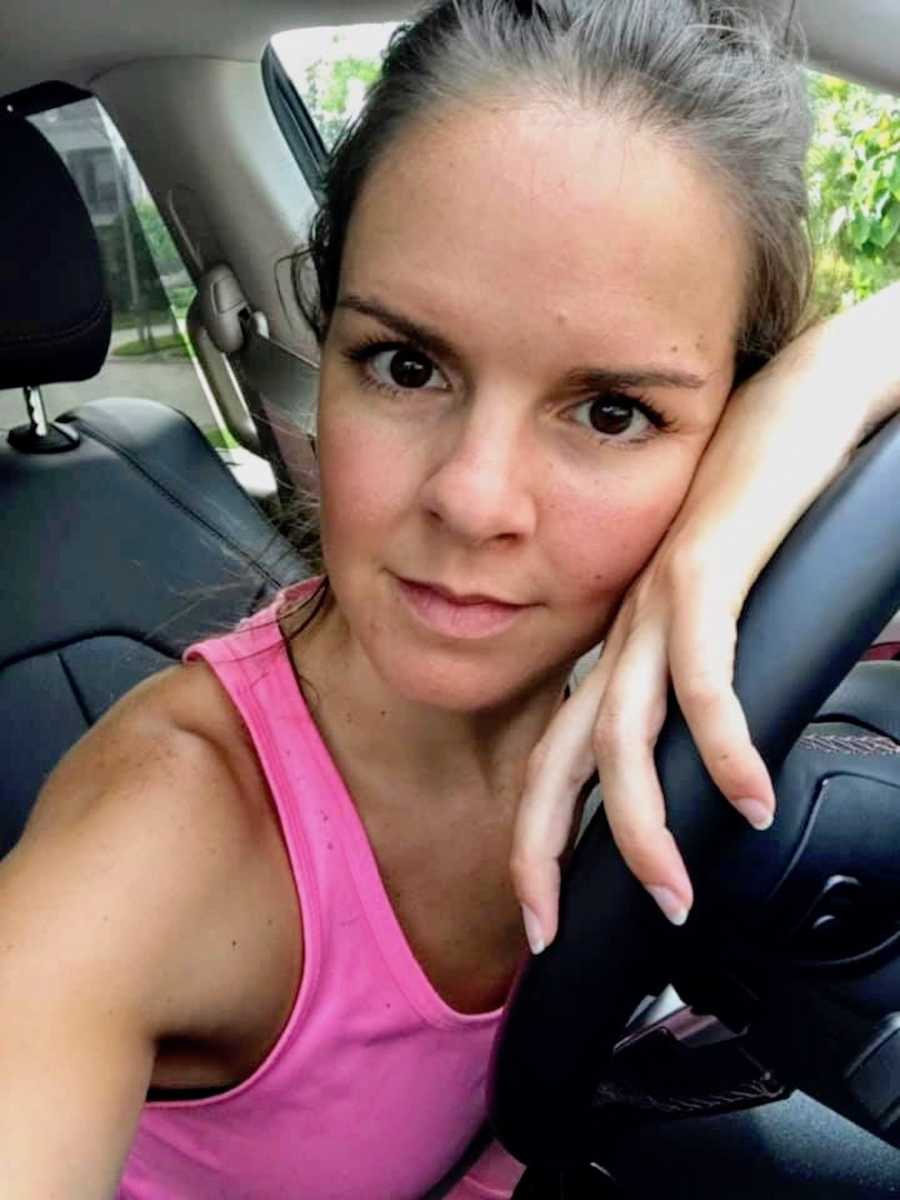 This story was submitted to Love What Matters by The Extraordinary Day by Nicole Schoolfield. Follow Nicole on Instagram here. The article originally appeared here. Submit your own story here, and be sure to subscribe to our free email newsletter for our best stories.
Read more stories like this: 
'I was standing in the checkout line at the grocery store. I had just had my third baby a month earlier. I will never forget what happened while we were waiting to pay for our groceries.'
'He visits 5 time a day, to make sure she wakes from all her naps': 78-year-old and 7-year-old form amazing bond
Provide beauty and strength for others. SHARE this story on Facebook with your friends and family.