"My husband (Chris) and my story started in eighth grade when we met on a summer leadership camp in Washington D.C. We were together for nearly 2 weeks and had as much of a connection as one can have at 14 years old. When we got back from the trip, we tried to stay in touch but eventually drifted apart and led separate lives for 6 years.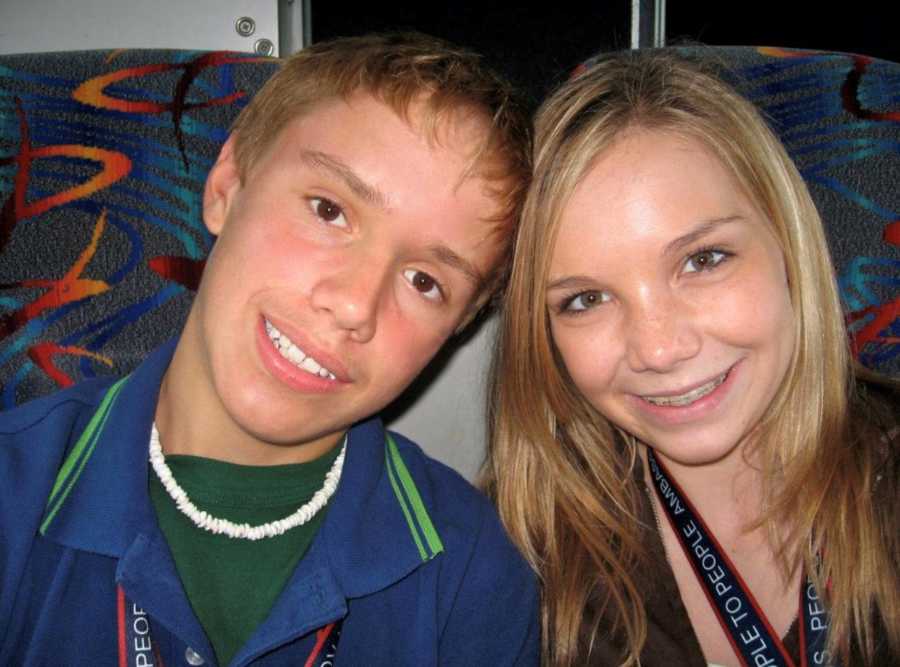 I put off college and got married right out of high school to someone who ended up being a totally different person than they lead on to be. Less than 1 year later, I found myself as a young 20-something-year-old that was already divorced, didn't have a college degree, and trying to figure out how to start from scratch.
I never wanted to be 'the victim,' so after my divorce I followed my passion and enrolled in nursing school and started a new life. I reconnected with Chris while he was still in college and eventually started dating, even though we were living about 2 hours apart. It was a tough balance but we fell in love quickly and always pushed each other out of our respective comfort zones. After a few years of dating, we got engaged, bought a nice house in a great neighborhood, got a dog and got married in September 2014. We had it all and we were only 23 years old.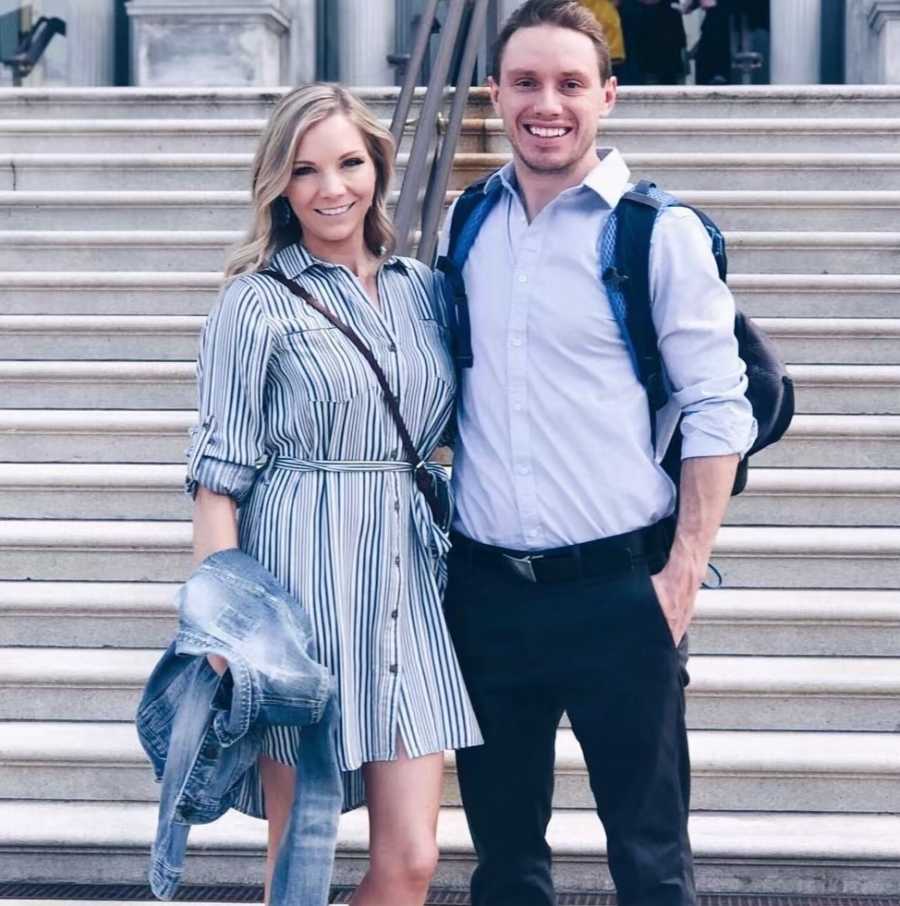 Flash forward to October 2016. We were on a trip to Nashville, Tennessee, when I found out I was pregnant! I was ecstatic because we had been talking about having a kid for a few months by that point, and my entire life I had always felt destined to be a mother. Chris was nervous because he felt like we were too young to have a kid still but excited all the same! Then reality hit.
A few weeks after we got back to Colorado, I was experiencing some pain, so we went to the doctors' office – where we were told I had a miscarriage. I was devastated. Chris tried his best to console me, but the pain I felt was not just physical, but more emotional. I felt like something was wrong with me or that I had done something wrong to cause this. We were both living in depression for a few weeks and trying to hide the pain behind fake smiles when we went out with friends and family. The doctors told us it would be at least 6 months before I could get pregnant again, but God has a plan and His timing is perfect because barely 2 months after my miscarriage, I was pregnant again!
In August 2017, our beautiful daughter Raegan was born! She was so special and so loved from day 1. Chris and I both knew we would do anything to give her the best life possible and protect her from everything we could. We took our precious daughter to our beautiful home and we were back to living the perfect life…until we weren't. About 6 weeks after Raegan was born, something just didn't seem right. Call it mother's intuition, but I knew something was wrong. We just didn't know what.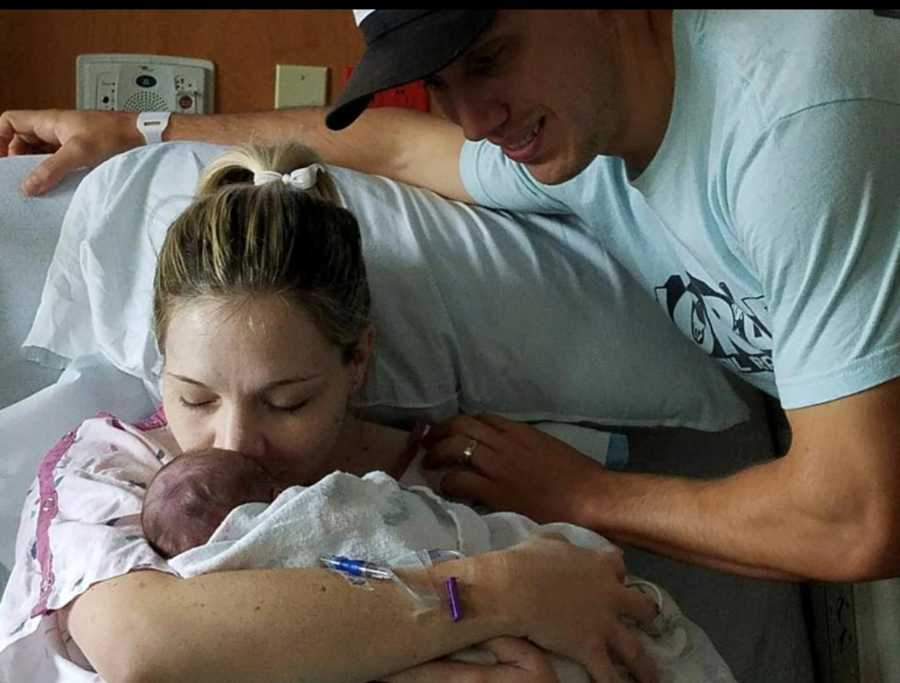 We took her to the pediatrician and they dismissed our fears and said everything was fine. Then things started getting worse; she wasn't gaining weight, wasn't breastfeeding and appeared to be having trouble breathing. We took her back to the pediatrician and insisted something was wrong. That's when they heard it – a heart murmur.
They still were not overly concerned, but referred us to a pediatric cardiologist for further testing. The next day, they found it. Two congenital heart defects that were causing failure to thrive and would eventually kill our daughter if left untreated. Words could not be described how scared we were. We felt so out of control – nothing could have prepared us for this.
After a few weeks of waiting for an opening, on October 26, 2017, our 11-week-old daughter underwent open heart surgery. It was the longest day of our life, but God was in control the entire time and the surgery went perfect. We spent every night by our daughter's side either silently praying or crying for the next week as she recovered in the Pediatric ICU. Eventually, we went home and Raegan got off the pain medication, oxygen and antibiotics and started living a normal life, with an awesome scar to tell her story!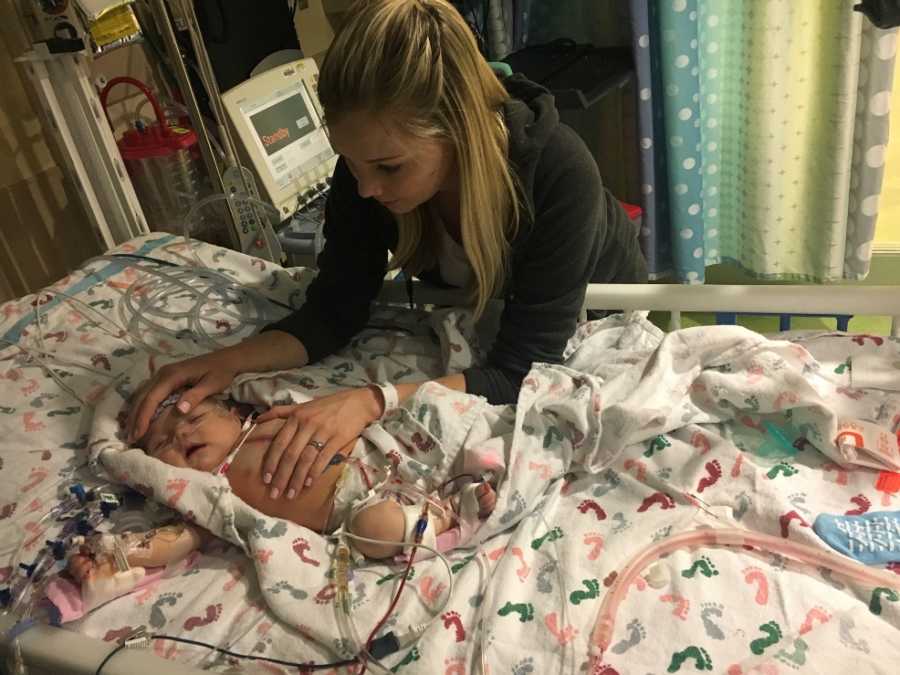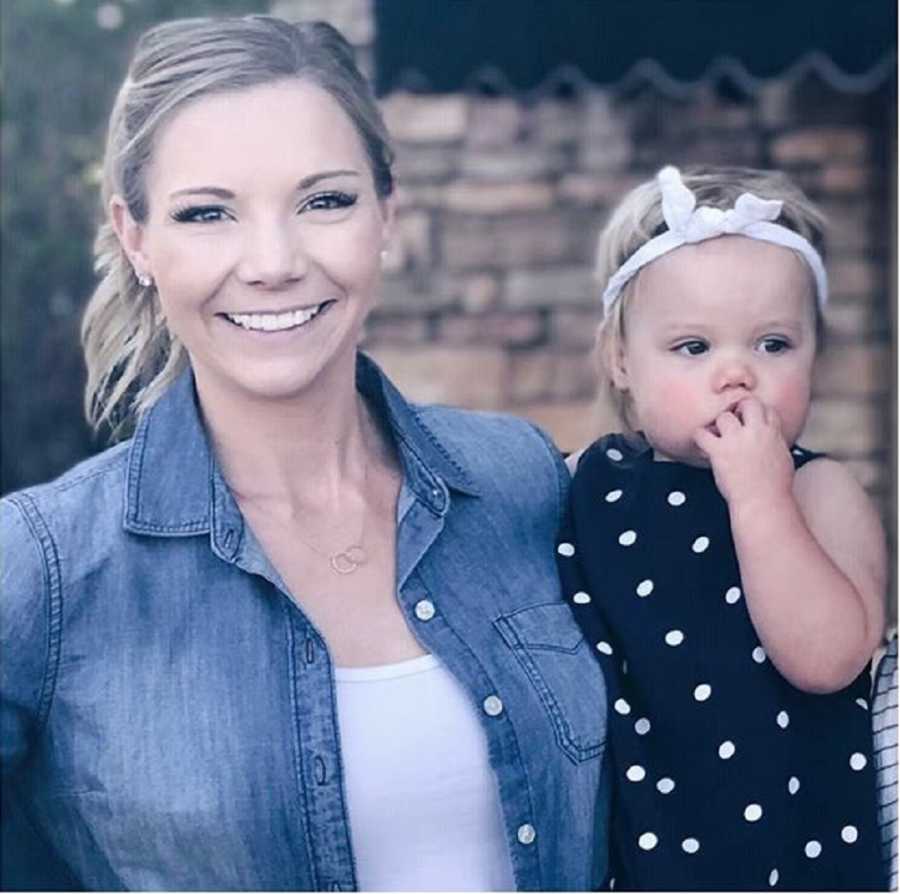 Life got back on track, and we started moving forward again. The following summer, we decided to sell our home and start fresh. We didn't want to rush into our next home, so we decided to sell and rent for a while before we started looking for our next home. At the time, we didn't know why God had put it on my heart to sell our home when we did, but again, His timing is perfect and He always has a plan. We had made some money on the house and in the midst of renting, Chris and my marriage started falling apart. There was some baggage that was brought into our marriage that came to light and when it did, it almost broke us. We quickly realized the reason we felt compelled to sell our house when we did was so we could afford counseling to work on saving our marriage without financial stress.
Our marriage felt stronger than ever after Raegan's heart surgery because we came together to help our daughter. But less than 1 year later, our marriage was in dire straits and we were on the brink of a divorce. We were again living in a depressive state of mind, trying to hide our struggles from friends and family behind fake smiles, and trying (unsuccessfully I admit), to protect Raegan's innocence during the whole ordeal. After several months of counseling and countless nights of crying and fighting, we were remembering why we fell in love in the first place. Instead of fighting with each other, we started fighting for our marriage.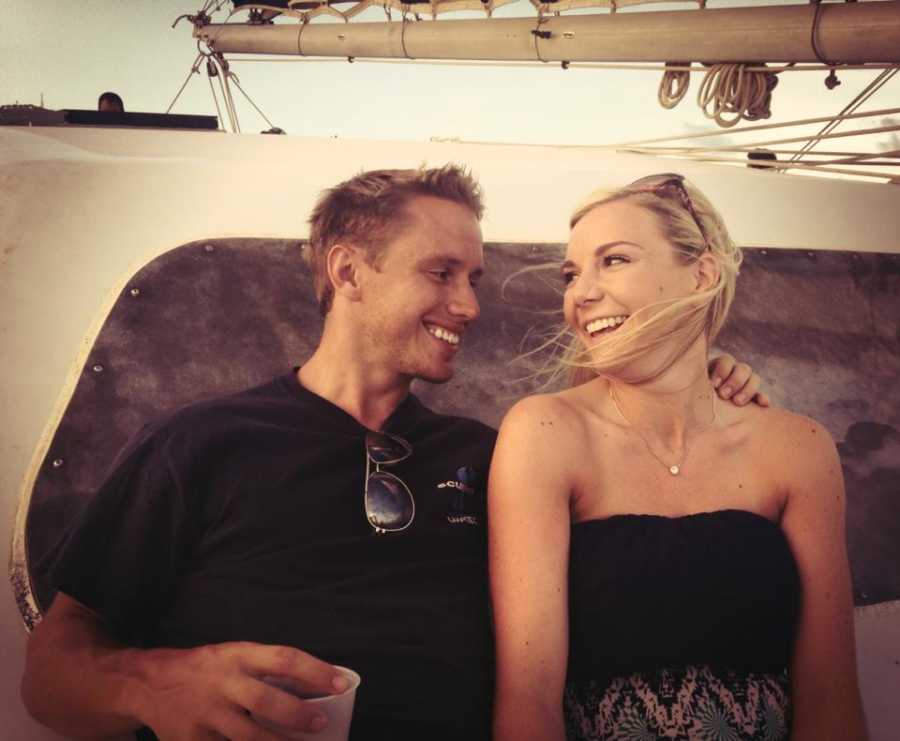 On New Year's Eve, we rang in 2019 making vision boards with goals and plans for the upcoming year. Our marriage was not completely mended, but we were in a much better place than just a few months before. We started making strides to rebuilding our lives, and in March we bought our second home and went back to Washington D.C. for the first time since we met back in eighth grade. We were feeling good. We had a beautifully healed daughter, the perfect home for our family, good careers with a growing social media and blog influence on the side and a marriage that was stronger and healthier than ever. That's when everything changed, again.
On June 1, 2019, I had a stroke.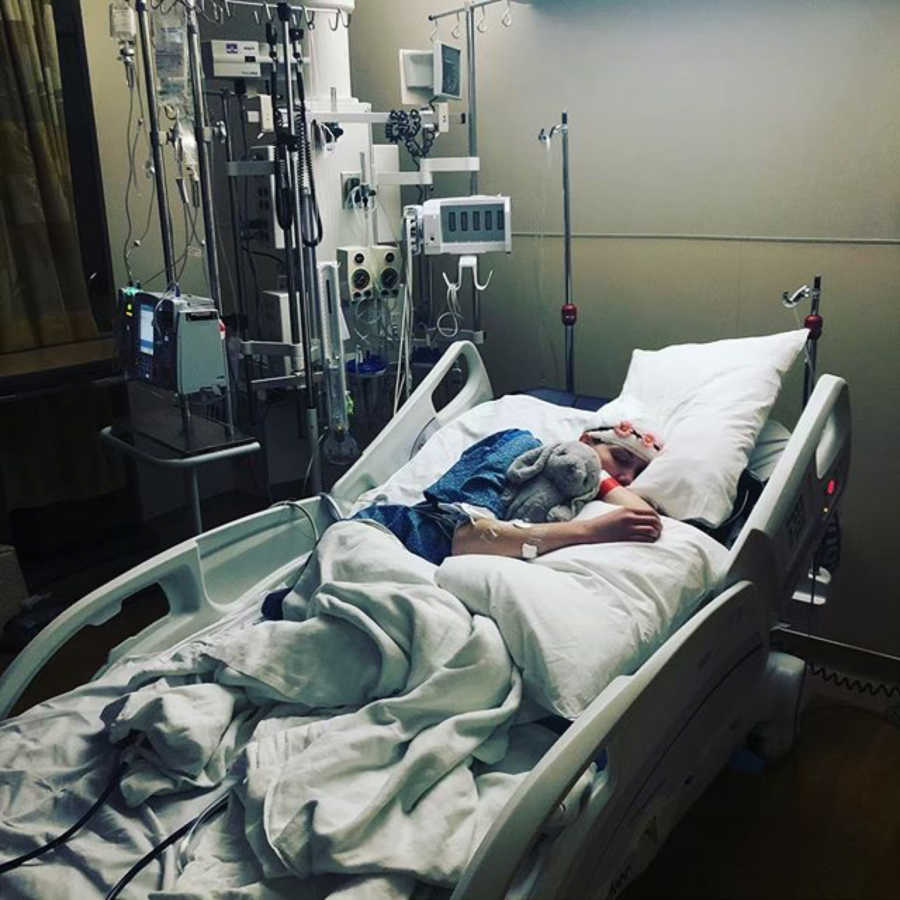 No one expects to have a stroke at 28 years old, but there I was, being taken by ambulance to the hospital while the friend I was with at the time tried to console my daughter until Chris could get home. Before I arrived at the hospital, I didn't know I had a stroke. Everyone assumed I was just exhausted and dehydrated and passed out. It wasn't until after my first CT scan revealed blood in my brain we realized how serious the situation was. The ER doctors had an immediate sense of urgency in transferring me to a neighboring hospital with a Neurological Intensive Care Unit (Neuro ICU) and 5 hours after I collapsed, I was in an ambulance again getting transported to another hospital and rushed in for an emergency angiogram to get a better idea of what happened.
I don't remember any of the next weeks in the Neuro ICU (probably for the best), but Chris had many sleepless nights at the hospital watching helplessly as I had seizures and laid in bed in a pseudo-conscious state. After 1 week in the ICU, the neurologists and neurosurgeons had determined what caused the stroke but conceded they were unable to fix it so I was transferred to a 3rd hospital better equipped to provide care. Almost 1 week to the hour after my initial collapse, I was undergoing brain surgery to repair the aneurysm that caused my stroke. Going into the surgery, I signed a power of attorney form for my husband to take me off life support if it came to that point. I was told I had a 1 in 3 chance the surgery would be successful, a 1 in 3 chance the surgery could cause permanent paralysis, and a 1 in 3 chance I could die.
Throughout both Chris and my lives, our marriage and even the first week after my stroke, we have experienced God's protection and answered prayers and we knew God was in control of my outcome on the operating table, but even still, having to say goodbye to Chris, Raegan and my family for what could have been the last time, I just don't have the words to describe that feeling.
Praise God, the procedure went (in the words on my Neurosurgeon) 'technically perfect' but I was not in the clear just yet. I would spend the next 18 days in the Neuro ICU being monitored and regaining strength before finally being discharged from the hospital on June 25th  – 25 days after I initially collapsed. Unless you or a loved one have ever experienced a nearly month-long stint in an ICU (and I pray that you haven't), it is impossible to explain how draining it is, not only on me as the patient, but the entire family.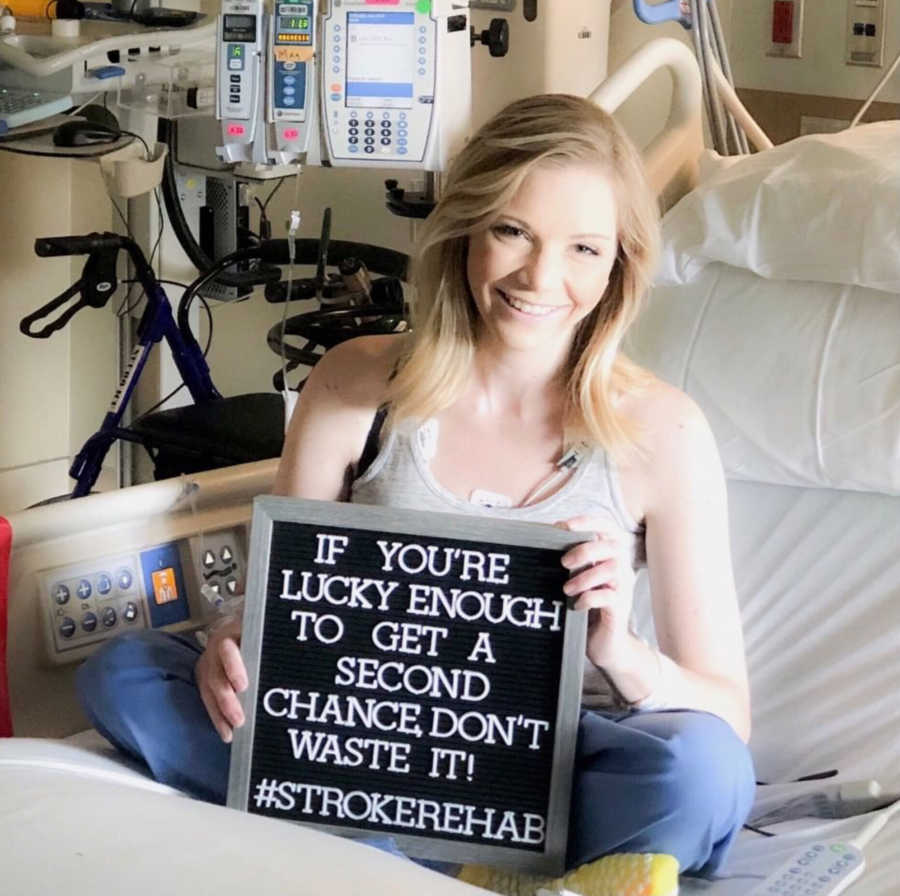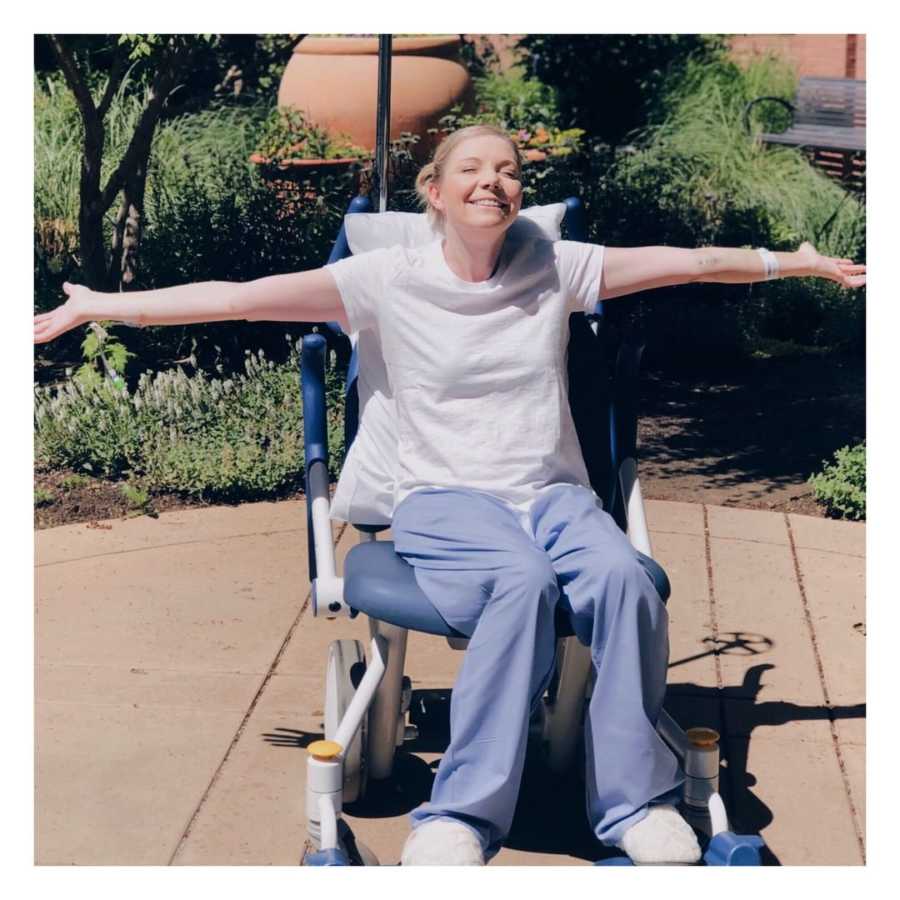 There was a song that came out recently called 'Life Changes' by Thomas Rhett and in the song, there's a line that says, 'You never know what's gonna happen, you make your plans and you hear God laughing…Life Changes.' Truer words have never been spoken. Chris and I had our plans and I can tell you, they definitely did not include our baby girl getting open heart surgery, our marriage almost ending in divorce and me having a stroke all in less than 2 years! We are not perfect, but then again, no one is…however we are surrounded by amazing family and friends and we have remained faithful because we know, 'If it wasn't for the struggle, you wouldn't have the strength. God is always building you even when it seems like He is breaking you.'
We don't know what the rest of our life has in store for us and we are facing a new normal as I continue to recover from the stroke, but my family and I were given a second chance and we are not going to waste it. We will come out of it stronger and more faithful than ever."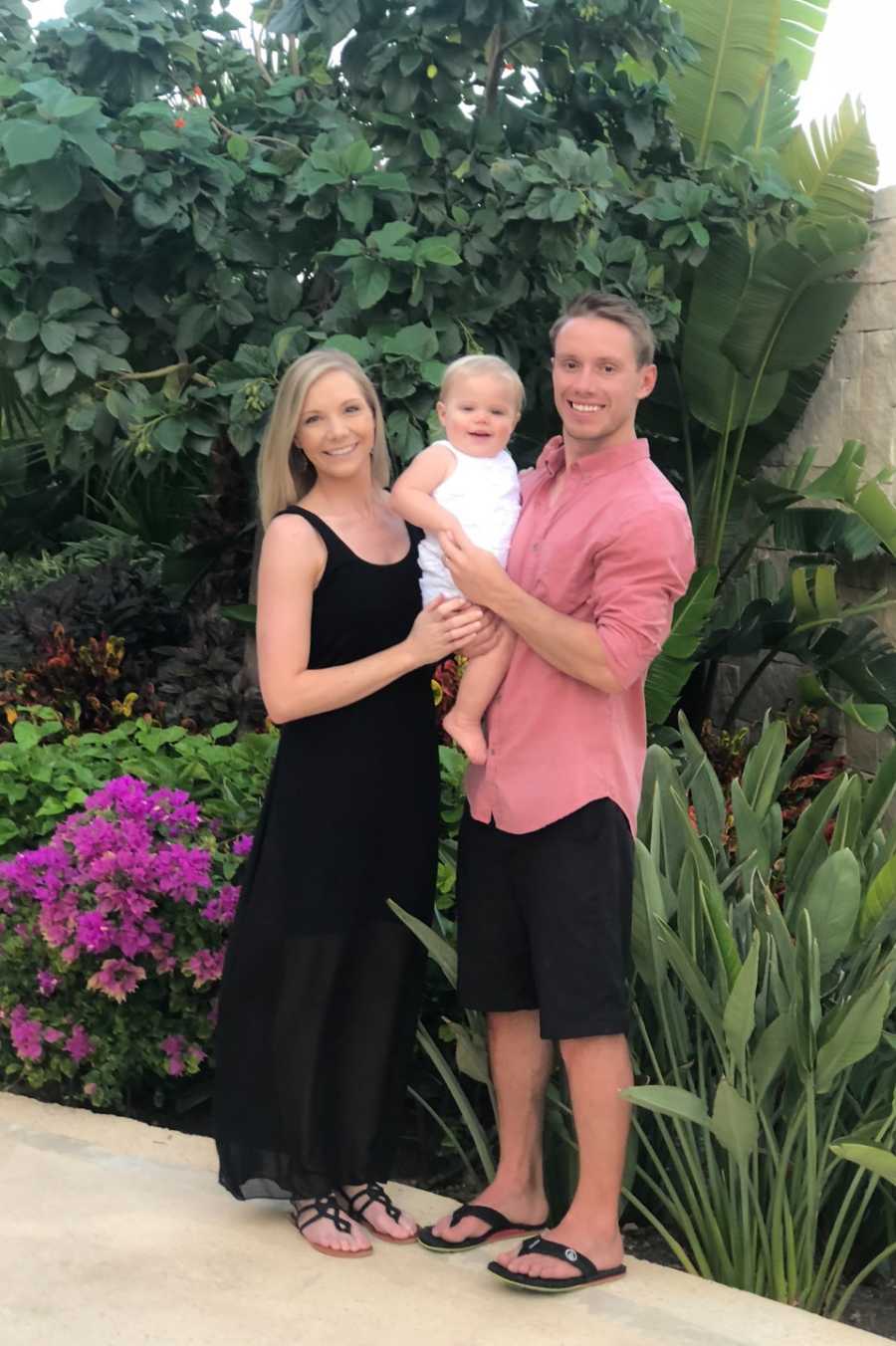 This story was written by Hannah Dean Holt of Denver, Colorado. You can follow her on Instagram here and visit her blog here. Do you have a similar experience? We'd like to hear your important journey. Submit your own story here, and be sure to subscribe to our free email newsletter for our best stories.
Read more stories like this here:
'If we waited 2 more weeks, you would've been paralyzed from the neck down.' I was in and out of consciousness. Death wasn't the only thing on my mind.': 15-year-old undergoes brain surgery after feeling dizzy, discovers rare chronic brain condition, Type 1 Chiari Malformation
'We were 15 years old. 'Let's exchange letters.' I couldn't keep waiting. He was just the guy with the awesome jawline.': Couple shares unconventional love story, 'We still choose each other'
'Andrea, I'd choose you every day for the rest of my life. I'm blessed you choose me.' He was being airlifted, paralyzed from the chest down, fighting for his life.': Woman recalls love story between herself and man she nursed
'I asked what he was going to do when she had a really rough pregnancy and her body changed. 'Are you going to walk out?': Dad shares his main piece of marriage advice
Provide beauty and strength for others. SHARE this story on Facebook with your friends and family.