"Chronic Illness. Let that sink in. How do you cope with a diagnosis of something that affects you every day and never goes away? Let me tell you, it's hard.
I have had random fainting spells back since I had my very first period. I know, gross. Up until after graduation, the fainting was rare and didn't cause me many problems except for being tired right after I woke up. I was diagnosed with hypoglycemia (low blood sugar) in second grade, so anytime I passed out, I always pushed the blame onto my sugar dropping and it caused me to pass out.
I didn't start having really bad problems until I fainted on July 17th, 2016, on my first day working at the hospital. I was perfectly fine and felt great up until that point. I was in full PPE (personal protective equipment) and I got too hot and I fainted. I knew I was going to pass out and I told the lady standing next to me, 'I am going to pass out.' She yelled, 'Sit down, sit down!' I remember bending my knees to sit on the floor and that's it. I fell from a standing position and hit my head on the concrete flooring. I was passed out for a long time because when I woke up, everyone was standing over me. They called a Code Blue on me (which means dead). Two ER doctors, security, management – they were there with a stretcher to take me up to the ER and were immediately giving me apple juice to try to bring my sugar up. I drank a bottle of apple juice on my way to the ER and my blood sugar was still only at 40 when they checked it. Your blood sugar should be between 70-100, so 40 is crazy low, and that was even after a bottle of apple juice. Once the ER saw my sugar that low, that's what they said the cause was. The lady I was working with said that when I passed out, I was seizing the entire time I was out. They did a CT scan to make sure I didn't have any brain bleeds from falling and hitting my head, and they sent me home.
This is when all my issues began.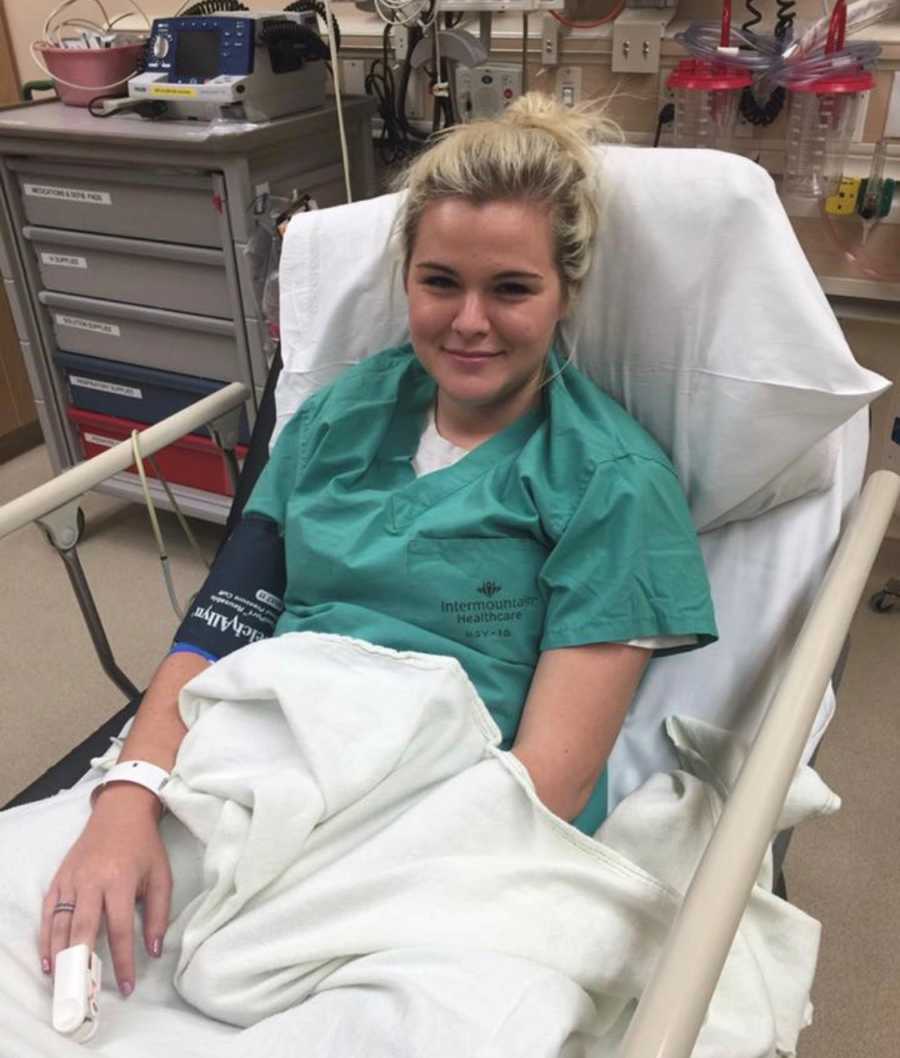 I started passing out multiple times a week. I couldn't link anything together as far as what might be causing it. I was constantly checking my blood sugar and most of the time it was perfect. I started the journey of trying to figure out what was wrong with me. During all of this, I got sick. I got sick with mononucleosis (Mono- 'the kissing disease'). I got it from drinking after one of my friends. Something so simple that friends do all the time, but it's still affecting me almost 4 years later. I didn't think much of it at the time because it didn't cause me too many problems when I was sick with mono, it was the problems that came after. I began to be tired. Not just a regular tired, but so tired I couldn't function. All I wanted to do was sleep. So, on top of passing out multiple times a week, I was also extremely exhausted. I could never catch a break. When you pass out and have seizures, your body aches. I would be in pain for up to a week anytime I passed out.
I saw so many doctors trying to get a diagnosis, but no one could find anything. They all just kept going back to my blood sugar, but I knew that wasn't it. I knew there was more, something was wrong. I saw many primary care doctors (most blew me off, so I kept pushing to find a good one). I saw cardiologists, neurologists, endocrinologists, nutritionists, and honestly I can't remember who else I saw. I was always at a doctor appointment. During this time, I was just told to try to pay attention and see if I could figure out the triggers causing me to pass out.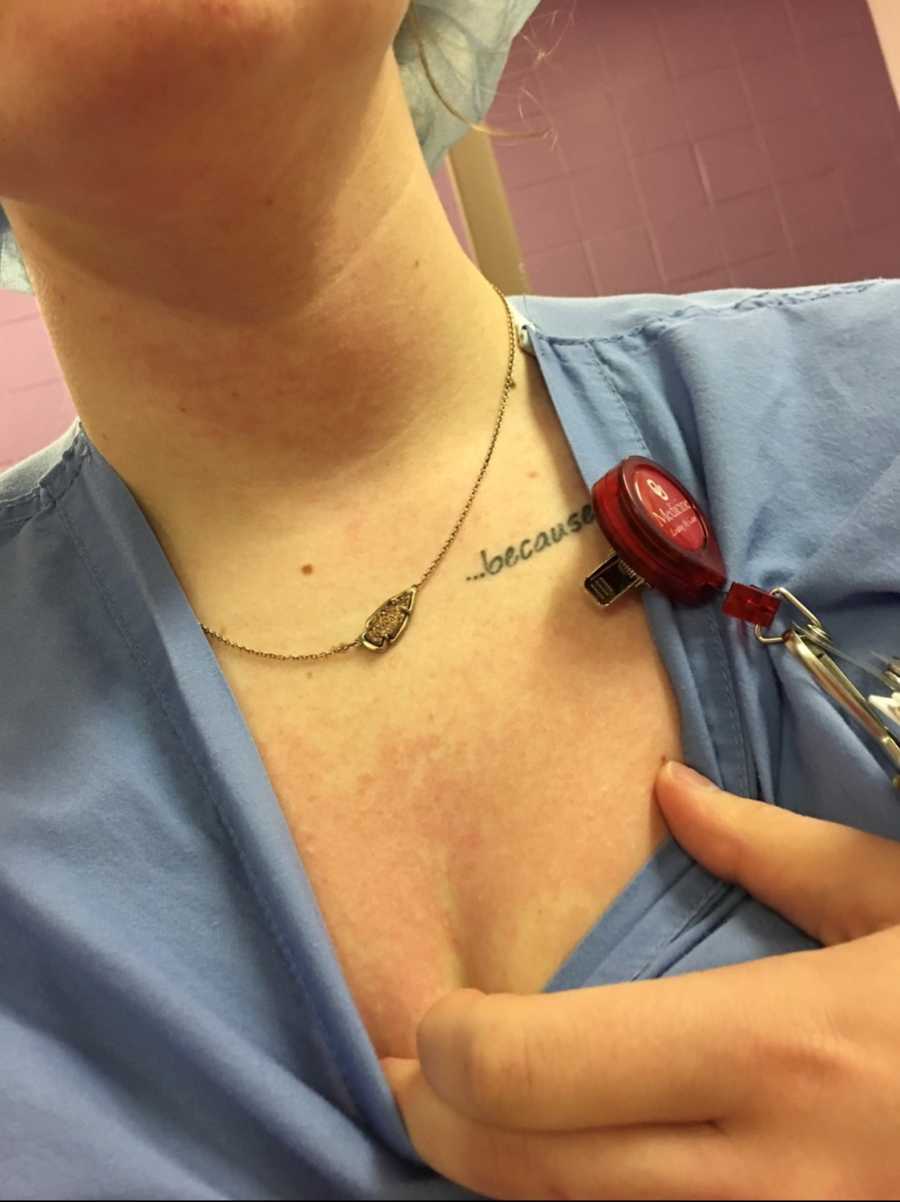 The doctors appointments and the passing out continued for about 8 months. I ended up finally starting to have a few good months and things were going good again. I moved back to Oklahoma and I was still good until, July 17th, 2017. Same date, exactly a year later. I started a job at a new hospital. I got stuck with a dirty needle my first day and I had to go get blood work done to protect myself. The nurse had no idea what she was doing, so when she started drawing my blood, it was going everywhere. By this time, there were a couple doctors and nurses in the room. 'I'm about to pass out,' I told them. I remember leaning my head back, and that's it. I woke up to them all holding me in my chair, and them telling me, once again, that I had a seizure. More CT scans, more testing, and still no answers. Things started to get bad again.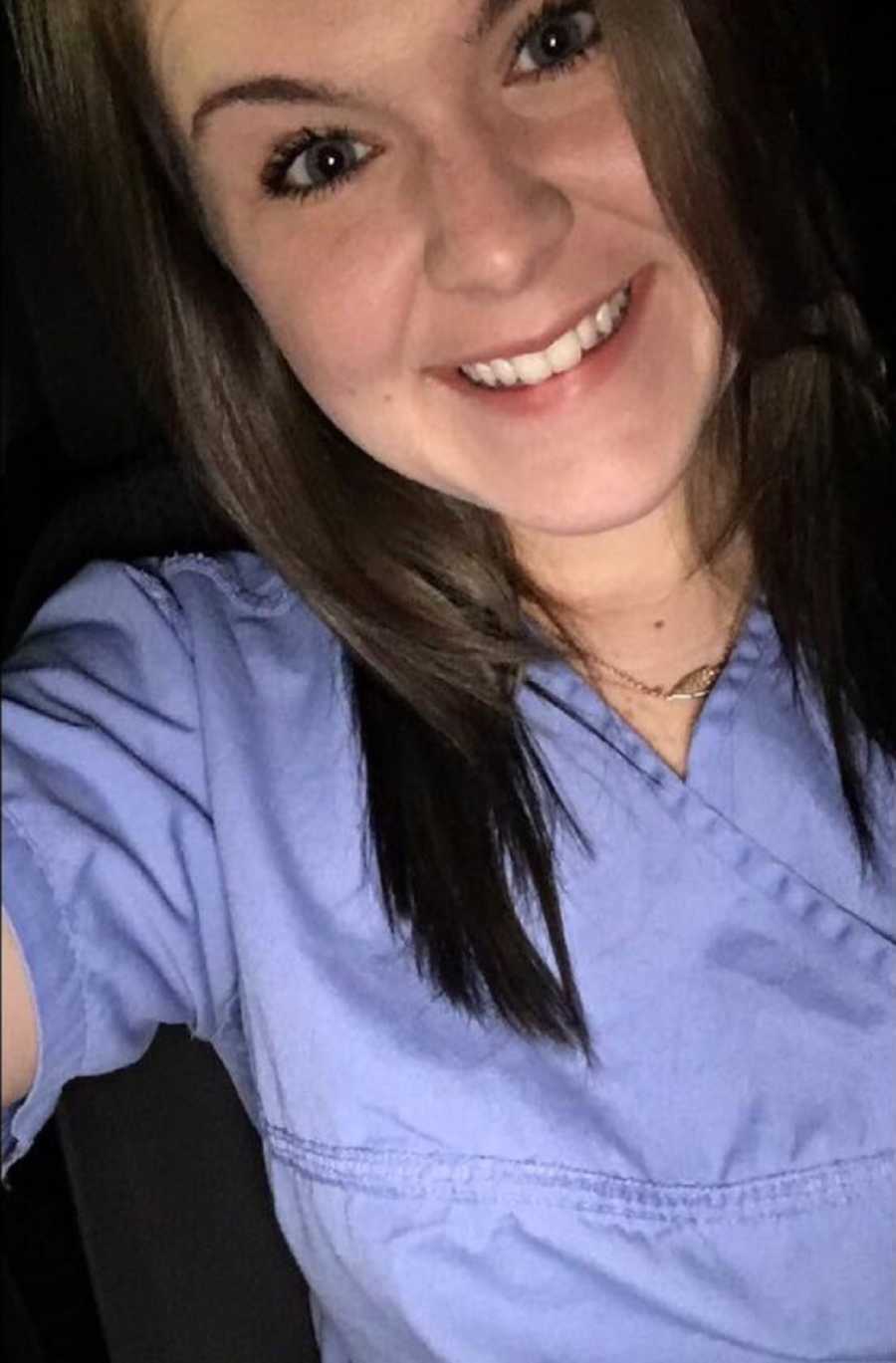 I started passing out again, not as often as before, but it was happening. The biggest issue I was having at this time was my tiredness. I had no energy to cook, clean, spend time with my husband, take care of our puppies, or even get out of bed most days. I started getting depressed, which only made things worse. It got so bad that I slept anytime I was home, that's all I did. Whenever my husband would get home from work, he would wake me up, feed me, and make me get in the shower. He would wash my hair for me and take care of me. This was the hardest time of my life.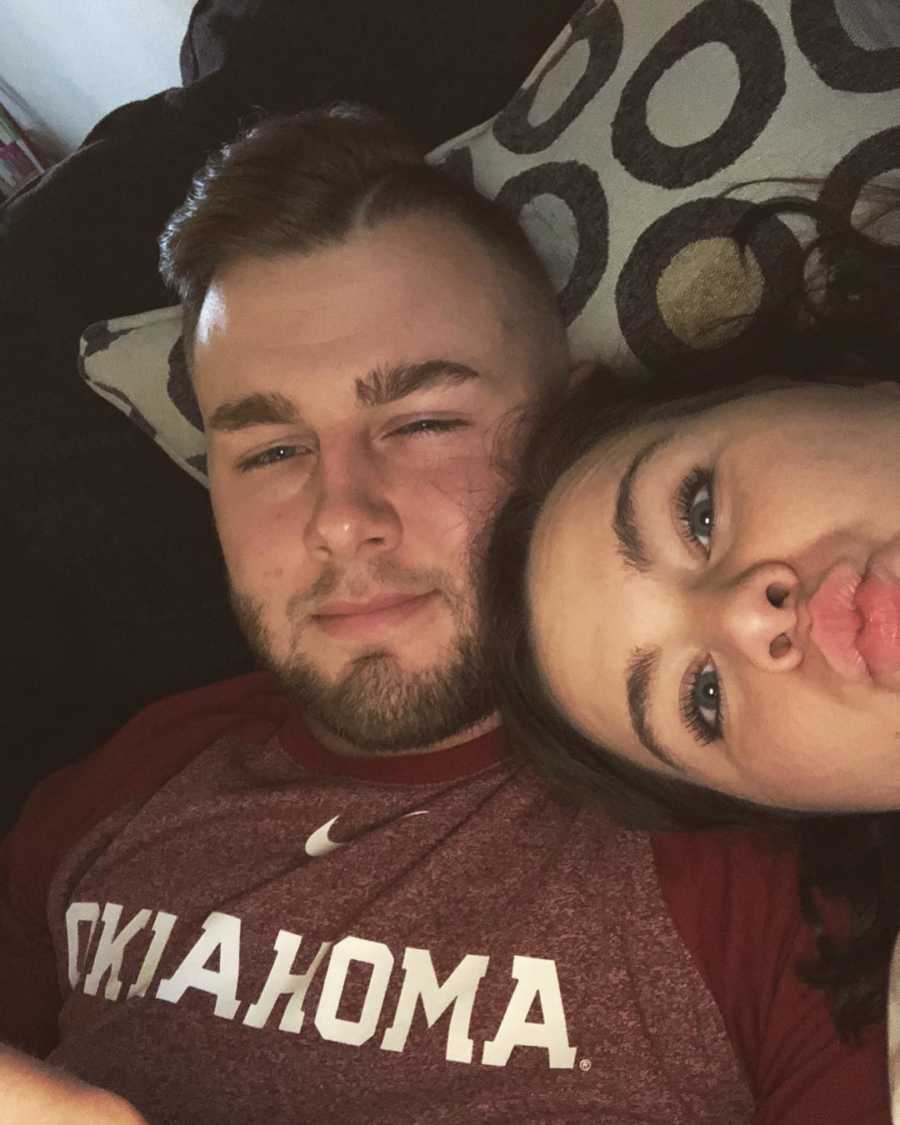 Things slowly started to change when I found a GREAT primary care physician here in Oklahoma. She diagnosed me with so many things. She started all of the testing on me again, and she couldn't find anything either. She diagnosed me with Chronic Fatigue Syndrome. Funny thing about this is that not many doctors believe CFS is real. They think it's all in people's heads. My primary care told me that CFS is a lot of times caused by Mono, and she asked if I ever had it. She sent me to neurology again to have more testing done. Neurology sent me again to cardiology. By this point, I had dug and dug for answers myself. I had googled things and I knew what I had. I knew I had Dysautonomia. I went to my cardiologist and she confirmed that I did in fact have Dysautonomia and she actually told me I have two major types of Dysautonomias – Neurocardiogenic Syncope and Postural Orthostatic Tachycardia Syndrome.
Dysautonomia is when your autonomic nervous system does not work the way it is supposed to. Your autonomic nervous system controls all of the things you can't control in your own body – heart rate, blood pressure, body temperature, blood sugar, etc. Neurocardiogenic Syncope is the major one that affects me. NCS means that you have triggers and they cause you to pass out. After all this time, I learned my triggers were everything I had no control over- my heart rate, blood sugar, body temperature, etc. Postural Orthostatic Tachycardia Syndrome is when your heart rate gets way too high whenever your posture changes. So, if I stand up too quickly, bend over and stand up, etc. it will cause my heart rate to go up and I can pass out. This was such a blessing to finally have answers. After almost 3 years, I had something.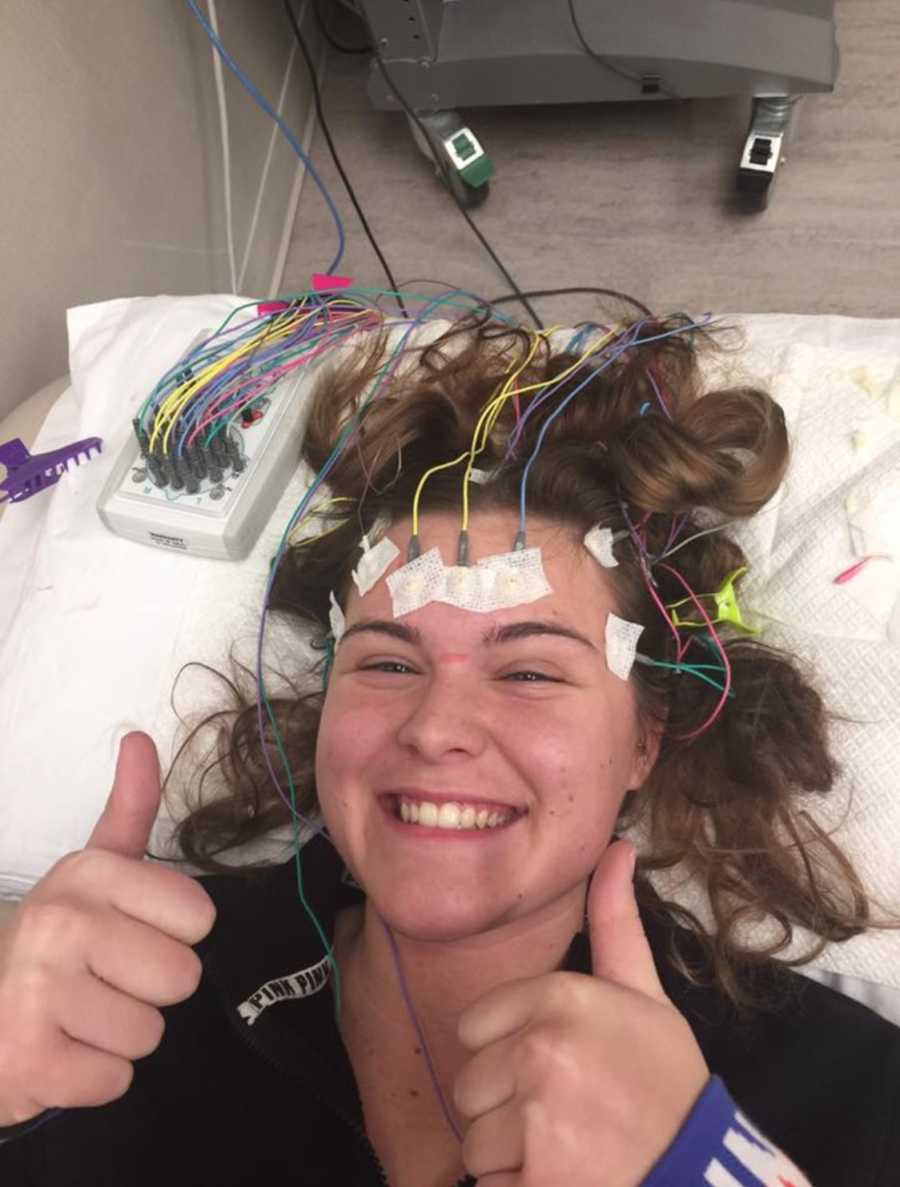 I was able to research into my diagnoses more and I learned so much about my illnesses and I learned that everything I had been struggling with was due to these chronic illnesses. Due to Dysautonomias being like an umbrella affect, I have many smaller symptoms that come from those 3 major diagnoses (CFS, NCS, POTS). I struggle on a daily basis. I have to get enough rest, not get too hot, not stand up too fast, not overdo myself with anything, eat right, and so many things, I could go on and on. I have learned mostly all of my triggers, so this helps to keep me from passing out as frequently. Right now, I am back in remission and the only thing I am struggling with is Chronic Fatigue Syndrome. I have to get around 14 hours of sleep to feel like I have gotten any. I am working through all of this and still trying to understand what I did to deserve it all. It's so hard to deal with and so scary. Some people think I should be 100% reliant on someone else to drive me and take care of me. But, I have learned what to do to take care of myself and stay as healthy as I can be.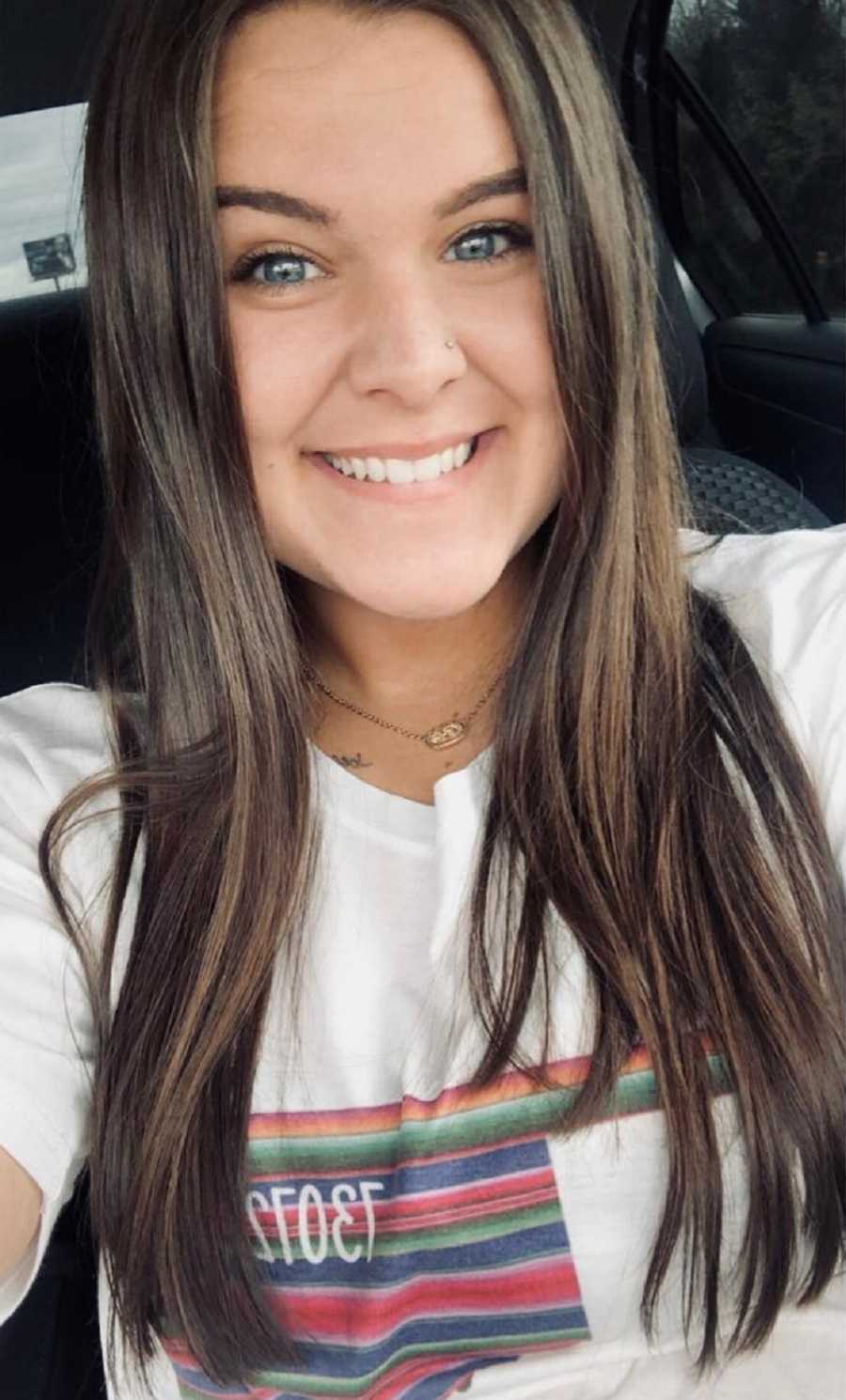 I wouldn't be able to have made it through any of this if it wasn't for my husband and my family. My husband still takes care of me and does his best to make sure I am eating right and taking care of myself. My family supports me and does everything they can to help be there and understand the things I have gone through. I couldn't have done any of this without them."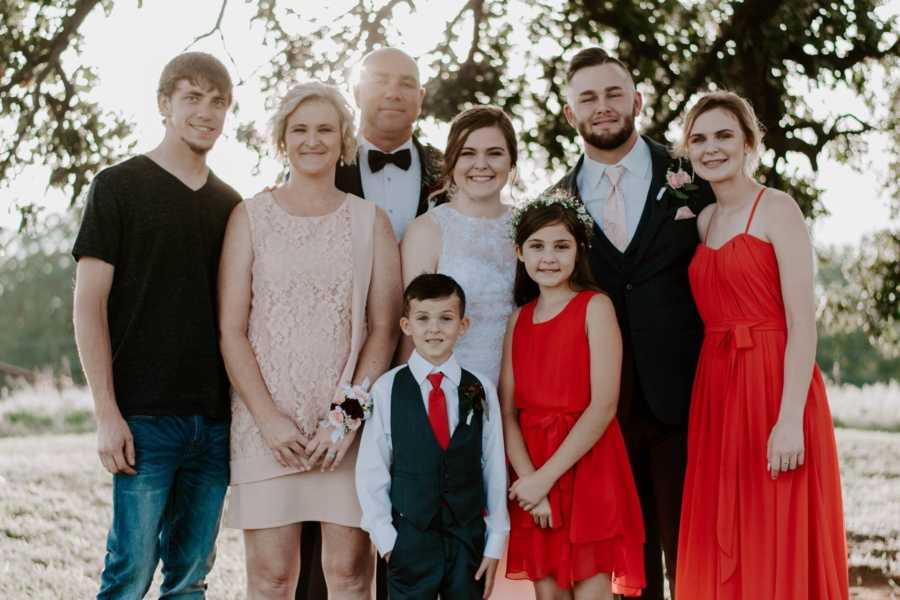 This story was submitted to Love What Matters by Bailey Eisman of Norman, Oklahoma. You can follow her journey on Instagram. Do you have a similar experience? We'd like to hear your important journey. Submit your own story here, and be sure to subscribe to our free email newsletter for our best stories.
Read Bailey's inspiring backstory being adopted as an adult:
'Why do my kids not want to talk to me?' My mom replied, 'You don't have anything to do with them, why would they?' 18-year-old adopted by uncle's best friend, the 'most selfless' man she knows
Do you know someone who could benefit from this story? SHARE on Facebook to help spread awareness!