"Ben was and will always be my soulmate. Our love and connection was deep, instant and timely. We were drawn to each other and met for a purpose; to push each other, to make each other better people and to love each other hard. And to think, our love story all began with a little app called Tinder.
Ben and I both swiped right on each other. Well, technically my friend Casey or cousin Sara swiped right on him for me, and I'm so glad they did. Little did we know that we were about to become a Tinder success story. We chatted for a bit, but Ben wasted no time setting up a day for our first date. He always gave me a hard time because he said I waited a week to respond to his initial message. I feel like it was more like three days, but either way, our conversation was flowing. Ben, being the gentleman he was, offered to drive out to me for our first date. We decided on William Jeffrey's Tavern, a local restaurant in Arlington, Virginia, which ended up being our 'spot,' the location of our next few dates. Our first date was at the end of September in 2015.
The plan was for Ben to come park near my townhouse, and then we would walk over to the restaurant. Well, Arlington being Arlington, Ben was unable to find a spot, so I decided I'd just hop in his car and hope he wasn't a weirdo or going to kidnap me. When he first pulled up, he got out of his car to meet me and give me a hug. My first thought was, 'Oh he's handsome,' but then when he hugged me, thought, 'Oh no, he's shorter than me.' To be fair, he was not wearing his man heels aka his cowboy boots. And realistically, we are the same height and I was just being picky in my head. On a side note, I've had butterflies this entire time and they stay with me for the remainder of our date.
When we get to William Jeffrey's, Ben opens the car door for me, grabs my hand and we head towards the restaurant. We already felt so comfortable with each other and it just felt right. We hadn't even known each other for 10 minutes but had an instant connection.
Once in the restaurant, we sat at a high top over in the bar area. To this day, I still remember our exact table. We sit down, order some beer and food and end up talking for hours. I think I did most of the talking because that's what I do, but I let him get a few words in and I liked what I was hearing. We had similar interests, the same life goals and were both on the same page. We even had the, 'Yes I want to get married one day' and 'yes I want babies one day' conversation. The only thing we really disagreed on was our hockey teams. I like the Washington Capitals and Ben loves the Pittsburgh Penguins. But thankfully, that was not a deal breaker.
After the date, Ben drove me back over to my townhouse. I don't think either of us wanted the night to end. As I said thank you and goodnight, we connected eyes and ended up making out like teenagers in Ben's Nissan 350Z for about half-an-hour. I didn't find out until later, but Ben's foot had been on the clutch the entire time and his leg was cramping up, whoops. We finally said goodnight and it was from that day forward, we were together. I instantly knew that this was my guy, my person, my forever. And this is when our 'BenAnna' love story began.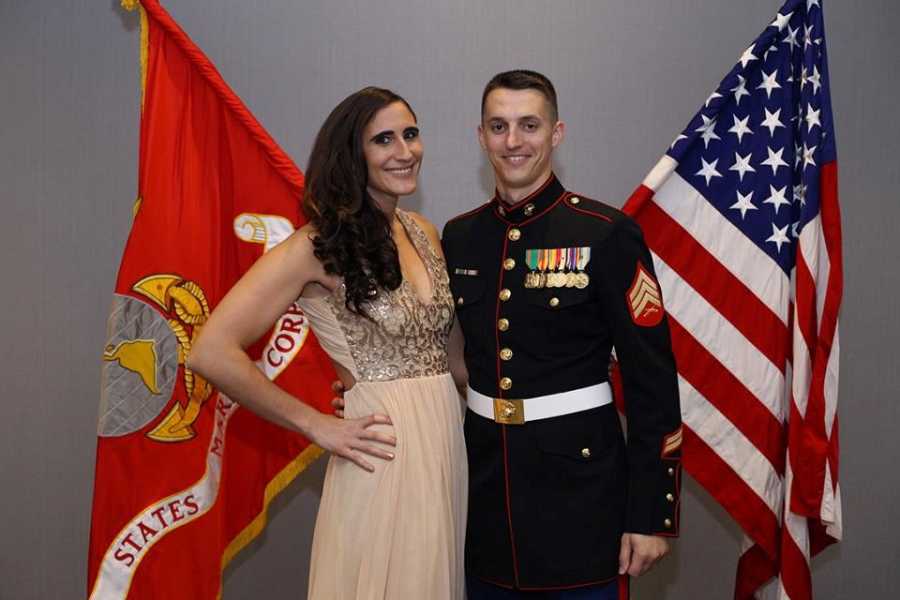 Fast forward to May 2018. Ben was currently a Sergeant with the USMC reserves and he had recently sat me down to discuss a possible deployment opportunity to Afghanistan for a year. I remember when he talked to me about it, I just started crying. Deep down, I did not want him to deploy. But he wanted to get one more deployment under his belt before we started to expand our family. He didn't want to be deployed once we had kids (unless he was ordered to deploy of course). He never wanted to miss any part of their lives. He also had to promise me that he would propose sometime over the next few weeks before he left for deployment. So, the timing of this deployment was actually perfect. I would plan our wedding, we'd get married once he got home and then start to try for a baby.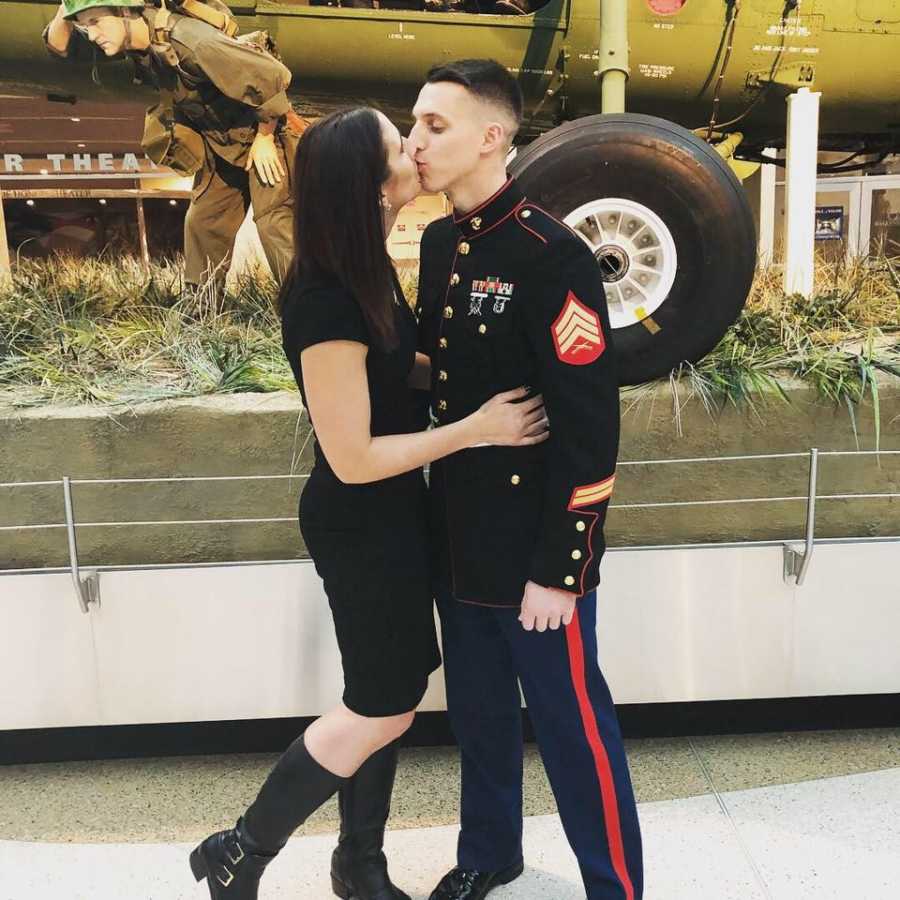 Then on May 31st, 2018, the best day of my life happened – our engagement. I had taken off the day from work so we could have one more day date before he had to report down at Camp Lejeune for deployment preparations. I made him plan the whole day since I was usually the planner. He ended up taking me to a nice lunch and then over to Bluemont Vineyard, which was one of our first few date spots. When we arrived, he had reserved a bottle and table, which I immediately thought – something was up. It was a Thursday afternoon and by no means did he need to reserve a table. We get outside and he overheard a couple talking about the bad rainstorm that was coming soon, so he immediately tells me we need to go look at the vineyard. As we walk down, we look over the mountain and see the rain coming in and we decide to go back upstairs on the covered patio. Ben starts chugging his wine, grabs my glass and gets down on one knee. I couldn't even tell you what he said but I said 'YES' and gave him a huge kiss. I was the happiest girl in the world and this was truly the best day of my life. Little did I know that the worst day of my life would occur a short 11 months later.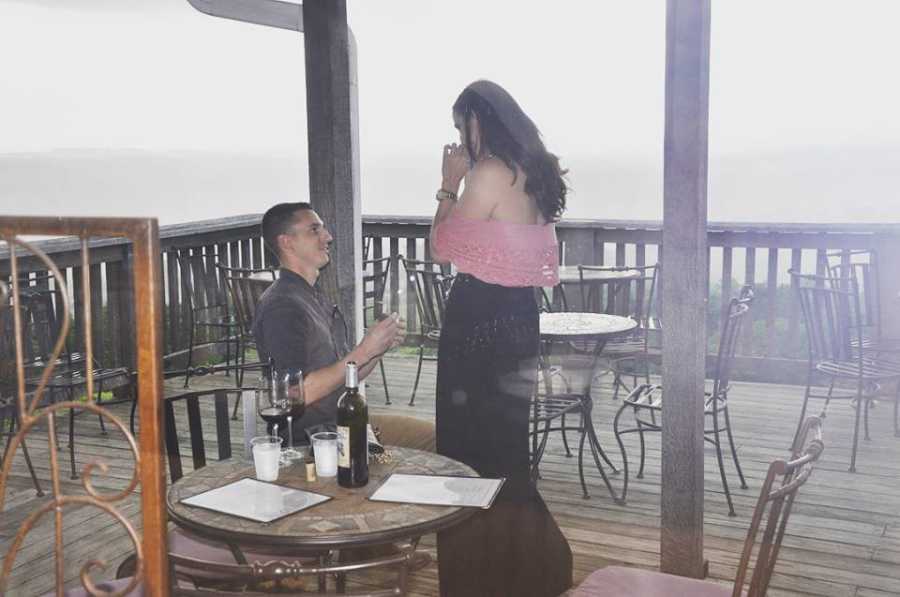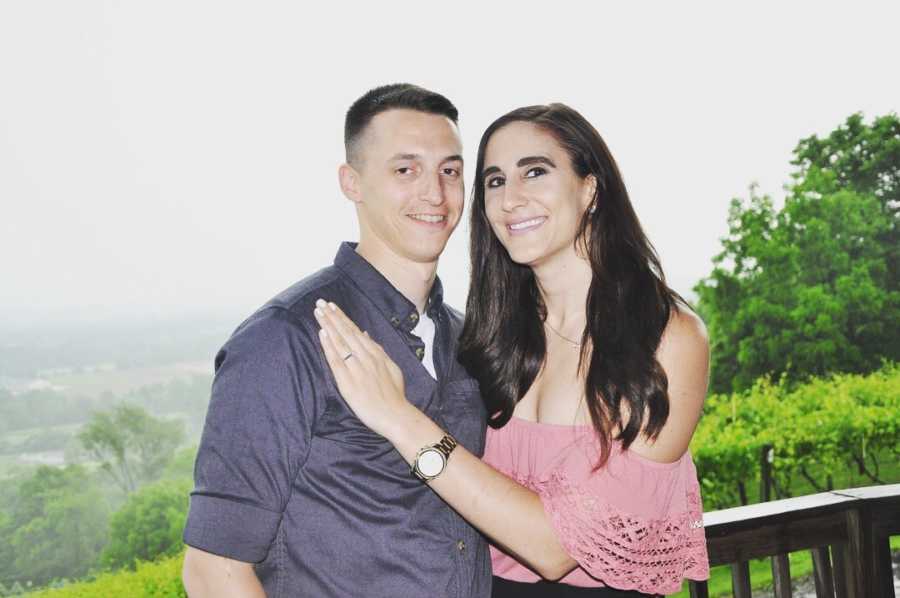 April 8th, 2019. A day that will forever be painfully ingrained in my memory and has left a hole in my heart. A day that has changed my life forever. A day that robbed me and Ben of our future – plans, memories, adventures. This was the day that Ben, alongside two of his USMC brothers, were killed-in action by a Taliban SVBIED (suicide vehicle bomber). They were killed only 10 or so days before they were supposed to return stateside from their deployment. Our wedding was only six months away and had been set for October 12, 2019. Ben was only 31 years old and had just recently been selected for a promotion to Staff Sergeant.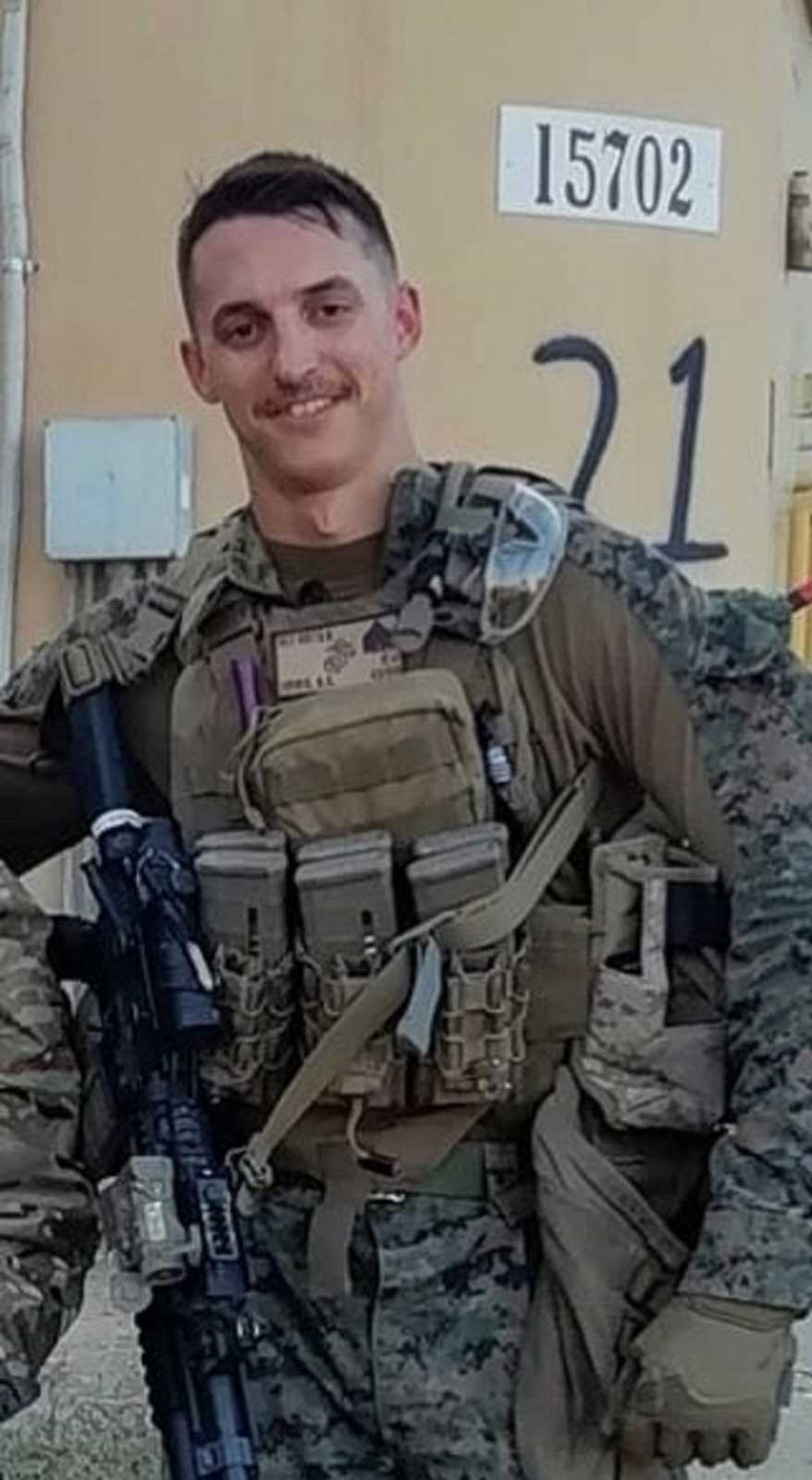 I remember all my phone calls to Ben that day, before and after work. I had talked to him the night before, so it was not out of the ordinary that he did not pick up the next morning. Little did I know, that prior evening's phone call would be our last 'I love you.' I also remember every single text message I sent him that day, with no reply. I will never forget the terrible gut feeling I had when I got home from work and found out that three American soldiers had been killed, right near the base where Ben was stationed. I will never forget the run that I went on that evening. It was windy and the trees were blowing; it was almost as if Ben was giving me a sign and preparing me for what I was about to find out. That was one of the hardest two miles I have ever run. I thought I was going to pass out, I was crying and so many thoughts were racing through my mind.
'It can't be him; my life can't go on without him.' 'It can't be him, it's finally our turn and we have so many exciting plans for when he gets home – wedding, baby, buying our forever home.' I remember finally making it back home and calling my roommate, hysterically crying. He was comforting and assured me Ben was okay. I remember trying to go to sleep that night but was tossing and turning. And then came the pounding on the door at 1 a.m., which I ignored and pretended not to hear. This is the moment my world came crashing down. I will never forget this day. I will never forget our love. I will never forget his sacrifice.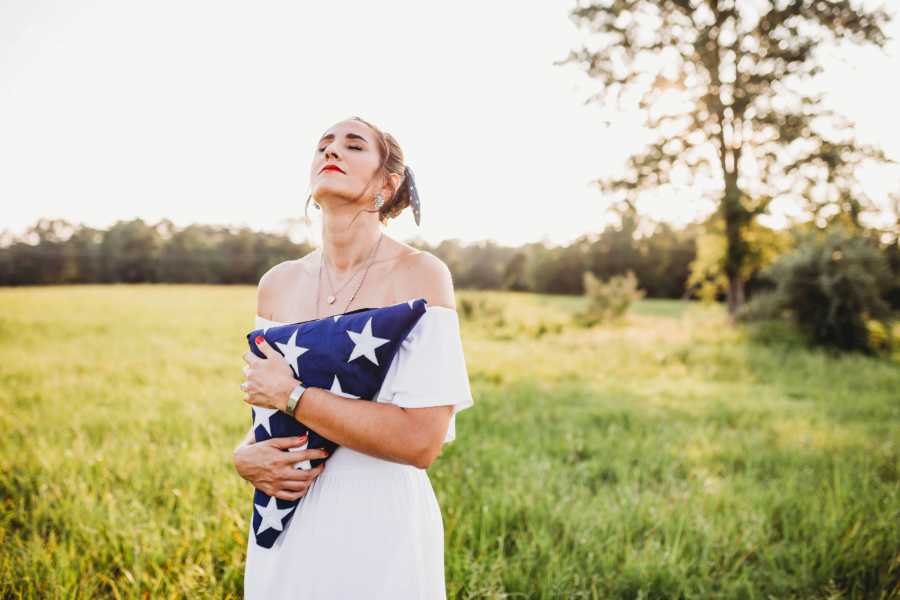 The next few days, weeks and months have been a blur. One excruciating event after the next, starting with welcoming the love of my life home at Dover. Seeing your loved one return home in a casket with an American flag draped over them is one of the most painful things anyone could experience. Anytime I now see a military death in the news, it brings me back to this moment and I feel the pain all over again and wish these other families did not have to go through this. Once he had been transferred back to PA, we had viewings, a memorial service honoring his life and a final transfer to his resting place at Arlington National Cemetery.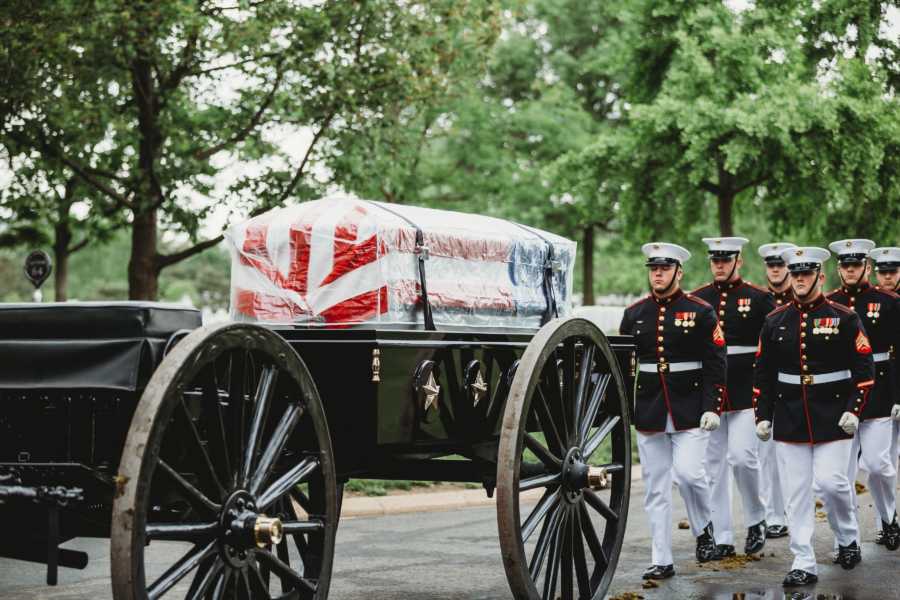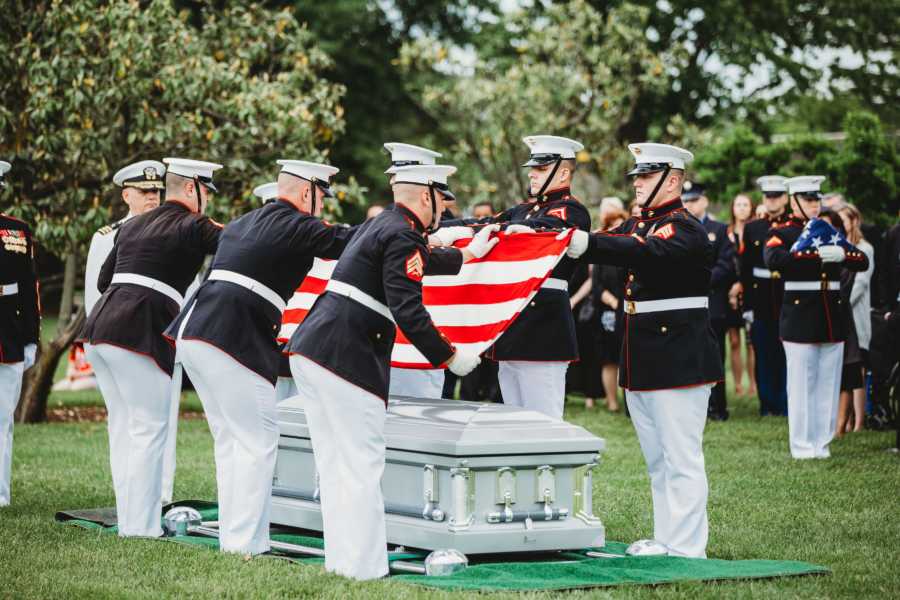 Ben had always talked to me about wanting to be buried at Arlington and what an honor it would be to be buried alongside other patriots and military heroes. Of course, we both assumed this would be way down the road once we had lived fulfilling lives together and were old and grey. But our plans had tragically changed. Ben was buried with full military honors and now resides in Section 60. I live locally, so I try to visit him as frequently as I can, bringing along family and friends so we can just spend time with him or have a Yuengling with him, which is his favorite beer.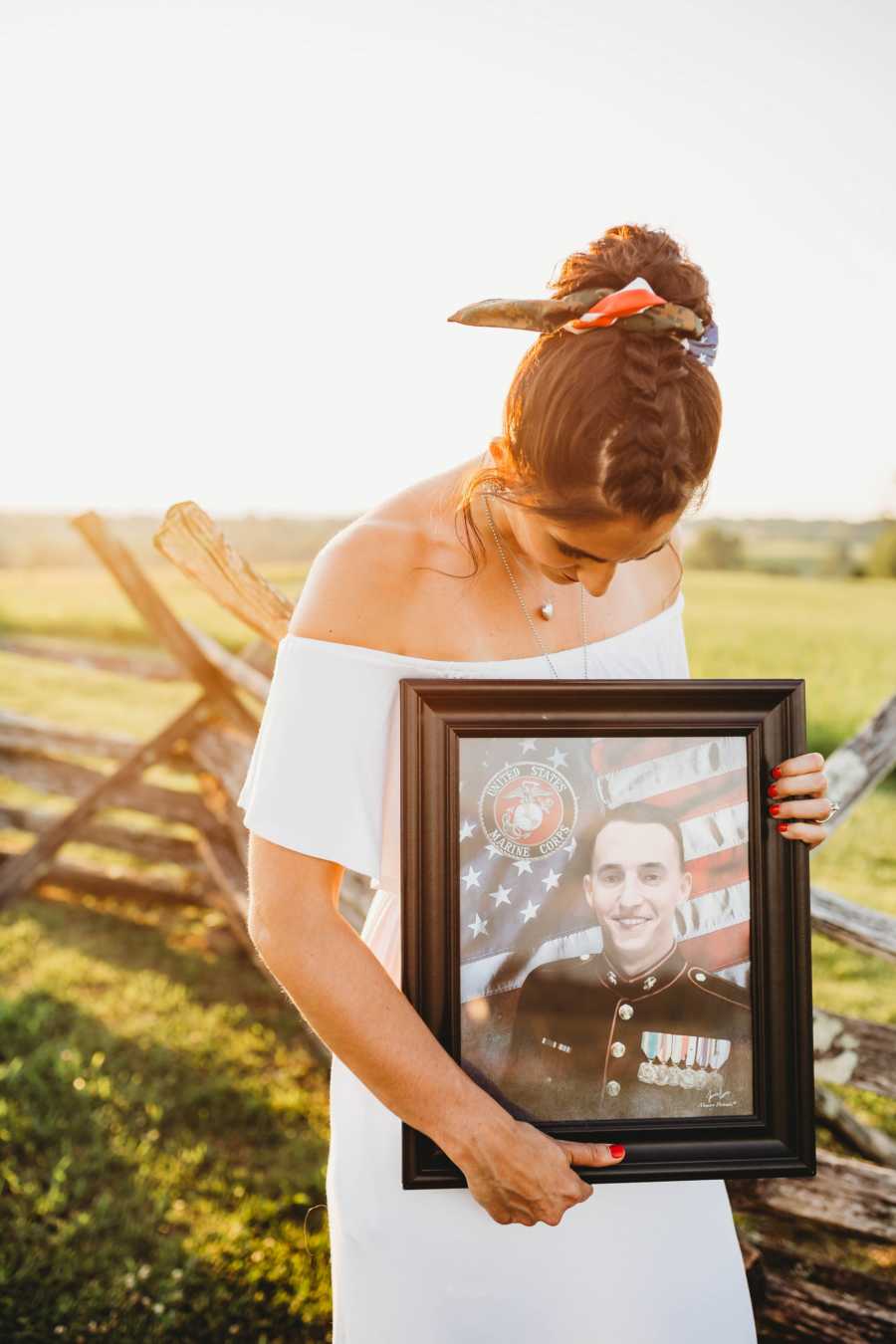 October 12 should have been our wedding day and this should be our new family. I should be walking towards you in your Dress Blues down the aisle, and you should be tearing up, seeing me for the first time in my wedding dress. We should be celebrating our love and dancing with family and friends. This should have been the start of our future together as Mr. & Mrs. Instead, I will be visiting Arlington with our wedding bands and reading you my new vows… With this ring I promise…
– I will always love you
– I will continue to honor you all the days of my life
– I will carry on your legacy
– I will move forward, with you as a part of me
– I will stay strong for you
– I will smile for you
– I will be happy again for you
– I will always make you proud
– I will live life to the fullest, as you did yours
– I will be reunited with you again one day
These are my vows to you. I love you Benjamin.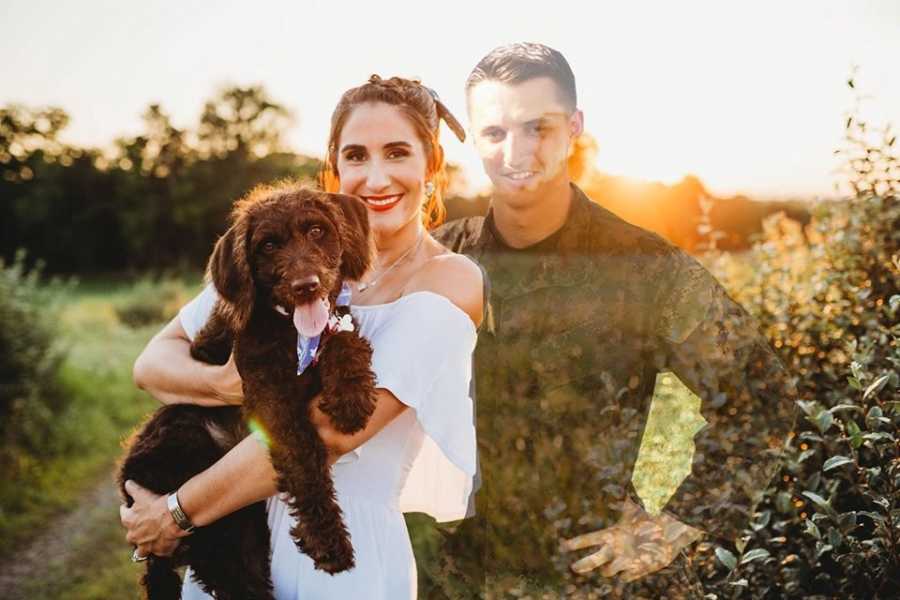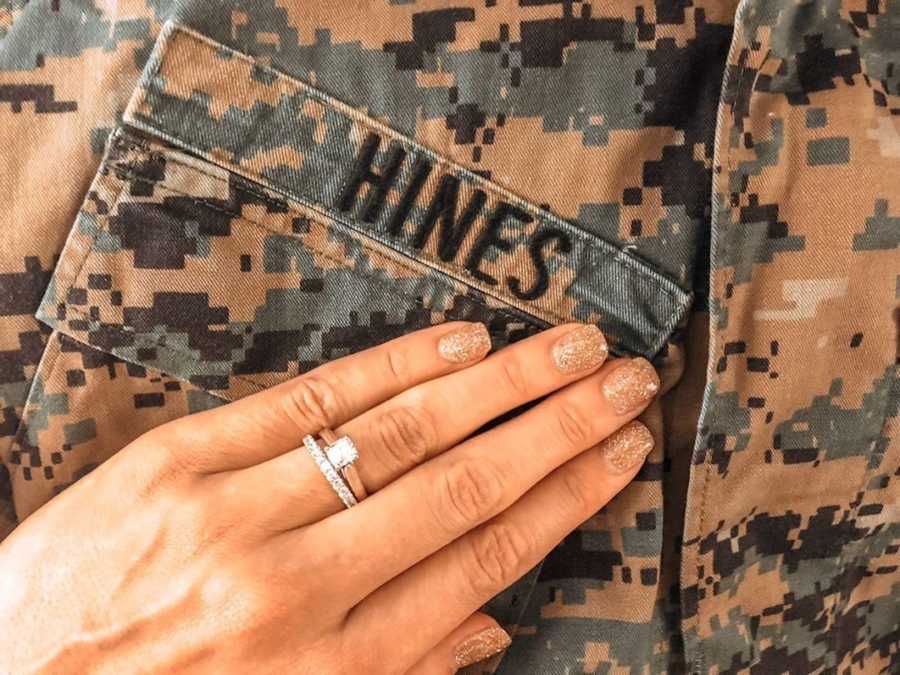 Following Ben's death, I have been journaling and sharing memories of Ben, as a way to carry on his legacy and keep our memories alive. As devastated as I am that our love story was cut short, I am beyond grateful that we had the four years together that we did. Some people go their entire lives without finding the kind of love we shared, so for that I am blessed we were able to experience it. I hope that our BenAnna love story inspires others who are going through this same journey to keep fighting and to keep pushing. Remember, love never dies. Ben will always be a part of me and I now live life for the both of us.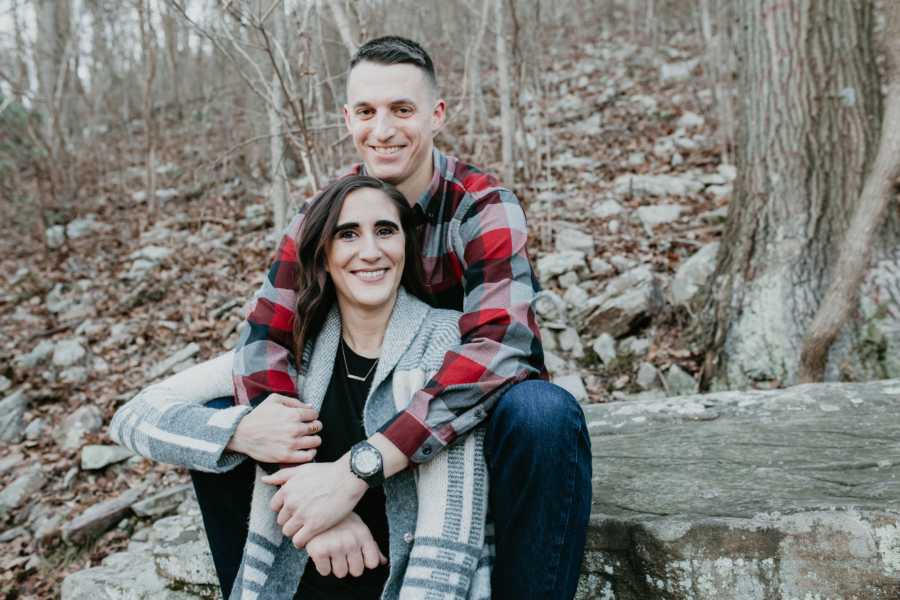 We must always remember them.
We must always speak their names.
We must carry on their legacy.
We must live each day as if it may be our last.
We must remember that tomorrow is not a guarantee.
We will never forget them.
Ben – You will always be my hero. You will always be my soulmate. You will always be my forever. I'll see you again one day, my love."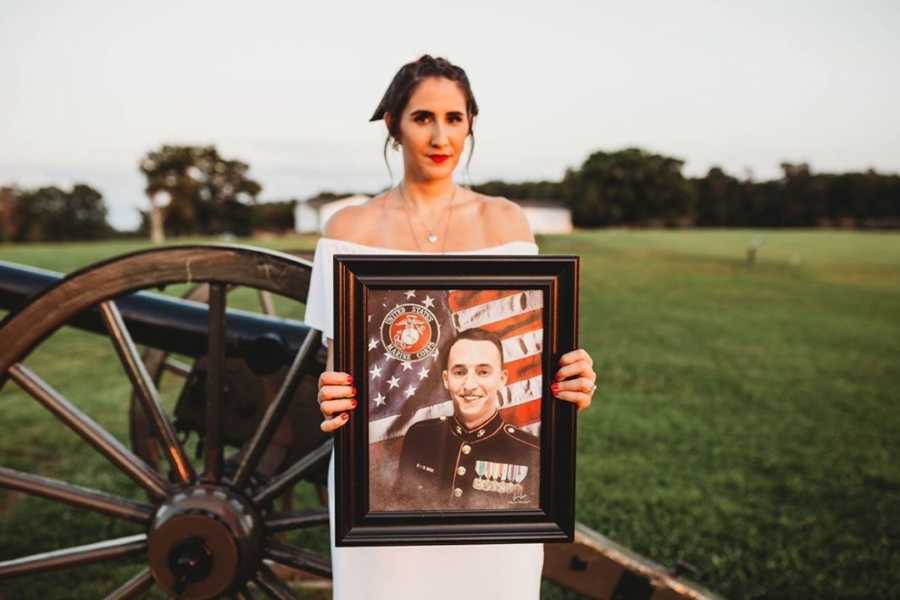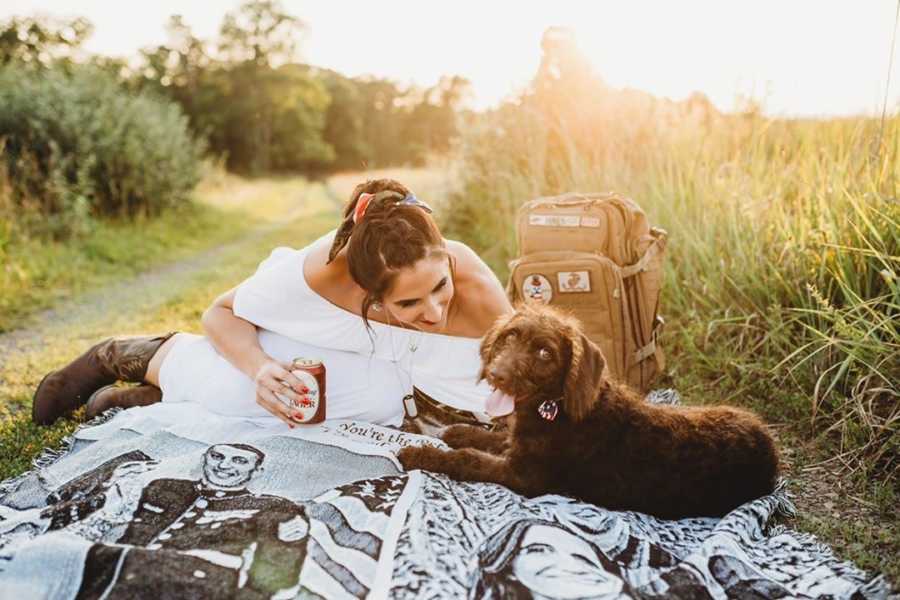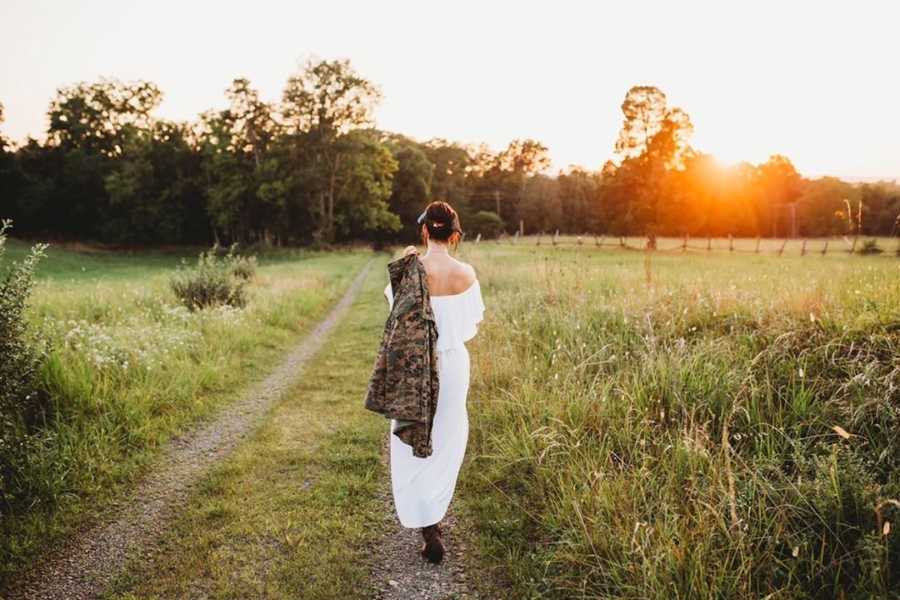 This story was submitted to Love What Matters by Anna Steg of Vienna, Virginia. Be sure to subscribe to our free email newsletter for our best stories.
Read more powerful stories of military families:
'We eloped on August 31, 2018, after dating just 40 days. She is my wife from another life and now that I have her, I am complete.'
'My dad had been dead for almost 9 years. I was shaking': Marine son receives wedding gift from father in heaven to 'protect' him
Show your love for the active duty heroes around the world. SHARE this story on Facebook or Twitter.