"Ever since I was a little girl, I have always dreamt about my fairy tale wedding that I would have one day. I had imagined myself in a very big princess ball gown, my perfect prince charming waiting for me up at the altar, and to be surrounded by all of those who love us. For the bride, making your fairy tale wedding a reality is one the most fun parts about wedding planning.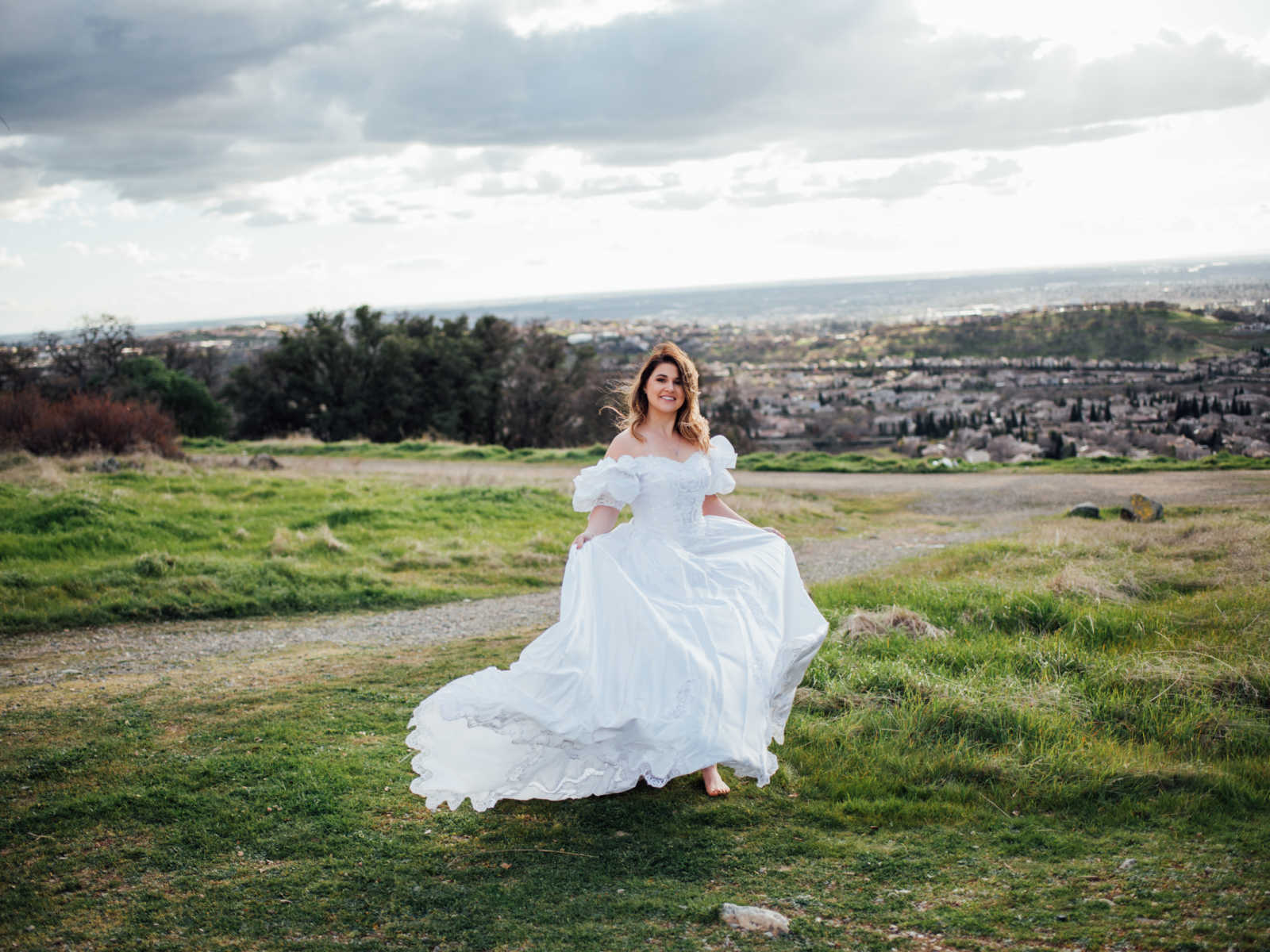 I had envisioned all the fun I would have planning this perfect day with my mom, sister, family, and friends. Having the most perfect dress and shoes, finding the best venue, decorating with beautiful flowers, and the most awesome cake were definitely the key things I had felt were going to make my dreams come true. Unfortunately, on March 1, 2016, I had lost the most important person to me who was supposed to be by my side helping me with all of the planning.
Back in 2011 my mom was diagnosed with breast cancer and had defeated it three times before the fourth took her life in 2016. Today is the 2-year anniversary of her passing.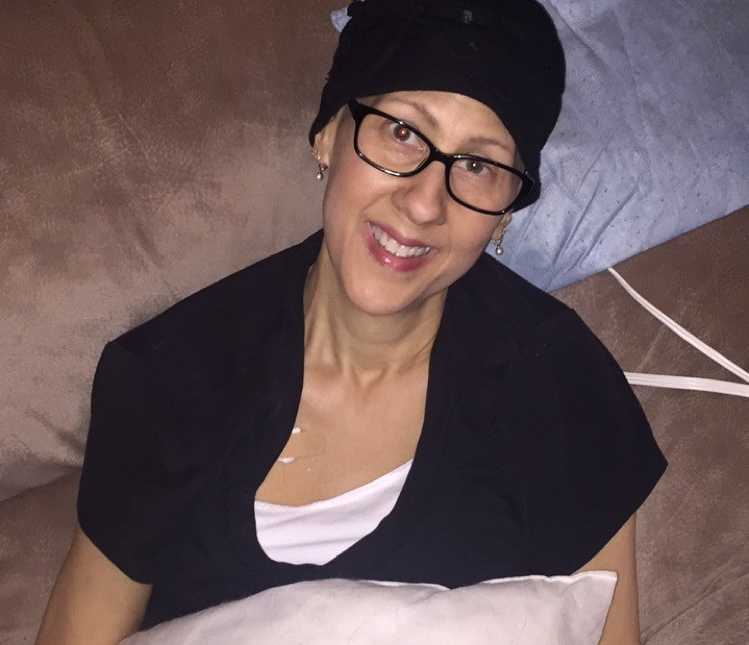 My mom was a huge role model in both my sister's life and mine. She was our best friend.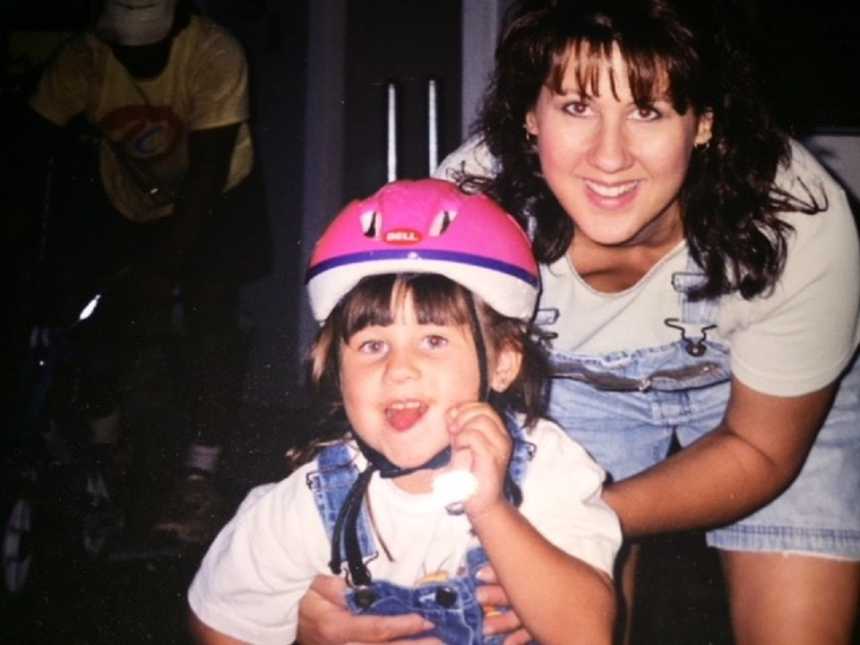 For me, dress shopping was the most important thing I was looking forward to doing with her when it was my time to get married. However, when my mom's life was coming to an end, I knew I had to take the opportunity to go dress shopping with her so we could share that special moment before she was taken from us. At the time, I was not even engaged, but I knew that Scott, my now fiancé, was the one, and that we would eventually be planning our wedding day together.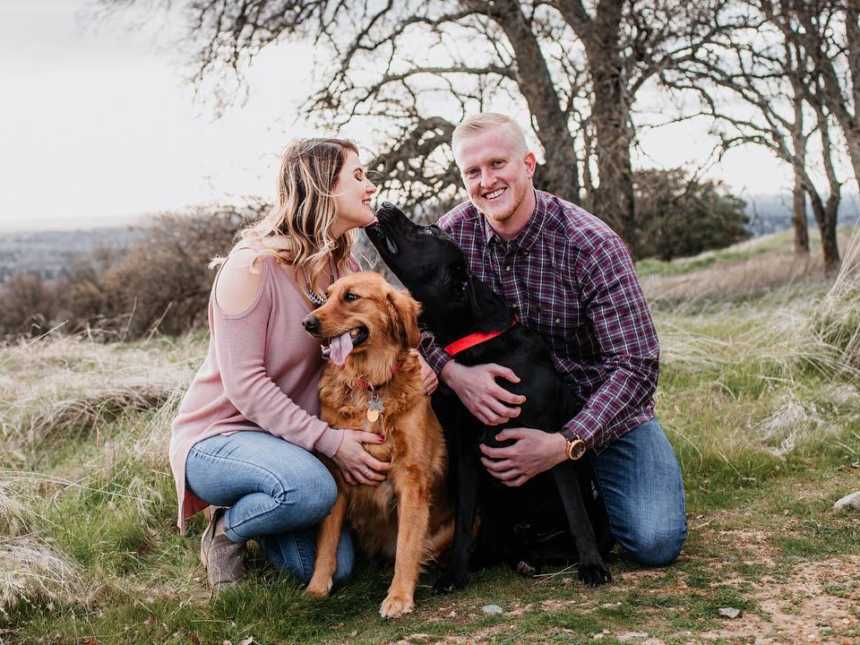 Knowing that I did not have a whole lot of time, I called and set up an appointment at a bridal shop for March 12th, at 4 o'clock in the afternoon. Sadly, my mom didn't make it to the appointment. She passed away March 1st. When she passed, I felt as if a part of me was left incomplete because she didn't get to experience that special moment with me that we had planned together.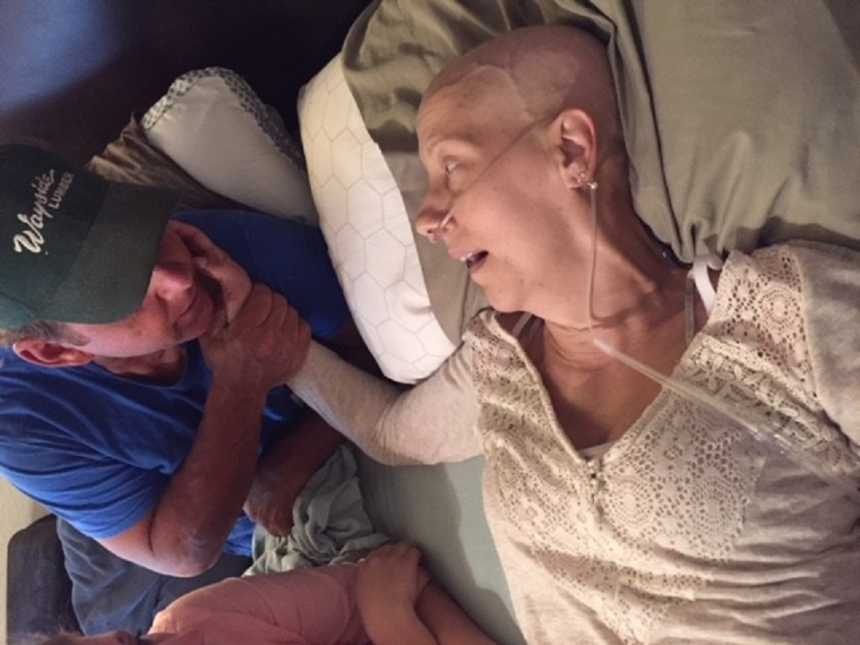 After discussing it with my dad and sister, I came up with the idea that when it was time for me to get married, I would use some of my mom's wedding dress to incorporate into my own dress. I wanted to cut a heart out of the fabric and sew it to the inside of my dress over my heart. It was then that I decided that before I cut the dress, I would want to take photos in it to honor my mom.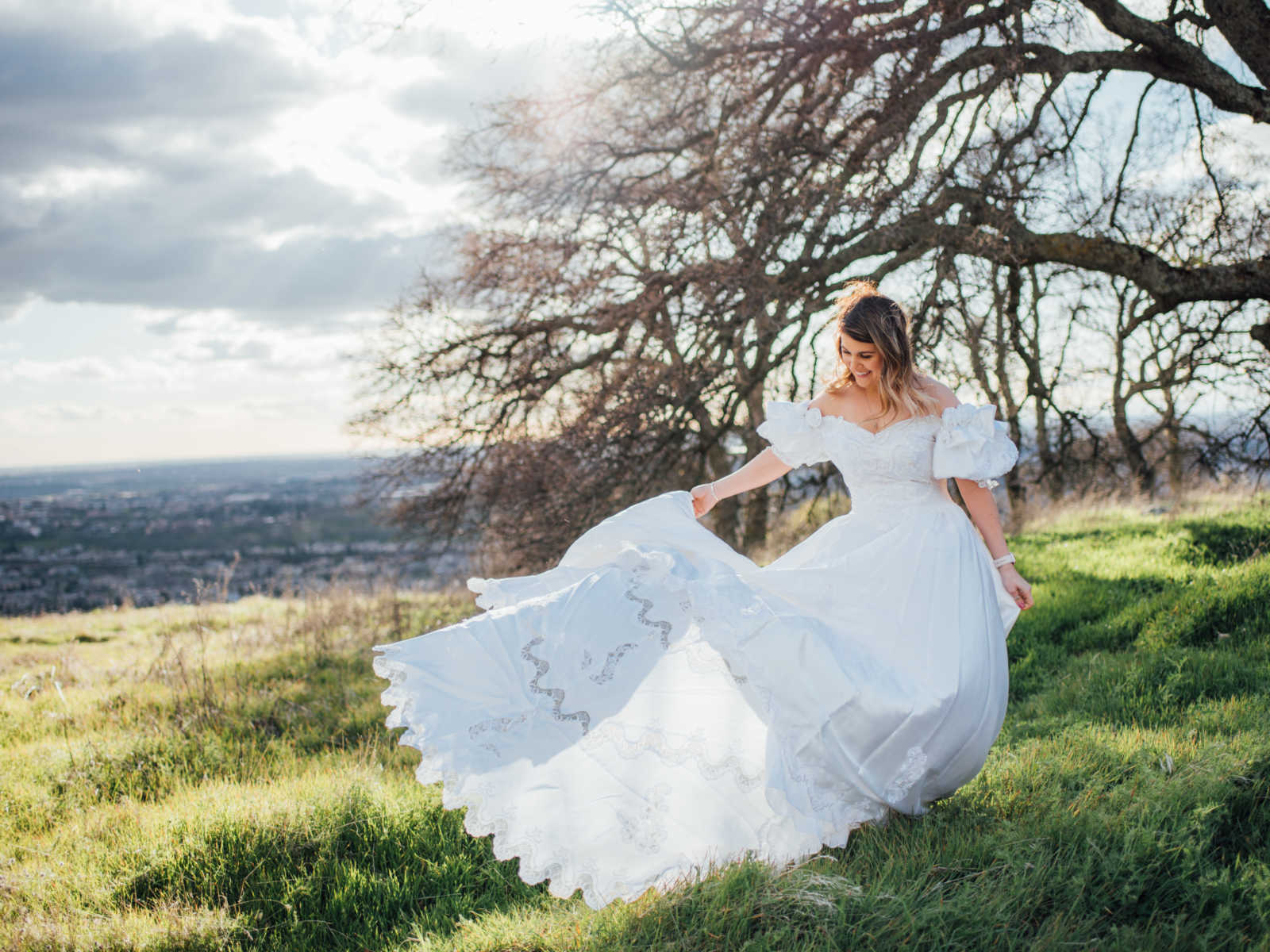 When it became time for me to start planning my big day, one of the first things I did was hire a photographer. Scott's sister recommended Taylor Brooke Photography to us and after reviewing her work, I knew I was going to have her capture our special day for us. About three hours before the shoot, I decided to give Taylor a call to see what she thought about me bringing my mom's dress to take some photos in. Without any hesitation, she was totally on board.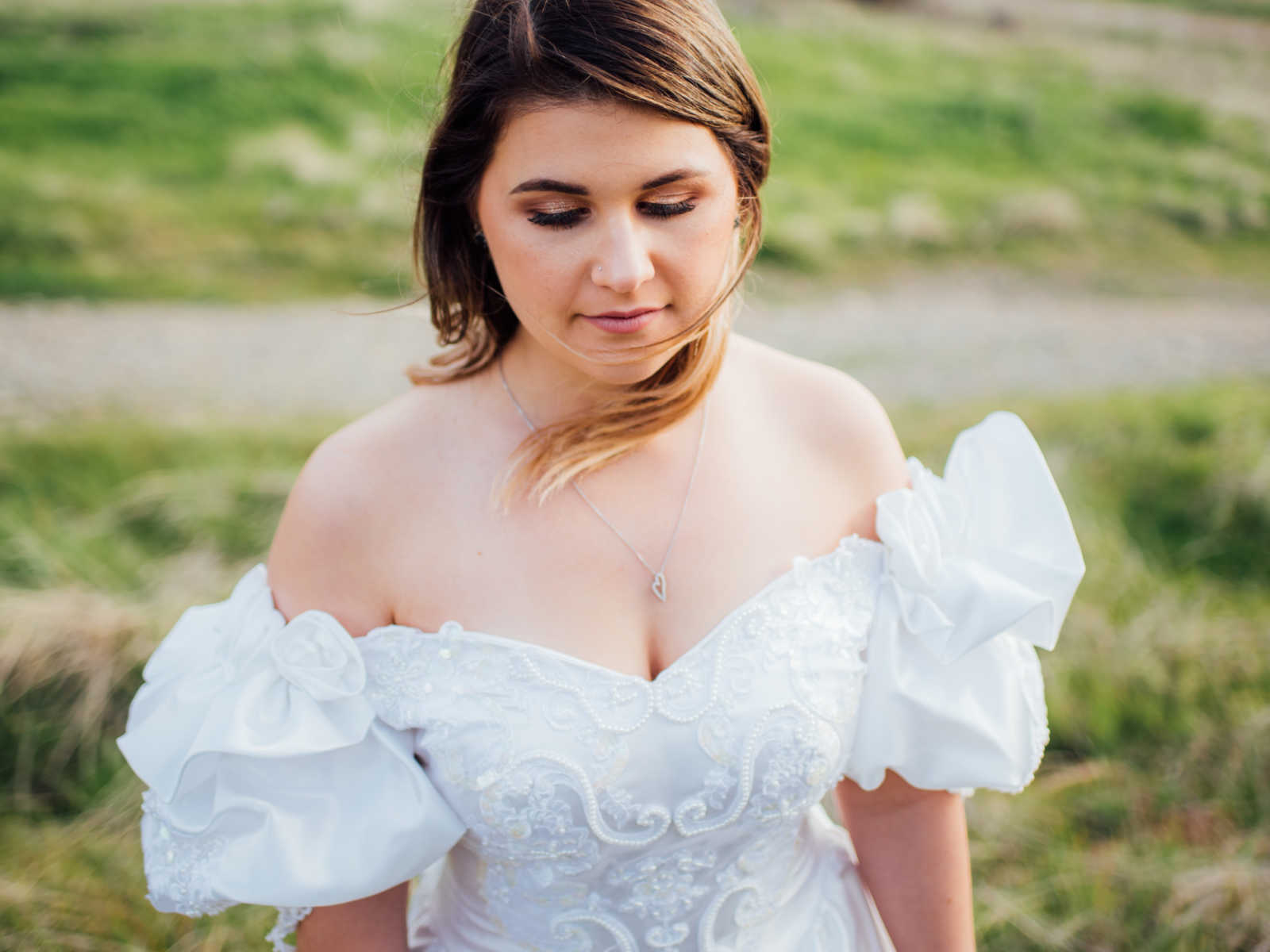 We took the photos at Heaven, a lookout spot that overlooks the town of Folsom. It's very peaceful and such a great place to clear your mind. I felt free there.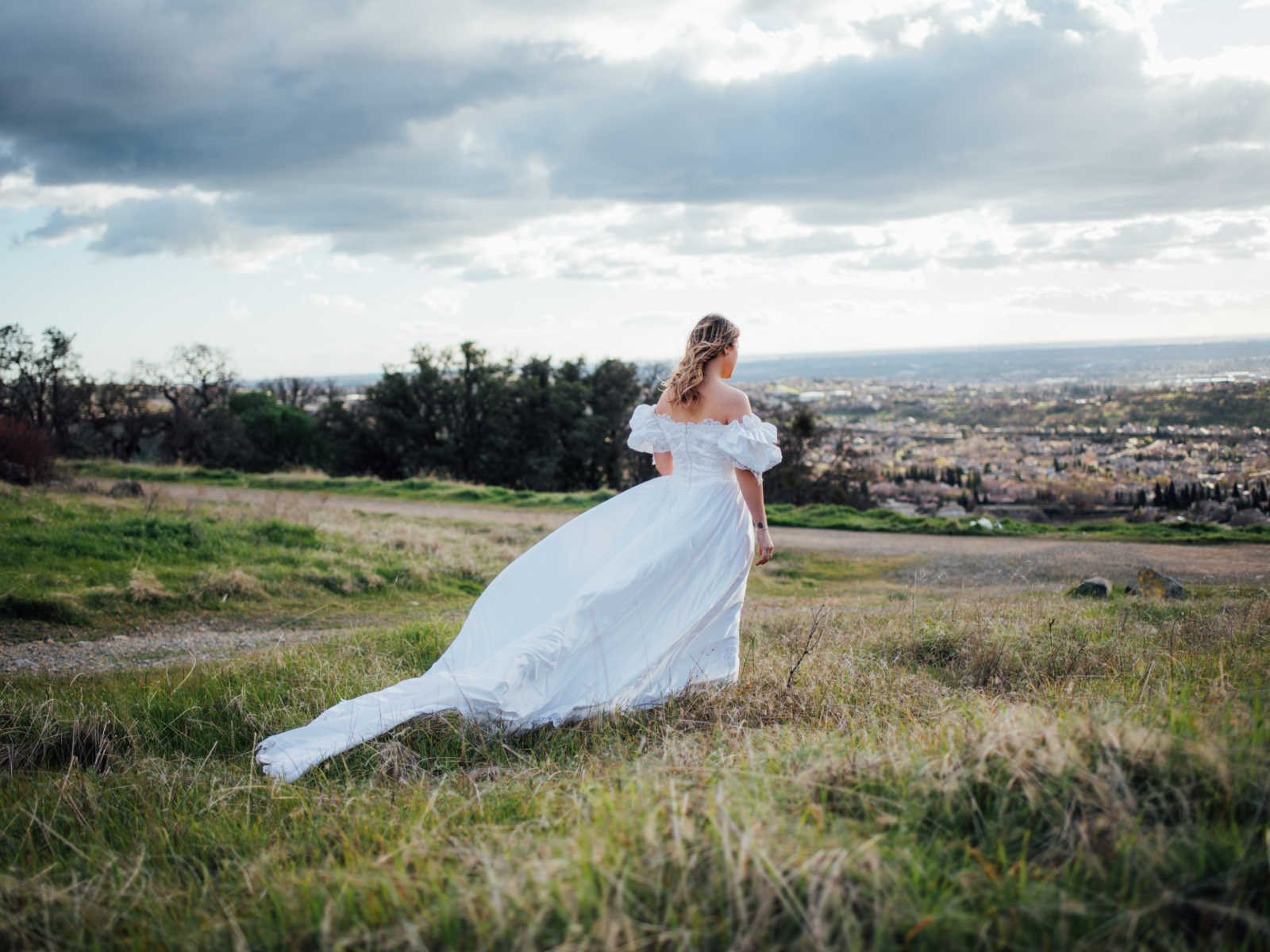 When we arrived, I put my mom's dress on and had Taylor zip up the back for me. Surprisingly, it fit like a glove. This made me feel so special as if this was supposed to happen. I was supposed to be in my mom's dress honoring her and having her with me during this amazing time of my life.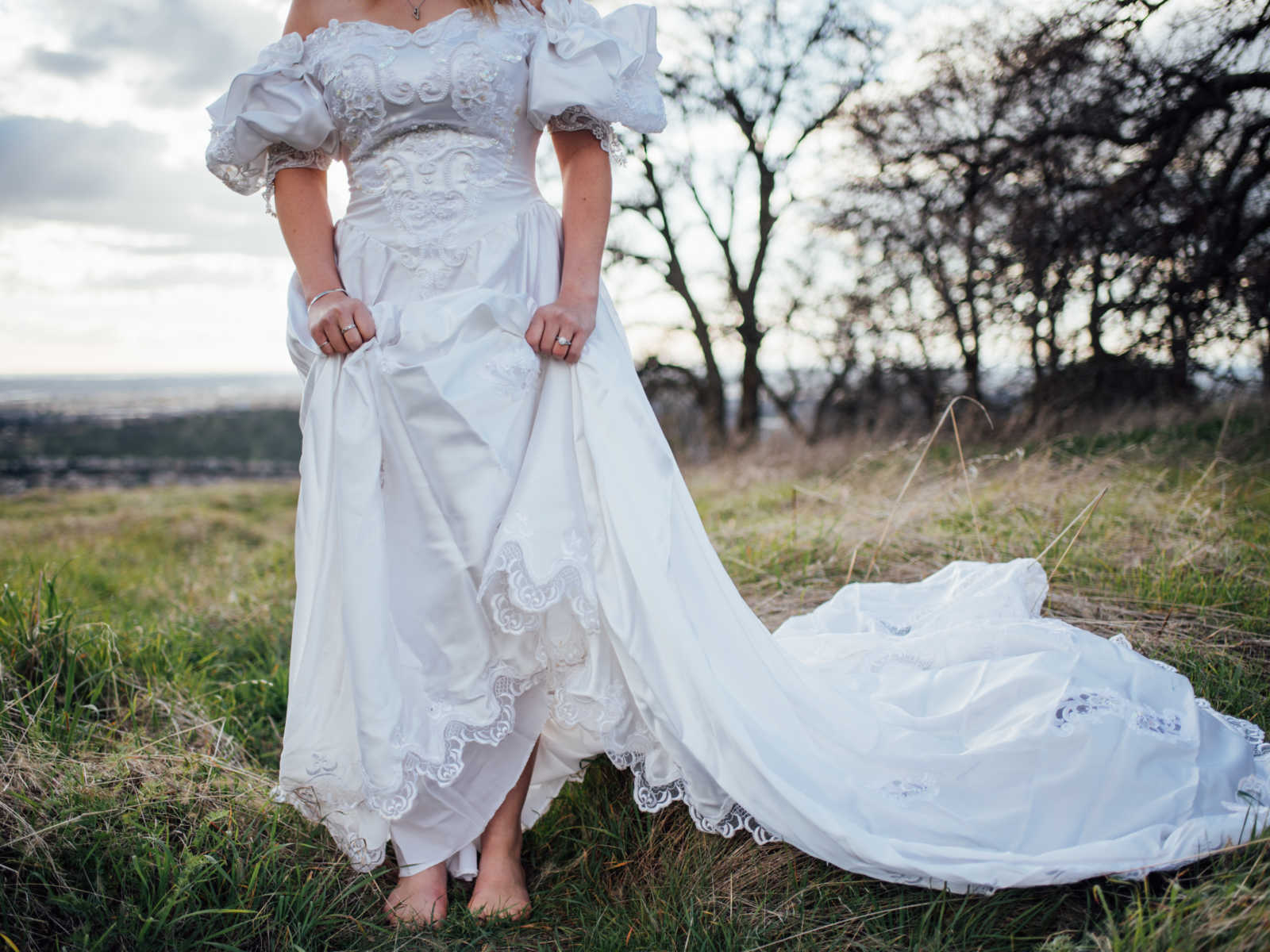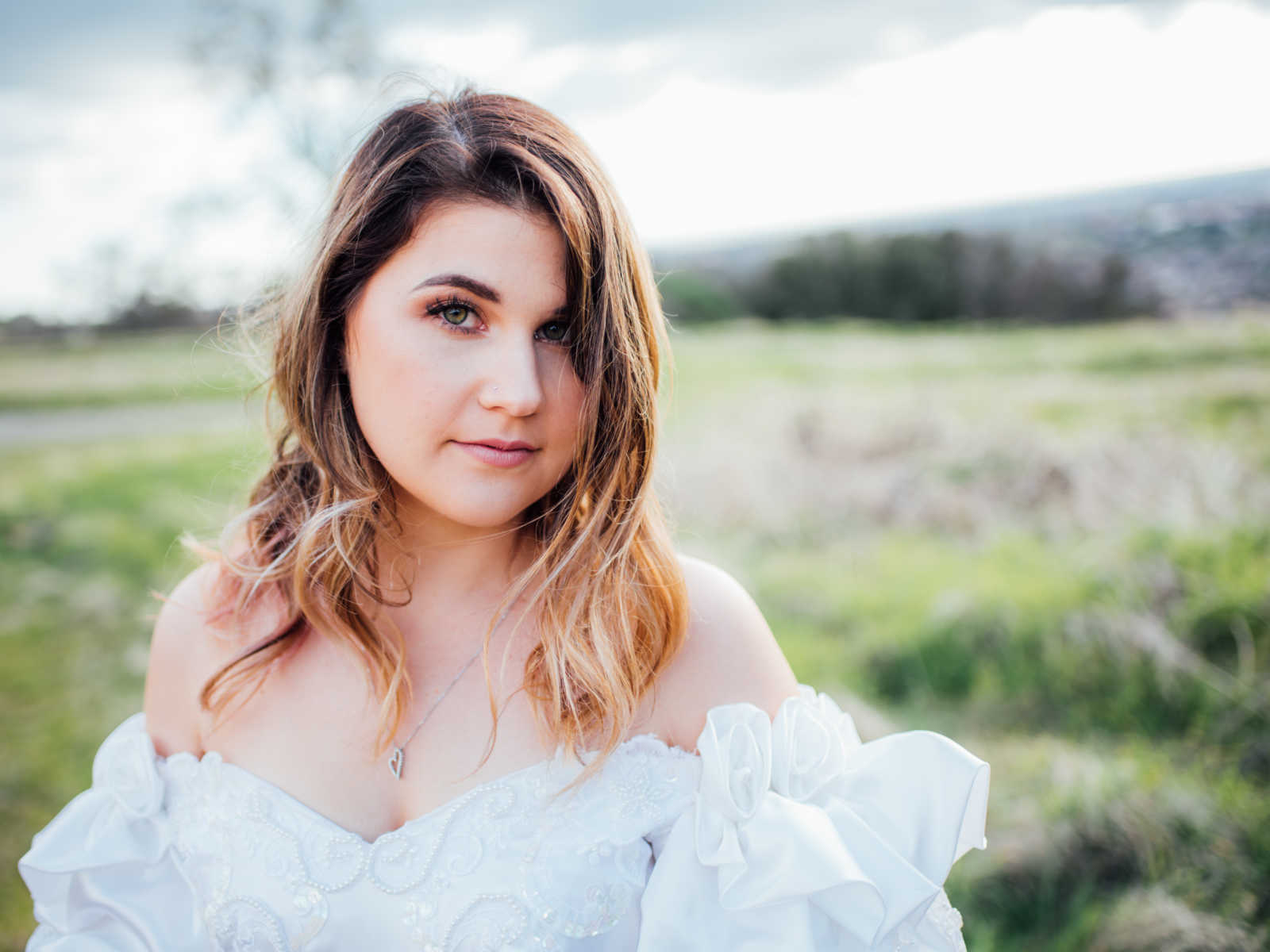 While we were walking through the fields, twirling the dress, and making amazing memories, Taylor suggested that on my wedding day, I could surprise my dad with these amazing photos in honor of him and my mom's life together. I love how their love has been passed down to me.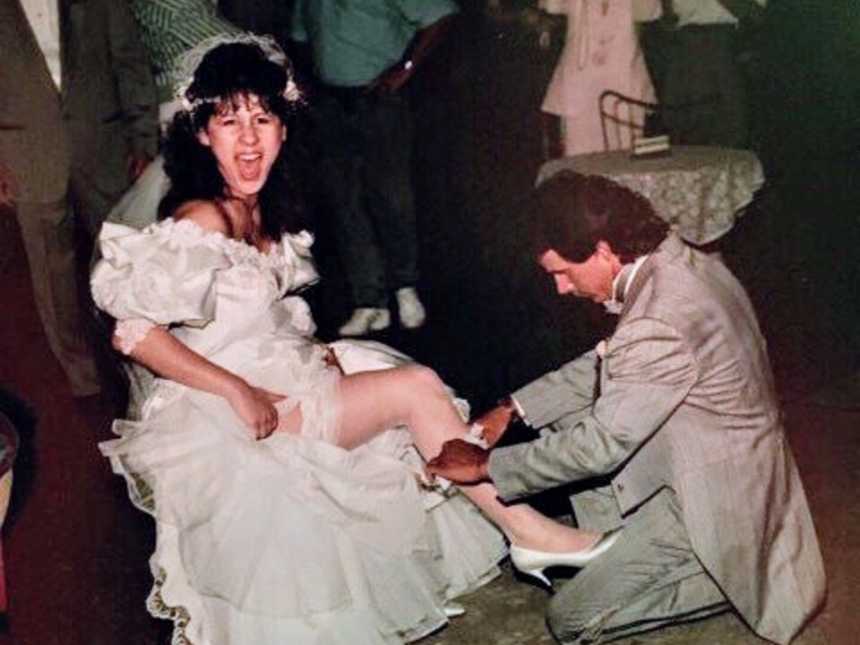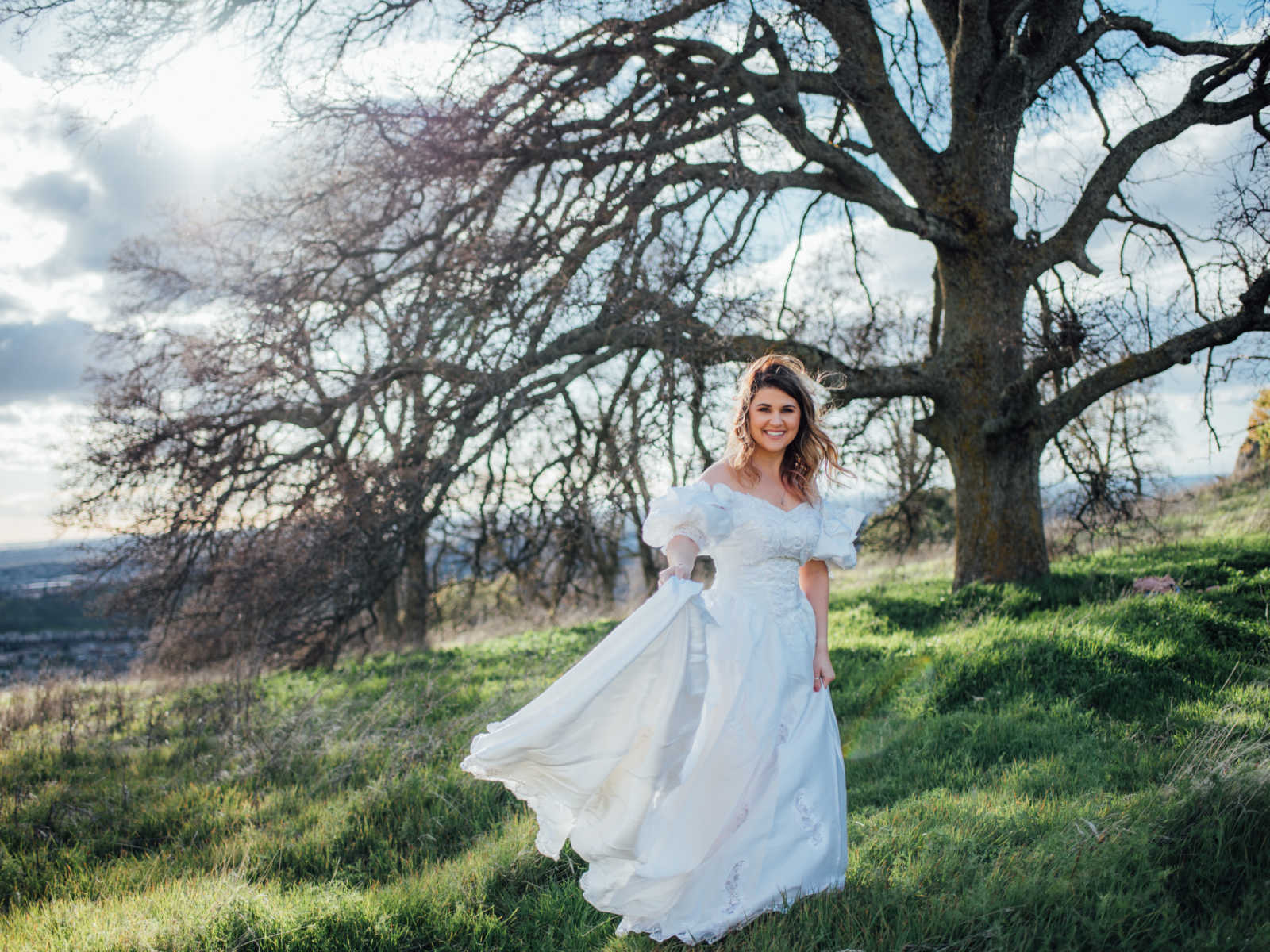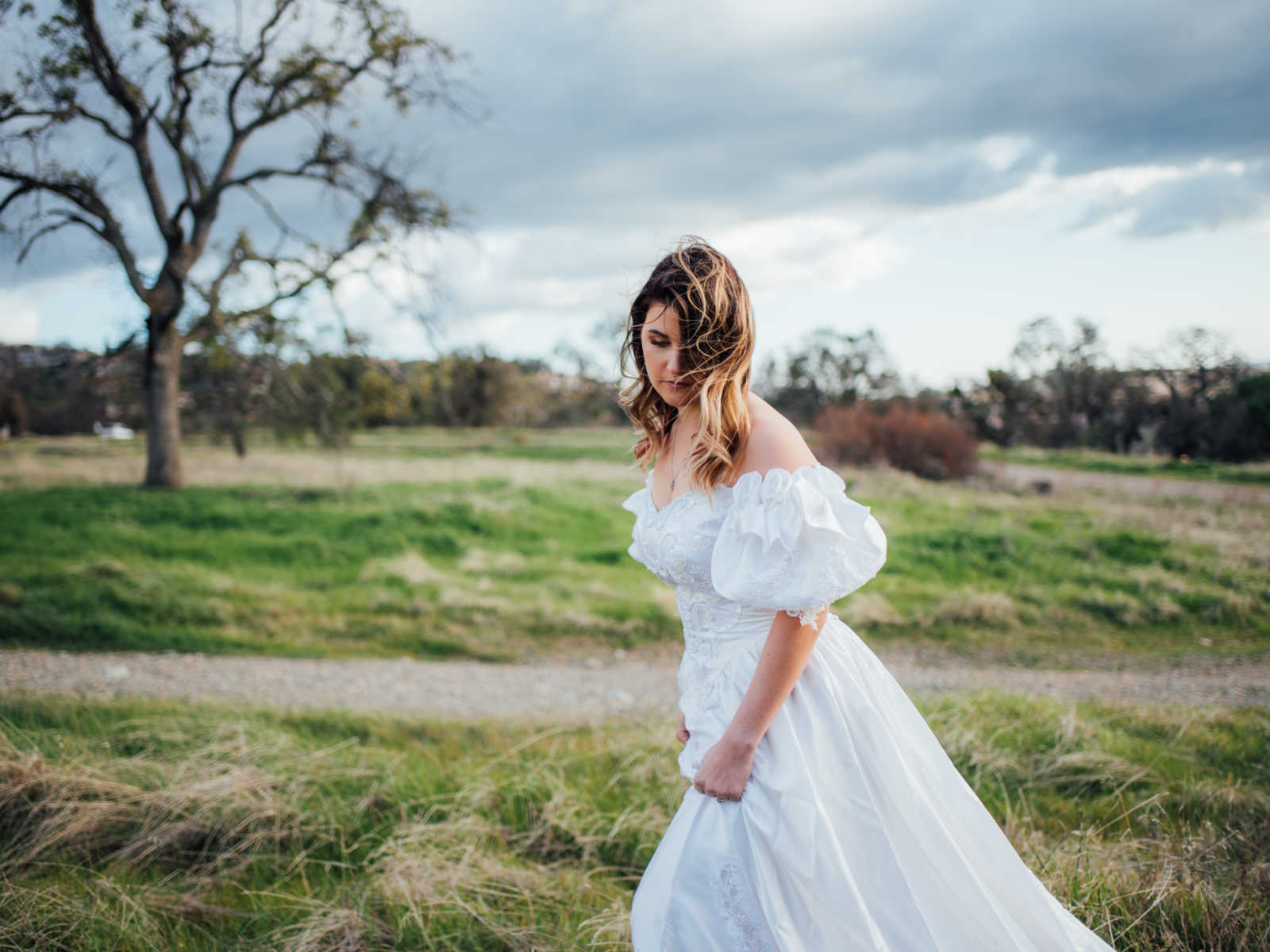 With her amazing talent, Taylor was able to capture these breathtaking and special photos that I can forever look back on to honor my beautiful mother.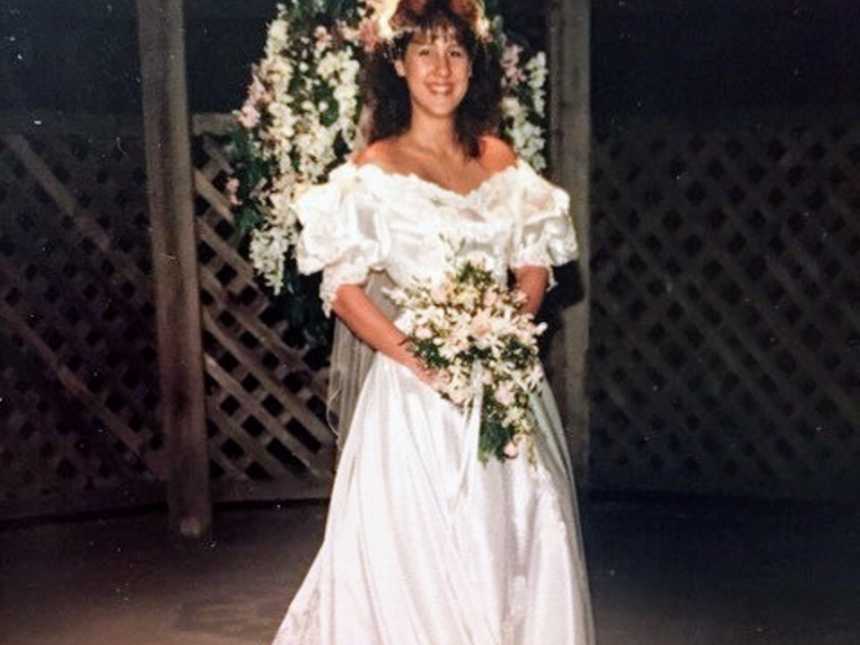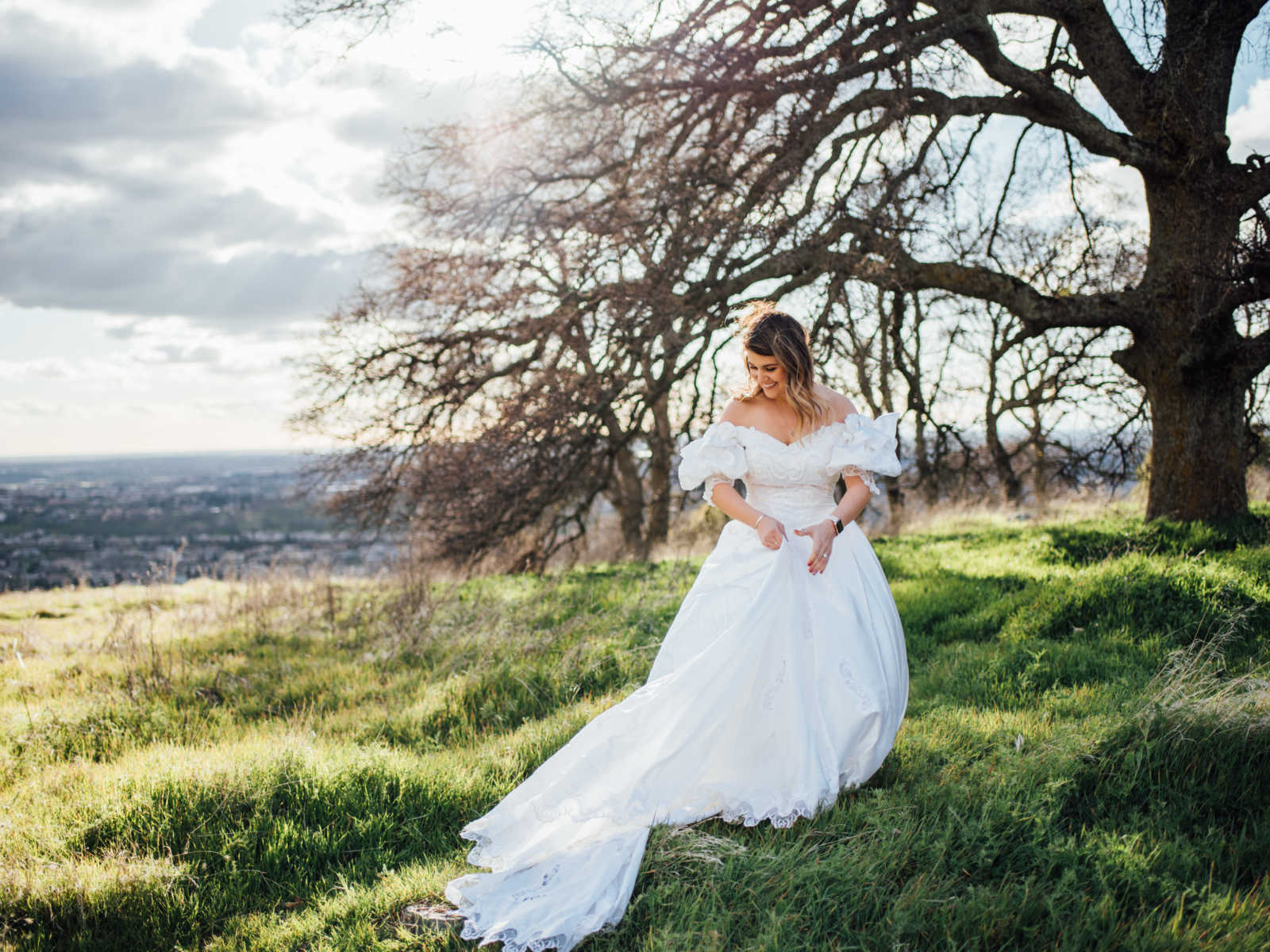 These pictures are more than just pictures to me. They tell a story. A story of my parent's love and the commitment they had for each other. It was the beginning of their forever, and now I get to carry a piece of that forever with me. Not only in my dress, but with these photos as well."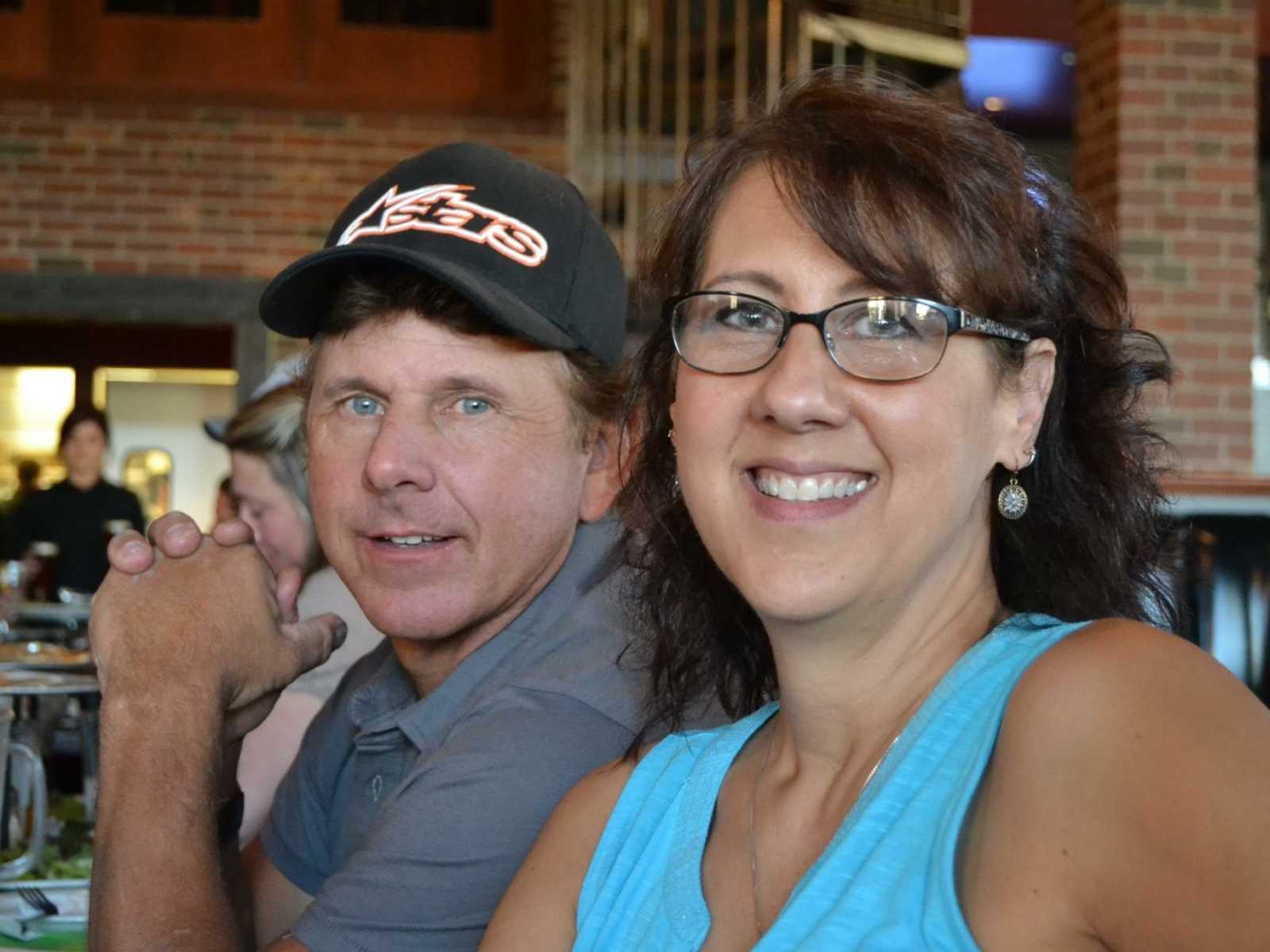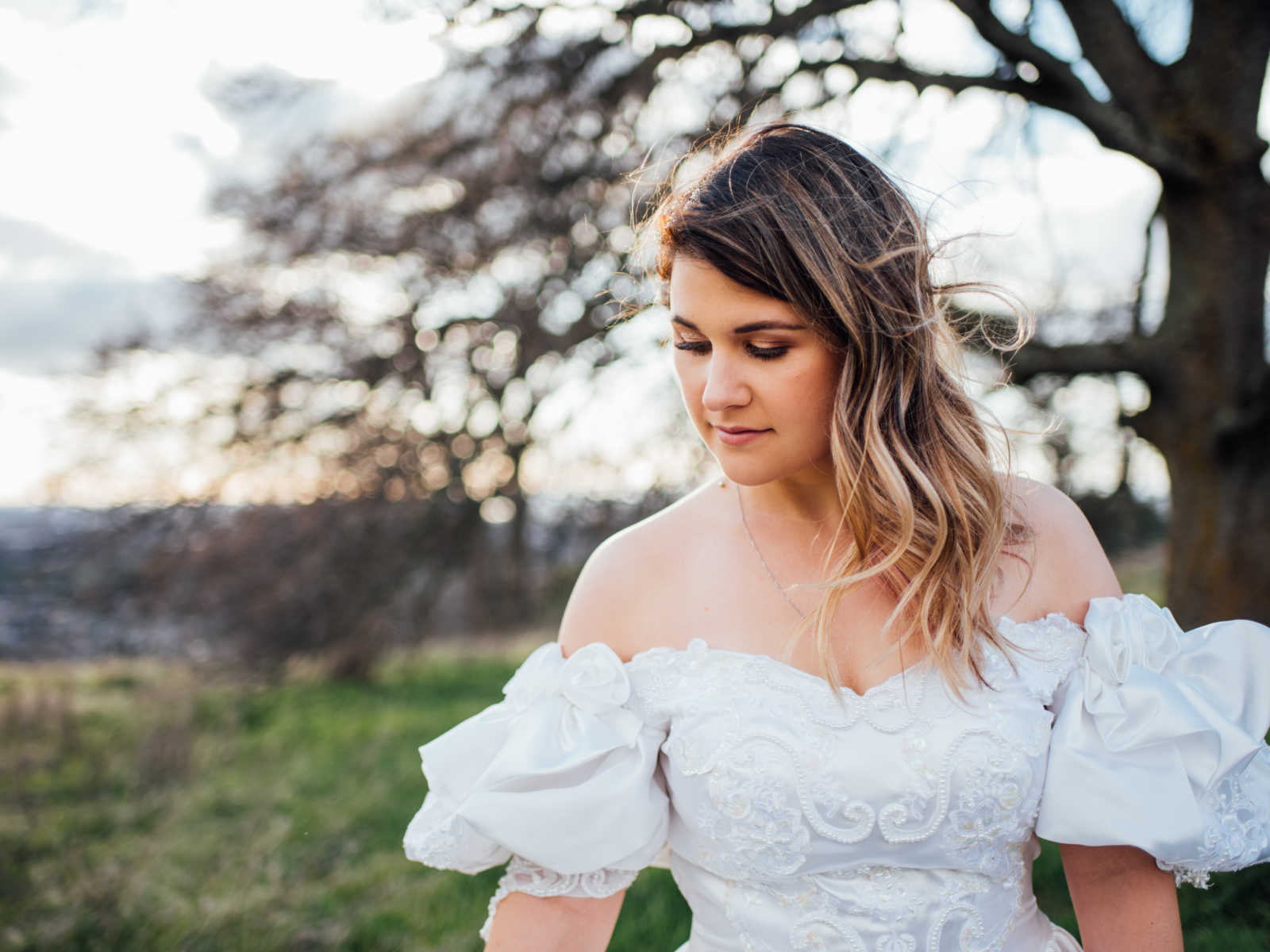 This story was submitted to Love What Matters by Shelby Sander, 23, of Cameron Park, California. Submit your story here.
Read more stories like this here:
'My mother-in-law wore a wedding dress to MY wedding. I didn't even think to ask what she planned to wear.': Woman shares touching backstory behind mother's 'frugal' wedding attire
'Cancer cannot cripple love.': With wedding 'years down the road,' teen tries on wedding dresses for sick mother in hospital to 'share this moment together'
After Grandpa Suffers Stroke, Bride Travels 800 Miles To Bring Wedding Dance To Him
'Can you BELIEVE this dress?!' I overheard a bridezilla and broke y'all. I couldn't keep my mouth shut.': Widow breaks down, confronts bridezilla in mall, 'The only thing that matters is love'
Provide beauty and strength for others.  SHARE this story on Facebook with your friends and family.