"When I was growing up, I knew my family wasn't like most. It was no secret to anyone who saw us out in public there was something different with us. That difference was me! I am adopted from China and this is my journey to my forever family.
My story starts a little different than most. I'm among thousands of adoptions from China, due to the one-child-policy that took place between 1980 through 2015. Predominantly, these adoptions were little girls like me. While I was too young to remember my time in China, I enjoy sitting down with my adoptive parents and brother to listen to their stories on the journey to get me. It all started when my parents decided to expand their little three-member family to include one more. My parents had a biological child (my brother, Sam) and wanted him to have a sibling to grow up with, maybe even a little sister. After many disappointments and heartbreaks, they realized adoption was the next step to complete their family. My dad says they talked to a ton of people about the international and domestic adoption process.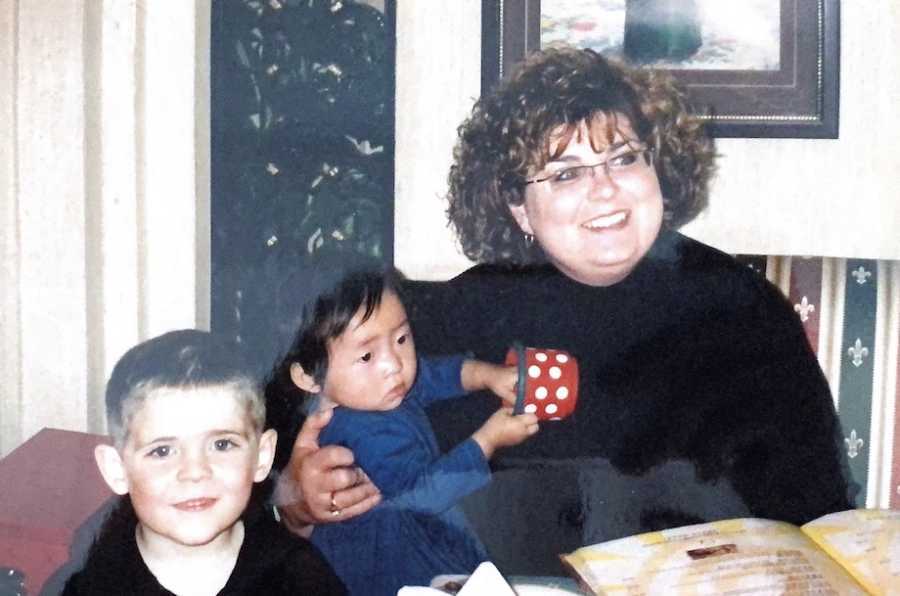 After long conversations with doctors, adoption agencies, and organizations like Families with Children from China in Cincinnati, Ohio, they felt their hearts gravitating towards China. While interviewing adoption agencies to facilitate the adoption process, the devastating news was announced the Chinese government had closed adoptions outside of China due to the backlog of applications. My mom tells me that moment broke her heart because they thought it was another sign not to expand their family, even though they badly wanted to. After some time and long grueling research, they decided to begin the adoption process in South Korea. They completed the application and paid the initial fee and sent it off to the adoption agency. My family began to get excited about the future ahead.
Then, a few days later, their hearts stopped beating for a moment, when they received a phone call from the adoption agency. They told my parents due to an increase in applications, partly because of China closing their adoption process, South Korea decided to follow suit and suspend adoptions for an indeterminate period of time. The lady helping my parents with the adoption told them they had different options to proceed: 1, they could switch countries or 2, because their application was already mailed prior to South Korea's announcement, they were able to stay in the program but they had to wait for an indeterminate period of time to be matched with a child. The director mentioned at this point they would be waiting for a child that would have not even been conceived yet.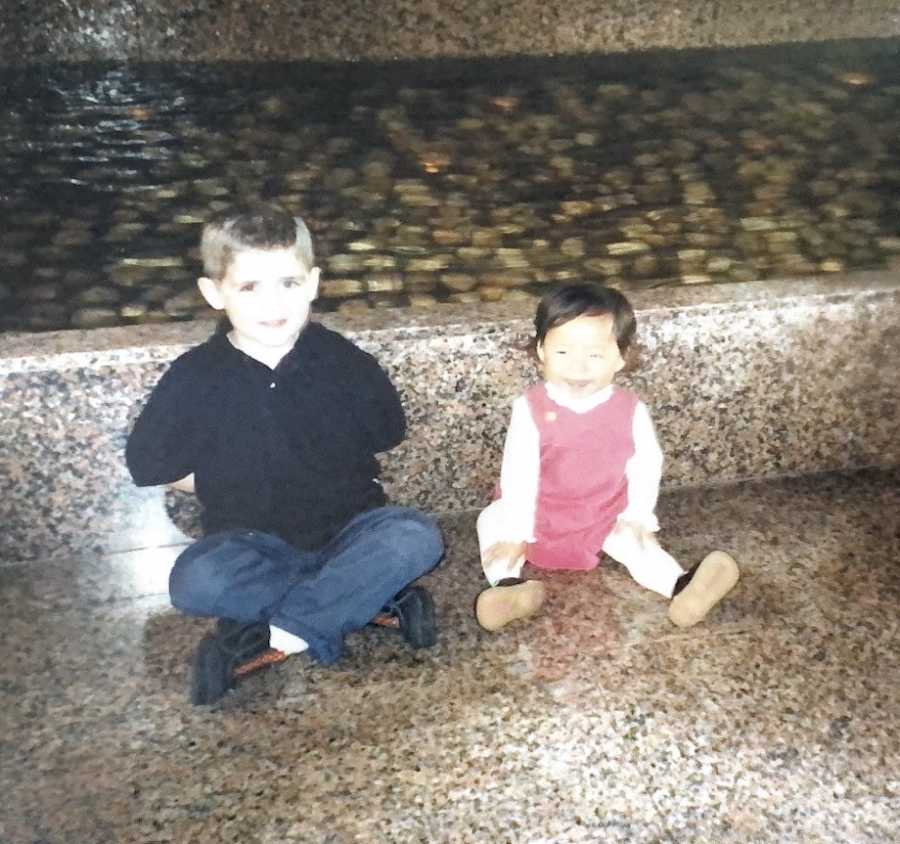 The final option was to receive a refund, closing their doors to international adoption. My mom and dad felt as if another wall was put up again preventing them from adopting a child. As they discussed at length their options, the thought of looking at other countries did not work for my parents. Waiting for a child who hadn't even been conceived yet felt like a century, without a light at the end of the tunnel. This led them to decide the only option for them was to request a refund. My mom was to call the adoption agency on Tuesday to give them their final answer. Tuesday came and went, and on Wednesday my mom wasn't going to give up just yet. On Wednesday night, my dad asked her why she was stalling, and she said, 'I couldn't pick up the phone and end my dream.' Thursday, she pretended to be busy until the time came when she had to sit down to make the call.
When the director answered the phone, the first thing she said was, 'I am so glad you called! We may have a solution to our situation. Unfortunately for another family, they did not meet the medical requirements to complete an adoption in China. They are having to abandon their spot and our agency wanted to see if you and your husband wanted to take their spot in the Chinese adoption program.' My mother without thinking said, 'Absolutely! What do we need to do?' The director said the family has been in the process for 9 months and you have about 2 weeks to catch up to be able to take their spot. Having just 2 weeks to complete what others had done in 9 months meant my mom would work without sleeping, day in and day out to fulfill her dream. She arranged for fingerprinting, references, gathered documents, arranged medical appointments, and filled out endless paperwork.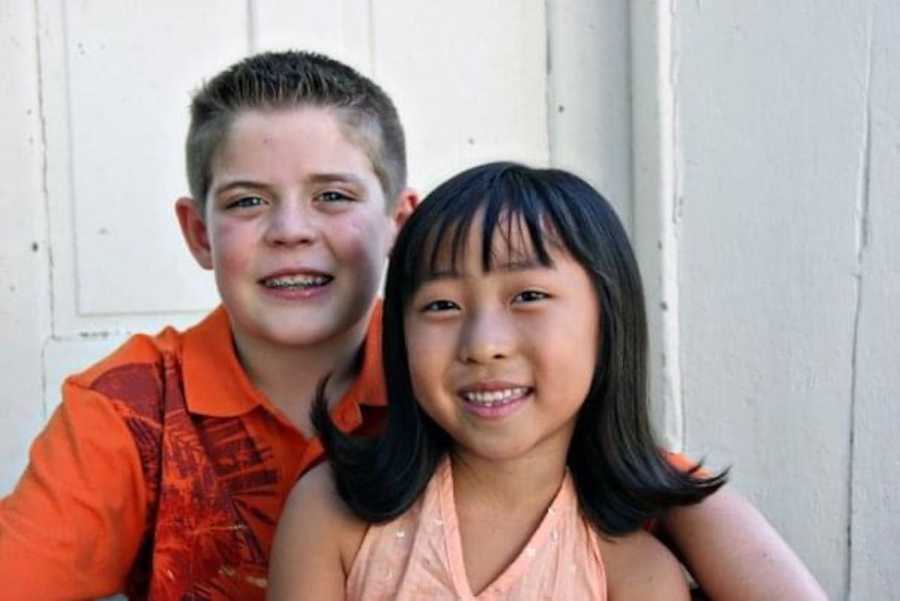 After 8 long days, my mom completed the packet and overnighted it to the adoption agency. The next morning, the director called and said never in their wildest dreams did they think someone would be able to complete the packet in a short amount of time. It was an impossible mission. If you know anything about my mom, she is always up for a challenge and proving she can do it. This time, it was for her little girl and she was not going to lose this fight. From that day, my parents continued to do paperwork as needed, as well as working to collect the items they needed for China to meet that final member of their family. They were expecting their referral for their future daughter to come in the late spring of 2003. However, as they experienced many times before, another roadblock was put up.
The SARS epidemic of 2003 caused travel advisories worldwide, making the Chinese government ultimately decide to shut down international adoptions and all travel to their country. My mom and dad were heartbroken again and unsure when they would be able to meet their little girl. They had no idea when the epidemic would end or when they could travel to China again. To them, it felt like centuries of waiting. It wasn't until early August that my adoption packet arrived in the States. They immediately accepted the referral and the process began for them to travel to China. Then, snap, a new roadblock. There were so many adoption packets that had gone out that instead of traveling in 4 to 6 weeks to meet me, they had to wait 3 long months.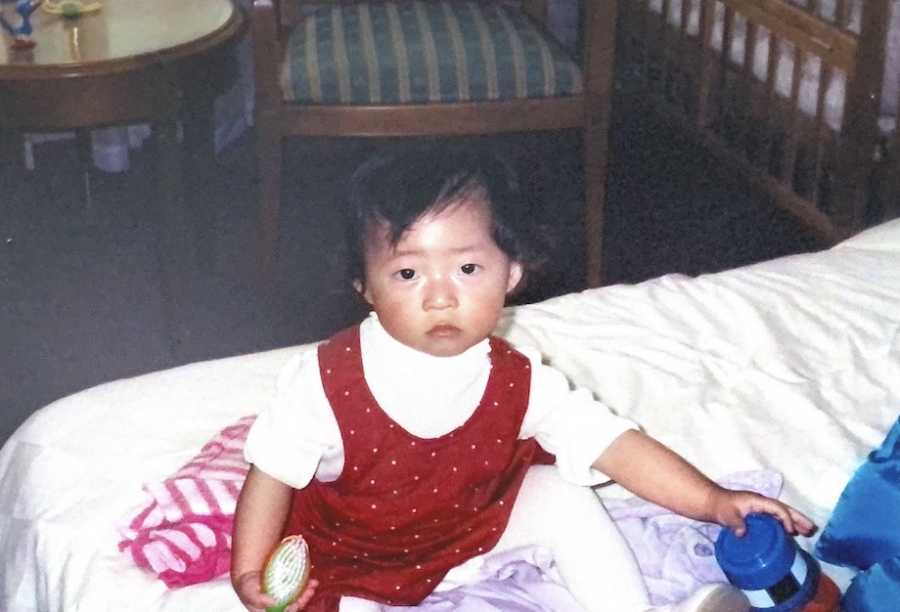 Finally, the day came at the end of October. My mom, dad, brother, uncle, and grandma all got up bright and early and boarded the plane to another world. The trip was a grueling 24-hours filled with anticipation for the future. Once they landed in Beijing, my brother recalls getting off the plane, and getting hit with the humid, sticky air and the large amounts of people going by. While in Beijing, they got to visit Tiananmen Square, the Forbidden City, and The Great Wall of China. One of the things they quickly realized was the Chinese people were not used to seeing blonde hair and blue eyes or even curly hair. These were all attributes my family held. My brother specifically was routinely picked up and placed on shoulders to have pictures taken of him with many natives. He was like a child celebrity while they were in China. People also wanted to touch my mom's hair, since she had very curly hair as well, which they had never seen before. At first, my family was scared as to what was happening and why everyone was wanting to touch them, but they quickly learned they were more of a tourist attraction than the ones the Chinese people were visiting.
The day had come for them to travel to Wuhan in anticipation of meeting me for the first time. The four other families and mine boarded a plane again wishing they didn't have to wait another day. When they arrived in Wuhan, they set out to buy the supplies they needed, such as fold-up strollers and Chinese snacks. As they dodged many cars on the road in the attempt to make it across the street, they wondered to themselves if they made it to the next day (and that's no joke). The next morning, they boarded a bus and were taken to a dreary, dim, and very hot building, My mom can still recall the sounds, the smells, and excitement as well as the fears as she watched the anticipation on my brother's 5-year-old eyes. As nannies came into the room and called out the girls' names, each family came forward to meet their new daughters.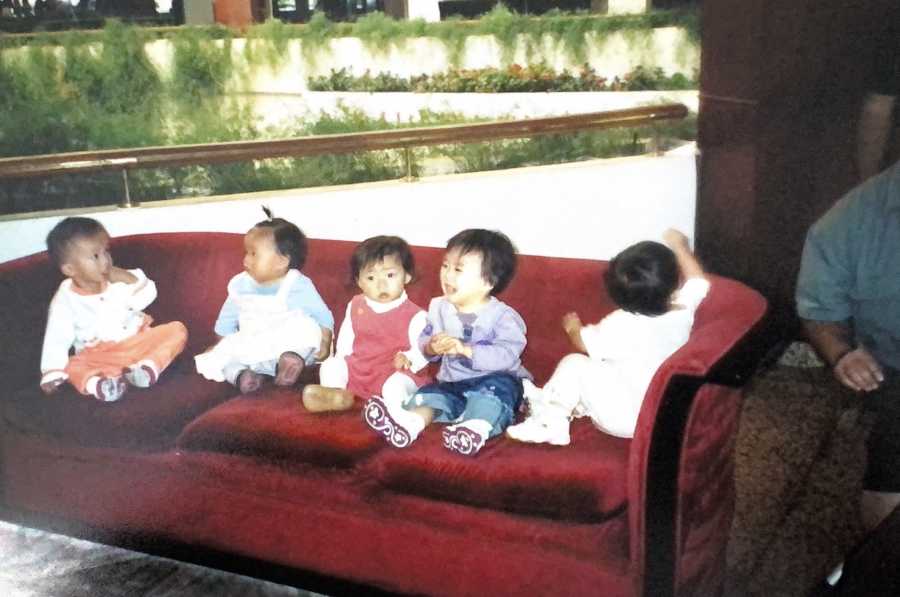 Finally, my name was called and as my new family approached, a woman placed a very scared and quiet girl into my mother's arms. It was love at first sight! My mom held me in her arms and it felt like the whole world stopped. When they brought me out, I was told I was wearing a million layers of clothing, making it look like I had no hands! It was said they did this to make sure the kids in the orphanages were warm enough. While we will never know the full truth about my life before my adoptive parents got me, they were told I was abandoned most likely when I born and dropped off in a box by a school. The one-child-policy made it illegal to have more than one child at that time. This meant a lot of children were left on the side of the road and then put into foster care, like me. Most families wanted the boy because then they could take care of the family when they grow old.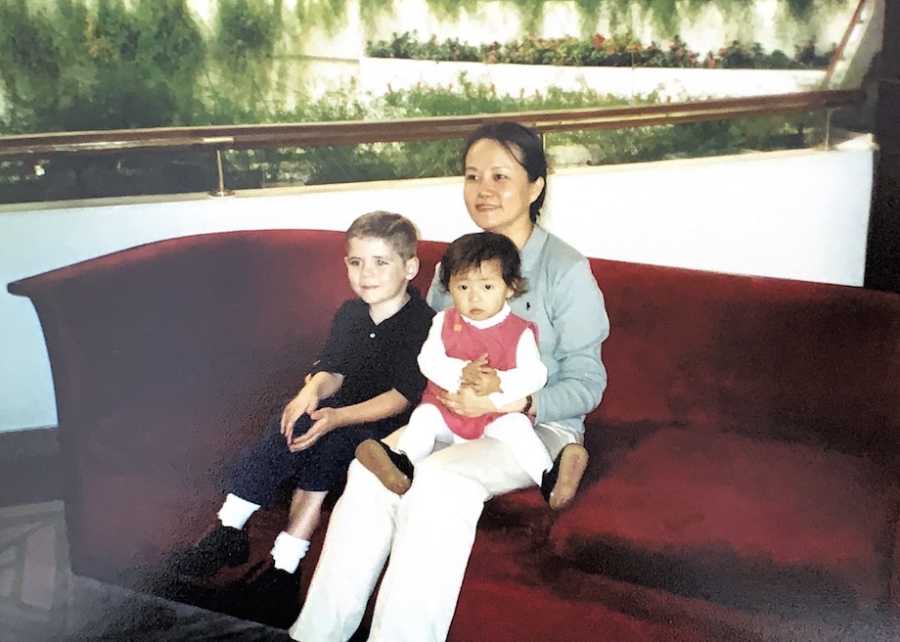 I was picked up by an officer and was brought to the orphanage. I spent my first 12 months of my life bouncing around the orphanage and my foster family until the time came for my adoptive parents to come and get me. My new parents packed up my things and said goodbye to the staff. They left the place with a new bundle of joy and started their journey with me. They spent a few more days in Wuhan exploring around and getting to know me. One of the funniest moments my family recalls was the time they were out for dinner. I was in my high chair eating my food when all of the sudden, BAM! They looked over and I was passed out in my chair, head first in my food! Those are the moments that always make me laugh the hardest when they retell the story of how they got me.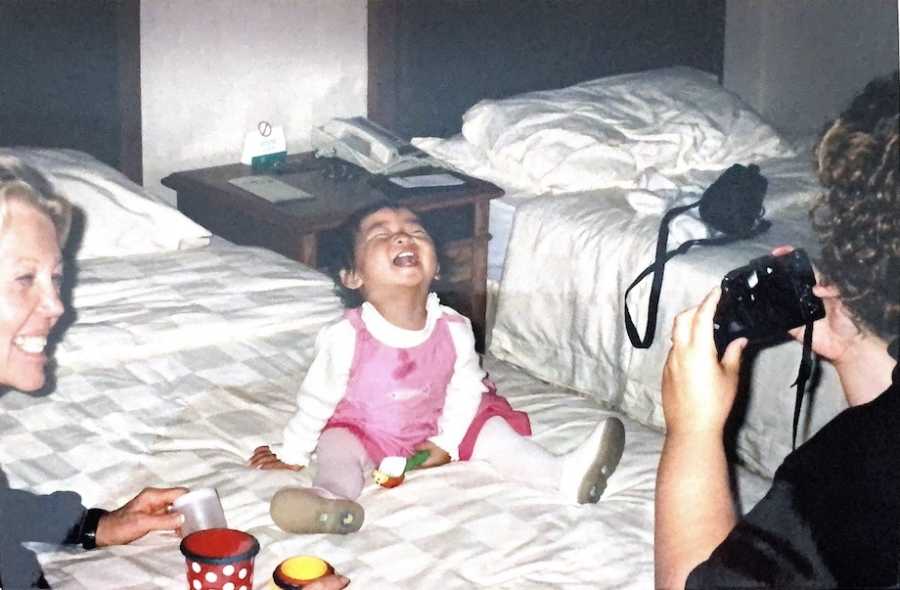 Flash forward a few more days, and it was the last day in China. They packed up their things and strapped me in my stroller, getting me ready to fly back to my forever home and the rest of it was history. It's funny how one little thing can change the rest of your life. I didn't know it then but my life would be forever changed by my mom, dad, and brother. There's never a day that goes by I don't think about my biological family, but I hope they know their sacrifice has given me a life of education, happiness, stability, and most importantly, love! I hope one day they are proud of all of my accomplishments and know I am eternally grateful for them, as well as my forever family. Every adoption story is unique and full of roadblocks of some sort but this is my story of how I was adopted from China."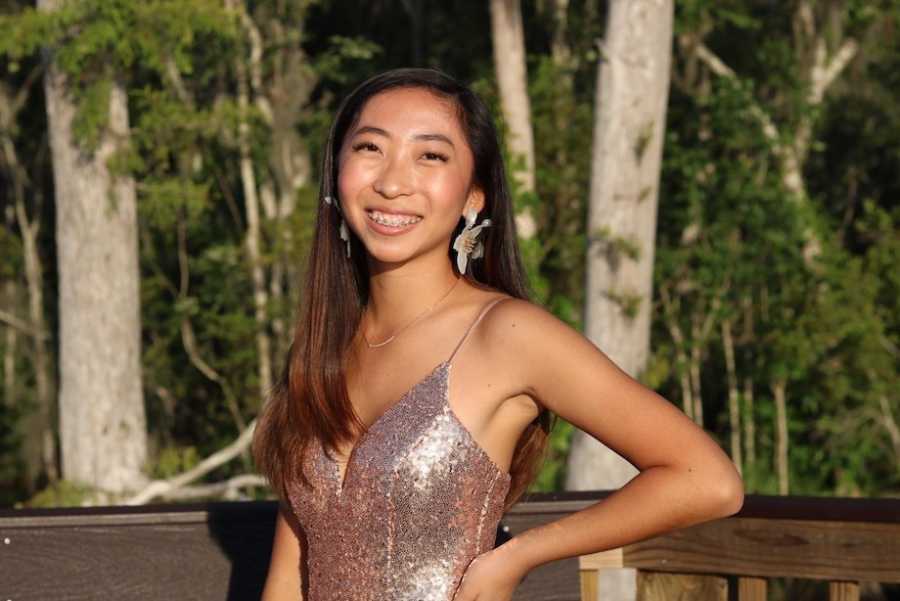 This story was submitted to Love What Matters by Liddy Dow from Jacksonville, FL. You can follow their journey on Instagram. Do you have a similar experience? We'd like to hear your important journey. Submit your own story here. Be sure to subscribe to our free email newsletter for our best stories, and YouTube for our best videos.
Read more touching stories about adoption here:
'Do you know why your REAL parents didn't want you?' They wonder how much I 'cost.' Truth is, love has no limits. Family is not confined or defined by blood.': Transracial adoptee details journey, 'I wouldn't change a thing'
'You should be grateful.' I was shamed for being curious about my birth parents. I shoved my feelings down.': Transracial adoptee shares journey to 'help others feel less alone'
'You must have paid a pretty penny for him.' I was speechless. No one ever admitted race was a factor.': Mom describes transracial adoption journey, 'Love mattered most'
'The nurse came in and said, 'Her new parents are ready for her.' Only 15, I kissed her soft baby cheek, and placed her into the arms of her mama.': Teen mom embarks on 'beautiful' open adoption journey, 'I couldn't have picked better parents'
Help show it's the depth of the love that matters.  SHARE this beautiful story on Facebook with your friends and family.