"The last time you saw me, you left me on the side of a bridge. 
I often wonder what that day in February was like, the last day you saw me. Five months after I was born, you could no longer take care of me, so you offered me a different life. Did you live in Zhongshan, or was that just the closest city? Did you leave in the dead of night so you wouldn't be caught and punished? Did you scour multiple places for one where I'd be discovered quickly, or was the bridge the first place you saw? Did you wait until a stranger found me, or did you rush to leave, eager to forget? Was I asleep, or did I cry? If I was anything like I am today, I probably cried. I grew up to be pretty sensitive, so I cry at most things. Like videos of soldiers coming home to surprise their kids. And Christmas songs. And Pixar movies. Especially Coco. 
Did you cry? 
The thought that this decision shattered you makes me wish more than anything that I could assure you of my safety, health, and happiness. It devastates me that I can't. The possibility that you had no stakes in whether I lived or died has instilled a deep fear of being an unwanted burden. It affects me to this day. 
I wish I could share what happened immediately after you left. My parents told me everything they know. The only new information that my Freedom of Information Act request revealed were the hospital papers disclosing I was treated for a respiratory illness before being admitted to the orphanage. I am still prone to lung problems – did I get that from you? If so, thanks a lot. I am grateful for my smile, though. My parents love it. Thank you for my slender fingers that fit neatly on a piano and for my thick hair that holds a curl. I love these and every quality I speculate is from you or my birth father. Thank you for your features.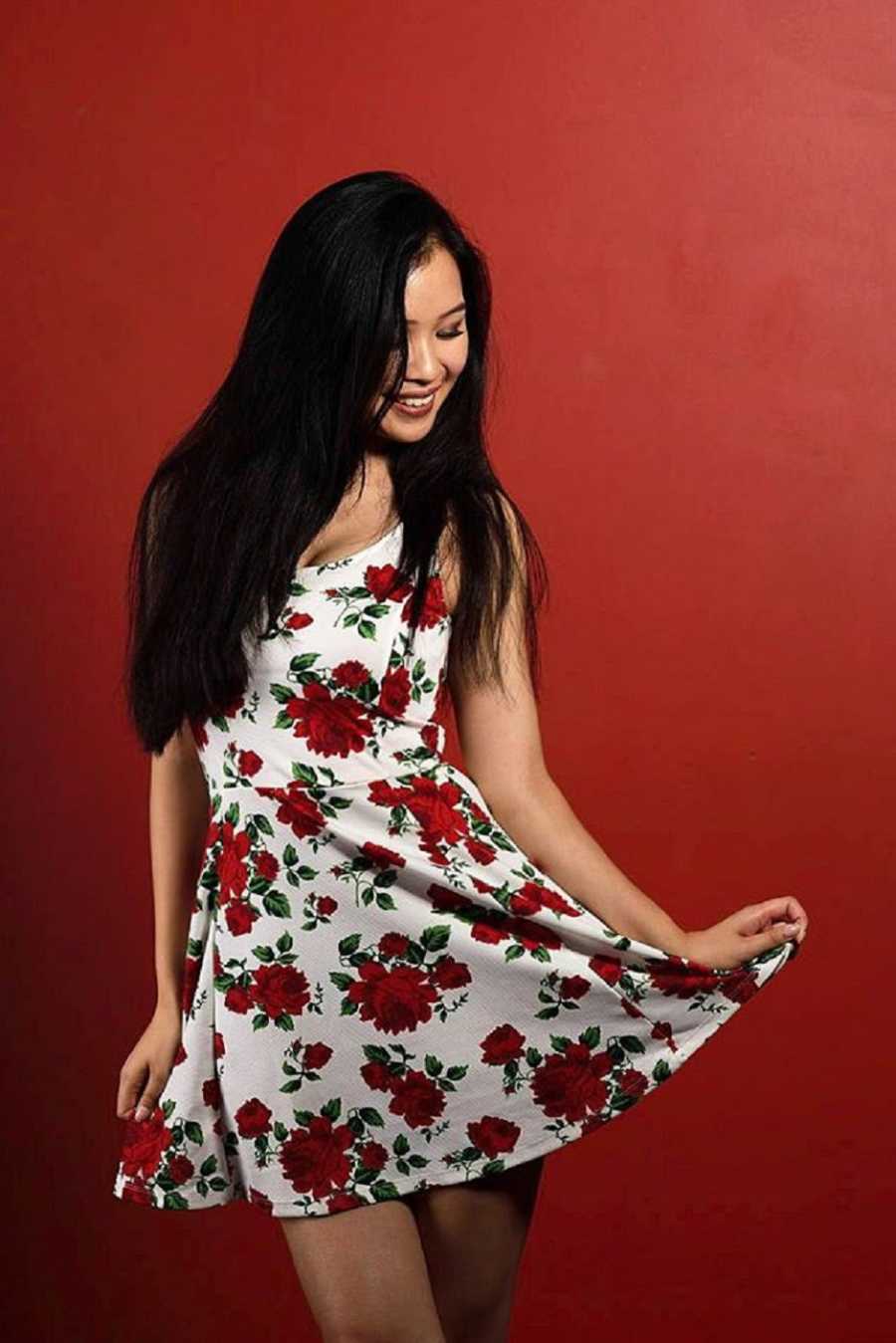 My mom says there were multiple babies per crib at the orphanage. I know you were just one woman whose life was altered, and China's One Child Policy – which limited families to one child each to slash its rapidly growing population – wreaked havoc on all its people. Growing up, I had a hard time grasping the true nature of this mandate, but now I have seen documentaries describing the forced sterilizations, abortions, and mass infanticide. I recognize the deeply ingrained sexism that led to a preference for baby boys. If I were a boy, you may have kept me. But with the number of baby girls who became corpses in gutters, I feel fortunate I made it to the orphanage.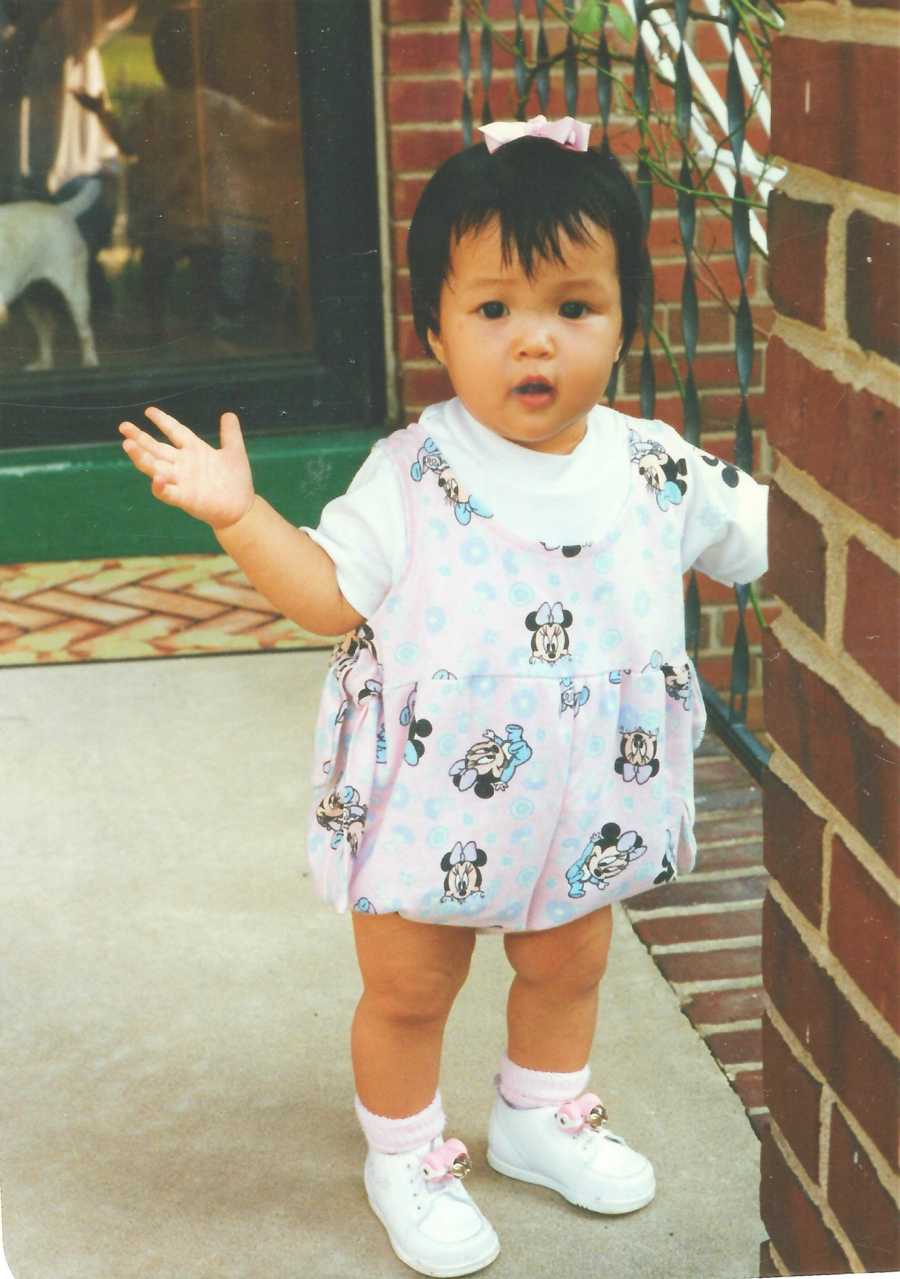 I hope you were able to find reasons to smile after I was gone because I am so glad I am not in China anymore. Thank you for giving me a better life. 
When I first met my mom and dad, I was ten months old and absolutely hated them. My parents went through years of strife with pregnancy, the possibility of domestic adoption, and then applications, interviews, translators, and reservations. At last, they flew to China, equipped with bottles, little jumpers, and pacifiers, to meet me! Their precious baby girl who did not want to be near them, and when I finally was, I greeted them with projectile vomit.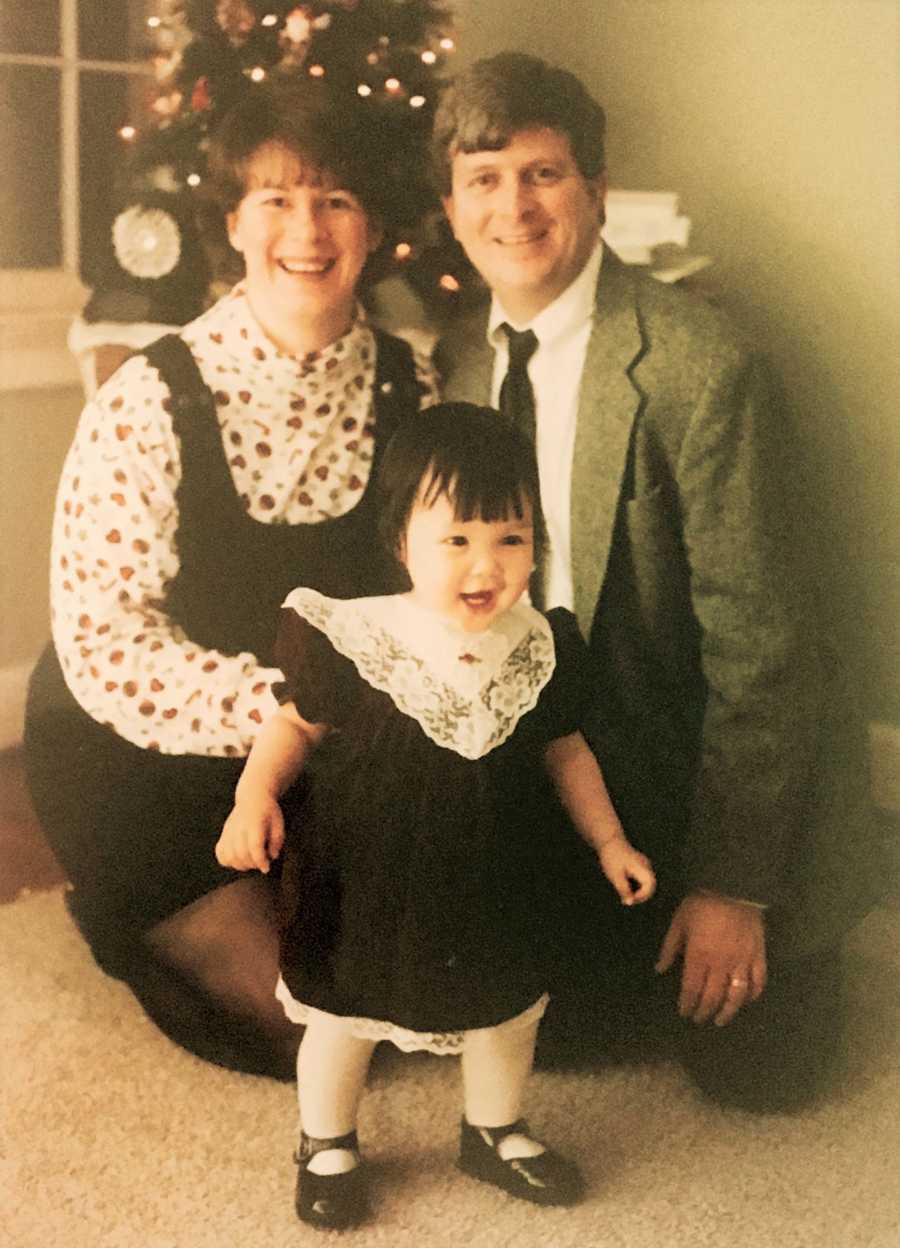 Thankfully, my mom and dad are kind, funny, smart, and truly incredible parents. They loved me before I even met them. My mom says when they received a picture of me in the mail, she broke down sobbing. I imagine my dad was there to comfort her, but my mom cries at most things. She is definitely where I got that trait, so you're off the hook on this one.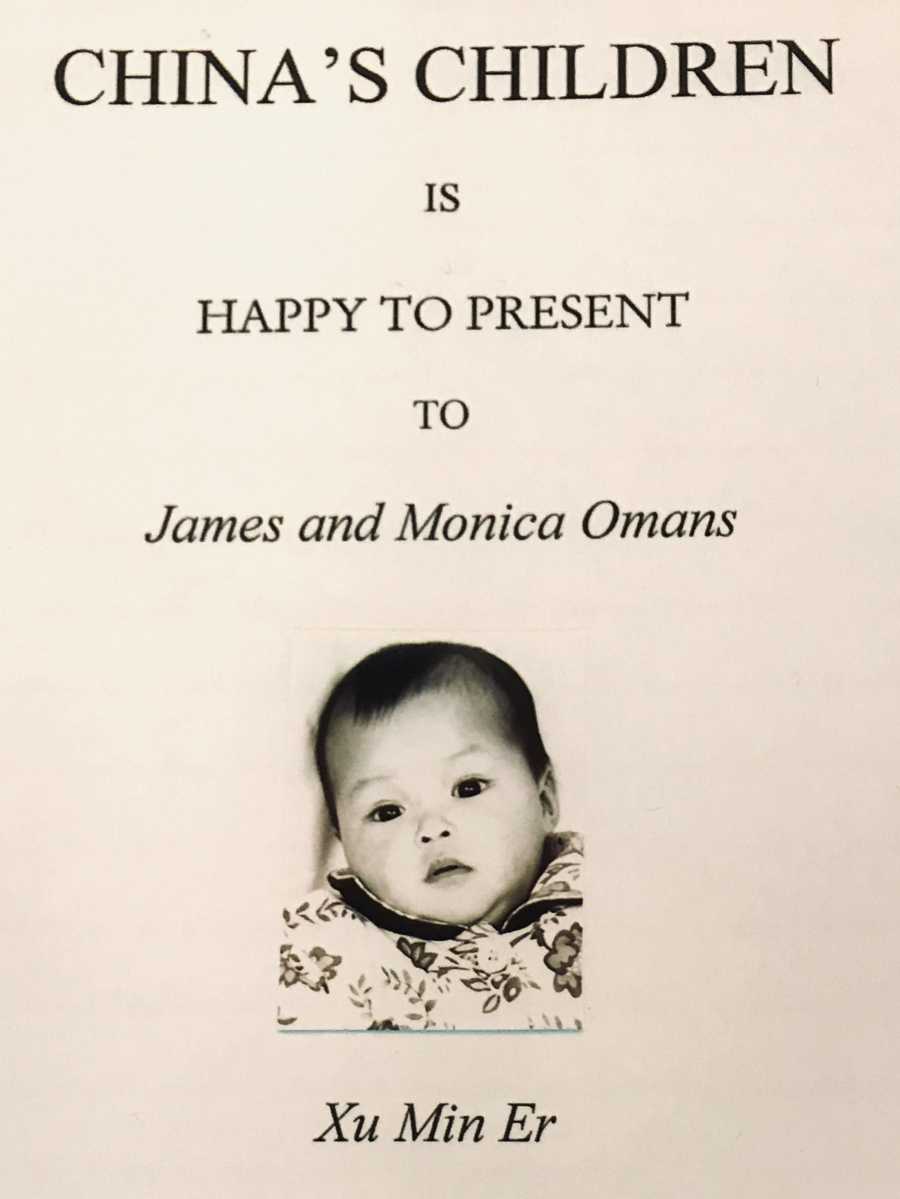 I think you would like my family if you met them. My dad is obsessed with trees, telescopes, and cookies (those aren't reasons to like him, per se, but it gives you a glimpse as to why I do), and even though he's a bigshot at work, he does the goofiest dances to make me and my siblings laugh. My mom loves animals, reading, and has impeccable fashion taste. She's made me gowns and costumes from scratch that always get compliments at galas and parties.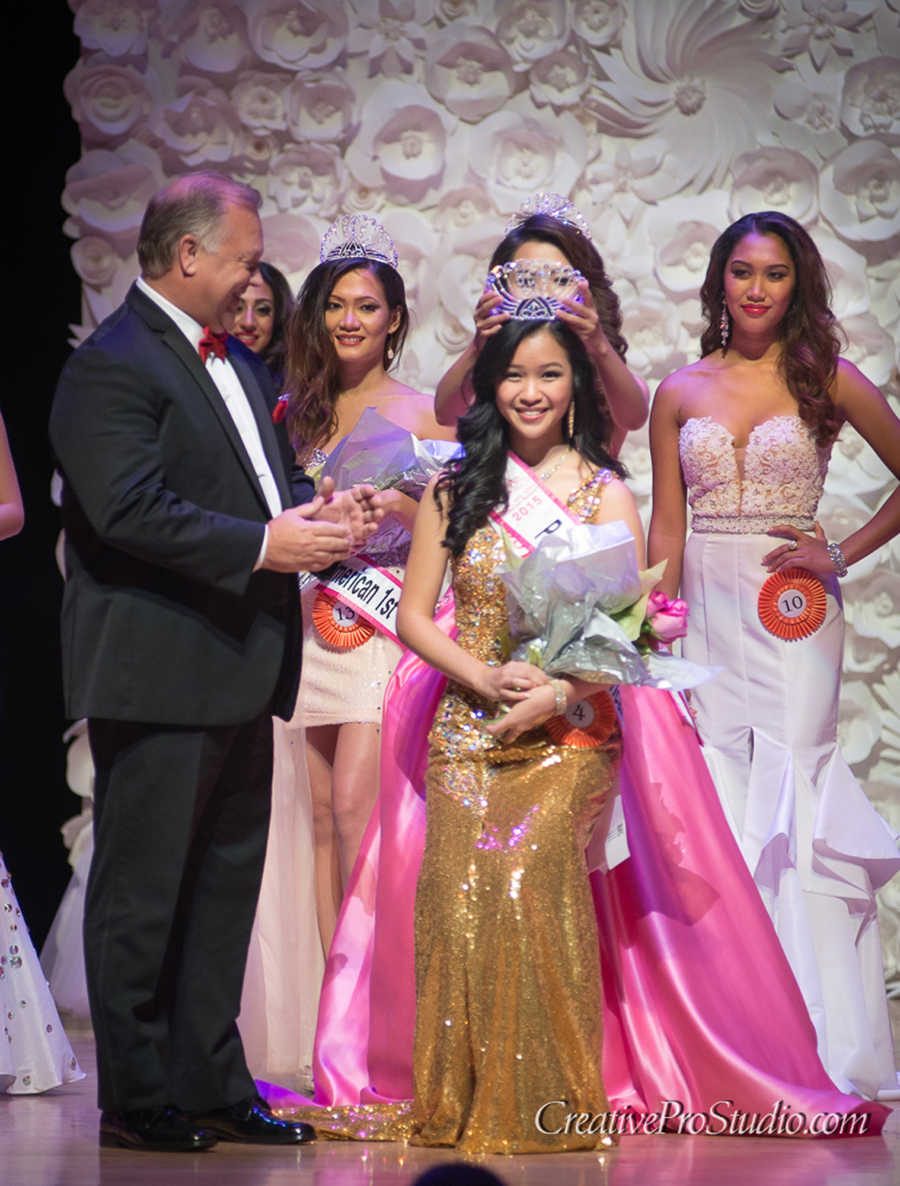 We attended culture festivals in Washington D.C., one of which showcased the Fairfax Chinese Dance Troupe. After watching me twirl along to the troupe's recital tape, they enrolled me in dance classes and Saturday afternoons became the highlight of my week. My dad attended Chinese school with me so we could learn the language together, and Sunday mornings became the bane of my week. My mom read me stories every night, many of which were adoption themed. I thought it was neat I had an origin story like superheroes do.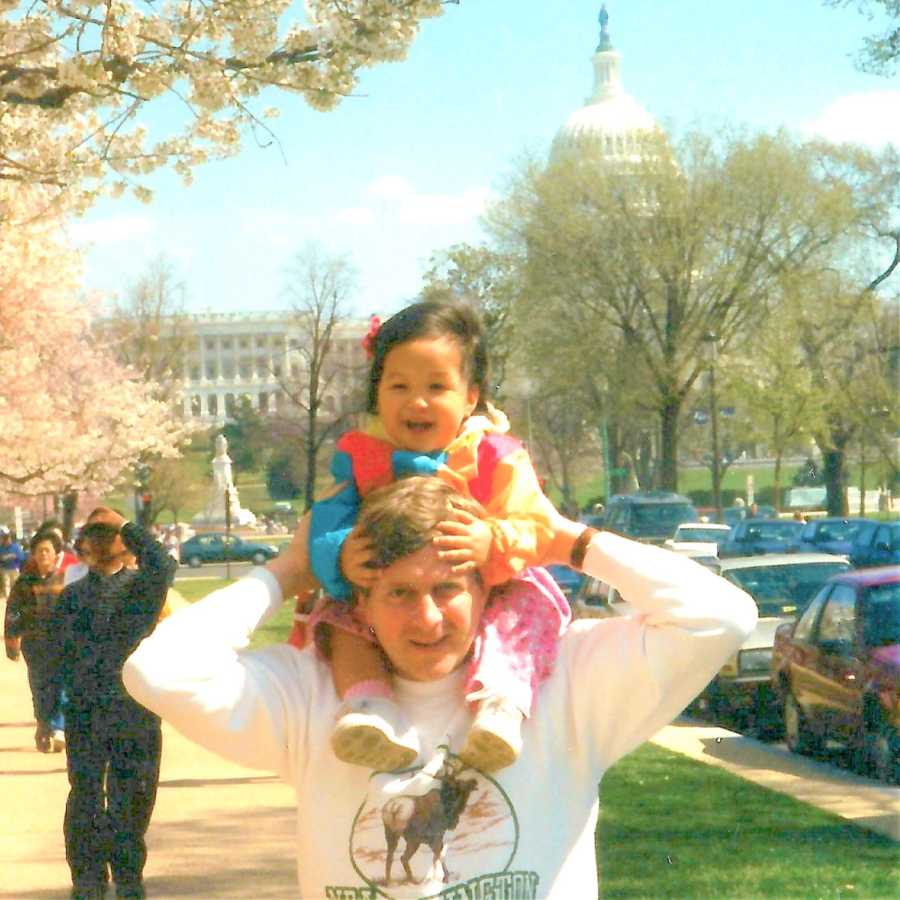 I am fiercely protective over my younger brother, adopted from Korea, and sister who is my parents' biological child. Mom and Dad dressed us up for Halloween as Star Wars characters (Padme, Darth Vader, and Leia, respectively) and dinosaurs (for three years… why?). We played for hours in the mornings, careful not to wake our parents because they'd make us do workbooks or play educational games. My dad had a saying regarding what we'd each do if we saw a sea creature, that summed us up pretty well: 'Kira would eat it, Kevin would study it, and Kristin would make a pet out of it.'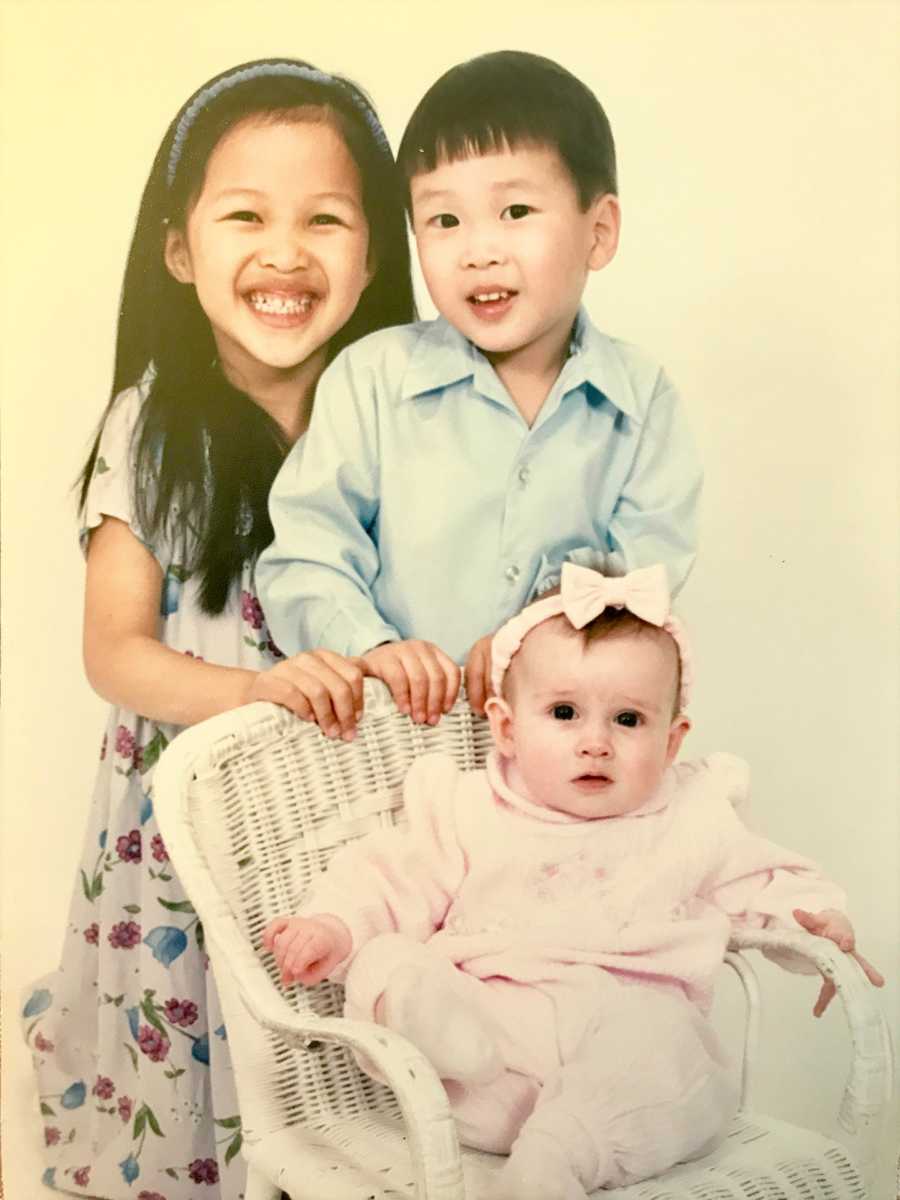 Your agonizing decision gave me a family that loves me with all that they are and I would do anything to keep them safe. Thank you for your sacrifice. 
If I ever read this to you, I might gloss over this next part. I don't like upsetting people, and I used to be incapable of saying no. I have only recently learned to disengage with the parts of my life that don't respect me. I am still learning, but a strong woman gave birth to me and a strong woman raised me, so I have never relented.  
Despite being raised in a loving family, I was always different, and at school different is weird. Weird is the worst thing you can be to other kids. Not racist. Not entitled. Weird. As one of the only Asian people – not Chinese girl, Asian person – at my school, I kept my head down and my mouth shut. Making friends is already hard. It's made harder when kids don't want to be your friend because of something you can't control like the shape of your eyes and the color of your skin. It's made worse when those features you wished you could change, the features your parents told you were beautiful, become the reason you're ridiculed.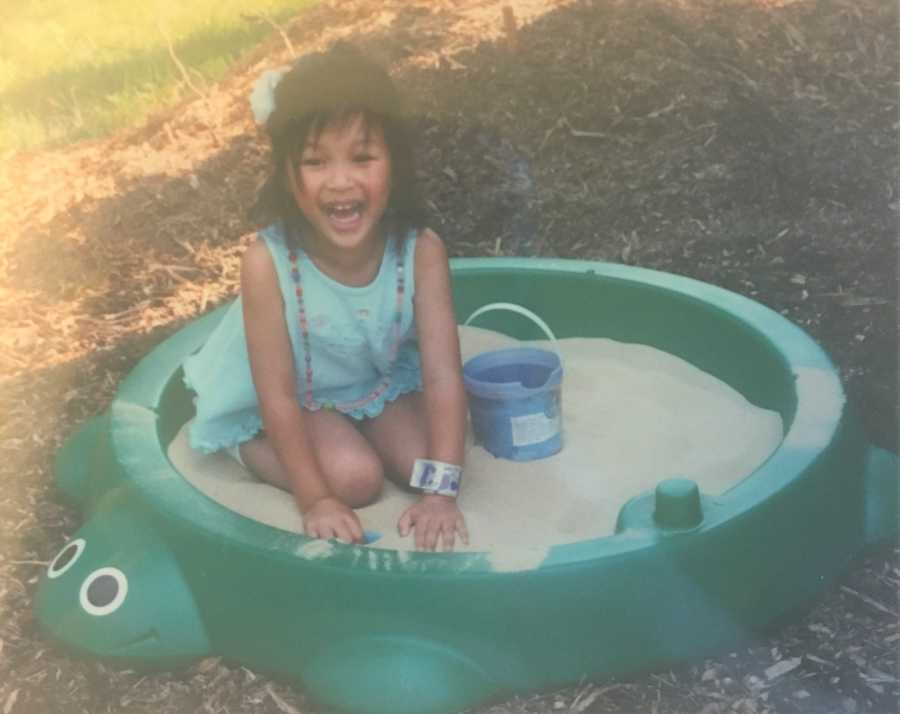 Curled up at the foot of my bed, crying and feeling the full weight of my ostracization, I hated you. I locked out my sister who knocked frantically on the door, wanting to comfort me. I shut out my brother who suffered bullying far worse than I would ever known for his appearance and mannerisms. I begged my parents to quit Chinese dance, shoved the adoption books under my bed, and decided to laugh at Chinese jokes to show I wasn't one of them. I felt like an outcast in the only world I knew and exiled from the world where I belonged. This was your fault for abandoning me. It was your fault I was isolated from people who looked like me, so thank you so much. You made deserting my homeland my only option, and I wasn't even the one to make the choice.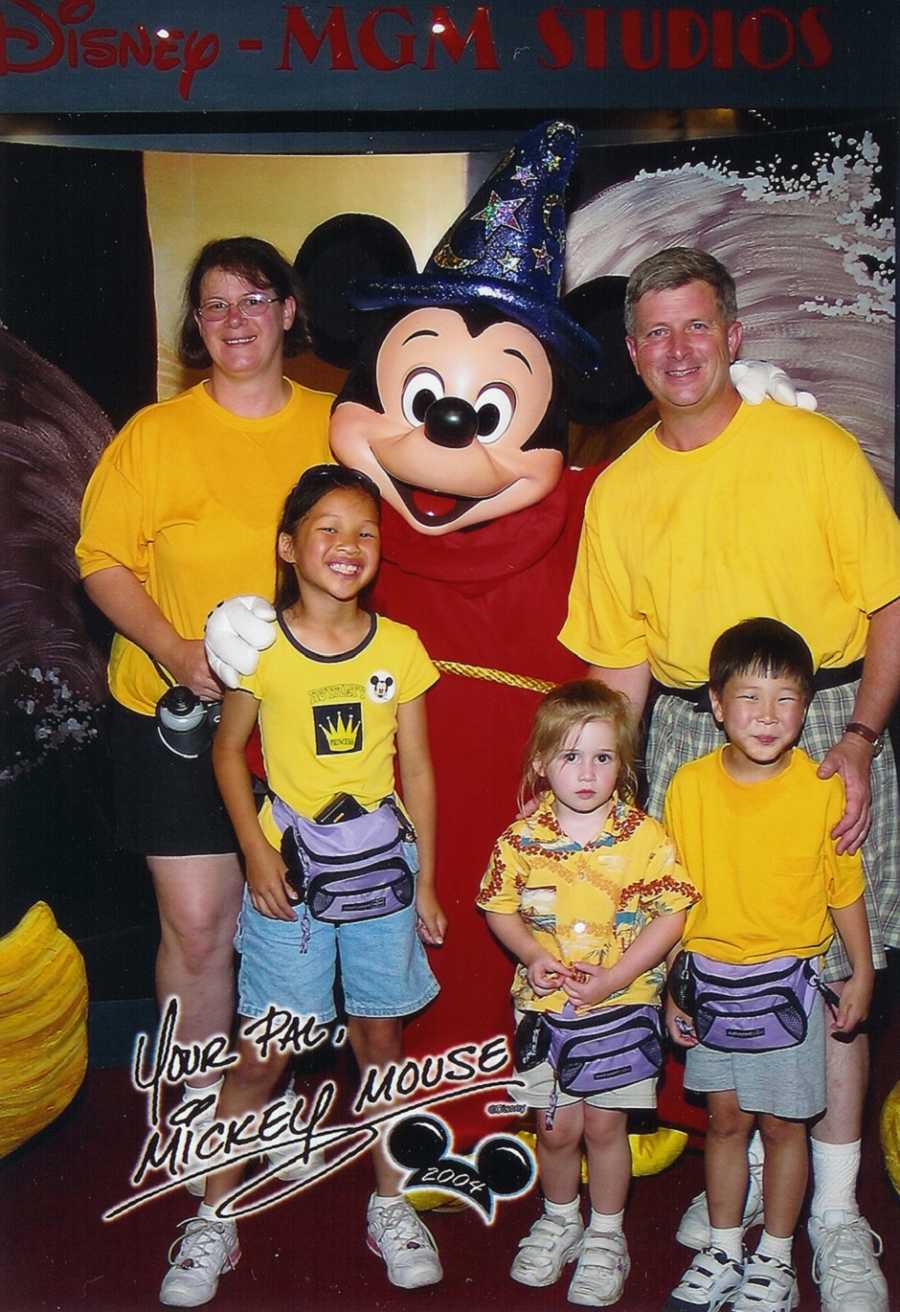 I thought you abandoned me because you didn't love me. Now, I know you broke your own heart because you did. I wonder if in those five months I was yours, you imagined I always would be. Or did you always know? Every now and then, do you wonder what might have been? I love the life I live, but I know I do. 
I wish I could tell that crying girl whose smile and dreams had been replaced with self-loathing, that one day she would grow up to be a role model. My goal became to be the woman I needed as a child. This, coupled with my sensitive nature, drove my passion for acting. My devotion to inspire young girls prompted my participation in the Pacific Miss Asian American pageant. Winning that title led to my desire to be involved in my community, specifically adoptees.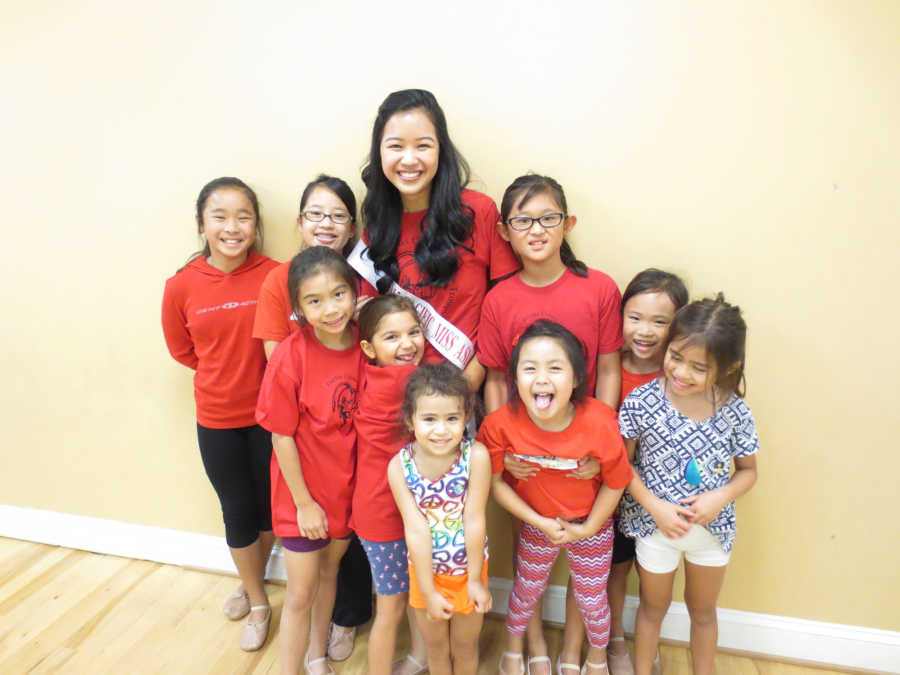 My whole life, my dilemma had been being too Asian to fit in with white people. But attending events as Pacific Miss Asian American reminded me that I was far too white to fit in with Asian people. No matter how many world showcases I attended or Chinese customs I studied, when an old woman came up to me firing rapid Mandarin, my response was always a sheepish shrug. Fortunately, my dad and I spent the rides home from Chinese school counting back and forth in Mandarin, so I am really good at raffles. 
I hope you would be proud of the woman I am today. I am acting full-time and I live in Los Angeles with my boyfriend. You might not approve of that part, but he gives me a reason to smile every day (he's a wonderful chef and makes everyone laugh). We want to get married soon and have children one day. I have always wanted to be a mother and I imagine when I do, I will experience the fierce, unconditional love you had for me.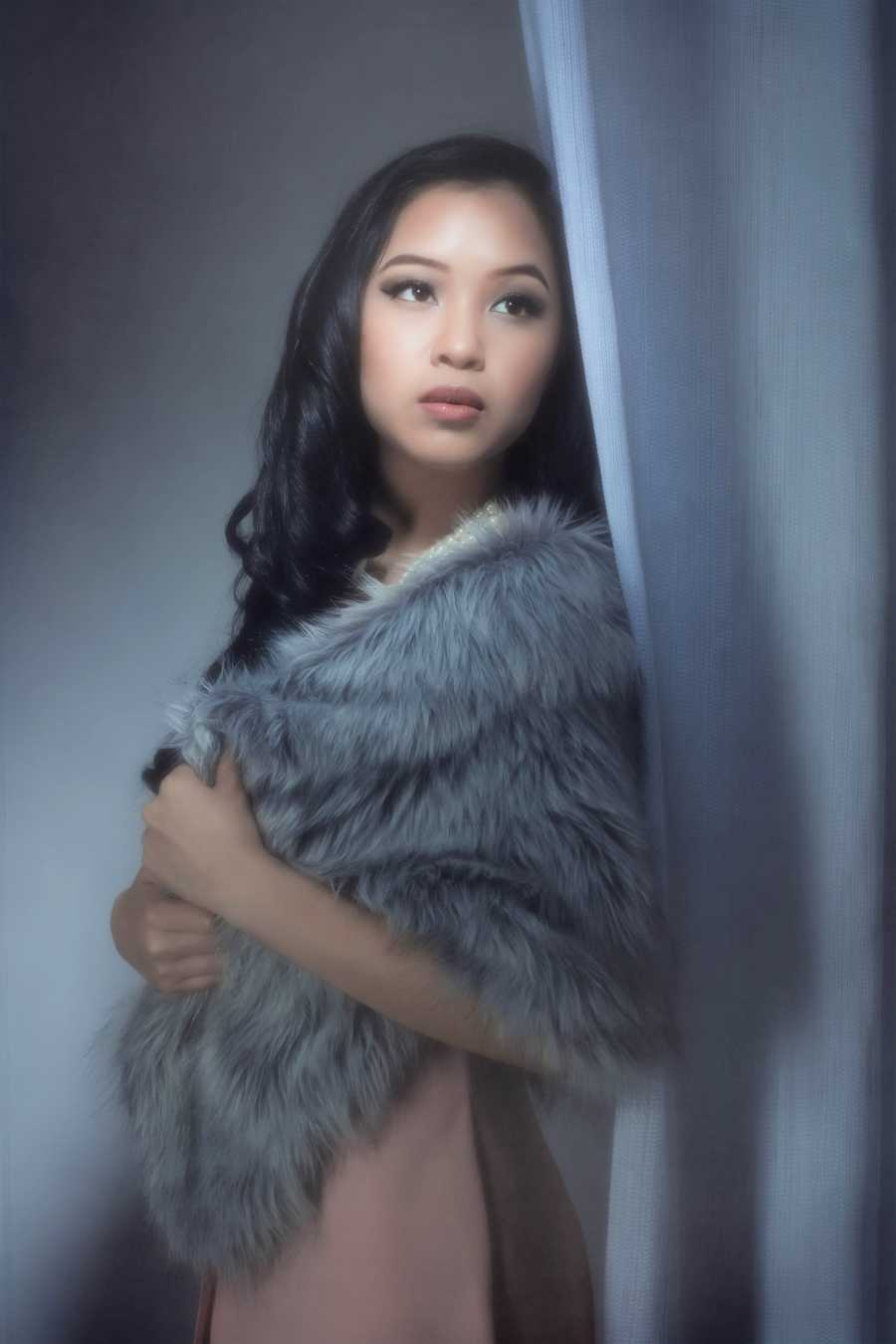 Adoption is the complex loss of a homeland, a culture, a family. Wounds from my past, inflicted by a stranger, haunt me erratically. A profound fear of abandonment remains with me in every relationship, sparks irrational panic, and initiates my sleepless nights. I hold onto this fear that you instilled by walking away, believing it would protect me. My subconscious grasps for a woman who I will never know, and if this crushing grief that losing you left behind is any evidence, then you were my world. 
I thought about searching for you. If you didn't want to be found that would destroy me, but after watching One Child Nation and experiencing your reality as an outsider, I thought it might be worth the chance. DNA tests revealed little, and my documentation was disappointing. I spent days searching my translated forms for a lead, but I knew this was a futile venture. We are only two women lost among millions. There is not a void in my heart that longs for my birth family. My family makes me feel as loved as I imagine you prayed they would.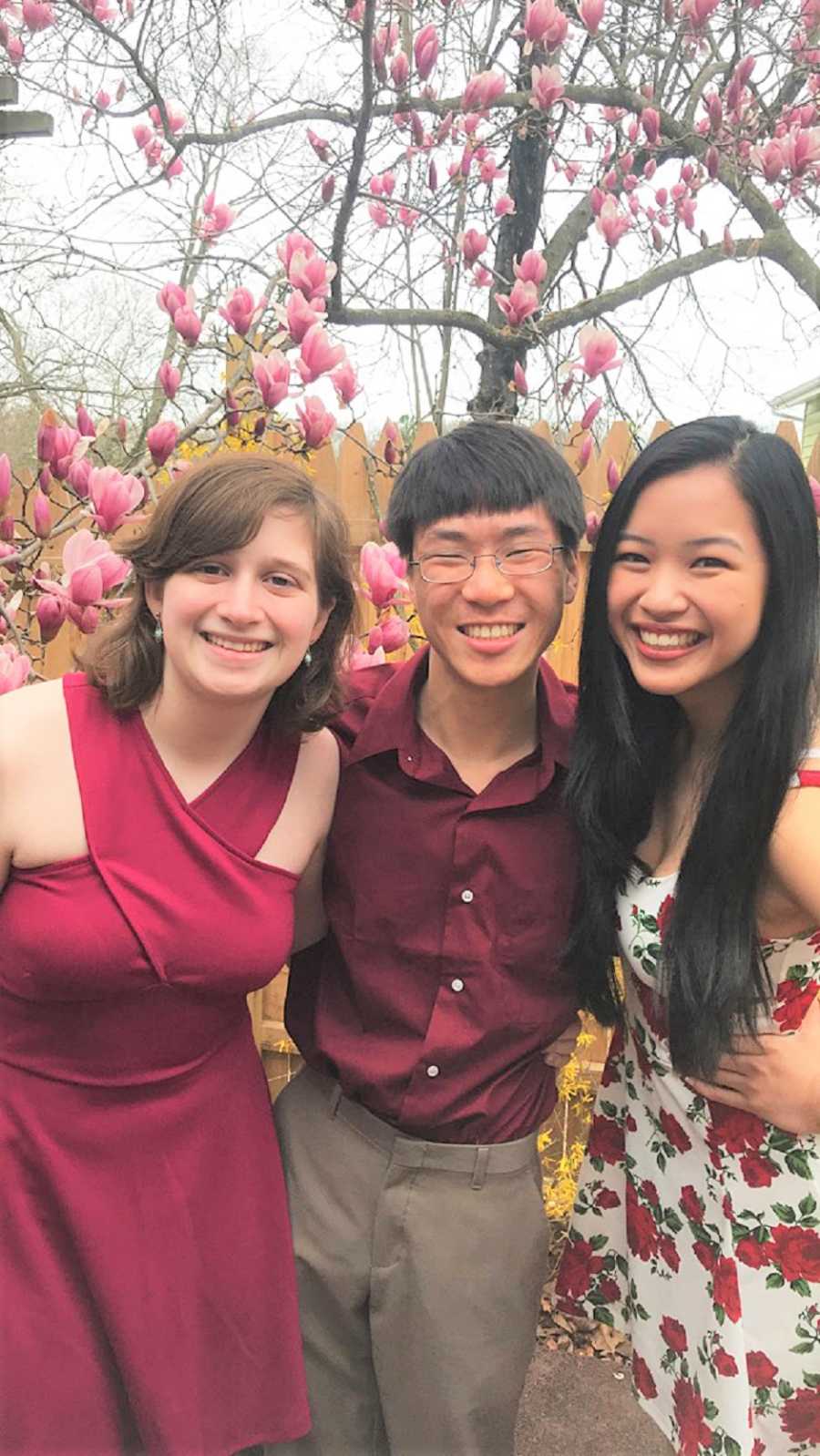 Wrestling this ongoing mystery will persist for the rest of my life, but the struggles I endure today prepare me for the battles I will face tomorrow. Thank you for giving me challenges that I am strong enough to overcome. My weakest points have connected me to strangers who may find solace in my words and feel less alone. 
One letter cannot replace a lifetime of growing up without knowing you, but nothing can. I wish it were possible for you to read this, but aside from the language barrier, I know you never will. But if I could send you a fleeting feeling, a gentle heartbeat, a warmth you feel in your chest for just a moment, it'd say, 
'Thank you for being a part of me. I feel you with me, always.'"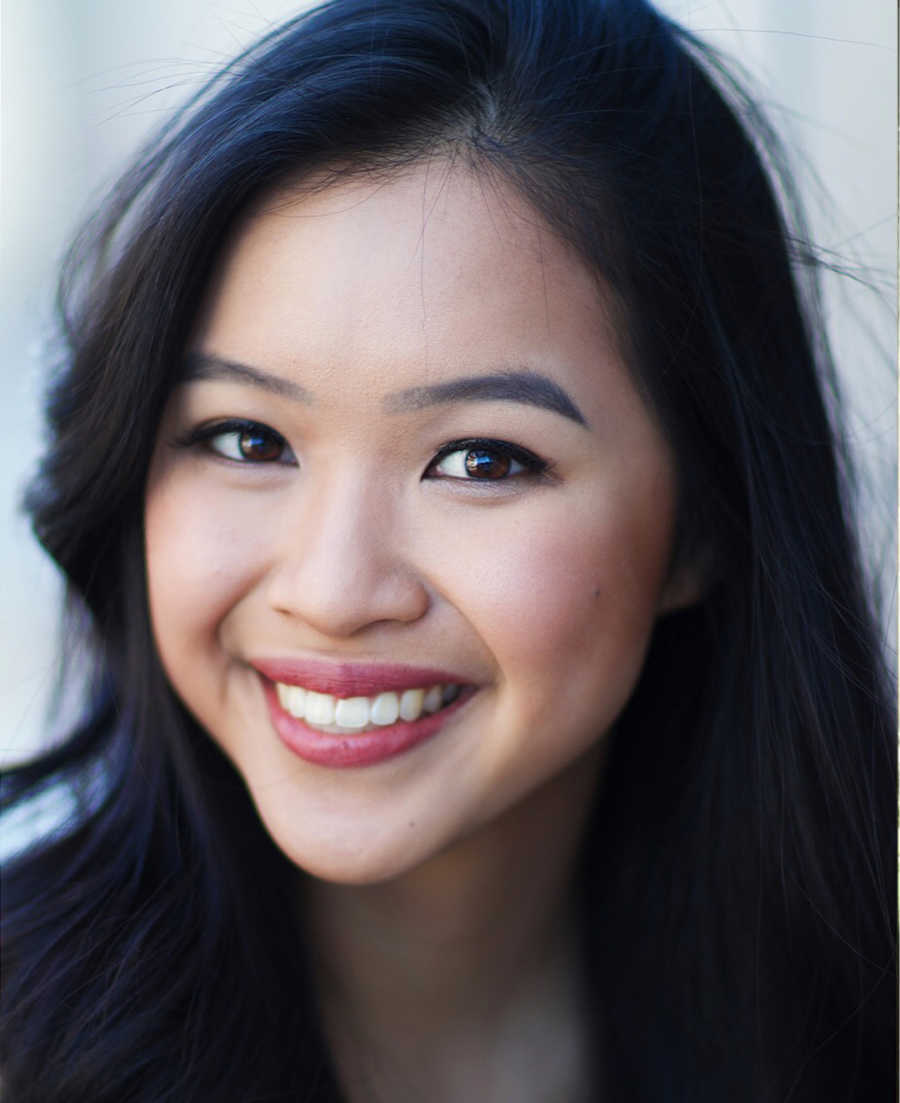 Watch Kira's powerful video below: 

This story was submitted to Love What Matters by Kira Omans of Los Angeles, California. You can follow her journey on Instagram, Facebook, and her website. Submit your own story here and be sure to subscribe to our free email newsletter for our best stories, and YouTube for our best videos.
Read more stories like this:
'They bluntly asked, 'So, where is your real Mom? She didn't want you? Is there something wrong with you?' Everywhere I went, I stuck out like a sore thumb.': Transracial adoptee says 'it's okay to grieve the loss of your birth family'
'At 11, his adoptive parents abandoned him at a hospital, never to return. 'Mr. Peter, can I call you my Dad?' I began to cry uncontrollably.': Single dad adopts 11-year-old boy from foster care after biological, adoptive family abandon him
Do you know someone who could benefit from reading this? SHARE this story on Facebook with family and friends.