Disclaimer: This story contains graphic details and images of abuse. Please click here to support Christina's journey.
"It's been 582 days since the worst day of my life. I got a call from the man babysitting my kids saying my son, Eternal, fell and hit his head. Eternal is clumsy, so I believed it. I believed it even more when I checked him out and thought he needed stitches. I took him to the hospital while Nicholas, the man who had watched my kids multiple times, stayed with Eli and my youngest, Ivan. Nick's mom watched children for living and my kids loved him. They were playing with him and they were happy.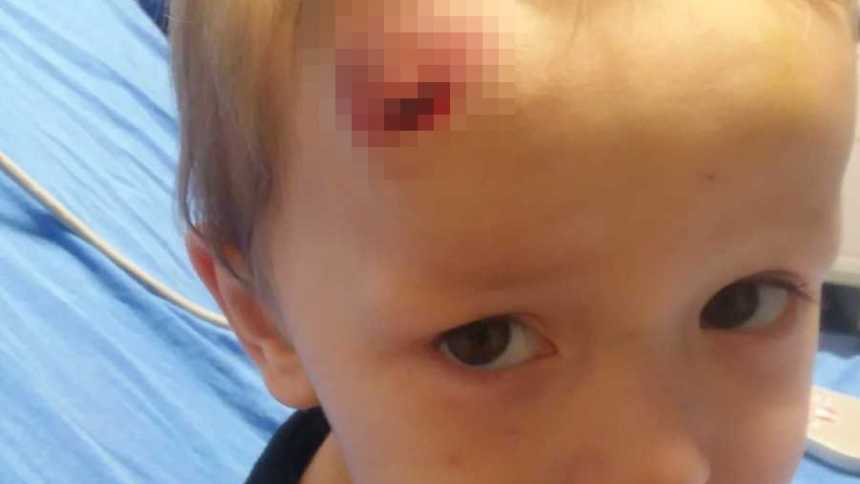 Less than 30 minutes after arriving at the hospital to get stitches, I got another horrible call from Nicholas. It happened so fast that I only remember crying and freaking out. The nurses asked me, 'What's wrong?' A minute after I got off the phone with 911, Ivan was rushed inside the hospital. 15 nurses and 2 doctors were trying to get my son's vitals all in one tiny room, not understanding what happened. I hadn't even seen him yet. I didn't see Ivan until almost 4 hours after he got to the hospital.
I thought my heart was broken before, but when I first looked at Ivan, my heart and soul were completely gone. I couldn't breathe. I wanted to take his place. I just wanted to hold him, but I couldn't even touch him. The last 6 days I got to have with him felt like I never had him. He never woke up. He was in a coma from the second he came into the hospital. I would've done anything to be in his place.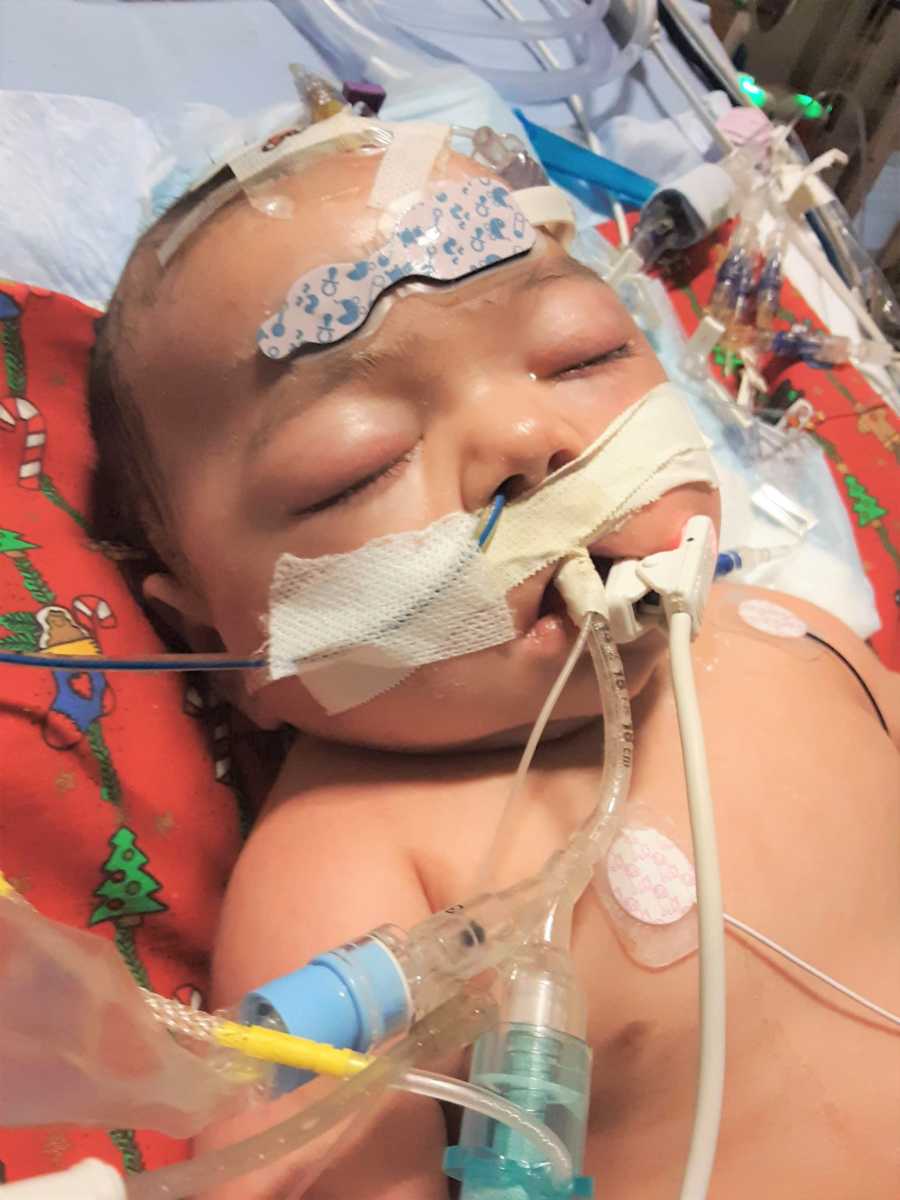 I never got to see his eyes; they were hemorrhaging in every layer. They said if he woke up, he would've been blind because of the injuries. They said it had to have been a blunt force hit and that he was shaken, which is what led to continuous swelling and eye bleeding. If Ivan wasn't shaken, he would have had a chance. He would have had brain damage, but I would have taken care of him no matter what. He would've needed corrective surgery, but it was very unlikely he would ever be able to ever see again.
A lot of people ask what happened to my precious Ivan, and I just haven't had any words to say. Not a lot of people understand what happened to my son, and honestly, I never will either. I'm ready to explain, not because I have to, but so everybody can learn from my mistakes and I can help one mom or dad out there. I know I didn't hurt my babies and I know it's not my fault, but I left them with a monster and I'll never forgive myself for it. I hope this never happens to any family like it did with mine.
Ivan passed away from homicide caused by Nick's hands on his face. He had no oxygen to his brain for over 40 minutes, and I live 8 minutes away from the hospital. I don't know how long Ivan wasn't breathing before he got to the hospital. When Nick called me, he told me Ivan wasn't breathing, and I lost it. I told him to hang up and call 911. I didn't hear anything, so I called the ambulance myself. They told me they were already there, and he had vitals.
I thought I was dreaming. Nick told me on the phone he was alive, but when he got to the hospital, he wasn't breathing. It took 30 minutes of CPR to get any vitals. There was swelling on my son's ribs because of all of the hands on his tiny chest. I didn't and couldn't understand why he wasn't breathing. When Ivan got to the hospital and I finally was able to see my son, he had a big handprint on the side of his face. Nick's fingers created bruising around Ivan's tiny face, ear, and eye. They told me he had a small chance of surgery if they operated on his brain, but they had to wait 6 hours to see if the swelling in his brain would stay the same.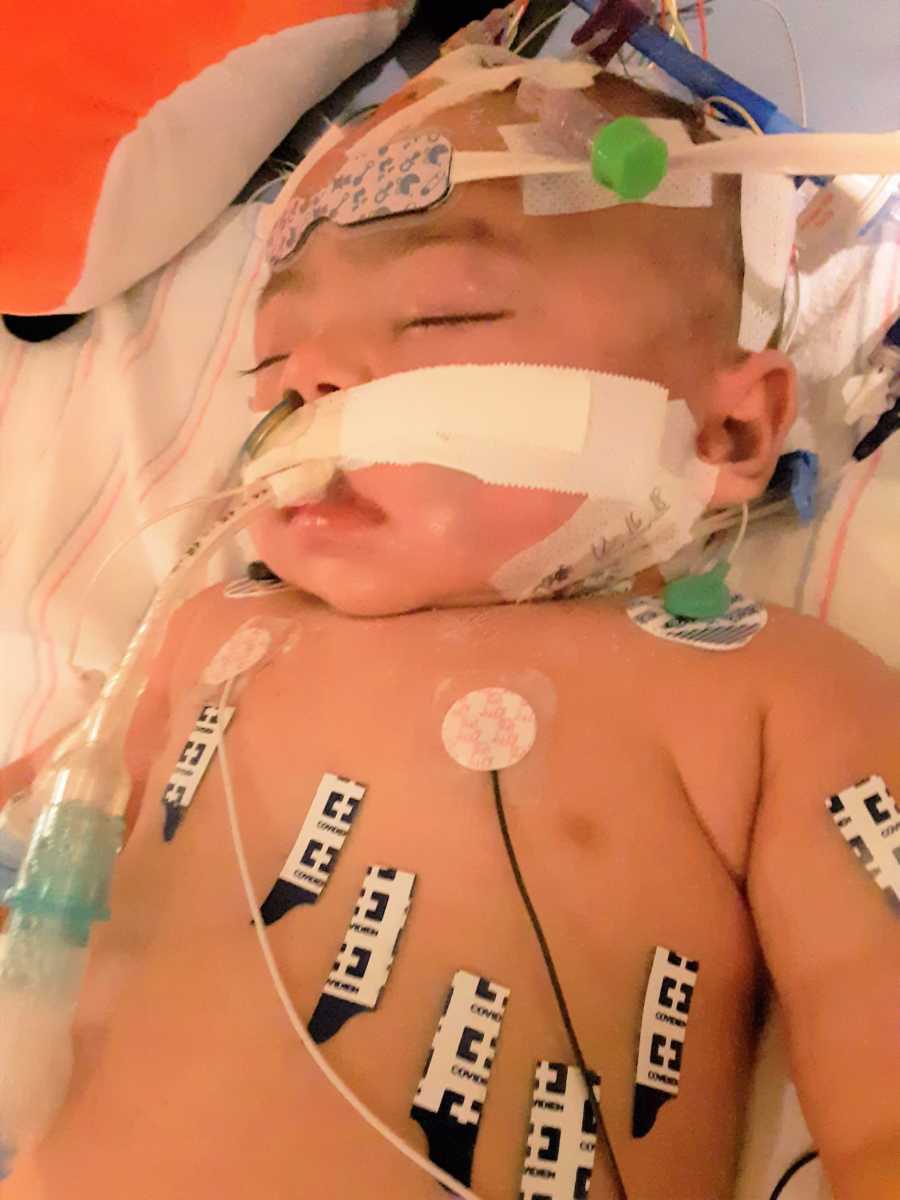 They had to transport him from TMC to UMC where there was a brain doctor that could operate if his brain didn't swell. This was the only good news I got the entire 6 days. The ambulance ride on the way to the other hospital was messing with Ivan's heart rate. I swear I thought I was going to lose my son. When we got to the other hospital, they did another scan, and at the 6 -our mark, the swelling in his head grew which meant there was no chance of surgery. From the second we got to UMC, everything just got worse.
My son's heart and lungs were very weak from no oxygen. He had two procedures just to put more tubes in his chest to take out the air that was hitting his hearts and lungs. After 2 days of being in the hospital, my son had no function on the side of his brain that he had been hit. The other side was what helped my son's heart and lungs. He was on a machine to aid his breathing because he couldn't do it on his own. He had very few breaths of his own. My baby was so sick.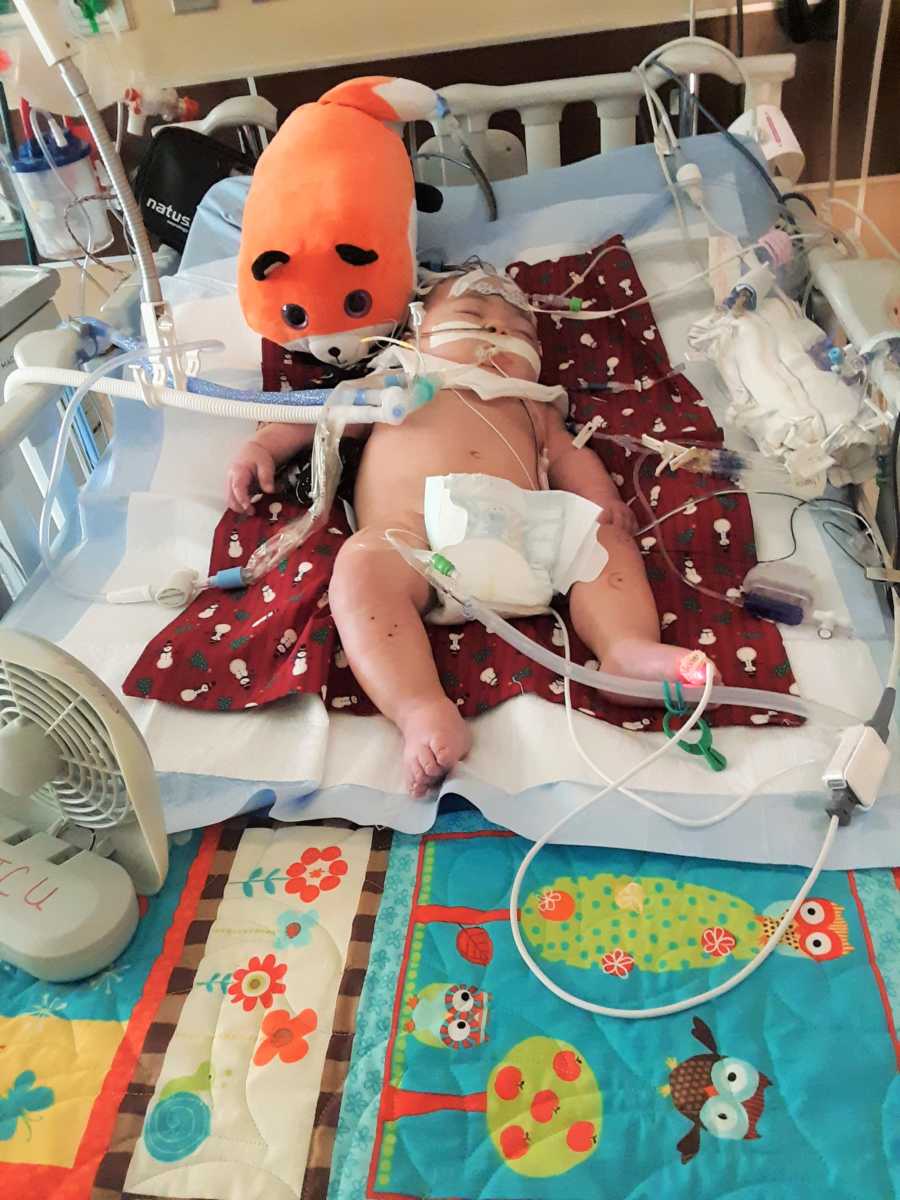 I called 3 different hospitals and spoke to over 30 different doctors, but it was all the same answers. He was never going to wake up and never have a life. He would need to be on a machine forever, and he would never open his eyes or breathe on his own. He would never get to play with his brothers or learn to walk and talk. I'll never get the chance to watch him grow. It wasn't a life I wanted for my 4-month-old son.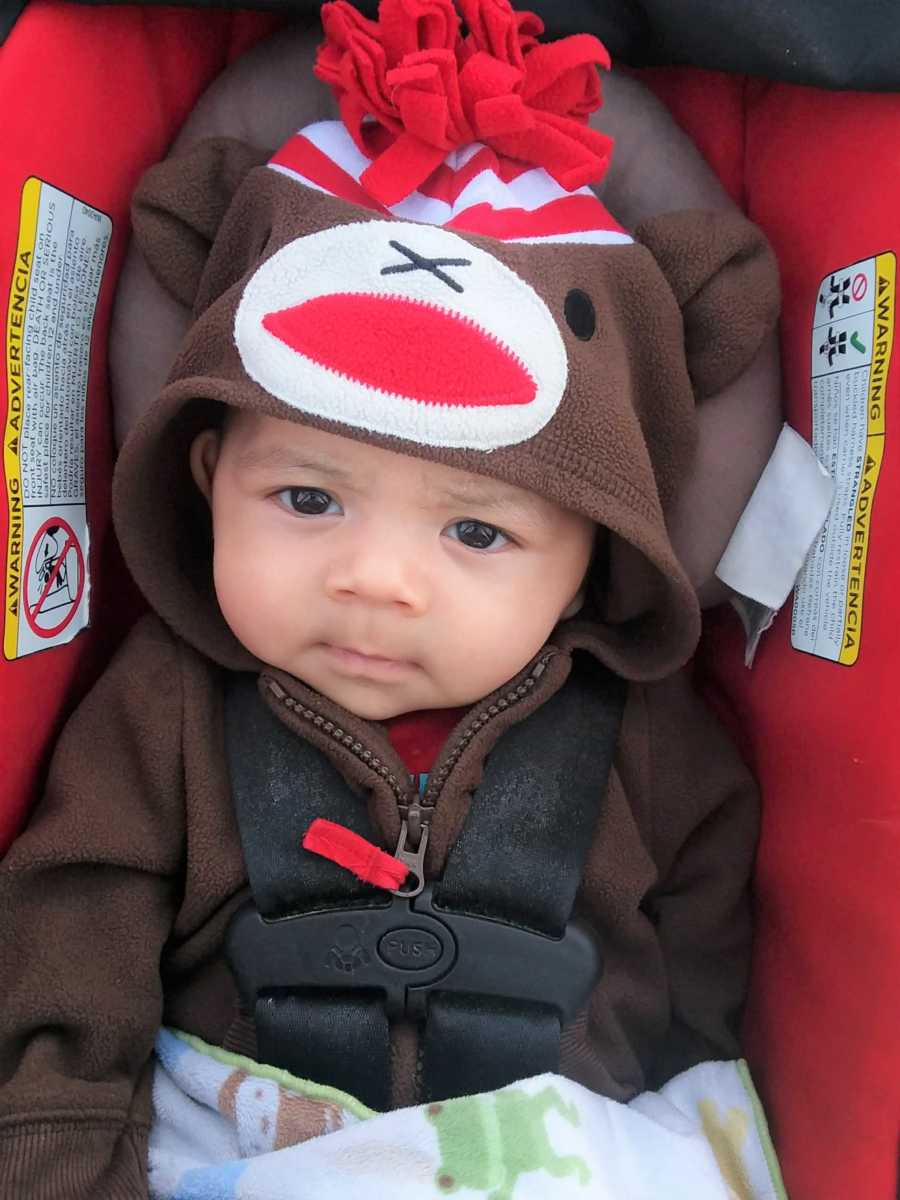 They say when your brain and body give up, it affects your heart. If Ivan didn't go brain dead or if his heart didn't stop, I would have to let him go on my own. Ivan's heart rate and blood pressure were going up and down for hours. Waiting for him to go started messing with my head. He had a fever of 118; when your brain isn't working anymore, that's normal.
The last two days in the hospital I knew that my baby was ready to let go, but I wasn't ready to let him go. I fought it so hard. He was staying strong and fighting for me, but we both knew it was time. Every time I held him, and I only got to do this 3 times, his heart and BP would stabilize, and as I let go, it would skyrocket up. I think he knew mommy was there. Losing him will forever be the hardest day of my life. I died with him. I'll never be the same without him. I'm counting the days until I'm with him again.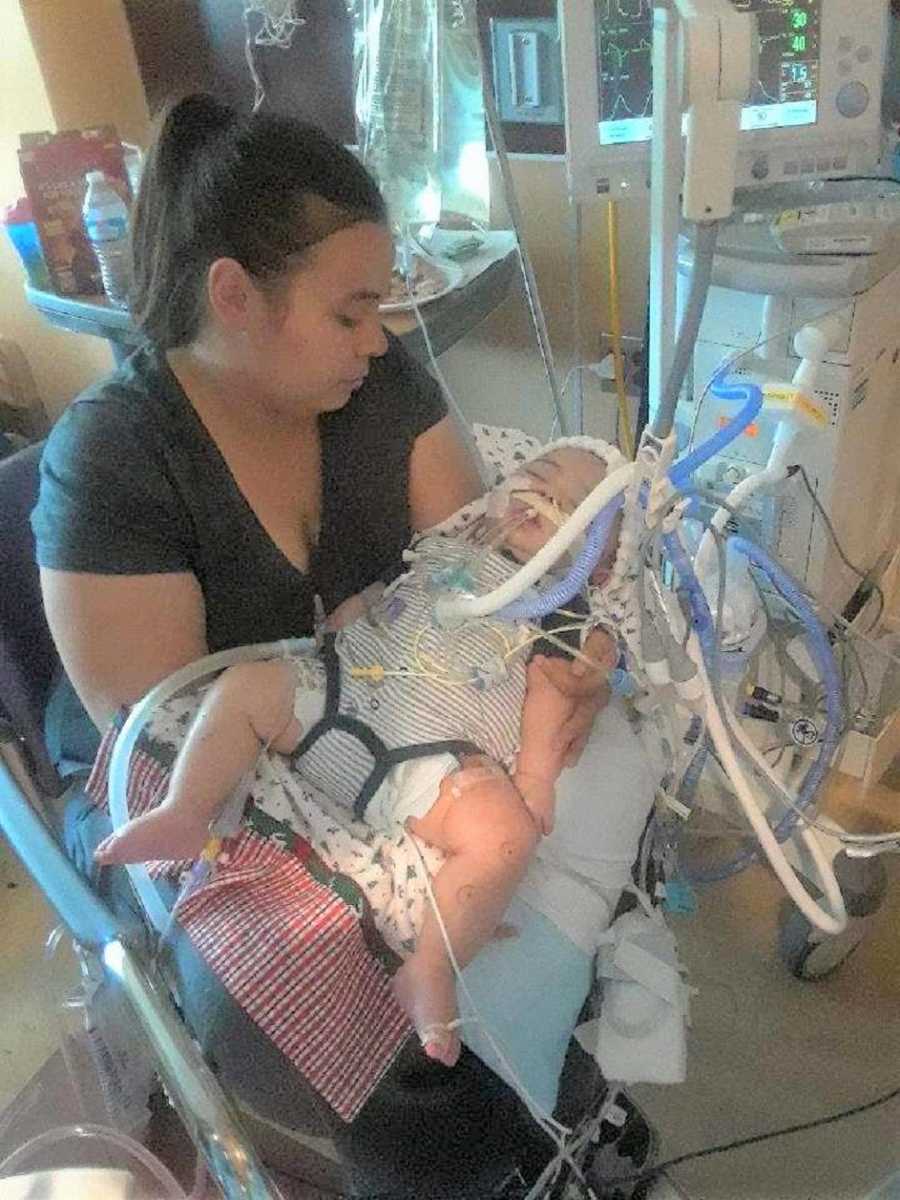 I wish you were here Ivan, but I know you're watching over us and protecting us. I just wish I could have protected you. But wishing won't bring him back. I will forever protect my other children and never let another human being hurt them again. I swear to you, Ivan. I know Ivan is protecting and watching over us. The thing is, I'll never understand what Nick did to my kids. I'll never fully know what happened that day. I simply got a call and my entire life changed.
They took my kids from me for the first two weeks because they needed to make sure the investigation didn't involve me. So, they were with my mom and dad until I got them back. I had Eternal and Ivan with me at the hospital, and Eli was stuck with Nick. When Ivan got hurt, Eli also got hurt in the 30 minutes I was gone. My mom got there and took the boys home. When I got the pictures of what Nick did to Eli, I wanted to die and bury myself in a hole. When I finally saw Eli, I couldn't believe what he did to him. Pictures did not justify it. It took a while for the bruising to fade and for my parents to see it. Nick put long clothes on Eli thinking he could hide it, but Eli was not okay. He gave Eli a black eye and bruises all over his arms.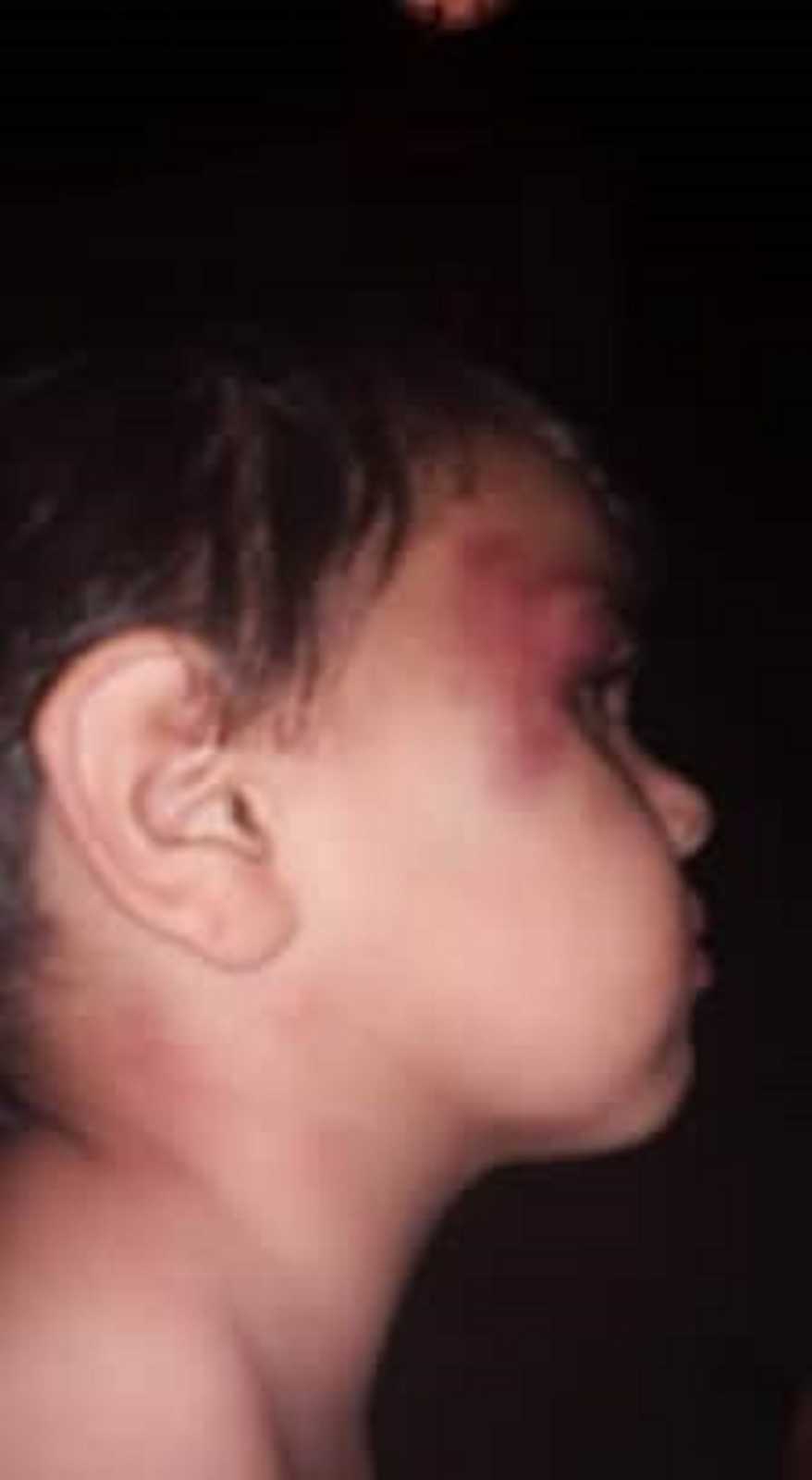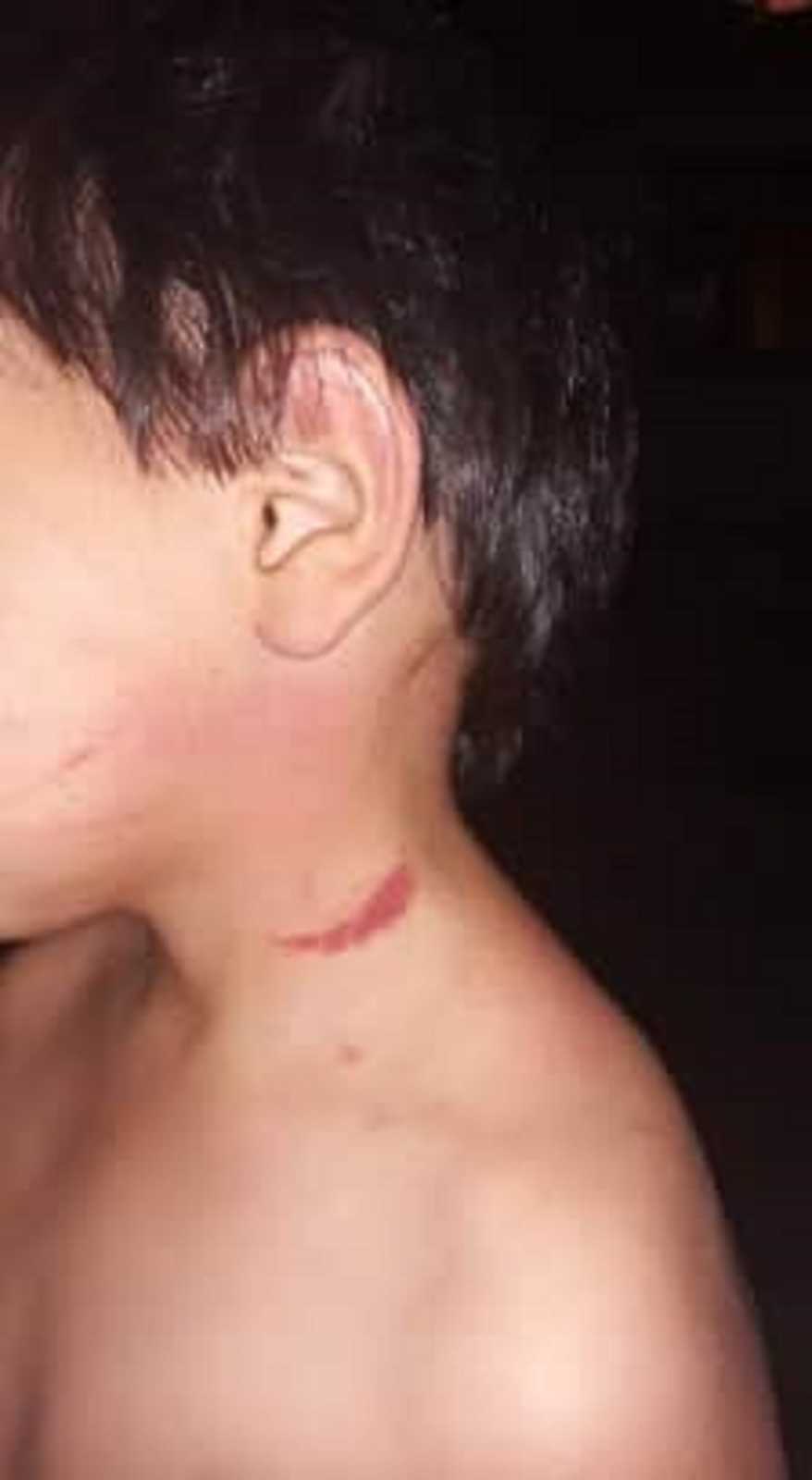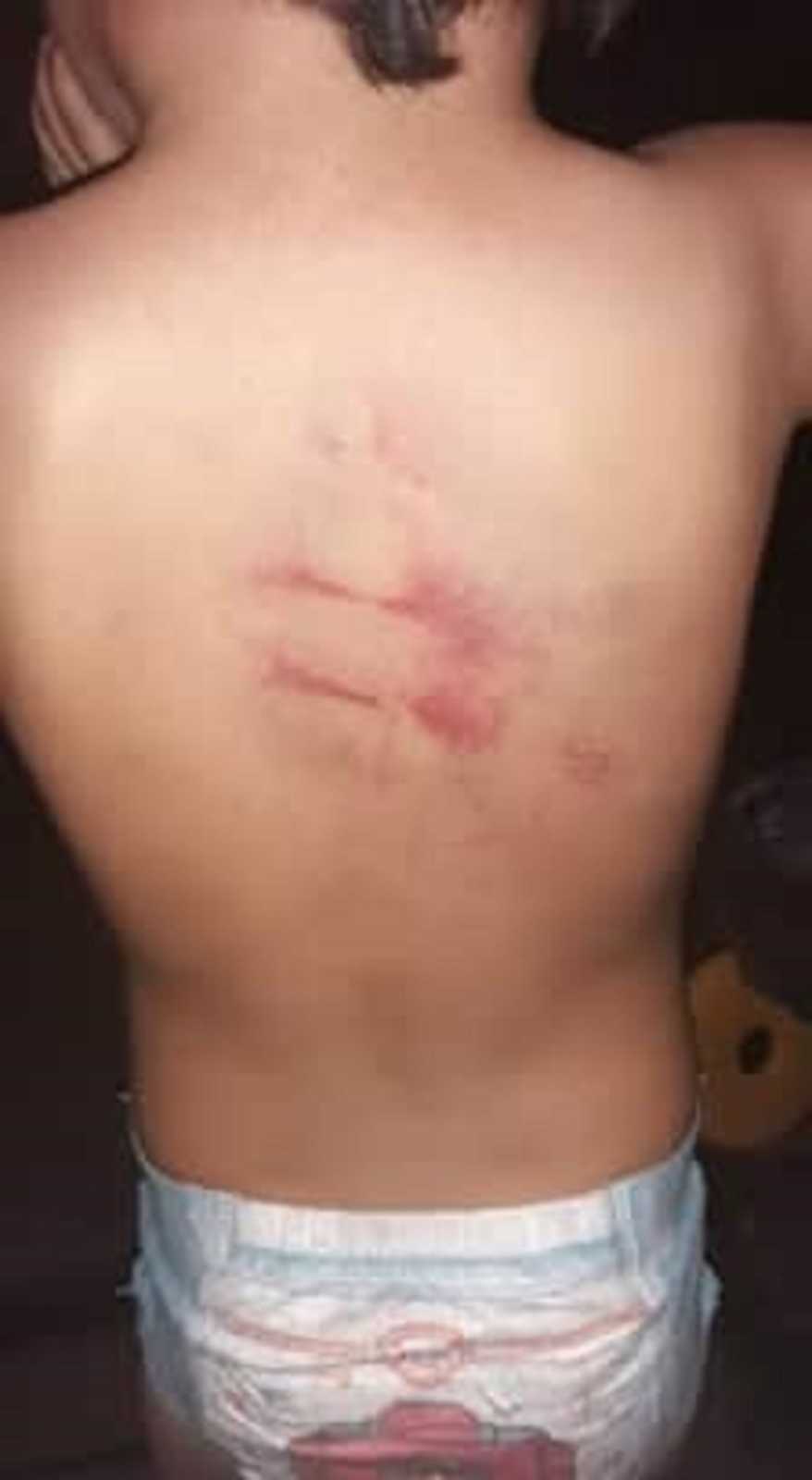 I trusted him with my kids and my kids trusted him. He lied to me about EVERYTHING. It was never an accident. He took away their safety, their trust, and he made them scared of life. He placed his hands on my sons and now my youngest is gone. My kid's baby brother is gone. My son is gone. I would have done everything in my power to protect my sons, but I couldn't. They are my world. Ivan is my world. They never deserved any of this pain. I will do everything in my power to get justice and make sure Nick knows how much pain he brought me and the kids.
Eternal's big open cut on his head led to an ugly scar that still hurts him. He has so much to deal with now because of his head injury, including ongoing bloody noses. I know it was not an accident like Nick said. Both the boys had night terrors for months. They screamed and cried and would stay up until 4 in the morning because they were scared to sleep. Eli has a lot of anger issues now. I've had broken devices and broken windows because Eli couldn't express his anger properly and threw the chairs. For five months, I got hit, scratched, and have had things thrown at me. I found out later on that Eternal has autism. Aside from the PTSD, that's another reason why he has had a hard time expressing how he feels. Because he doesn't talk much, he would grab hold of my face.
After losing my son I didn't want to do anything anymore. It was hard every day to have to get up and keep moving forward without Ivan. I had to be strong for my three other kids. They saw everything I did. So, if they saw me crying or in pain it made them want to cry and be in pain, and I didn't want that for them. I want them to live life as much as possible. So, I said to myself, 'Every day you need to do this for the kids, and you need to do this for Ivan.' I had to keep going.
After a year of chaos, I was able to get back on my feet. I graduated high school after 8 years of trying to finish literally a few months of coursework. I had my cap decorated for Ivan when I walked, so he was there with us. I talked about how I couldn't have done it without my kids in my speech. My kids were what kept me going and kept me strong. Seeing them smile like they used to smile after having a rough year is priceless.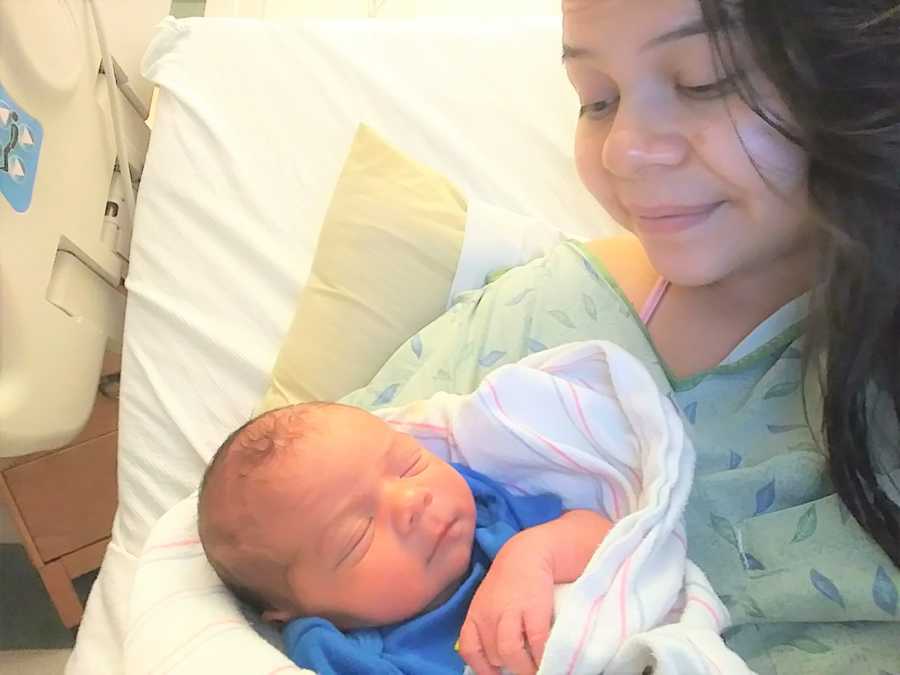 There are lots of support groups out there for women to help focus on life and taking care of loved ones. We go to tons of therapies. Family therapies have been the best thing for us. We do a lot playing and crafting and it helps the kids and my PTSD. Finding hobbies to keep our minds focused was the best thing to do when it came to my anxiety. I was able to get a job and go back to work after a year. Now, I work as a daycare teacher.
Nick could have called me for any reason, and he knew I would have stopped what I was doing and went to my kids, but he chose to hurt them instead. I was a single mom of 4 kids, and I needed a babysitter. So PLEASE for your own children's sake, make sure you know who is watching your kids 100% and they are telling the truth about their mental health background.
When he was arrested and charged with my son's homicide and child abuse towards my boys, there were a lot of pointless court dates. A lot of it was about him and not the justice my boys and Ivan deserved. He did everything in his might not to take the plea. After reading my 10 pages of pain, the judge felt he was only worthy of 25 years in jail! The system failed my kids. I sent in so many letters, but it still wasn't enough. He will be a free man again in 25 years.
At the time, I only had enough money for Ivan's cremation and I couldn't afford the proper burial I wanted for him. It's been almost two years since he passed, and I still have his urn on the bookshelf. My house was broken into with windows smashed, and it knocked over the shelf and broke pieces off the urn. I had to glue the pieces back together. I'm constantly scared something is going to happen again. I want to protect his urn and for him to be always safe. I've been trying to raise money through selling shirts and through my GoFundMe.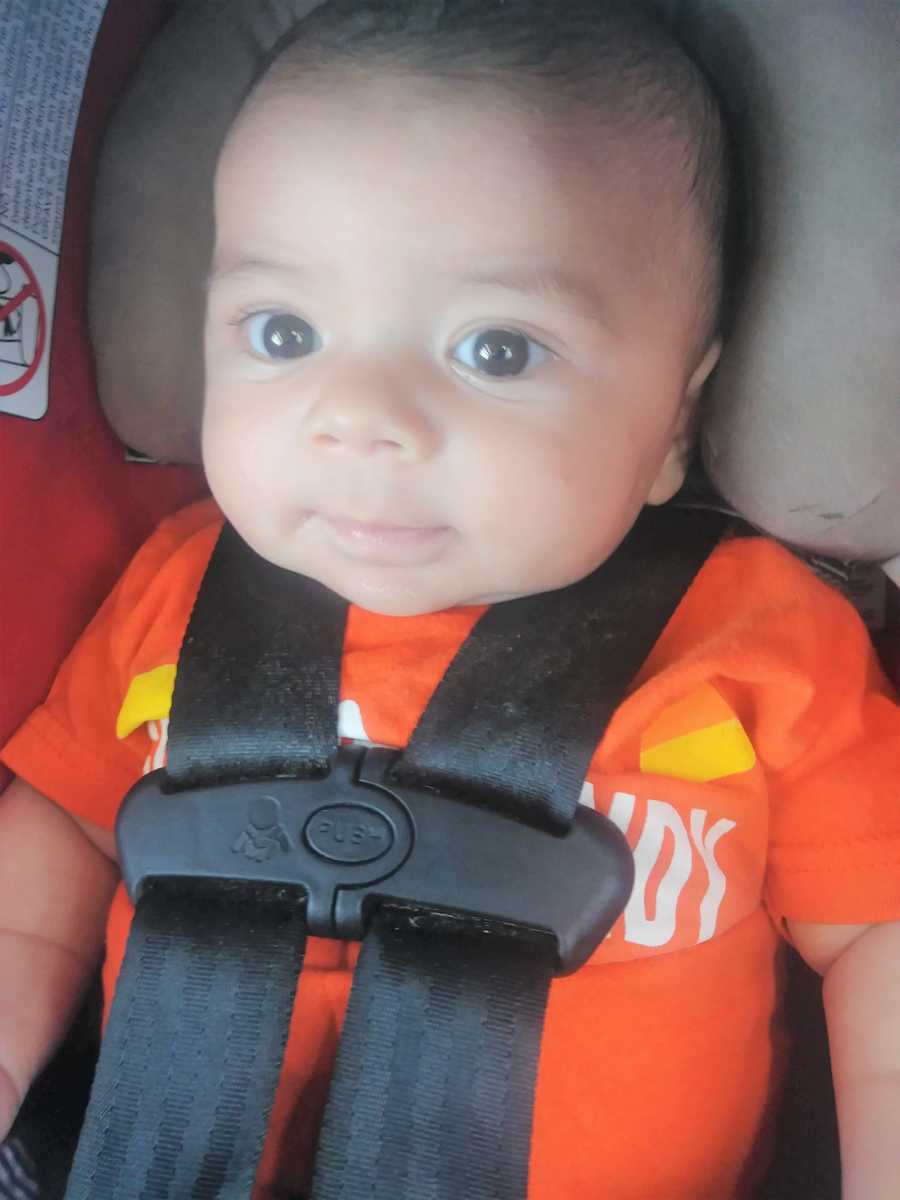 It's been a tough two years, but I'm stronger than ever and forever will be for the kids. We will forever spread Ivan's memory for as long as I live. To all the moms that went through something similar, you're not alone. We are not perfect, and we can't blame ourselves for others' actions. Every day is different. We will be okay in time if we choose to make the best of it. We have to focus on our mental health.
Just know, angels are watching over us and they will always be in our hearts. Not a day goes by that you are not on their mind. They are very proud of you for staying strong for them."