"Our son died from an opioid overdose in November of 2017. Within weeks, we were immersed in a court case as witnesses and victims. The young man who sold drugs to our son was charged by the District Attorney's office with third-degree murder. The case started after I found a 'bindle' of fentanyl in John's wallet and turned it into the Sheriff's Department. I had no idea what it was or how deadly it could be. The case took 14 months. I asked a lot of questions, but they weren't focused on how John became addicted to opioids, instead it was all related to his death because of opioids.
Recently, we were asked to provide information on his medical journey for a class-action lawsuit against the pharmaceutical companies. It isn't an avenue I had considered pursuing after the previous case, but we feel it is important to be part of the change, to do what we can to save lives from this epidemic that is stealing our children. I was devasted by the story those papers told.
We knew John was injured while playing club hockey while stationed on a base in Alaska. John was in the Army, and hockey was a favorite past time for him and some of his friends on base. I was naïve about drugs, and as it turns out, even more naïve about thinking the powers that had control over his life while he was serving our country were using their best judgment and the utmost caution and care.
John was hit in the groin by a slap shot. It caused nerve damage and tremendous pain. He was told he would be taken to a specialist, but somehow that never happened.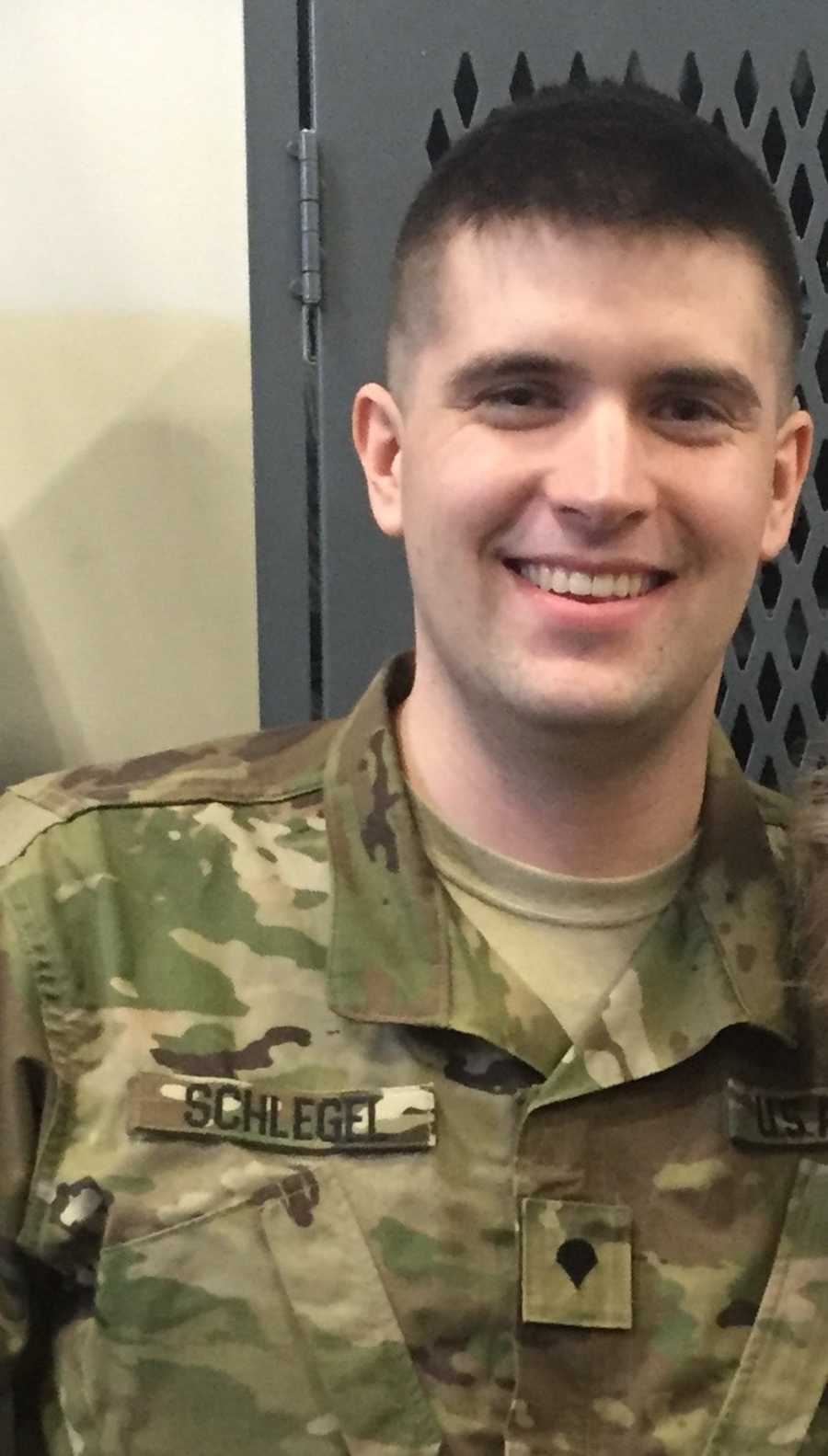 What did happen was he was sent home with an ice pack and a bottle of pain killers. I've come to understand pain killers are synthetic heroin. They are highly addictive, especially to a young brain, changing its very chemistry. I also learned how hard it is to get off the medication, hearing the word 'inhumane' to describe the withdrawal process. It causes extreme pain, often in the back, forceful vomiting, diarrhea, cramping, depression, anxiety, sweating, fever, hypertension, agitation, and much, much more. It's so easy to get on the medications and so very hard to get off. I wonder when he knew he was in trouble.
What I've realized by meticulously reading over his medical reports is he was given enough opioids to dull his pain over that next year. When the military has control over your child, you are irrelevant. How I wish I was given the opportunity to oversee his care and get him immediate medical attention from a specialist, to ask questions and advocate for him. He was 22 years old and 3,250 miles away from home. He was trained to never question his superiors and learned quickly that 'travel orders' can get tossed into a garbage can.
I saw this mentality firsthand when I accompanied John to a nearby recruiting office to ask about having his vehicle transported to his base in Alaska. He was on leave after boot camp, an unofficial visit that turned into a nightmare and an apparent 'lesson' from the ranking officer. He embarrassed us both, insisting I accompany John into his office and proceeded to yell at us both. I have never had anyone speak to me in such a disrespectful and foul-mouthed way. He ranted and raved. He yelled at me for making a call to inquire instead of John, who I explained was driving. I lost count of the number of F-bombs that were dropped during that 'dressing down,' and after I got over the shock of being yelled at and sworn at, I proceeded to take John's lead and just shut up and take it. I'd like to think that was an anomaly, as all of his military friends are incredibly respectful.
John was mortified anyone representing the United States military would speak to his mother with that type of language and tone. After boot camp, he was used to be yelled at but to speak to a civilian in that manner he said, 'just wasn't right'. He was humiliated, as was I. He apologized for putting me in that situation. He was supposed to take care of his own problems, but I wonder how capable he could have been after his injury and in chronic pain. Could he advocate for himself? He never got that appointment with a specialist in Anchorage, although the medical records ask for it and I've seen 'travel papers' in his documents.
By the time he was home again on leave and I was made aware of the extent of his injury, several months had already passed. Had he been seen right away, is there is a chance he could have been helped? We brought him to a specialist on that trip home and after his honorable discharge, we found a doctor at the University of Minnesota who performed a successful surgery called a Spermatic Cord Denervation–with no help from the military. In fact, it would take us a year to get him seen by a care team at the VA.
Doctors are told how to prescribe opioids for pain, but there is no model for weaning people off. What started as a hockey accident eventually led to full-blown addiction and death–one of 420 deaths in our state that year. In fact, more Americans died from an overdose in 2017 alone than died in the entire Vietnam War.
John has become a mere statistic in a war we are losing. It says, 'Persian Gulf' era on his military grave plaque, even though he was not deployed, but it should say 'War on Opioids.' There was no 'Gold Star' designation for this family. Our son didn't die serving his country. He died from the aftereffects of being treated into addiction while serving his country. He died alone. Not on a battlefield, but in his childhood bedroom."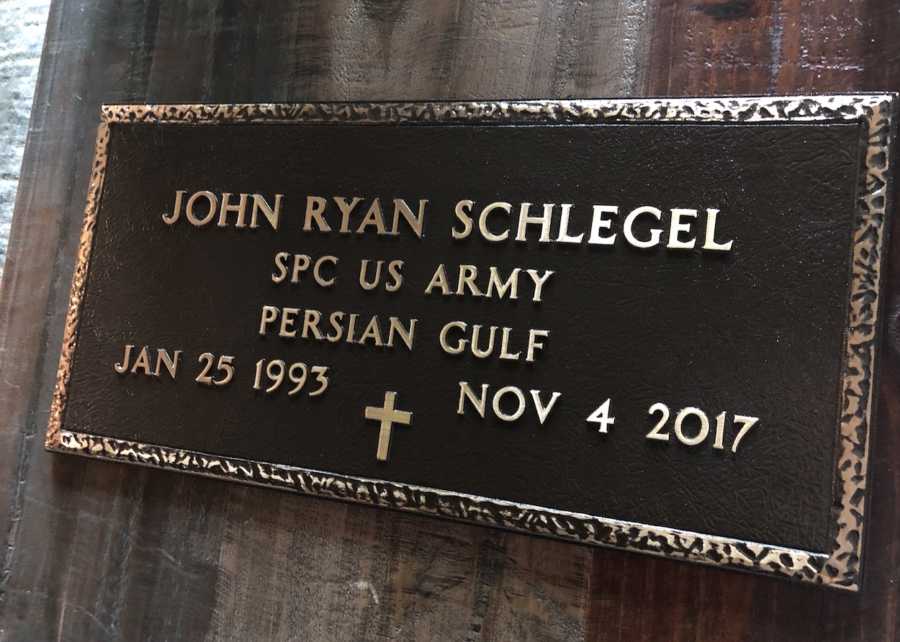 This story was submitted to Love What Matters by Kristin Schlegel of The Portal: Portal-ity Thoughts. Follow her journey on Instagram here and her website here.  Do you have a similar experience? We'd like to hear your important journey. Submit your own story here. Be sure to subscribe to our free email newsletter for our best stories, and YouTube for our best videos.
Read more from Kristin here: 
'Telling her 'he is gone' was the hardest thing I've ever had to do. She has no siblings anymore. Just a big pile of heartache.': Mom has to tell daughter her brother is dead due to opioid crisis
'It's day 721 of not seeing you. You aren't something we can pack up, put in a box and label with a Sharpie. You are our son.': Mom's grief journey after losing military son, 'I miss you'
'You died while we were sleeping. We were merely a few feet down the hall. When we woke to the puppy crying, you were ice cold.': Mom loses military son to fentanyl overdose, 'I had no idea how hard it was for you'
Do you know someone who could benefit from reading this? SHARE this story on Facebook with family and friends.