Mom Anna Davis is living any parent's worst nightmare. Her precious son Alby died  from choking on a bouncy ball that was to be included in his party favors for his upcoming 4th birthday. 
"The ball became stuck in his windpipe, preventing his ability to breathe, and in a matter of seconds, despite his mama's frantic attempts to save him, he passed away in her arms," the GoFundMe page set up in his honor explains.
Today would have been Alby's 4th birthday. Davis painstakingly took to Instagram to write a tribute in his honor celebrating her son's "fourth sunshine journey."
"Darling Alby,
Today, despite the fact you are no longer with us, we celebrate and honour your fourth sunshine journey.
Your daddy and I visited you this morning, holding your hands and stroking your hair, for what I wish could have been an eternity. We placed your much-longed for gift – a waterproof watch with a light – around your tiny little wrist, and tried not to shower you with too many tears as we painted your fingernails with your favorite gold glitter polish. Time spent with you is never enough and leaving without you by our side, summons the most unbearable pain we've ever had to endure.
Our arms are yearning for the thousands of cuddles yet to be given, our ears are longing for your laughter to once again resound through the walls of our home, and our hearts are shattered for the millions of memories we'll never have the chance to create.
We, along with the world, are weeping, but we take solace in the fact that all you ever knew, in your almost-four-years, was nothing but love. We are eternally grateful for the abundant light you brought to our lives and now know that your purpose was so much higher than any of us ever anticipated.
Happy birthday sweetheart. We miss you endlessly."
Davis first shared the news of her son's passing on Instagram.
"Yesterday afternoon, our beautiful, beautiful Alby, our darling baby boy, grew wings and flew from this earth," she wrote. "Minutes pass like hours and the gaping hole in our lives and hearts is completely incomprehensible. We adore you beyond belief, our sweet little fox. Forever three, forever free."
She explained that her sweet son had taken his last breaths on Monday afternoon, in her arms, exactly 40 minutes after this photo was taken of him.
Davis wrote that she performed CPR on Alby for "16 excruciating minutes until paramedics arrived," adding that she was only three feet from him when the incident occurred.
"The ball was larger than the 50 cent piece/film canister size-recommendation for toys given to young children, and the ball packaging states 'not for children under three years' – being only a few days away from turning 4, Alby was almost one year older than this advice," she explained on Instagram, providing photos to show the size difference in the bouncy ball and the coin.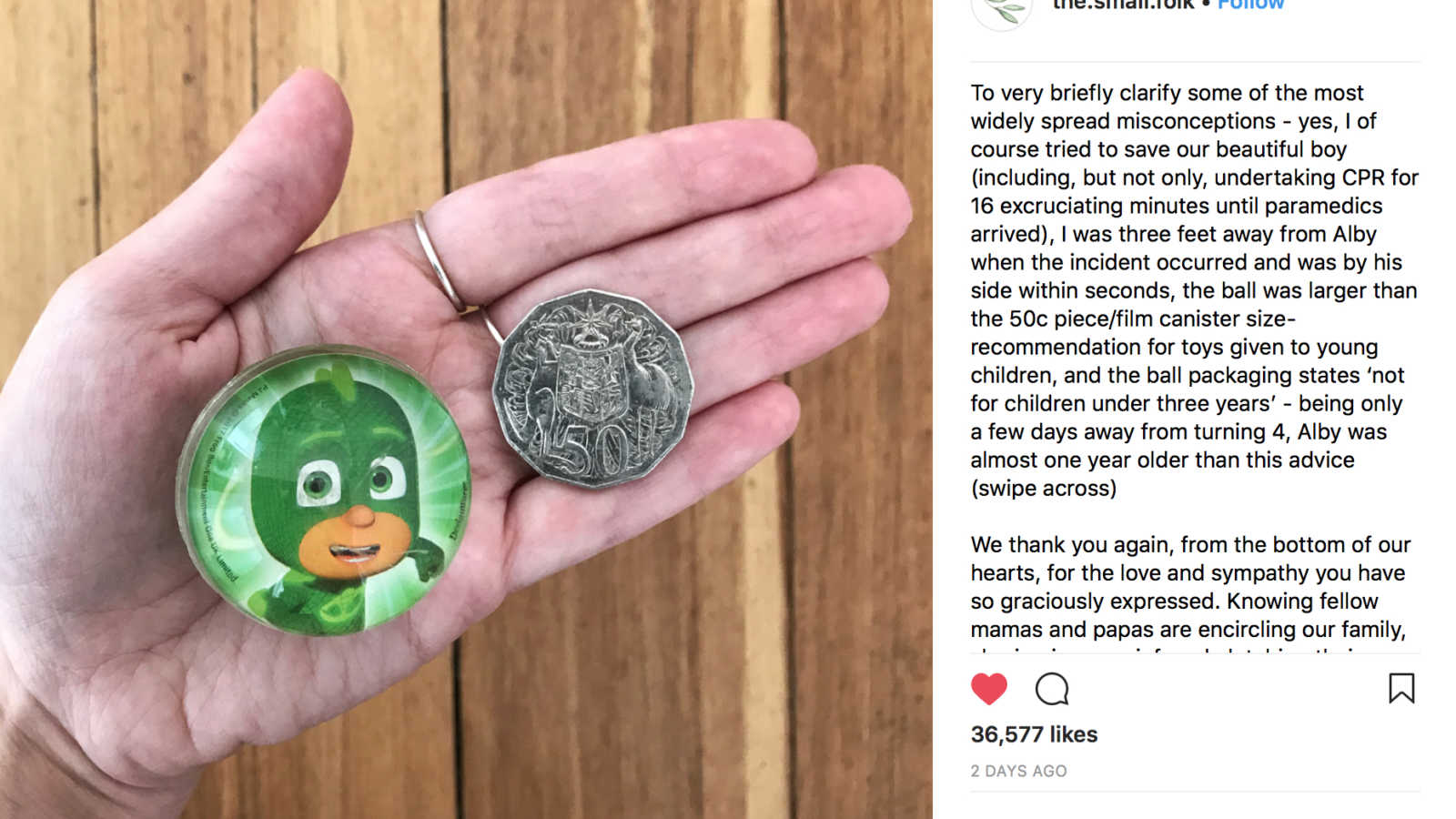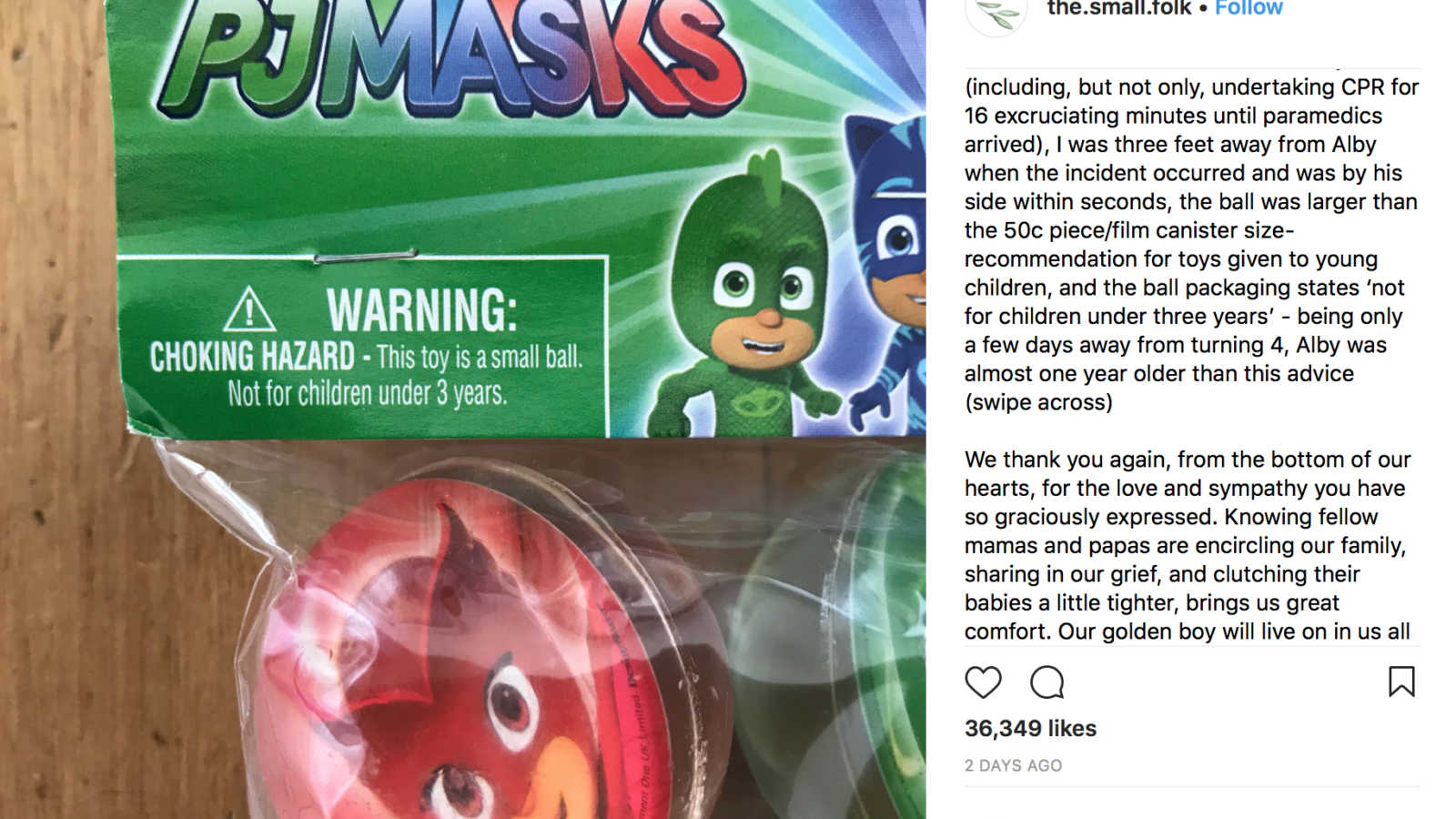 The news of Alby's untimely passing from choking on a bouncy ball is serving as a warning to other parents who could find themselves in similar situations.
Please SHARE this story on Facebook to encourage other parents to be aware of potential risks around the home.
Mom's desperate plea for CPR awareness: 'I hope you read this with a racing heart'