"Yesterday, I took my boys to a new splash pad here in town. Most of the moms were gathered around the outside, looking on and staying high and dry. Occasionally, one would hop in to help their kid out, or to tell them to stop running, or to give them a ten minute warning; but for the most part everything was semi-uniformed: kids playing and moms watching, guarding the snacks and the flip flops.
Except this one mom.
She was in there, in-it-to-win-it style. She was soaking wet, going down the water slide, laughing with her kids on her lap. She was having so much fun.
She didn't care that her jean shorts were going to be miserable on the ride home. She didn't care that black mascara was streaming down her face. She didn't care that her white shirt was stuck to her like shellac on fingernails.
She didn't care that she was definitely going to have to wash her hair later that evening even though it was going to totally destroy her weekly routine. She didn't care that she was the only adult in there.
She didn't care, and neither did her kids. They adored her.
I found myself smiling away, so incredibly envious of her. I want to enjoy my kids, my life unencumbered that way—wild and free and not giving a rip. I want to soak up the waves from the kiddie pool and these few, fleeting moments of summer that way. We only get 18 of them with our kids. 18. That's it.
And I realized, there were only three little things stopping me, standing in-between me and the mom I want to be: 1. the desire to be comfortable, 2. the need to conform to social norms, and 3. stupid, nasty fear.
Fear of people looking at me, fear of tripping over my clumsy feet and falling flat on my face, fear of what other people will think about me, fear that if I really put myself out there, everyone will notice I'm 10 lbs overweight, I didn't shave my legs, and my butt jiggles like a handful of homemade slime every time I run.
Do you know what's holding you back from living your freest life? From getting out there and truly enjoying your kids? From getting good and messy? From having fun? From laughing so hard tea comes out your nose?
It's not a lack of money. It's not a lack of personality. It's not a lack opportunity.
It's you.
You, and that silly need to care what everybody else thinks about you.
You're your own roadblock. You're your own handcuffs. You're your own prison guard. You're your own lifeguard blowing the whistle, telling you to slow down.
Stop complaining. Stop wasting your life. Get out of your own way. Shove fear deep into the pockets of your favorite comfy dress.
Stop worrying so much and just have some stinking fun. Life was made for fun, and that shouldn't stop just because we got old and starting getting bills, and sprouting weird chin hairs, and having to work really hard to sit criss-cross-applesauce.
You won't find the magic you're looking for in life until you decide to jump in head first and just go for it all the way: eat the cupcake, shake your groove thing, go down the kiddie water slide in your full set of normal clothes like a true boss, and maybe, just maybe, a little more like a child.
Nobody else can do it for you, so you've gotta decide to do it for yourself."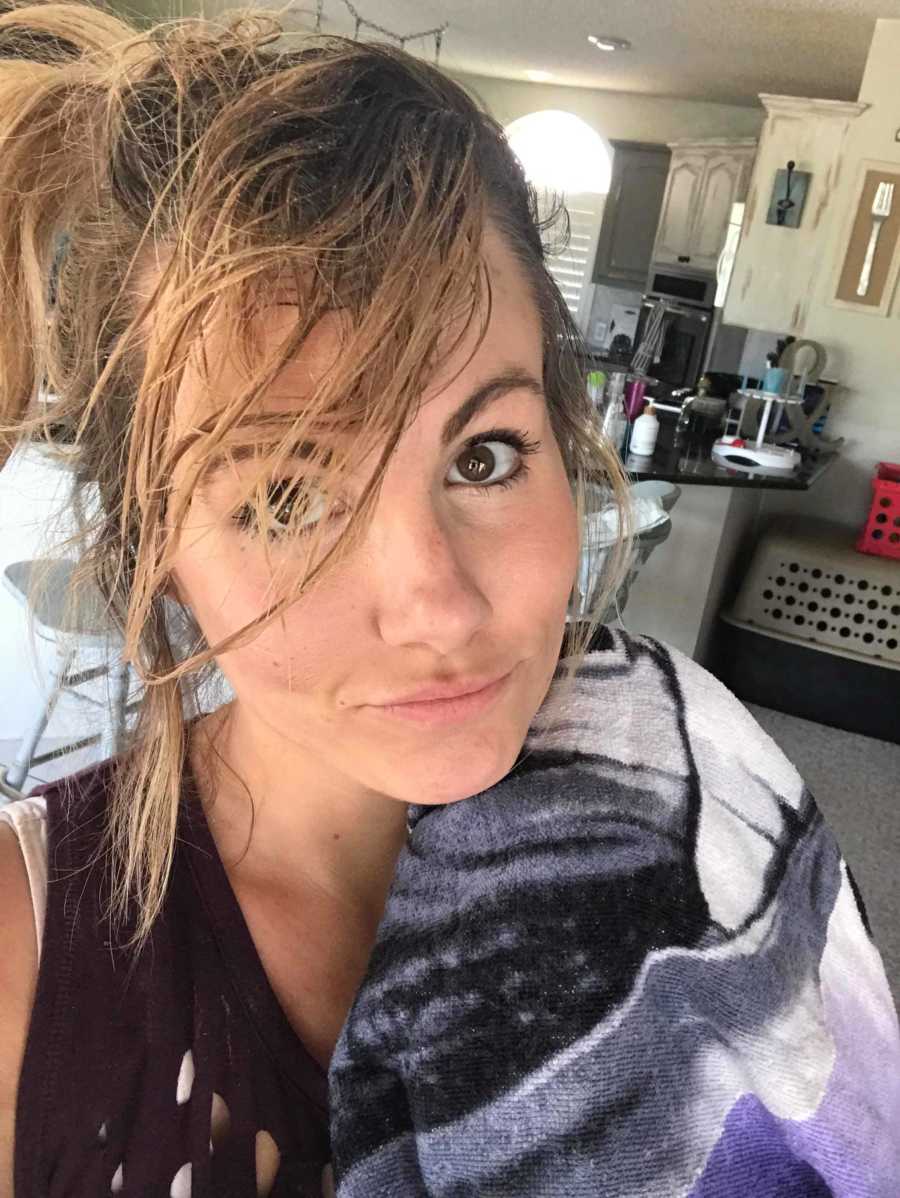 This story was submitted to Love What Matters by Amy Weatherly. You can follow her journey on Facebook. Subscribe to our free email newsletter, Living Better—your ultimate guide for actionable insights, evidence backed advice, and captivating personal stories, propelling you forward to living a more fulfilling life.
Provide beauty and strength for other moms. SHARE this story on Facebook with your friends and family.