Disclaimer: This story contains details of neglect, abuse. 
"Growing up, I had your 'normal' two-parent household. I played sports, I hung out with friends to keep my mind off of the stressors at home—normal teenage 'stuff.' However, my home life was rather strenuous. I began working at my town's local Dairy Queen at the age of fifteen to support my family—to keep the electricity on, help with other monthly utility bills, etc. I offered friends and neighbors money for a ride to work, or I would get dropped off early and hang out at my workplace until I could clock in.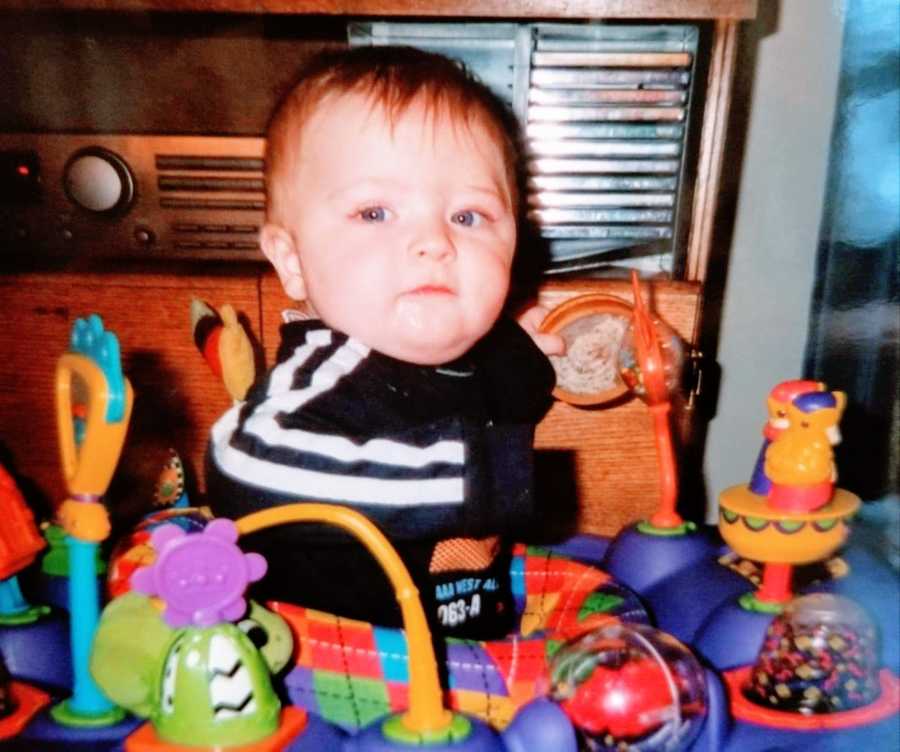 My twin siblings were born in 2004. They were five years old when I began working to ensure they always had what they needed. I worked almost every day throughout the week after school, and the weekends I would work double shifts. If I was not scheduled, I would call my manager to let her know if there was a call off, I would be there to fill in. When I would go to work, I was in constant worry if my twin siblings were being watched in my absence. I would call the neighbors and let them know I was not going to be home. You may be thinking, 'Why did she do that?' Unfortunately, both of my parents were addicted to illicit substances, and often times would sleep for many hours at a time. My little brother was diagnosed with autism at the age of three years old. He would abscond from the house in my absence, to where we would have to call 911 to help find him. I was in constant distress.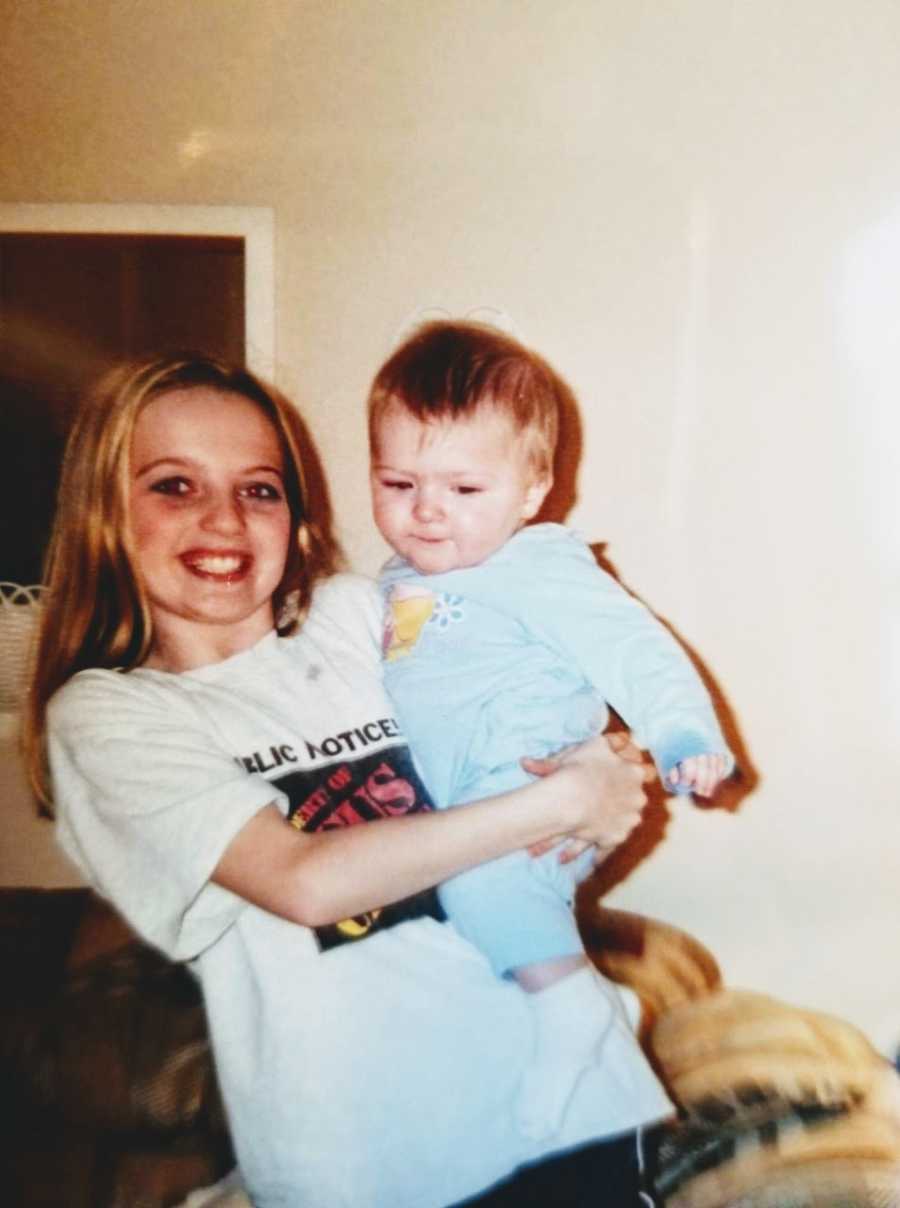 Many Child Protective Service cases arose throughout my childhood. We were removed from the home many times. Neighbors who were concerned would call, and my friends' parents knew something just wasn't right. However, my parents would worry me that we would all be split up if I were to answer Child Protective Service workers' questions. Therefore, I would decline or be very vague in my answers. This resulted in many closed cases. (Thank you for trying.) Fast forward to when I was 16-17 years old. I was approaching senior year and was working at the local Burger King for the morning breakfast run, then going to school, and then heading to my second job at Dairy Queen to finish my day. I had to make more money.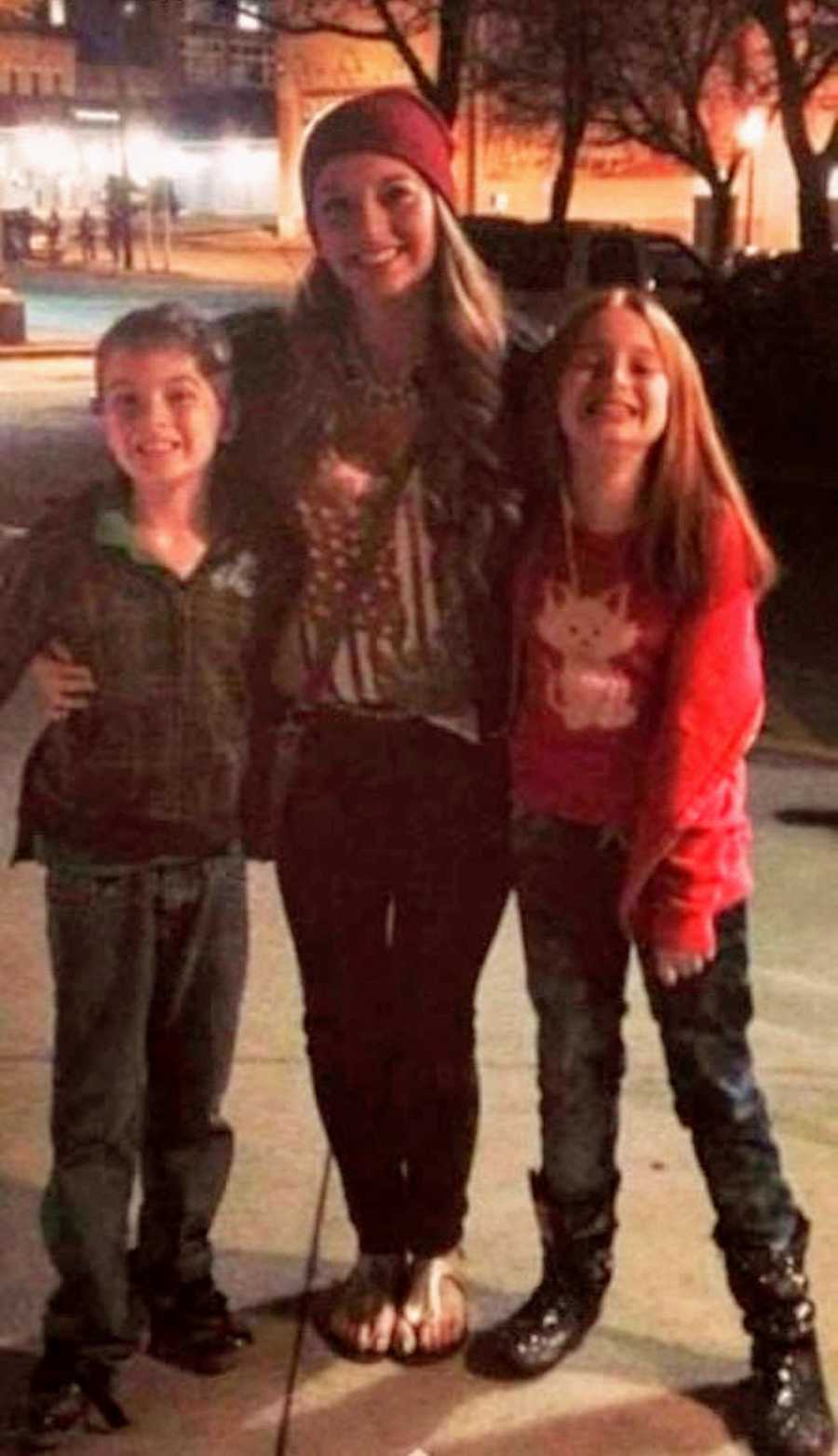 My senior year, my biological dad had a heart attack and a stroke simultaneously. This medical condition resulted in a long period of time in the hospital in Charleston, WV. Therefore, we moved to Belle, WV in October 2011. The move was abrupt, within a few days, to be closer to him during this time. My family who lived in the area was able to find a single-family home for us. Although my dad survived this, he became paraplegic. I left my two jobs and moved to Belle, WV searching for employment, so we did not fall behind. My dad was in and out of the hospital for several months. Once we moved, my parents were relieved we no longer had to worry about CPS. I felt some relief.
This relief was short-lived, as CPS entered our lives again at our new home location due to my little brother escaping the house while I was at work. My parents were once again failing to protect him and my little sister. My dad was in and out of the hospital and my mother began to feel overwhelmed. I came home from work one night to ambulance lights and police sirens. I walked into my home to find out my dad was being admitted back into the hospital. I overheard my mother say, 'This time when you admit him, do not send him home.' At this time, I was unaware of what she meant. She put my twin siblings in the car and told me she was following the ambulance to the hospital. Several hours went by, and I did not hear from my mother. I went to bed that night and awaited to go to school in the morning.
Several days went by and I did not hear from my mother. I got a call the third day, where she updated me on my dad's condition and stated she was staying at her friend's house with my siblings to be closer to the hospital. I asked when she was coming home and got no answer. Another few days went by and I never heard from her. My dad began to call me and stated my mother had not been to the hospital in several days. I found out a few months later my mother had taken the kids and moved in with an ex boyfriend from 20 years prior. I was abandoned. Fast forward to three months later—March 2012. I had just a few short weeks of my senior year left. I would get rides to the hospital to see my dad, and neither one of us heard from my mother for months. We remained worried about the safety of my siblings. My dad remained in the hospital and I lived alone in the house in Belle, WV. I was only 17 at the time.
One day, the landlord knocked on the door and stated he had not received payment in several months, and my mother kept just in enough touch with him for it to go unnoticed that she left me there alone. My landlord was forced to make me vacate, because I was a minor. My grandparents took me in my last weeks of high school to ensure I was not taken into CPS custody…again. Once I moved in with my grandparents, I began to feel less stress my last few weeks of high school. I wanted to graduate and maybe find a place so I could finally bring my dad home. However, my dad insisted he go into a nursing home and I go to college. College? Me? This was something I hadn't even considered my last few weeks as a high school senior. All of my new friends had their acceptance letters and senior photos, and I was just trying to make it through the day.
I made it to high school graduation with only my grandparents in the audience. How I would have loved to see my mother and my siblings there, to ensure them I could take care of them. Although I had my doubts, I pursued taking my college entrance exams per my dad's request. I passed and was accepted to Marshall University. My freshman year at Marshall, I got a call from the nursing home. My dad was not going to make it through the night. With the help of great friends, I made it there to say my goodbyes to him.
Me: 'I love you dad, rest easy. I will take it from here.'
My dad, in his suffering breaths: 'I love you too, Mal…finish school and take care of your siblings.'
Me: 'I promise.'
A few years went by until I heard from my siblings again. I was 19/20 years old, and my sister was 10 and old enough to use the computer now. She found me on Facebook and updated me on her living conditions. Deplorable. There was an open CPS case at the time. I attempted to reach out to my mother to help. My mother declined and did not want me to come around. I pursued my bachelor's in criminal justice and psychology while working full-time. I rented a three-bedroom house in my college town, just in case I ever got the call to take in my siblings. I kept in touch with my little sister as much as possible and took care of her mentally the best I could, since I could not be there physically.
Upon graduation of my bachelor's degree, I moved to Charleston, WV. I did not know exactly where my siblings lived. However, their guardian at the time brought them to my college graduation. When I moved, I knew I was close by, due to my little sister's subtle hints. I continued to wait for the day I was needed to step up and take care of them. March 2018 was that time. The time had come for me to step in and do something about the poor conditions my siblings were living in. My mother had once again lost custody, and my siblings were moved around three times. I was 23 at the time, with a good job, and a good head on my shoulders. It was time do what I promised my dad I would do.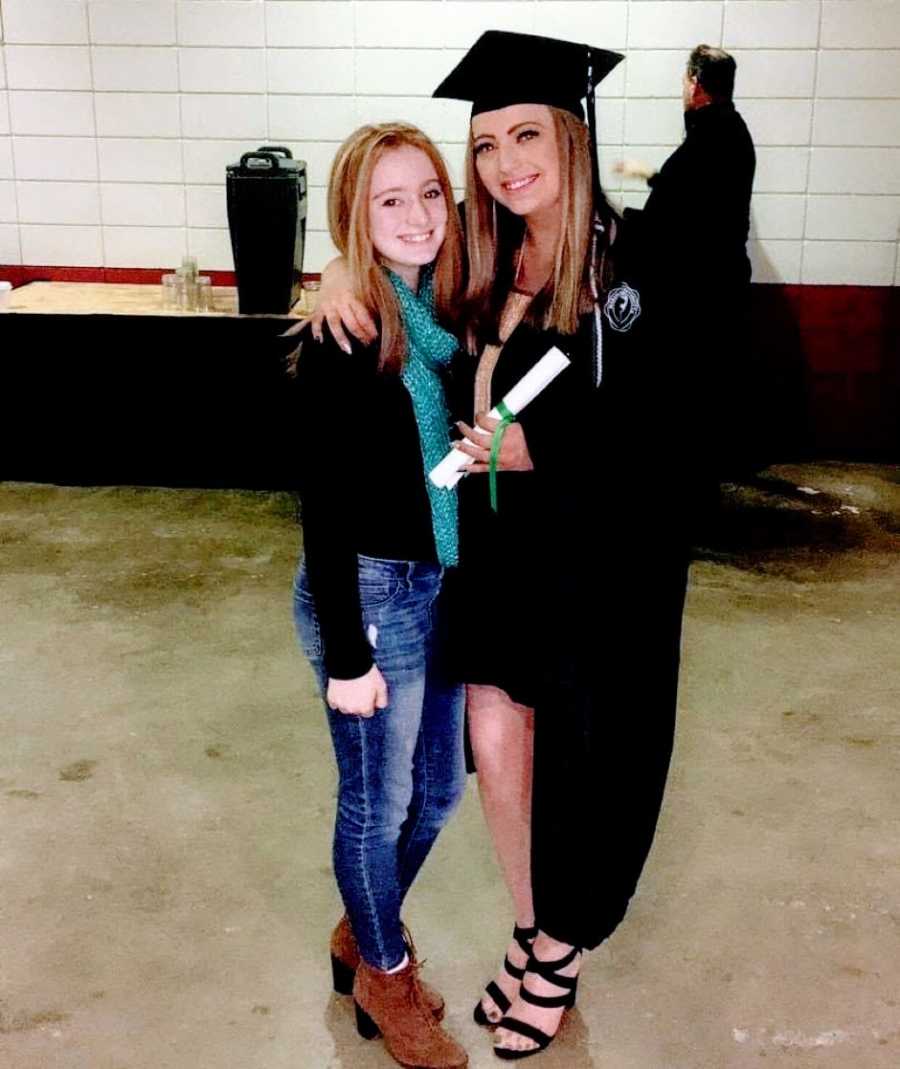 My little sister called me from the mall, stating she was alone and needed me to come pick her up. I rushed to the mall, where she gave me explicit details on the conditions they were living in. It was all too familiar. I had to do something. I went to the courthouse immediately and filed a protection order to protect my siblings and myself. It was granted on the spot, but now I just needed to find my brother, who, to repeat, was diagnosed with autism and was nonverbal at the time. My mother ran with my little brother for 10 days until the court date. She was unable to be located. My mother was instructed at the court date to bring my little brother to me immediately with the escort of an officer.
Once I had them both in my custody, I was absolutely disgusted of their condition. Both siblings had over 10 cavities, poor hygiene, not to mention the mental abuse occurring on top of the alleged physical abuse. I was horrified, yet relieved I finally had them. I took them back to my apartment and tucked them into bed. I reassured them they were safe. I stayed up the remainder of the night to find us somewhere bigger to live than my one-bedroom apartment with my dog. I was scared. I will admit it. I went from being responsible for one puppy in the morning to being the sole provider of two 13-year-olds by night. But I was ready. This is what I had been waiting for.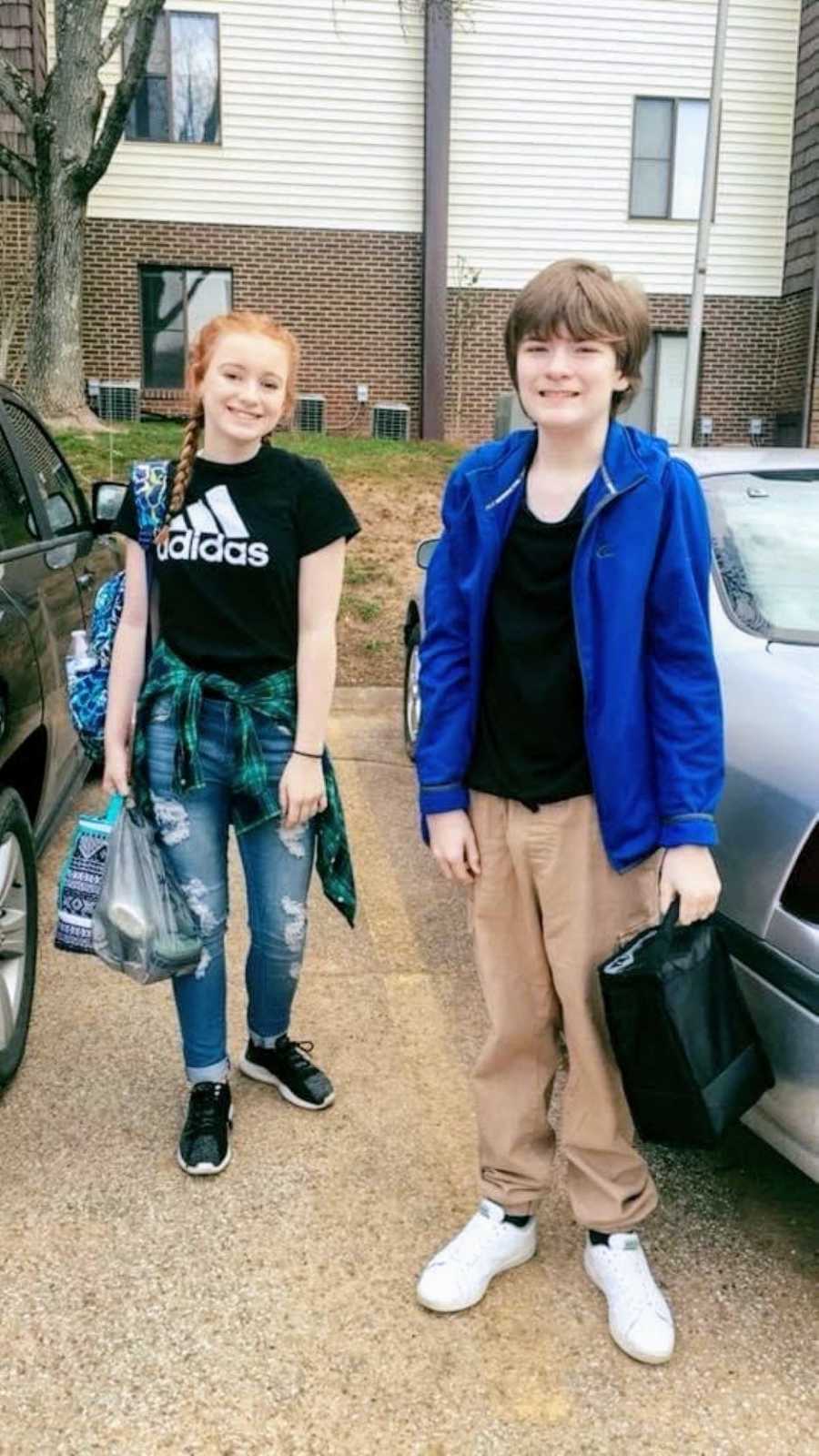 The next day, I get a call from the new CPS worker. This was familiar to me. I could not wait to get through the process to prove I was the best option for the kids. Due to my age, I had to prove to them I was able to provide for them. At this time, I was also pursuing my master's degree. The guardianship process was a stressful one. I endured many home visits, several court dates, many rescheduled court dates, and a significant amount of conflict. There were many times I simply felt defeated, and like it was never going to be permanent. My little sister developed behavioral issues due to all of the trauma and lack of feeling any type of 'permanency.' We took the proper therapeutic steps and continued to work on coping skills as situations arose.
It was my responsibility to ensure my siblings were getting the proper services they needed. The first year, I took my siblings to a school out of our jurisdiction so I did not interrupt their routine. This was especially important for my little brother. I was lucky my employer was understanding of my situation and allowed me to be late here and there without reprimand. The next school year came, and I had to place my siblings in two separate schools due to my little brother's diagnosis. It was a constant battle with the school system to abide by the terms set in his education plan (IEP). We were still going through the CPS court processes, therefore, they were reluctant to make the changes in fear the children may possibly go back to their mother.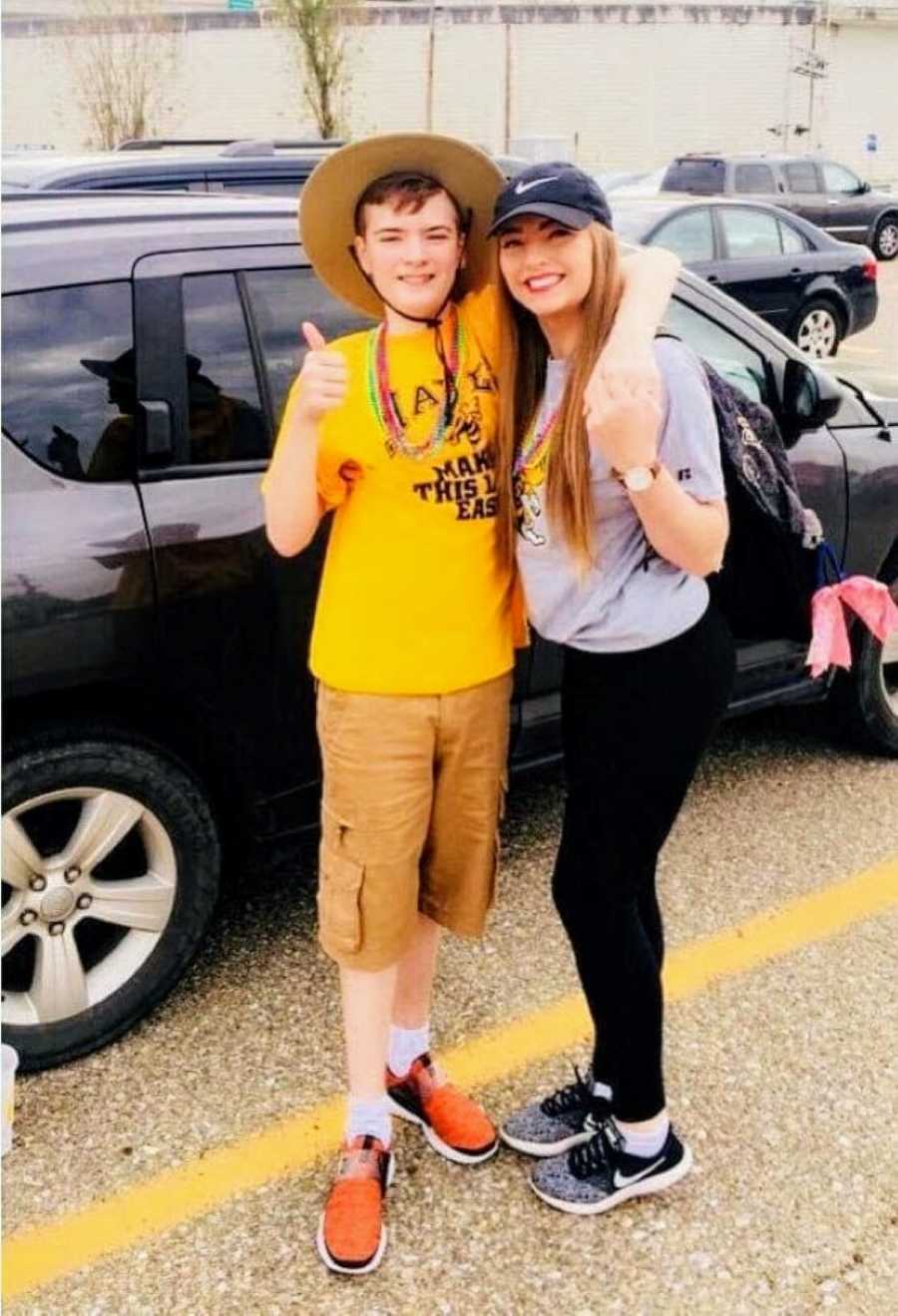 Two years went by in the court process and then I was at my final court date. I never told the kids when I had a court due, so they didn't fear the possibility of going back to their previous conditions. I bore it so they didn't have to. The final guardianship papers were signed and completed. I was free. I went home and told my siblings the good news: 'You're officially safe with me!' We cried, we smiled, we laughed. And we started packing. I promised them once it was all over, we would pack up and get out of there. We packed our bags and moved to Louisiana, with my now-husband.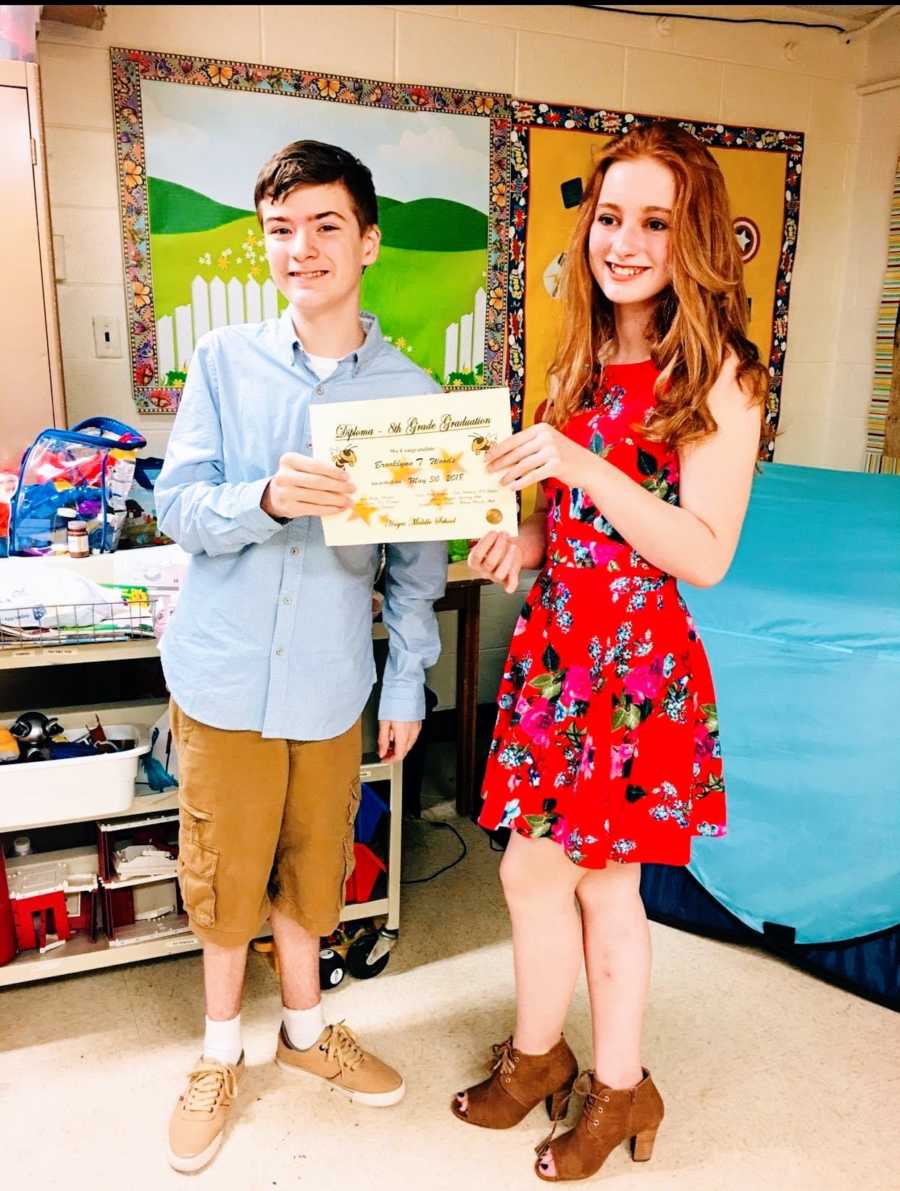 I am now married to a man who serves in the United States Army. I know you are thinking, 'How in the world did you find time for love in the middle of all of this?' Well, I rekindled with a boy from high school who was there for me throughout this entire process. He loves my siblings like they are our own. I will spare you those details. One day we will extend our family, but right now we are content with these kids and our three dogs. We are approaching three years now with custody of my twin siblings. I am currently pursuing my doctorate degree in criminal justice. Someone like me, who never planned to go to college, now has been going for eight years to continue to best provide for her family.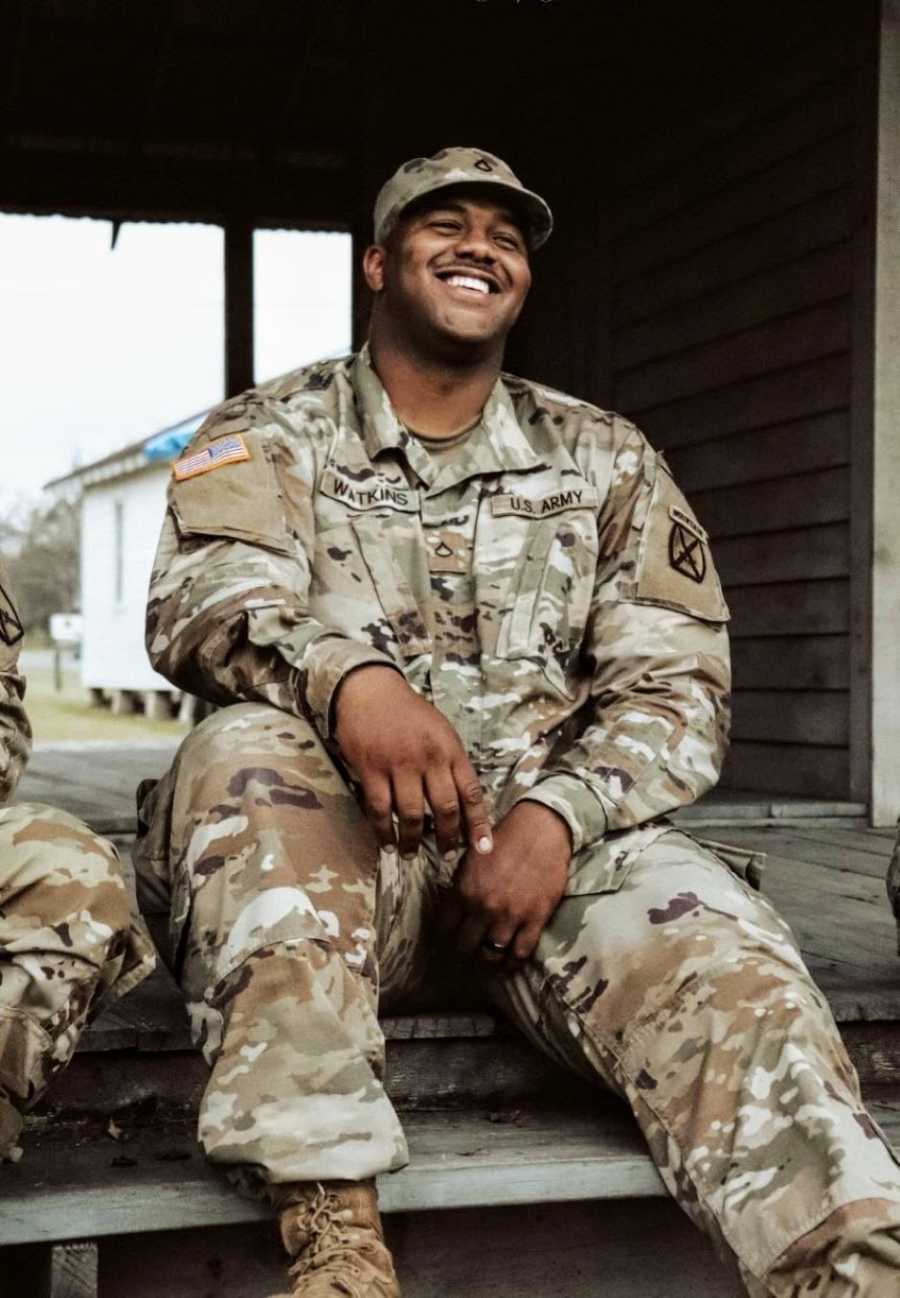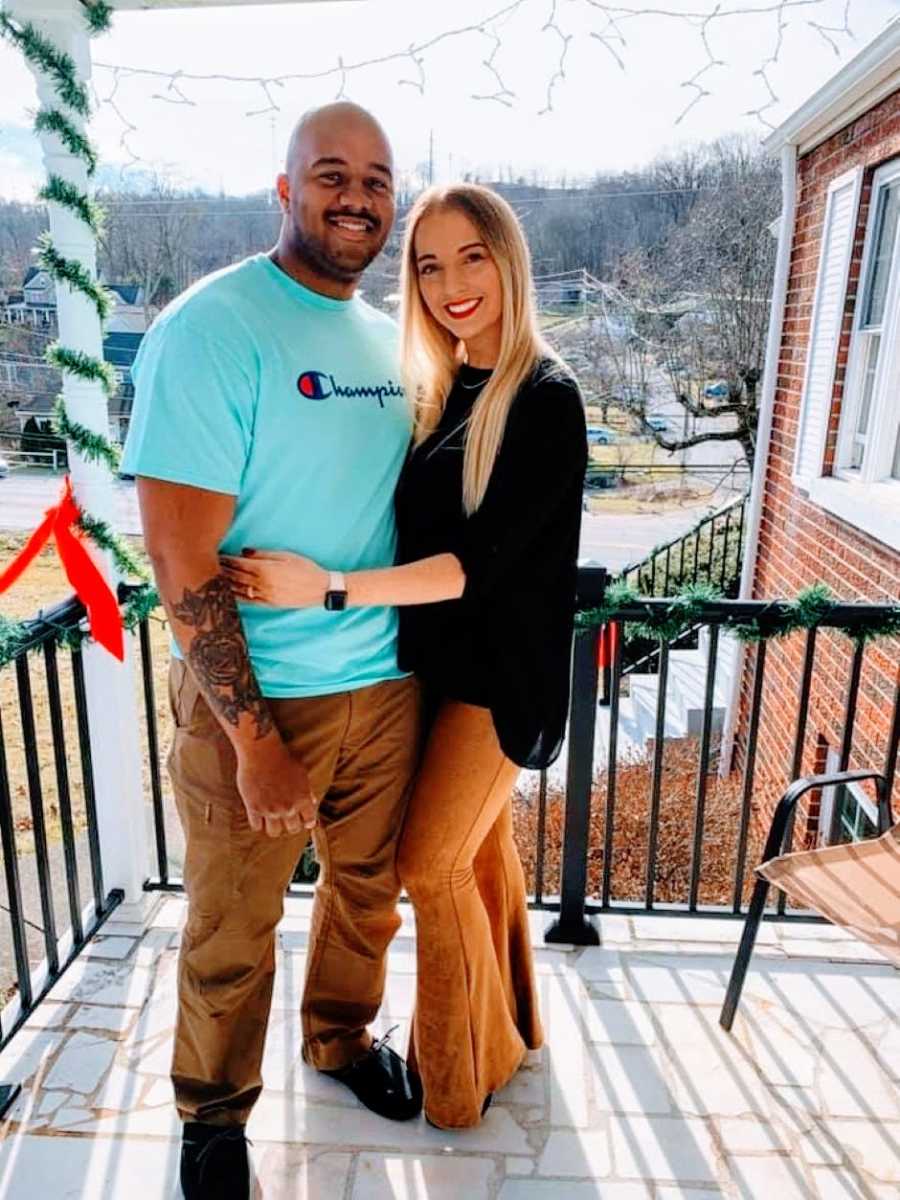 Additionally, I started a photography business this year. I plan to continue to teach my little brother work-related skills, in hopes this will help increase his independence. For a child who was nonverbal, you will see now he is the life of the party. The stress of the guardianship process was very difficult. I felt as though I had to always prove myself to someone, and it was very overwhelming. I knew in my heart I was making the right choices. My husband was several thousand miles away, but his listening ear was truly the only support I had to make it through.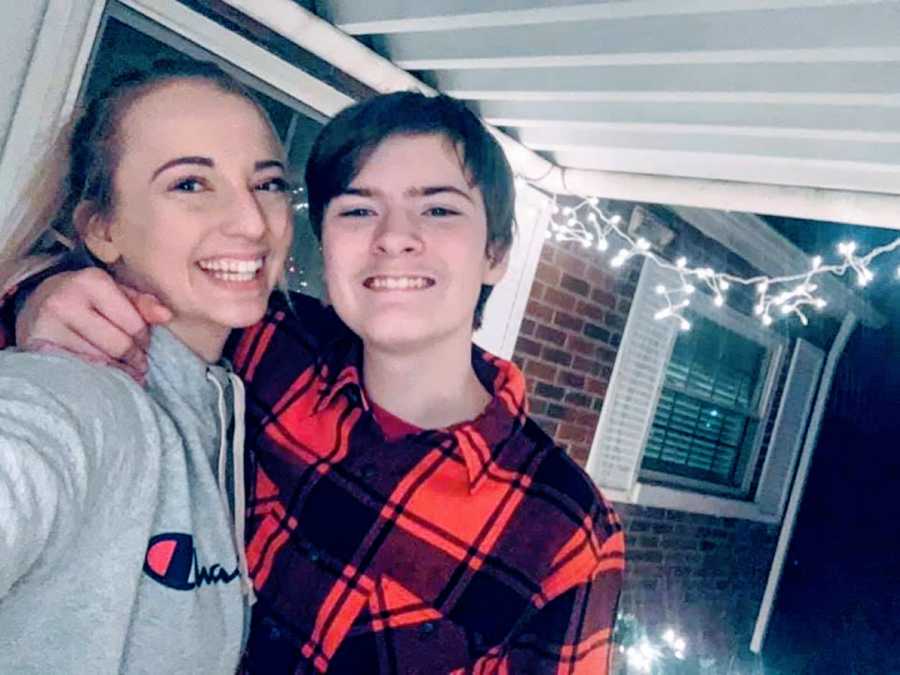 I am now 26 years old. My siblings are 16 and we are living happily in Louisiana. We are not your normal, traditional family. However, we have a functioning and busy household. We have the resources we need. We have the love we need. We have each other. We made it! If I could provide any advice to anyone going through a similar situation regarding the foster care system, it would be to be patient.
Don't ever regret having a good heart, as much as your decisions may hurt others. You may be let down several times along the way, and I can promise you will feel things deeper than anyone around you. You will lose contact with friends, you will lose trust in family. You may become very guarded. But please, do not lose hope. These kids need us."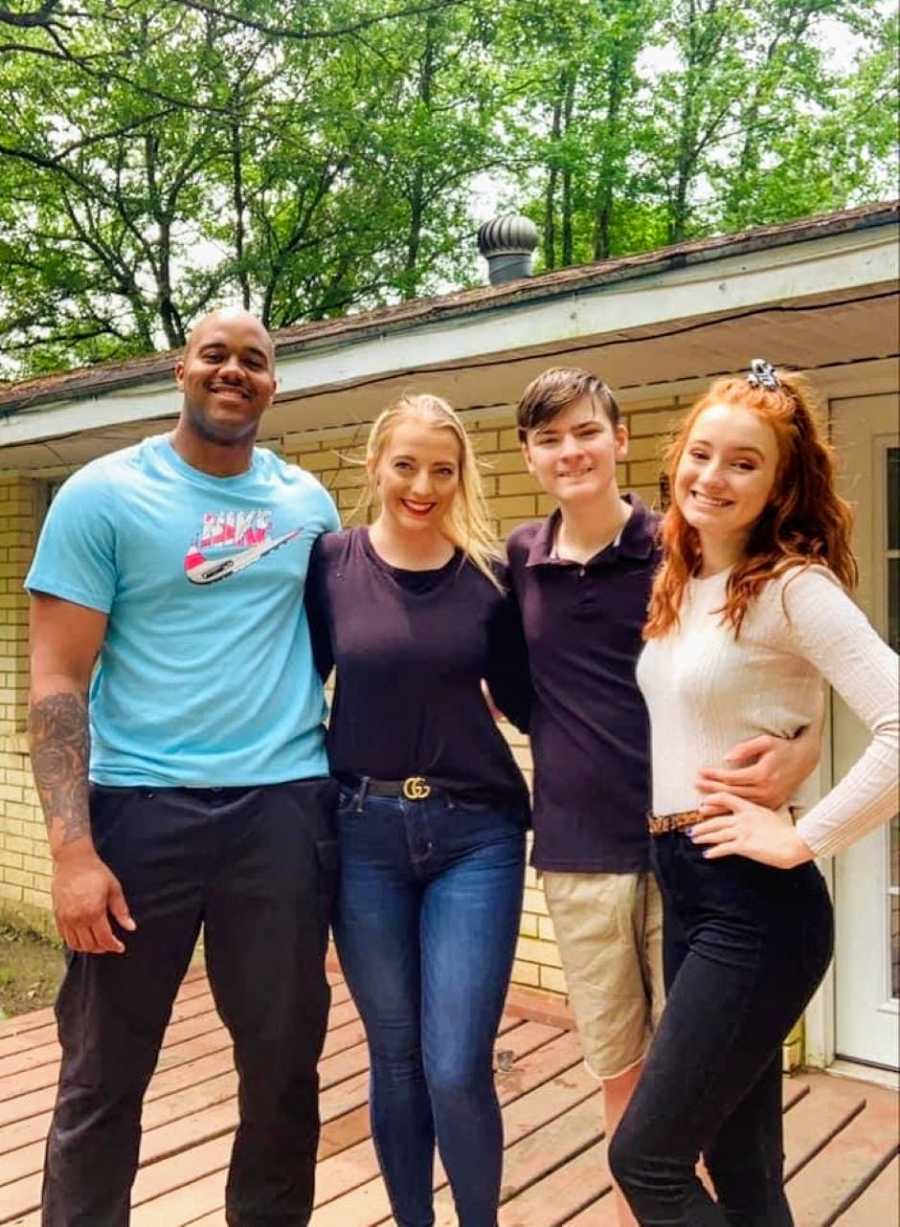 This story was submitted to Love What Matters by Mallory Watkins. Submit your own story here, and be sure to subscribe to our free email newsletter for our best stories, and YouTube for our best videos.
Read more stories like this:
'I don't think any social worker will jump to place a child with a 20-year-old, single male.' I agreed and said, 'I'll be patient.' I checked all the boxes.': Former foster kid becomes adoptive dad to 3 boys, 'Fostering is love'
'I could not do what you do. I'd get too attached.' That's the point. Their need for love and protection is far greater than my need to be protected.': Foster dad urges 'if you have the ability, you have the responsibility'
'At 11, his adoptive parents abandoned him at a hospital, never to return. 'Mr. Peter, can I call you my Dad?' I began to cry uncontrollably.': Single dad adopts 11-year-old boy from foster care after biological, adoptive family abandon him
'My eyes were full of tears for this abused 3-year-old. 'Let's do something.' It was the sexiest thing I ever heard him say.': Family of special needs child adopts siblings from foster care
Provide beauty and strength for others. SHARE this story on Facebook with friends and family.