"On August 12, 2016, my life changed forever. I had been puking blood for days. I could barely stand, and I felt as if I had the worst flu of my life. Stubborn as I am, I thought, 'It will just pass in a day or two.' But little did I know, I was actually in the fight for my life.
Rewind to earlier in the year — Saint Patrick's Day 2016. I was out with my friends to celebrate. When we arrived at the bar, I ran into a beautiful girl named Lauren. As we talked over drinks, it was apparent we had a strong connection. As the weeks went by, we began dating, and planning all kinds of fun activities for our summer together: kayaking, hiking, beach days, and the list goes on.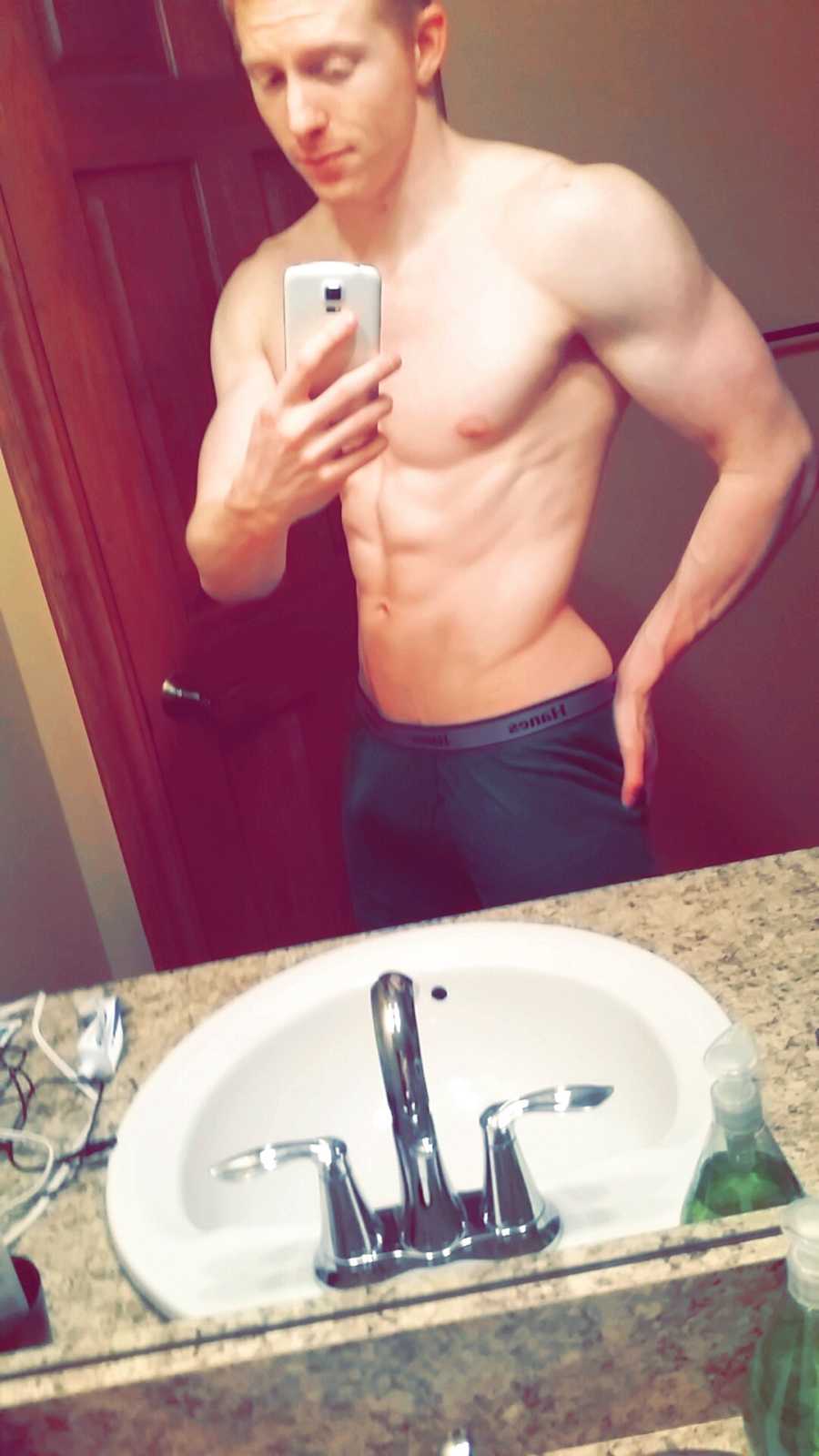 But suddenly, I began to notice minor back pains. Being a personal trainer and always taking great care of my body, I thought it was just from my intense workouts, so I decided to shrug it off, but the pain persisted to the point where standing became difficult. By the time the summer was coming to a close, on August 10, I was with Lauren when I experienced my second symptom — vomiting blood.
A few days later, I am in the hospital room when the doctor sat down grabbed my hand, looked at me calmly, and said, 'Matt, we found an 11-centimeter tumor in your small intestine and we believe it is cancerous. We need to get you to the Cleveland Clinic as soon as possible.'
Immediately, I was glancing over at my teary-eyed parents and assuring them everything was going to be okay. I was in too much shock to even cry or worry about what the next steps would be. However, I found myself more nervous for Lauren to arrive at the hospital, not knowing what the future held for us. We had only been dating for three months, and to place this burden on her didn't seem fair.
Already given the news from my mom, Lauren walked into my room. We locked eyes and enveloped each other in a hug. Even with no words spoken, I knew at that time, God had sent an angel down for me.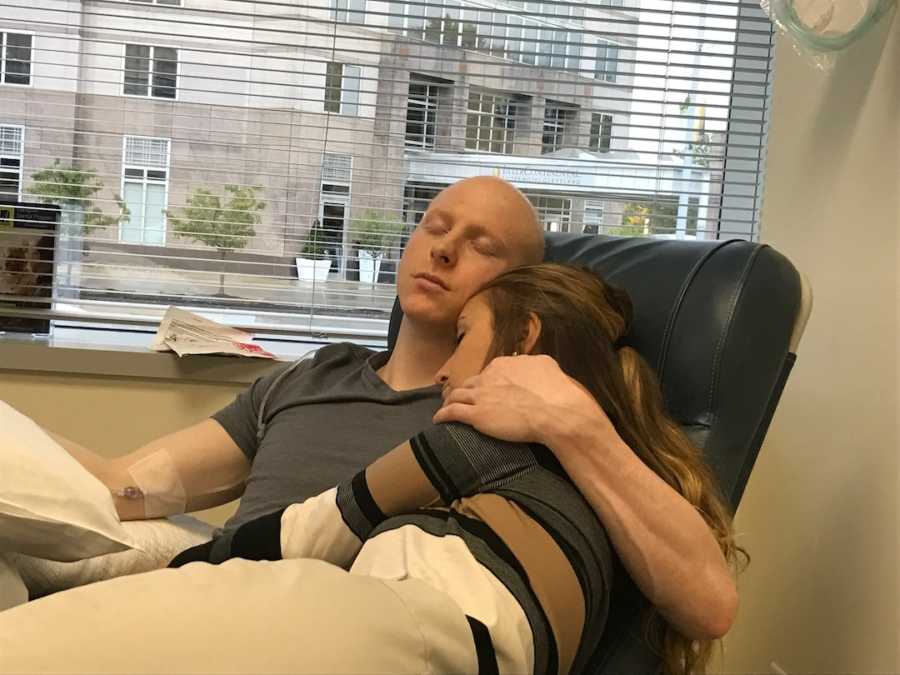 After blood work and multiple tests, I was diagnosed with Stage 3C Testicular cancer the highest stage possible, and would first be treated with chemotherapy to shrink the tumor before removing it with surgery. Since I was young and strong, the doctors felt I could withstand a potent chemo diagnosis. My chemotherapy consisted of five rounds, each three weeks long. Every Monday through Friday of each first week, my body was pumped full of etoposide and 3. Then I had the bleomycin administered for the following two Mondays until the next round began anew.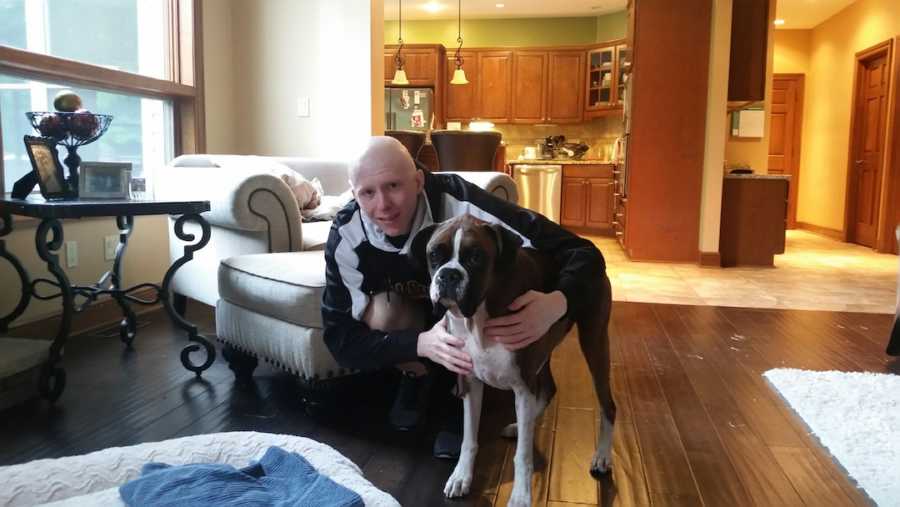 Each round became more difficult not only physically, as one would imagine, but mentally as well. I began to lose the red hair that had always defined me, and then one of the toughest mental roadblocks hit me right in the middle of it all. On September 29, we laid to rest my 3-year-old Boxer and best friend, Duke, who had been battling cancer well before my diagnosis. This destroyed all my motivation. But after a period of grieving, I told myself, 'I can either give in or fight like hell to defeat this disease in honor of Duke.' I then dedicated my next two rounds of chemo to him.
At the end of a long road, on November 21, I finally reached my last day of chemo! It was one of the most gratifying days of my life because I knew I would start feeling like myself again. After my final treatment, I rang the signature bell to indicate my completion of treatment and received a certificate autographed by all my amazing nurses who took care of me.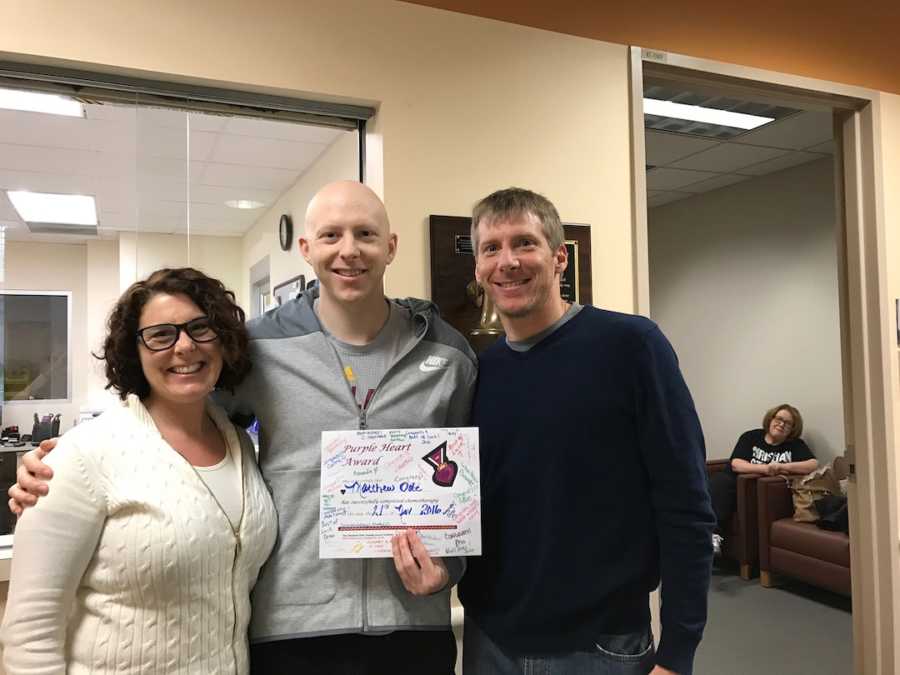 After treatment, my father organized for all of my closest friends and family to participate in the annual Cleveland Turkey Trot race on Thanksgiving morning. We supplied green 'Mustaches 4 Matt' t-shirts to the group and encouraged everyone to grow their mustache or paint one on as a show of support. In the sea of ten thousand runners, you could find nearly 400 individuals sporting our shirts, with 'Kick cancer in the balls' printed on the back. This was the perfect platform for my family and me to express our sincere gratitude to our support system.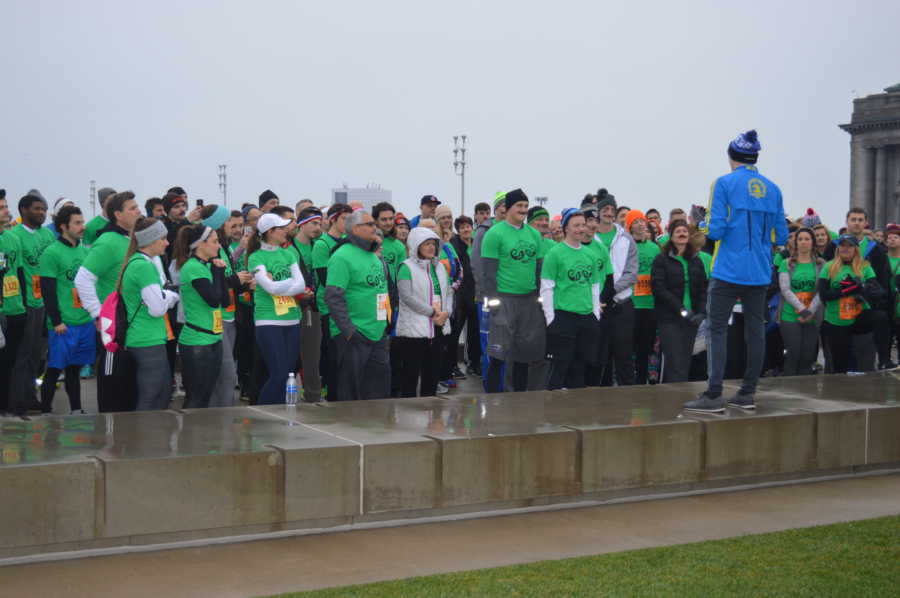 When the time came to discuss the post-chemo CAT scan, Dr. Gilligan my oncologist told us, 'We have good and bad news. The good news is the tumor has shrunk from 11 to 3 centimeters! The bad news is the tumor is wrapped around your inferior vena cava.' The inferior vena cava is a large vein carrying blood from the lower body to the heart. I would need major surgery.
The next week, I met one of my lead surgeons, urologist Dr. Andrew Stephenson, as we discussed the details. He explained, 'It will be an intricate surgery requiring a team of surgeons and you should expect about a week of recovery in the hospital with many months of rehab to follow at home.' To be done with chemotherapy was a tremendous relief. And now, as the surgery approached on January 6, I was extremely nervous yet excited to complete what I thought would be the final chapter of this battle.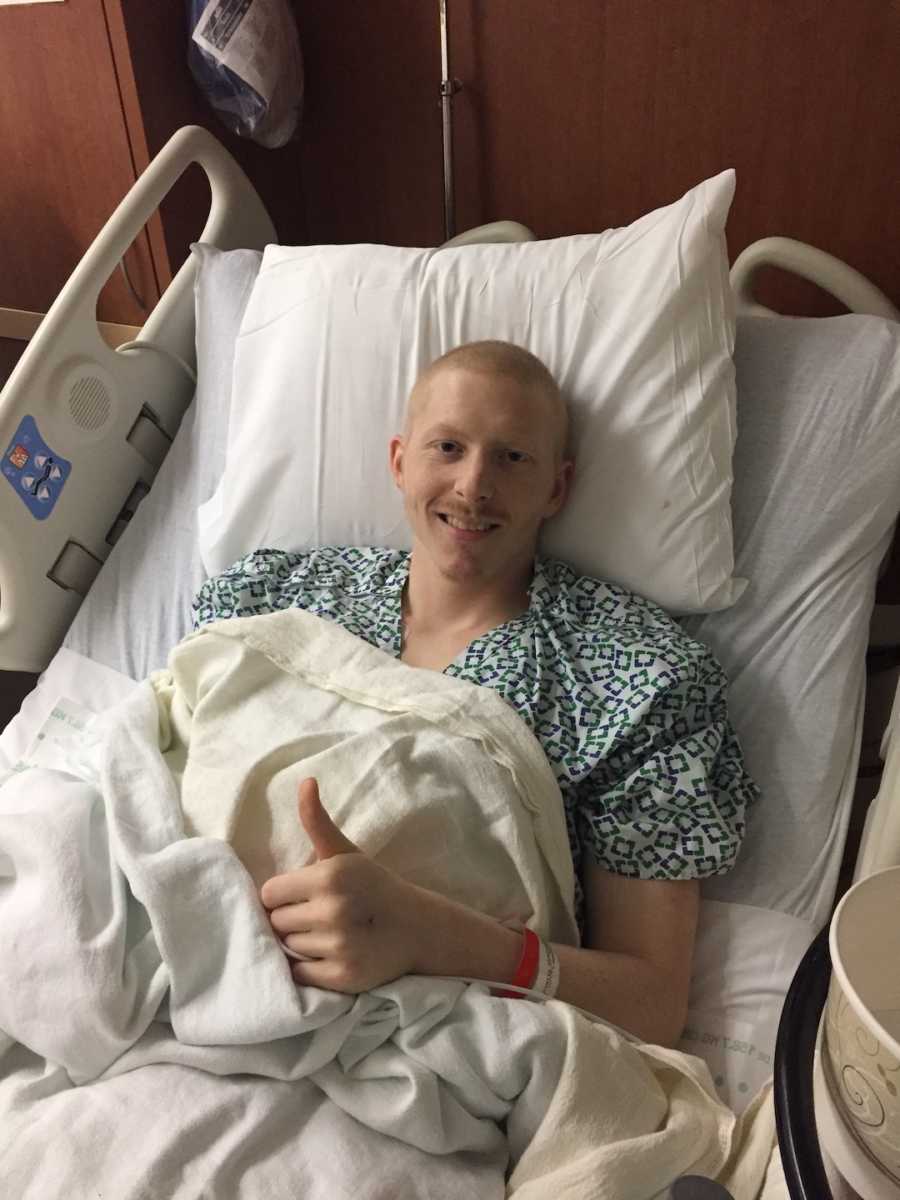 The day had finally come, and my stomach was doing somersaults all morning. After being prepared for surgery, I said my goodbyes to my family and Lauren. Once I was in the operating room, Dr. Stevenson asked if I had any questions. I made some kind of joke to relax and within seconds, I was out cold from the anesthesia.
When I woke, I learned the 10-hour surgery had gone well but the vena cava couldn't be salvaged. That week was difficult. The nurses coached me to get on my feet, despite the swelling that made it extremely difficult to move. As rehab progressed, I was released from the hospital a week later.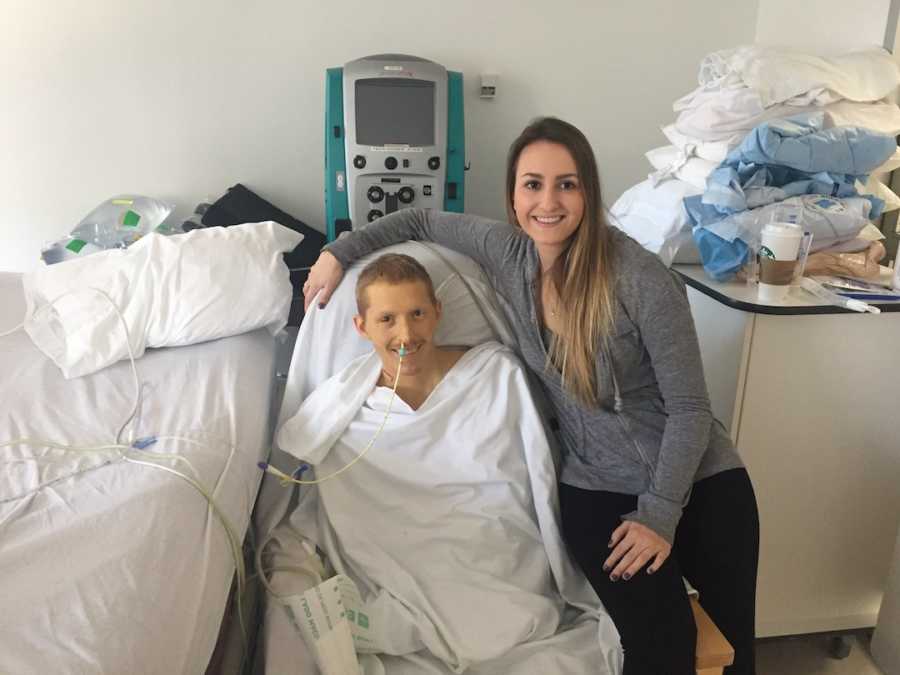 My stomach was stitched closed from hip to hip, and Lauren and I joked about how we would tell people I survived a shark attack. Throughout chemo, starting at 185 pounds, I had lost a significant amount of weight dropping under 140 pounds to quickly gaining an additional 40 to 50 pounds back from post-surgery swelling alone, but I was consistently draining fluid at home until, suddenly after a week, the draining stopped. The next day, I woke up in so much pain I could not even get out of bed. It was so excruciating that not even pain medication helped. I went to the local emergency room, and from there, everything escalated quickly. There was little they could do to regulate my pain, and it was apparent I needed to be admitted. The very last thing I remember was the sound of the ambulance.
Back at the Cleveland Clinic, they concluded I had built up so much fluid it was causing my organs to shut down. I was rushed into emergency surgery, where they reopened my sutures and performed a 'tap' procedure, draining over 7 liters of fluid out of my body. This did little to reverse the trauma my body had experienced, and I now faced a condition known as Compartment Syndrome caused by the pressure buildup. I soon went into liver and kidney failure and fell into a non-induced coma lasting 2 weeks.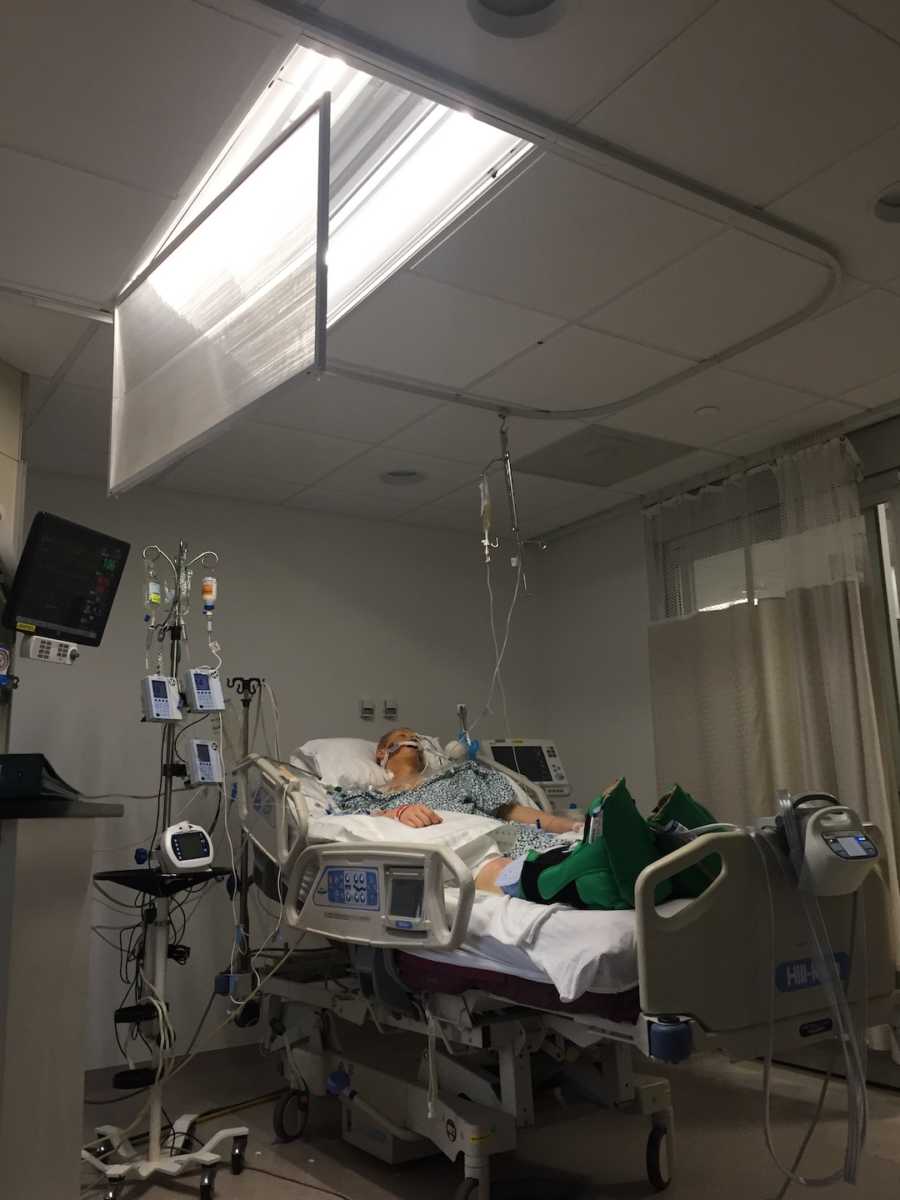 During this period of unconsciousness, I was hooked up to every monitor you could possibly imagine. I had a breathing tube lodged down my throat, a cone drilled into my head to relieve brain swelling, and multiple catheters in my body, where doctors believed I would be on dialysis my whole life. Two additional surgeries were performed to pull fluid from my body. My parents and Lauren never left the hospital, and there was a revolving door of family, friends, and pastors paying visits.
The prognosis was grim. On February 4 and 5, church services were held on my behalf. I later learned hundreds of people gathered in prayer for my strength and healing. As the final service closed, a close friend at the vigil received a call from my mother to tell her I had just woken up. Everyone was shocked! Yet I have no doubt my faith and the wave of prayers during those services led me to wake that very day.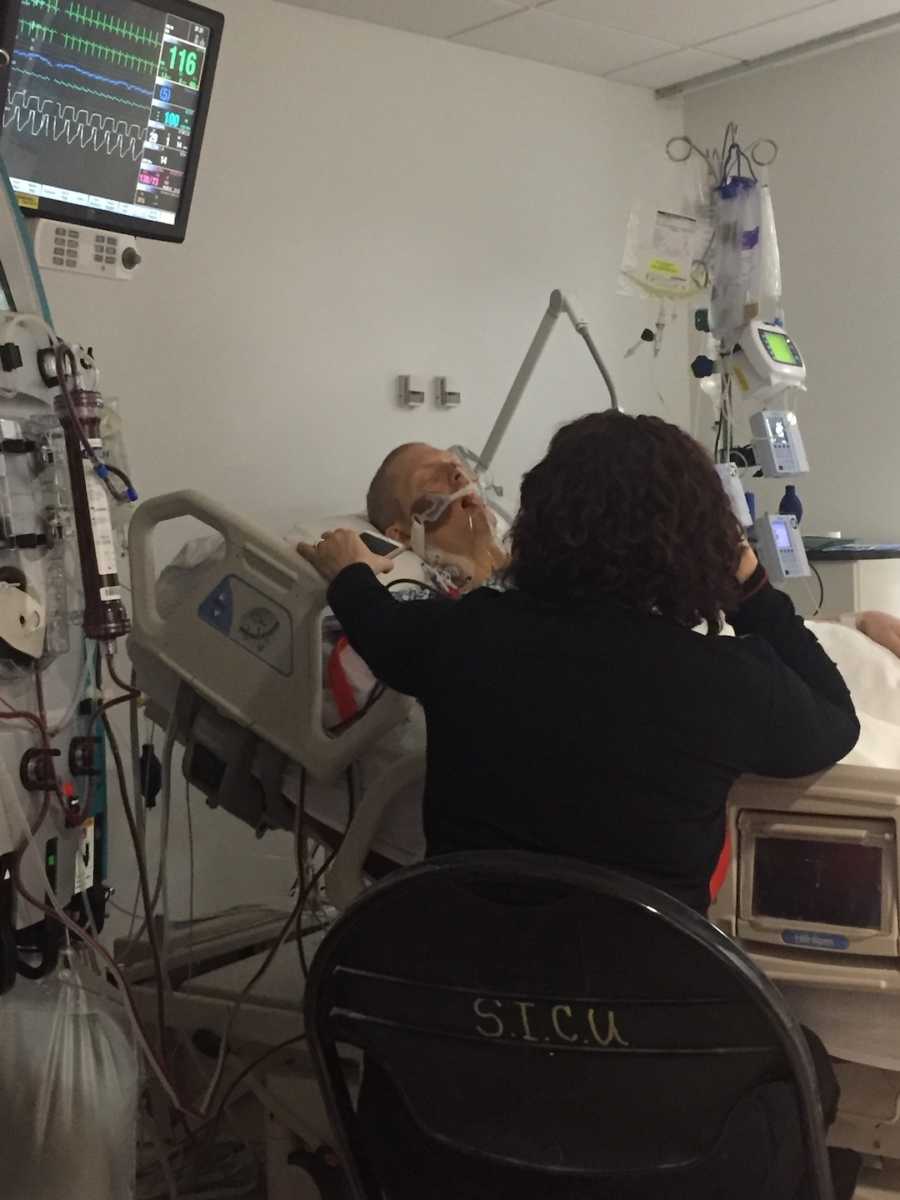 When I awoke in the ICU, I was unable to move an inch. My body was depleted, my muscles had atrophied and I was losing weight every day. It took too much energy to even talk. As the doctors checked in, they were delighted to see me awake but knew I wasn't out of the woods yet. The days went by, my voice returned, my liver and kidney rates improved, but my mind remained in a fog.
About a week after waking from the coma, I was making small strides. The nurse asked my family to grab a bite to eat while he took the next half hour to change the catheter in my neck. It was a run-of-the-mill procedure, and he assured us, 'There is nothing to worry about.' But as the nurse started to pull out the catheter, I noticed right away something was wrong. Before I could alert him, my heartbeat was sent out of rhythm. 8 minutes of CPR and multiple electric shocks later, I was back. I believe this was the closest I came to death, but God had much more in store for me in this lifetime. When my parents and Lauren returned from dinner, the medical staff was scrambling around the floor and quickly pulled them aside to explain the situation. As a precaution, I was sedated for an additional week until they felt my body was sufficiently recovered from the cardiac arrest.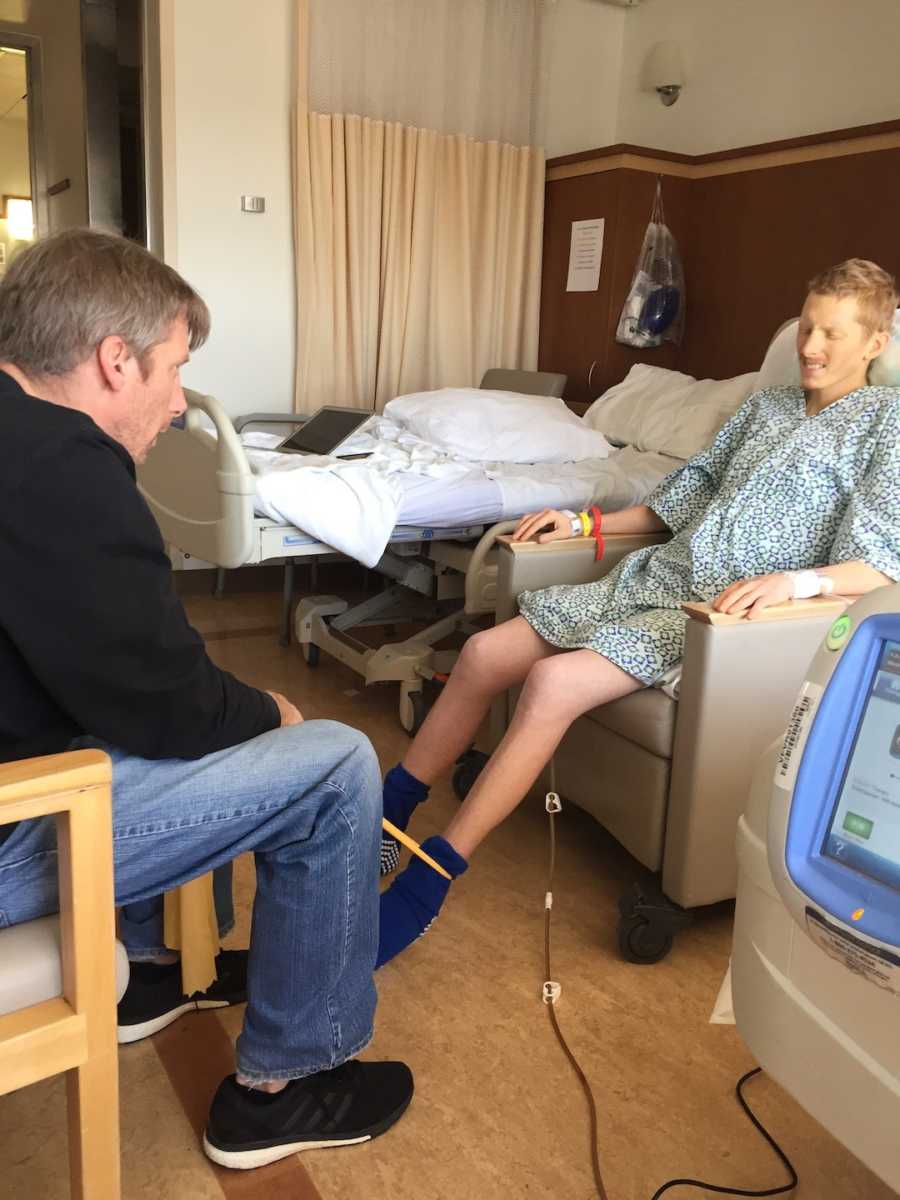 On February 14, Valentine's Day, I woke up, completely unaware of the episode that had occurred, to beautiful decorations in my room. Once I saw Lauren, I knew she had done this for me, and although I could not convey it to her, I was beyond grateful. My recovery was slow, first learning how to sit up in my bed, which took me over a week. I then practiced sitting to standing in 10 to 15-second increments before I was strong enough to take my first steps! The most difficult part of the process was overcoming my dizziness and fatigue. No previous adversity, including chemo and a torn ACL, compared to my struggle to walk again.
A few weeks later, I finally graduated from the ICU to a step-down unit and, despite my weakened state, added more steps to my walk each day. My progress was almost too good to be true, and I could finally see the light at the end of the tunnel. In fact, it was too good to be true. A few days later as the doctors were wheeling me into my final recovery stage, I glanced down at my stomach to discover my spleen had broken through the stitches. I was then rushed off into my fifth major surgery in just over a month.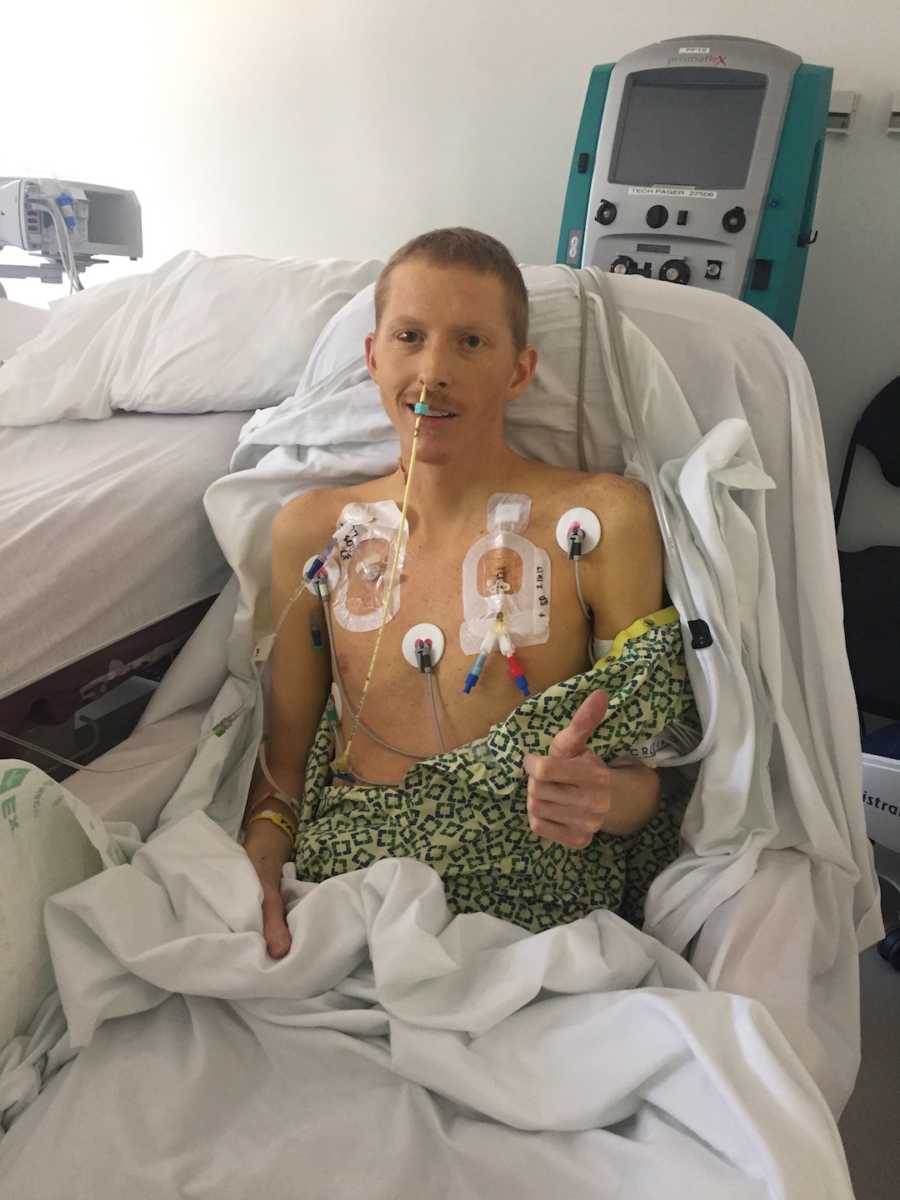 Just when I finally thought I was making progress I was sent back into the ICU, where I had to begin my recovery all over again — but this time, it was different. Due to the excess of surgeries on my abdomen, they were unable to pull the wound site taut, so it was left open. They placed a Wound V.A.C. over the area and told me my tissue would repair itself in time from negative pressure. I became acutely aware of the special care this required, including regular dressing changes that were exceptionally uncomfortable. I again practiced walking and knew right away whatever they did was what I needed. The dizziness and fatigue wore off, and my steps became gradually easier and longer.
I eventually worked my way back to the step-down unit and ultimately the rehabilitation floor. It took all the mental and physical strength I could muster up to get myself out of that hospital. As amazing as the staff was during my extended 53-day stay, I was beyond ready to go. After 2 weeks of rehab, my physical and occupational therapists cleared me to leave, exactly one year from the day Lauren and I met! Dr. Stephenson took it upon himself to drive me home personally from the hospital. That evening, Lauren and I celebrated not only my homecoming but also our anniversary.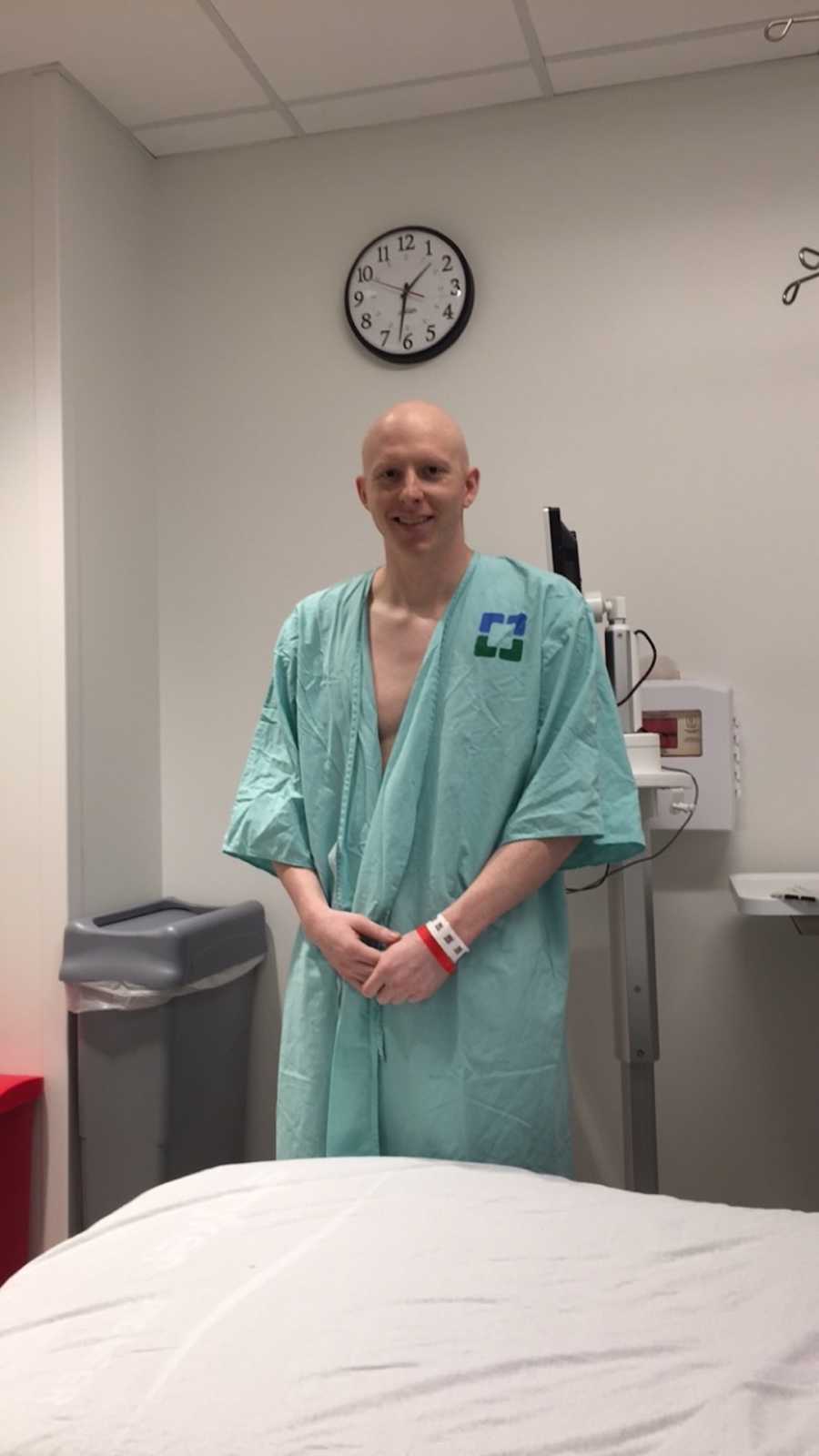 At my lowest point in the hospital, I weighed in at 110 pounds. For a 5'10′ male who once lifted 6 days a week, I was unrecognizable. Nurses were in my home 3 days a week to care for my exposed wound, and a physical therapist came over twice a week to keep my rehab moving forward. That first month home was just as draining as being in the hospital. I still required round-the-clock care, was completely dependent, and felt like I was being overworked. I lost motivation and began feeling sorry for myself. In hindsight, I should have been appreciative I was even alive.
As weeks went by, I began to take care of my mental and physical health and took a step back to look at how much I had overcome and realized I had a bigger purpose to help others when I was finally recovered. Right then, I stopped feeling sorry for myself and gradually started progressing in my workouts and incorporating nutrition back into my life. This aided in my ability to grow stronger and gain healthy weight back. Fast forward less than 3.5 years, I now weigh in at 195 pounds, work out every day, and teach others the importance of mental, emotional, and physical health. In addition, I have shared my story as a keynote motivational speaker on stages and online due to covid and have created coached other cancer survivors while creating a Cancer Community FB Group of over 400 individuals impacted by cancer.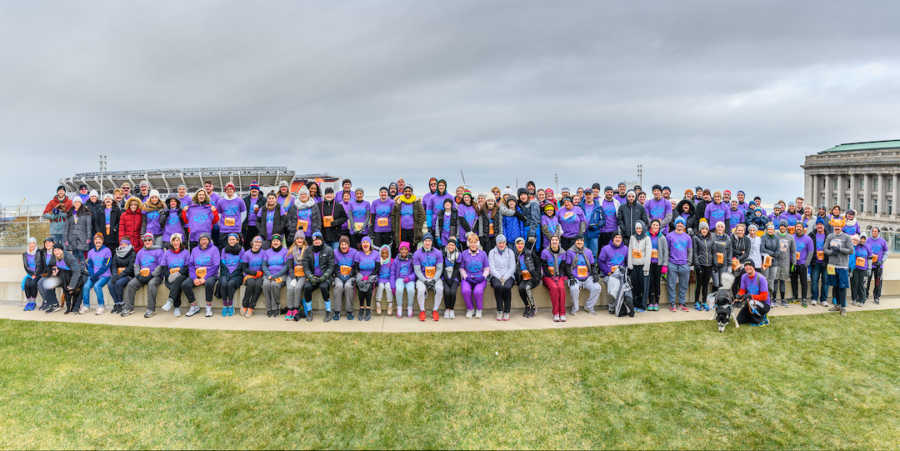 Had it not been for my parents, friends, and Lauren pushing me day in and day out, I would not have been able to reach these milestones. I have carried on the Mustaches 4 Matt race tradition and even participated in the 5k run/walk this past year. While this was originally born out of my medical journey, I have had much time during my recovery to reflect on lessons learned. Moving forward, I want to spotlight other young adults facing adversity and have come to realize how my experience can be a powerful tool in helping others.
Let my story serve as a testament to faith and perseverance. Never doubt yourself. You are meant for great things in this world, and it is up to you whether you pursue your dreams or not."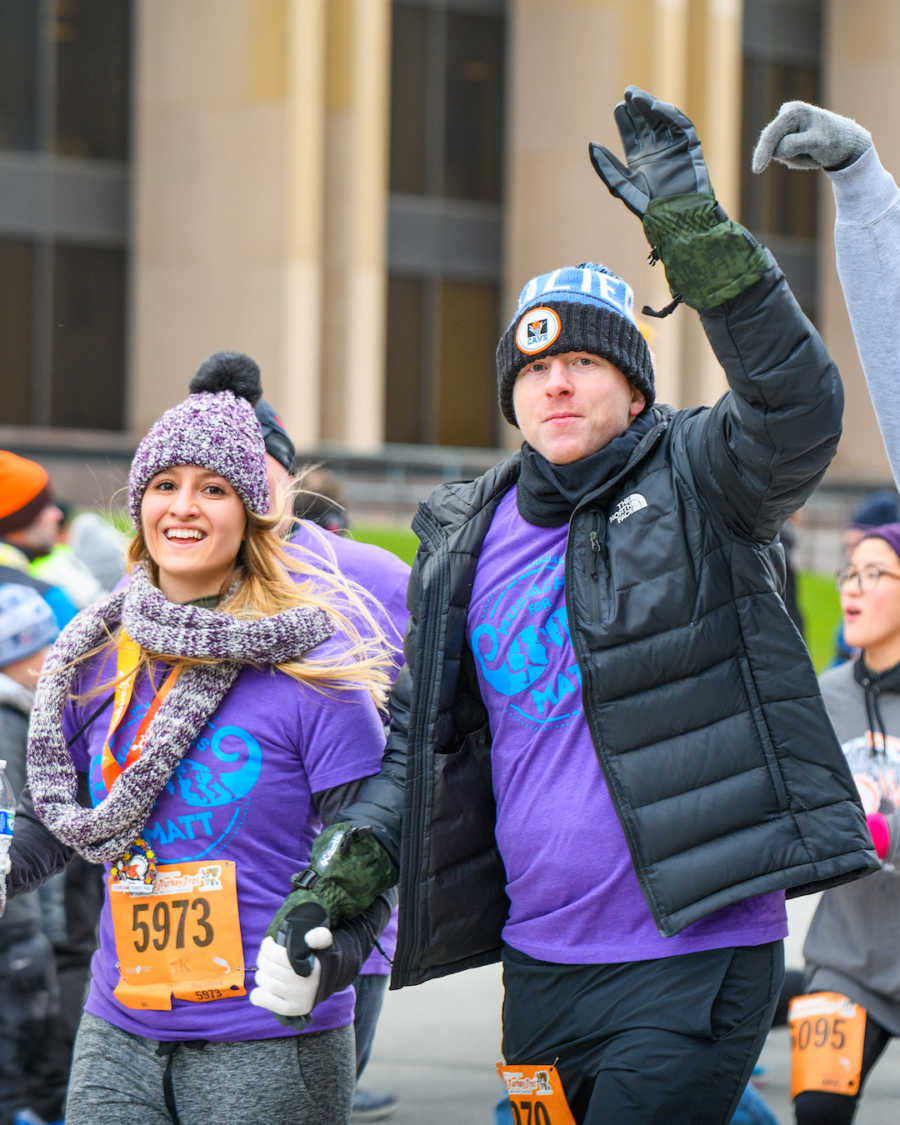 This story was submitted to Love What Matters by Matt Ode from Cleveland, Ohion. You can follow their journey on Instagram and Facebook. Visit Matt's website and YouTube channel to learn more about his story. Do you have a similar experience? We'd like to hear your important journey. Submit your own story here, and be sure to subscribe to our free email newsletter for our best stories.
Read more touching stories like this:
'It's just a clogged milk duct.' My husband NEEDED more than a brush-off. I thought he was paranoid. There was no way I had it.': Mom beats invasive breast cancer, 'I'm thriving'
'There's a mass behind her nose.' Her runny nose became blood-tinged. She could barely hold her head up. I knew it was bad.': Mom details daughter's cancer journey, 'Never give up hope'
Provide strength and encouragement for others and SHARE this story on Facebook with your friends and family.