"I took my child Lottie to a birthday party in the early fall of 2019. We rarely go anywhere with just one kid, especially then. It stands out in my mind still because it was such an eye-opening experience with only one kid in tow, so very different than our normal outings of chasing so many kids.
Lottie was 4 at the time. It was at a park. Lottie just…ran off and played with the other kids. And I stood back and watched and chatted with other parents. I didn't have to stay a few feet behind her. I didn't have to have my eyes on her 100% of the time. I didn't worry she'd wander off down the trail or off the playground to the parking lot or loose her balance navigating the steps or not be able to pull herself up climbing a ladder. I didn't worry about interactions with other kids.
As I was off to the edge of the playground talking with other parents, I saw him. A dad, walking closely behind his son, never allowing him to get more than a few feet away.
I saw the son, his mannerisms – the way he walked on his toes, flapped his hands and stimmed – and I knew instantly he had autism. He had mannerisms similar to my other son Gabe.
I watched from a distance for a while as the dad did exactly what we do at a public park with Gabe. There is no relaxing. There is no calm. There is no sitting down. He's a 1:1 job in public places like this, for his safety.
I made my way over to the dad and I told him he's doing a great job. He was taken a bit aback initially, and said, 'Thanks…he's autistic.' I said, 'I know. I have a son with Down syndrome at home and we do the same for him at the park. If he was here, I'd be just as busy as you are!'
The dad got the son on a swing, which gave us a chance to chat for a bit.
We connected over shared experiences with needing to be a 'helicopter parent' for their safety, about stimming, and what I most remember about our conversation was talking about food aversions and particularity. Gabe is extremely particular about his food, what he eats, how it's presented, if he feeds himself or we feed him depending on the food, where he sits to eat, consistency down to how it's cut or what plate it's on.
This dad said one of the only foods his son will eat is Sonic French fries, so he drives to town (30 minutes away) twice a day to get them for him. Can't be old or reheated. Can't be others in a Sonic container (we've tried this trick too with Donald's burgers). This might sound really outrageous for many. But I understood. I 'get it.'
Many will judge him for the food choice, but those of us who get it, get it. If it's one of the only things your child will eat…well, then you spend a few hours in the car everyday getting it for them and are thankful he'll eat something.
Today I felt compelled to share this human connection I had 1.5 years ago. It's really hard sometimes navigating life as a parent of a child with a disability. In many ways our lives aren't that different and Down syndrome isn't a big deal…which it's not. Then sometimes I'm reminded how big of a role it plays in our lives, and how different and an outsider I sometimes feel amongst other parents of typical children.
I wanted to tell the moms and dads out there who don't ever get to sit down outside their own home…even in another house because it's not 'Gabey proofed' as we say…or who give the same food over and over because you know it's the one thing they'll eat…or who drive to therapy 3 days a week rather than other extracurriculars…or who can't drop your kid off at a party and know they'll be safe…I'm there with you.
I'm not judging you. I'm cheering you on. Most will likely not fully understand, though I know they'll try. Many may quietly judge, but some will 'get it.' I get it and I'm here with you. We got this."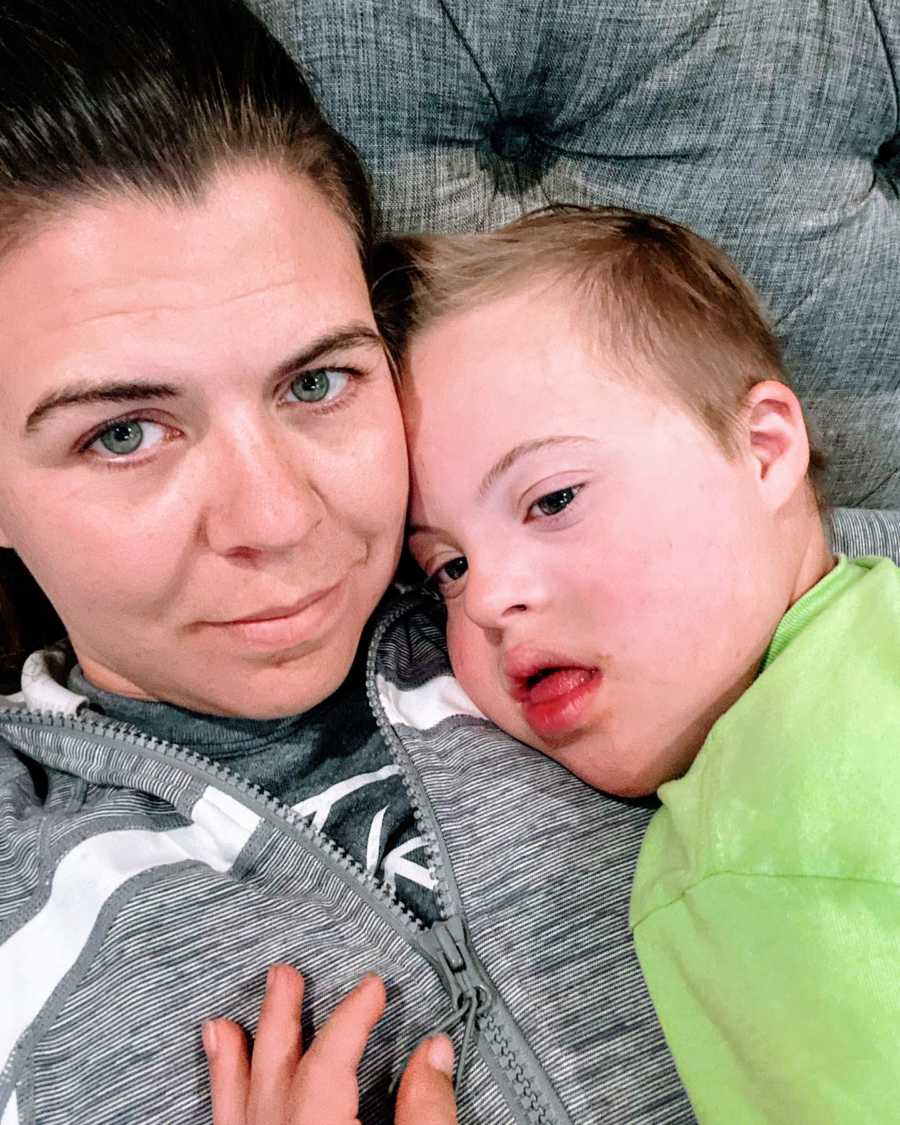 This story was submitted to Love What Matters by Kristie Magnuson from Enterprise, Alabama. You can follow their journey on Facebook and Instagram here and here. Submit your own story here. Be sure to subscribe to our free email newsletter for our best stories, and YouTube for our best videos.
Read more from Kristie here:
'Is he ok?' I was afraid to say the words. I never told a soul about my feelings, not even my husband.': Mom births son with Down syndrome, 'I am so thankful for his perfect 47 chromosomes'
Read more stories like this here: