"We found out we were pregnant in August of 2019. It was an unplanned pregnancy and a big surprise! We were thrilled. It was our first baby. I quickly learned pregnancy wasn't all rainbows and butterflies. I was diagnosed with hyperemesis gravidarum (severe morning sickness). I was in and out of the hospital and had quite a few ultrasounds. Everything was looking good.
At 22 weeks, I had my anatomy scan. My family has a history of a chromosomal deletion completely unrelated to Down syndrome. To be on the safe side, my midwife recommended I had my anatomy scan done with a perinatologist (AKA a maternal-fetal medicine specialist). I went alone, excited to see our baby. We already knew it was a boy and had his name picked out: Parker James, and we'd call him PJ.
The ultrasound seemed to go smoothly. The doctor came in and told me the baby looked good but was measuring a little bit small and had short femurs. There was also something questionable on the brain, but she told me they couldn't get a great look. She recommended since the baby had short femurs, we do a cell-free DNA test to check the probability of chromosomal disorders.
She assured me it was probably nothing, saying, 'You're a smaller person and you're short, it's probably just from that. I would be shocked if this test comes back abnormal.' I left and waited. I wasn't worried, in fact, I had basically forgotten about the test.
On December 18, 2019, it was the week before Christmas break, and we were busy with Christmas fun. That morning, I took a first-grade class to a teacher talent show. It was so much fun to see the kids laughing and dancing. I remember how excited I felt knowing I was going to have my own child soon! After the talent show, we went back into the classroom and were doing some coloring activities. I plugged my phone into the speaker to play Christmas music, and I saw a voicemail from the doctor. iPhones transcribe voicemails, so I clicked to see what it said:
'Camdyn, this your doctor, you were in my office last week for an ultrasound. We got the results of the bloodwork. It did come back abnormal. Looks like the baby has Down syndrome. You need to call me. We need to connect. We need to talk about this. I'm going to let my front desk staff know so they can come get me when you call. Okay, talk soon. Bye.'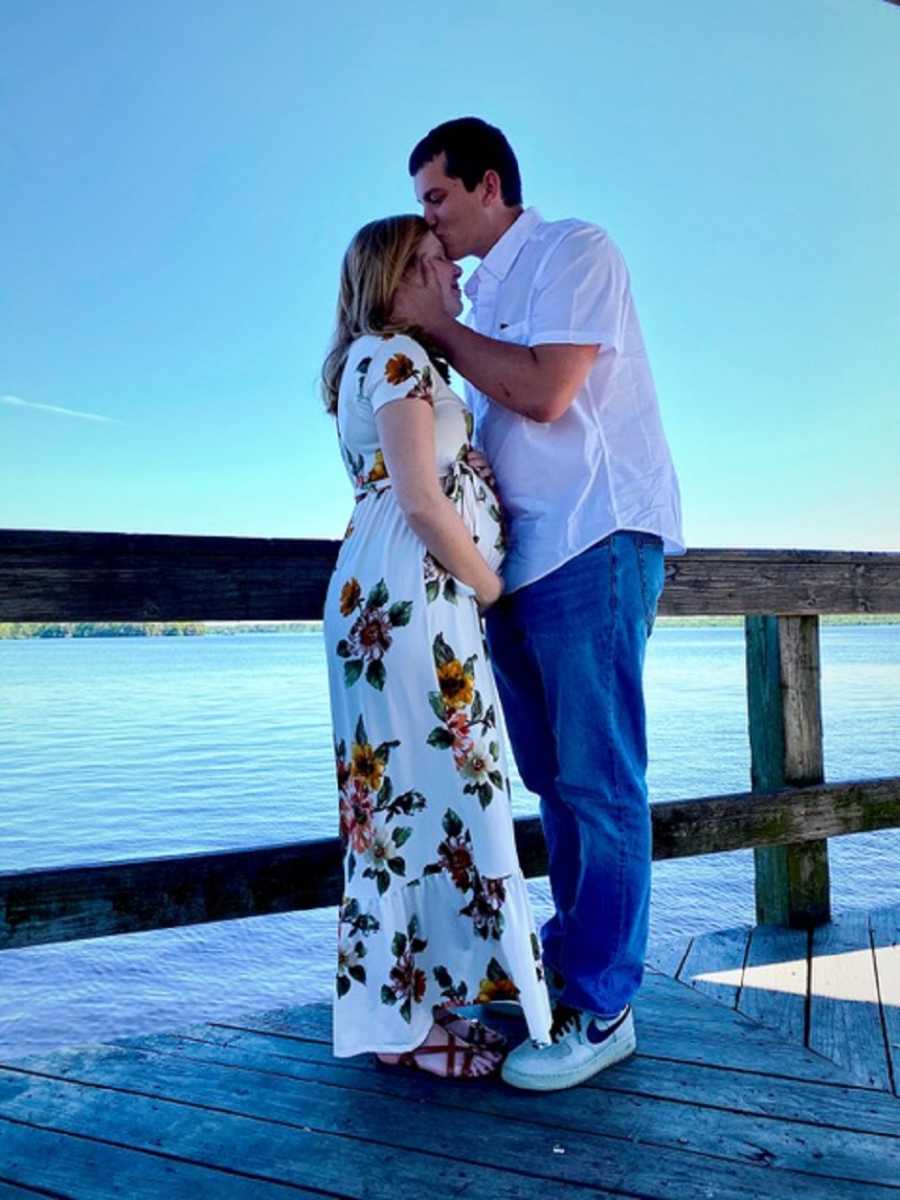 I started shaking immediately. 'What? This can't be right. I'm 21 years old. I have my whole life in front of me.' I went to the classroom next door and asked the teacher to watch the class so I could call my husband. I walked outside and clicked his name—no answer. He was at work. I called his boss, sobbing. My phone rang less than a minute later. It was my husband. I barely got the words out. 'They just called me. The baby has Down syndrome. Oh my gosh, Justin. Our baby has Down syndrome. What are we going to do?'
'Okay, that's fine. Don't worry,' he said.
'Can you leave work? Please. I'm going to try to go to the doctor right now, I haven't even talked to her yet.'
'Just call me back after you talk to her. It's going to be fine, Cam. I love you.' I honestly don't know how I would have gotten through this if it wasn't for my husband. He is amazing. I called the front office and told them I needed to leave for an emergency. I was crying. Luckily, no one questioned me. The other teacher took all of the children into her classroom and I left. I drove out of the school parking lot, into the parking lot across the street, and I called the doctor back. Just as she said, the front desk was expecting my call and they promptly got the doctor.
That conversation is a total blur now. I only remember bits and pieces. I remember being told I had 2 days to terminate the pregnancy if that's what we chose. I questioned the accuracy of the test and was told my results showed a 99.9% positive rate, a rate she has never seen be wrong. She offered me an amniocentesis to confirm. I scheduled it for 2 days later. She told me she had been in contact with my midwife and I could go there to talk to them, so I headed that way.
I called my husband, hysterically explained everything, and asked him to ask for that Friday off to take me to my appointment. Once again, I was met with 'everything is fine.' I called my mom at work on the long drive to the midwife. She tried to give me reassurance about how 'special' and 'fun' he was going to be. About how he was the same baby we all loved so much. Of course, at the time, it wasn't very comforting, and I just wished I could talk to someone who understood me.
I got to the midwife's office and had to wait in the waiting room for nearly an hour. I was crying and crying. Finally, they called me back. I remember the nurse said, 'Do you have any questions for the midwife today?' I snapped, 'Yeah, about a million. Why do you think I'm here?'
She came in and cried with me. She told me what a joy he would bring to our lives. She prayed over my baby and the pregnancy. I left and got my favorite food from a Chinese restaurant. While I waited, I went to google and typed in 'Down syndrome baby.' I had never seen a baby with Down syndrome, and I was terrified of what he would look like. There were very few results. We got the amnio done 2 days later. We struggled to decide if we wanted to tell family or not. I was afraid it would ruin Christmas. We told immediate family, and we were met with a lot of love and support. 'He will be so, so loved, think about how cute and funny he's going to be!'
Still, I wished I had someone to talk to that understood. I can say for sure, I have never cried more in my life. Even on my good days, the tears still came. The night after diagnosis, I heard my husband softly crying, but we loved this baby and knew this was meant to be. I searched the web day in and day out. I asked so many times 'Why me? Why my family?' It didn't seem fair.
The confirmation came 2 days after Christmas. At that point, we had already accepted the news and were moving on. When my husband was a child, he told his mom, 'One day, I'm going to adopt a child with Down syndrome.' Little did he know, he'd have one! We know now that this was God's plan all along for us.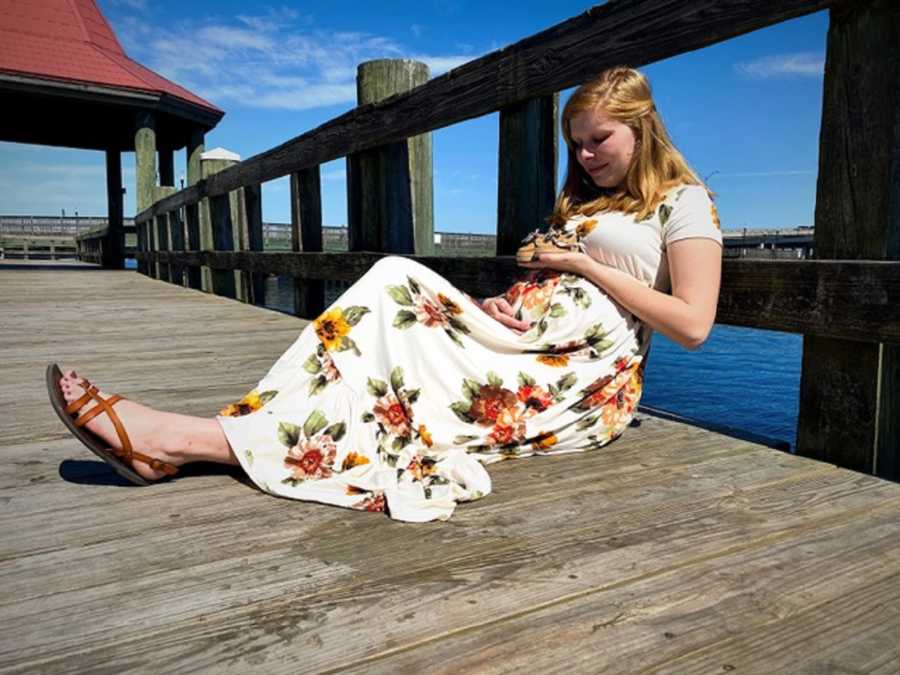 We announced on social media a few weeks later that PJ had Down syndrome: 'Important Baby Update! 10 little fingers, 10 little toes, and one extra chromosome! We found out recently baby Russell has Down syndrome! What a shock these last few weeks have been. There has been a roller coaster of emotions (not because we are upset about the DS, but because we've been scared of medical complications that often accompany it. Today we got the all-clear on baby's heart and are SO relieved! Thank you, Jesus, for answering our prayers!
'We are not sorry about this diagnosis, and you shouldn't be either! God looked down at us and decided we needed an extra ray of sunshine in our lives, and he packed it into that extra chromosome. We ask you to treat us normally and to support us as we not only navigate how to raise a child but a child with special needs. Please share with us uplifting stories about people you may know who have Down syndrome and don't be afraid to ask us questions if you don't know. Baby Russell, YOU ARE SO LOVED!'
Comments of love started pouring in, one Instagram user wrote, 'As a special education teacher, I can assure you that your life will be enriched beyond words. My love, admiration, and respect for my students and their families is boundless. Congratulations!'
Fellow Down syndrome moms started messaging me. Another user said, 'I'm convinced the extra chromosome makes them extra cute and lovable.' With all the love, came a few hurtful comments. People would say a lot, 'I'll be praying the tests were wrong' or 'Your baby is probably fine. Tests are wrong all the time.' One person told me she admired us because 'I could never keep a disabled child.'
These comments stung, but we were met with a lot more love and support. A few weeks later, we found a Gigi's Playhouse and decided to visit. Finally, between the Instagram moms and moms I met at Gigi's, I found the support I was craving. It was amazing. The kids there were remarkable. One young woman with Down syndrome put her hands on my belly and prayed over it. I've never felt more supported and still cry when I think about it.
Unfortunately, the pregnancy was filled with a lot of stress after that. Parker was diagnosed with a severe growth restriction. At each appointment, something was 'off.' My anxiety was high. I always struggled to feel him move. Appointment after appointment, hospital visit after hospital visit, the days crept by.
At 34 weeks, I was hospitalized when his heart rate kept dropping. They gave me steroids to help his lungs, but things got better so we continued on. March 15, 2020, I took a long bath. My husband and I went out to eat at a nice restaurant. COVID was on the rise and we decided we wanted one more date before the baby came. I was 36 weeks.
That night, I started having contractions and struggling to feel the baby move. I thought they were just Braxton Hicks and assumed if we went to the hospital, everything would be fine. I decided to monitor it until the morning. We went to the hospital at 5 a.m. and got there just in time. The baby was in distress. They gave me fluids and oxygen to see if it would help, but it didn't. I was taken in for a c-section.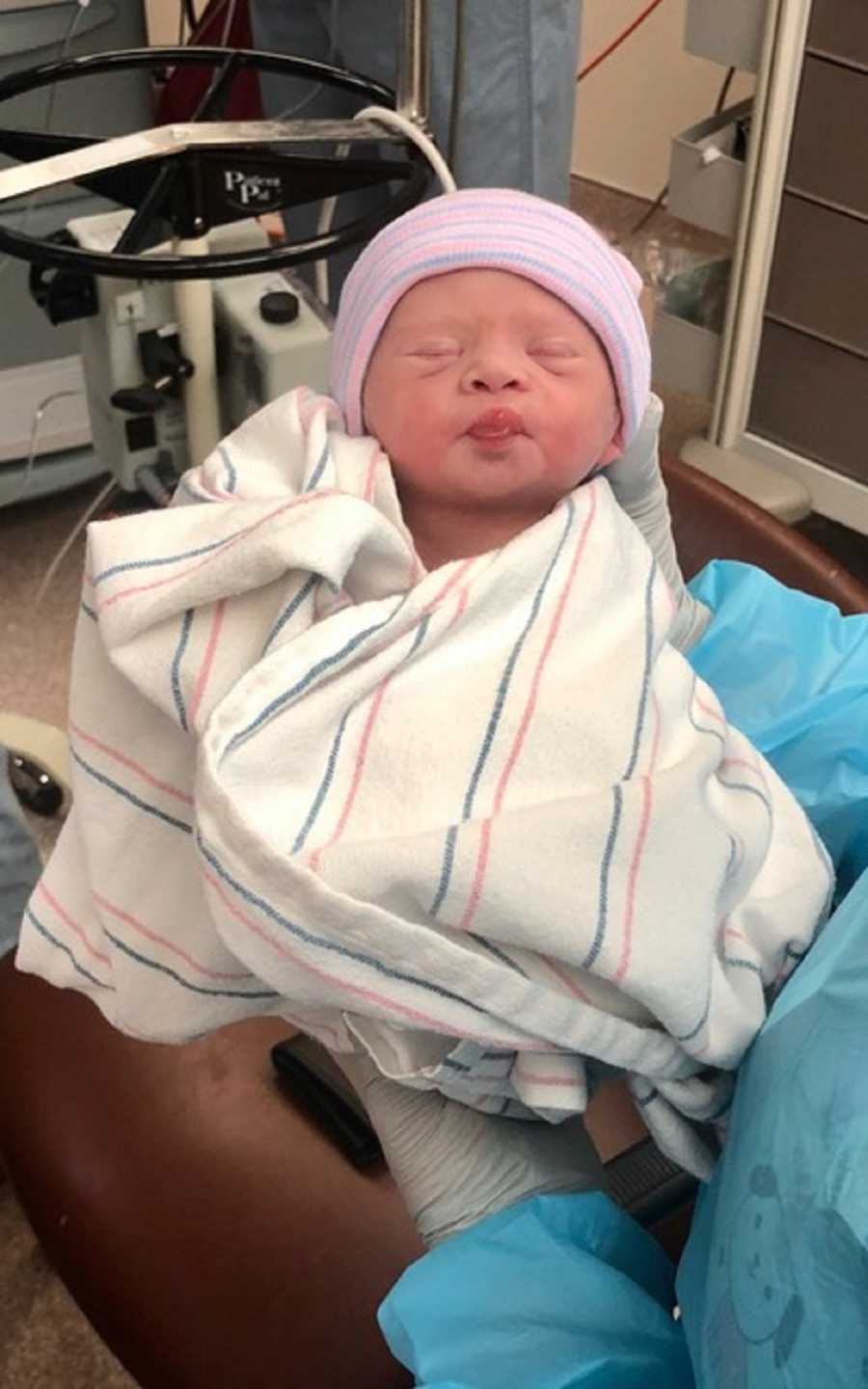 A strange sense of peace came over me during the cesarean, I can't explain it. Hearing him cry was the best sound I've ever heard. I was so, so, so relieved to be on the other side. We got to hold our little 3-pound, 14-ounce baby for about 5 minutes before he was whisked to the NICU and I was sent to recovery. Luckily, Justin was able to go with him. COVID restrictions had just taken effect at the hospital, and no other visitors were allowed.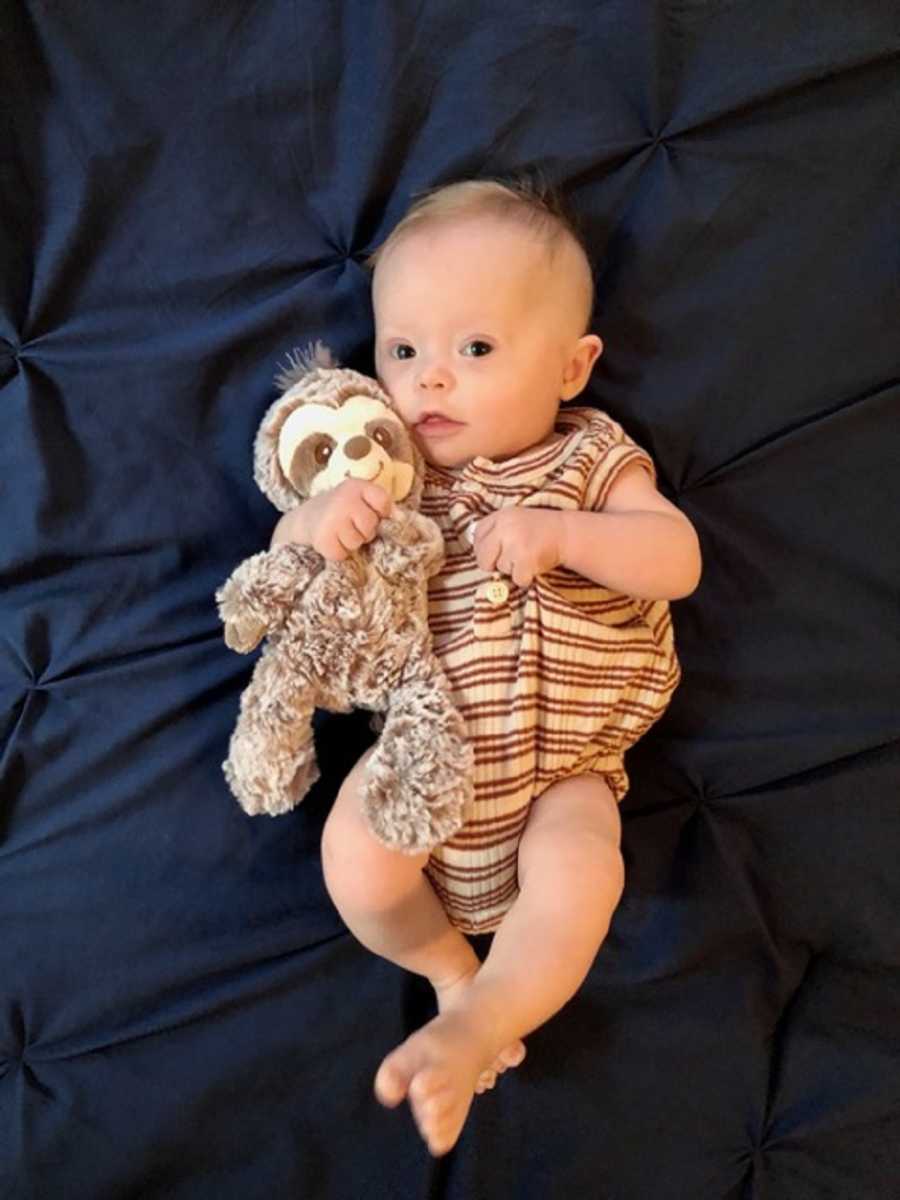 I was so lonely during my recovery but was glad Justin was able to be with PJ. We spent 31 long and frustrating days in the NICU. The pandemic worsened, and my husband wasn't allowed in the hospital anymore. It was an incredibly lonely time in my life. I cried every day while coming home from the hospital. Parker got to come home on April 16, 2020.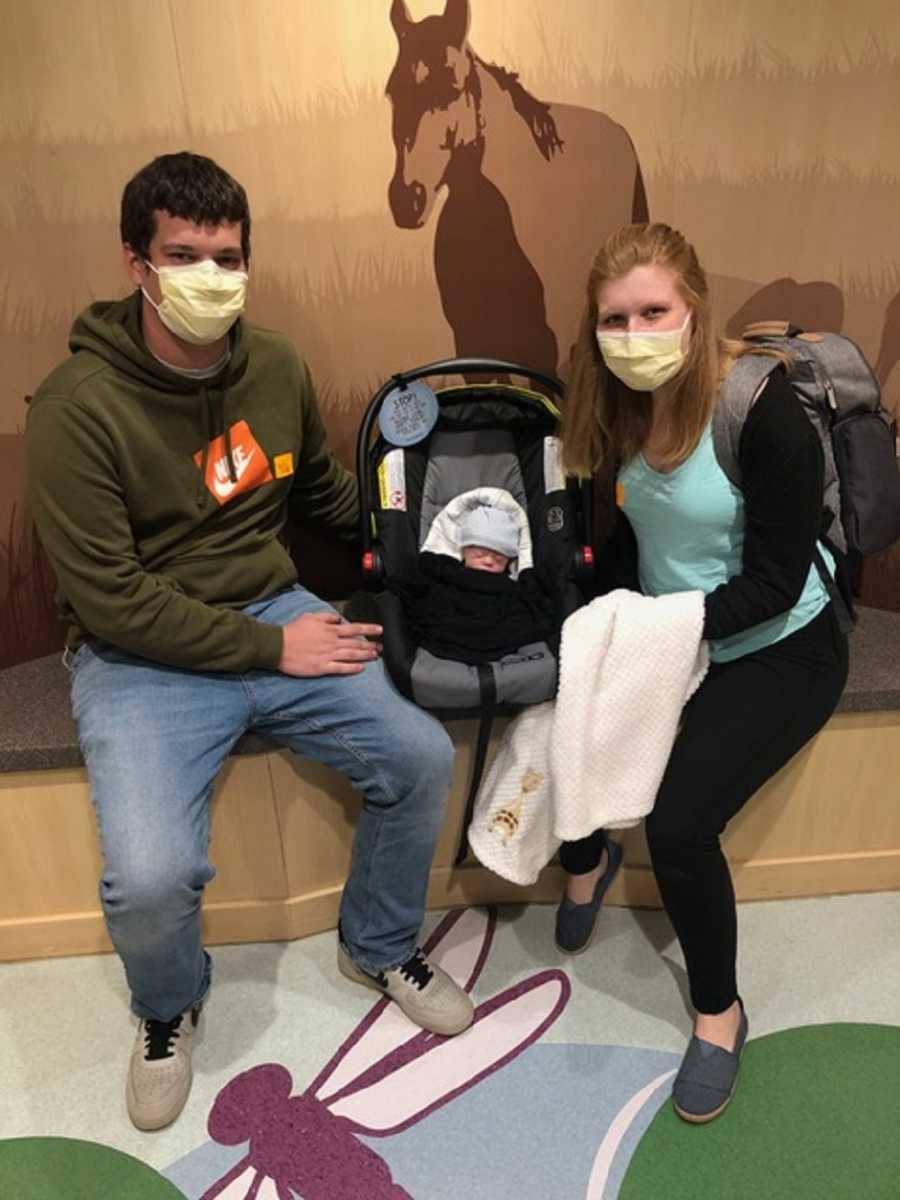 It was hands down one of the best days of our lives. Our family was together in the same room for the first time. There is nothing like seeing your husband hold your baby. Every tear I cried was worth it. Parker was our baby. Our perfect, tiny baby. We were in absolute awe of him. We've been on this journey now for 8 months and it's almost been a year since we found out his diagnosis.
Parker has given our families so much joy. His smile is infectious. Everyone who meets him falls in love. His giggles are the cutest sound ever. His snuggles are best. I have learned so much and have been overwhelmed by the amount of love the Lucky Few community has shown us. We have made some amazing friends. I wish a year ago, I could have seen what our lives would look like now. How full they would be and how much joy we would have.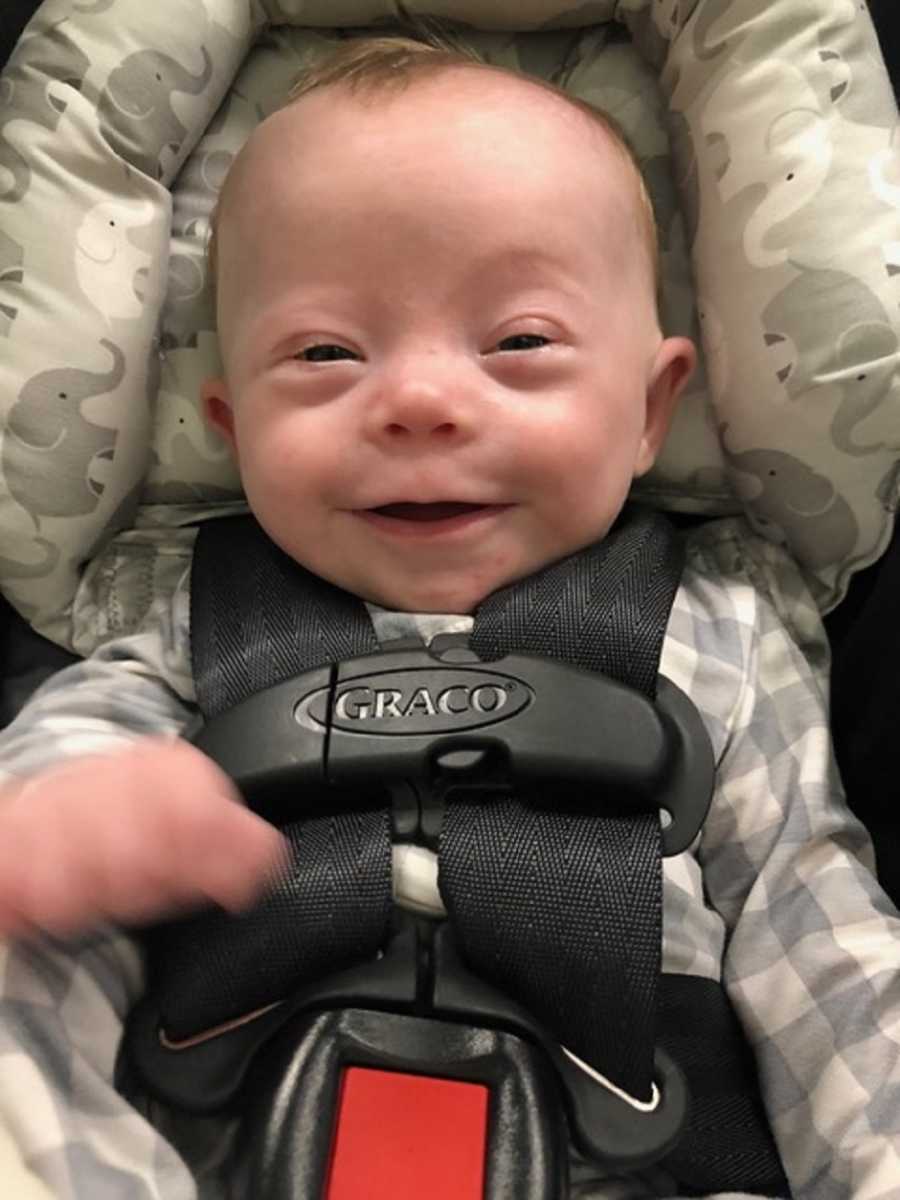 Has it always been easy? Definitely not. Between surgery and hospitalizations, lots of appointments, learning how to navigate parenthood, it's been tough. But it's also been so sweet. I wish the doctor would have told me on the voicemail about the joy he would bring my family and how he would thrive in his own time.
Parker is perfect in every way. When people say we are the lucky few, they truly mean it. We feel so fortunate to have PJ, all 47 chromosomes of him!"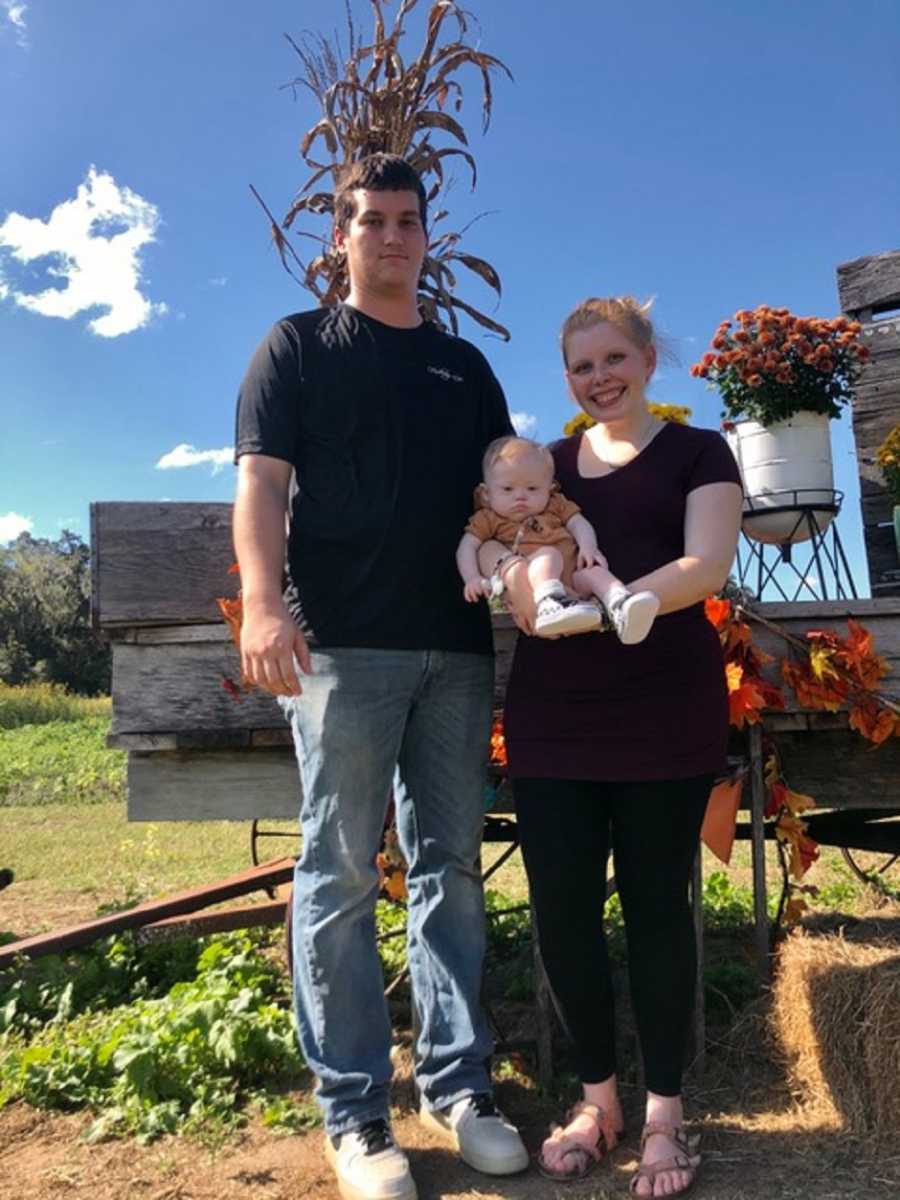 This story was submitted to Love What Matters by Camdyn Russell of Gainesville, Florida. You can follow her journey on Instagram. Submit your own story here, and be sure to subscribe to our free email newsletter for our best stories, and YouTube for our best videos.
Read more powerful perspectives from special needs moms:
'I'm sorry your child has Down syndrome.' Sorry is the last thing we feel. It's impossible to imagine life without her.': Teenager with Down syndrome becomes dancer, model, 'She's the best of us'
'Aren't you going to tell me congratulations?' She wanted me to cry, but she wasn't going to break me.': Mom becomes Down syndrome advocate, 'This is HIS journey'
'But it doesn't run in our family!' I'm too young for this. Is it really happening twice?': Brother with Down syndrome helps parents accept son's diagnosis, 'We had so much hope because of him'
Do you know someone who could benefit from reading this? SHARE this story on Facebook with family and friends.