"The only bump on Mrs. Hannah's tree-lined driveway was the garden hose her husband, Mr. Barney, used to water the lawn. That tiny bump – on the otherwise notably smooth driveway leading to her little foster home for special needs babies – filled me with joy every time I felt the rubber flex under the tires. The time Mrs. Hannah has put in to both temporarily and permanently help, house, feed, mend, transport, and love children in the foster care system spans more years than most people have been alive.
As Mr. Barney so succinctly puts it, 'She's a real live angel.' I believe it. She is the perfect example of how providence isn't just some obscure or otherworldly thing. Rather, it is real people, making real decisions, to show compassion to those who need it most. It is Mrs. Hannah not only providing shelter to temporarily displaced children, but also pursuing permanent adoptive homes for children who need them. It is this same providence that brought my boys and me together, and providence that guided us over every bump – big and small.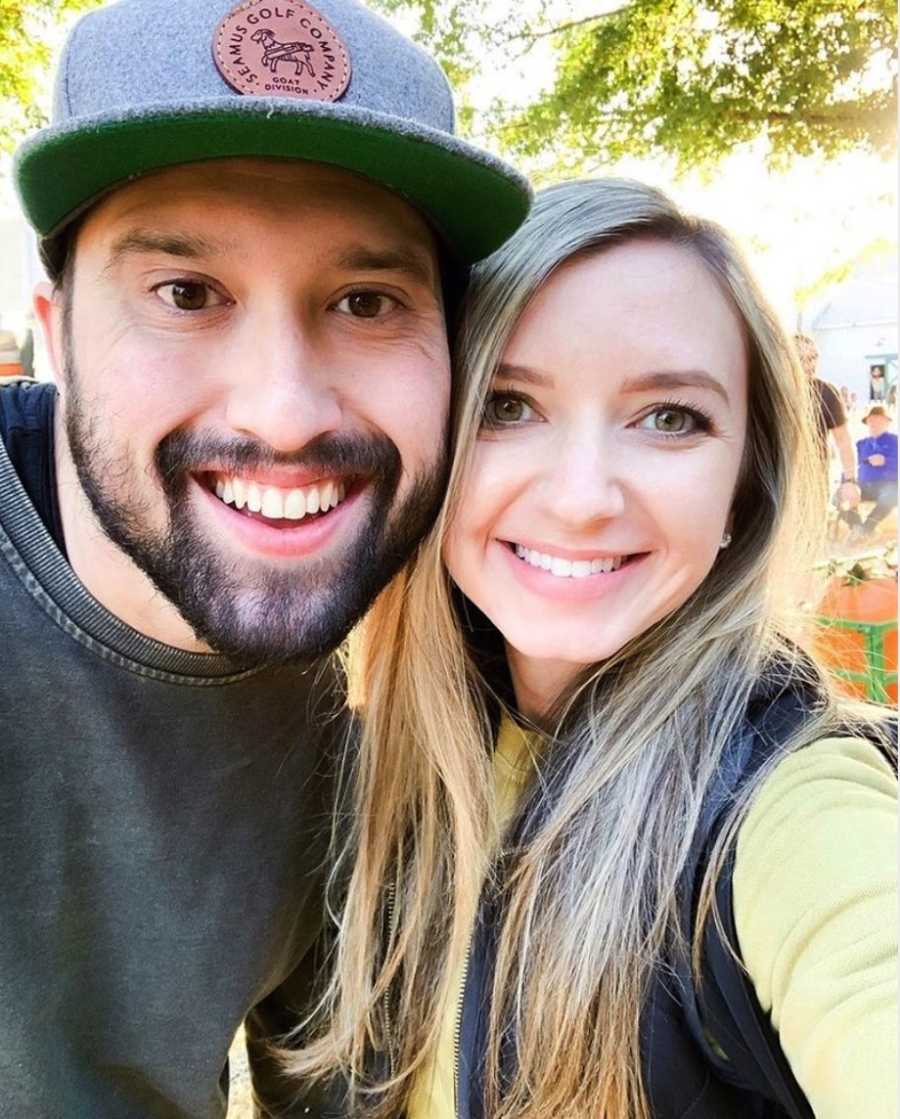 As a developmental therapist, I assess children's development and design learning environments that promote the child's development. One day while in the office, I received paperwork for a new client named Grayson, and as always, I called the family to schedule my weekly visits. Mrs. Hannah answered the phone, and we made the plan. I arrived on a Tuesday afternoon. Mrs. Hannah filled out paperwork while Grayson sat on my lap. She noted how he was letting me hold him, and he wasn't upset.
'He is the happiest baby,' she said.
He was 8 months old but seemed much younger. I had to support his head against my chest as we banged on the table together. We took turns hitting the table and each time it was my turn, he anticipated my hand looking up and smiling at me. He was a baby with special needs, developmental delays, and the biggest, chubbiest smile. His joy for the little things immediately drew me to him. He really was a happy baby.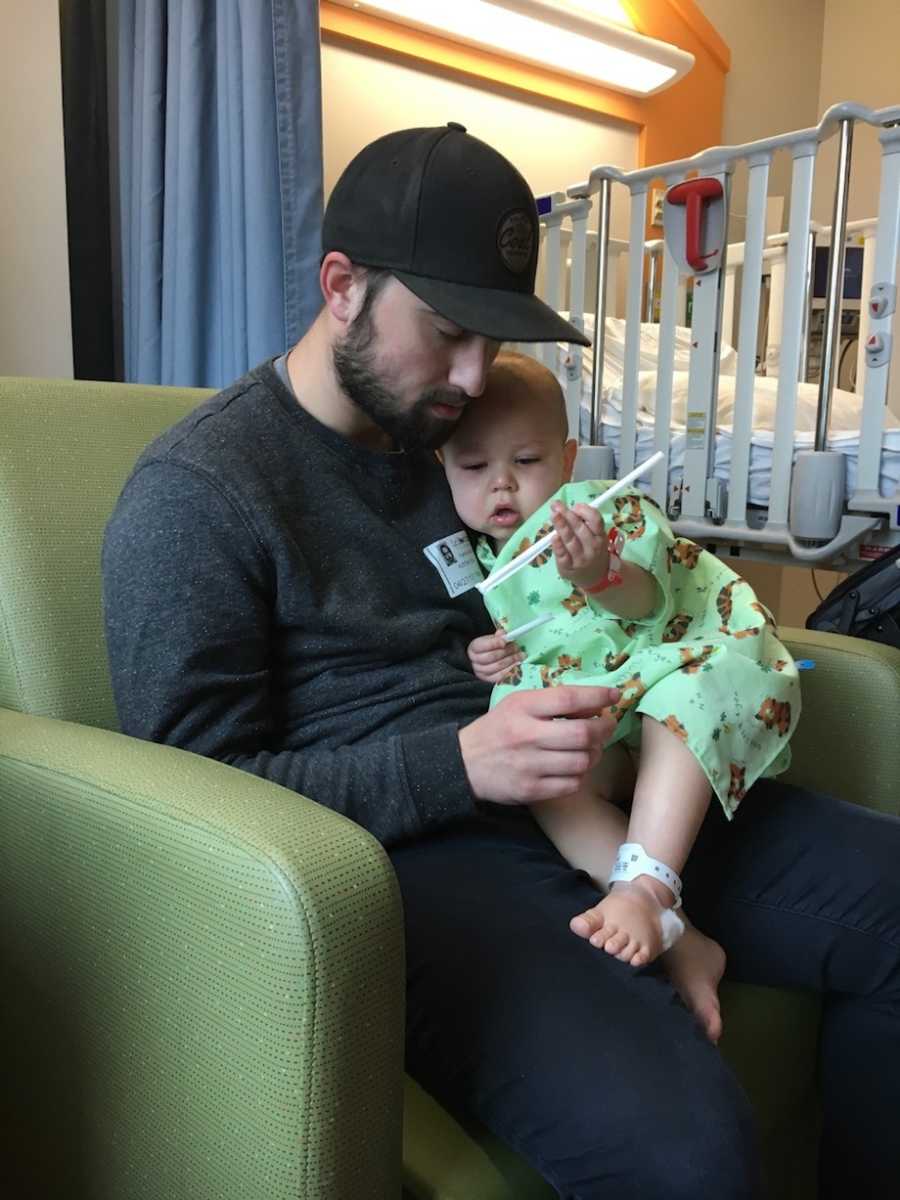 Every Tuesday, I drove down those beautiful, curvy roads to that big chubby smile. We played on the floor, crawling and learning to make new sounds. We worked on oral motor skills as he sat in his chair for scheduled g-tube feedings. His foster home was always welcoming to my presence and to my questions. You see, my husband Austin and I talked about our desire to one day adopt a child of our own on our first date. It wasn't just a dream, not just an option – it was something we would one day do. I often asked Mrs. Hannah about foster care. I shared with her our dream and she graciously offered her counsel. A few months after meeting Grayson, Austin and I enrolled in foster care classes, and we became certified foster parents.
One day Mrs. Hannah called, 'I cannot stay with Grayson for his surgery at LeBonheur because of my other foster children. Since you're now certified and Grayson knows you so well, would you be willing to provide respite care for him?'
It was a very easy yes. Holding and comforting him while he was hurting and scared filled me with a certain kind of peace I'll never be able to explain.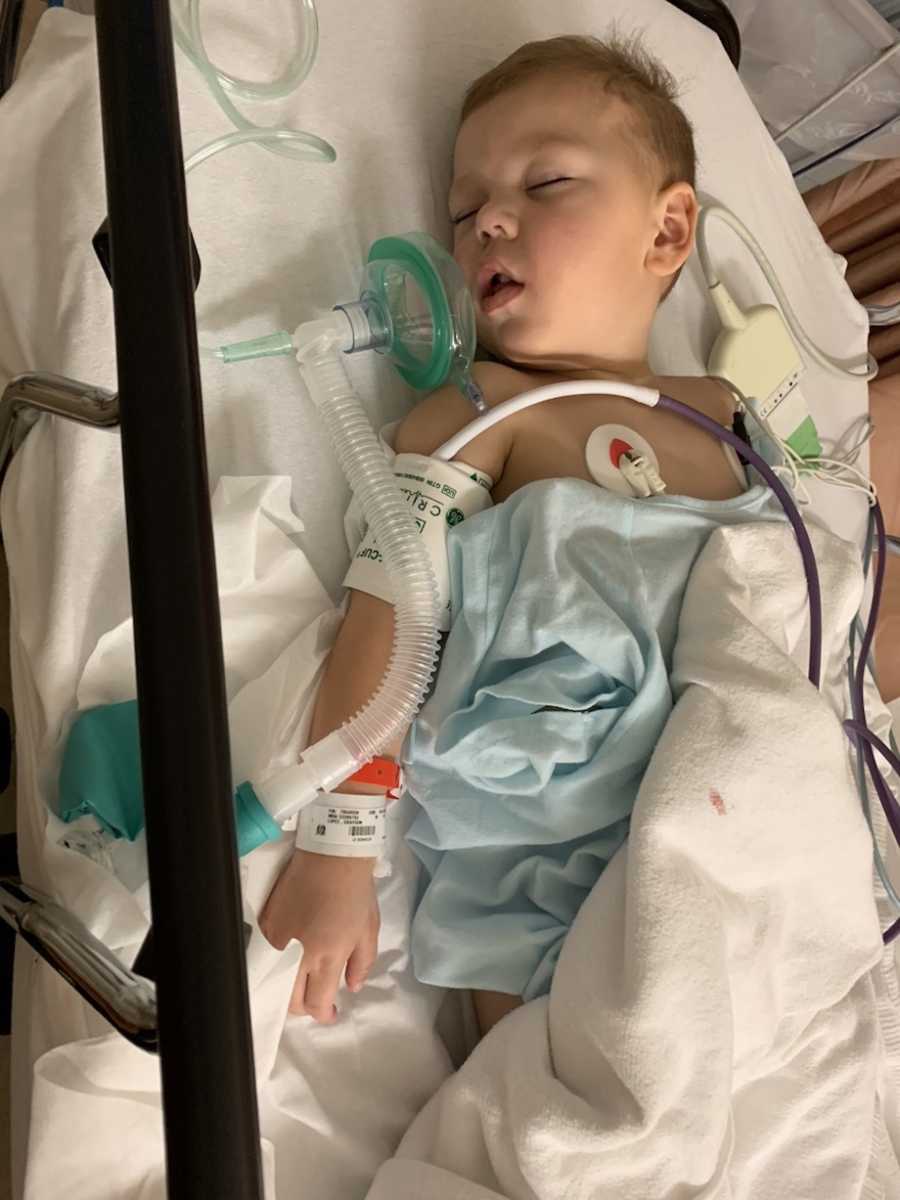 The next day following his surgery, Mrs. Hannah came to take him back home. As we were packing our bags to leave, she received a phone call. 'I can have him ready as soon as I need to.' The person on the other end of the conversation was unknown.
We had been there all night with very little sleep. We put our bags on our weary shoulders and said our goodbyes when she pulled the phone away from her mouth and told us, 'Grayson's caseworkers want to meet with you this afternoon.'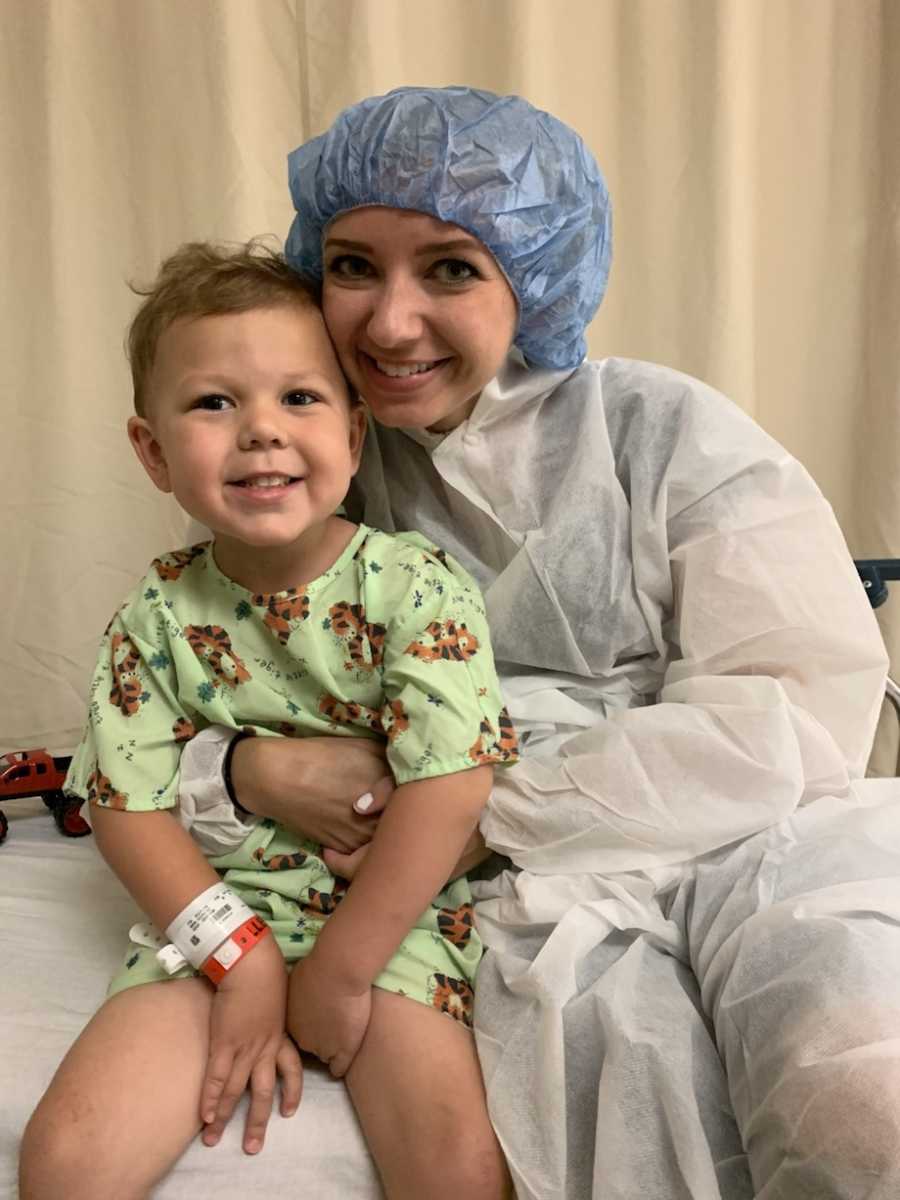 With no questions asked, we agreed. On the drive home, I called my clients to cancel my sessions for the afternoon. We showed up to the meeting a little early and a little sweaty from nerves. We sat in a room with a long table and lots of chairs – most of them filled with faces we had never seen and a couple of names we had only heard. There was a telephone in the middle of the table with multiple people on the call. The voices talked around us, used our names, as if we weren't even present. With shaking knees and wet palms, we froze when we heard, 'Grayson will be moved to the Gray home tomorrow.'
We made plenty of stops on the way home for supplies and spent all night setting up racetracks and highchairs and washing blankets and sheets. The next day, we drove along those curvy roads and rolled down the driveway over the rubber hose. And there Grayson was, smiling his big smile. A big box of toys and clothing was sitting by the door. Another was filled with his medical supplies and diapers. We loaded them in the car and took our boy home.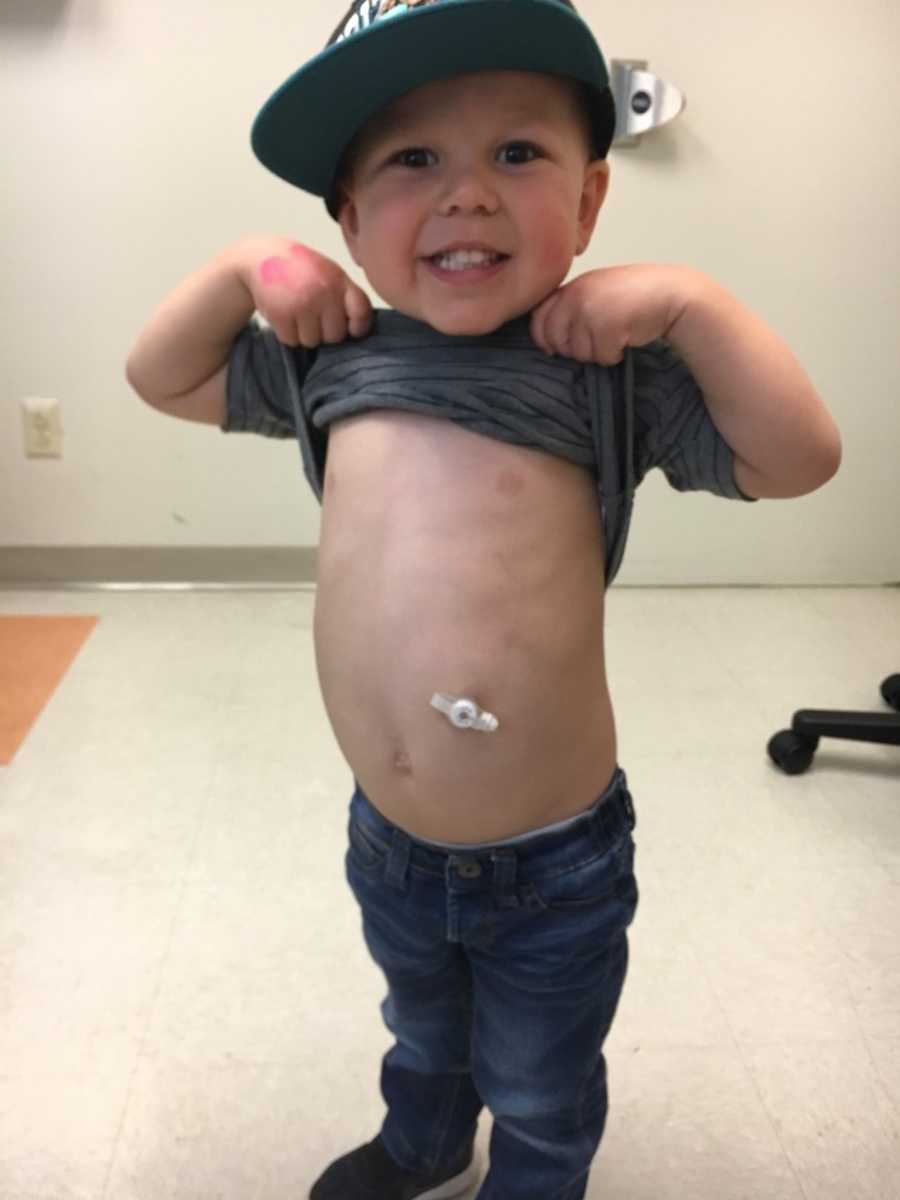 The next year was filled with more heartache than expected and a stark realization one family was being broken as ours was being built. There are no accurate words to describe the feelings we shared – the best I have is sad and thankful. It took us a while to realize it was okay to feel both. We officially adopted Grayson after what felt like months of tug-of-war. We decided to take a break from foster care for a while and enjoy time as a family of three. The months were filled with g-tube feedings, LeBonheur visits, and many more surgeries.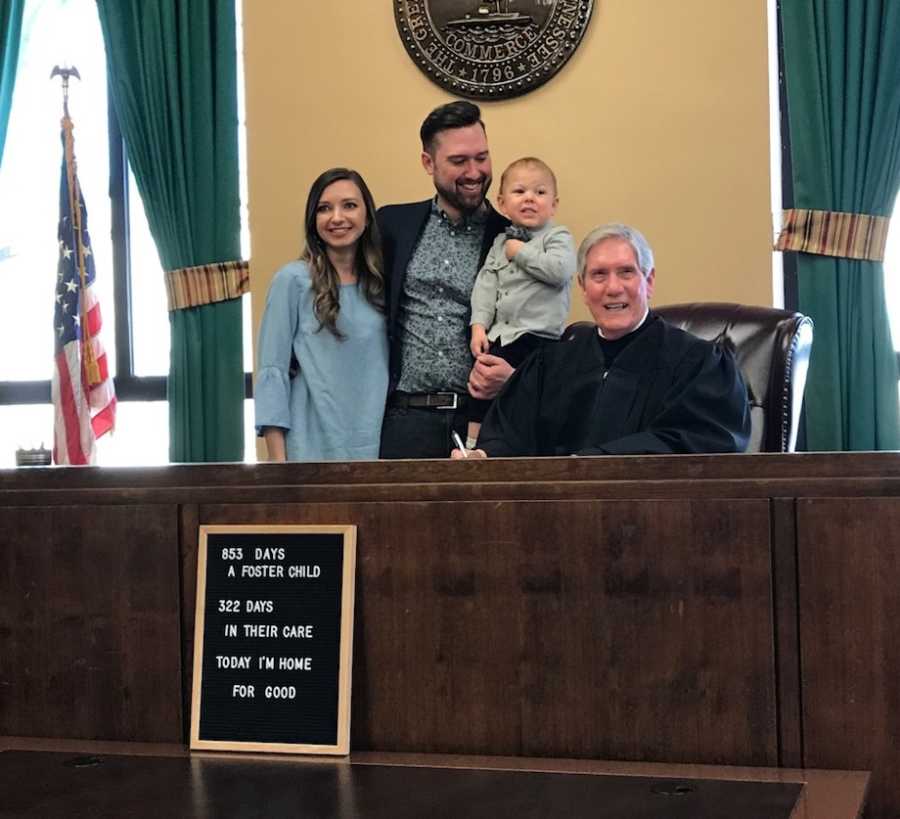 After some time, the next step for our family was obvious to Austin and me. We planned to get pregnant, giving Grayson a sibling. Around the same time we made this decision, we received a call from another social worker. There was a baby in Texas that needed a home. It was another easy yes for us. Why make a baby when one is already in need of a home?
The paperwork was endless and the calls to the Department of Children's Services were often. Each call was the same for many months: I would ask about the next step, and they would tell me about some sort of document requiring another person for another signature. I was tired of watching my baby grow through videos on my phone. I asked if it was possible for me to physically transport some of the paperwork across town to obtain the final signatures, and while they seemed confused, they said yes. The documents rode in my car, from one signature to the next, and I wondered the whole time if it was even permissible. I didn't care. I just wanted my boy… my Jordan.
Jordan's social worker went to Texas and put him on a plane with a suitcase and a car seat. They arrived at our home hours later. I ran outside and opened the door to her white car and found Jordan asleep. I carried him inside. He never cried, just looked a little confused. We invited her in for dinner and sat at the table eating chili as if the whole situation was normal. She made sure Jordan was settled and drove away. After the mandatory 6 months of foster care passed, we started the adoption process again.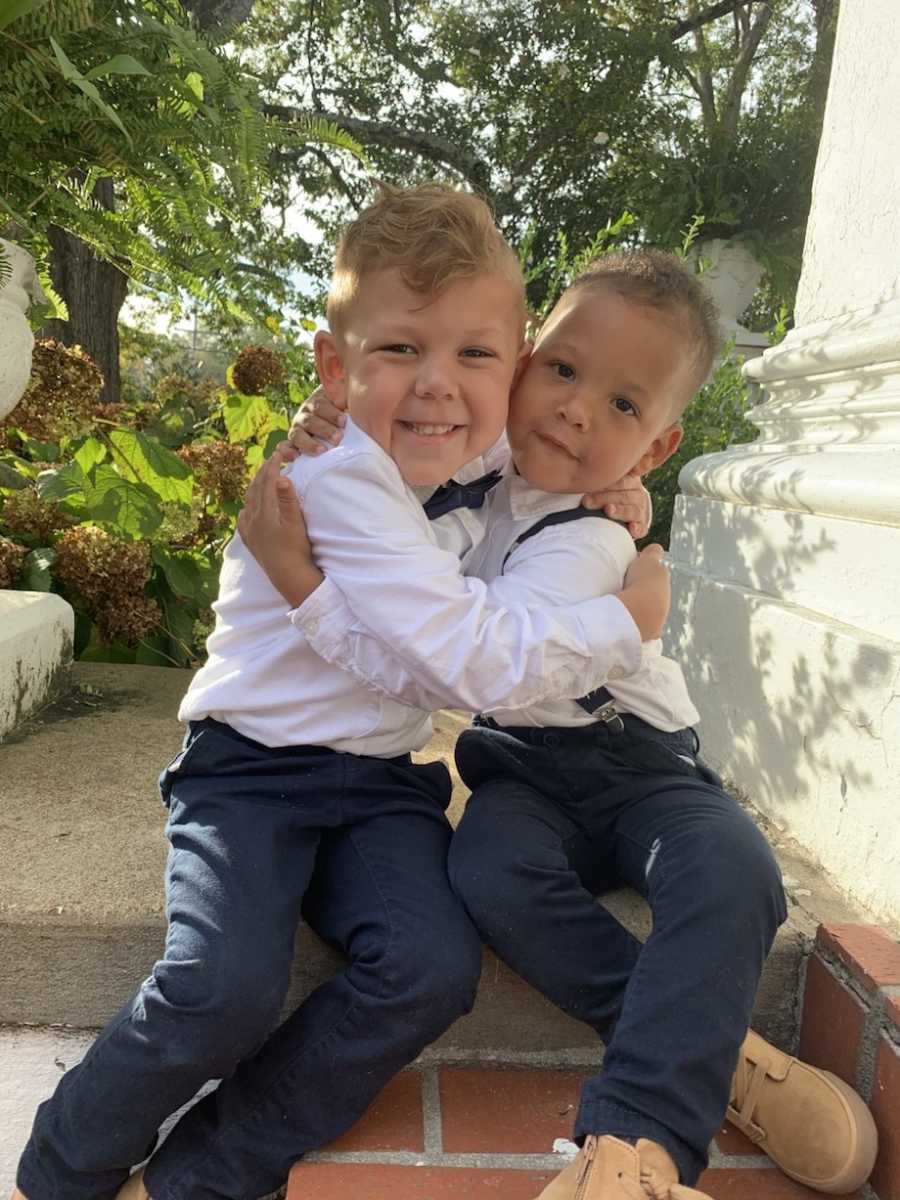 Since Jordan was born in another state, we couldn't legally have the adoption in Tennessee where we live. They agreed to do the adoption via teleconference in a courtroom in Tennessee so our friends and family could be present for the big day. We planned the adoption party and had our clothes picked out for the occasion, Friday, November 22.
It was Wednesday afternoon, November 20, when Grayson was in the chair at the salon getting his hair cut in preparation for his little brother's big day. While he shared all about his little brother's adoption to the stylist, Jordan's adoption attorney called me. I excused myself from the sweet conversation and to take the call outside.
'The judge is refusing to do Jordan's adoption via teleconference. You have to either be in Texas on Friday and hope they will squeeze you in, or we hire another attorney and start the process over in Tennessee.'
Did the judge not know how much work we had put into this? How long we had waited to give this boy a permanent home and name? Through tears, I called my husband to inform him of the new information. 'Alright. Looks like we're headed to Texas. I'm on my way home to pack.'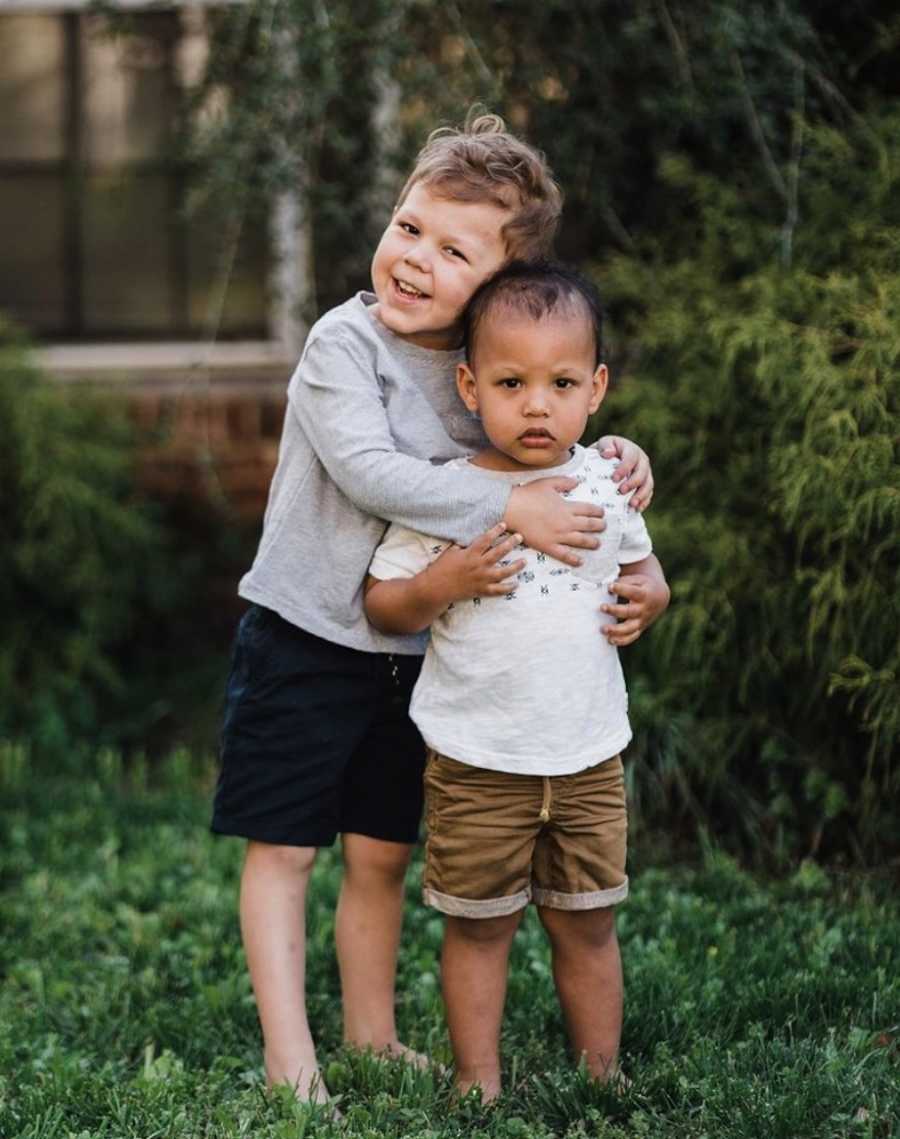 The drive was long and stressful and exciting. We made all the necessary calls and canceled all the plans. We knew there was a chance the judge wouldn't have time for us, but we had Jordan's tiny bow tie ready just in case. We arrived at the courthouse and walked in to find there was hardly room for us to sit. We squeezed ourselves onto a bench and waited. We sat through several adoptions, and while we were so happy for those families, we were anxiously awaiting our turn. Would they call us? Do they have time? And then it happened – our last name echoing through the courtroom. It was our turn! We walked down the aisle and the judge smiled at us. She said words I'll never remember and asked questions to which we could barely get the answers out. She swung the gavel and with a loud, beautiful popping sound and that was it. Jordan was ours forever.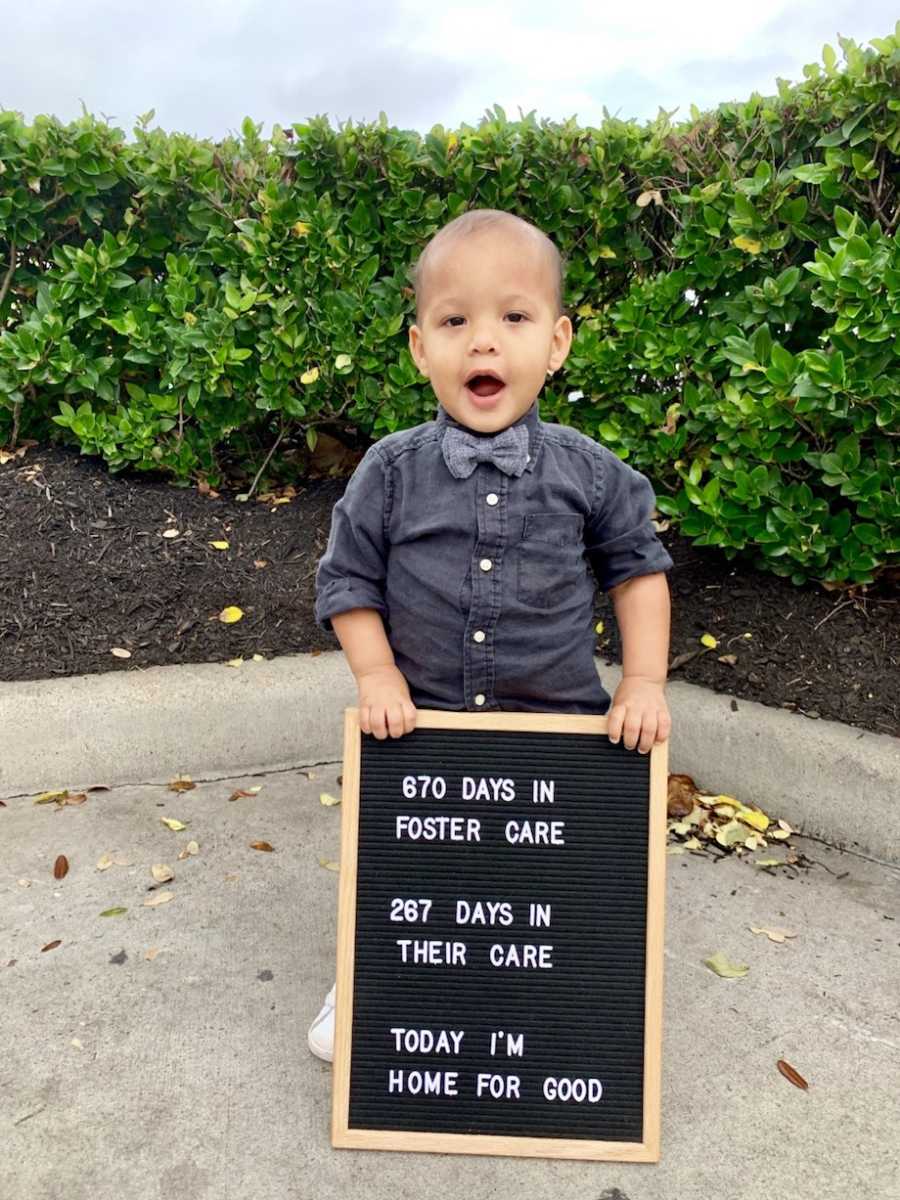 Jordan and Grayson are both so worthy of a loving home, of a life filled with joy and happiness because they are beautifully designed and exactly who they should be. It was through providence Mrs. Hannah provided the wisdom we needed. It was through providence I met Grayson. It was through providence we were introduced to Jordan at the exact time we needed. That small bump of the rubber hose was just a symbol of the time and care it takes to facilitate growth and beauty – both in and outside of the home. And while it may mean a bump in the road, it is through those very bumps we are led to exactly what we need. For us, that meant our family, and we are forever thankful."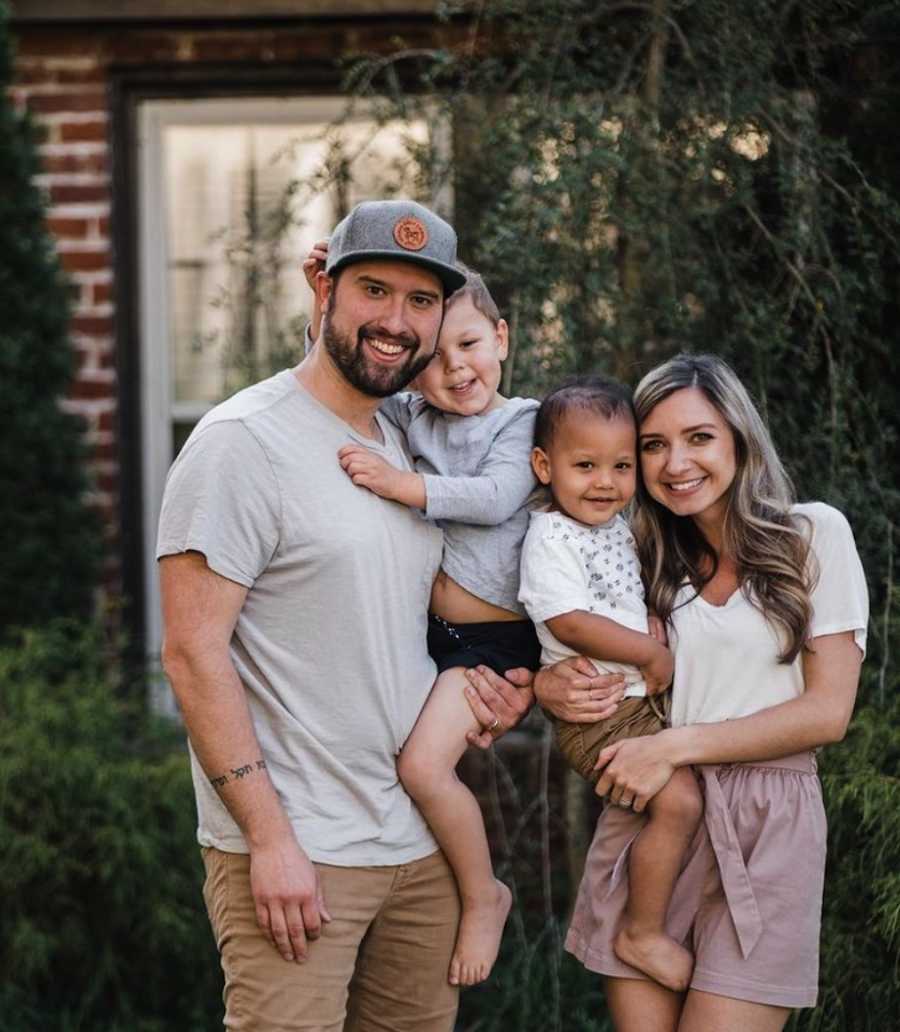 This story was submitted to Love What Matters by Caisie Gray from Jackson, TN. You can follow their journey on Instagram. Do you have a similar experience? We'd like to hear your important journey. Submit your own story here. Be sure to subscribe to our free email newsletter for our best stories, and YouTube for our best videos.
Read more touching stories about adoption here:
'This little boy needs a forever home.' I stared at the picture and felt the Lord say, 'This is your son. Let's fight for him.': Couple adopts from foster care, 'Our forever has just begun'
'Please take me home.' Watching her crumble at her birth mother's feet almost did me in. We had to protect her.': Couple adopts teen from foster care, 'She deserves a safe place'
Do you know someone who could benefit from reading this? SHARE this story on Facebook with family and friends.