"I'm not sure how many couples 'PLAN' on five kids…
It's hard balancing a marriage, two jobs, and four VERY busy kids, so imagine the surprise of another baby! So many emotions.
I remember talking to my midwife Kaitlyn and she had nothing but love and compassion for me, telling me I could do this and this was God's plan. So here we go again… I was so nervous to tell everyone we were having another baby, but everyone was so excited which gave me comfort. Since this was my fifth baby, I've literally labored every way possible, so I wanted to leave something to surprise — something different to look forward to, especially because we really were not planning to have any more. I decided to do a surprise gender and my husband and kids just went along with it.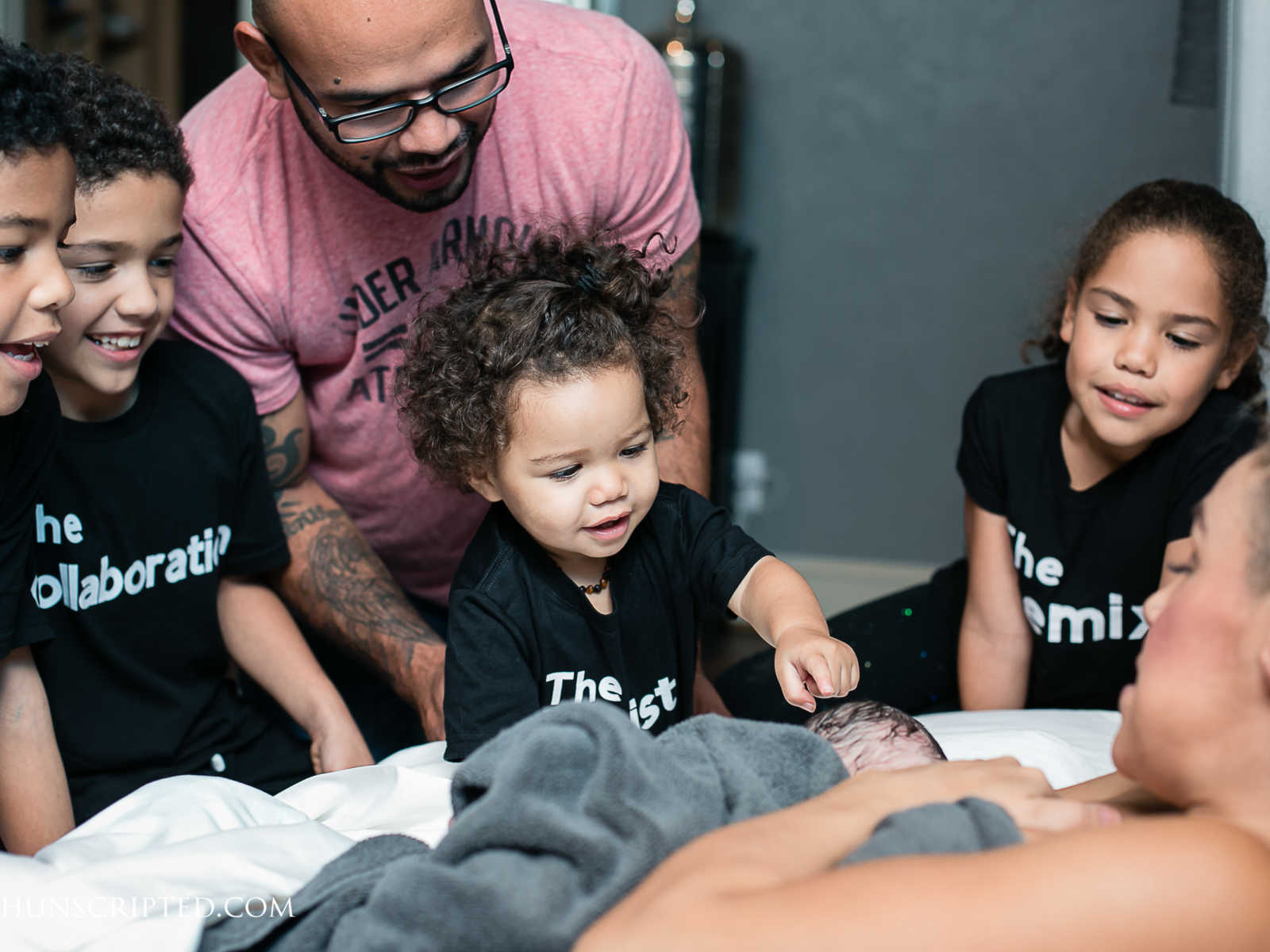 Not knowing what my baby was, it was hard to envision what my family was going to look like. Were we going to have to paint the house pink? Were we always going to have to leave the toilet seat up? We all thought I was having a boy — all of us! But I also knew that something was different. I didn't know why or what, but I always told my husband, 'This baby was going to be different.' My pregnancy wasn't different, but I knew something was. He kept saying it was because we didn't know what the baby was, which is why I felt that way.
Toward the end of my pregnancy I could feel our baby breathe which was soooo different. No one believed me, but if you have been pregnant as much as I have been, you learn a lot about your body. It was fast and consistent. Not like kicks or hiccups.
At 38 weeks and six days, I went into labor. It was fast and hard. I could barely make it to the tub but I did.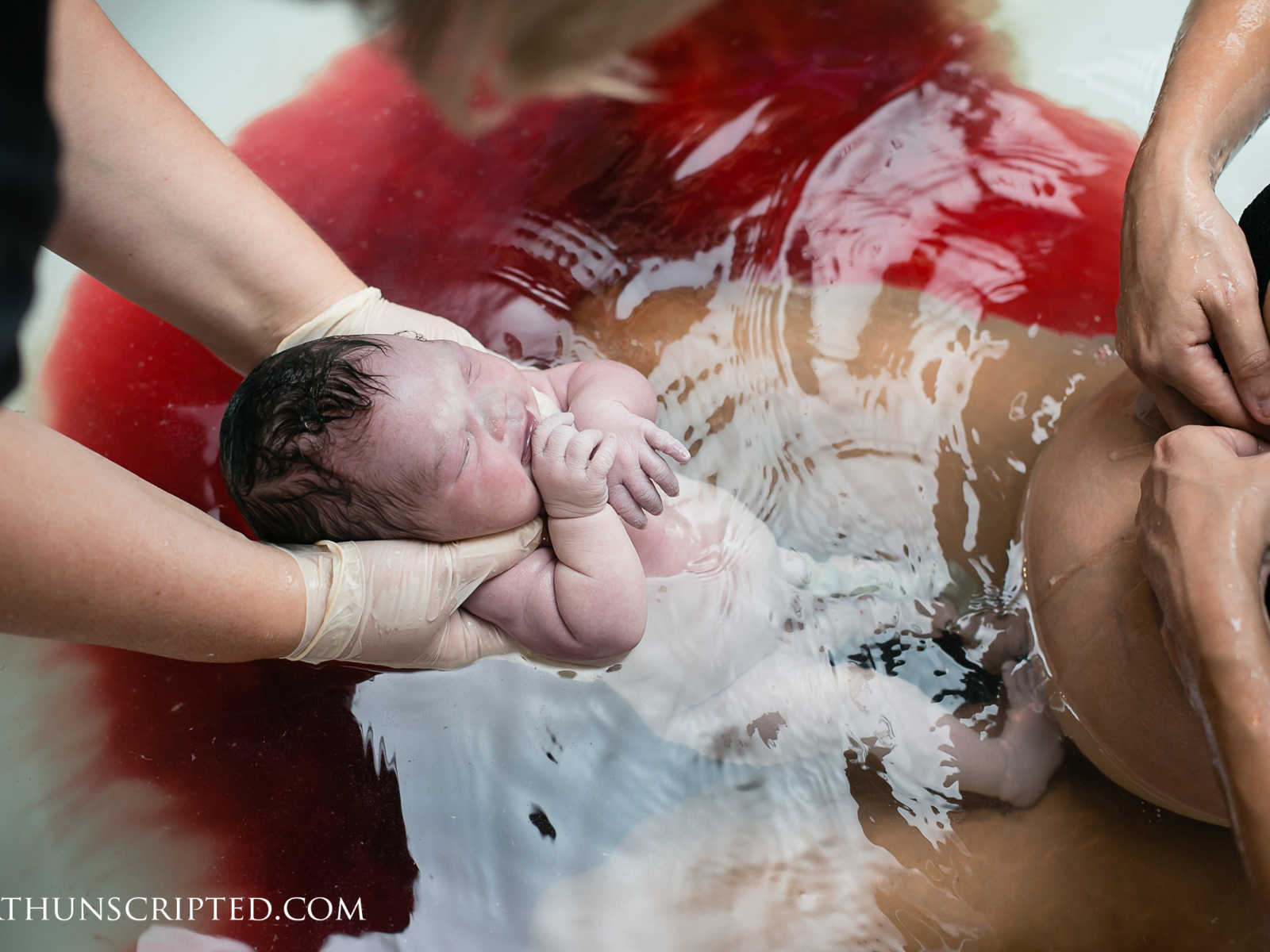 I was there for maybe five minutes before the baby arrived — this amazing clear water birth like I always wanted!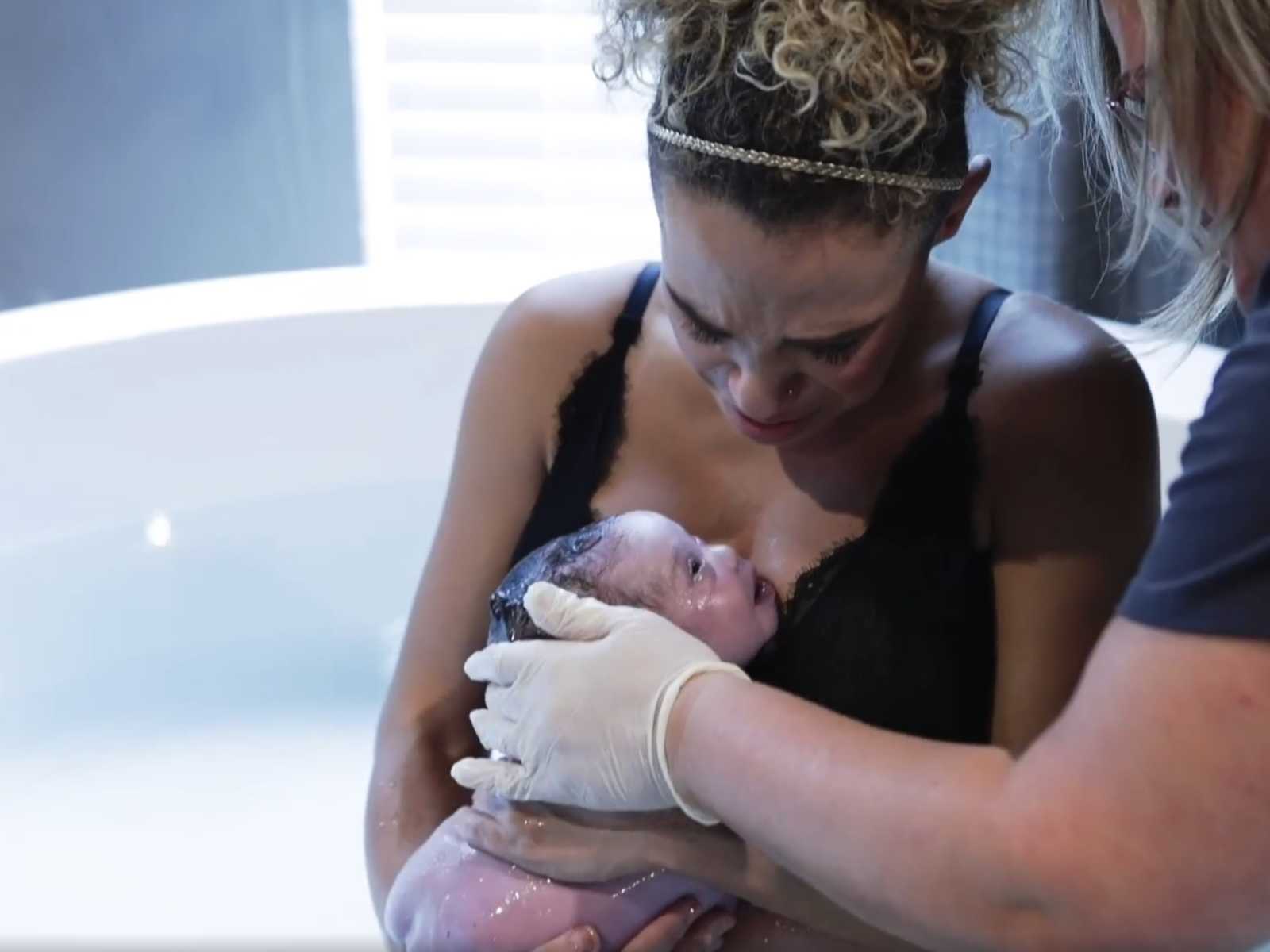 Next thing I knew, my sweet baby was in my arms and I had so many emotions; and as soon as I looked down, I saw it. I saw it in my baby's face. I thought to myself… my baby has Down syndrome.
My family said, 'Well what is it?!' I totally forgot we didn't know if it was a boy or a girl. I looked down, and to my surprise it was a girl! My thoughts of her having Down syndrome went away because I was so excited we were having another girl!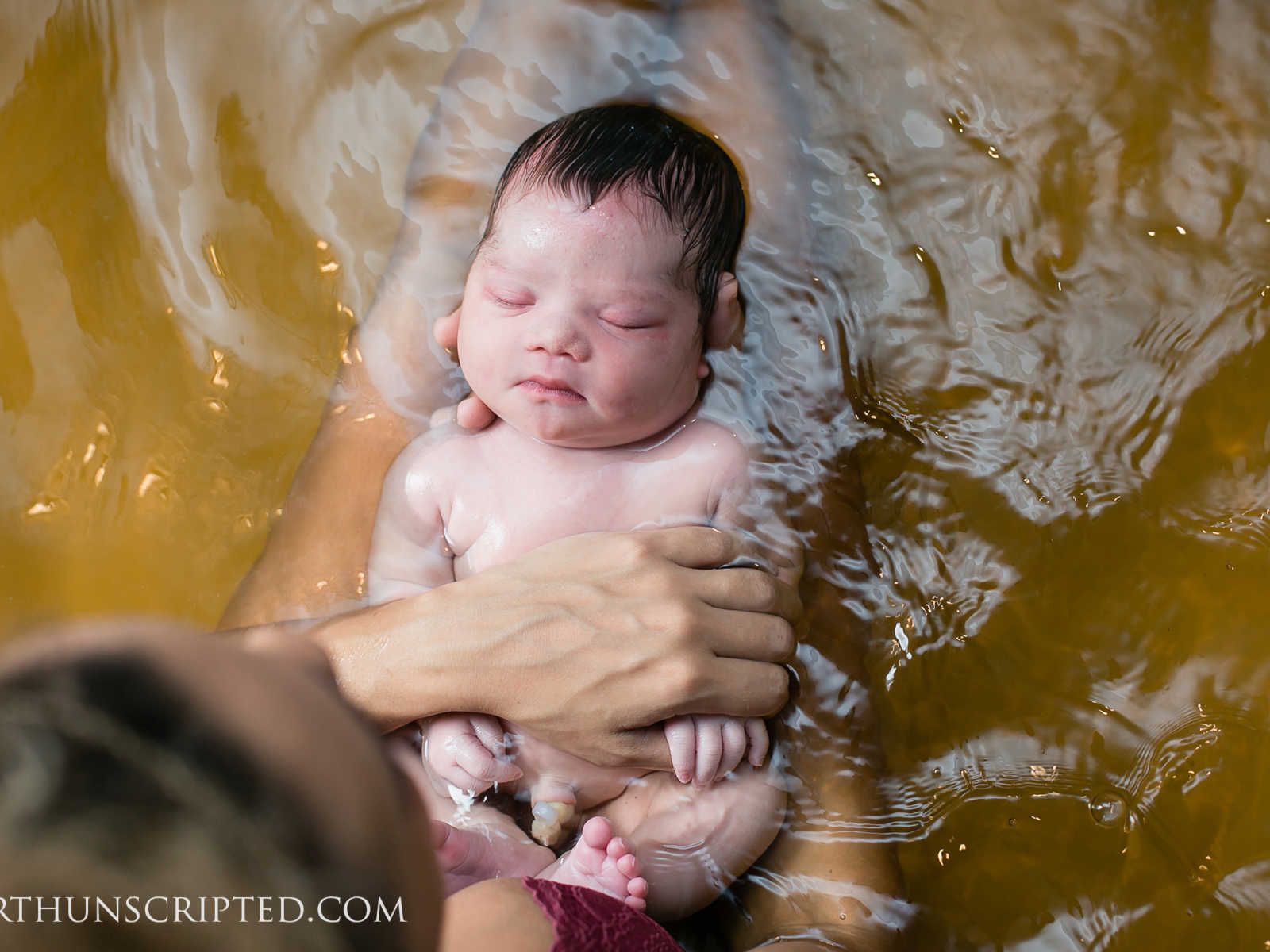 I'm a planner and I love education and I knew nothing about kids with Down syndrome. After getting out of the tub and nursing her I could feel that she felt differently than all my others. She felt really limp, and her eyes. We all have small eyes, but hers were small in a different way. I kept thinking, 'Why isn't anyone saying anything?' Then I saw her breathing and it was just like how I felt it in my stomach (now I know it's due to her heart defect) — fast and consistent.
No one said anything so I thought I was crazy. As they were going over her exam, my midwife Angela seemed more serious than I had ever seen her. Almost nervous. She said, 'I don't want to worry you, but your daughter has a few Down syndrome markers.' In that moment I was like, 'I knew it! I KNEW IT!' I wasn't going crazy! I knew something was different when I was pregnant, and then I immediately became a worker bee. I wanted to know everything they knew about babies with Down syndrome so I could best care for my daughter, Amadeus. We didn't care that she had Down syndrome because we were all obsessed with her and all her chromosomes!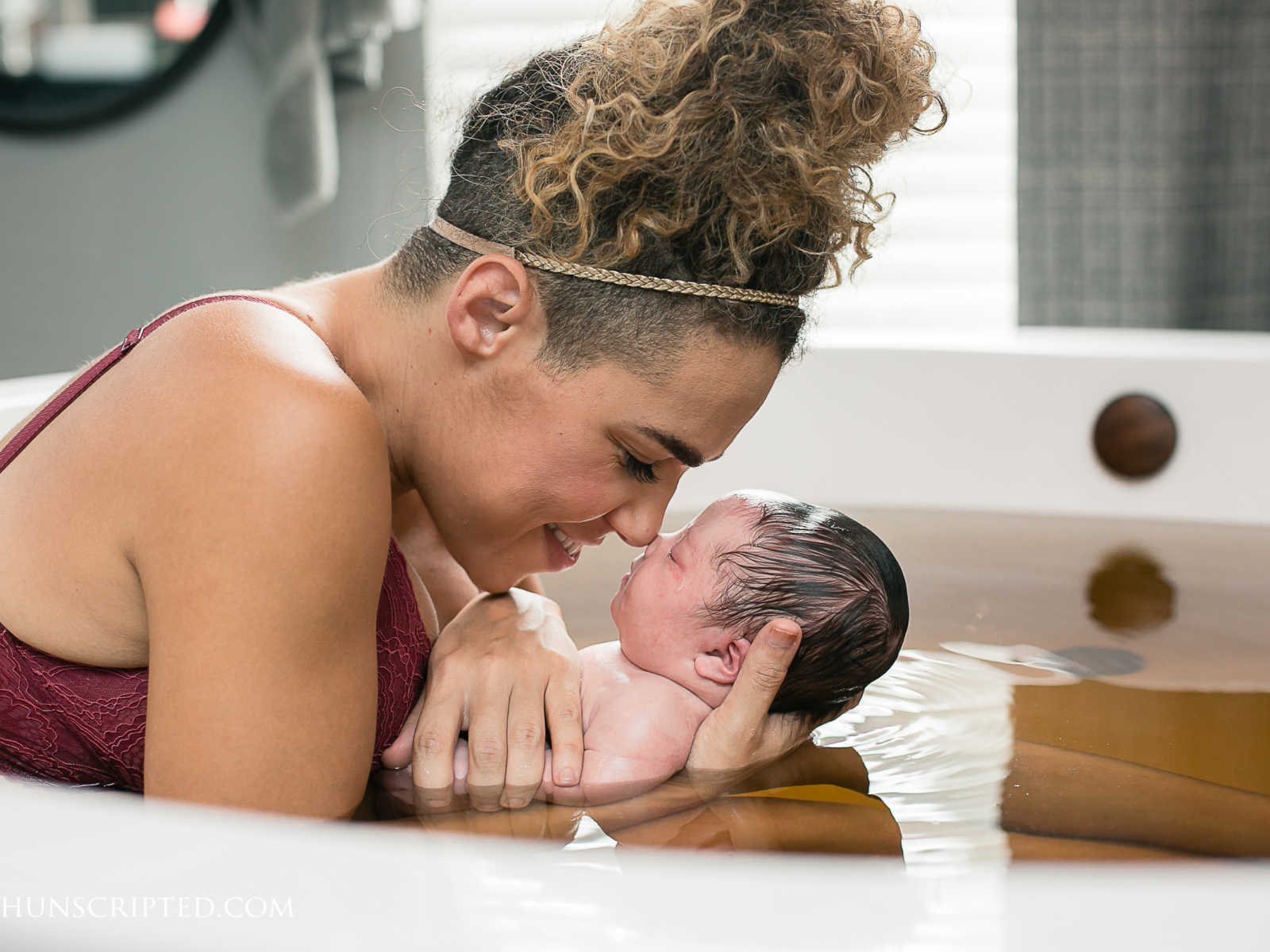 She had a low resting heart rate, so we headed to the hospital to get her checked out. The hospital didn't love that we had a baby with Down syndrome at a birth center but after a week stay and all these tests they wanted to run, we left with a diagnosis of Down syndrome and a heart defect (that is typical with babies with Down syndrome). We are actually preparing for her open heart surgery which is Tuesday.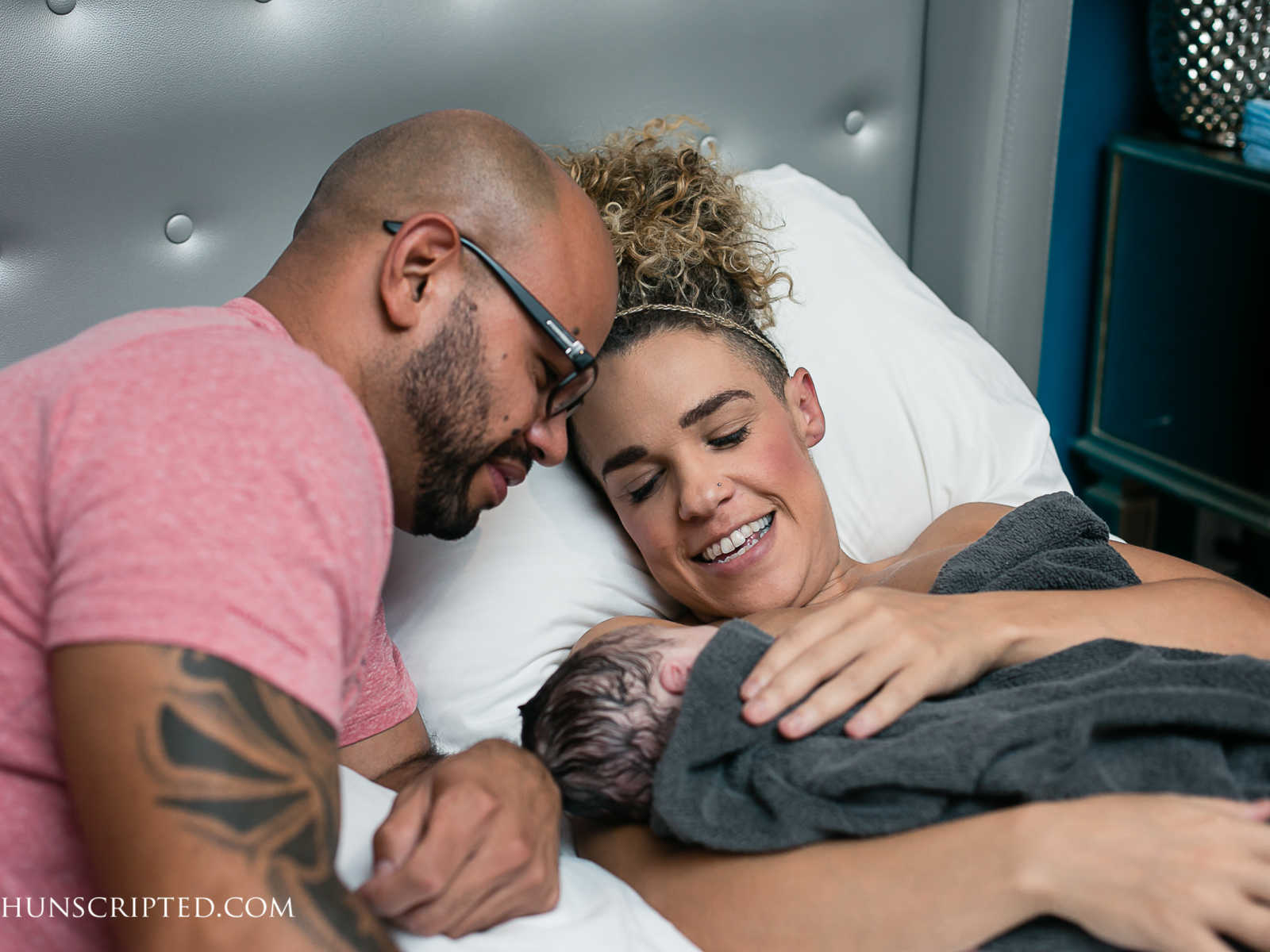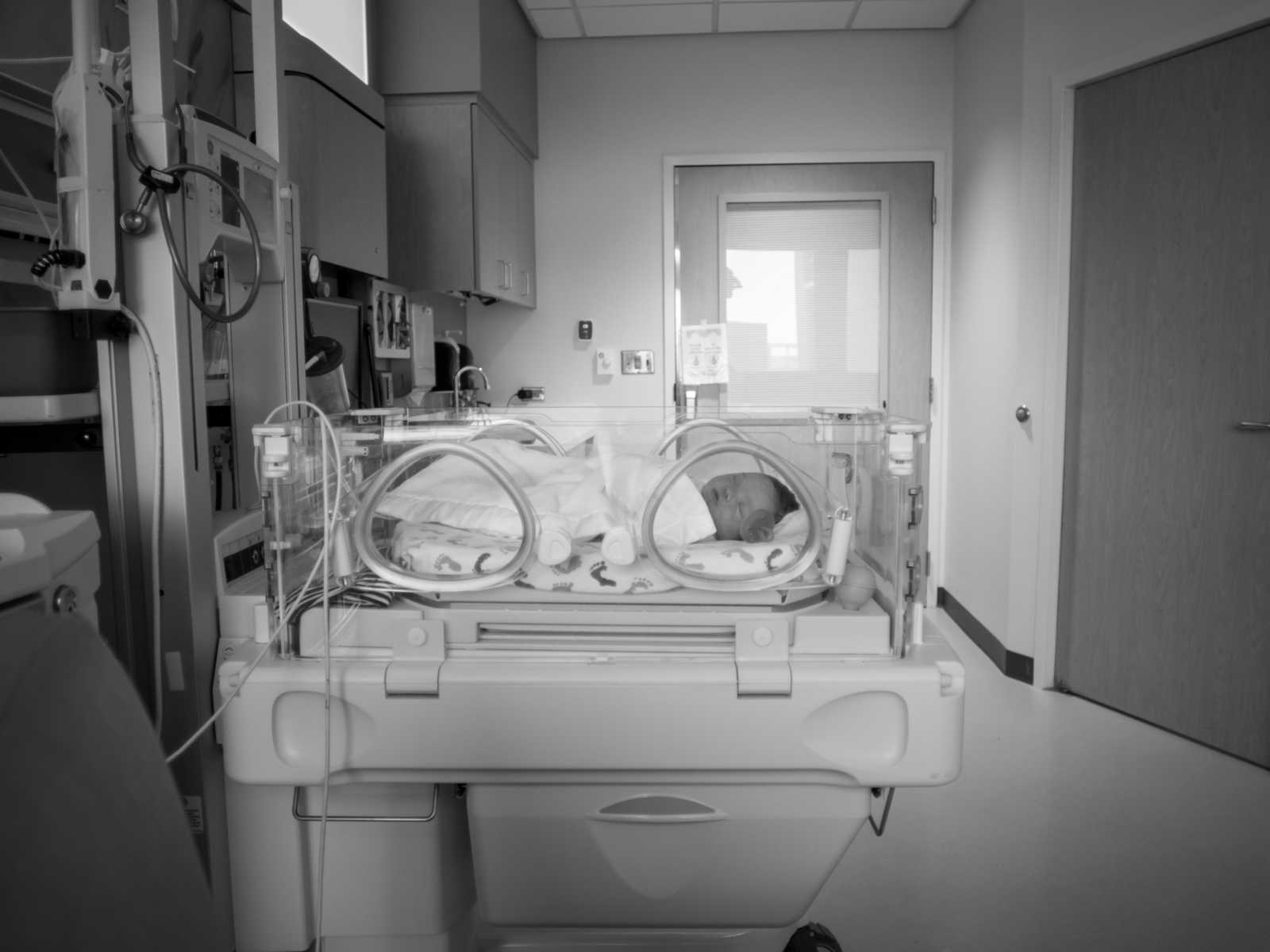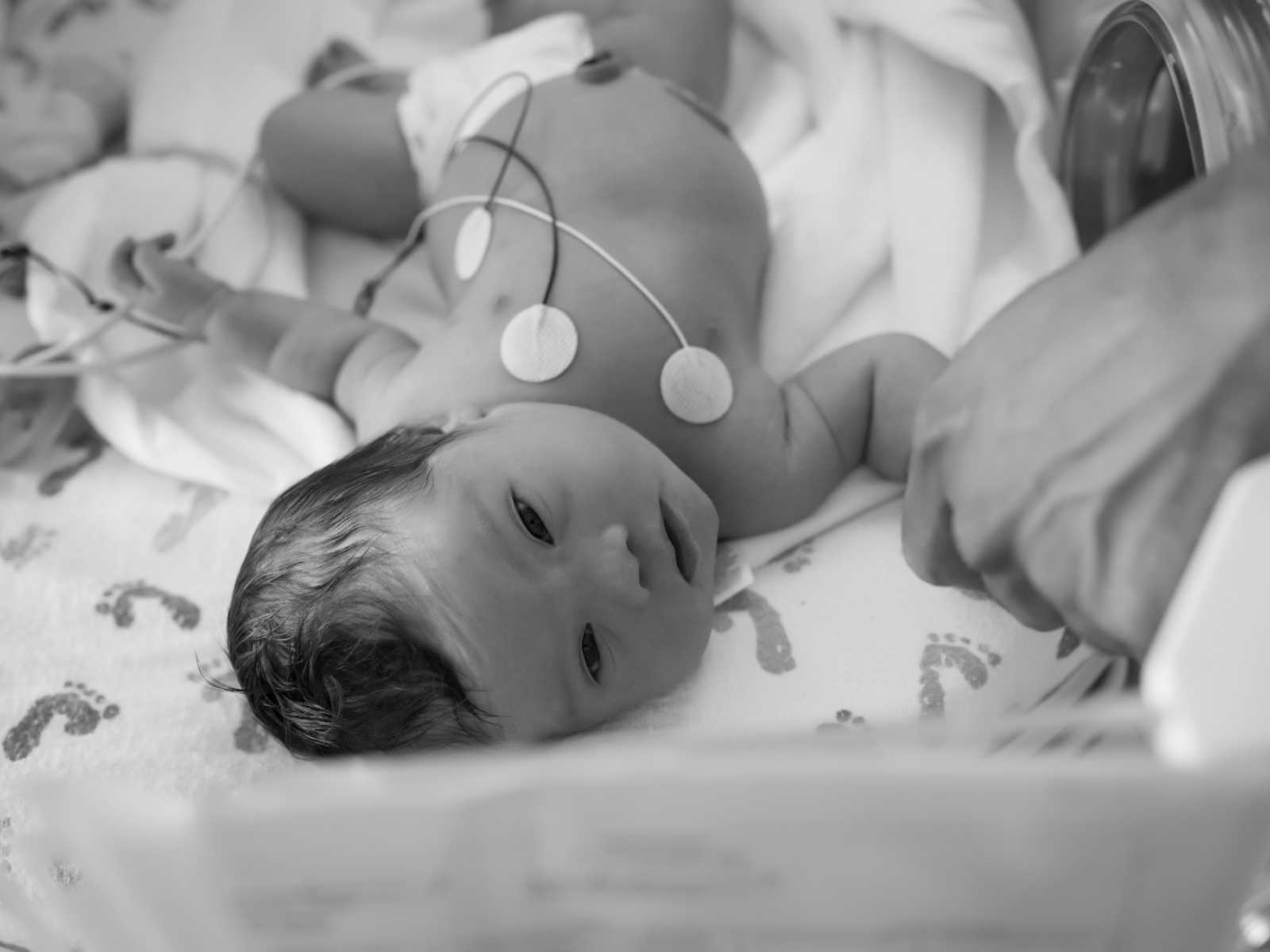 To us, she's like all the other babies we have had! She needs milk. She cries when she's wet or uncomfortable. She smiles when she sees us, and we love her fiercely! God gave us Amadeus for a reason. Our family was going a million different ways and Amadeus has brought us together. We are learning together about a whole community that we never knew anything about. But at the end of the day she IS our baby and we are her FAMILY! To us she is perfect. We don't see her diagnosis or her label — we see Amadeus Reign Rojas."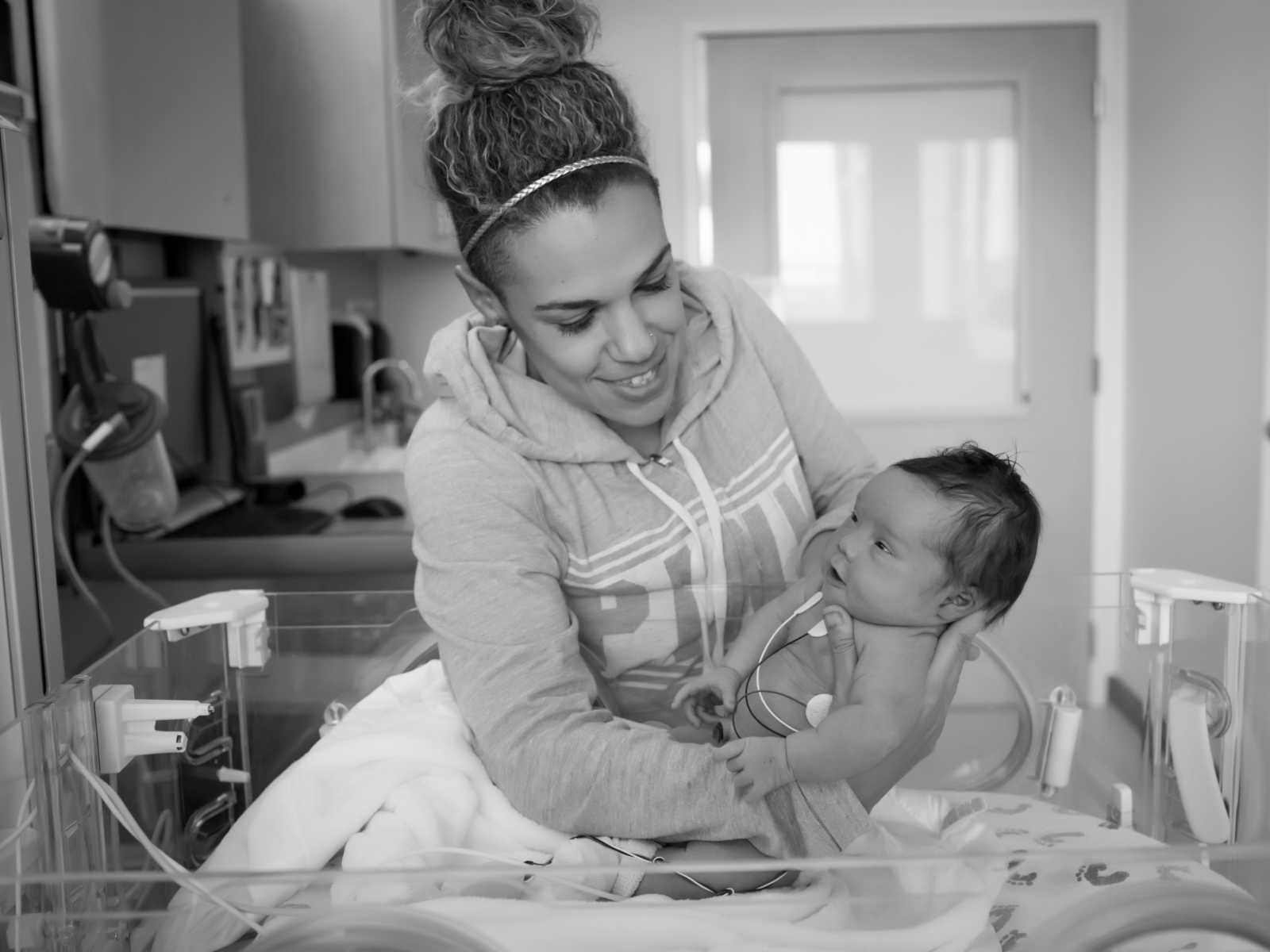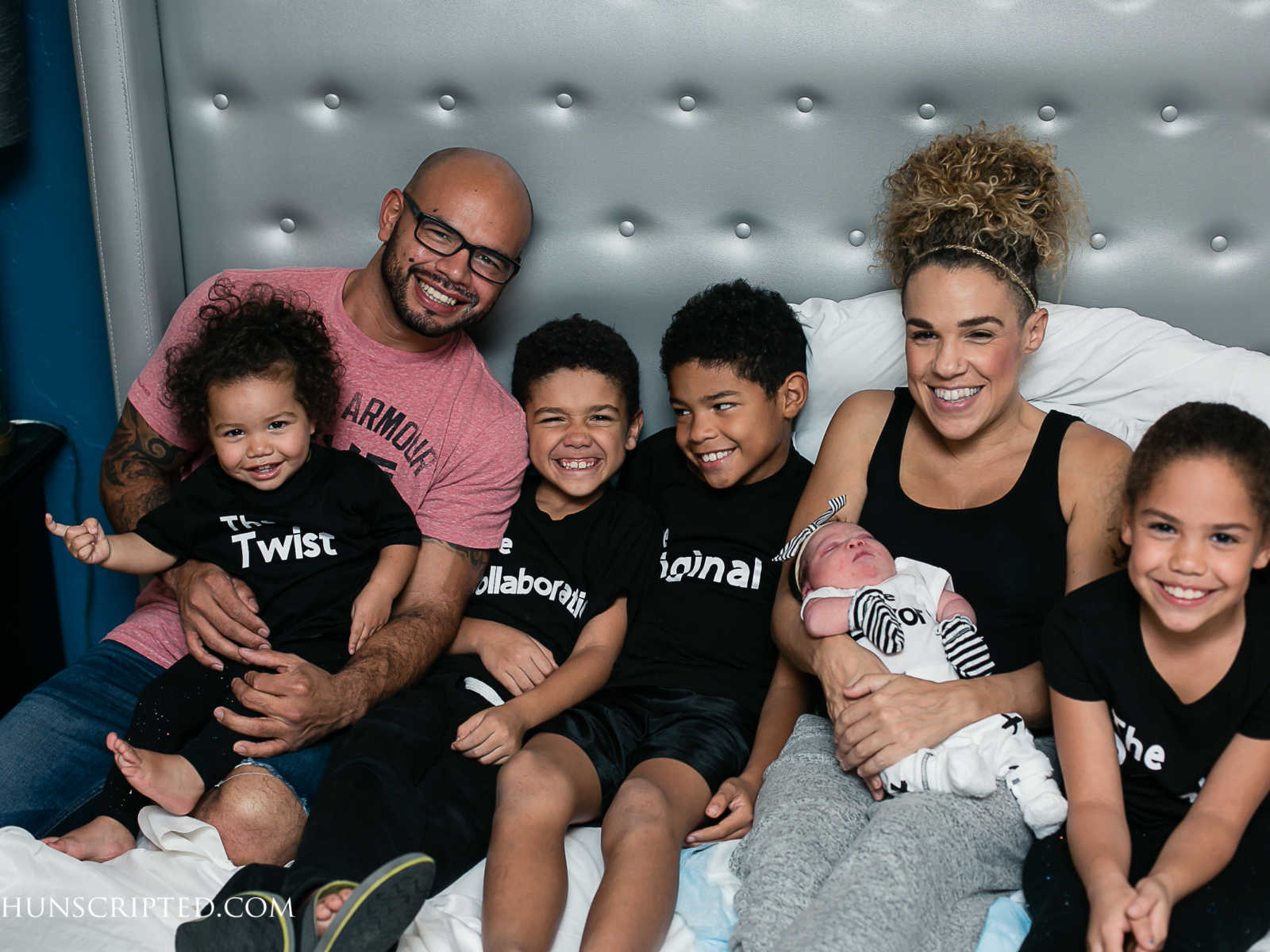 I think a birth film is just what everyone needs to cheer them up on this yucky rainy day!Meet, Amadeus… This was baby number 5, their tie breaker, surprise gender AND 2nd VBAC. She had an even bigger surprise in store with a surprise down syndrome diagnosis but that didn't even matter because they were completely in love with her and all her chromosomes. Her big siblings helped encourage their mama by hanging special signs they made her all around the birth room and they could not WAIT to see if they were getting a brother or sister!

Posted by Birth Unscripted on Wednesday, February 21, 2018
This story was submitted to Love What Matters Amber Rojas, 35, of Cedar Hill, of Texas. Submit your story here.
Read more stories like this:
'He has no chance of surviving.' There was fluid around his heart, lungs, and brain. They didn't believe the pregnancy was viable, but he was SO loved already.': Mom births baby with Down syndrome
'There's no nasal bone. I have to talk to the doctor.' I sobbed, 'What did I do to deserve this?' My heart raced.': Baby born with Down syndrome is mom's 'biggest blessing'
Do you believe in the power of embracing disabilities? SHARE this story on Facebook.