"I have never met Tessa or Danilo. I do not know their faces, surnames, ages, job titles or nationalities, but I know their numbers, and how they live a few doors along from me and if I ever need 'any help with groceries etc. over the coming weeks,' they are close. I've read that note, several times over, tears welling in my eyes as I remember I am not alone.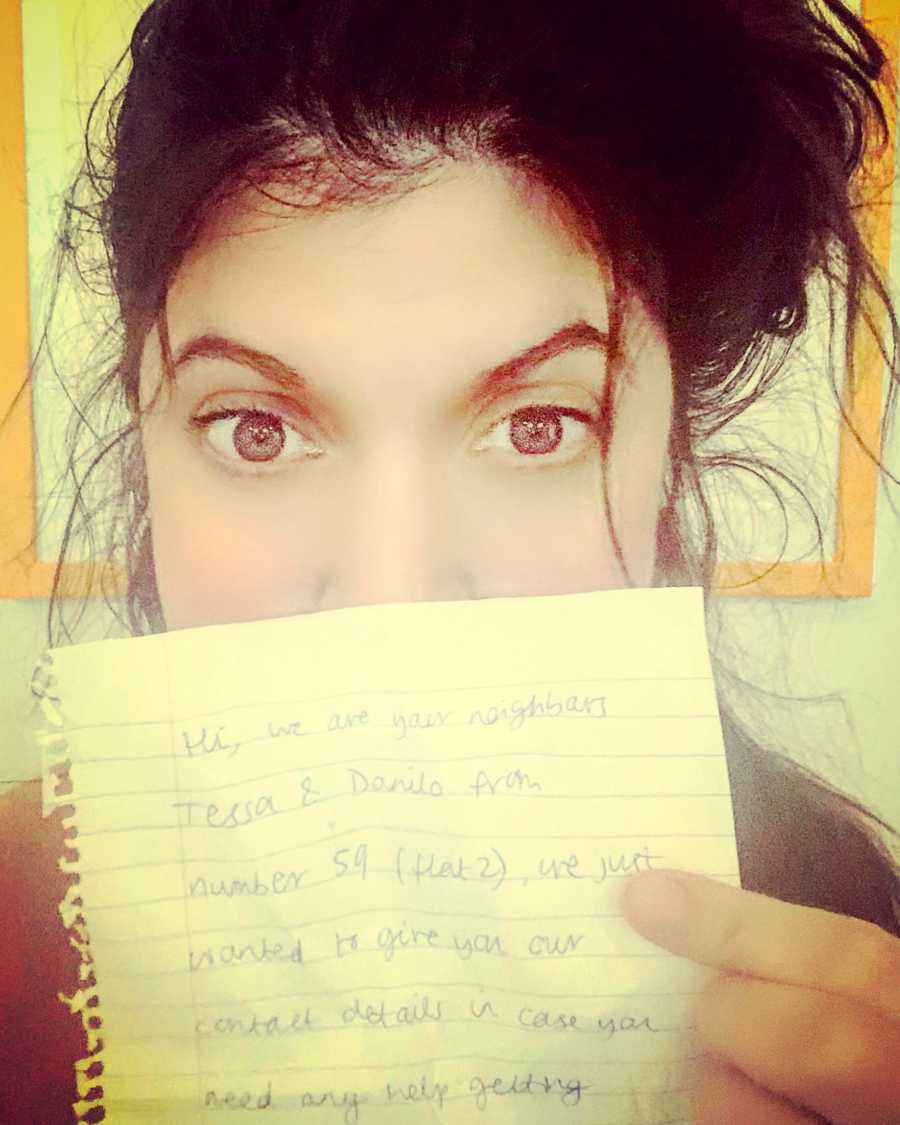 The second note arrives. Rosie and Oz can collect shopping, post mail, walk dogs and put in a friendly call to anyone feeling lonely. Yesterday, the ice cream van man gave my son a lolly because I'm no longer carrying cash.
In the psyche, as with nature, there is nearly always a solution and an antidote. A month before Coronavirus hit, the UK reeled in shock when one of its most high profile TV presenters took her own life. The mantra trending in the wake of her death was, 'Be Kind.' Neither she, nor anyone, could ever have predicted how those two words would resonate with our situation now, just as we can never truly know the impact on a stranger or acquaintance of a note through the letterbox, a smile, a call, a thought or a gift.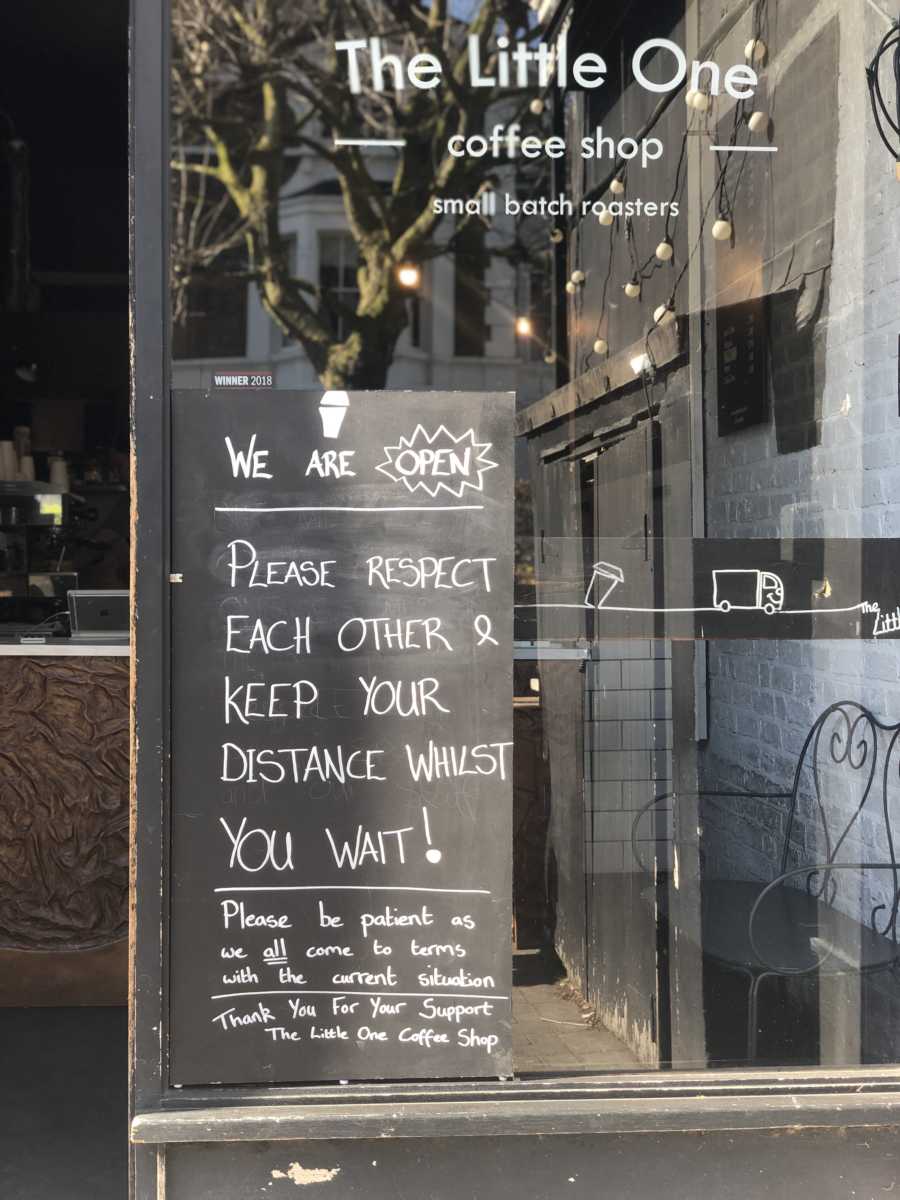 In neighboring Primrose Hill, the shops are closed, but storefronts bear signs offering help for those in need. Across the UK children paint rainbows and place them in windows for other kids to see. Local grocery stores – whose supplies haven't been depleted by the panic to stockpile as the supermarkets have – keep essentials aside for their regular faces.
This virus is harming most psychologically and emotionally rather than physically, and in many more ways. Covid-19 is the infectious, invisible enemy everywhere: all-consuming, powerful and omnipotent in its devastation.
But love is also invisible.
Kindness is infectious.
Community is everywhere.
Compassion is all-consuming.
Prayer is powerful.
Solidarity is omnipotent.
And beauty is devastating.
And those are within our grasp. Let's fight this blight with the only arsenal we truly have within our power. Let's kill the terror with kindness, love, generosity, joy and care.
This week, we started dropping groceries at the neighborhood food bank via our daily walk. On my weekly schedule is calling elderly relatives and acquaintances in isolation and sending them pictures of my son. I donated a microwave to our local hospital after seeing an Amazon gift list circulating on Facebook of items the staff and patients need.
Last night, my son shouted, 'Mummy look at all the stars!' The decrease in pollution is clearing our skies. The normally nocturnal foxes have come out of hiding.
Today, we took our daily walk in Camden for the first time. There was something shocking and sad about seeing those streets I usually avoid because of the deluge of tourists, hawkers and hustle, desolate and silent. For the first time in my life I was able to wander at leisure and admire the architecture, and I realized those streets will never look the same to me again, even when the crowds return.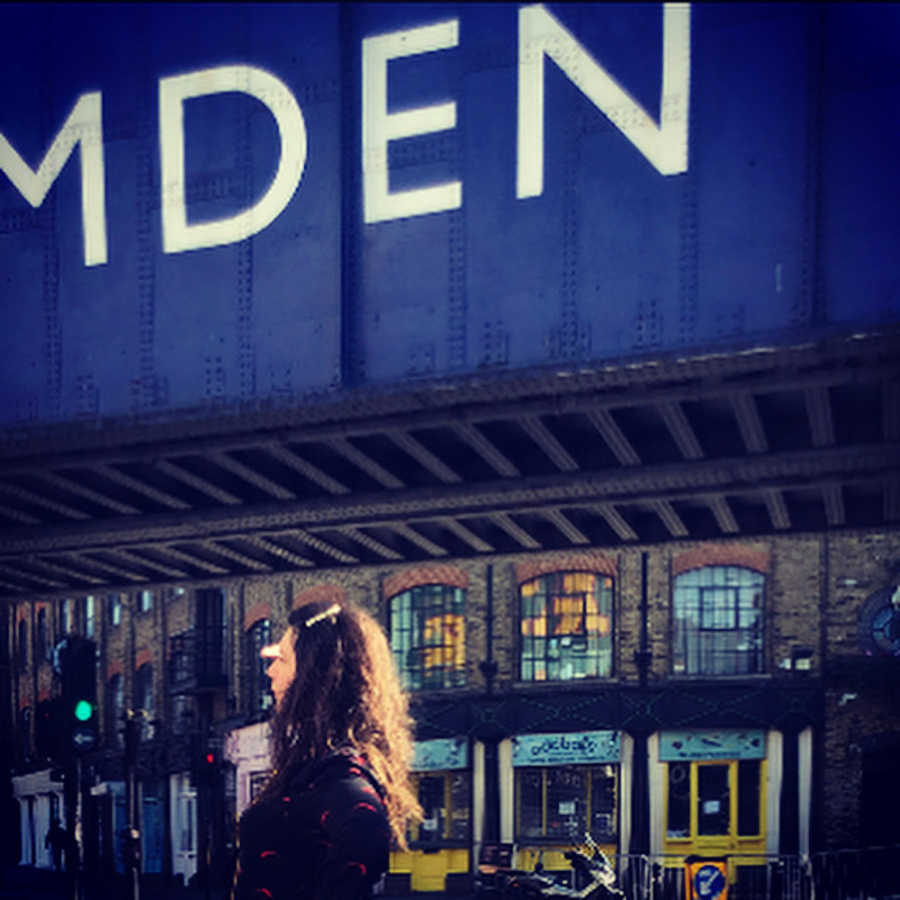 Nothing will ever look the same again.
The lights may have gone out on Camden Market, the constant clamor of music and bustle desisted and the disappearance of its 26 million visitors a year evaporated the place into a ghost town, but the stars shine brighter, the birds swoop lower, singing evermore brilliantly and melodically, the air is cleaner and the pace gentle.
Central London living sometimes demands a certain hardness, distance and detachedness from the local community, but as the steady stream of sirens sound – they've been blaring louder and more consistently as the days pass – I picture the rainbows in my neighbors' windows. When we stood on our rooftop, witnessing the London Eye turned blue, as everyone cheered and clapped for the nation's carers, I realized that a unity had returned to the community that hadn't existed in my lifetime. I wondered if that was Tessa or Danilo, Rosie or Oz that I could hear cheering next door, alongside us. I knew that, powerfully but invisibly, we were at one, and that solidarity and love was uniting us, all-consumingly and omnipotently, in the dark as we cheered."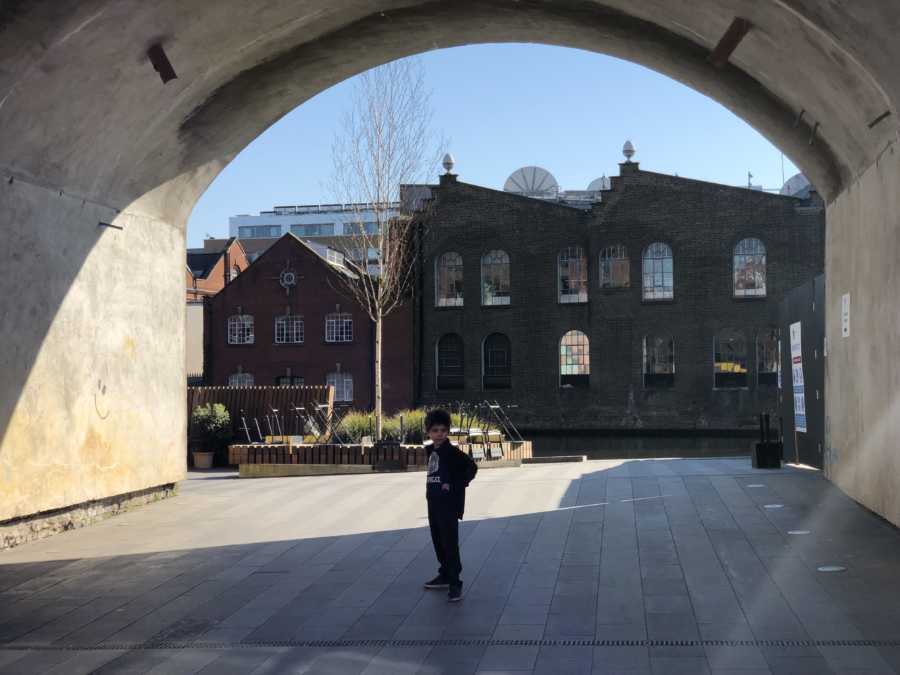 This story was submitted to Love What Matters by Victoria Gill. You can follow her on Instagram. The article originally appeared here. Do you have a similar experience? We'd like to hear your important journey. Submit your own story here. Be sure to subscribe to our free email newsletter for our best stories, and YouTube for our best videos.
Read more stories about finding the helpers during Coronavirus times here:
'There are a lot of 'what-ifs' in the world right now, so I decided it was time to pull out the tutus and let the magic begin.': Woman spreads joy and laughter to strangers during coronavirus outbreak with rainbow tutus
'If you look at the back of my car right now it looks like I'm overly prepared, but this stuff isn't for me.': Woman starts supply drive for elderly during coronavirus outbreak, 'We can't all do everything, but each of us can do something'
Provide beauty and strength for others. SHARE this story on Facebook and Twitters with your friends and family.