"We found out I was pregnant with our rainbow baby in September 2016, just 3 months after I had a miscarriage. We broke the exciting news to our friends and family with a Halloween-themed announcement the day before Halloween, with the help of the two big sisters, Hayden and Marleigh. We decided we were not going to find out the baby's gender until birth. We spent the next couple of months going to appointments, planning out life with a new baby, purchasing items.
A couple days before Christmas, we got the news. The Air Force would be sending DJ on a 7-month deployment. To Afghanistan. 6 weeks before my due date.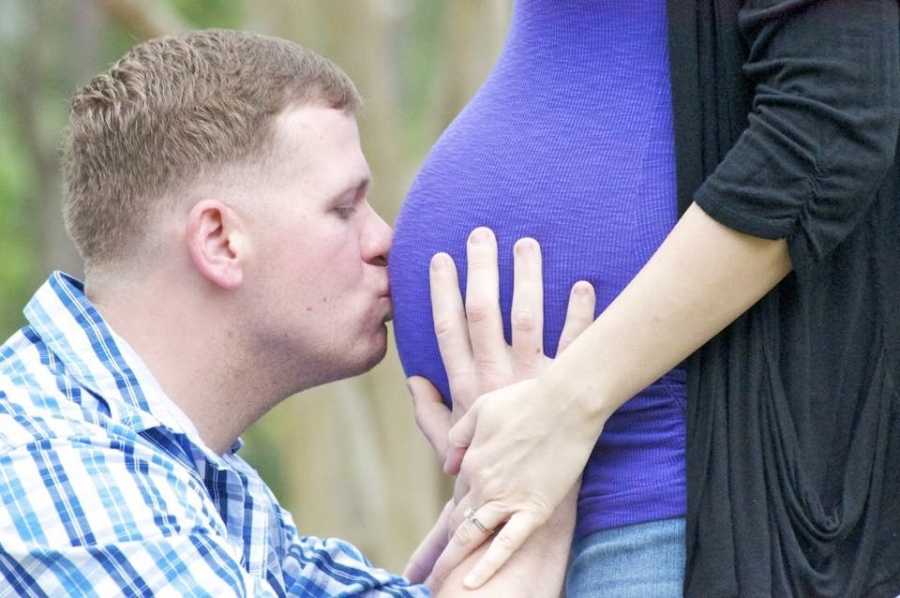 I was devastated. This was going to be our last baby, and I wanted him there. How was I going to have a baby without him? How would I survive the first 6 months postpartum without him? He wasn't going to meet our future child until they were nearly 6 months old. This cannot be happening, I thought. There must be some way out of it. There was not.
We brought DJ to the airport on April 1, 2017, and said our goodbyes. I cried. A lot. I spent the next few weeks trying to stay busy. Working, going to appointments, taking Marleigh to dance classes, watching Hayden's softball games. Facetiming DJ when we could, sharing photos of the girls and the last few weeks of my pregnancy. Waiting to go into labor, knowing very well that I may not be able to get in touch with DJ when that time came.
Then it came. Friday, May 5th I got off work at 5 pm, came home, made dinner, and popped a movie in. About 7 p.m., I started cleaning up around the house, and while I was vacuuming our bedroom, my water broke. We are lucky to have my parents live close by, so I called my mom to let her know what was going on, and she and my dad said they would head over to the house for the night. I sent DJ a message, and he said he was about to head out on a mission for a couple of hours, and I wouldn't be able to get ahold of him. I wasn't too concerned, as contractions hadn't even started yet. I messaged our birth photographer, Whitney, to give her a heads up as well. I took a shower and laid down to try and get some rest. I dozed in and out of sleep, but around 11 p.m. my contractions started. I got out of bed, walked around for a couple of minutes, and started timing them. They were already about 5 minutes apart. I woke up my mom, finishing packing a few last minute things and called my midwife, Erin. She said she would meet us at the birth center.
We arrived at 12:45 a.m.. I messaged DJ to update him, but no response. My contractions were coming on a lot quicker and stronger, and I was having to really stop and breathe through them. While Erin started to fill up the birthing tub, she checked me and I was already 7 cm dilated. I messaged DJ to update him about how far along I was and that I was about to get in the tub, but no response. I tried to focus on the contractions, and not get too upset that I couldn't get ahold of DJ. I had accepted the fact that I was going to have to bring this baby into the world without him. Erin helped me step into the tub, and the warm water helped a little to relieve my pain. Whitney arrived not long after and began to capture the progression of labor. My mom and Erin stood beside the tub, talking me through my contractions. Then I heard the best sound… the FaceTime ring on my phone. My mom held the phone up next to the tub, and I was overcome with joy (in between the excruciating pain of contractions). DJ tried to offer comforting words, but at this point, my contractions were coming on so fast and so strong, all I wanted was silence. I moaned, yelled, I told everyone to be quiet. I asked my midwife how long it would take to get nitrous oxide hooked up for me. She said by the time she got it out, the baby would be here. I yelled some more. I was close. I didn't think I could do it anymore.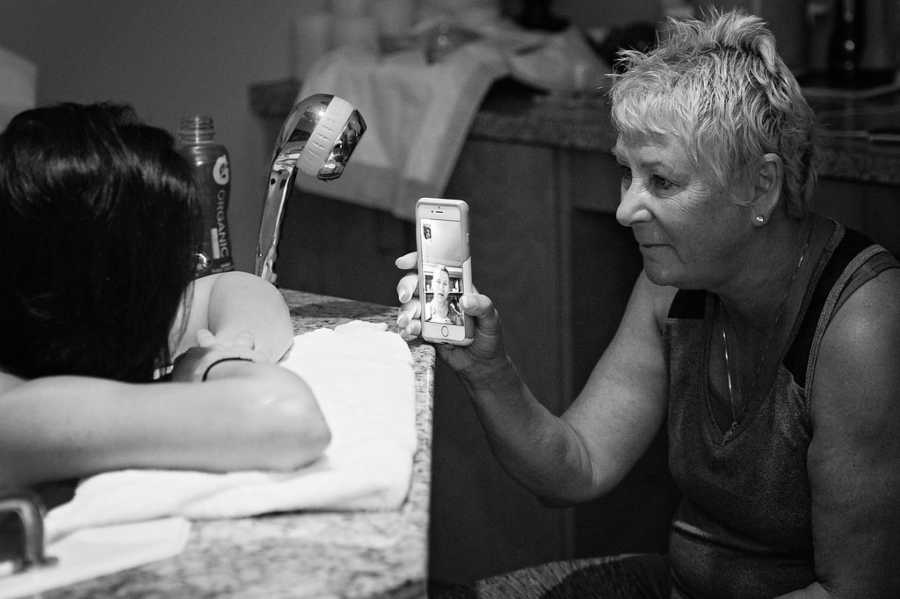 I gathered all my strength and pushed. And pushed again. At 1:59 a.m., I mustered all of my strength, and pushed our new baby out into the world.
Erin grabbed the baby out from the water and around to my chest. I held it up to see… IT'S A GIRL! I laughed – another GIRL!, and I could see DJ well up with tears at the sight of our daughter being born.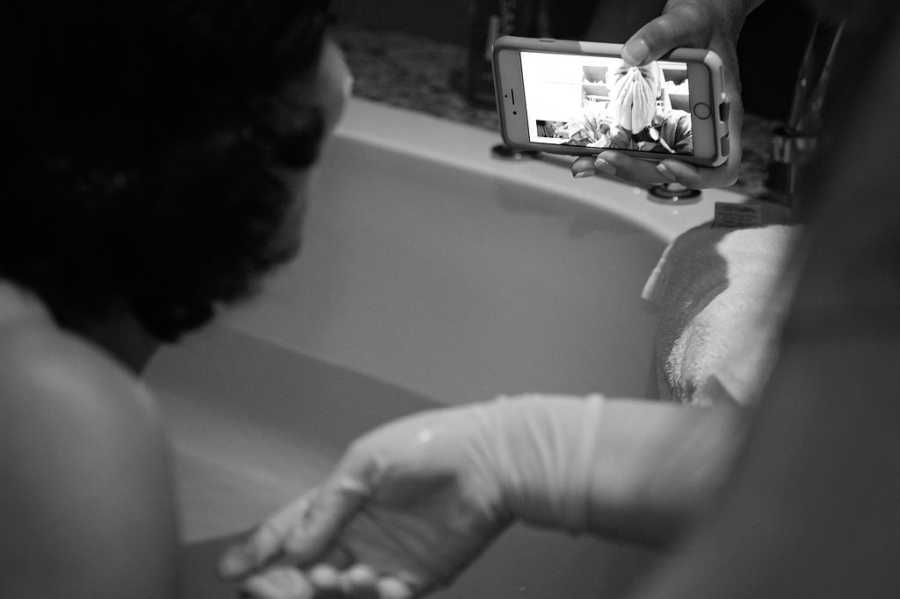 We were able to Facetime a little more after I got out of the tub, as I laid on the bed with our newest addition, Emerson Rose. Everything was healthy with both her and I, and we got to head home 4 hours later. She got to meet her big sisters the next day, and they fell in love with their baby sister.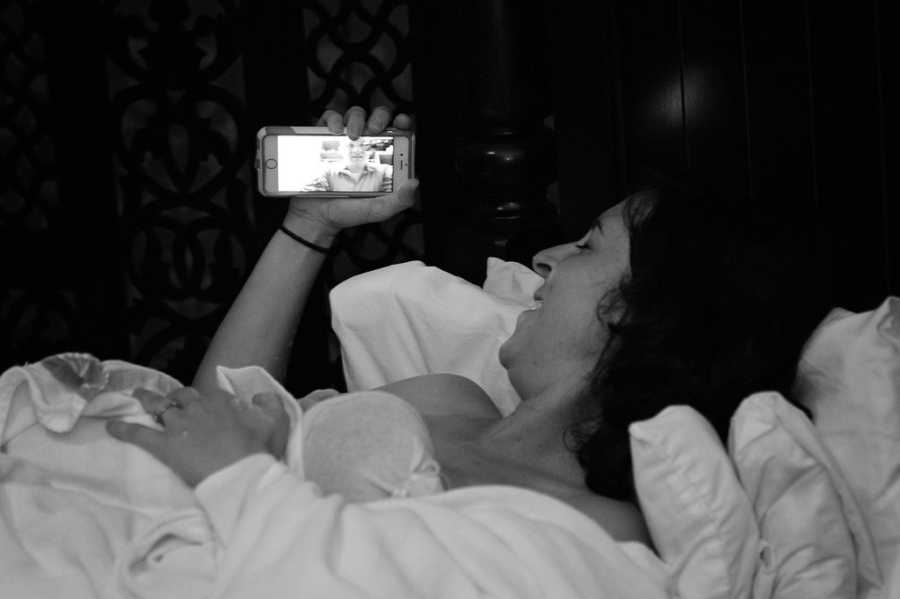 We struggled through the next few days, weeks, and months without DJ there. Emerson learned to roll over, smile, sit up…without Daddy. We tried to Facetime when we could, which was hard with the time difference and our schedules, especially when I went back to work 12 weeks postpartum. We struggled to adjust to a new chaotic schedule, with daycare pickups, washing bottles and pump parts after work, the massive piles of laundry that never seem to go away, all with very little sleep.
Then when we thought the day would never come, it was time to pick DJ up from the airport. I was so nervous. I had adjusted to our new 'normal,' but now he would need to as well. There were so many thoughts and emotions running through me. We pulled into the airport parking lot, and were rushing to find a parking spot – DJ texted me saying the plane had just landed! We made it into the airport and waited for him to walk out. I broke down as soon as I saw him come around the corner.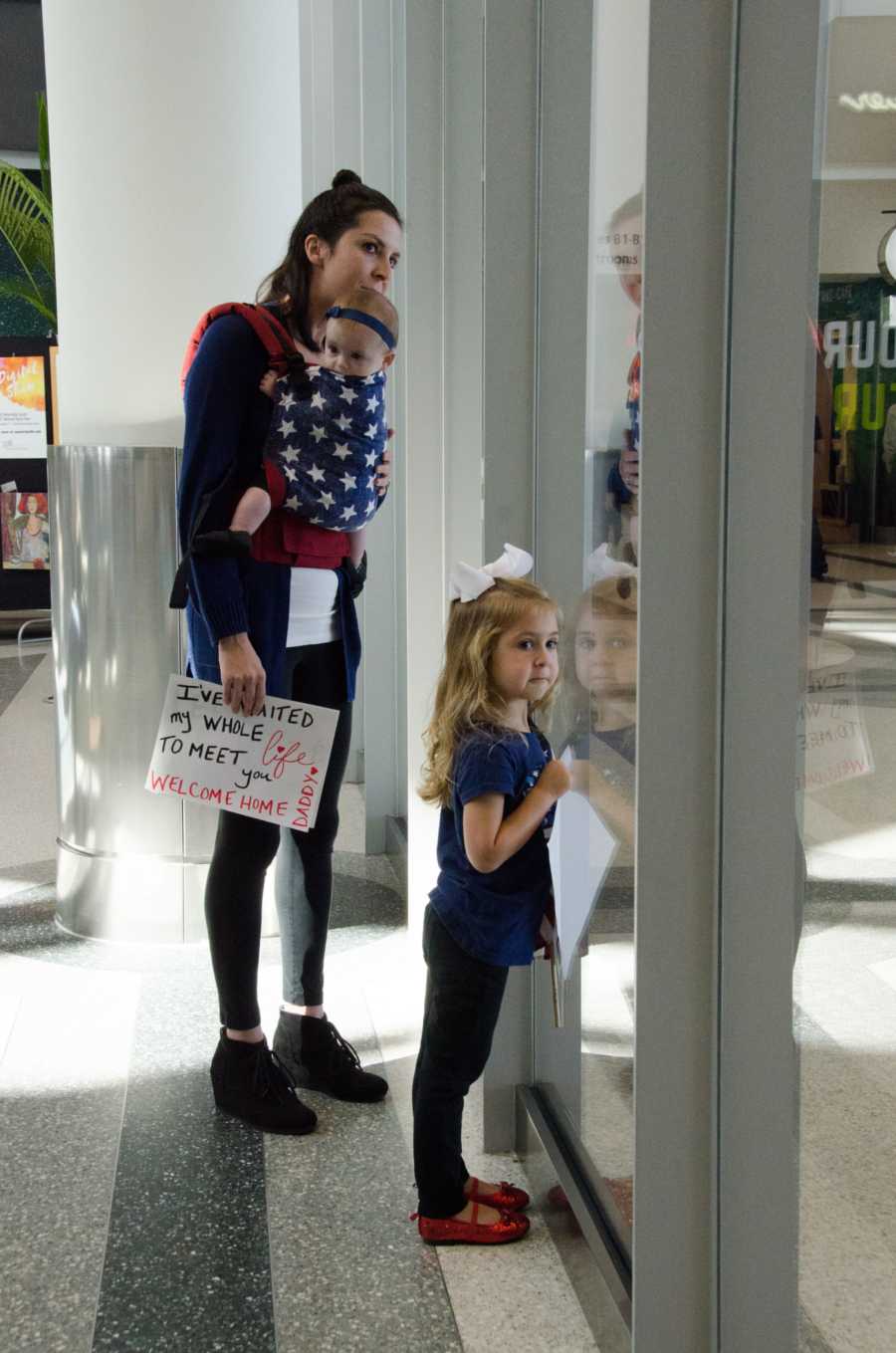 We embraced, and he was able to kiss and hold our baby girl in his arms for the first time. The moment I had been waiting nearly 7 months for was finally here. Our family was whole again."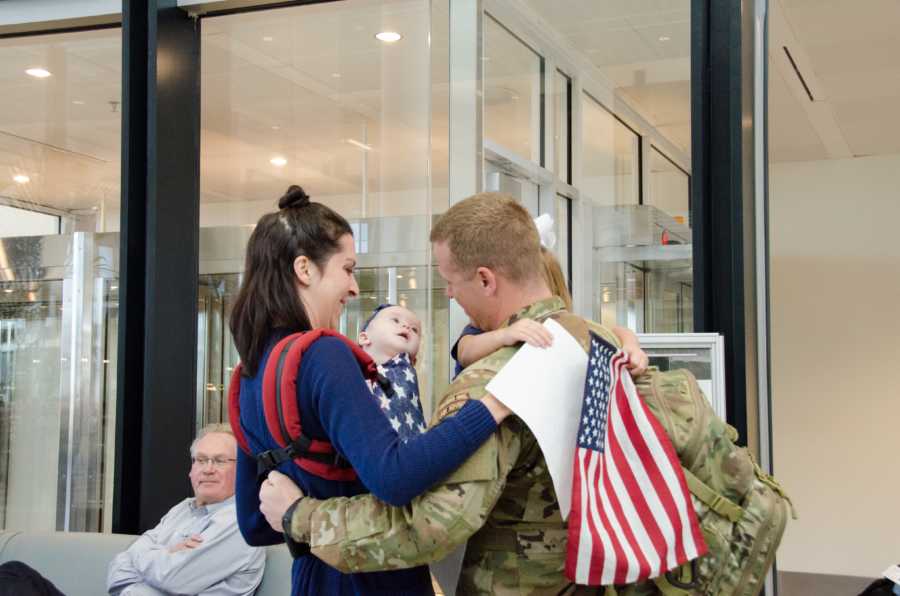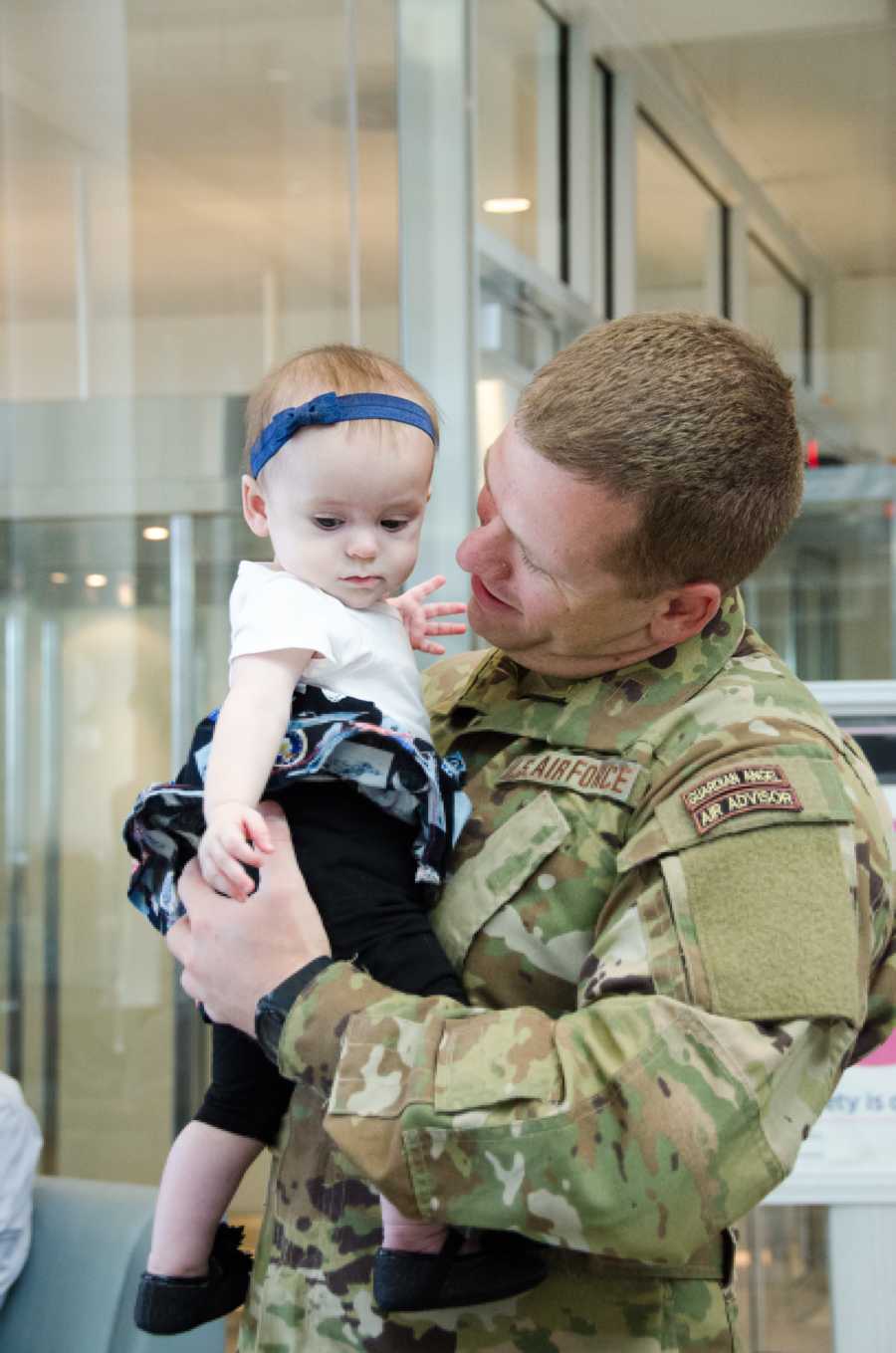 This story was submitted to Love What Matters by Kara McKeown, 31, of Goose Creek, South Carolina. Submit your own story here, and subscribe to our best stories in our free newsletter here.
Show your love for the active duty heroes around the world. SHARE this story on Facebook.