"I've been pretty consumed with the heartbreaking Gabby Petito case all weekend. My mom asked me if I'd heard about the van life girl who was missing after her boyfriend drove home in her van without her and wouldn't talk to police. I was pretty sure I knew how the story was going to go, unfortunately, but still obsessively refreshed Twitter and TikTok and watched as social media, incredibly, helped put together the pieces to find her. I still watched the live press conference when the FBI said they likely found her body in Grand Teton National Park. I still felt heartbroken at the news. It's so very sad.
Needless to say, part of the reason this story wouldn't let me go is the weird similarities between her travels and my own. A long van adventure through a bunch of the western US National Parks, many of her photos on Instagram being of places I've loved and traveled to also. I immediately recognized the location her boyfriend was picked up hitchhiking in Grand Teton, as we had spent a day there doing laundry not so long ago.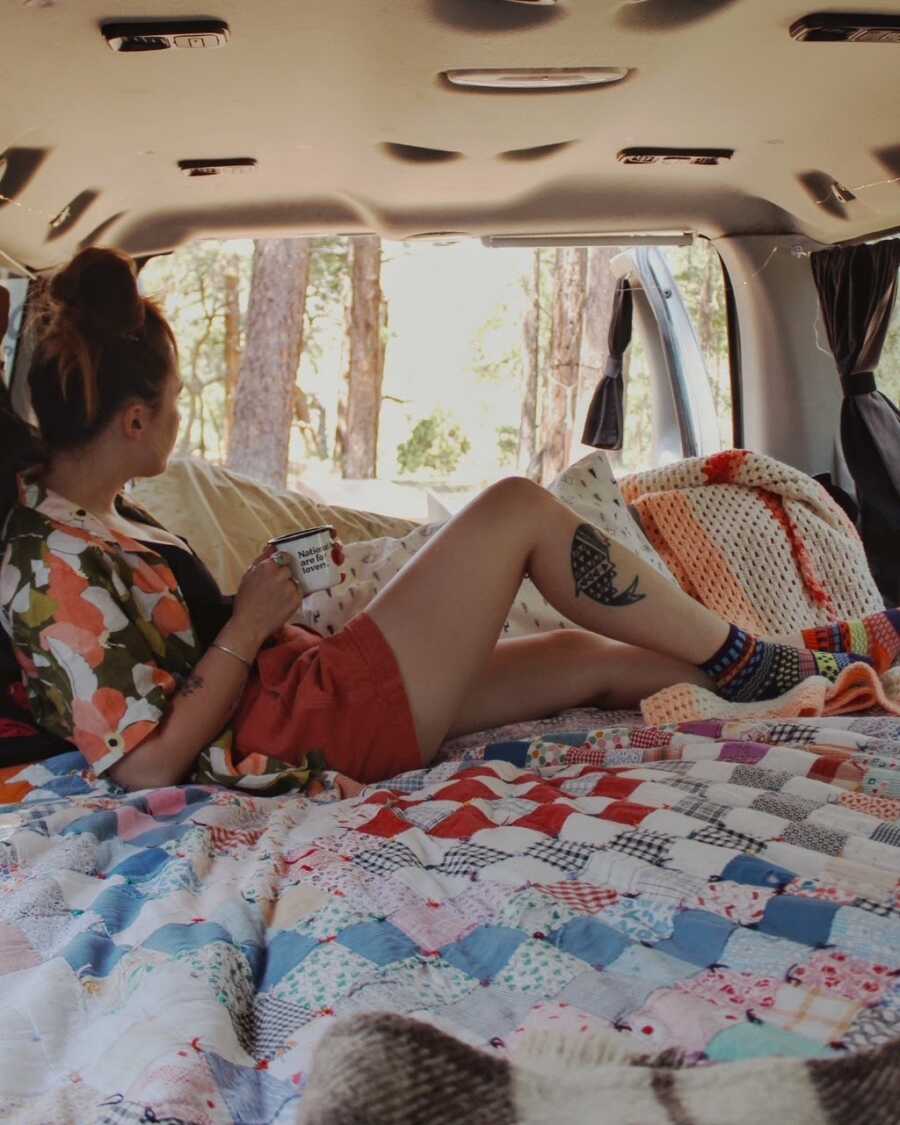 I have felt that same sense of excitement for possibilities and overwhelming appreciation for our natural world. I watched the body-cam footage from when they were pulled over, saw her panic and despair and explaining her mental health struggles, taking all the blame for what was happening to her. I've never been in a situation so dire and dangerous and abusive, but I have anxiety disorder, have been in a toxic relationship where I thought I was the cause of all problems, and I empathized so much with her pain.
There is a lot we can and should learn from what happened to Gabby Petito, the first and most crucial being about domestic abuse. It's insidious nature, where the abused may look like a worse partner than the abuser, because the abuser orchestrated it that way. Abuse is usually not obvious. We all need to be better educated on this, especially considering how, quietly, so many other women (especially Black, brown and trans women) are also killed by their partners every year. And for the love of God, we need police (or some other organization to respond to these calls) who can see this for what it is.
We should also learn social media is most often a fictional story. I know we talk about this all the time and the damage it does to our mental health, but we all keep participating in it anyway. These photos are completely untruthful. I'm embarrassed to admit Jordan moved the van around at a different angle to take these photos, per my request. I moved his unaesthetic bags out of the way and placed pillows where our feet would normally be to cover the kitchen cabinet wall and look more cozy.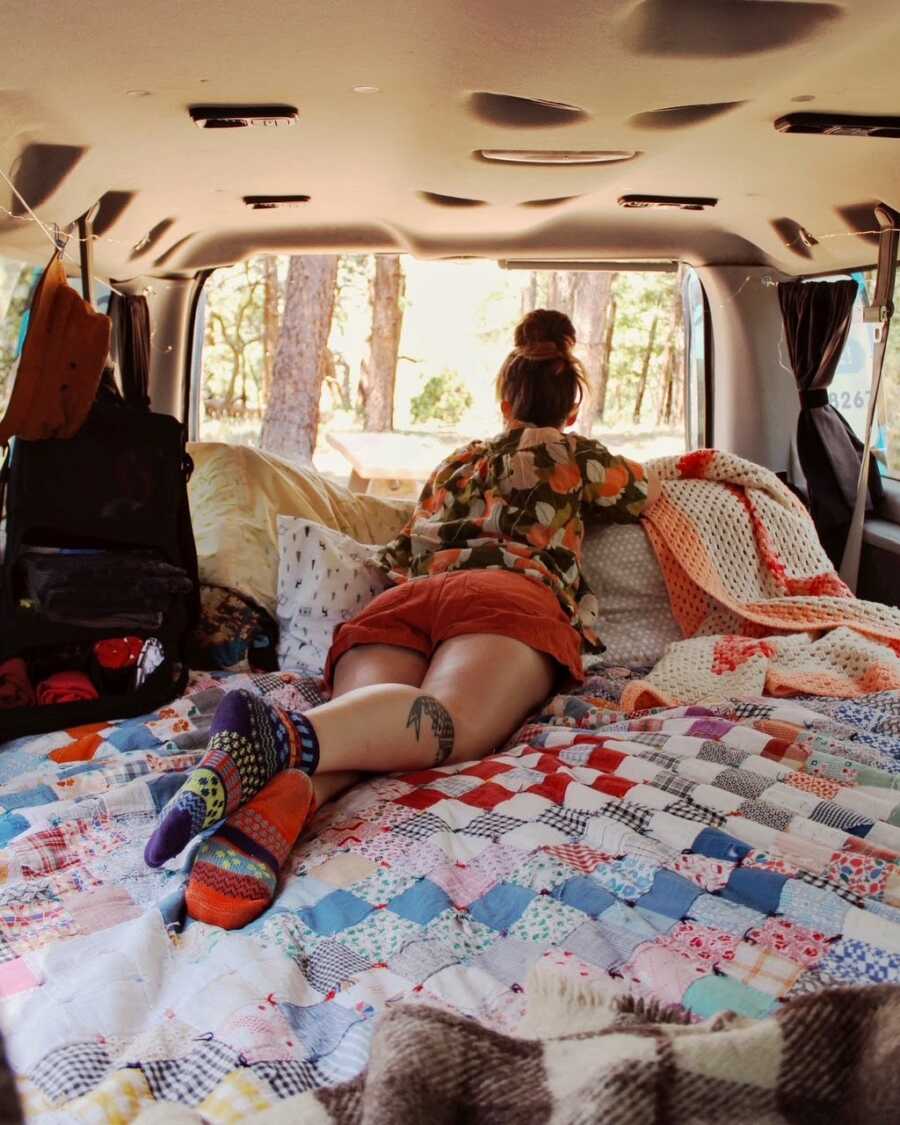 Laying on my stomach over them was actually a really unnatural angle for my back and very uncomfortable. There is, *iconically* nothing in my cup. This is completely staged and wasn't a lot of fun to put together, honestly. I had the perfect Instagram van life photo in my mind— you see it everywhere— and I wanted that. But taking photos like this does not mean your experience *is that.*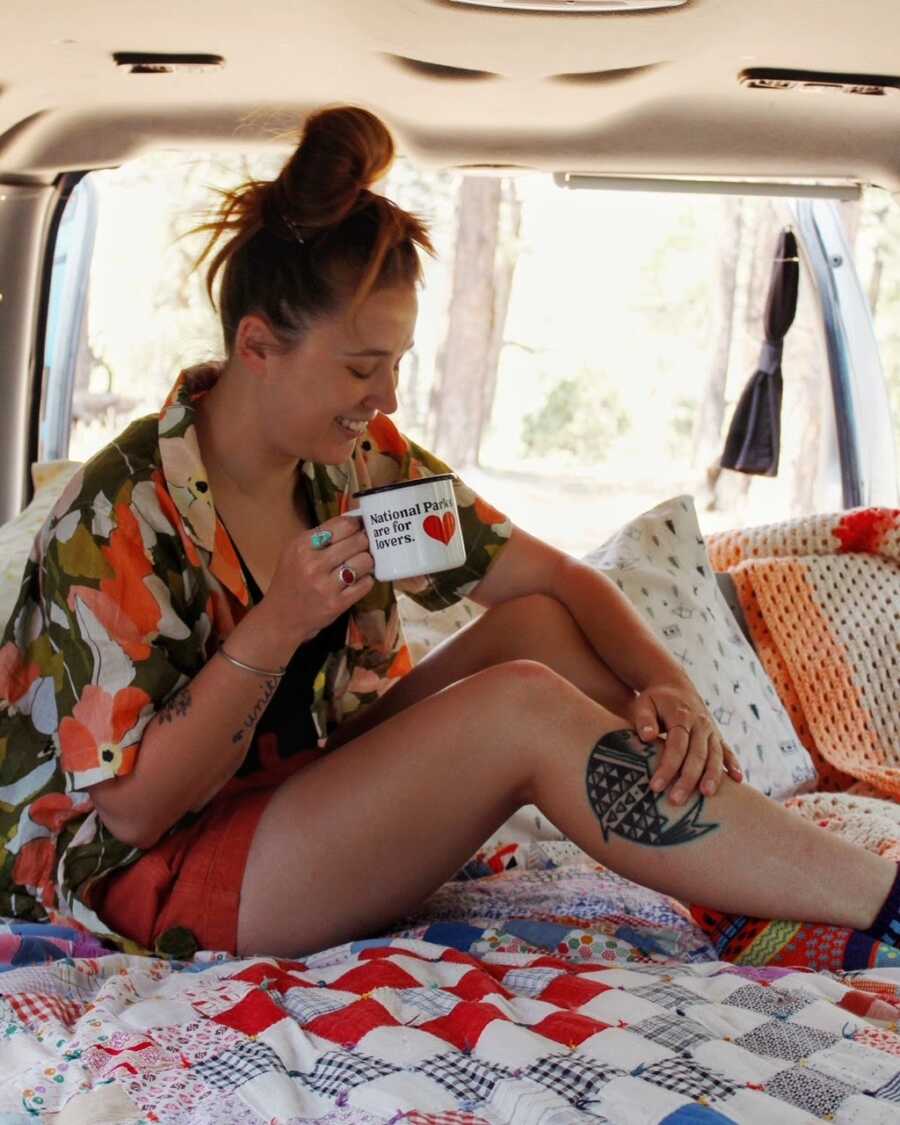 Thank God nothing horrible was happening in my relationship behind the scenes. I'm very fortunate to have a partner I trust and feel safe with. But even then, life on the road can be taxing and exhausting and hard sometimes (nothing like the romantic, perfect photos you see online). If the two of you can't come together to tackle those tough times as a team, but instead fall apart at the seams… this probably isn't for you. Gabby shared none of that, of course. None of us do."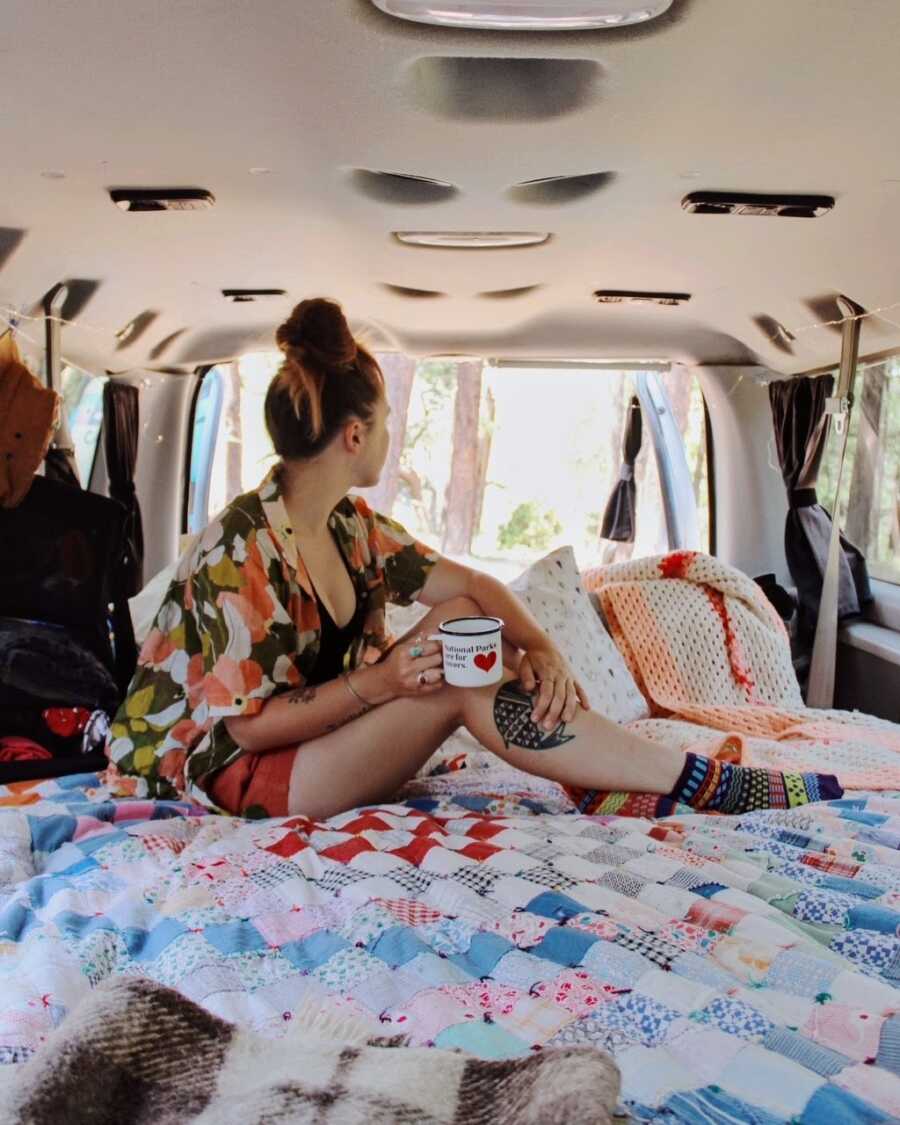 This story was submitted to Love What Matters by Caitlin Alexander. You can follow her journey on Instagram. Submit your own story here. Be sure to  subscribe to our free email newsletter for our best stories, and YouTube for our best videos.
Read more stories like this here:
This Case Hits Hard, Because So Many Of Us Could Have Ended Up Like Gabby Petito
'I know you beg him to stop. I know you think you can love him hard enough he won't hurt you anymore. One day, sweet girl, there won't be a next time.': Domestic abuse survivor shares powerful testimony for fellow victims, 'Run and don't look back'
'He's taking my phone away. I'm not sure when I'll be back.' I barely hit send before it was ripped away and sent through the wall.': Domestic abuse survivor says 'I am taking my power back'
'I love you, Mommy. I love you. MOMMY!' She interrupted her daddy's beratements. He was a pastor and he 'never' laid a hand on me.': Domestic abuse survivor urges 'every soul has the power to fight'
Provide hope for someone struggling. SHARE this story on Facebook to let others know a community of support is available.