"Obviously, when your last name is Batman, everything becomes themed for you at all times.
For instance, our wedding.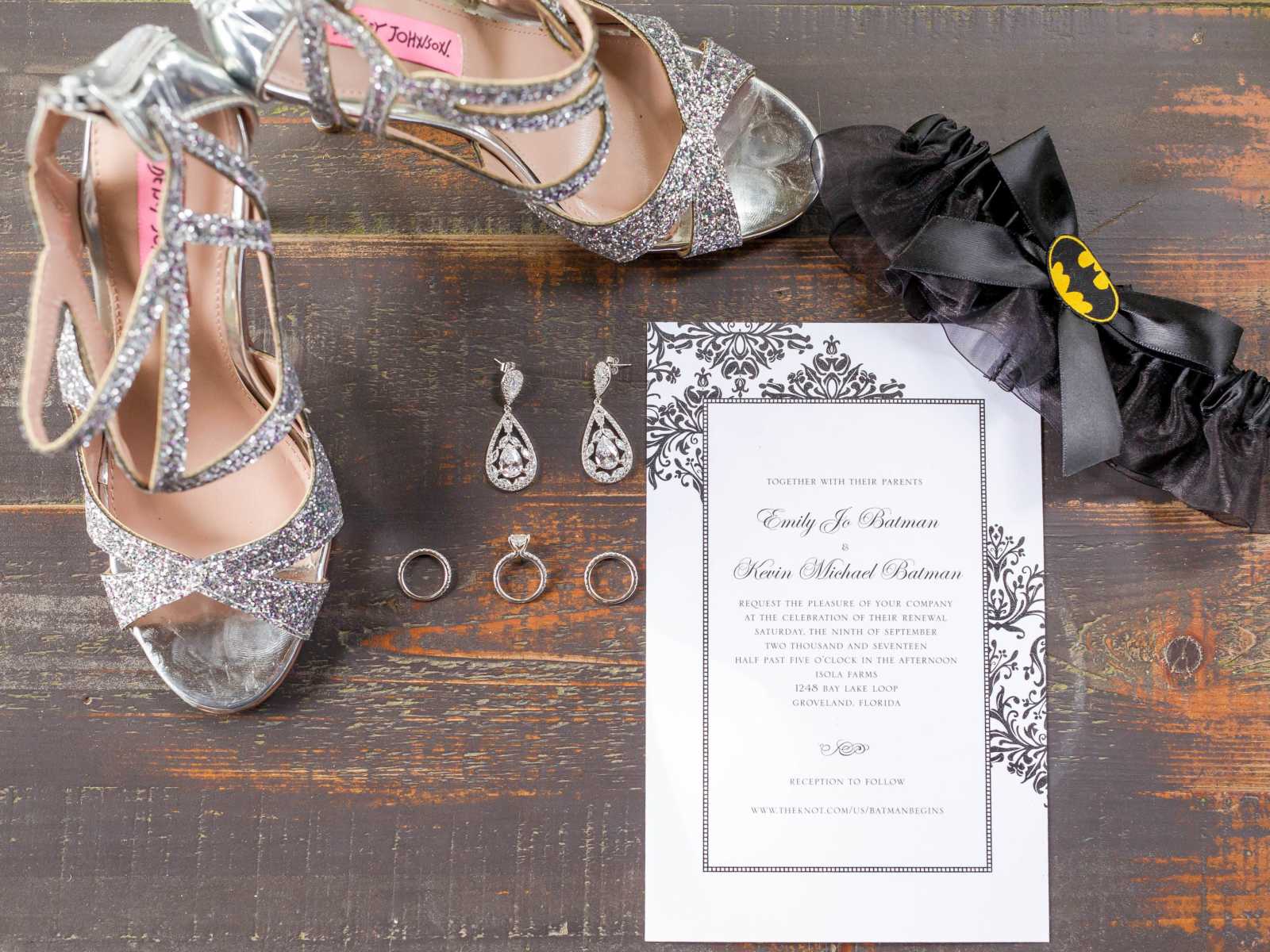 And our gender reveal.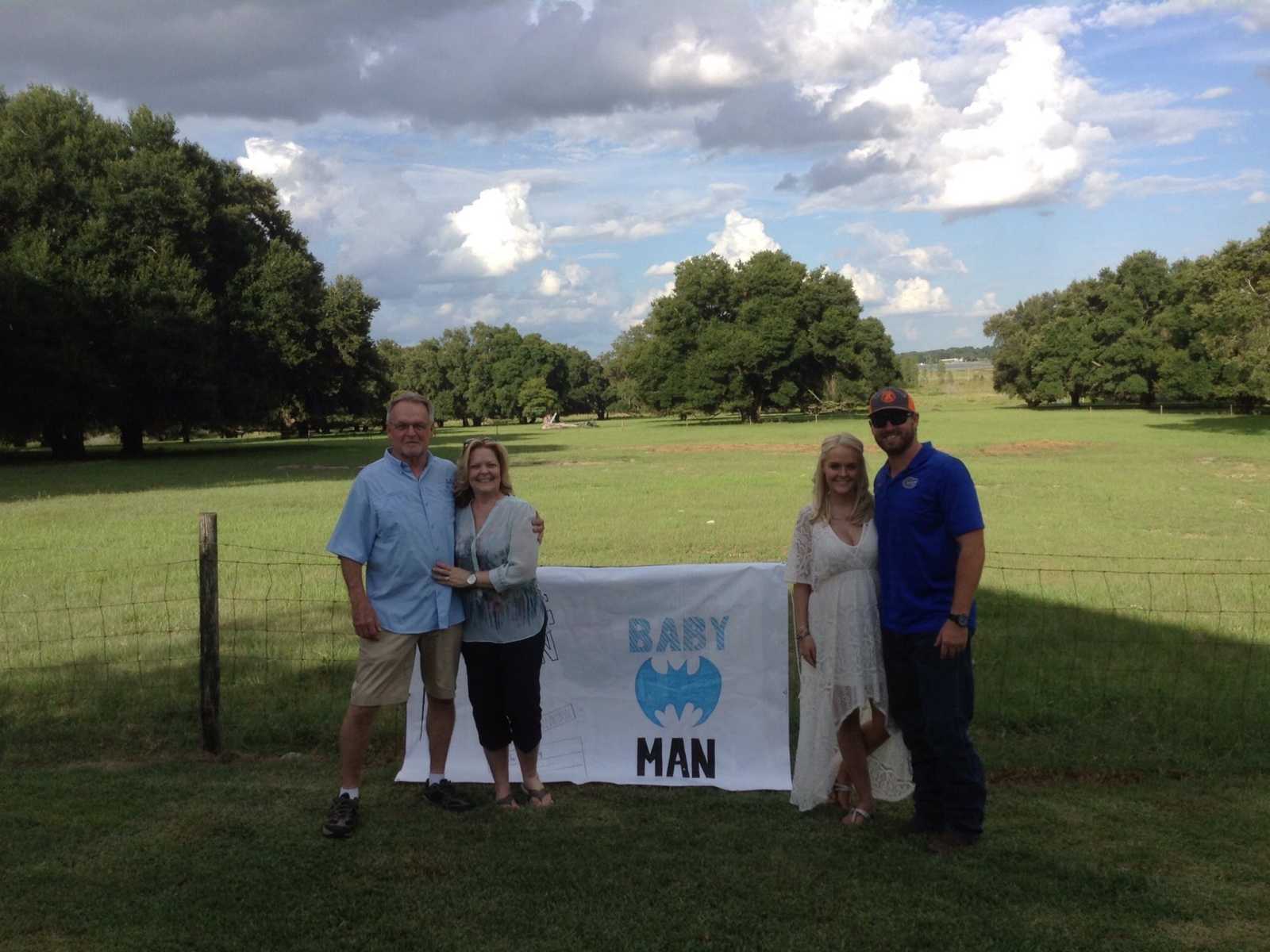 When we found out we were pregnant with Kase, we had some of the best name suggestions given to us: Bruce Wayne Batman, Robin Anne Batman, Alfred Gotham Batman (just to name a few). My husband was actually really entertained with his name selections. I eventually talked him out of any crazy Batman-themed name. We decided on Kase McCoy Batman, but we still have friends who just call him 'Little Batman.' We're expecting another little boy in April of this year, Kolt Maverick Batman! So I think Kase will be promoted to 'Batman' and his little brother will become 'Little Batman.'
This entire shoot was inspired by our last name! I have to praise our photographer, Leslie. I let her run with her imagination in the design of everything. She actually saved us from having to find a cake artist last minute because our original cake artist was unavailable. She even designed the backdrop for the Gotham City background!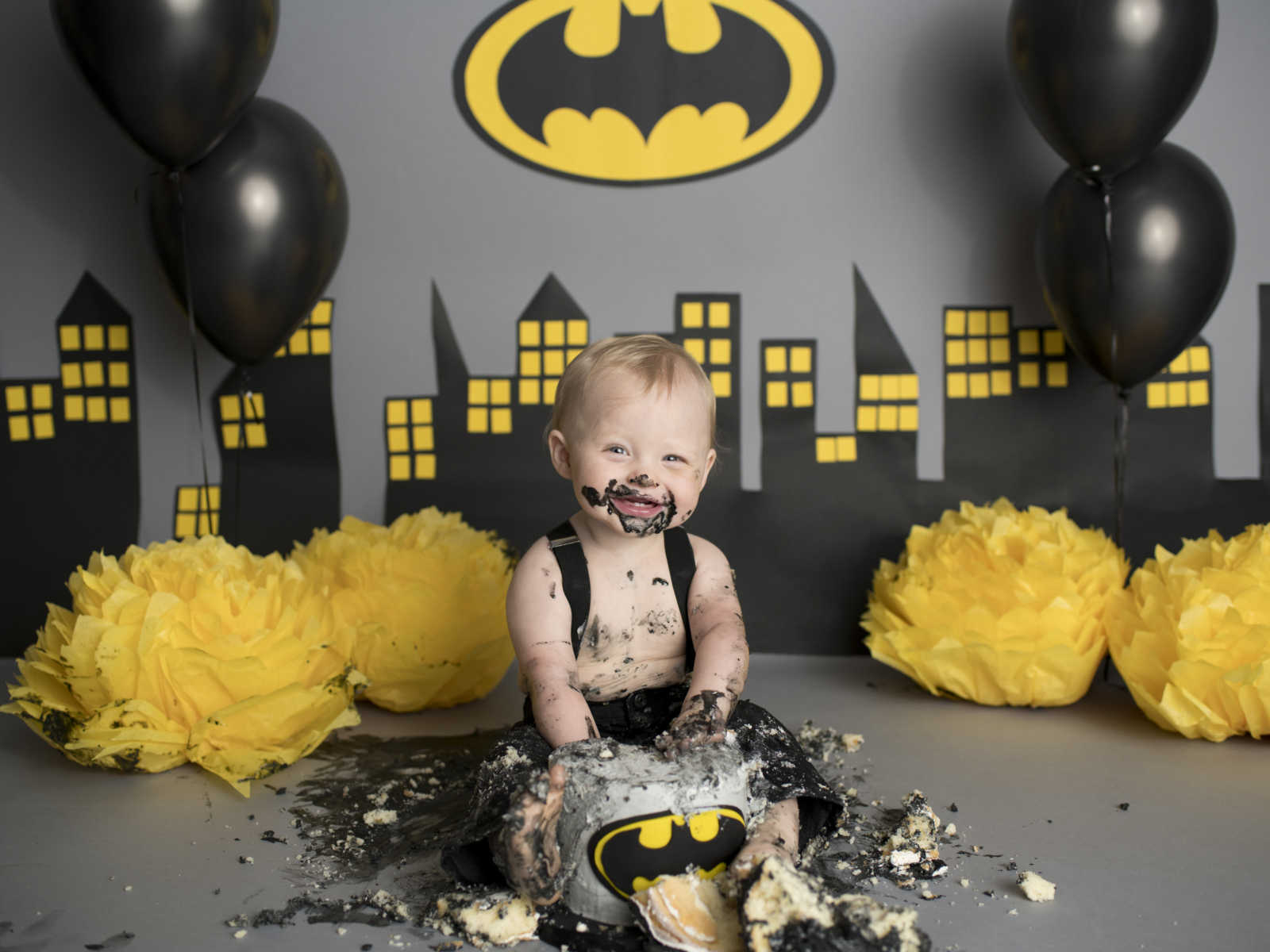 Our favorite part of this entire shoot was watching him giggle while we cheered him on. We sat him down in front of the cake and his first instinct was to take the ears off right away. We all were laughing so hysterically. At first, he was super unsure about destroying the cake. He was more interested in looking at his hands covered in black icing. Once he got a little taste of that buttercream icing though, that's when he really put on a show for us!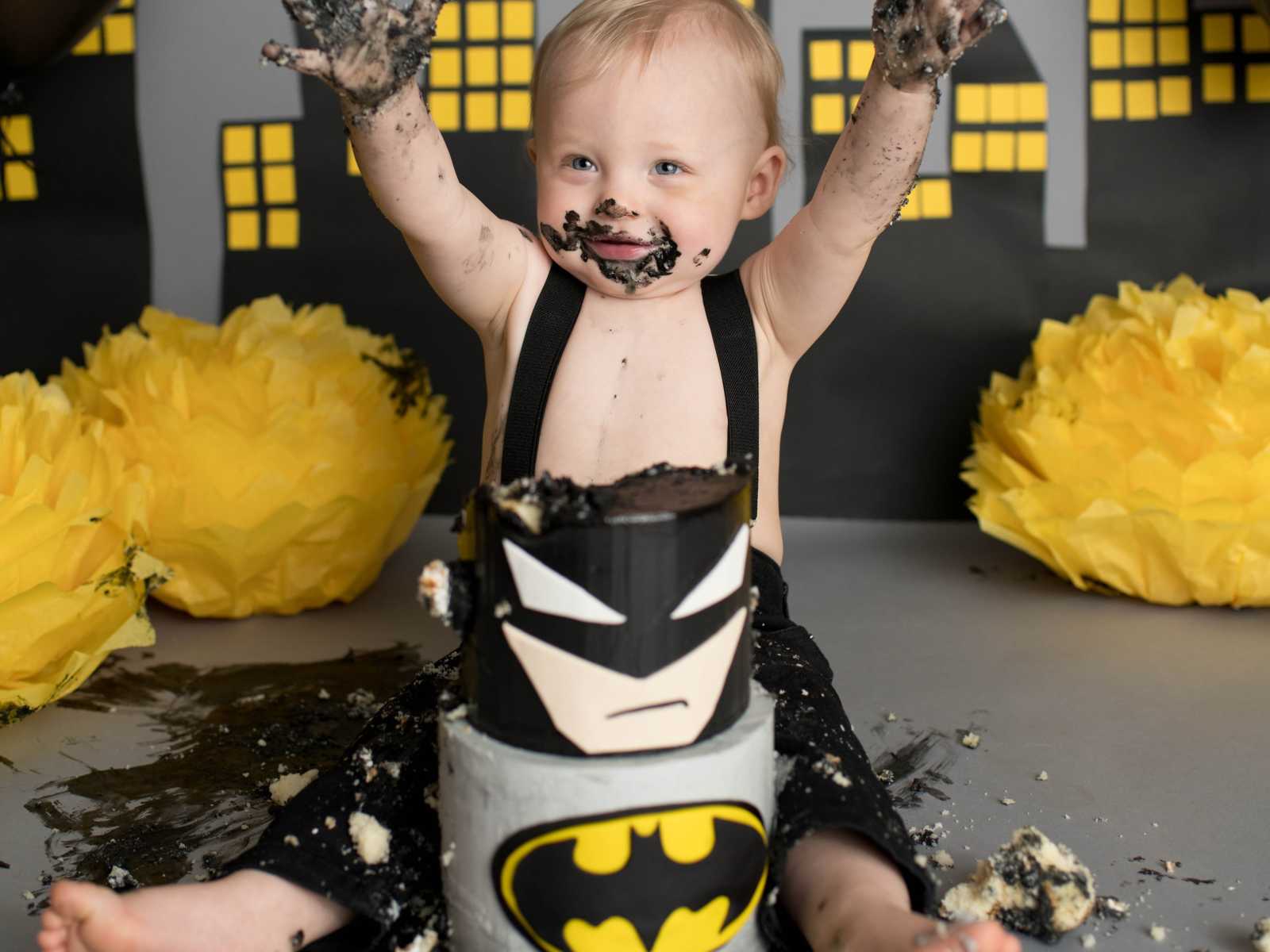 It was really special for us to see such a happy little boy for his first birthday! Watching Kase grow from the tiny baby we brought home to the big 1-year-old smashing his first birthday cake with all the giggles made the entire shoot come to life, much like he did when we came into our lives.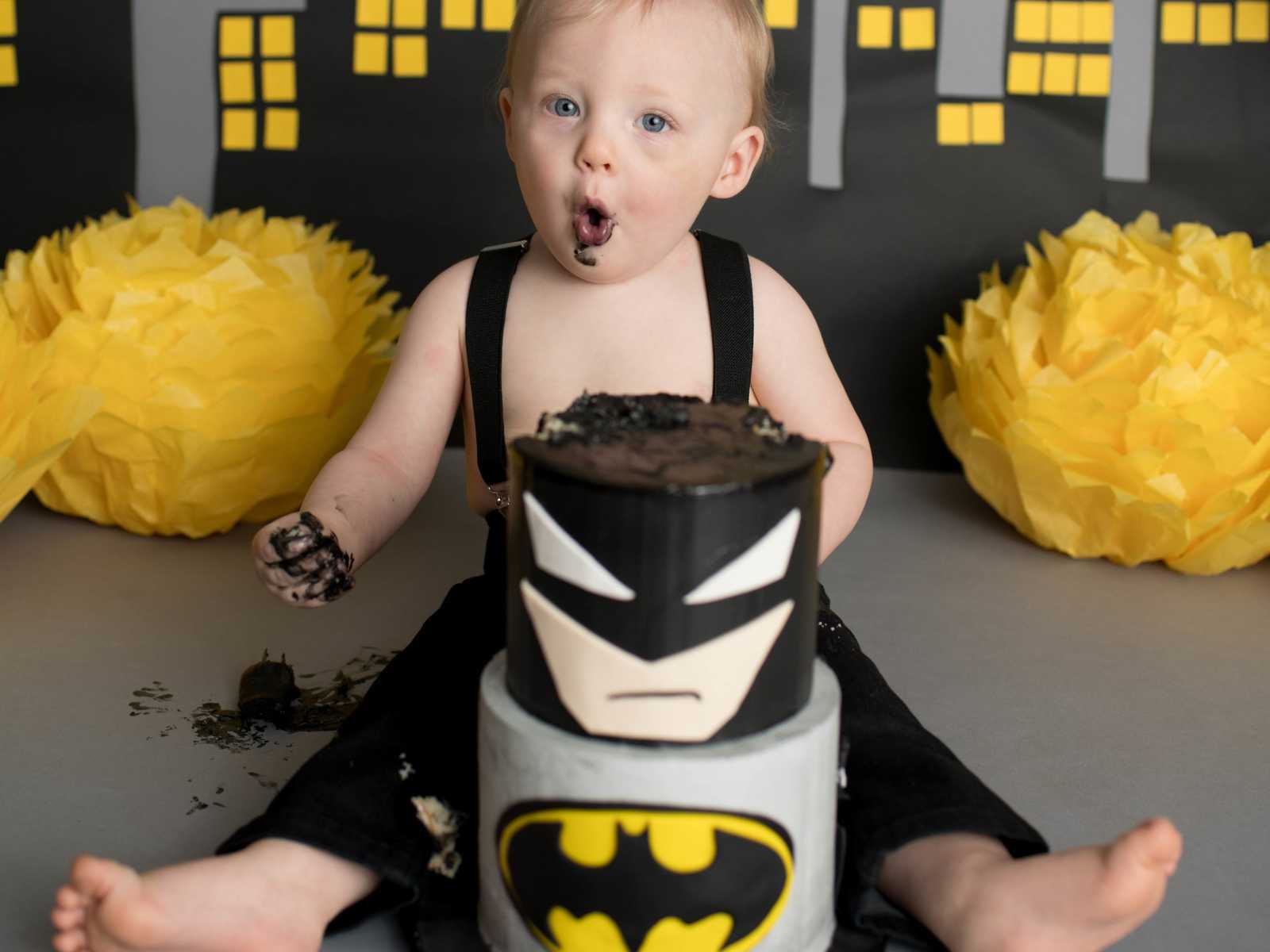 Our cleanup was actually pretty easy. We did the photo shoot right in our living room so when he was ready, my husband jumped in the shower with him. My tub was a nice gray color on the bottom when they finished, but a little scrubbing cleaned it right up. What they don't tell you about doing a cake smash is you, as a parent, find icing in your hair later! I found a chunk of black icing in my hair when I went to wash my hair the next morning, completely unaware I had walked around the whole previous day with black icing in my blonde hair. Oh well!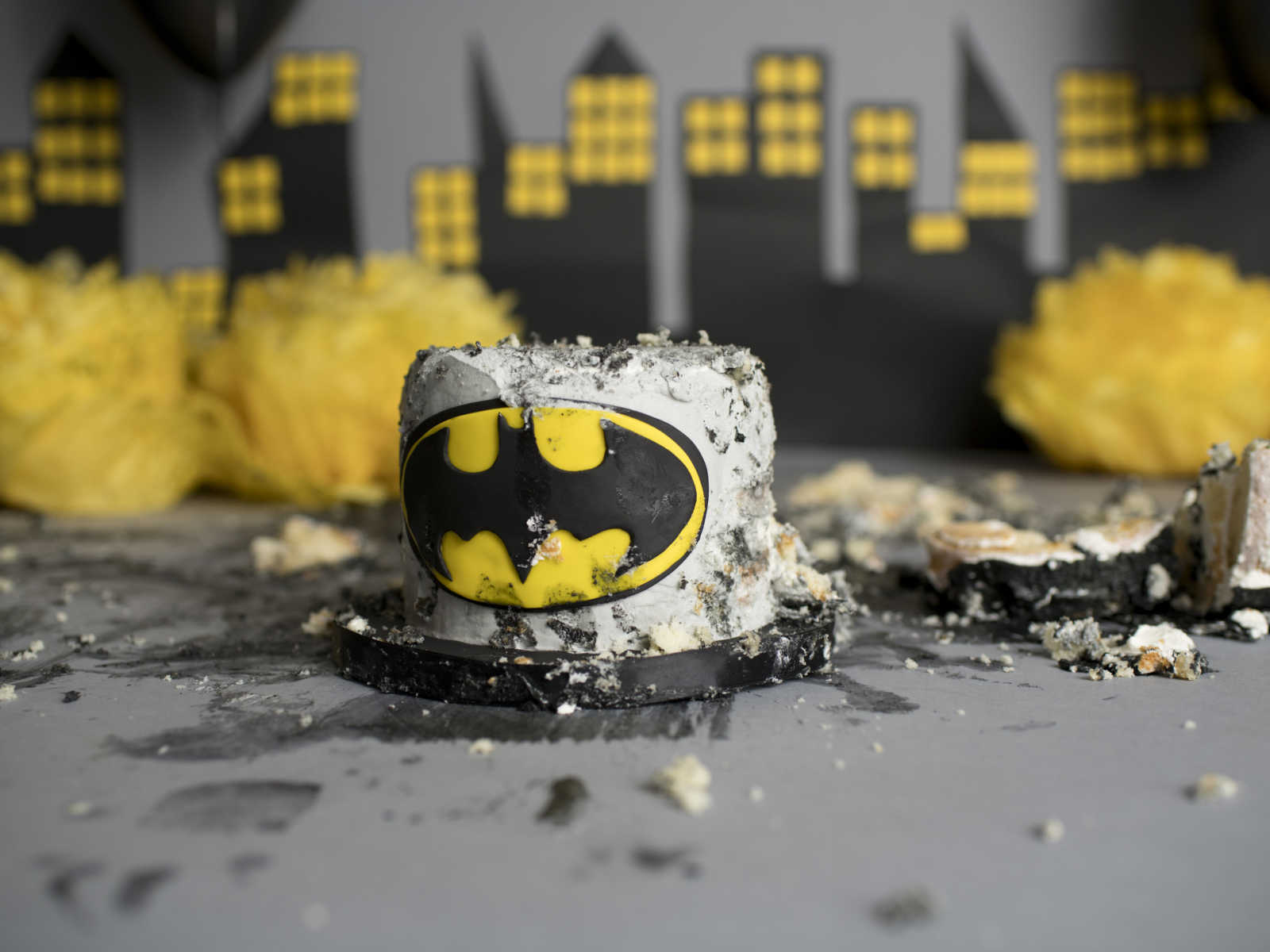 We've learned to love the last name, not only because we have our own theme, but because no matter where you go, people hear your last name is Batman and you usually get the first initial little laugh, but then it's the, 'wait, what?' It's a great conversation starter! When we got married and I had to go to the social security office to change my name, the lady behind the counter laughed and said, 'So you married Batman?' Most people ask me how I legally changed my last name to a trademarked name, because they don't believe our actual last name is Batman! What's even better is how many people in our town of Clermont, Florida, don't actually know my husband's real first name is Kevin because they just know him as 'Batman,' and I have become 'Batman's wife,' instead of Emily."
This story was submitted to Love What Matters by Emily Batman, 26, of Clermont, Florida. 
Does this story make you smile? Please SHARE on Facebook to spread the love.