"I gave words to the worst… 'What if he dies?' I asked, while my husband and I were throwing together a baby bag to take with us. 'Don't,' he replied. 'Don't think about that.' I tried not to. But, with him running the 1 a.m. red lights, and me in the passenger seat holding our newborn in my arms while blowing into his mouth to keep him breathing, and our sleepy toddler in the backseat—this was not the first family outing we'd envisioned.
We'd planned on a pumpkin patch visit, but instead, we were facing the possibility of losing our baby before we'd even received his birth certificate. Just an hour earlier, we'd been singing silly songs about trucks and construction vehicles with our oldest, who was dancing with his whole heart like only a toddler can, while his dad played guitar and I rocked the new baby. Our laughter quickly gave way to panic. Our baby's fever had spiked and his breath was failing. Our family doctor and midwife both agreed; he needed to be taken to the ER immediately.
When we arrived, someone in scrubs took him out of my arms as his face swelled by the half-second, and a medical team began stripping him, weighing him, and inserting an IV into his tiny right hand. They directed a flurry of questions at me from behind their surgical masks. 'No' we don't smoke; 'yes' it was an out-of-hospital birth, vaginal, 41 weeks, no epidural, a fast labor; and 'yes' he was born very healthy—big, vital, alert, and good at latching.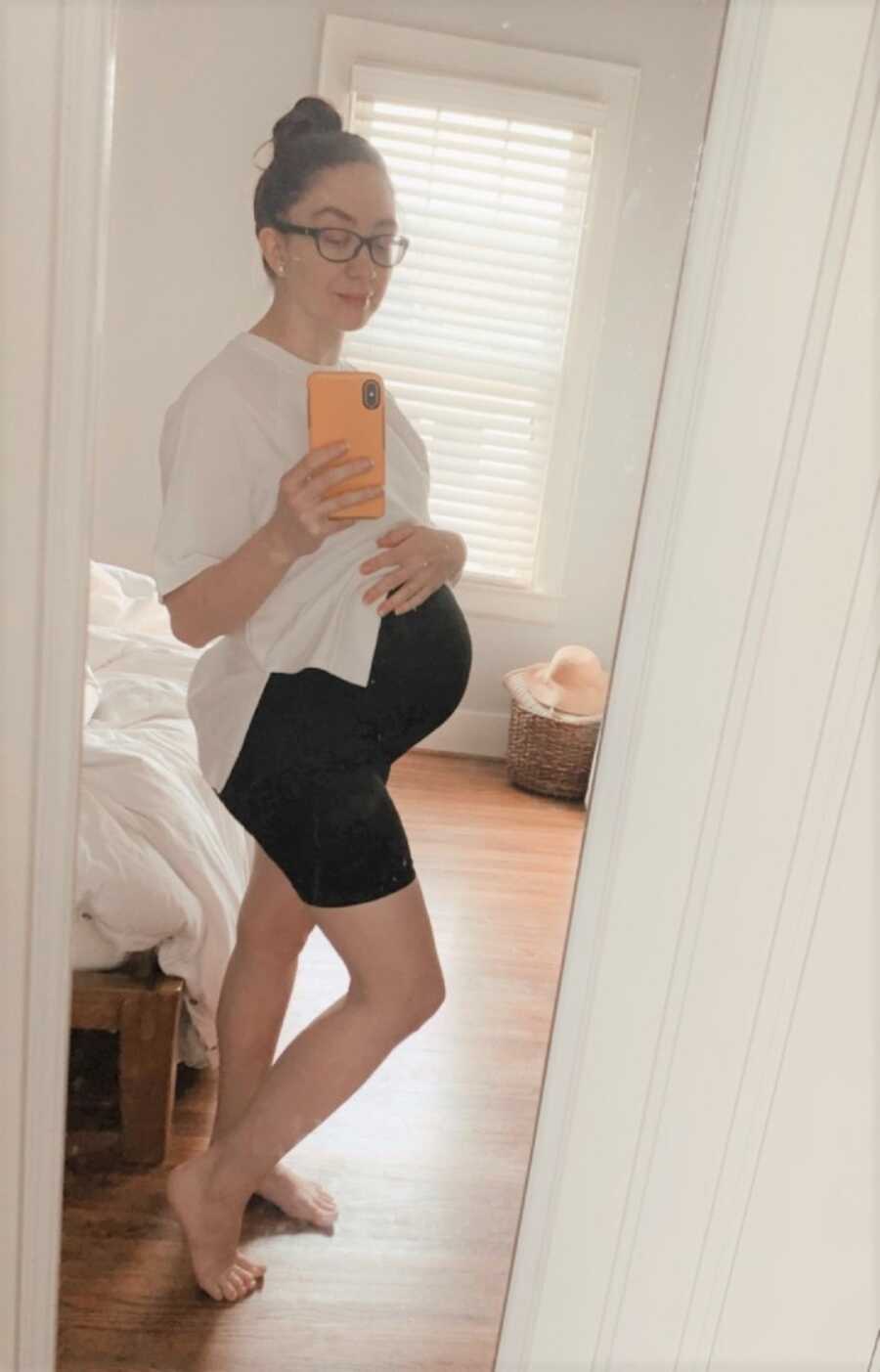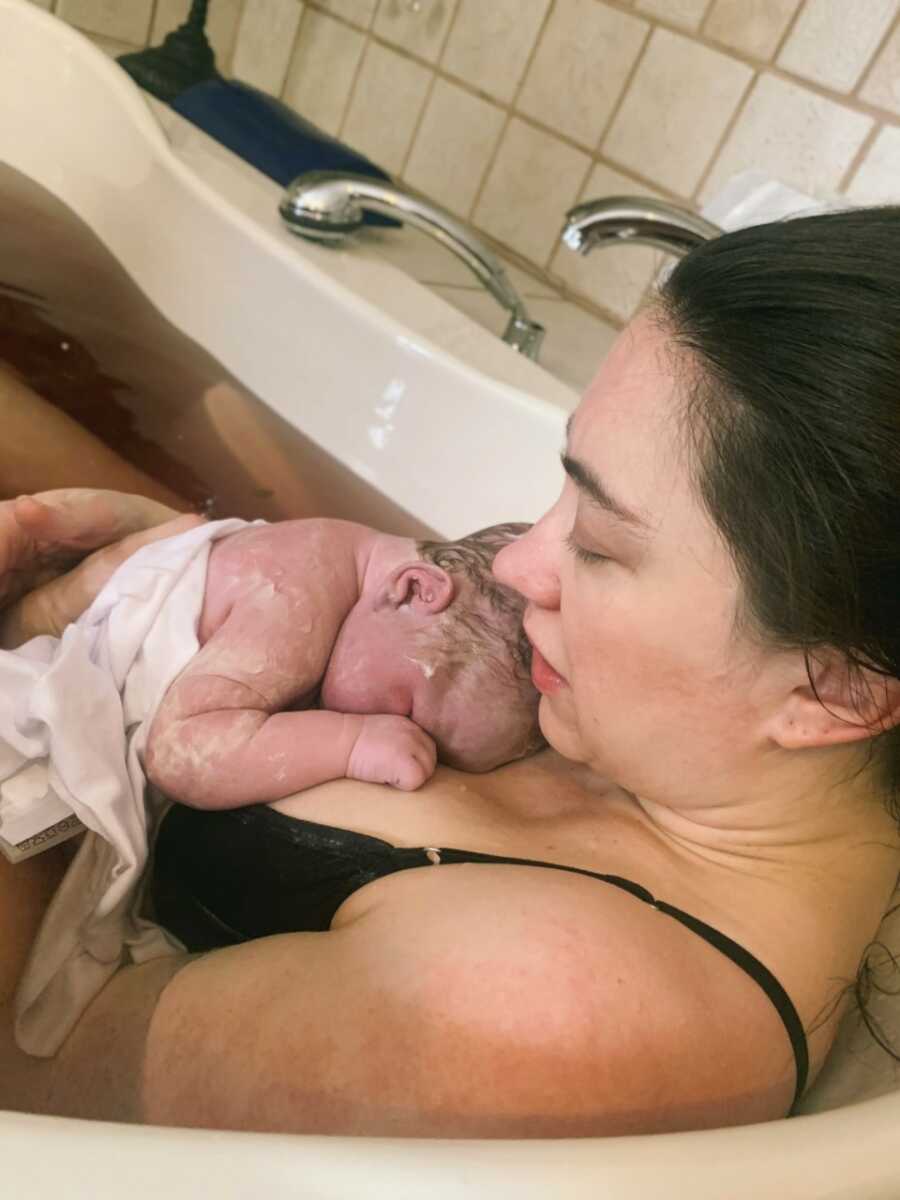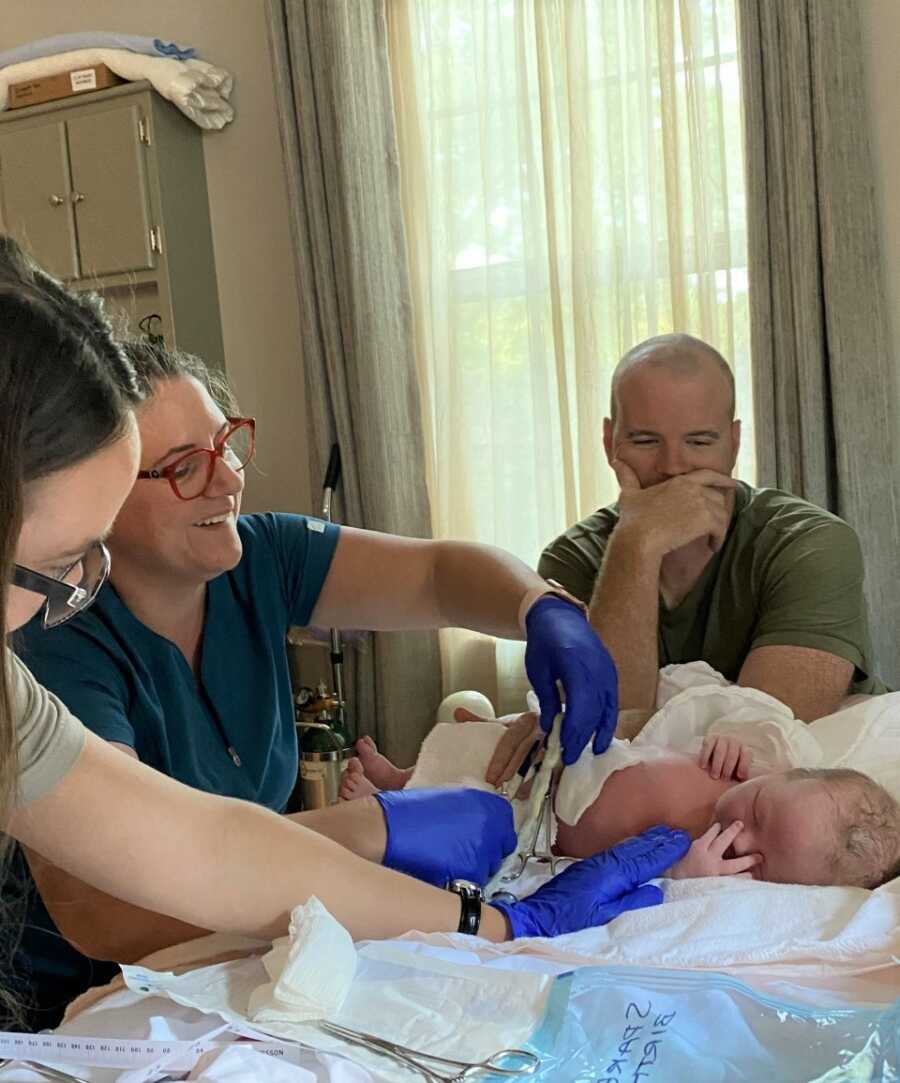 'There's very little risk involved with a lumbar puncture,' the pediatric resident said after she approached me, 'but we have to act quickly because he's so young and his fever is so high.' I reluctantly, tearfully signed the paperwork, and she asked me to leave so they could stick a long needle into our newborn's spinal fluid to check for meningitis. 'I love you, baby boy,' I said, and squeezed his tiny feet before I left—the only part of him still within my reach.
After the procedure, baby and I waited for his test results as the other half of our little family had to return home without us. It was our older son's first night away from me. I breastfed my baby on a bare gurney for the next seven hours to keep him off IV fluids. When he got too tired to latch, I expressed milk into his mouth and blew on his nose to make him swallow. I did everything I could to give my boys healthy pregnancies, births, and lives, but landing in the ER felt like an ultimate failure—like entering a different dimension where everything was awash in fluorescent lights and antiseptic.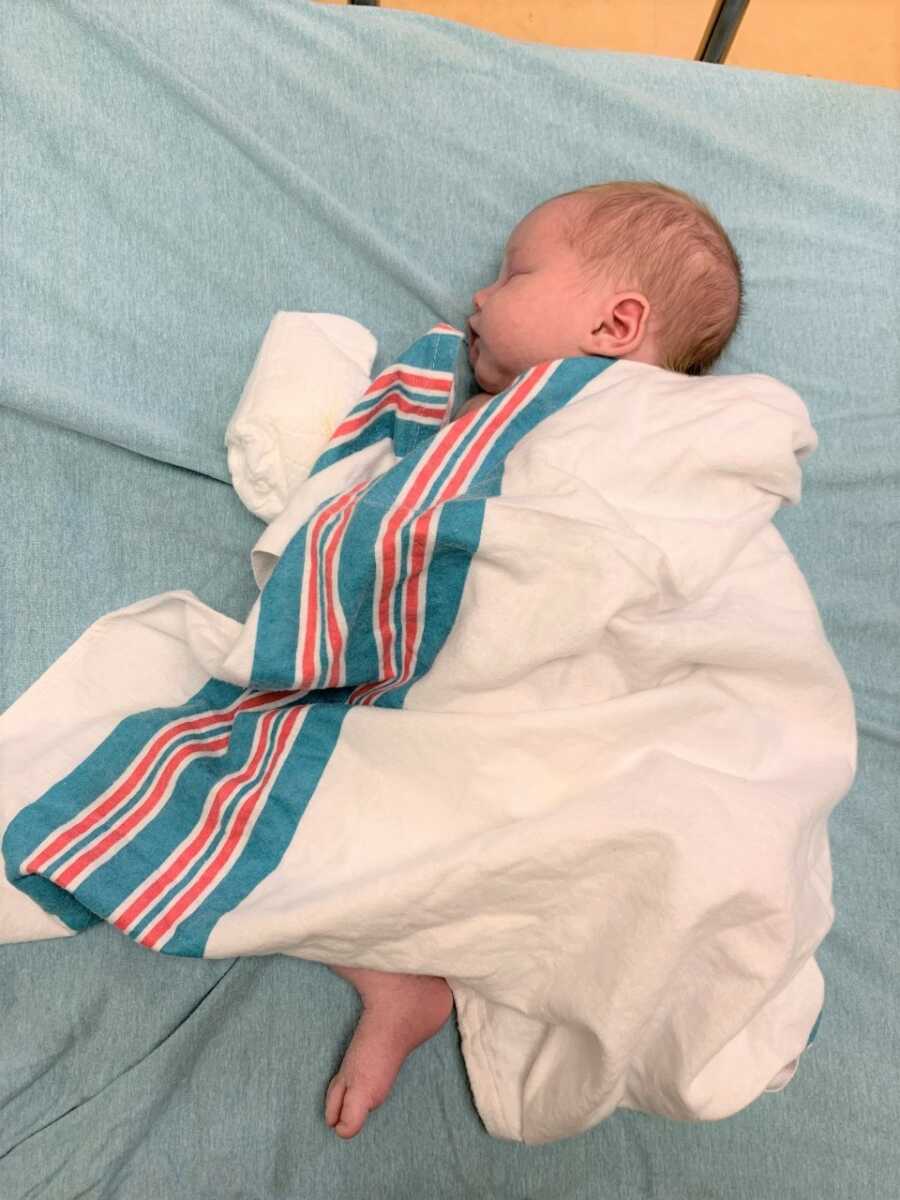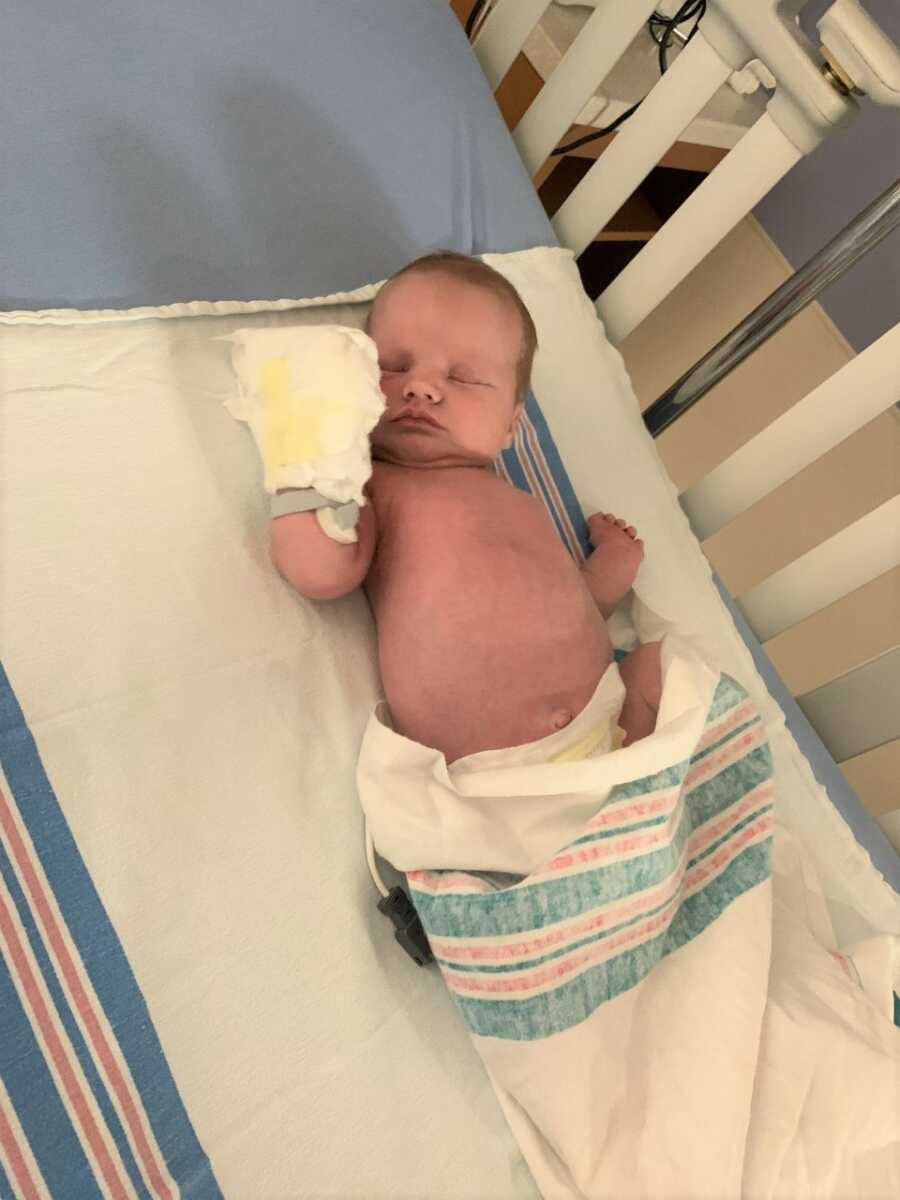 Sometime after sunrise, we were moved to a room and a new team of doctors told me we were likely dealing with viral meningitis from the common cold. All we could do was wait to see if he would recover, and to see if the lab cultures revealed something more menacing. I'd never felt so helpless. Armed with only my phone, hospital bracelet, and a now-empty water bottle, all I could do was turn to social media and ask my little community for all the prayers and love they could send our way.
My mama heart wasn't ready for this. He'd been our easygoing baby, an effortless and happy addition to our family. I couldn't believe he went from thriving newborn to fighting for his life in just a few hours. How could this happen? We hadn't left the house since he was born and none of us had been sick. We were all so healthy, so careful.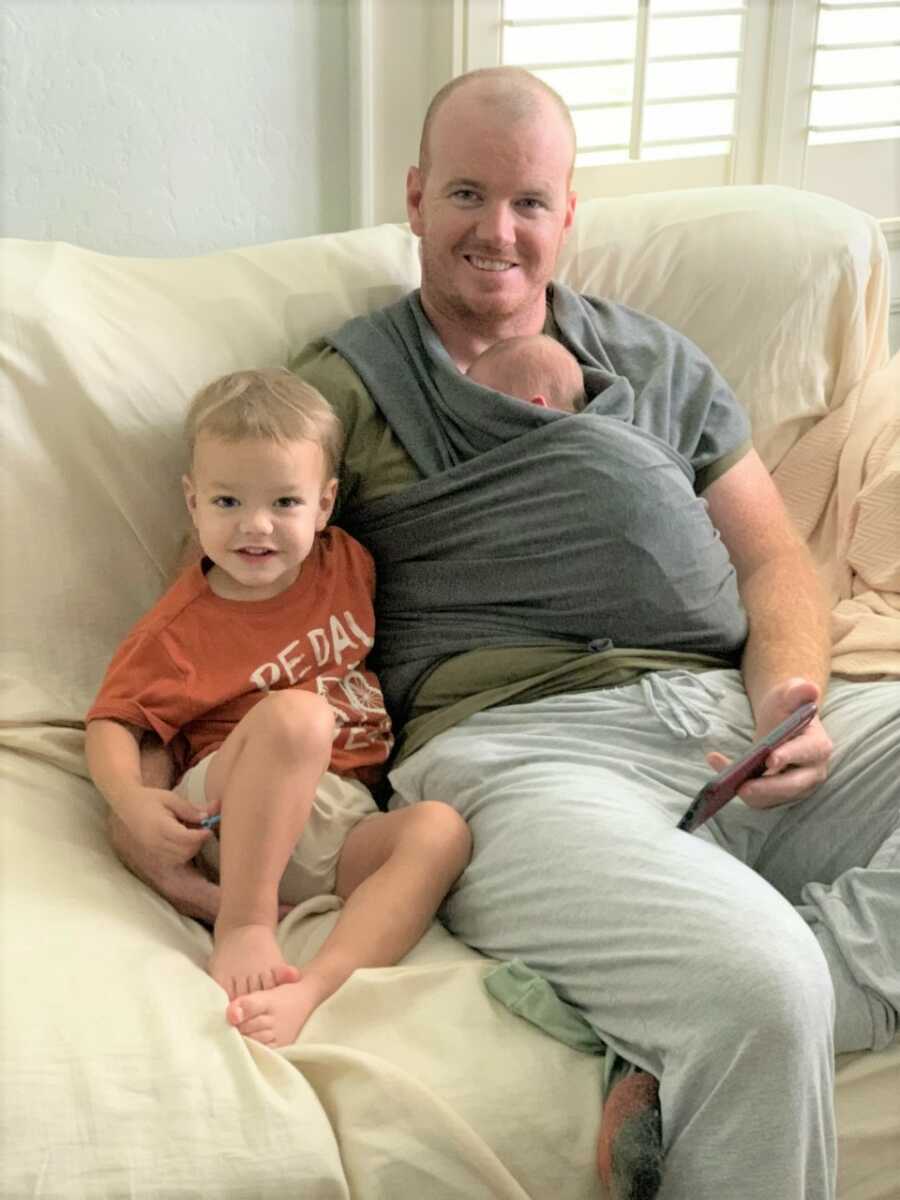 After 50 straight hours without sleep, and continually tracking feedings and weighing diapers to prove he still didn't need IV fluids, I slipped fully into emotional despair. Meanwhile, messages of prayers and well-wishes, and even some gifts of money for coffee and meals, flooded my inbox. Bolstered by this outpouring of love and support, I was able to give him my all despite my pure exhaustion.
I held him, refusing to leave him on the tiny hospital bed; except for bathroom breaks to tend to my still-healing post-labor body. I nursed him and cried over him and told him how all I wanted in this life was to see him and his brother grow up together. I told him about the garden we would all plant together, the books we would read, the meals we would cook. I just needed him to pull through and be ok.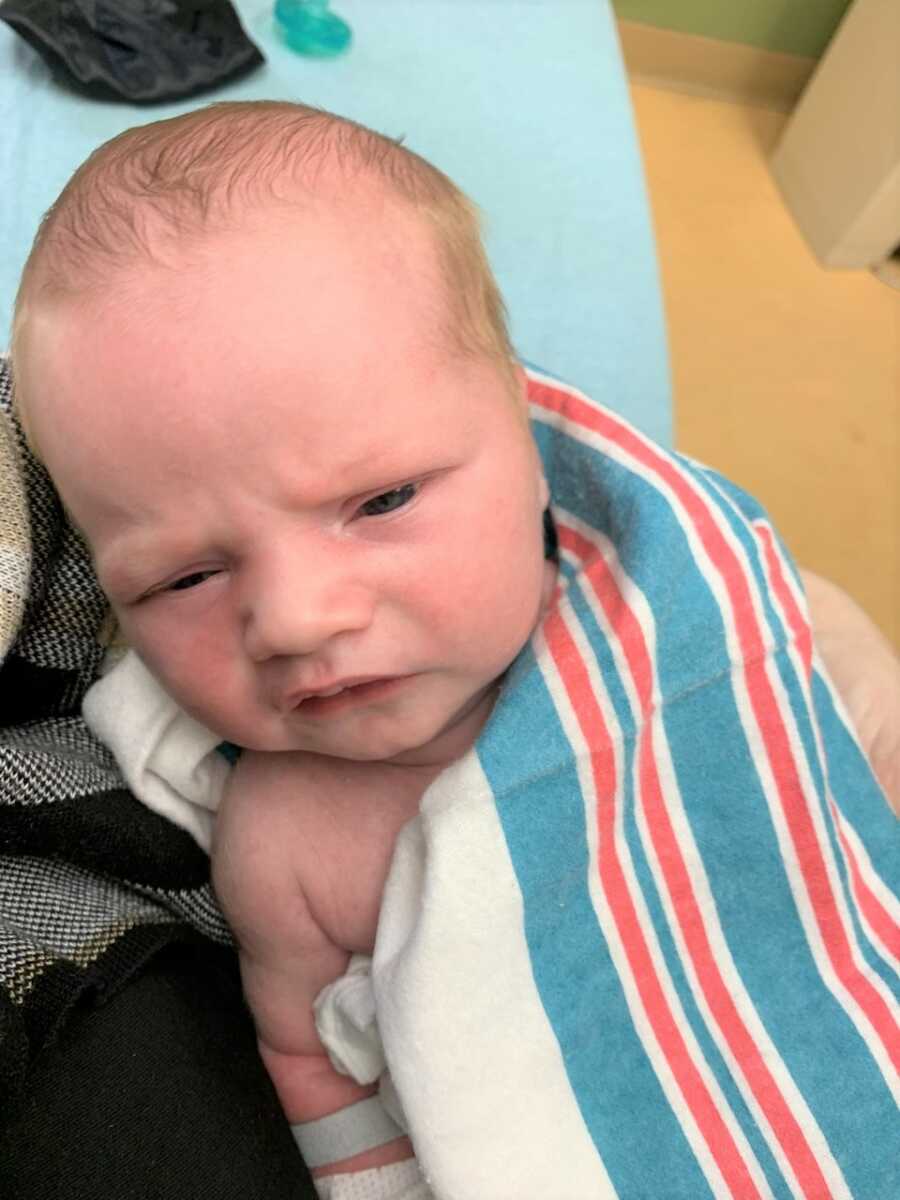 When we found out I was unexpectedly pregnant with him, our second baby, I'd made the tough decision to scale back my business and focus fully on raising our family. I'd been taught women should have successful careers, and they could have it all: the family, the job, the social life, the creative life, and the healthy bank account. And in practice, I found I might be able to have it all. But the pursuit was so fatiguing I couldn't really enjoy any of it.
This time, I'd vowed, I would slow down and enjoy the newborn days without feeling guilty about what I 'should' be doing. Instead I decided to make motherhood my main work. I knew now that our babies' childhoods pass in a flash. Somehow, it had already been nearly three years since my oldest was born, and I wish I'd let myself savor his early days instead of rushing through them in a haze of survival and achievement. I couldn't bear to think we might not get to see our second baby's childhood at all, that we'd never get to hear his laugh or first words, to know his favorite foods, or whether his hair would be red like his dad's.
Finally, after two full days and nights in the hospital, we heard it: 'All signs point to a good prognosis.' But I'd known before the doctors told us; I felt the moment when the fever had released him. It was nothing science could explain— such is the power of a mother's love and intuition, and that of a thousand prayers. We got to go home and resume life as before, but with our hearts a little fuller and a little more tender. How blessed we are to not have to find the answer to the question I asked that night, or to tell big brother the worst had happened.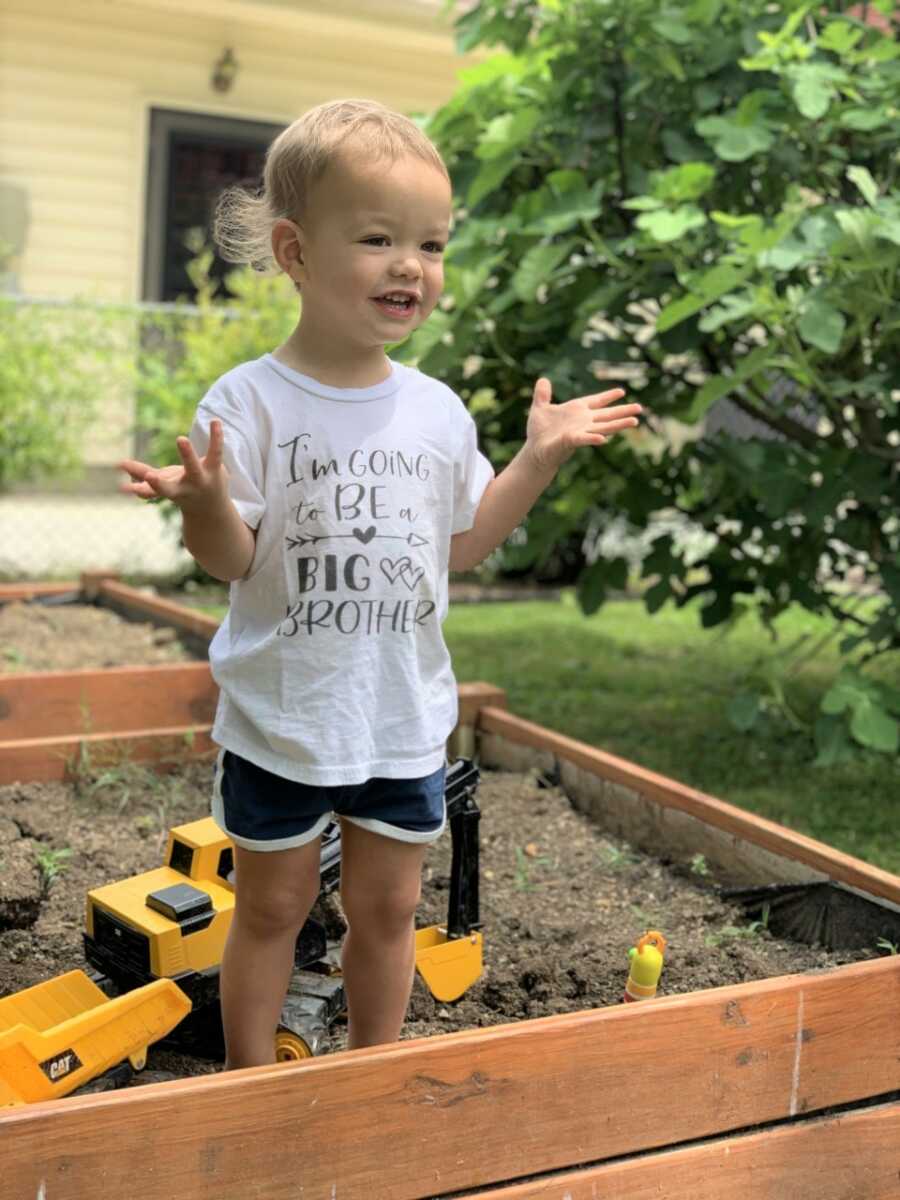 Our scare left me more convinced than ever to be the best mother I could to my boys. I learned from my firstborn that parenting well is hard work, but after a mere 10 days, I learned from my second what a gift our babies are, and what a life-changing honor it is to raise them. I wouldn't take another moment with them for granted. To all the parents who have lost a child, born or unborn, grown or otherwise, I wish I could give each of you a hug and listen to your stories. To hear how you still think every day about the child who lives in your heart but not on this earth, and how you wonder who they might be today."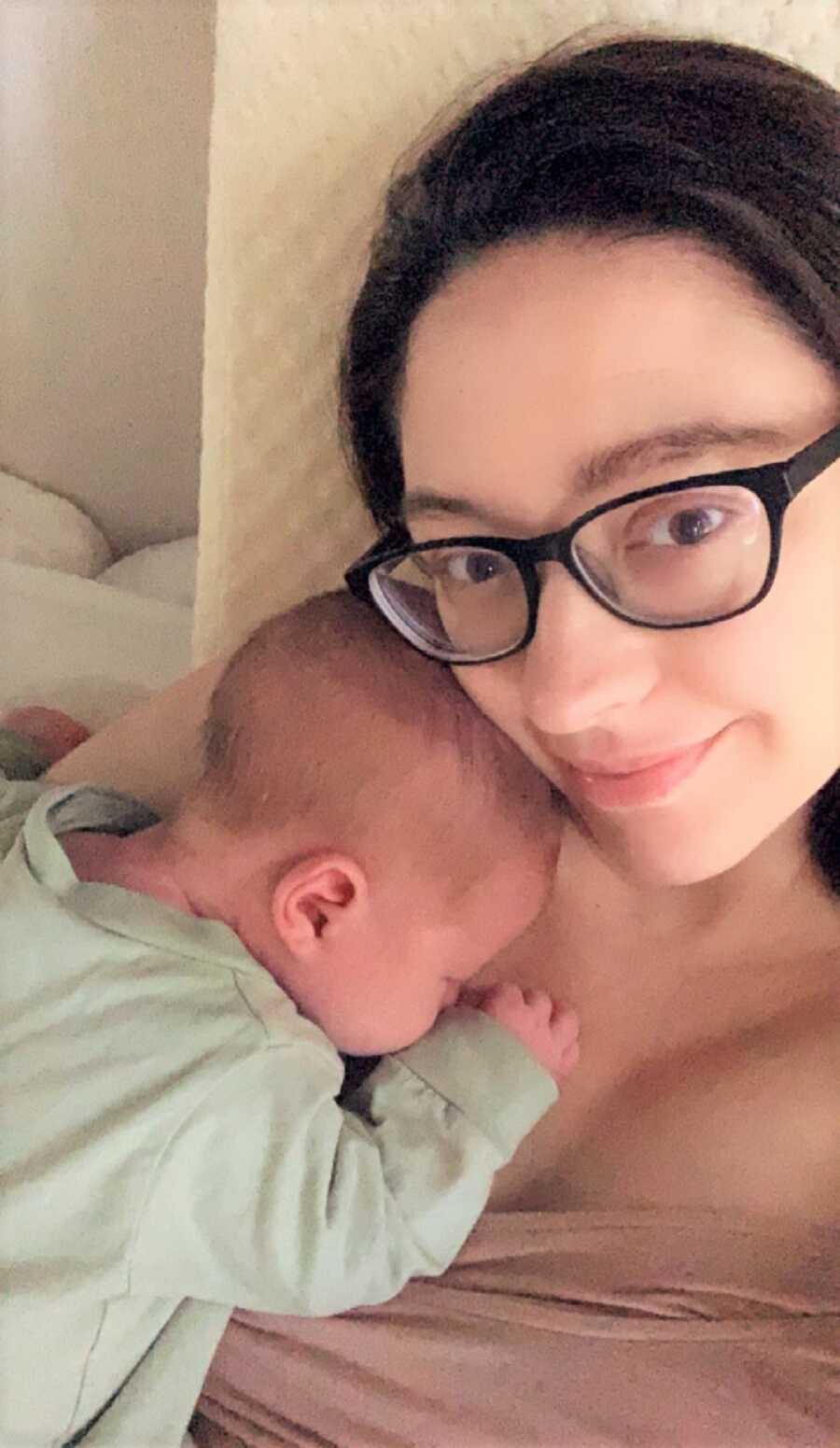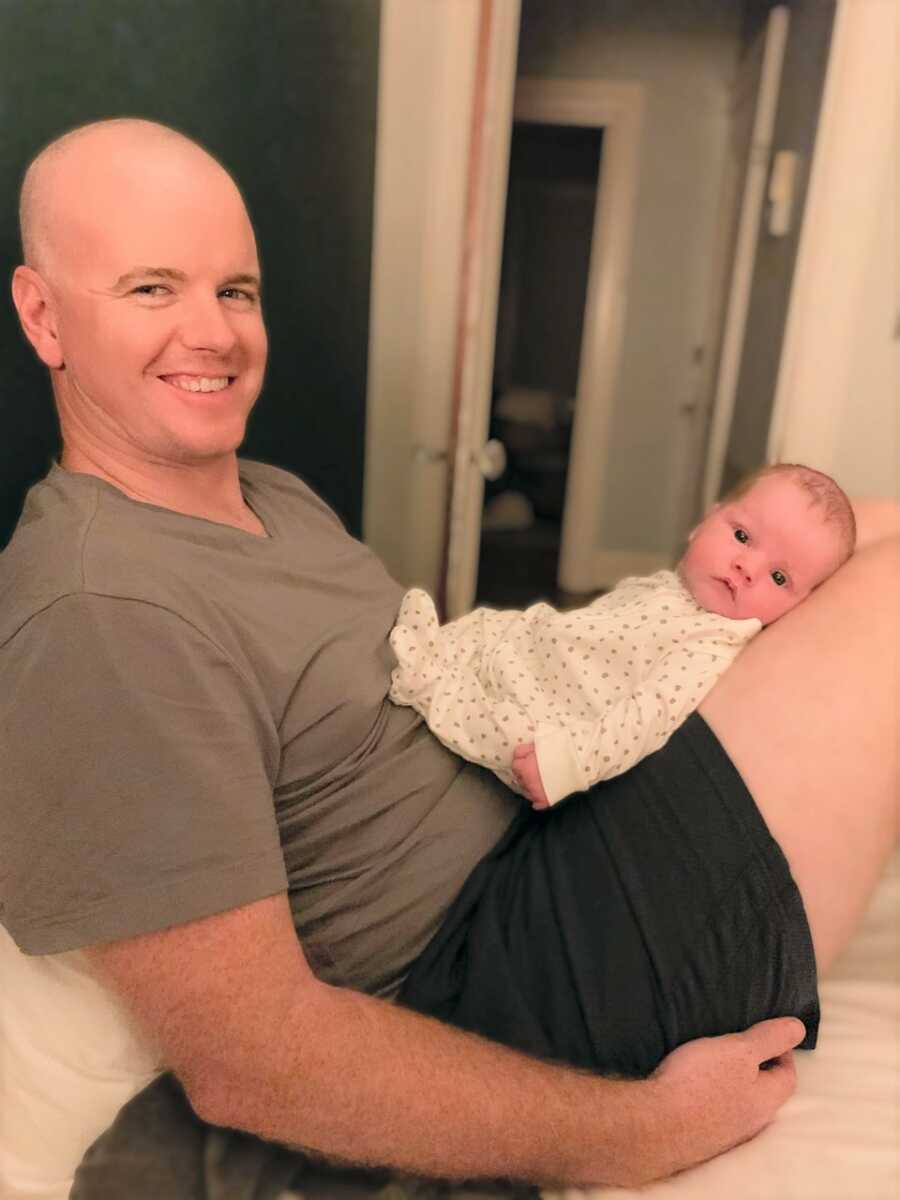 This story was submitted to Love What Matters  by Jaclyn DeVore of Chattanooga, TN. You can follow Jaclyn's journey on Instagram. Submit your own story  here, and be sure to  subscribe to our free email newsletter for our best stories, and  YouTube for our best videos.
Read more stories like this:
'Reese was snotty, stuffy, and not her usual self. The following day, we noticed a button battery missing in our home.': Bereaved mom starts non-profit after losing daughter to ingested battery
'I sat up half awake. 'Where is she?' My husband woke up and looked confused. 'Who?' I said, 'Shiloh. Where is Shiloh?!': Baby with Cri Du Chat Syndrome survives after battling to stay alive 122 days in NICU, 'I am so privileged to be her mom'
'I'm sorry. There's no brain activity.' My baby was turning orange. 'Turn off the machines.': Baby 'brain dead' after contracting Common Cold Sore, 'hold your babies a little tighter tonight'
'At 8 months old, a common cold became too much for our daughter's heart. She stopped breathing in her daddy's arms.' Daughter's harrowing journey of survival after cardiac arrest
SHARE this story on Facebook to remind others to take the time to love what matters most.