Disclaimer: This story contains details of child loss that may be upsetting to some.
"I finally got to hold her again. One last time. But if it was possible, I would have held on forever. I rocked back and forth with my baby, praying it wasn't real. The reality of Reese being gone crashed over me when it was time to call my husband. How do you tell your husband your child is gone? His words and voice are etched in my mind forever. All he could say was no. 'No, no, no. It can't be.' And then came the tears. The wailing and not being able to hug and comfort each other. The pandemic has been a beast in itself, but losing a child amidst all of the hospital restrictions is a straight nightmare. I quickly realized I needed to get home to our oldest daughter, Blake. See, I was in Houston and we live in Lubbock, which is 8 hours away. Let me take you back to the beginning, though.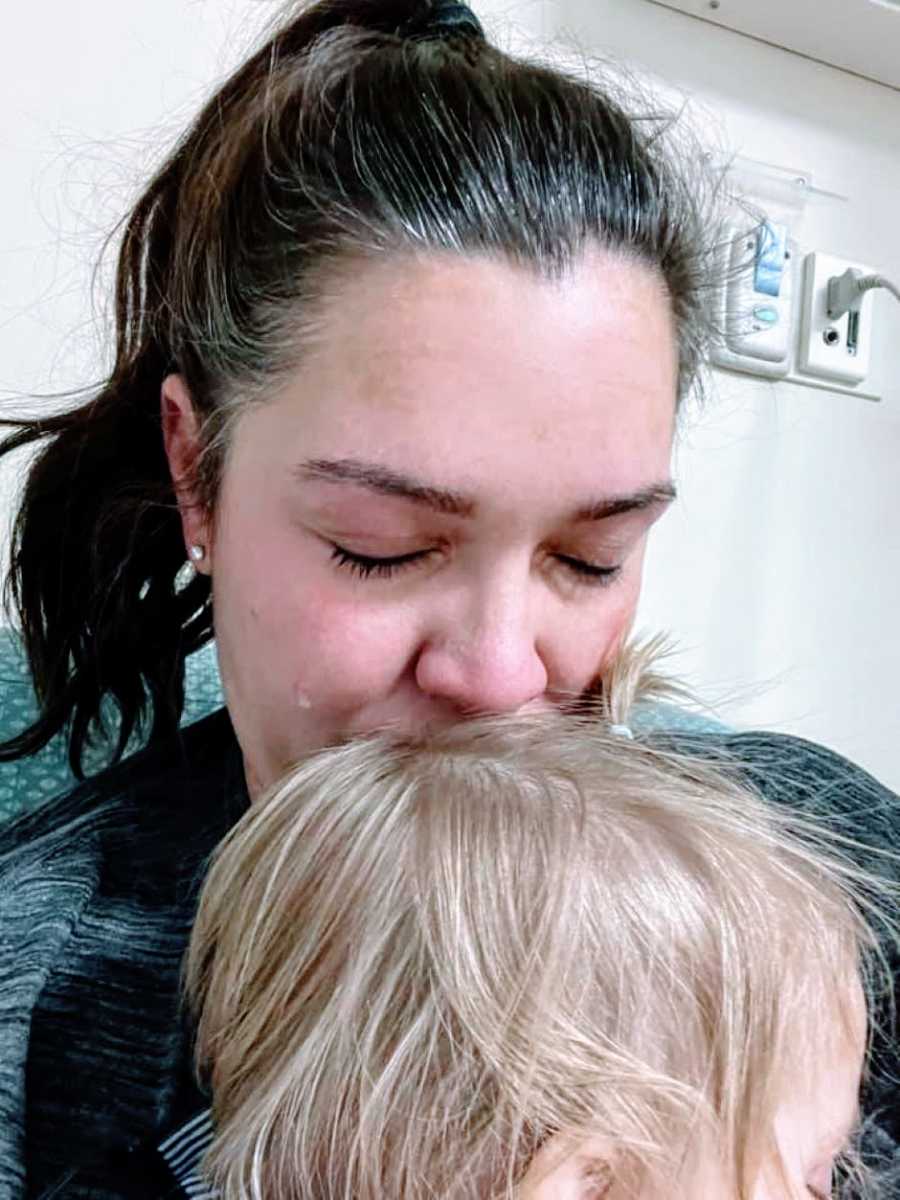 Reese Elizabeth Hamsmith, known affectionately to those closest to her as ReRe, was born into this world a spunky, sassy, full-of-life little girl on June 13, 2019. At only seventeen months old, Reese took the attention of an entire room the moment she walked in with her spirited demeanor and inquisitive attitude. She lived life in a way most will never know. She loved hard, played hard, and fought harder. One morning, we noticed Reese was snotty, stuffy and not her usual self, so we took her to the doctor. She was diagnosed with croup, given a steroid shot, and we were on our way.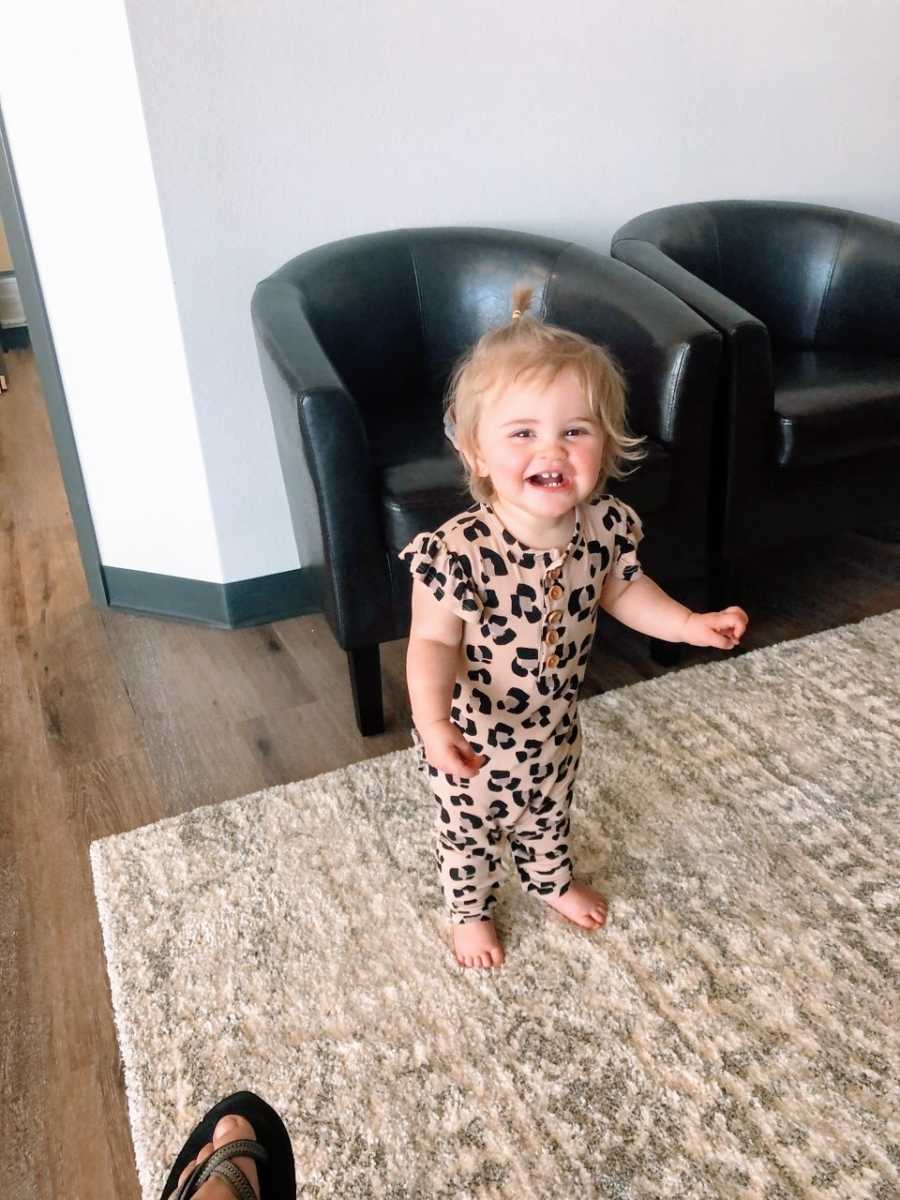 The following day, we noticed a button battery missing in our home. We rushed to the hospital and a quick X-ray confirmed our worst fears. Reese had emergency surgery to remove it and spent a few days in PICU. I remember being so scared when we were finally able to go home, as she was no longer able to have any solid foods. The plan was to return to the hospital to re-scope in 4-6 weeks.
I took a deep breath and went to the store to stock up on every possible thing that might satisfy our eater over the next month. It was such a great few days with Reese back home. One of those days we went to Target and she saw a dinosaur. She looked at it and as brave and loud as she could she said, 'RAWWRR!' Blake, Reese, my mom, and I all belly laughed like never before. It was classic Reese – so spirited and always lighting up the room with so much joy. Other customers were lucky enough to witness it that day and laughed with us as well.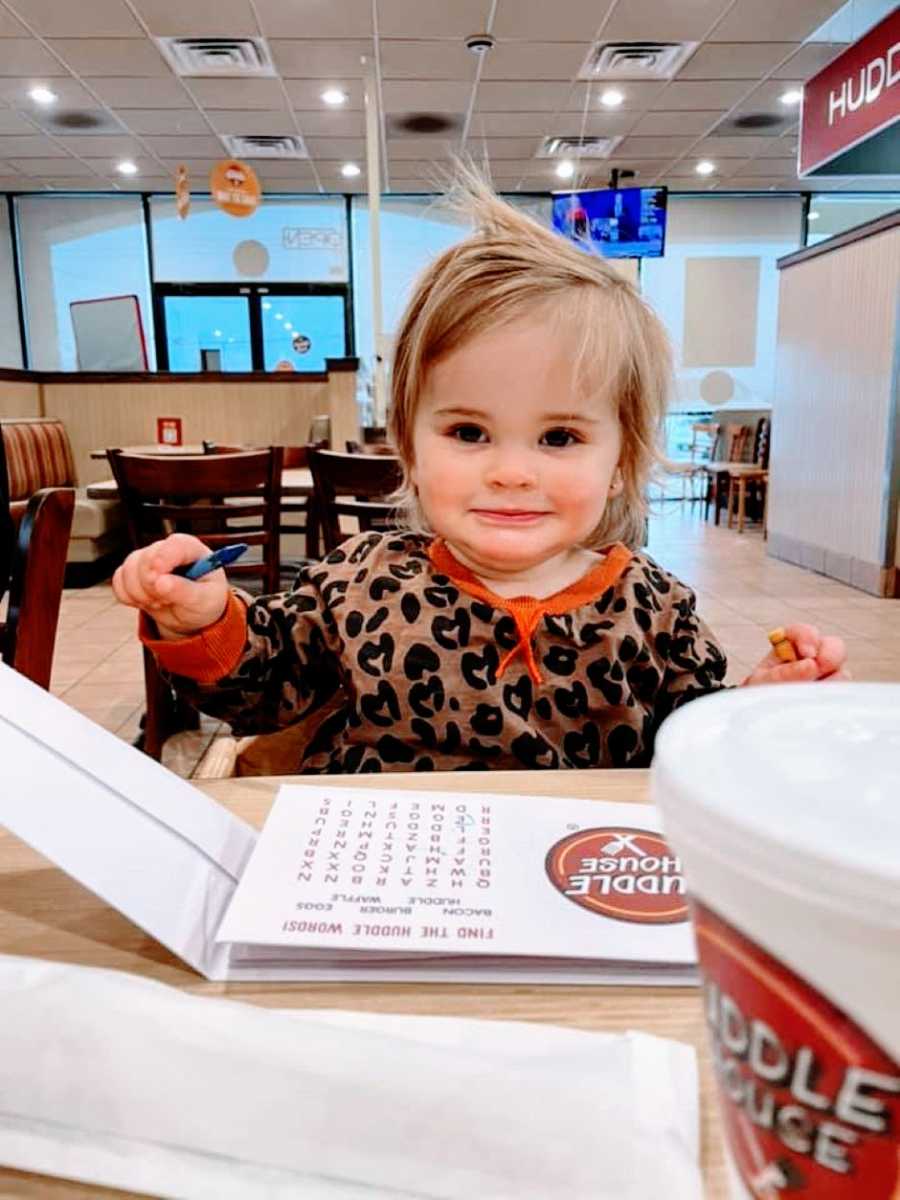 Reese was still very raspy, so I decided to err on the side of caution, and we went back to the doctor. They were worried a hole might have been created from the burns of the battery, so they sent us for a CT which confirmed that indeed, a hole had been created in and through the esophagus, as well as through her trachea, which created a fistula. A fistula acts as a tunnel, connecting the two and allows both food and air to go where it doesn't need to. The following morning, she was taken back to have a G button placed for nutrition and came back sedated and on a ventilator. This was the start of her last 40 days.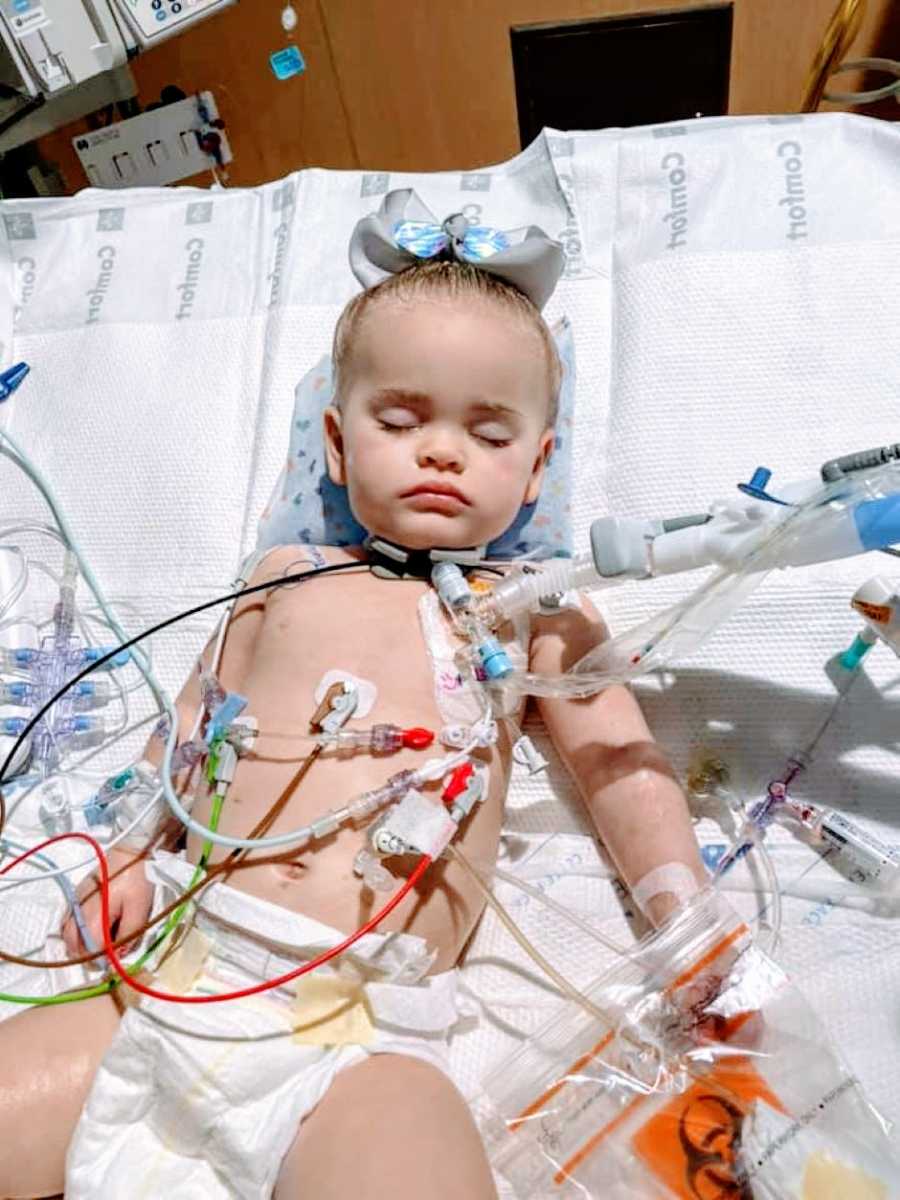 We were going to wait a week to let the inflammation go down before another scope. Then we would come up with a plan. Within a few days, though, she took a turn for the worst. On the doctors' advice, we decided to move to a bigger hospital. A jet flew in and took Reese and me to Houston. I didn't even have time to kiss Blake goodbye. Once there, we made sure she was stable and started to develop a plan. The day finally came for her big surgery to repair all of the damage. It was an all-day event, and everything went well. All we could do now was wait for it to heal. The next step was to get her off of the vent. After what seemed like forever, she was back from the procedure and breathing on her own with the help of some oxygen. She remained sedated, as we had to slowly wean her off all the drugs.
That evening, I stepped downstairs to grab food and as I came back up, no one was walking down the hall and it felt like a ghost town. It made me sad to think a child on the floor was not doing well to warrant everyone's attention. I turned the corner and realized it was Reese. I heard a voice say, 'Starting compressions' and I remember screaming at her to fight. 'Fight, Reese, fight. Come back to me.'
I remember demanding anyone free to pray with me and I'll never forget the people who joined me on their knees. 8-10 minutes later, we got her back. She just wasn't strong enough yet to be off the ventilator. We had to continue waiting and hope enough time would prepare her to try again. I didn't leave her side much after that. Nurses would bring me food as they grew concerned for my health as well. If we couldn't get her off the vent, she would need a trach. The thought of a trach terrified me, but I knew we couldn't do without it. After about a week, we tried again. This time she made it 15 minutes before the doctors and I decided she just wasn't strong enough to breathe on her own. I was so scared of the trach, but I knew we needed to do it, so a few days later she got one. I'll never forget how beautiful she looked without all the tubes coming out of her nose and mouth. My little angel.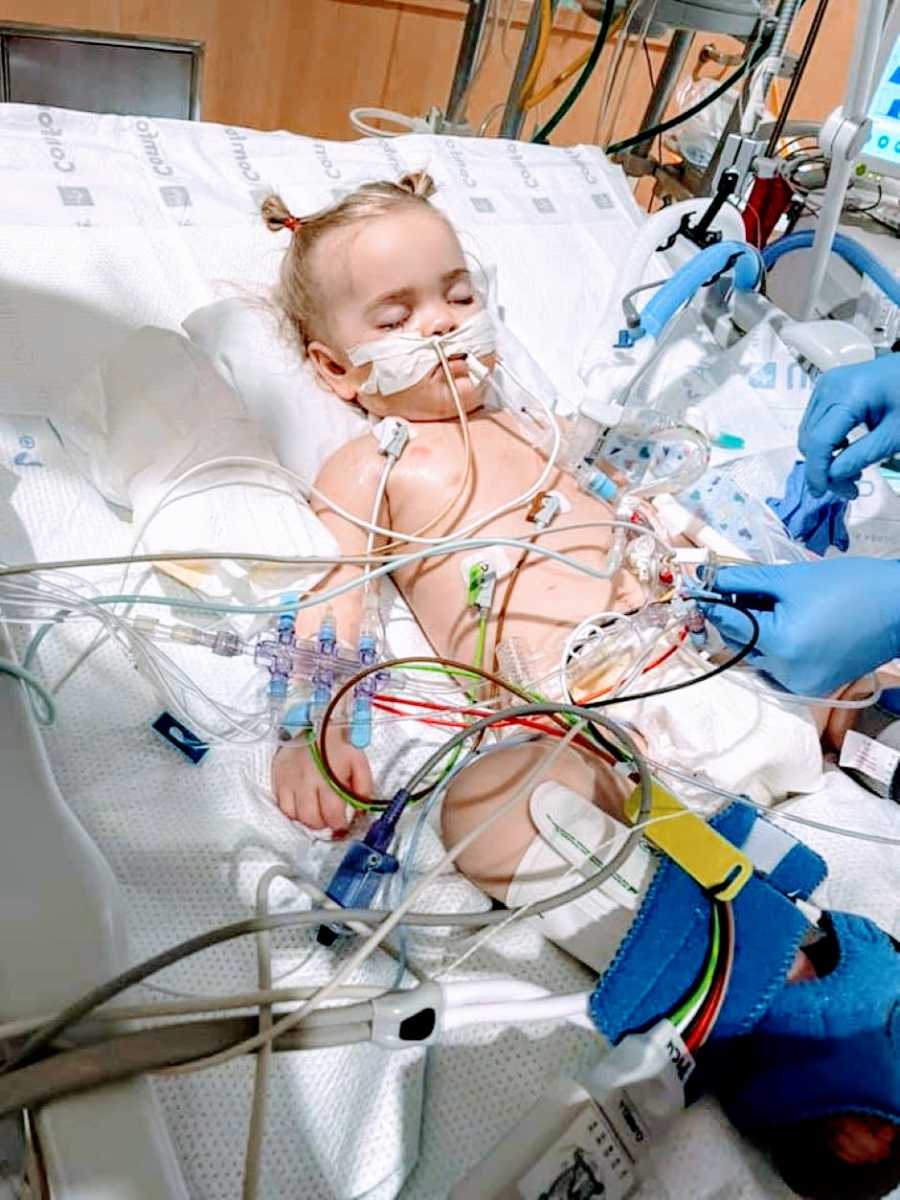 Little did I know what was coming. That evening, her numbers didn't look right, so she went back to the ER for a different trach that we hoped would be a better fit. The procedure went smooth and Reese came back from the ER. The following morning, I woke up to a full room. Her numbers were still off, so a bedside scope was ordered. Shortly after the procedure started, her vitals started falling. I remember dropping my head to pray after I saw one of the numbers reach 6. This couldn't be happening again. Flashing lights and everyone running in the room. Starting compressions. No pulse. Again, and again, no pulse. I remember looking through the glass, begging God to bring her back. After 30-40 minutes, the truth was settling. She was gone. It felt like 5 minutes and 24 hours all at the same time. This was the start of our lives being changed forever.
They took her handprints and footprints and we started working on flights to get me home. Blake was set to fly to Houston the next day. I had to get back before she was told she wasn't coming and figured out something was wrong. The plane landed in Lubbock at 8:30 p.m. that night. Mom, Dad and I drove home to see Blake. A friend of ours met us there to help tell her. Another screech forever implanted in my heart. Telling a child that their sibling is gone is just as hard as losing a child. She was 8 at the time and more than aware of what death was.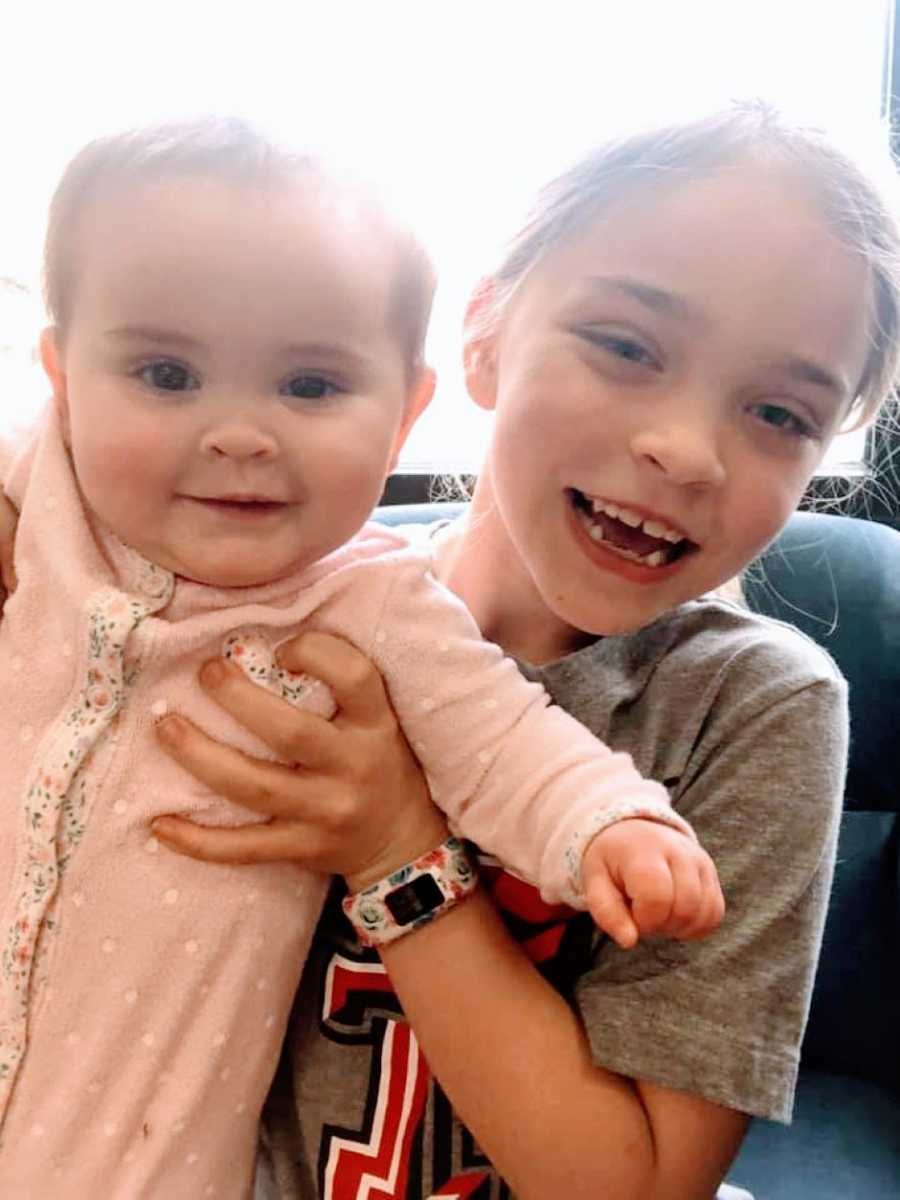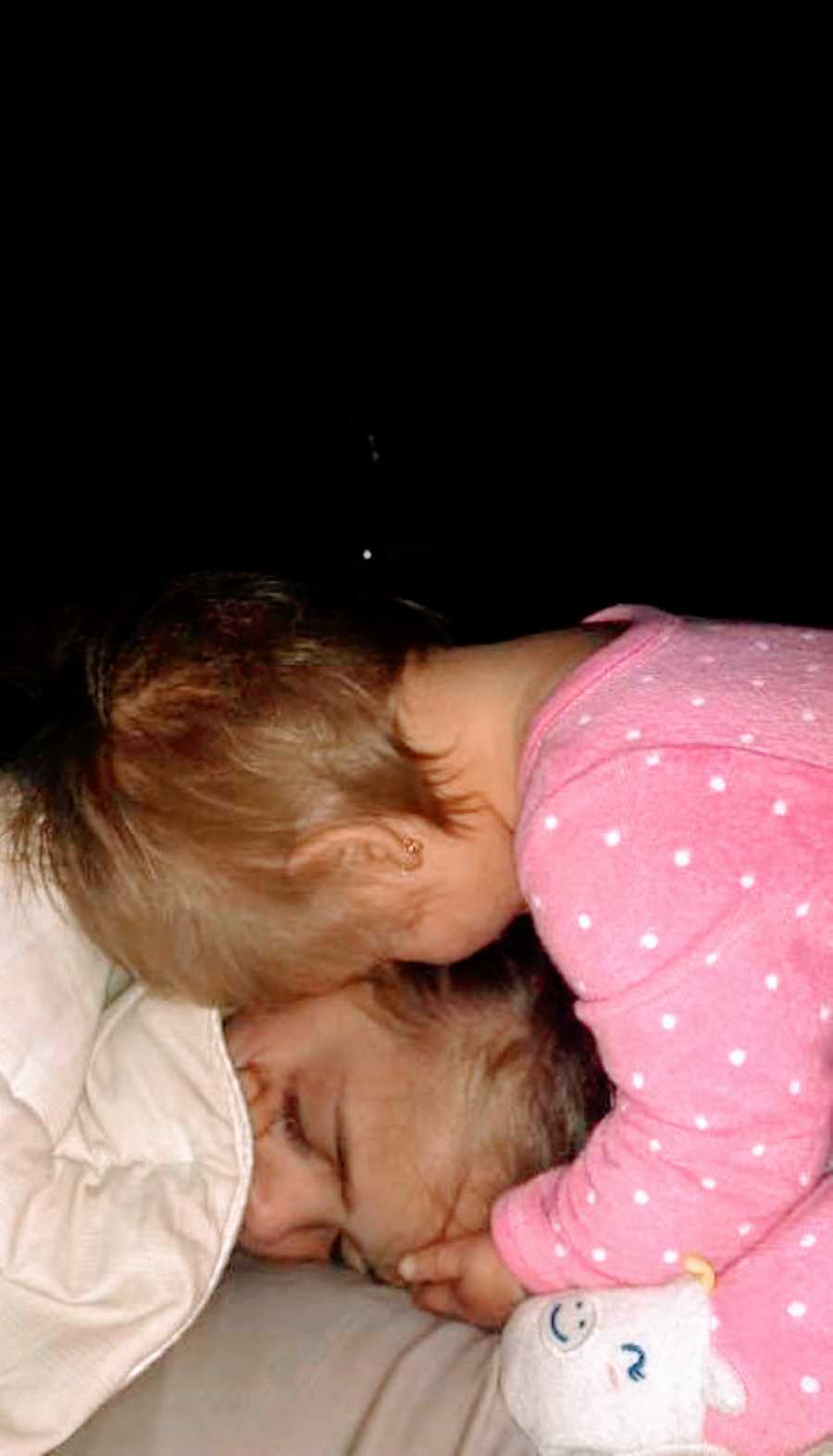 We all cried a lot that night. The next day we had to start planning a funeral. For a child. For a baby. The tiny casket, the flowers, the music, and the cemetery. People flowing in and out of the house. The messages and calls. Everyone wants to do something to help. To say something to help, but to be honest, there was nothing anyone could do. We buried her on December 23rd. The only comfort I have is an image of her dancing in heaven with other angels. Smiling and belly laughing. I have to take my mind to this often. The services were beautiful and perfect just like she was. And now Reese truly is my Angel.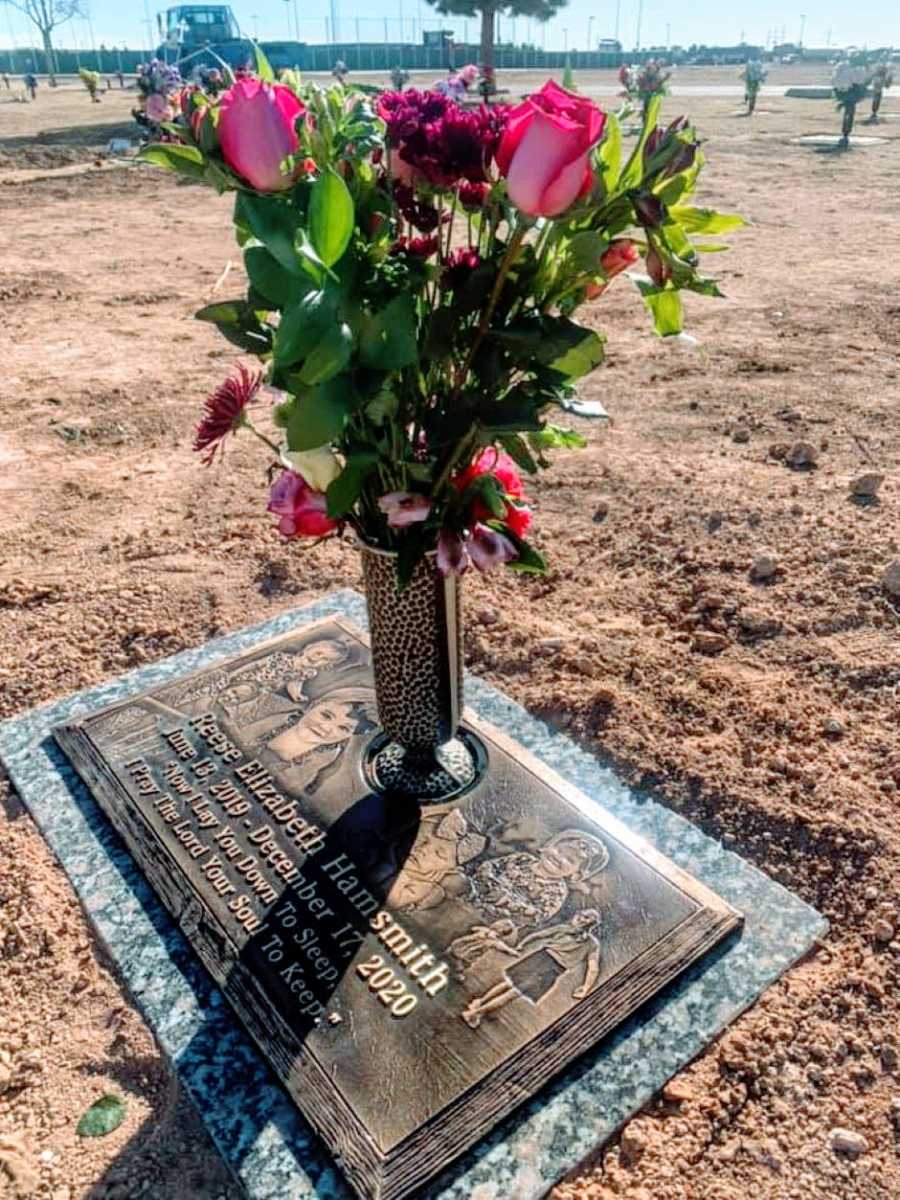 A few weeks later, I got a message from someone in a Peloton group with me. She told me there was a group of women who wanted to do something for our family. Without hesitation, I told her we needed law changes. We had to protect other children from this. There was a plaque under the Christmas tree in Reese's room in Houston that read 'He has a plan and I have a purpose.' I always knew Reese would do big things. That phone call was the start of our nonprofit, Reese's Purpose.
The statistics about button batteries are shocking and disheartening:
• According to the AAP, every three hours a child is rushed to the ER after swallowing a button battery.
• In the past year, ER-treated injuries related to button batteries was up 93% among young children.
• The number of serious injuries or deaths as a result of button batteries has increased nine-fold in the last decade.
• Once ingested, button batteries can cause severe tissue burns in as little as 2 hours, can cause lifelong injuries and death.
• Among children < 6 years old, 61.8% of ingestion came directly from the product (versus loose batteries or via the packaging).
• Between 1977 and 2020, 65 children have died from ingesting button batteries.
Reese's Purpose is laser focused on changing these statistics. We started a change.org petition that is the fastest growing consumer products safety petition this year and has over 76,000 signatures (please sign it!). In April, I spoke to the Consumer Products Safety Commission lobbying for Button Battery safety to be part of their 2021-2022 agenda. I've spoken with local and national representatives, as well as the American Pediatric Association's Button Battery Taskforce. I've shared my story with the Today Show, People.com and People Magazine's Health issue. I've given countless interviews to local media and my days are also spent talking to families who have suffered similarly and are advocating for changes. My goals remain steadfast:
1. We need safer closures for all items that contain button batteries – preferably a screw
2. We need a safer battery from companies like Landsdowne Labs. The technology is in development, we are just waiting for the industry to adopt it.
3. Medical professionals and parents need to be educated about the dangers as well as the symptoms.  Reese was misdiagnosed with Croup, which is extremely common with Button Battery ingestion.
4. We want to fund an early detection device that won't require an X-ray to check for foreign objects in a child's system.
5. We want to financially assist families in the trenches of the hell that comes from accidental ingestion.
It's a common misconception that this was a fluke or random event. Button battery ingestion is actually severely under reported. In fact, Reese was never reported – I reported her death myself. The American Academy of Pediatrics estimates only 11% of ingestions are reported. Of the 3,500 reported injuries we do know about, 2,800 are children. If that's only 11% of ingestions, we estimate our medical system sees close to 30,000 accidental ingestions per year.
Australia recently passed mandatory standards after three children died from accidental ingestion. A major retailer there refused to sell Apple's new AirTags due to safety concerns of how easily a child can access the button battery from the device. It's time for the United States to address this concern and protect its children from products that threaten their safety – and their lives.
One of the most disheartening things is how families are afraid to speak up because of how the public reacts. I know first-hand just how cruel keyboard warriors can be. Y'all, this can happen in a second and most of the time is undetected. One of my goals is to bring awareness to the issue so these families (mine included) stop getting attacked. Every time I see these comments my point is proven. If you still don't think this can happen to you or someone you love, you are risking their safety. Please check your homes and tell your friends, grandparents, daycares and babysitters to do the same.
As for me and my family, we will keep fighting the fight to protect other kids. We walk forward daily, taking extra time to love one another, to slow down and not rush watching Blake grow up, to remember Reese and to honor her purpose."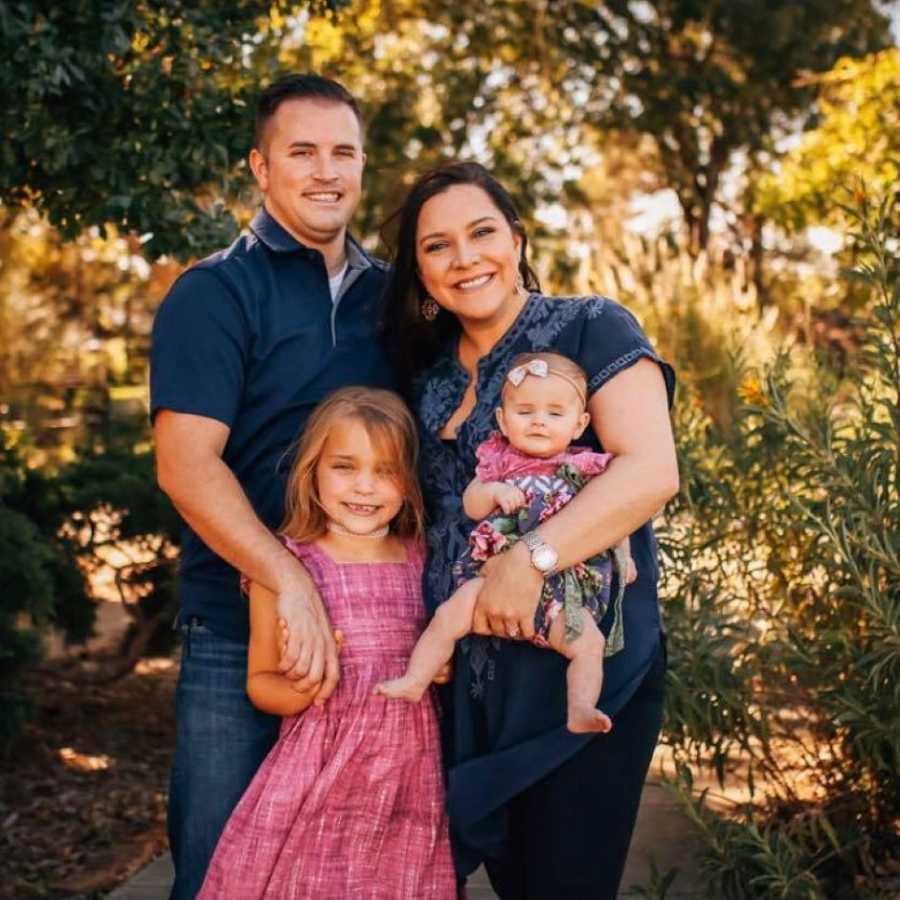 This story was submitted to Love What Matters by Trista Hamsmith of Lubbock, TX. You can follow their journey on Facebook, Instagram, Tik Tok, Twitter, and their website. Be sure to subscribe to our free email newsletter for our best stories.
Read more stories like this here:
'Quarter, momma!' My husband was grilling when our son knocked on the glass door screaming.': Mom warns of button batteries in household after 20-month-old battles for his life
'We saw bubbles at the surface of the pool. 'Someone needs to get him up now!' He was limp and grey.': Family share shallow water drowning PSA, 'Please let your loved ones know'
'I got a call from my babysitter saying, 'Your son fell and hit his head.' I believed it.': Mom shares powerful PSA after losing son to abusive babysitter, 'Know who is watching your kids'
'Honey, they've tried reviving him 6 times. He's not coming back.' I was barely hanging on.': Mom loses son to fatal car accident, finds 'beauty in the ruins' of child loss
Help spread awareness of button battery safety. SHARE this story on Facebook with family and friends.