"Cheers to my fellow DDC (Dead Dads Club), the dreaded Father's Day is upon us again. Grief is such a 'stucky' feeling. Some days it feels like yesterday I was driving dad around in his car for the last time, some days he feels decades away. Some days I wish I could hug him and ask him a million questions I didn't get to ask. Then I am reminded of how fortunate I am to have had 17 years with my dad, and the years I continue to have with my mother.
One in 8 children (8.7 million) aged 17 or younger live in a household with at least one parent with a substance use disorder (SUD) (NSDUHs, 2014). As a child, your limbic system, stress response, morals, and beliefs are impacted by parental alcoholism. As adults, it is our responsibility to unlearn behaviors and develop healthy coping skills so we can learn how to be vulnerable and heal.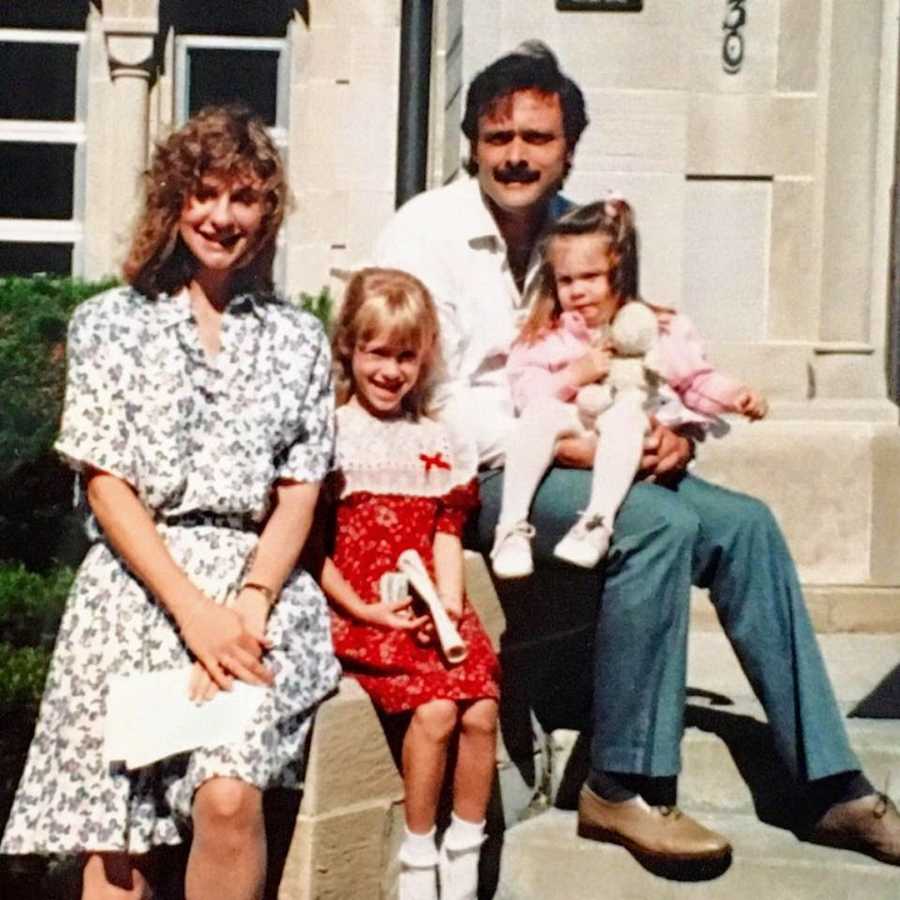 It took years of work, self-reflection, and realization of what the trauma of alcoholism and grief did to me and what it did for me. For context, my dad was in a car accident at age 19. He and his dad received blood transfusions, which resulted in contracting hepatitis C. His drinking began before the accident.
Growing up, I knew most of my dad's behaviors weren't 'normal' from watching other dads, but I didn't know what he was experiencing was addiction. I frequently waited until I heard my dad come home to sleep, I took off his shoes after he passed out on the couch, I put my finger under his nose to check his breathing. Totally normal kid behaviors. I learned to love my dad's scent—grass, sweat, and booze.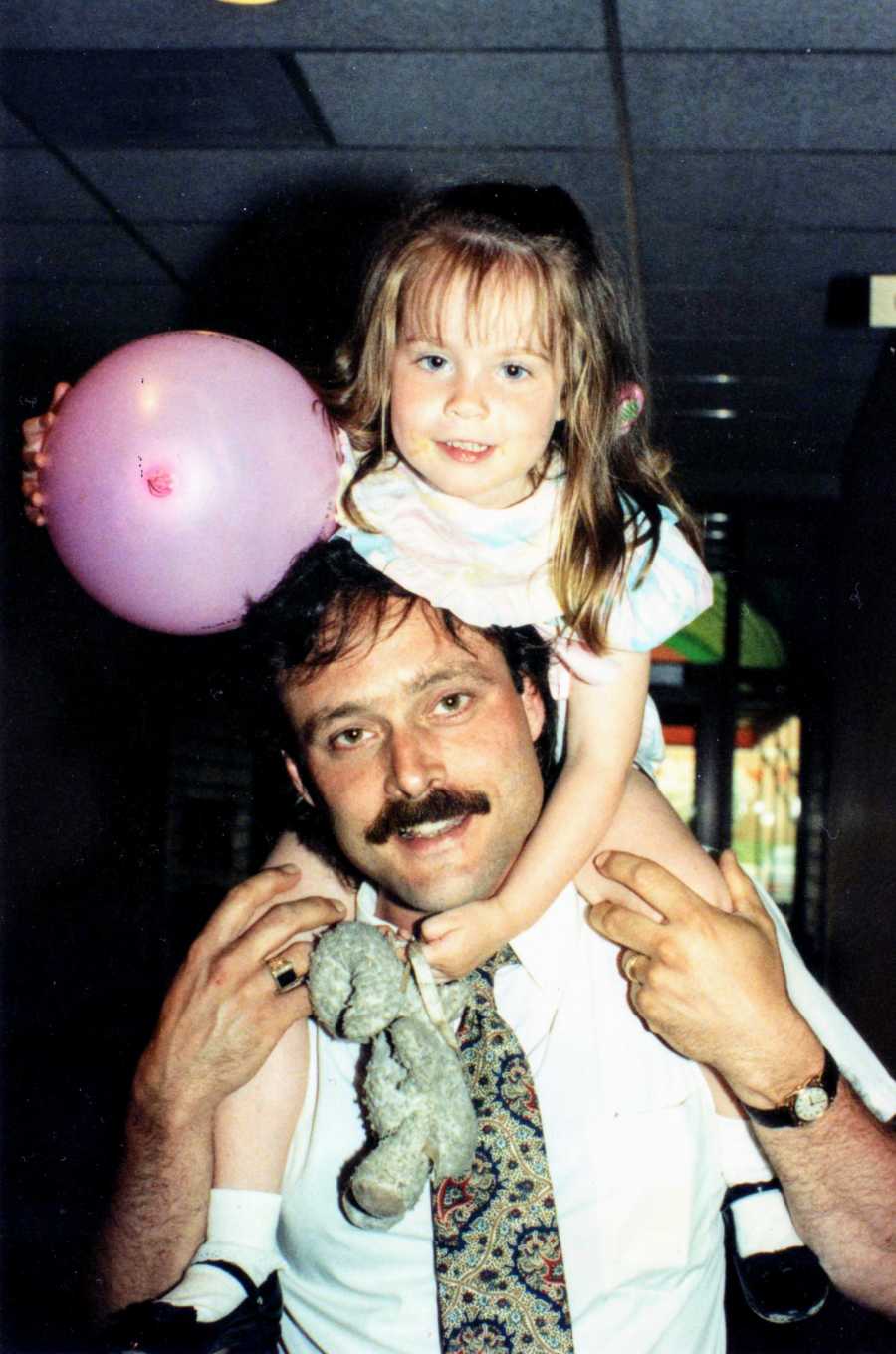 We watched 'Seinfeld' on a 5-inch screen during dinner, we drove our annual spring break to visit Florida family—'normal' family stuff, right? My parents fought sometimes, more aggressively as time went on, but we had everything we needed, and we still took trips around the country in our RV—shout out to my geologist mom for that one. My 'normal' childhood ended in seventh grade (2001). Dad frequently went 'on trips,' but this time he left with his belongings to go to 'China.' He told me that day he didn't know when he'd be back. I watched him drive away and cried in my room for a few days. I didn't tell anyone. I didn't want to be different.
My dad bought his own trailer home we visited sometimes, he was still over every week, and we all had Sunday dinners at Kim's with my grandpa. Divorced life became my new normal. My new favorite days were my dad surprising me at school or the bus stop to pick me up with treats. Then dad started coming around more, drove my friends and me whenever we asked. Fall of 2004, my parents sat us down at our old creaky antique table to tell us the news. I remember vividly, dad's blotchy red face explaining his hep-C led to liver cancer. My eyes filled to the brim with tears. I held off until I could leave the table. His trial treatment 'cured' him of hepatitis, now cancer took over. His course of treatment: chemo, radiation. We all went back to life after as if he wasn't sick and dying. Denial.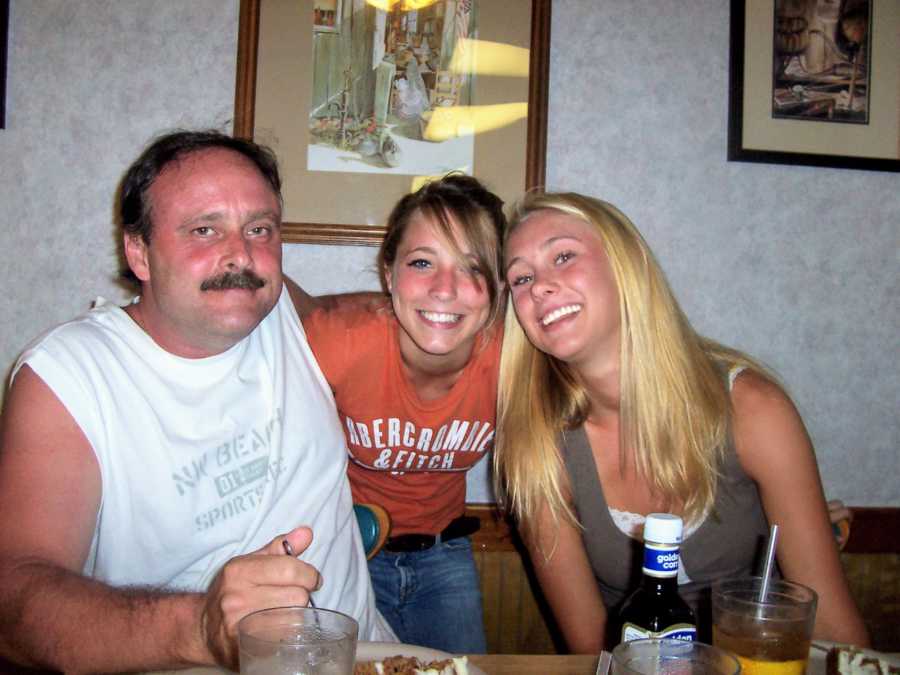 Spring break 2006, Florida trip together again. We had fun, we rented Dad a boat. I didn't realize until we arrived the excitement and pain in my aunt's eyes. It was Dad's goodbye tour. The first time I noticed the sad sympathy eyes from family. Dad didn't smile the same anymore (and it wasn't just because he was missing some teeth). The last night at my aunt's house, Dad stared at me in the living room, I saw tears in his eyes. 'I'm still proud of you, everyone makes mistakes.' (I had a minor run-in with the law the month before.) 'You know I have. I love you so much,' I hugged him, but there was a lump so big in my throat I couldn't process words. It's a moment I think about frequently—why I couldn't get the words out. 'I love you too, Dad.' Regret.
After spring break, my parents remarried so my mom could take care of him and obtain his pension and life insurance. This statement screams Dateline episode, but my mother is quite the opposite. She did it for him, her best friend of 20-plus years, the father of her children. To take care of the man who was an addict, cheated, and gambled—no small feat. My mother is an angel. Any child of divorced parents understands a remarriage may bring excitement or dismay. This brought me pain. I realized the cancer was winning. On his last Father's Day, his yellowing eyes burned through the crack of the door at me, distraught. I put my journal down. 'I'm so sorry. I can't do this anymore, Chelsea.' I felt the words carve into me, the stiff use of my whole name. It was so I wouldn't forget this moment of vulnerable love.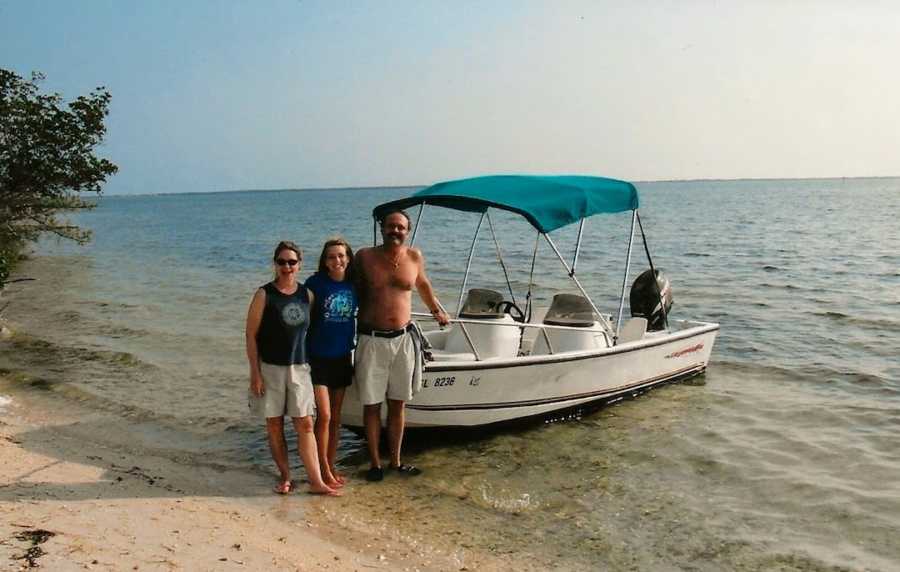 I'll never forget the long hug, conversation, or apology I didn't want to come. I couldn't show him how much I needed him to be okay—I prayed for a few more years with him, just what he prayed for when he found God again. When he left, I cried so hard I threw up (the first of many, grief is messy). To hear your once strong 225-pound dad dwindling down in pain, tell you he's letting go, it made my acid reflux flare up for weeks. While the day was hard, I didn't think once this would be my last Father's Day with my dad and grandpa. They weren't that sick, right? The last Tiger's game with my dad and his dad, awaiting struggling, painful smiles. It was a hard June, but the best June. I was naïve, because physically he was with us every day, thanks to 'his Patty' who took care of him.
Yet, he had already started the stages of bargaining and depression, I was squeezing tight to denial. There was a lot of 'why me?' back then. I saw how much pain my dad was in physically the last few months, but also mentally. A sick child trying to take care of his sick dad, riddled by the same disease. Hell, is that you? He held it together for the summer. In August, my grandpa was weak from liver cancer and fell in the shower. The 1 a.m. call came—it was the first time I witnessed my dad inconsolably cry. He hadn't been my loud, loving, fun, slightly obnoxious (drunk) dad for a while. The pain took over. He was never the same after this day. I understand, because I am not the same either.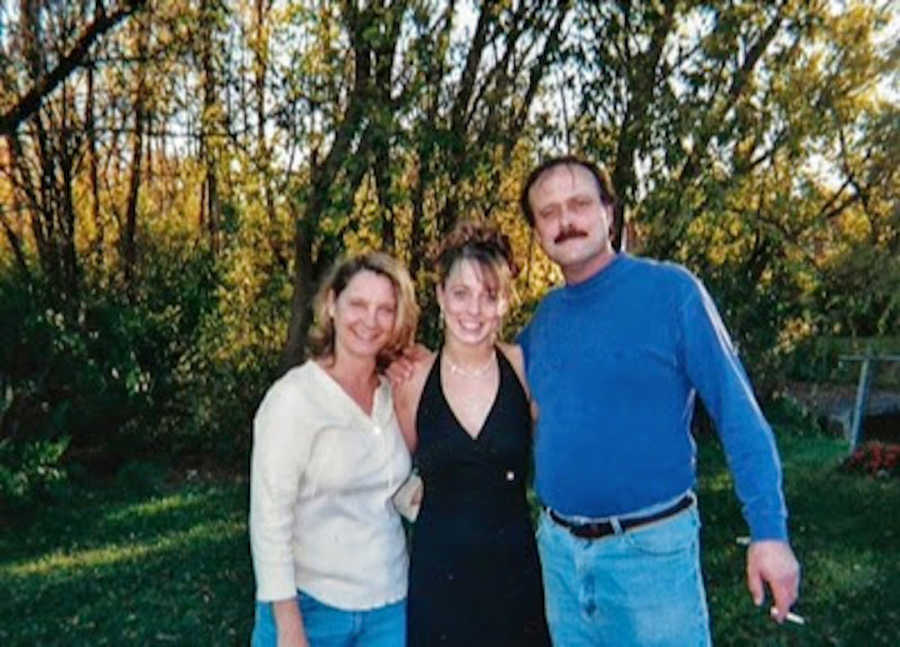 We took one last family trip to the place my dad wanted to visit most: Las Vegas, the Hoover Dam, the Grand Canyon. He had to ride around in a wheelchair for most of it. We didn't get many smiles, but I could feel he was content. It terrified me he started to accept he was next. I hugged, helped, and held my dad every chance I could that trip. I was nowhere near ready to let him go. My dad's last (53rd) birthday was in late September. People from all around came to celebrate with us. I heard my mom telling people to say their goodbyes. I held the lump in my throat for a while, I could barely eat. I cried so hard that weekend I threw up again (grief, you're fun).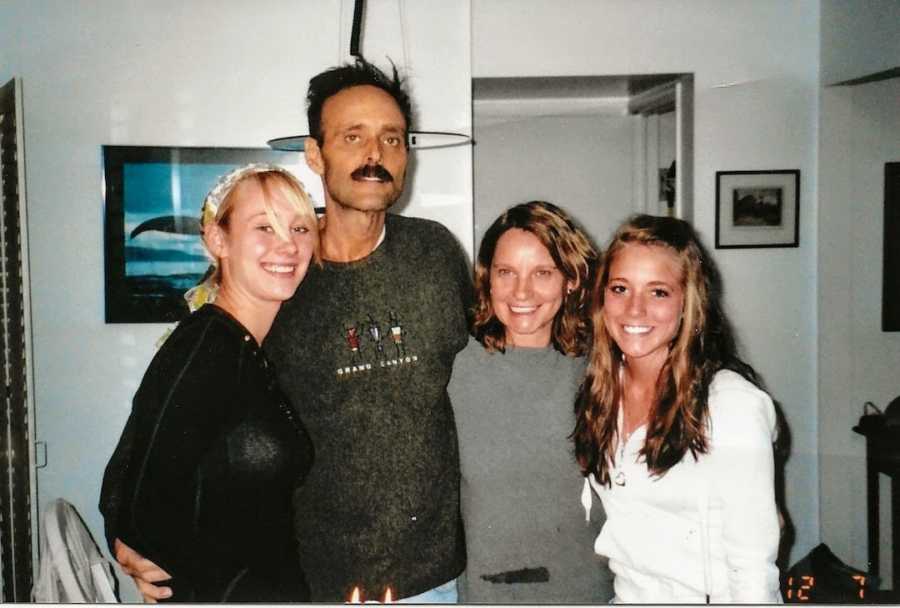 The last month was painful, I tried to be a happy high school senior while my world fell apart at home. My mom slept on cushions next to his hospice bed in the living room (she didn't work so she could take care of him). My dad asked daily if I could take him somewhere when I knew I couldn't. One day, we did make a grand escape to the grocery store! I cried every day his last month. There were times I had to help him go to the bathroom with his catheter because he couldn't move, help him with the pain medication I knew was making him worse. He once asked if I could 'give him a few.' I knew what he meant.
My homecoming was his last weekend. The last time he spoke to me, he touched my face and held my hand, 'You're so beautiful. I'm so sorry Chelsea. I love you.' I ran upstairs bawling and told my mom I couldn't go. She told me it's what he wants me to do. This was when I learned to pretend how to not be the girl without a father at home.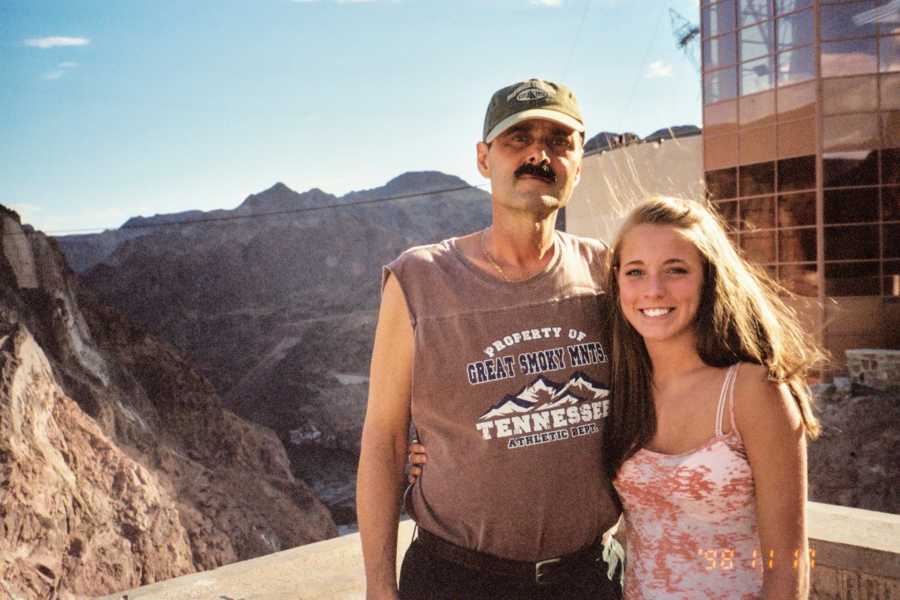 We didn't want dad to pass away in the house. He went to hospice on Monday, October 9. In my mind, I kept dreaming it was just a hospital visit. On Wednesday morning we all hit snooze—the phone call woke us. My step-grandma worked at the hospital, she told us to hurry and come, she stayed with him for his last breaths. I tell myself he didn't want us to see him go, he saved us from this, but I never truly said goodbye. After his funeral the next week, I couldn't cry for a month, I was numb. I went through the motions of my senior year. I was empty, I was traumatized. Disenfranchised and delayed grief. I left for college 10 months after my dad died (shout out to my mom for talking me into it). My freshman year I felt LOST, I kept reminding myself this is the worst I'll ever feel because it's year one, right? I was at my lowest.
I indulged in too many parties and drinking. I hardly attended classes because I couldn't sleep. I earned a 1.9 GPA in my first semester. I was sad, alone, and lost. I didn't know anyone who lost a parent. I tried to ignore my grief—I thought it would go away with time, as everyone told me. My body went into survival mode, a false reality. I wish we had the social media grief community we do now. For most of my college days, I omitted the dead dad saga when people would talk about parents. I would usually answer about my mom, or say my dad was retired (it was true). Omitting the truth was ten times easier than the look of sympathetic despair, pity, or awkwardness when you tell someone you're in the DDC. Most people find talking about grief awkward—they may avoid you. I've had an actual walk-run-away scene from a movie happen.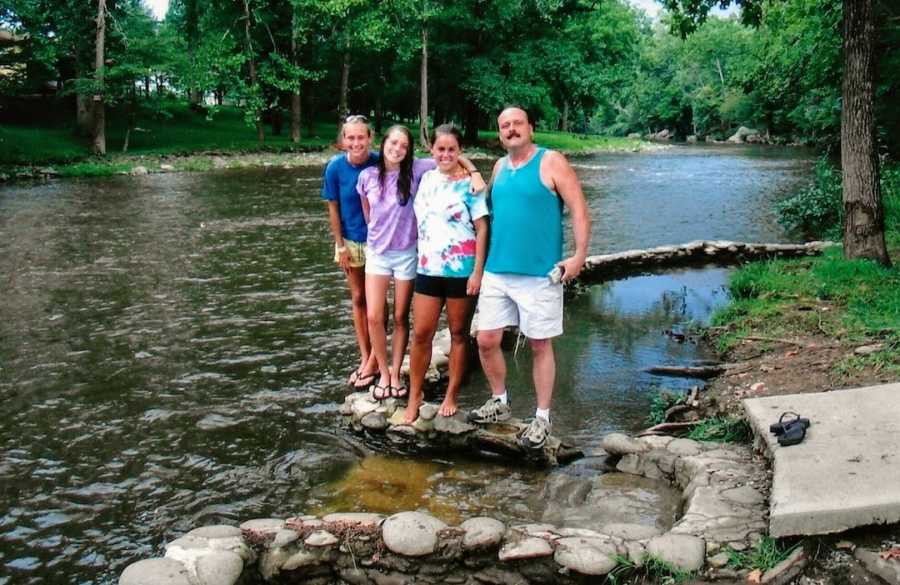 It was easier to pretend than speak the truth for me. College was truly a blur, the best years of my life, I lived in a world where I didn't have to go to a home without my dad. My ignorant bliss. Then, I started to learn how grief really works, and just because I carry it, doesn't mean it's always heavy. I attended grad school for school counseling for 27 credit hours a few years after I moved home from college. I studied and wrote research papers about ACOA (adult children of alcoholics), childhood trauma, and the effects of ACE's (adverse childhood experience) on adults. I went to counseling (I tried hospice counseling right after my dad's loss, but all I did was cry and snot). This time, I learned about my delayed/disenfranchised grief; the 'trigger' of my grief was moving home. Home to the place I lost the two men in my life, 2 months apart.
I didn't get to grieve my favorite grandpa because I was focused on my dad. These are the truths no one tells you about and you can't read about, not until you feel the pain. Until 2 months erase the men who loved you most, who loved you first. There are many types and timings of grief. We are blessed to start normalizing talking about people dying, death and grief. A big part of the community is also normalizing a parent (or any relative) who is no longer a part of your life, sometimes family is toxic to your mental health. If you cannot afford to attend therapy or counseling, find a friend who is willing to listen.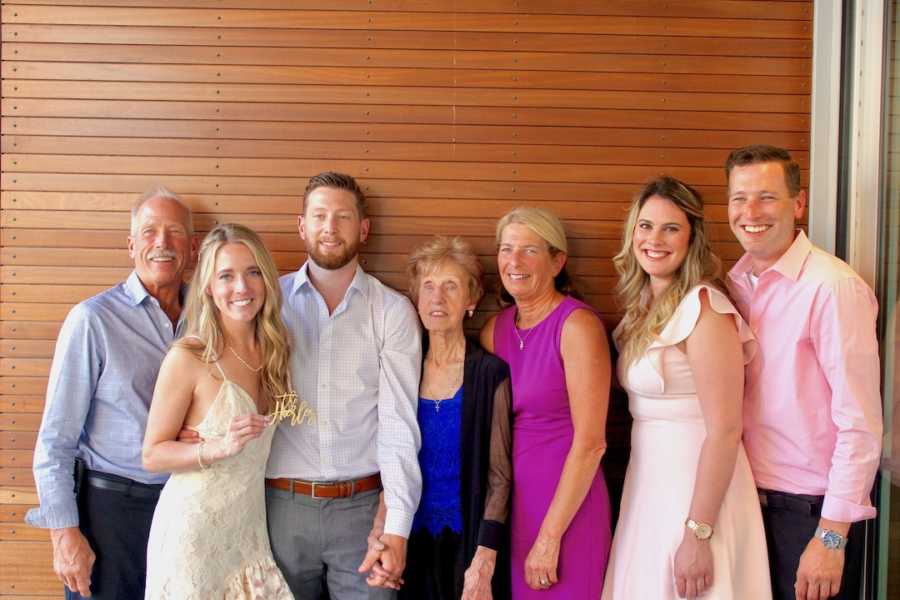 If a loved one is sick, reach out to someone who may understand, talk about your person, they'll listen for you. To grieve is to have felt love. (Sometimes we need these silly quotes, okay?) Whether it's been two months, two years, or 20 years since someone has passed away, keep asking your people about their lost loved ones (when they have space for it). Keep asking questions about them and learning about them. They may seem dead to you, but they're still very much alive in us."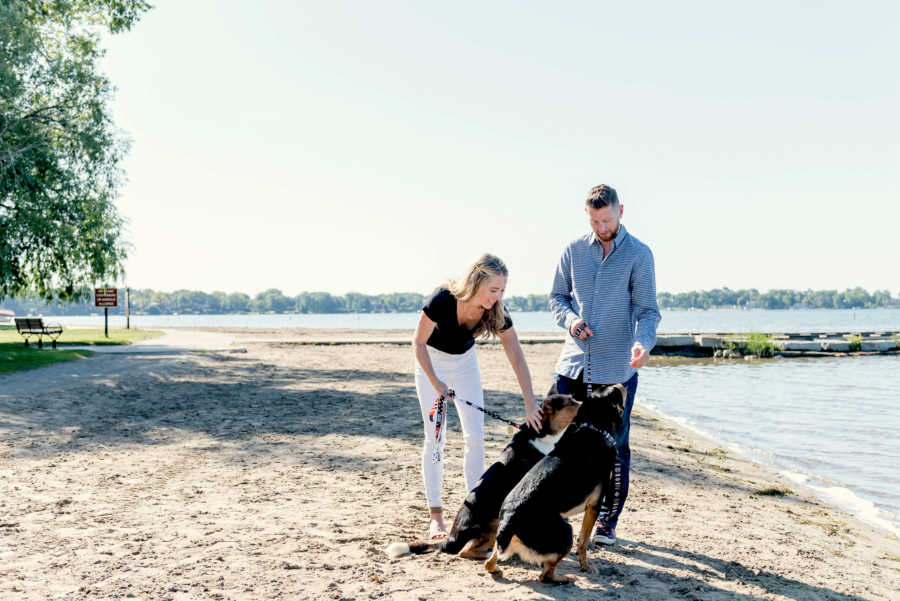 This story was submitted to Love What Matters by Chelsea Reffet-Hoerle of Metro Detroit, Michigan. You can follow her journey on Instagram. Submit your own story here, and be sure to subscribe to our free email newsletter for our best stories, and YouTube for our best videos.
Read more stories like this:
'Who's going to be my dad?' I didn't even get to say goodbye. He was already gone.': Woman shares grief of losing father at age 9, 'He was my first true love'
'Did you kill my daddy?' There was a bullet hole in the ceiling above my bed.': Widow shares grief after husband's suicide
'I wanted you to graduate without worrying about me.' It had spread to his brain.': Woman describes grief of losing both parents to cancer
'Days before his 24th birthday, we received messages. 'Jake has not shown up for work or class.' His roommates hadn't seen him the night before.': Woman details navigating grief after losing brother to suicide, sister and nieces to car accident
Please SHARE this story on Facebook to encourage others to cherish every moment and love what matters most.