Pregnancy Journey
"'Someone please knock me out. I don't want to be conscious anymore. It's too painful,' I thought. We had walked over to the Ronald McDonald house to get a little bit of sleep, when we received a call at 1 a.m. The neonatal medical team said Shiloh was dropping her oxygen saturations and they were not coming up, despite a huge increase in oxygen. They explained they were unsure what was causing this, but she would be getting yet another blood transfusion, chest x-ray, and sepsis workup.
I was sobbing and asked to see her. 'Give the parents a few minutes with her,' said the nurse practitioner to the team of people surrounding Shiloh. Then they placed a screen around her and closed the doors behind us. We waited. We prayed. Just another day in the NICU.
When I was pregnant, there was no indication anything was out of the ordinary until I took a second trimester blood test. The results told me I had a 1 in 6 chance of having a baby with Down Syndrome. Given my young age, those odds were extremely high. I was referred to a maternal fetal specialist for further imaging. At my first appointment, my husband and I found out our precious baby had four soft markers for Down Syndrome (one of which was a single umbilical artery) and had severe intrauterine growth restriction. The news shocked us but did not sadden us since we had planned on adopting a child with Down Syndrome in the future.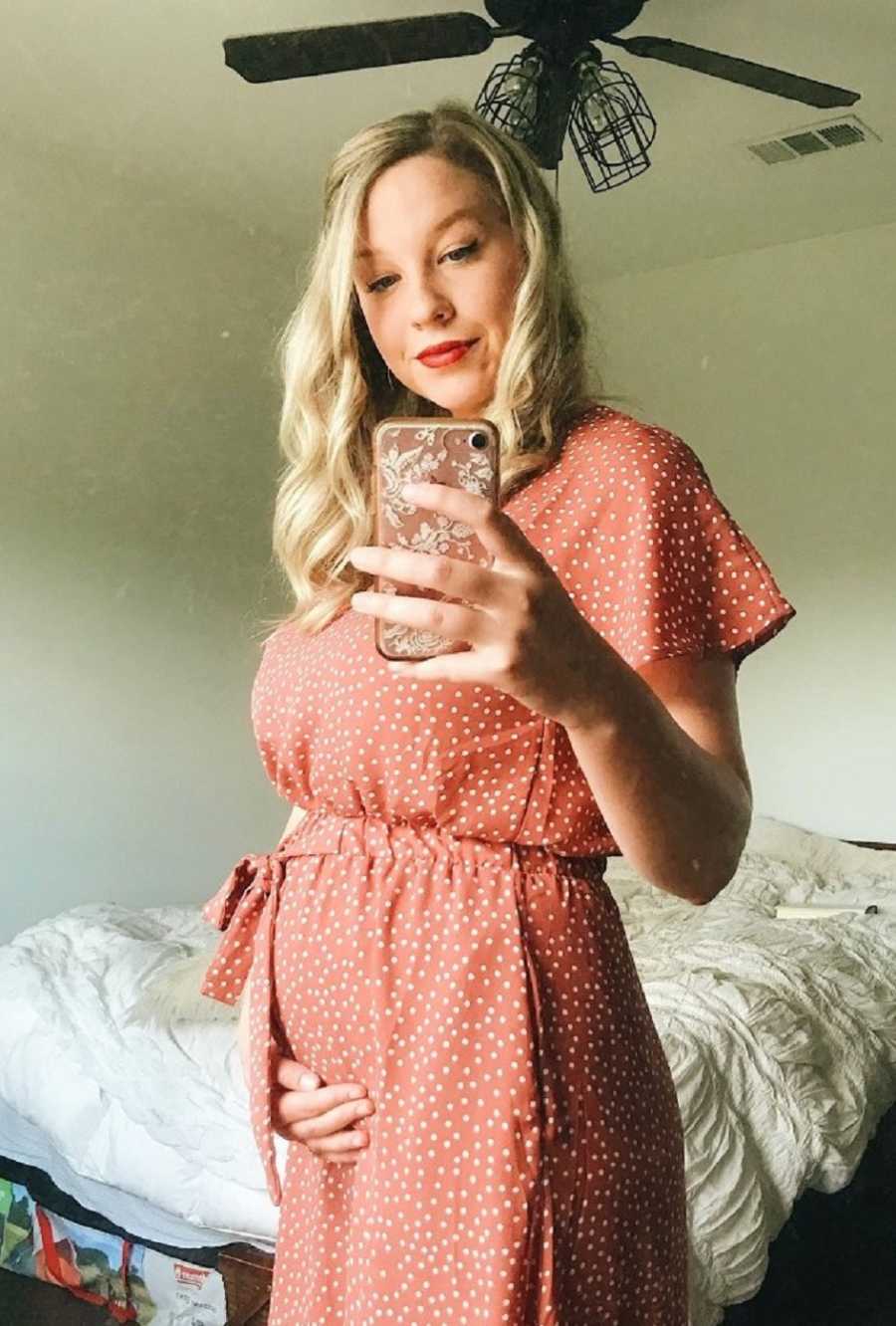 I then had to take a more comprehensive blood test and go in for frequent appointments to monitor Shiloh's growth and umbilical cord flow. It went from a carefree pregnancy to a high-risk pregnancy in a matter of days. When the results were in, my OB/GYN called me and happily said all was well. She went on to say, 'Shiloh might just be a small baby, but we will continue to monitor her growth.' They apologized for the undue stress the first test caused. Shiloh was then considered to be low-risk for any of the genetic disorders that were tested. But I had this feeling we were missing something.
Even though we were given the 'all clear,' I started researching and trying to put the pieces together. Before I could get too far in my quest for answers, Shiloh's umbilical cord flow became elevated. I started going in twice a week for non-stress tests. Those only lasted a week and a half before we were thrown another unexpected curve-ball.
Developing Preeclampsia
I went in for a routine OB/GYN appointment and the nurse took my blood pressure as usual. She looked at me and asked, 'Are you nervous?' I said I was not. She took it again… three more times. Then she left and returned with my OB/GYN, who looked very concerned. She explained my blood pressure was very elevated and I was spilling protein in my urine. 'I think you have preeclampsia. I am going to need you to take a blood test to confirm.' I was asymptomatic and did not grasp the gravity of the situation at all. My blood test showed that my platelets were low and confirmed my diagnosis of preeclampsia.
I was completely blindsided. Preeclampsia wasn't even on my radar. 'What are the odds? What more could go wrong,' I thought to myself, as mascara ran down my face and tears covered the green v-neck I was wearing. Little did I know, the unexpected and painful news the future would hold.
I was admitted to the hospital and given magnesium sulfate to prevent me from having a seizure or a stroke. My parents and my mother-in-law rushed into town from opposite sides of the country. My OB/GYN and maternal fetal specialist said we would take every measure to try to prolong my pregnancy, since I was only 31 weeks and Shiloh was severely small for her gestational age. I only lasted three days before needing an emergency c-section. Shiloh's umbilical cord flow had become absent, my platelets were dropping even more, and I had become so swollen I was nearly unrecognizable.
They wanted to put me under general anesthesia, due to my low platelet count, but I begged and persuaded them to use local anesthesia so I could stay awake during delivery. Once they started wheeling me to the OR, I was so terrified I completely shut down. I was silent the whole time. I knew Shiloh's life and my life were at risk, and I had absolutely no control over the situation. I had no other option than to trust in God's will for both of our lives.
Most moms dream of that euphoric moment when their precious baby is delivered into their arms. I did too. Unfortunately, I didn't get the dream. I got the nightmare. Once she was delivered, they took her off to the side. I could see her out of my peripheral vision. But I couldn't tell if she was dead or alive; she wasn't making any noise. I could hear people saying, 'Come on baby girl.' I was in a state of disbelief and shock as I stared at the bright white ceiling, completely silent.
I was allowed to quickly kiss her on the forehead before they whisked her away to the NICU. Then they gave me a strong dose of versed, and all was well in the world again.
I didn't see her until three days later. I had heard delivering the baby is the 'cure' for preeclampsia. But in my case, my blood pressure worsened after delivery, and I developed a fever. I was put back on magnesium sulfate and given blood pressure medication. I began pumping every two hours, around the clock, for my baby who I couldn't see, touch, or hold.
Meeting My Baby
When I finally got to see my baby, it was absolutely surreal. Despite all of the medical devices hooked up to her, she was absolutely perfect. I was in awe of her beauty and strength. The nurses allowed me to hold her to my chest for a little while, and it was the most incredible feeling to finally touch her. My eyes welled with tears as her tiny body was placed on my chest. She was so incredibly small, and her entire body fit into one of my hands. I soaked every inch of her in. I wanted to memorize every detail of her and keep that moment in my memory forever.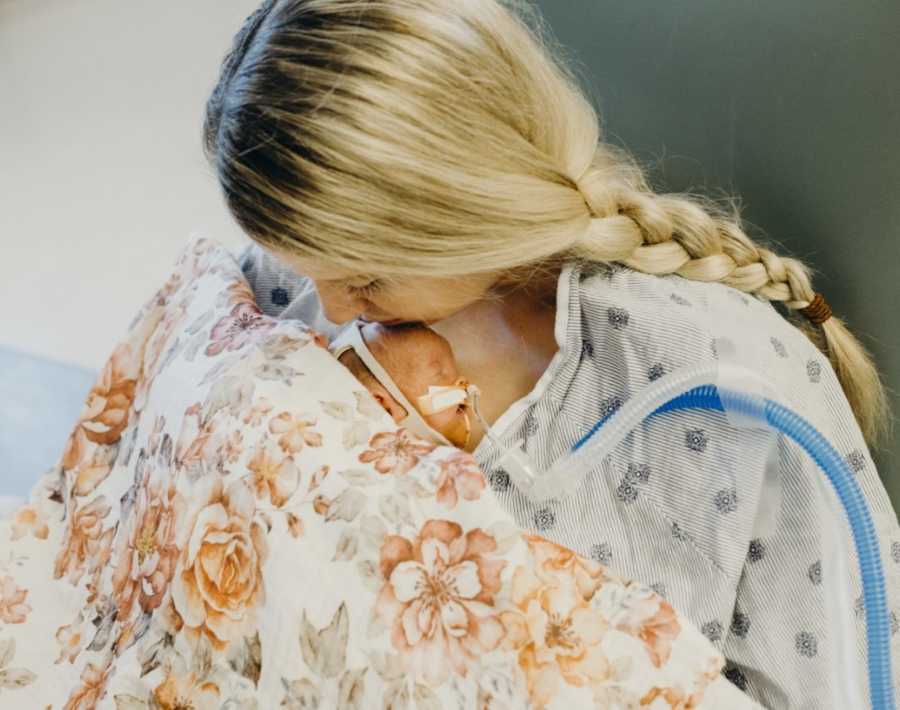 Shortly after I held her, she had to be intubated and hooked up to an oscillator that breathed for her. She was sedated and placed on minimal stimulation. For that period, we could barely touch her. It was heart wrenching, but it also made every touch so special. It was a privilege to do her oral care or gently change her diaper. I was so naive and thought most NICU babies required this kind of support. I had no clue how sick she was and how abnormal it was for a 31-weeker to require that amount of support.
When we would go home from the NICU at night, I would research all of the medical terminology and try to learn as much as I could about Shiloh's condition. Researching kept my mind busy so I wouldn't go insane missing her. It didn't get rid of the heartache completely, though. One night, I sat up half awake, half asleep. 'Where is she?' My husband woke up and looked confused. 'Who?' I said, 'Shiloh. Where is Shiloh?'
Life In The NICU
We were at the first NICU for nearly a month when Shiloh started to develop abnormal symptoms and get strange lab results. Those symptoms were alarming to the medical team, so they approached us saying they believed she had either Biliary Atresia, Cystic Fibrosis, or Alpha-1 Antitrypsin Deficiency. All three of those diagnoses are extremely serious, so I immediately lost it.
They explained they primarily thought she had Biliary Atresia. It was the worst of all three, and lethal unless surgically repaired immediately. Even with the operation, there was a good chance she would not survive. They arranged a medical transport flight for the next day, to a hospital with surgeons equipped to perform the procedure. We cleaned out our apartment that night, with the help of our wonderful friends, and prepared for the unknown. I was pumping around the clock, cleaning out our home, and wrapping my mind around the fact my precious, beautiful baby girl might die soon. It was almost too much to bear.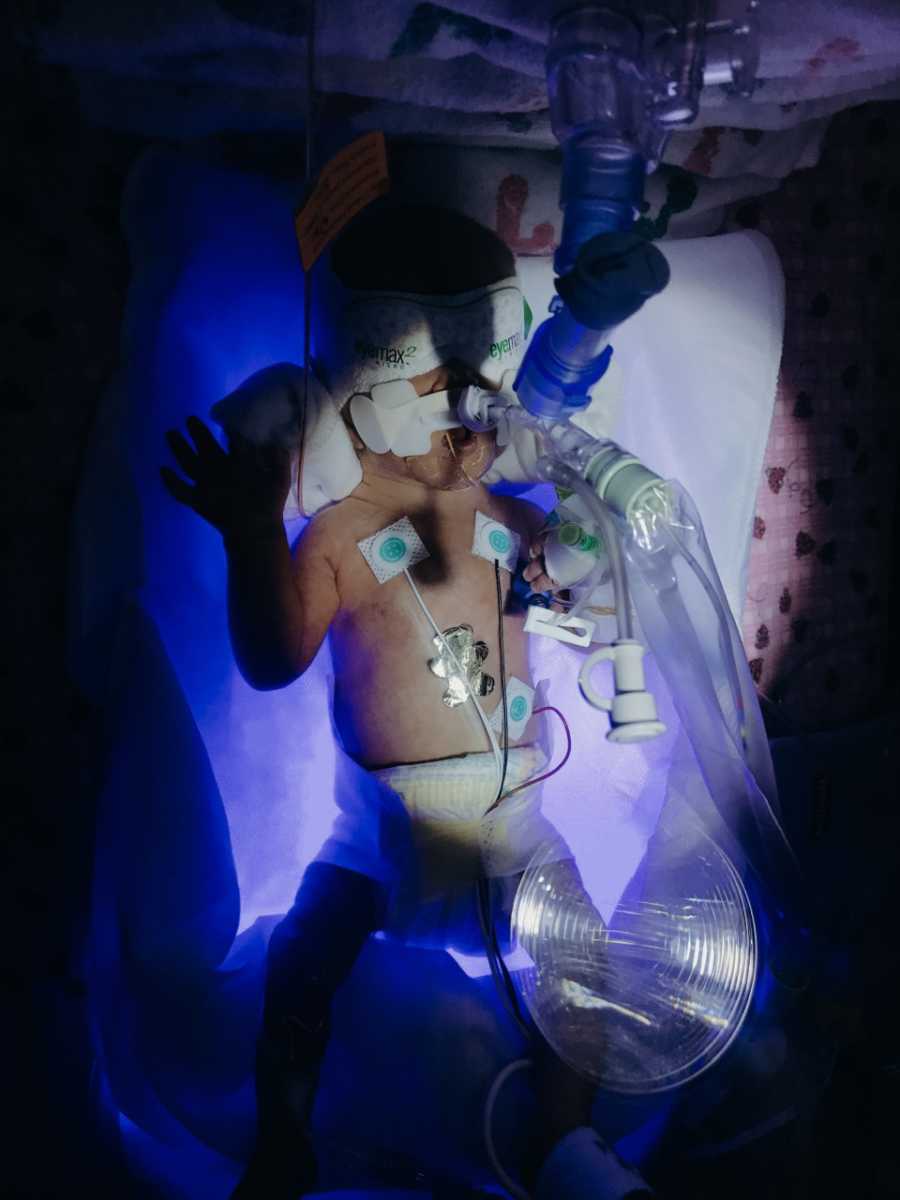 We got to the new NICU and everything was a blur; yet I remember perfectly, the smell of clean floors and hand-sanitizer. And the feeling of being so small. I was surviving on adrenaline. I had never felt my weakness and humanity more in my life. I begged God to spare her.
An enormous team of specialists came to examine her and assess her wide array of medical issues. We were shocked when the GI doctor said he didn't think Shiloh had Biliary Atresia. It was a huge weight off of our shoulders, but we were now back to the drawing board.
That's when genetics got involved. They examined her and found multiple, tiny markers that went unnoticed until that point. We decided to do the genome sequencing test to determine if she had any chromosomal abnormalities. Everyone assured me the results would be completely normal. To all of the doctors she looked completely typical. The only red flag was her medical complexity.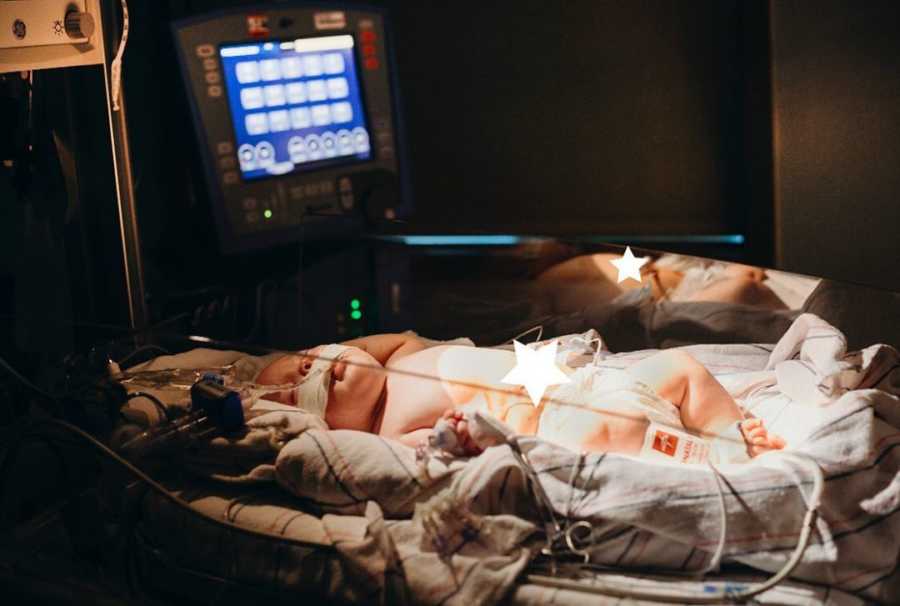 In the midst of this, we were transferred to the level four NICU because Shiloh was not able to get her saturations back up, and she was having bradycardia episodes. She was given another blood transfusion and placed back on IV glucose, due to a blood sugar drop.
Cri Du Chat Diagnosis
After we had been in the level four NICU for a few days, we were approached by our geneticist. But this time, he brought two other people with him. He said in a gentle voice, 'Can we talk to you both in the conference room?' I knew immediately, we were going to receive life-changing news. I remember the walk out of the NICU and to the conference room so clearly. A lump was forming in my throat. I felt like I was going to jump out of my skin. We sat down at the end of a very long table, and they said the words that would impact our lives forever. 'Your daughter has Cri Du Chat Syndrome.'
I started screaming and crying. I wanted to not be myself in that moment. I felt like the daughter I had dreamed up throughout my pregnancy was gone. My hopes for walking my daughter down the aisle, or moving her into her college dorm, were seemingly shattered. I was now hoping she would be able to walk, talk, and potty train. Nobody thought she would be diagnosed with something that would cause both intellectual delays and health issues.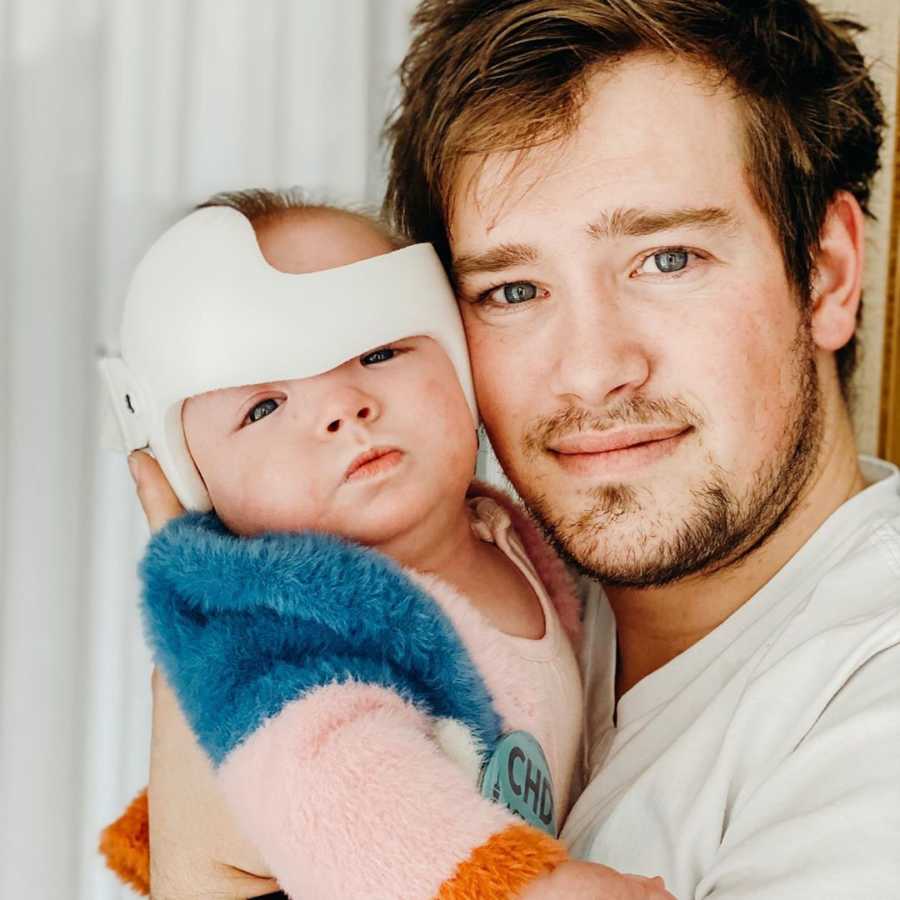 The funny thing is, in the past I had thought about how I would react if I was told my kid had a diagnosis. I thought, 'I don't understand why parents get upset. I will take the news happily if that ever happens to me.' Unfortunately, when it did happen to me, I had the opposite reaction.
The trauma of my terrifying delivery, watching Shiloh almost die on a few occasions, and receiving an unexpected diagnosis caught up with me. I became very depressed and started developing PTSD-like symptoms. Any time I would go outside the hospital, I would become hyper vigilant and get extremely anxious. I had no energy and wanted to cry all of the time.
Over time, I realized I needed to reach out to other parents who have children with Cri Du Chat. I quickly realized the information online paints such an outdated, grim picture. In actuality, these kids are incredible. They all are so happy and lead meaningful and purposeful lives. They enrich their families so much and give them a deeper, richer love that people miss out on if they don't have a kid with special needs.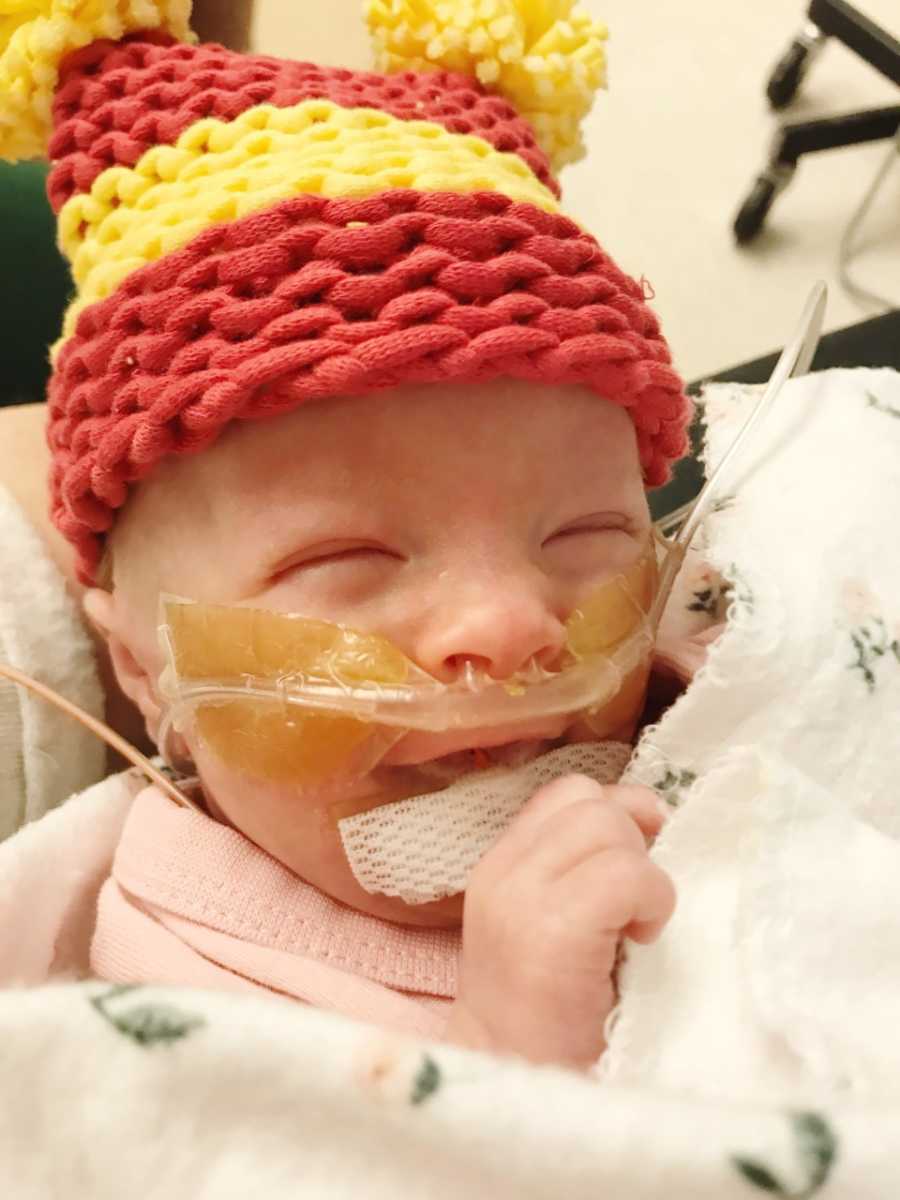 I began to realize how blessed we were to have such a beautifully, rare little girl. God perfectly formed her to be exactly as He wants her.
We then began discussions with Shiloh's medical team on what the best course of action would be, since we knew her diagnosis. We all agreed it would be better for us to be transported to the hospital where Shiloh would be once she got out of the NICU. So we packed up all of our things, once again, and boarded a prop plane to our final NICU.
Life With Our Beautiful Girl
At this NICU, we got set up with all of her long-term doctors, and Shiloh had her g-tube and fundoplication surgeries. She finally was able to get her NG tube taken out, and come off oxygen. After 122 days in three different NICU's, we were discharged. It felt like we had completed a triathlon, and in another sense, it felt like we were just getting started.
We have been readmitted three times since then, but are now home and happy. Our days are filled with doctors appointments, therapy sessions, and calls to case management. But life is pretty great. Despite all she's been through, Shiloh is the happiest and most content baby I have ever known. She is pure joy in human form. I am so privileged to be her mom.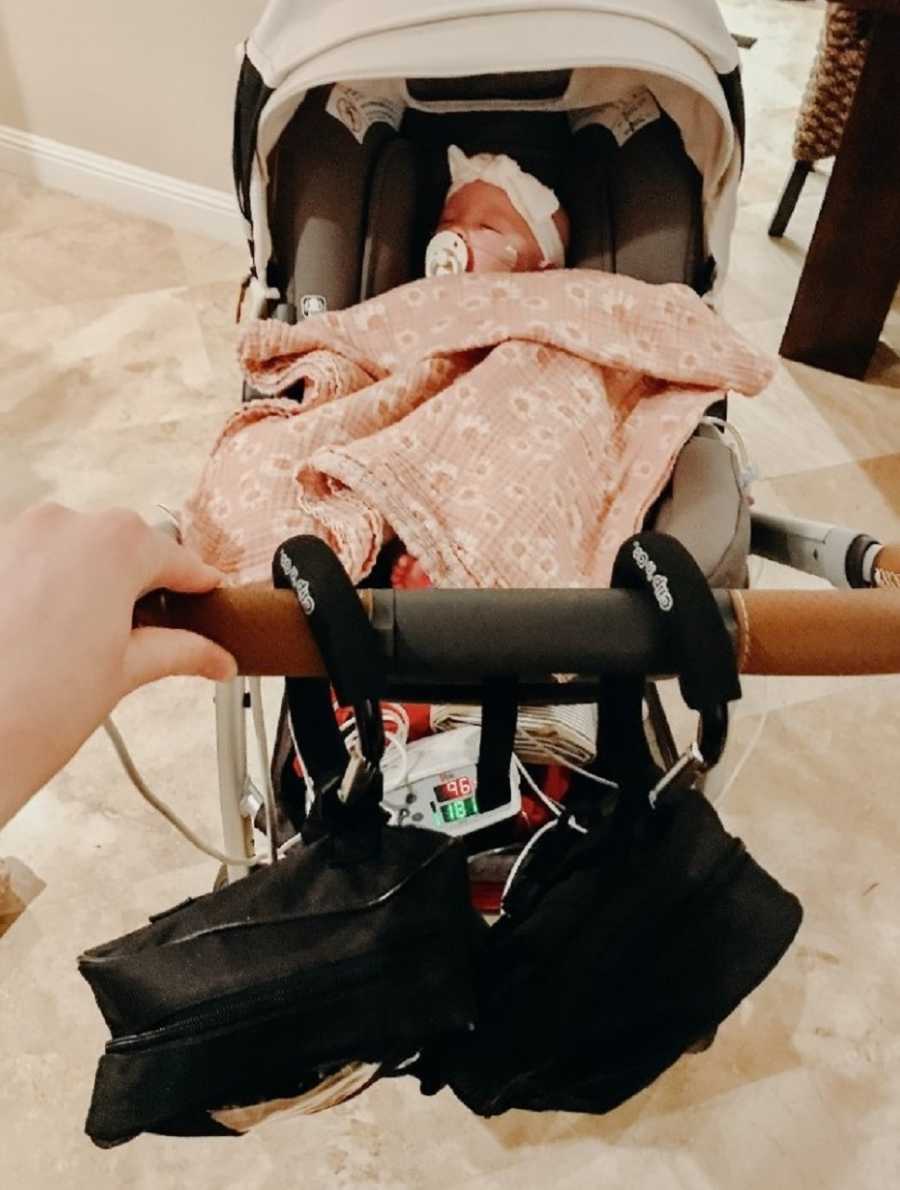 It might sound strange, but I would never trade our experience for the world. It stripped me to my core. It exposed parts of me that were really ugly, and also showed me we can get through anything by relying on Jesus. I cherish all of the relationships formed with doctors, nurses, therapists, and social workers. I was also amazed at the kindness and sacrificial love shown to us by so many people. Even the smallest act of kindness will never be forgotten.
I still struggle with bouts of anxiety, depression, and PTSD. But each day is a little better than the one before. If I have learned anything from this experience, it's each day is a gift from God. He is in complete control and has a beautiful plan for Shiloh's life. It might not always look the way I want it to, but His ways are better than mine."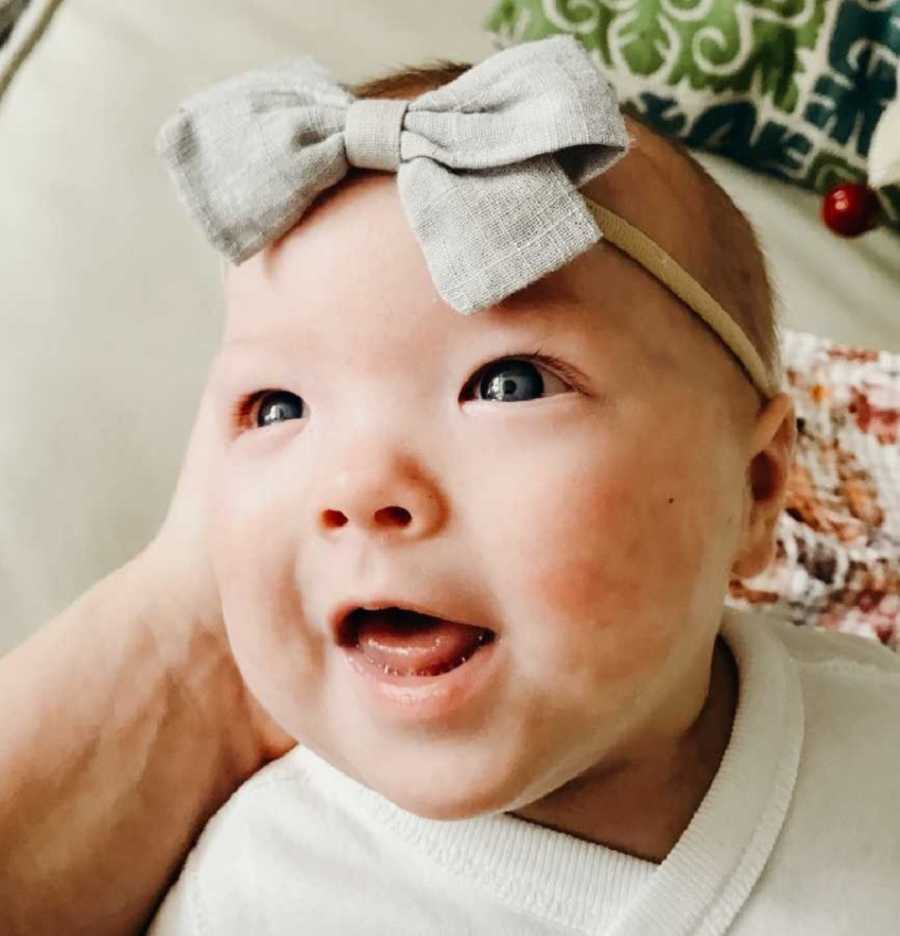 From podcasts to video shows, parenting resources to happy tears – join the Love What Matters community and subscribe on YouTube.
This story was submitted to Love What Matters by Katie C. of California. You can follow her journey on Instagram and watch her video on YouTube. Submit your own story here, and be sure to subscribe to our free email newsletter for our best stories.
Read more stories like this:
'WHAT am I going to do with a sick baby?' I was 18. Her heart began to give out, her little belly filled with blood.': Teen loses daughter to congenital heart disease, donates 455 oz. of breast milk to save sick babies in NICU
'Why isn't she letting me see my baby? I want my baby!' Our nurse was stalling, looking for something. But what? I felt sick.': Mom's newborn diagnosed with Pfeiffer Syndrome, wouldn't 'change her uniqueness for the world'
'Will you excuse me?' The cake smash was ready. Except, I was in my closet, crying uncontrollably.': Mom breaks down at daughter's first birthday party, discovers Cri Du Chat diagnosis
Do you know someone who could benefit from reading this? SHARE this story on Facebook with family and friends.