"I met my husband, Dustin, in high school when he was a senior and I was a freshman. We reconnected during my senior year of high school and became best friends. Like a typical cliché, we started dating. We got married 6 months later, when I was 18, before I had even finished high school. Not everyone was supportive, but we were happy and didn't care what anyone else thought. Life moved quickly, we bought our own house, got two dogs, and continued creating goals for ourselves. My biggest goal was to be a mother. I have wanted to be a mom for as long as I can remember and I have always done anything to be around children. My mom was a stay-at-home mom when my brother and I were growing up and I loved having her around all the time. I couldn't wait to be a mother, and right after our first wedding anniversary, we started trying to have kids of our own.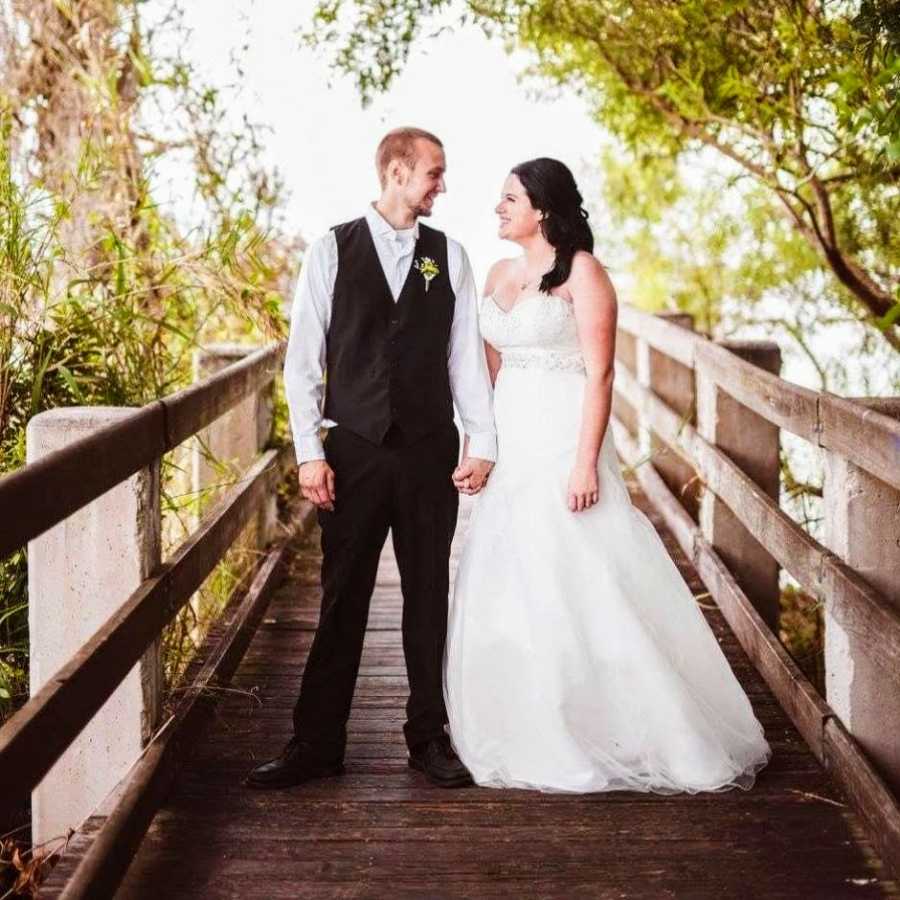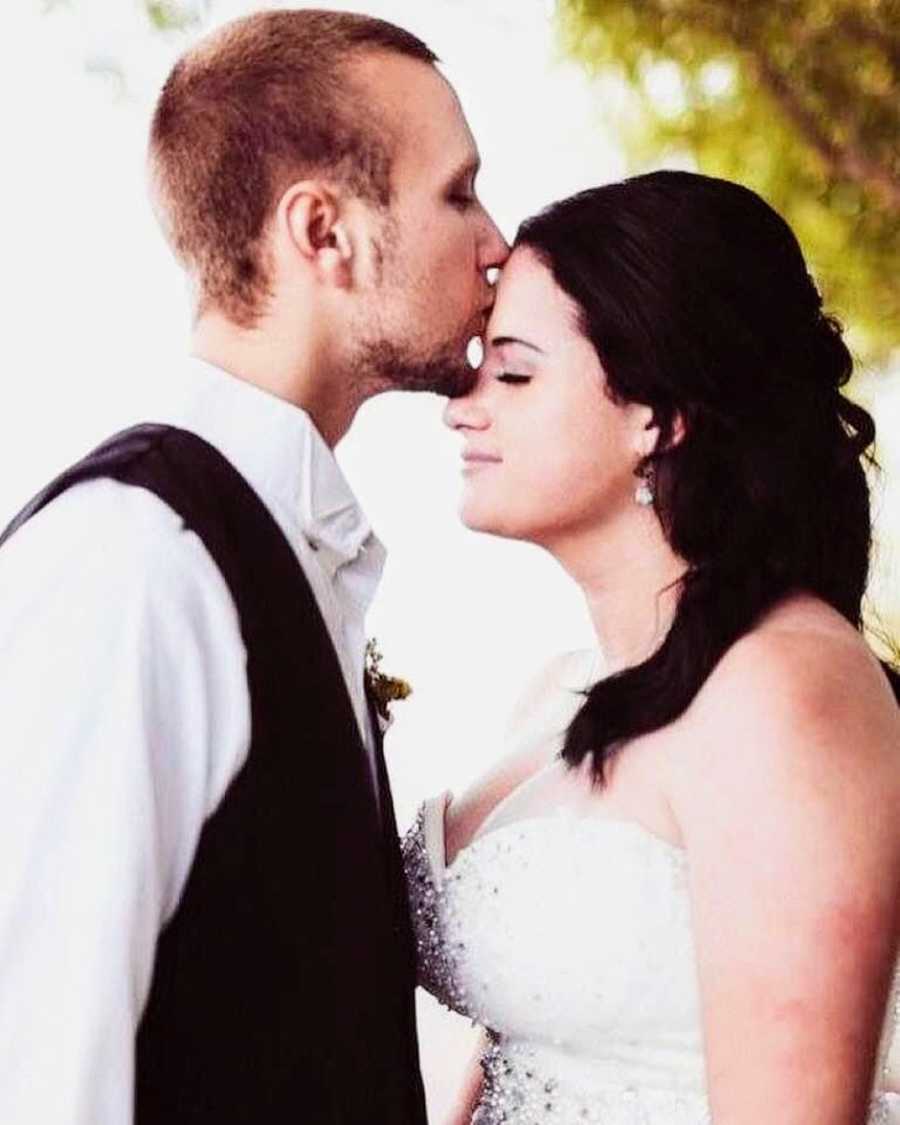 Shockingly, I got pregnant 3 months after getting off of birth control. I took a test in the Target bathroom and couldn't stop crying when it said positive. We told everyone our exciting news and were absolutely thrilled. My mother-in-law had prepared me that miscarriages were common and just to be mentally prepared if I were to have one. I didn't think anything of it. A week later, I noticed blood. I thought it would go away, so I put my feet up and tried to relax. When it didn't stop, we went to the hospital and were told my hCG levels were low and I was experiencing a miscarriage. My mom met me there and stayed with me. I had never been so upset about anything in my life and it was hard for me to get through a day without breaking down. Finally, a few months later, I saw a light at the end of the tunnel and decided we should start trying again.
The following month, I saw another positive and felt deep down this one was going to work. This time, my symptoms came full force. I was nauseous all the time, had terrible migraines, and my mood was constantly changing by the second. I was actually happy to be feeling so unwell because I knew my hCG levels were higher this time, and the worse the symptoms were, the healthier the growing baby was. I scheduled an ultrasound, and nothing was growing. Doctors thought I miscalculated when I conceived, so we waited to get another. I invited my mother-in-law to come with us this time. Once again, there was no development. I had a missed miscarriage, meaning it wasn't a viable pregnancy, but my body couldn't recognize that. I was prescribed medication to pass the fetus. That was one of the worst moments of my life; knowing I could get pregnant but it wasn't sustainable.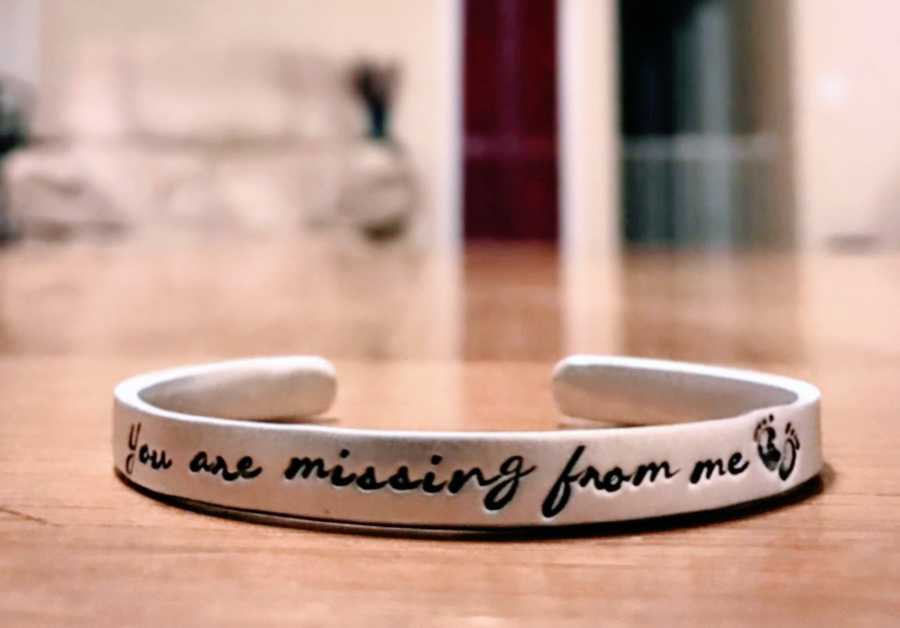 We waited almost a year to try for another. I got pregnant again and miscarried shortly thereafter. The following year, I got pregnant for the fourth time, which was followed by another miscarriage. After years of my initial miscarriage, I didn't think this would be happening to me. My mental health spiraled and I almost didn't recognize myself anymore. While miscarriage is fairly common at 25% possibility, only 1% of women have multiple consecutive miscarriages. We didn't have the money to pay for testing to narrow down what the problem could be. We couldn't pay for IVF, even if we wanted to. One doctor said it was unlikely I would ever have a successful pregnancy based on what had happened for years at my age. I eventually gave up. People always try to give advice, but it's almost worse. Optimism when you're at your lowest feels like you're not being validated.
'You're still young, you still have plenty of time.' 'At least you still have your freedom.' 'Practice makes perfect, just keep practicing!' 'When it's your time, it'll happen.' These sayings will make you feel insane if you hear them often enough. People mean well, but it just hurts. I started blaming myself. I wallowed in self pity (and in full disclosure, I still do). Almost every one of my friends during this time had become pregnant at one point or another. I became resentful of my friends. I didn't show up to events or functions because it was too hard. Almost all of my friendships suffered and to my surprise, most of them blamed me for not focusing on them without realizing I felt like I couldn't even function.
My husband has always been amazing. Not once did he make me feel bad or feel that I was less than. I don't know how many times I've cried to him about how I want our own child. I also worried about us not making it through this in the end. Most people want a family, and of course it's a concern when you can't give your husband his own son to teach things to or a daughter to protect. Somehow, through all of it, we became stronger through each one and I truly feel it's been my saving grace. He got me a beautiful necklace with the birthstone of our first angel baby and it's something I wear every single day. Dustin would be the greatest dad, but for now, he's the greatest to our 18 animals.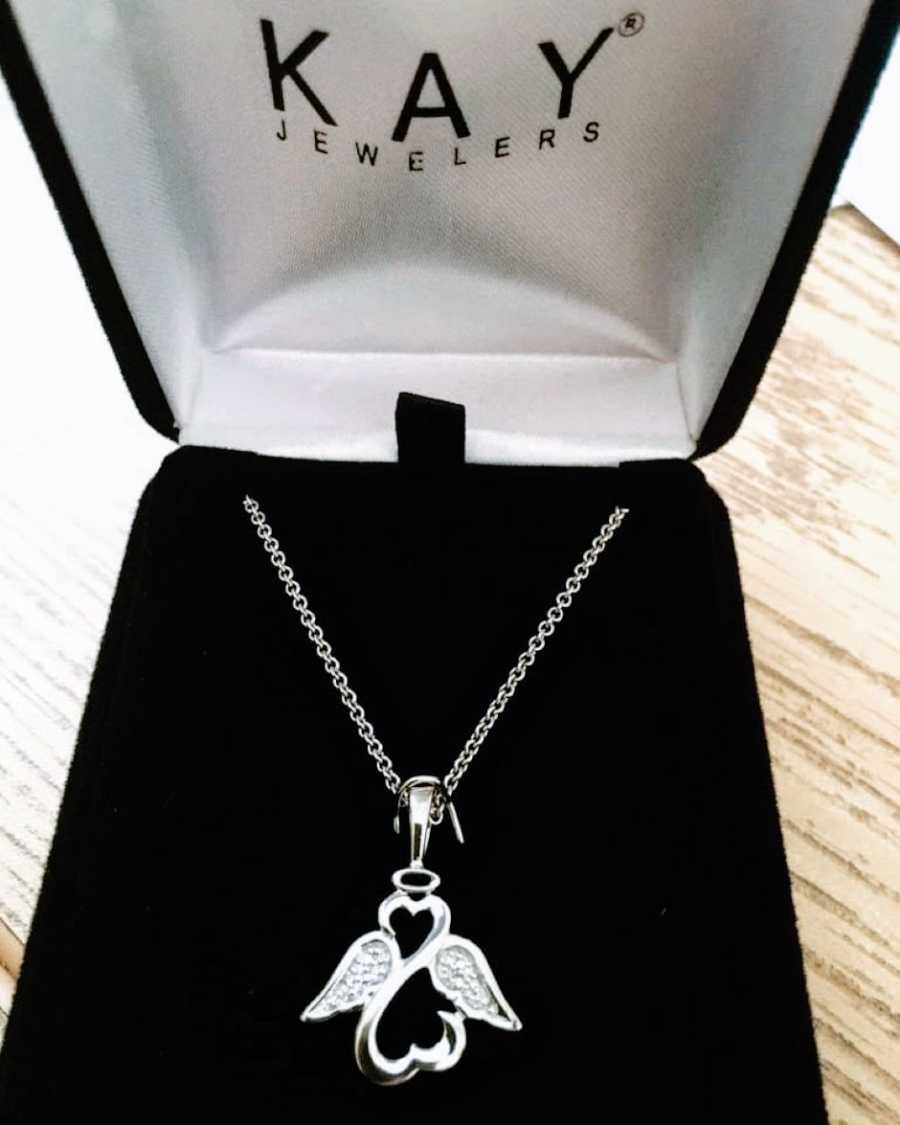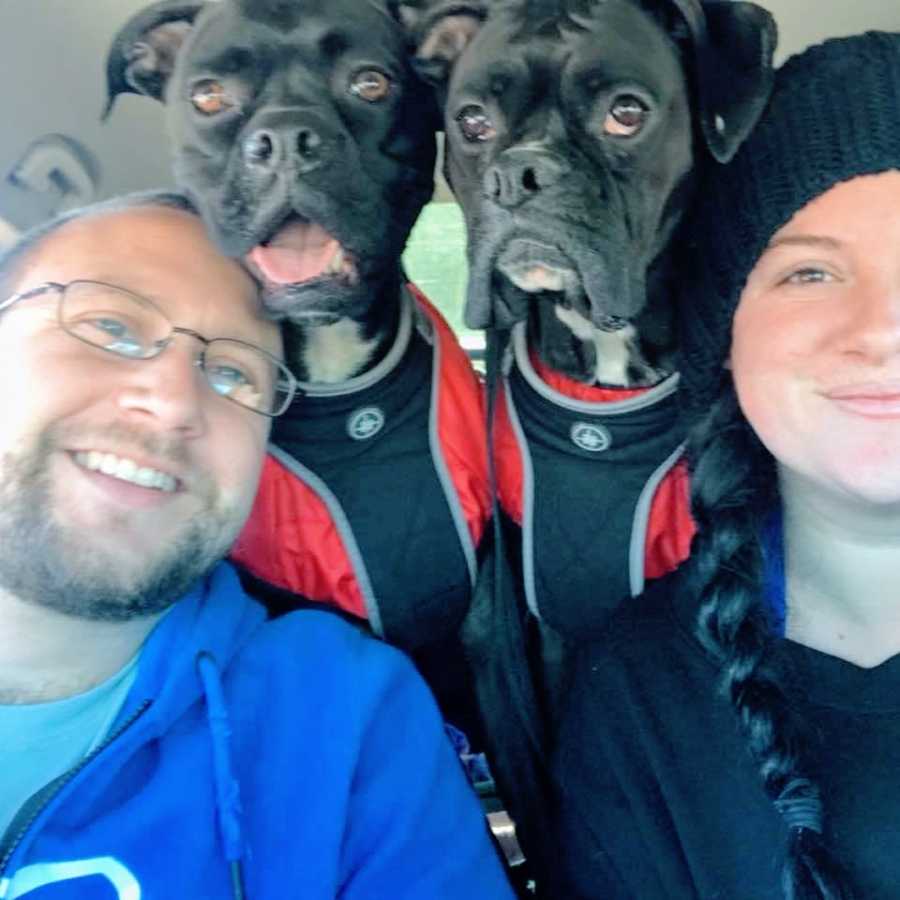 We've given up on having a child of our own, but we applied for adoption. We've started orientation and tried to focus our energy on finding a child for our family who we can love as much as anything else. Unfortunately, in my area, adoption processing is slow due to Covid. We still have a long road ahead, but we're excited for this next part in our journey. Although I still get jealous of others who are pregnant, I know deep down I'll be a mother in some way and that's good enough.
Everything changed in the most beautiful way on May 11th. My brother, Scott, and sister-in-law, Kyle, brought my husband and I out to dinner. We were all just talking and enjoying our evening when they handed me a card. It was nobody's birthday, there were no celebrations, and I couldn't figure out why I had a card to open. I opened it up and almost immediately started crying. Scott and Kyle were expecting their first baby in December of this year. They gave me the letter to ask me to be the godmother of their child. This was the first time in 5 years I didn't feel immediate resentment and pain. All I felt was happiness and love for them, but especially my sister-in-law who took the time to write this to me with empathy and love.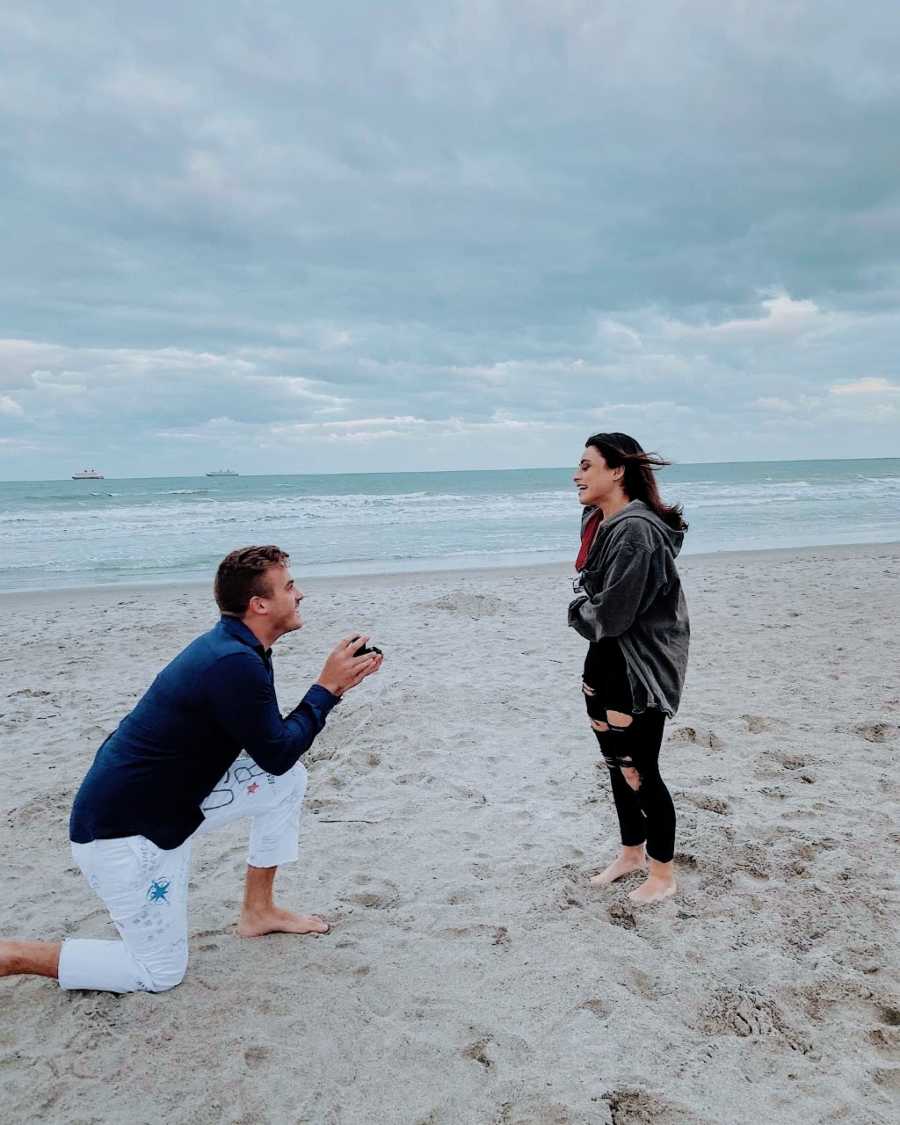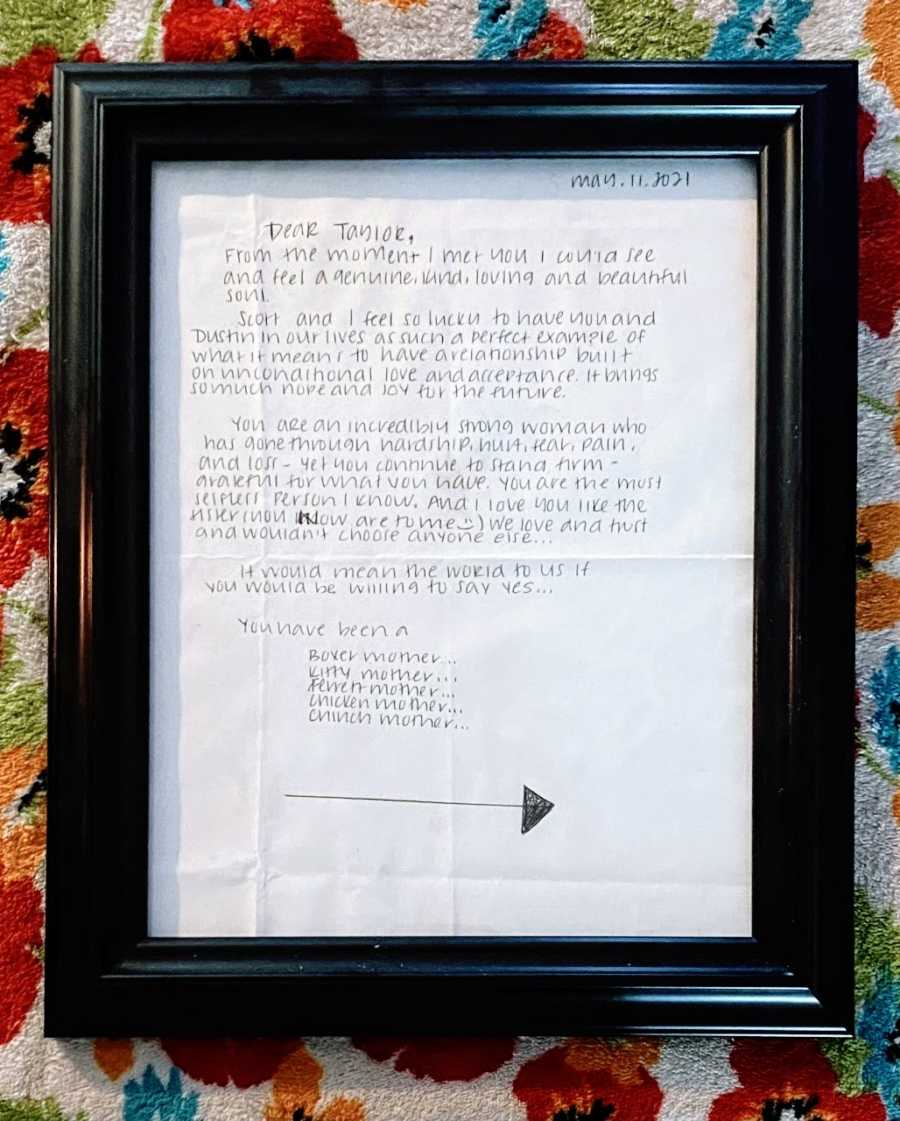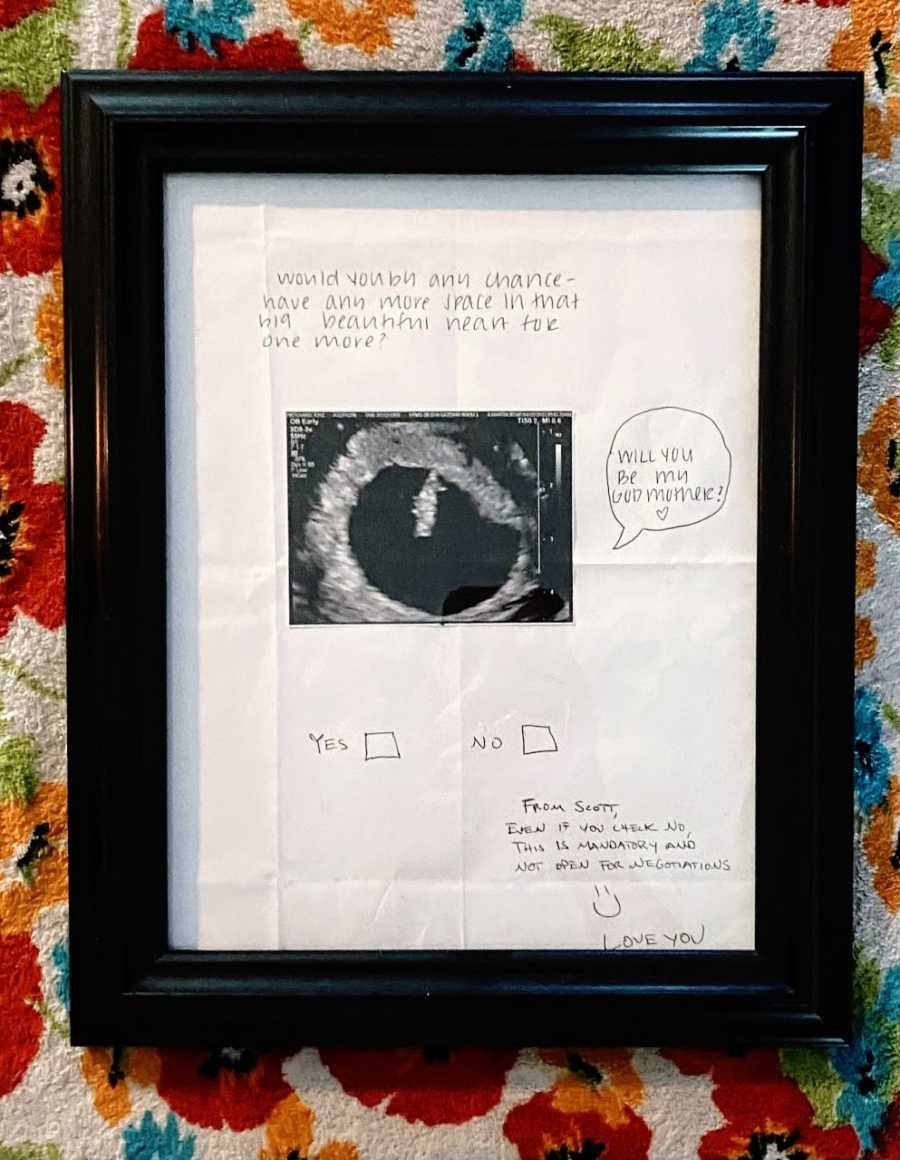 Kyle is truly the sweetest and most genuine person I have ever met in my life. She and I had talked one evening, just the two of us, and I told her everything that had happened with my situation. She cried with me and I always felt like I could tell her anything. Naturally, when she found out she was pregnant, she knew it would impact me. She asked me to be the godmother in the most beautiful and sensitive way I could ever imagine. For someone who is expecting her first child and deserves all the focus, she still found a way to be selfless and show love to me. It is such an honor to be a godmother to someone's first child and I'm even more excited it's my own little niece or nephew!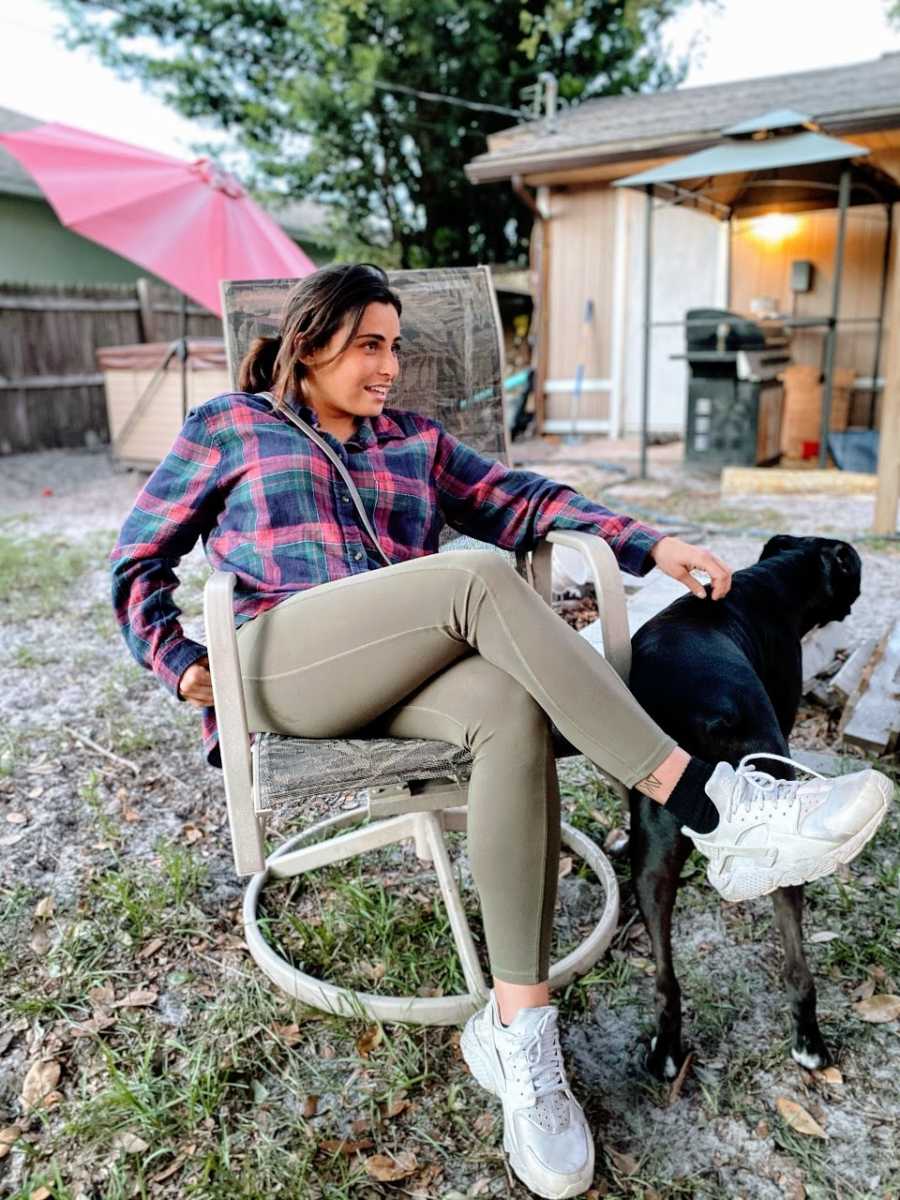 I really wish I could put into words the gratitude I have for her as my friend, a person, a woman, and my sister-in-law. I truly could not ask for anyone better to be in our lives forever and I am absolutely thrilled she is the mother to my first niece or nephew. I wish everyone could have someone like her in their lives and experience the genuine love she gives to everyone she knows. I have reread this letter so many times and it is actually framed on my wall now so I can see it every day.
This letter changed my life in more ways than one. Of course, I have the gift of being an aunt and a godmother. I get all the fun things (like planning the gender reveal and being in the room when she gives birth), but I really got something even greater. I finally got the closure I needed for my own situation and all I really needed was someone to respect how I felt and have no expectations for how I would be involved in their growing family. The greatest gift Kyle could have given me was the respect for my own situation while hoping I would be as involved as possible with her own little one. As the saying goes, the right people hear you differently. Not everyone will understand, but those who try are worth everything. Kyle is truly one of the best people I have ever known and I'm so excited to be right by her side through whatever she needs.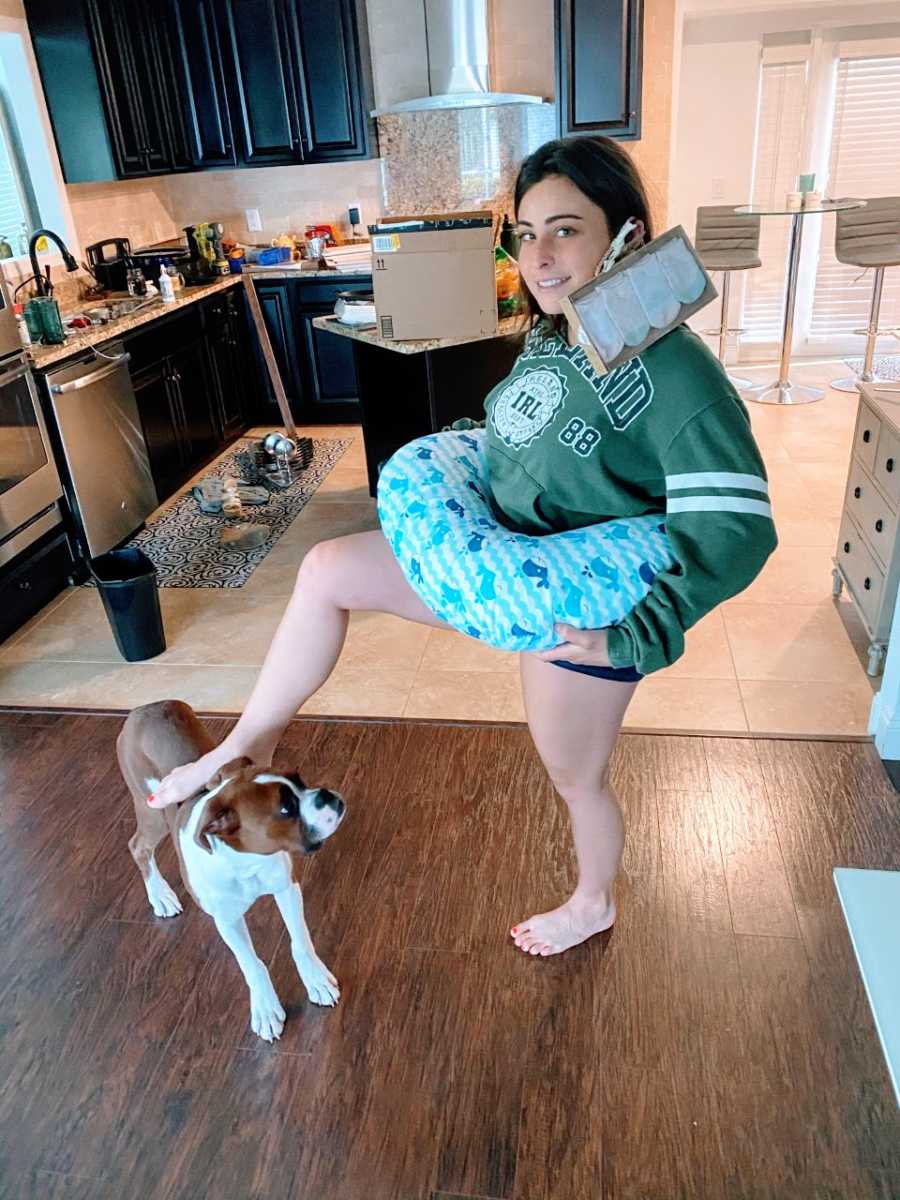 I hope people who are going through infertility understand it's okay to mourn the loss of your angel babies, the dream of being a parent, and the boundaries you set to protect your own peace. I also hope that when the right people come along to help you, even in a seemingly small way, you let them. Sometimes, when you least expect it, everything starts to get easier.
To my beautiful sister-in-law, you are the sister I've always wanted. I love you very much and I'm so excited to see you be a mother because I know you'll be the best. I hope when this baby grows up, he/she always feels lucky to have you as a mom. Thank you for giving me the gift of being an aunt, a godmother, and close friendship with you. I'll always be here when you need me just like you were there for me. And to my little niece or nephew, I can't wait to meet you and tell you all about how great your mama is!"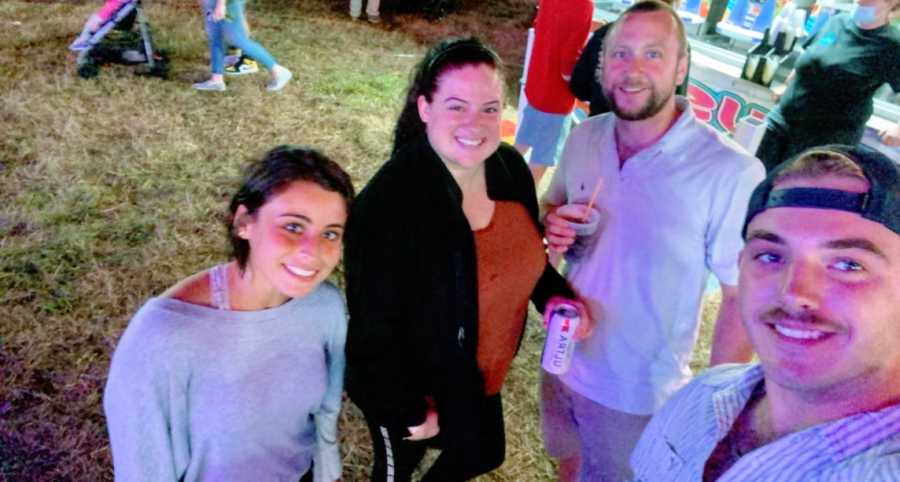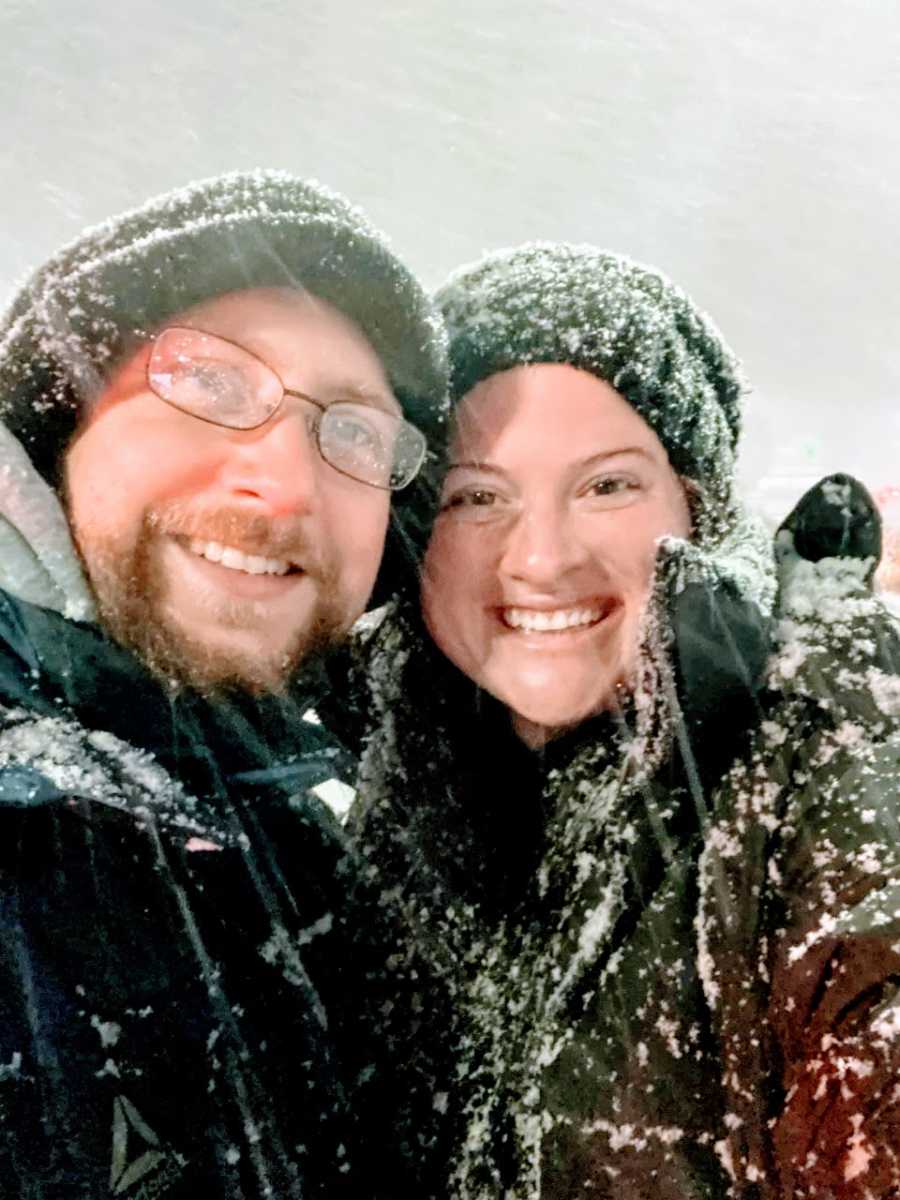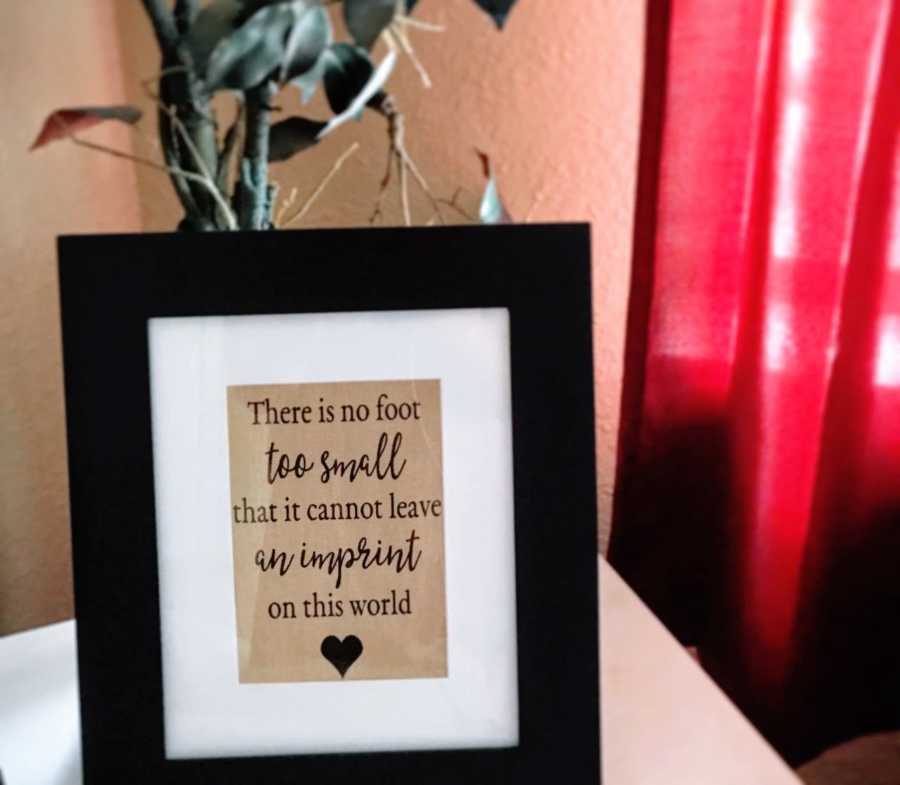 This story was submitted to Love What Matters by Taylor Newport of Palm Bay, Florida. You can follow their journey on Facebook. Submit your own story here, and be sure to subscribe to our free email newsletter for our best stories, and YouTube for our best videos.
Read more stories like this here:
'I will not be there for the moment I become an aunt. Today, I'll wait. I'll pray. I'll count the seconds until my sister calls and says, 'Meet your nephew.': Aunt-to-be says 'my love cannot be quarantined'
'The ministry called. 'We have a boy and a girl. Would you be open to adopting two children?' WHAT? Could this be real?! We were moved to tears.': After 11 miscarriages, failed surrogacy, couple adopt 2 kids from foster care
'Unexplained infertility was our 'diagnosis.' Weeks later, we received a phone call from an expectant mom. 'I'd like you to adopt my daughter.': Couple battling infertility 'shocked' by pregnancy during adoption process
'You need a closed adoption.' My mom was adamant. Suddenly, the world turned upside down. She'd kept the secret for 35 years.': Adoptive mom finds lost long sister, 'It was divine intervention'
Help us show compassion is contagious. SHARE this beautiful story on Facebook with friends and family.